The Top 6 Corporate Christmas Party Themes This Festive Season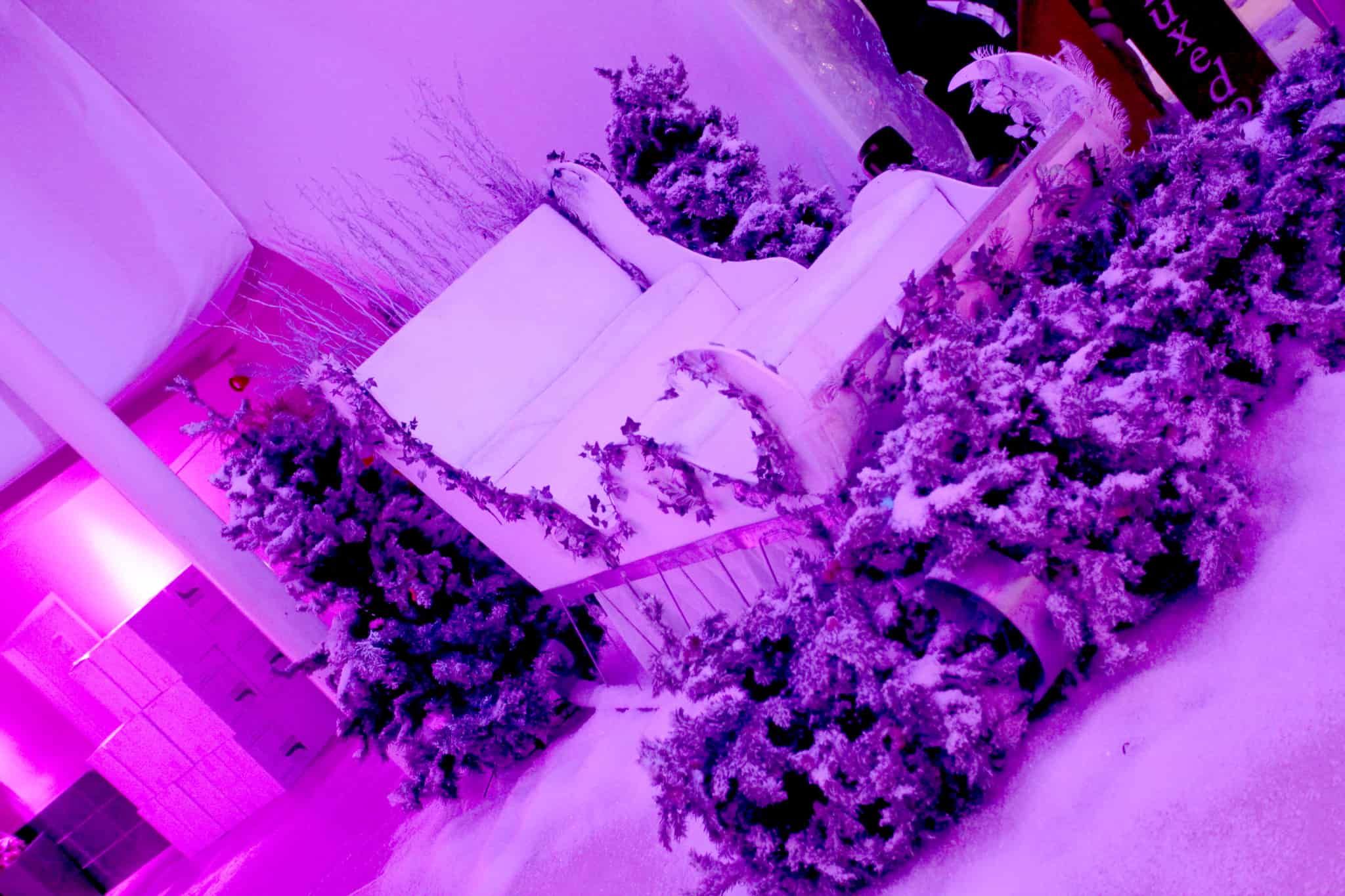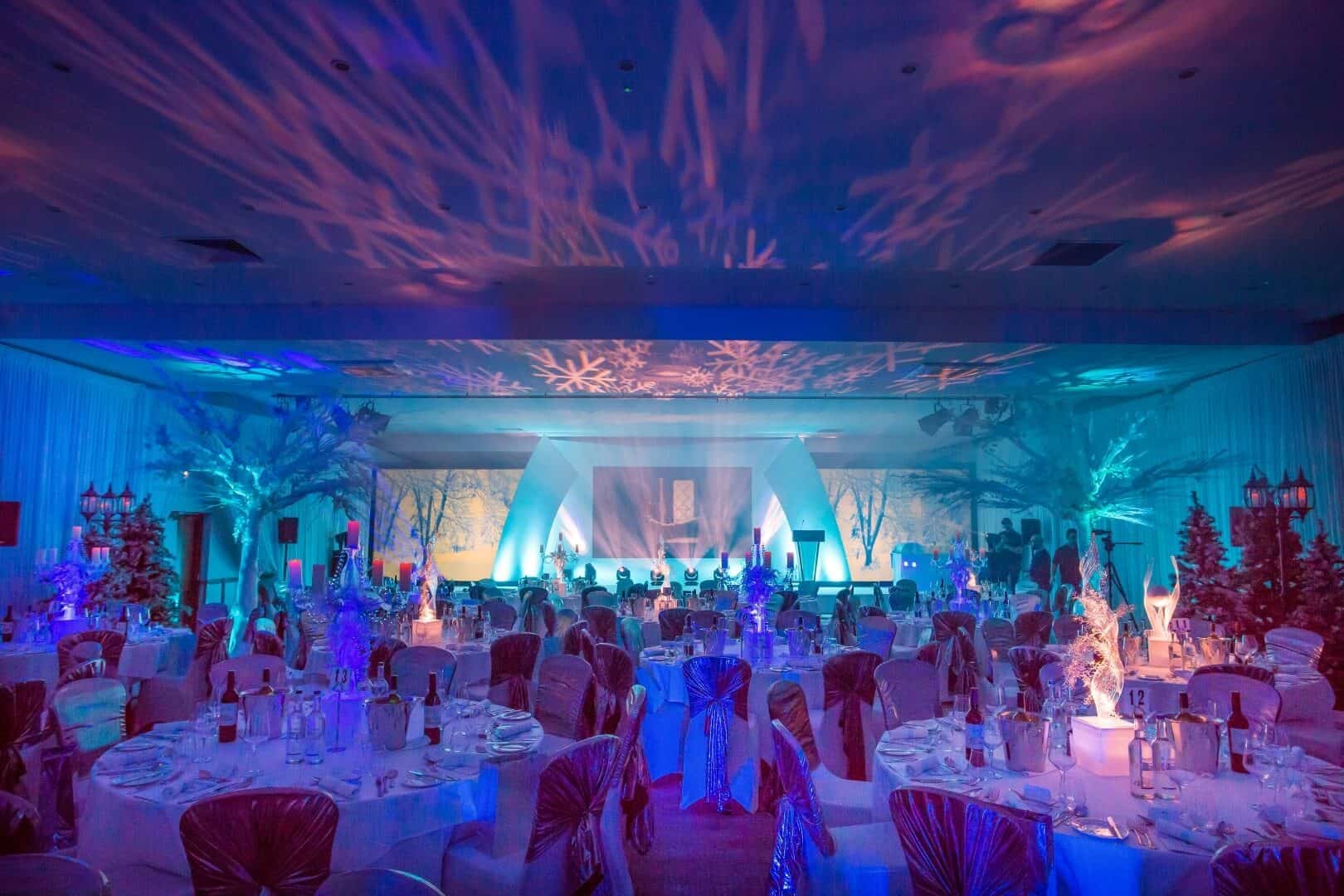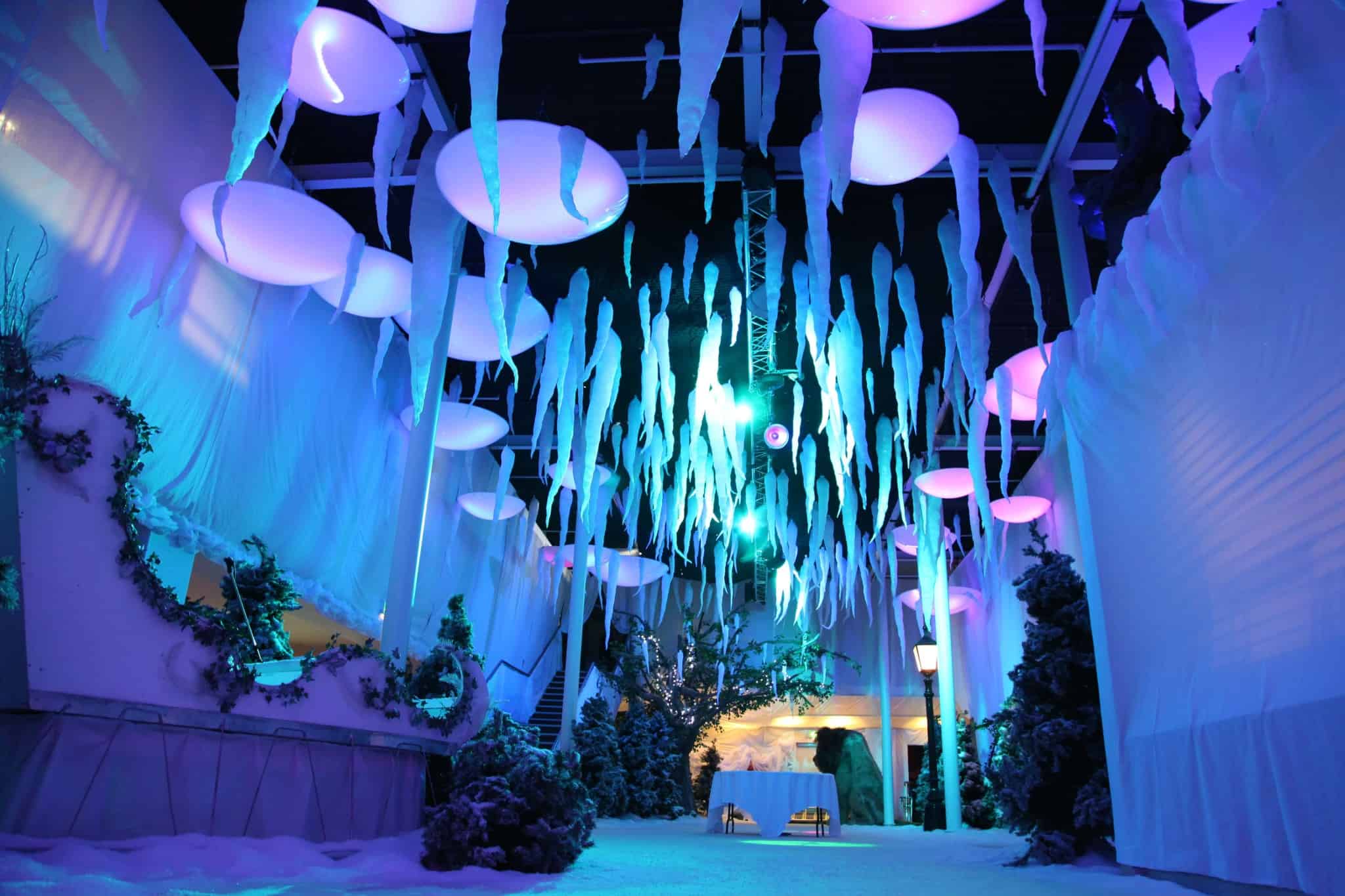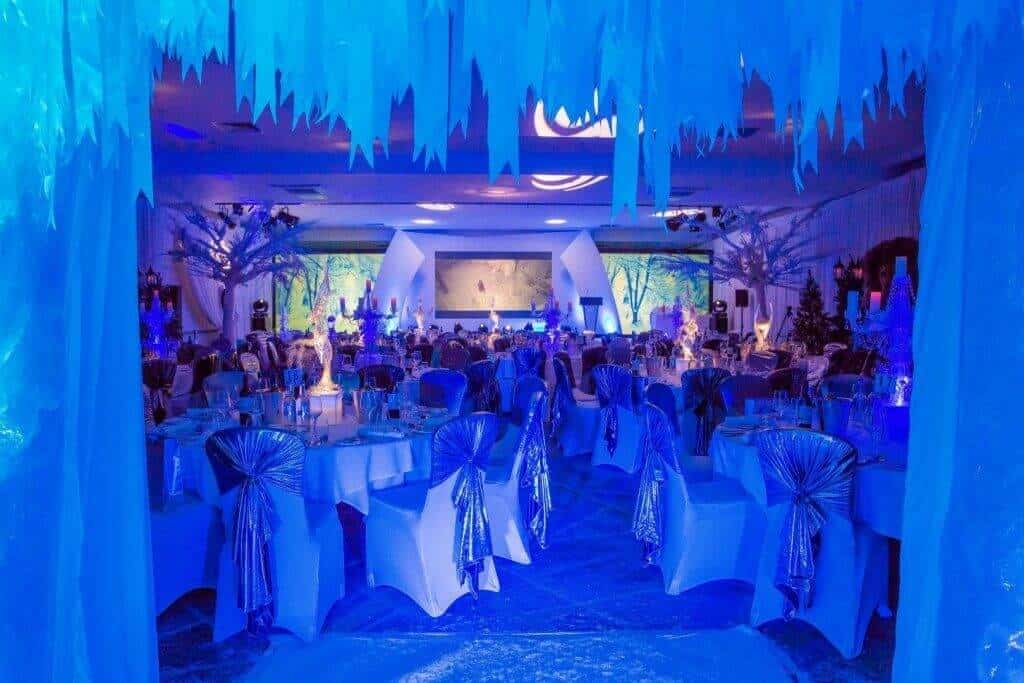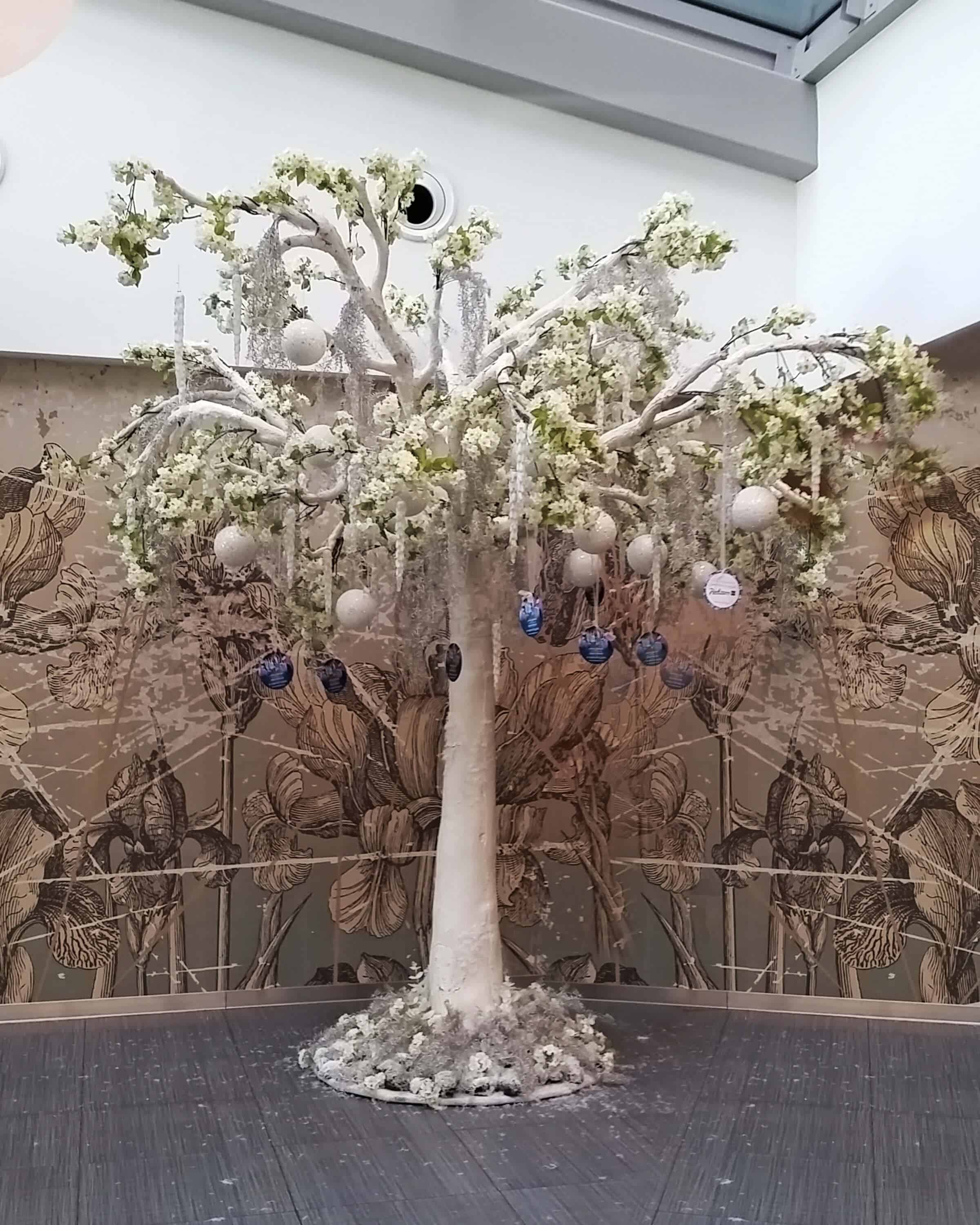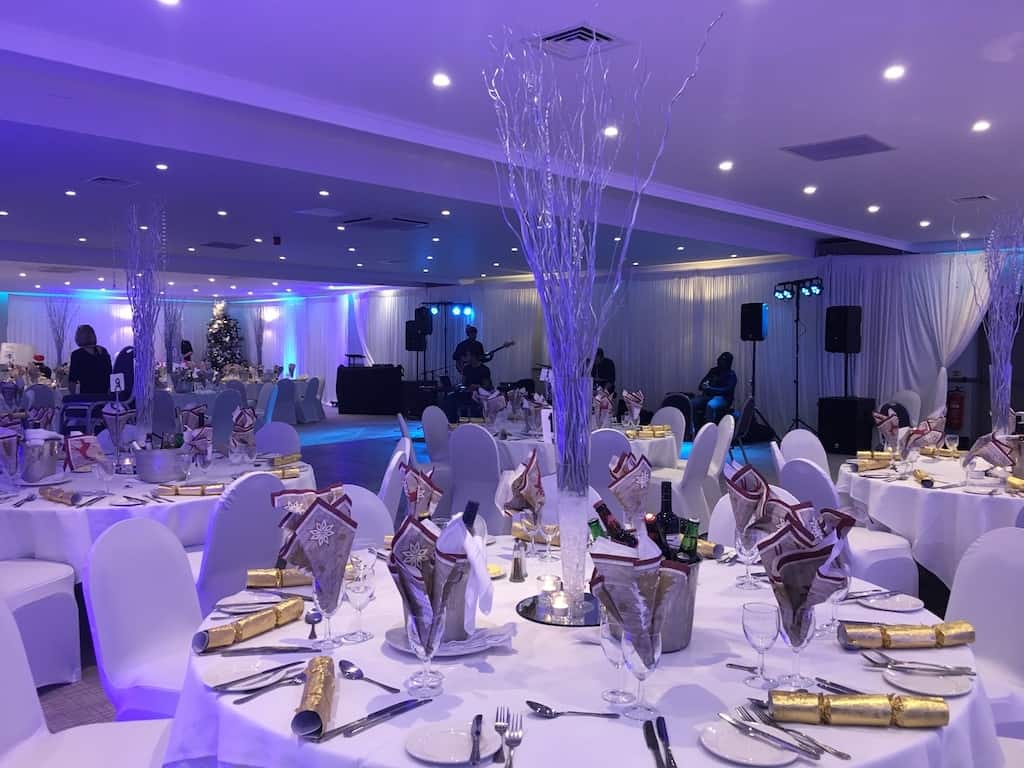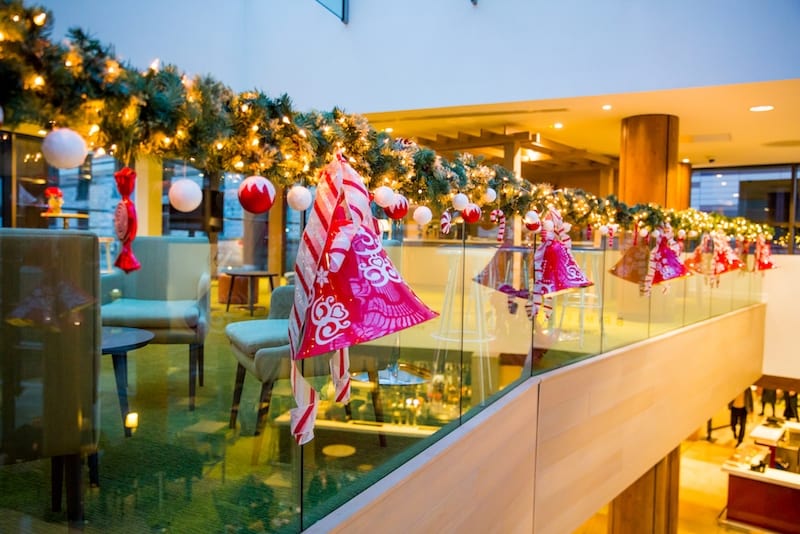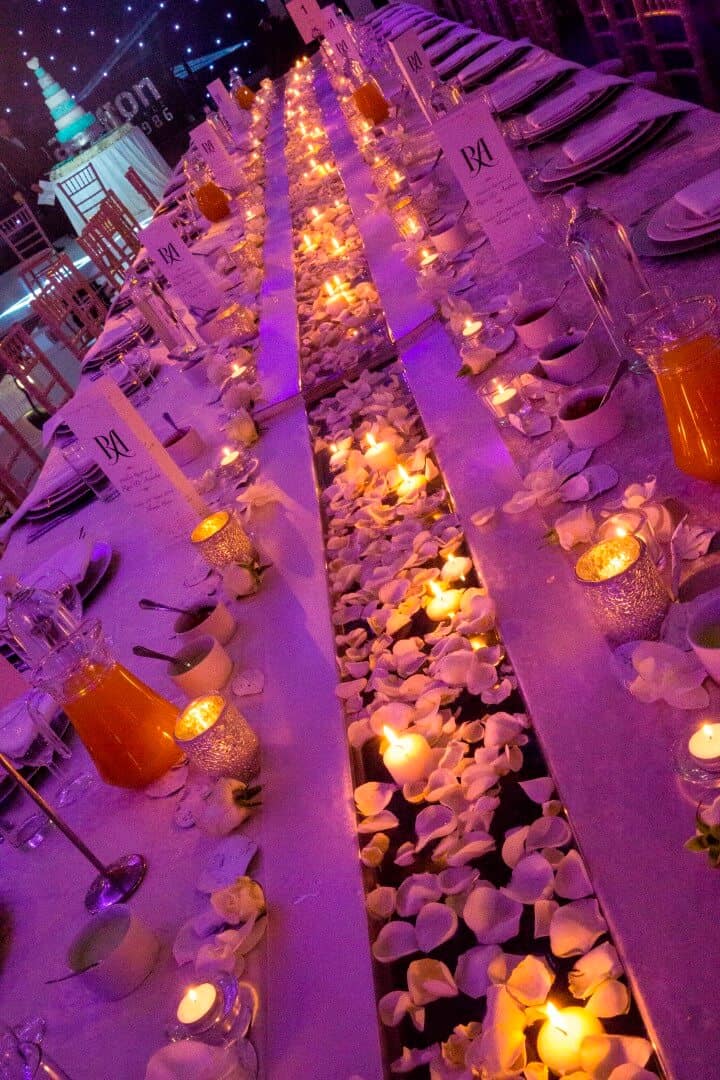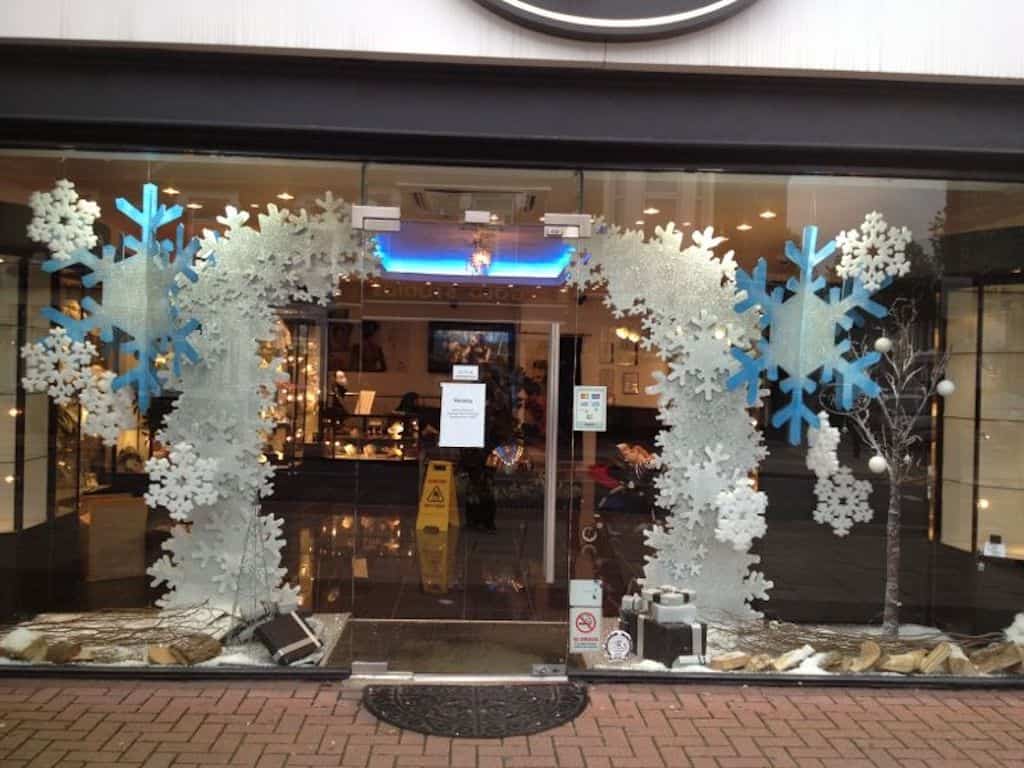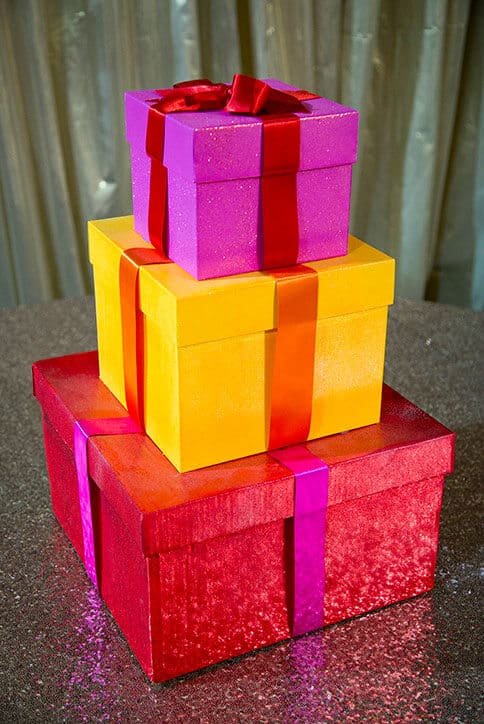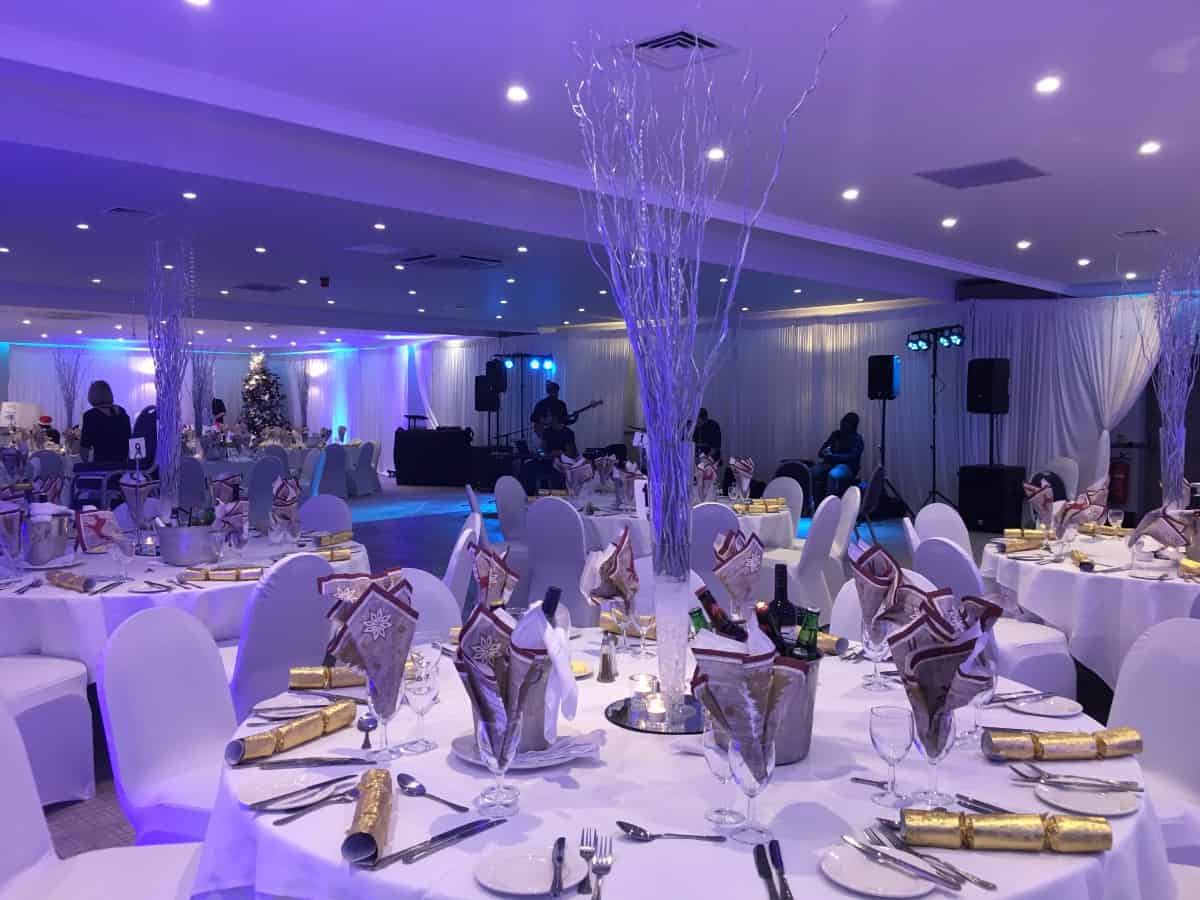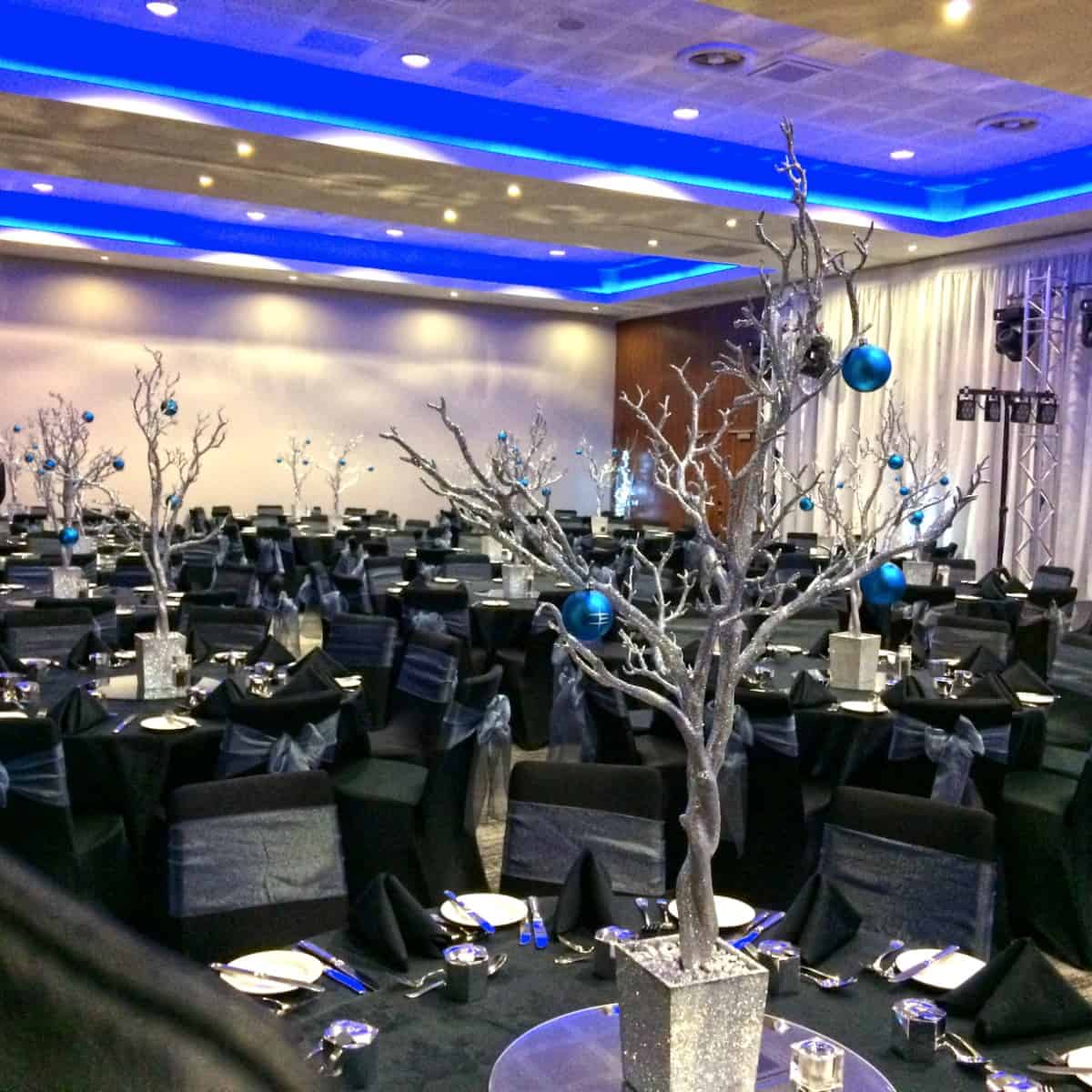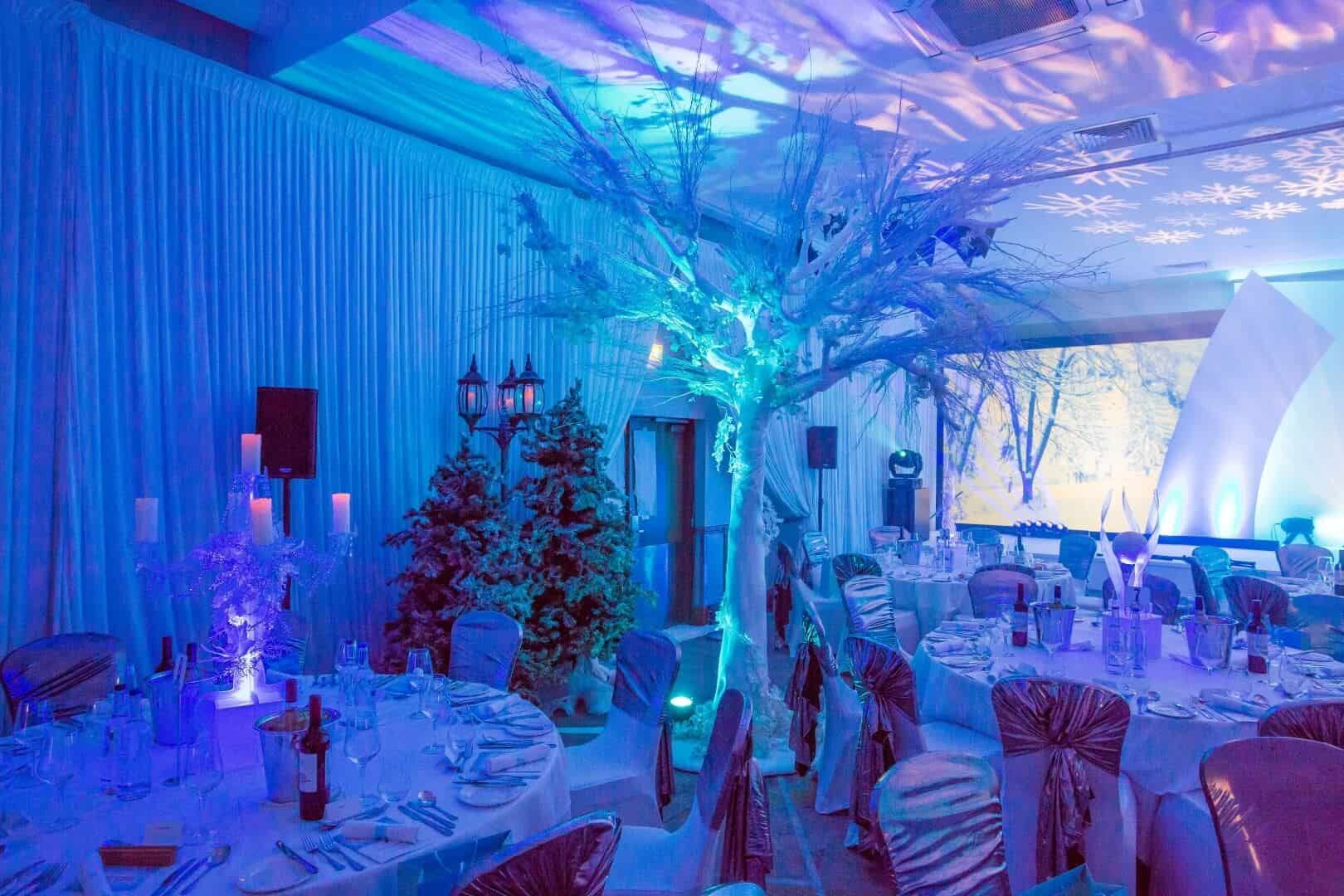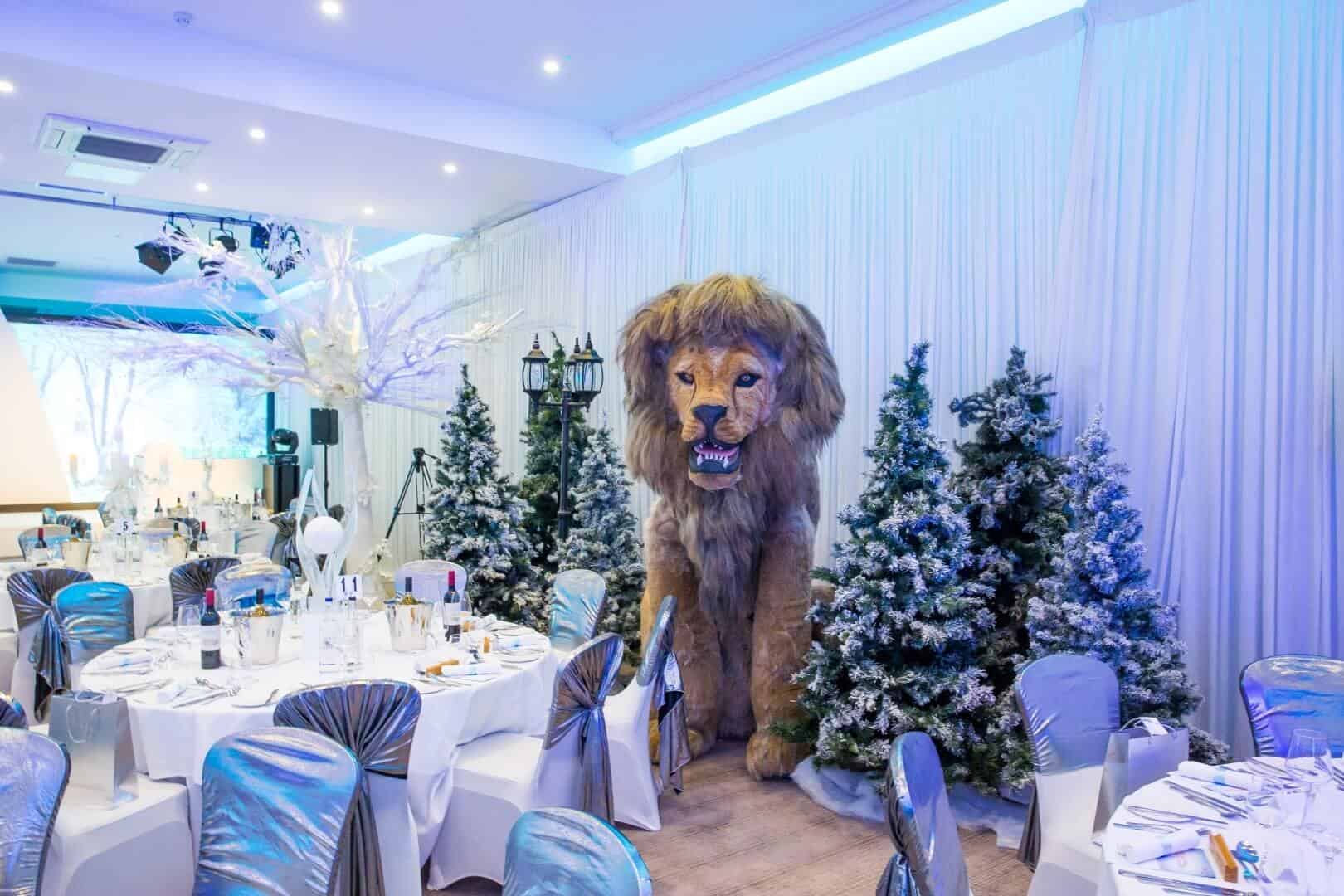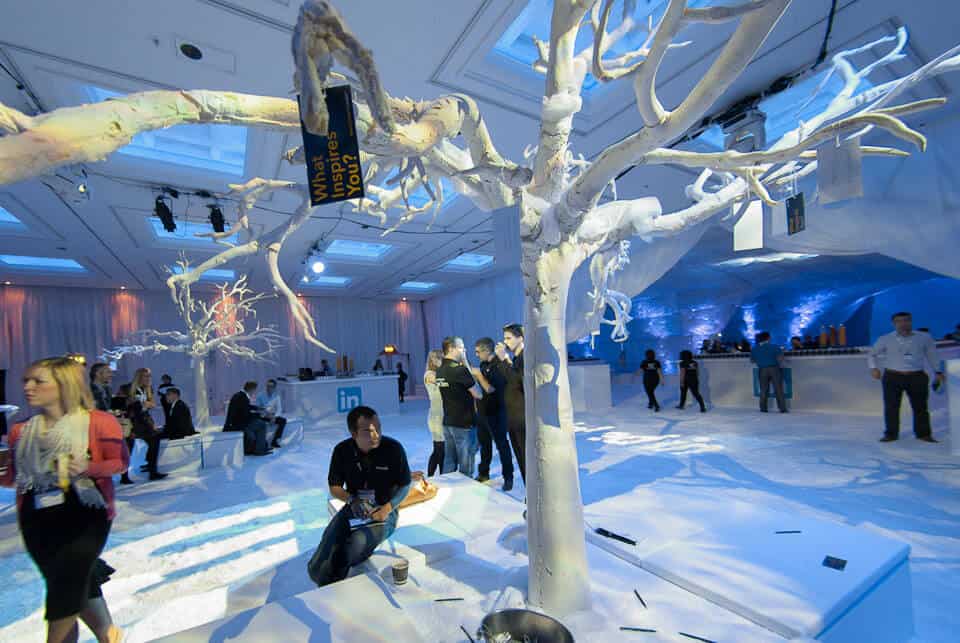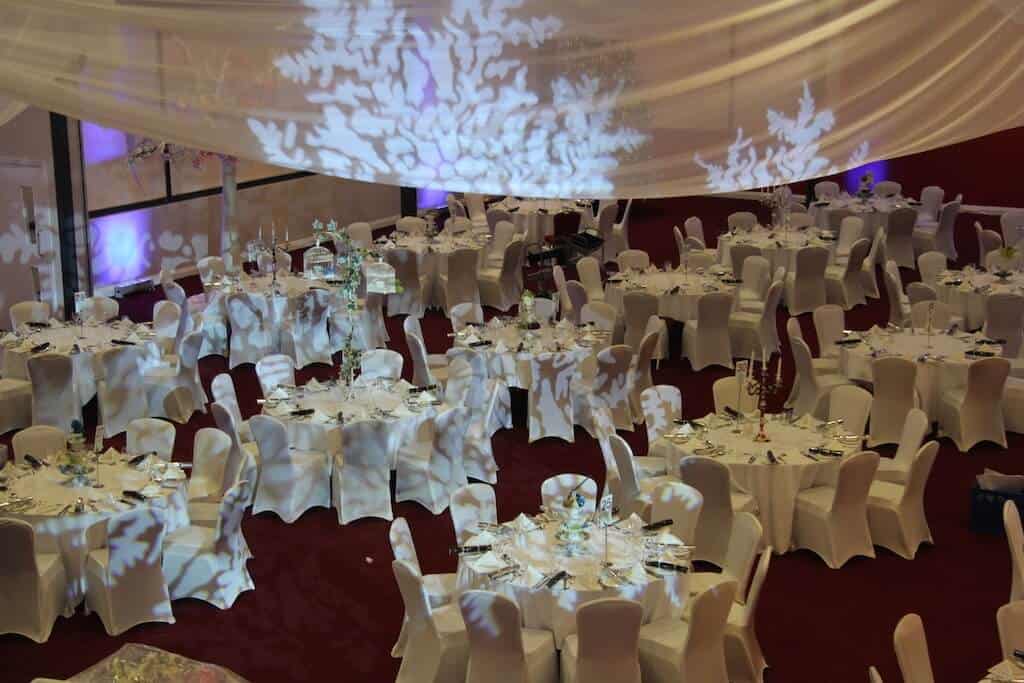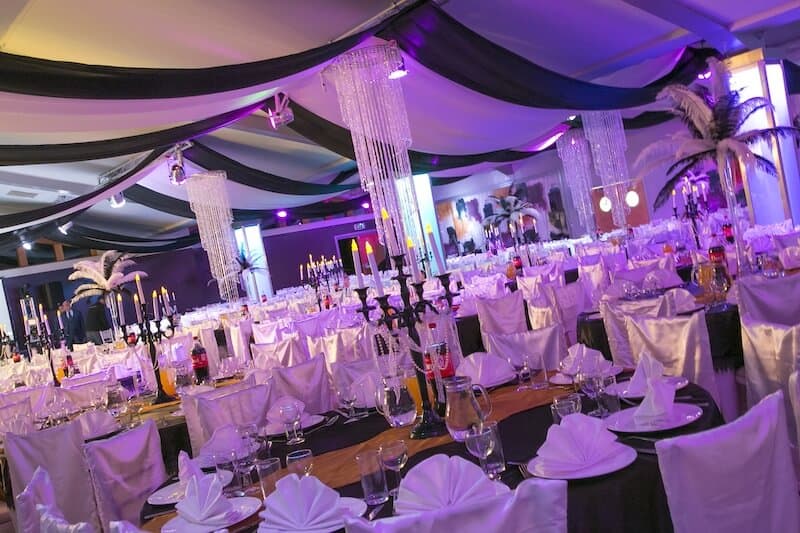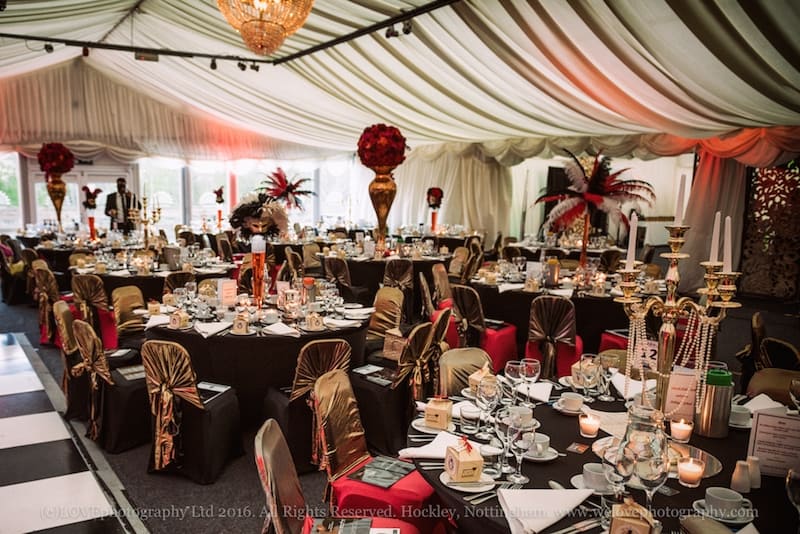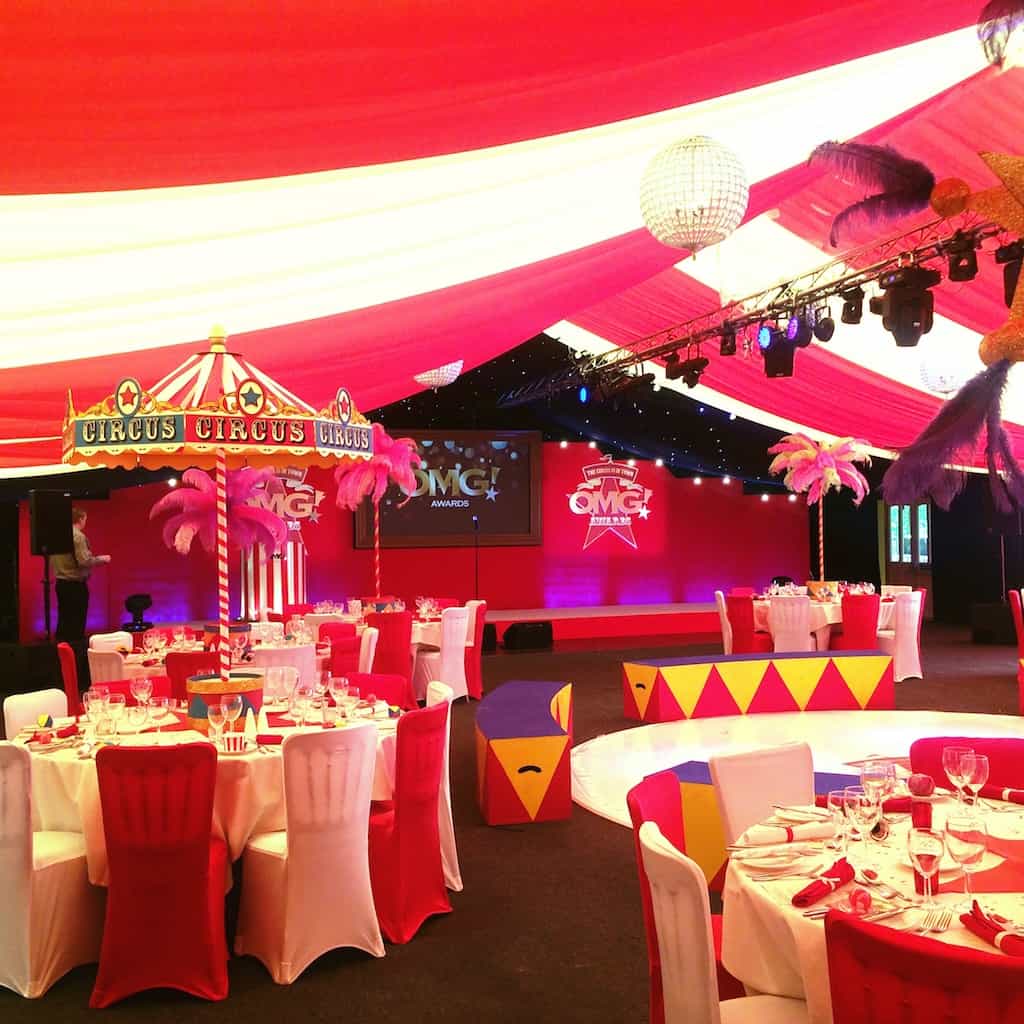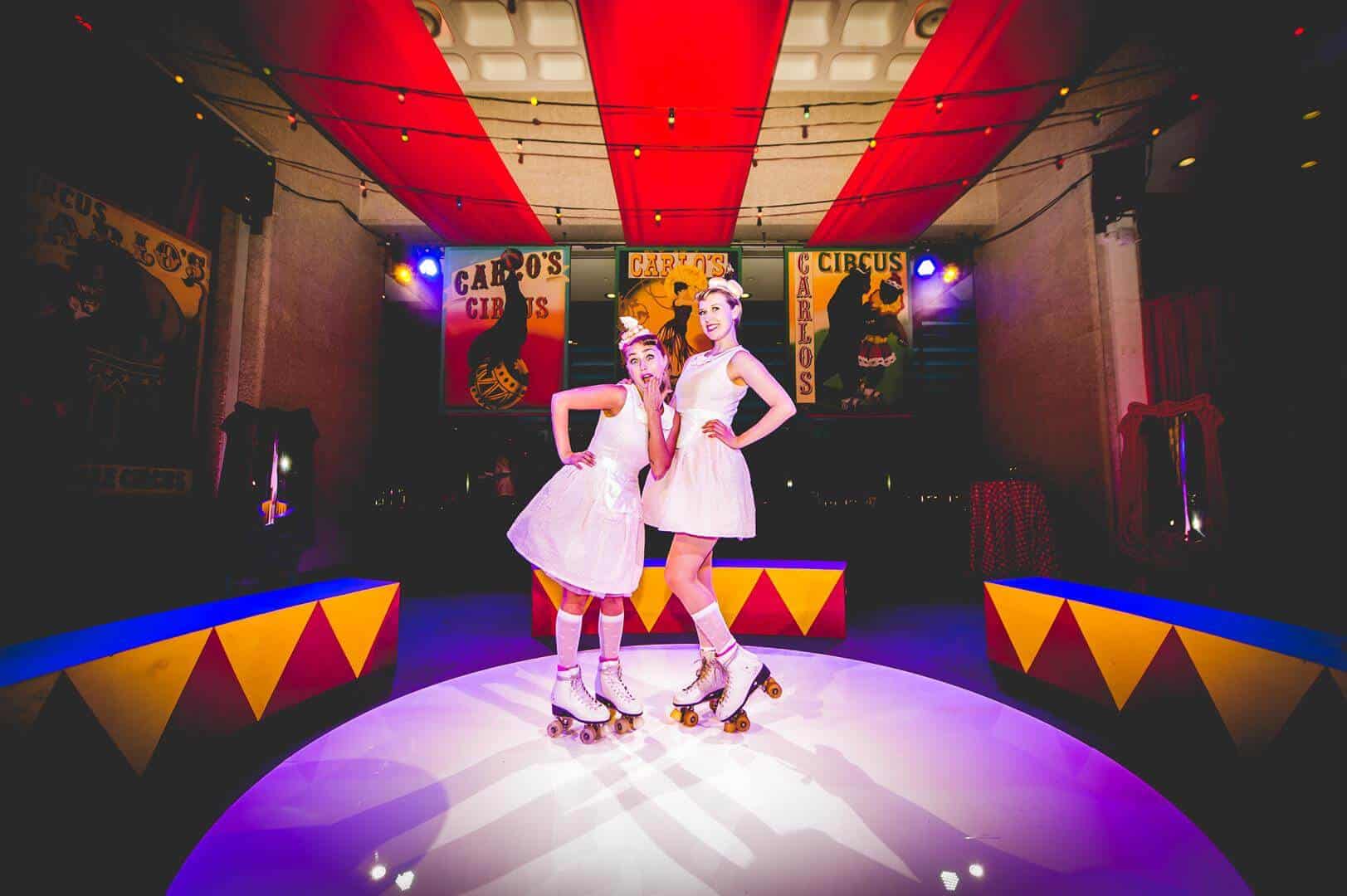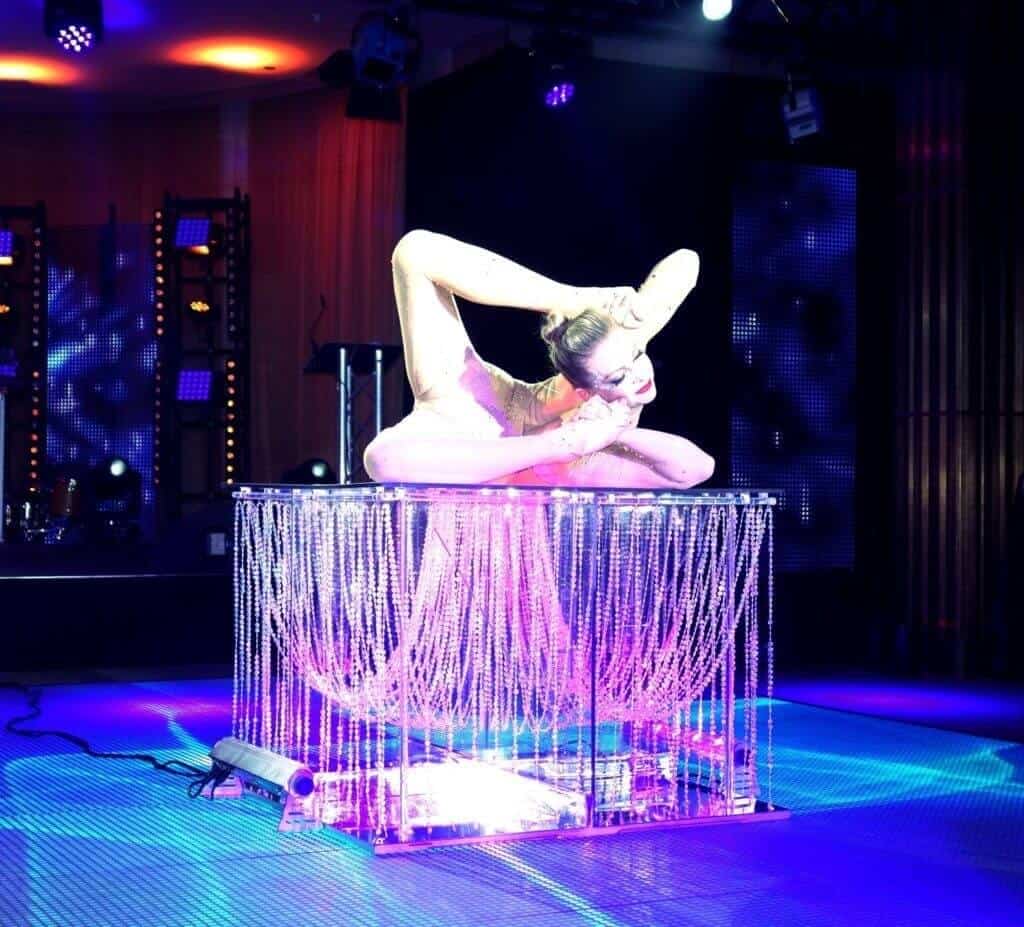 Narnia-Christmas-Decorations
Narnia-Christmas-Decor-1024x683
Radisson-Blu-Christmas-Tree
Commercial-Christmas-Event-Theming
Commercial-Christmas-theming
Christmas-Table-Decorations
Christmas-Red-and-White-Chair-covers
Christmas-box-table-centre
Radisson-Blu-Christmas-Tree-819x1024
Narnia-Christmas-Tree-683x1024
christmas themed table centre
Narnia-White-Tree-Prop-for-Hire
Narnia-Snow-Drenched-Trees
Winter-Wonderland-Theming-Ideas
Winter-Wonderland-Table-Centres0
Winter-wonderland-ice-tunnel
Great-Gatsby-Entertainment-2
Great-Gatsby-Themed-Table-Centre-Large
Great-Gatsby-ceiling-dressing1
N-Masquerade-Themed-Event-Large-Small
Red-and-Gold-Masquerade-Themed-Event
Masquerade-Themed-Table-Centre
Masquerade-themed-decoration
Red-Circus-Themed-Table-Centres
Large-Circus-Poster-Props
Circus-Themed-Table-Centre-1
Circus-themed-event-Large1
circus-themed-contortionist-performing-resize-1024x927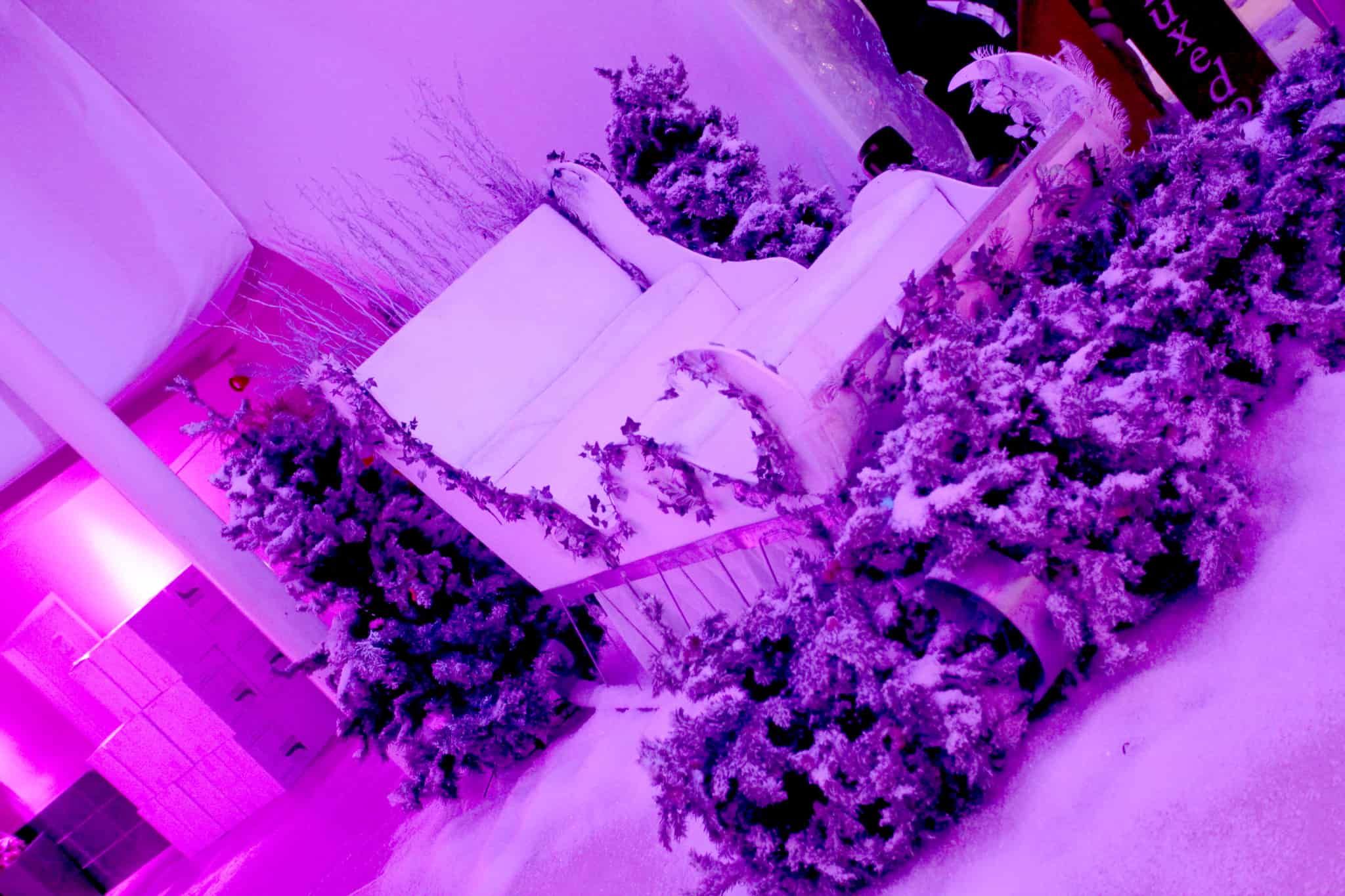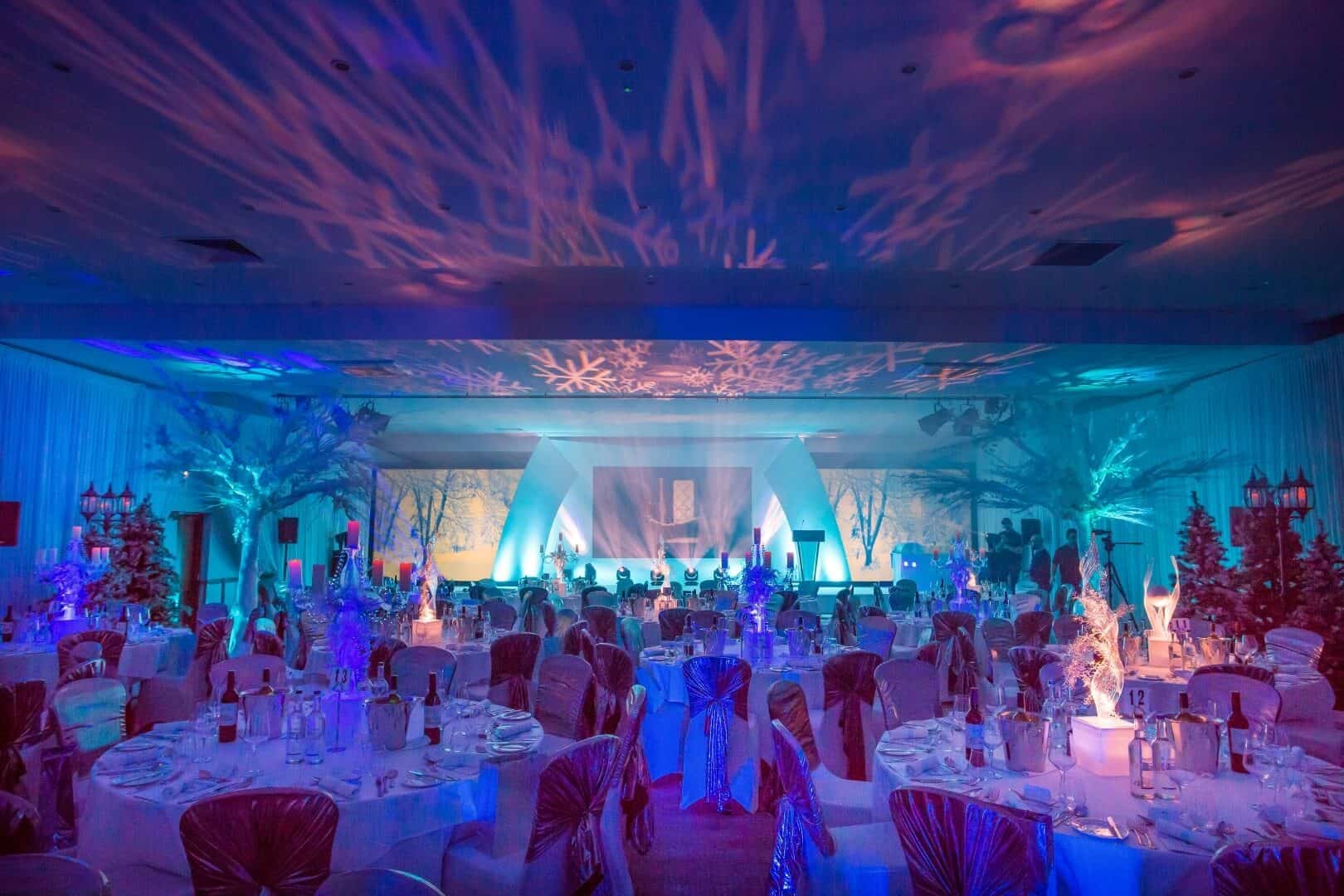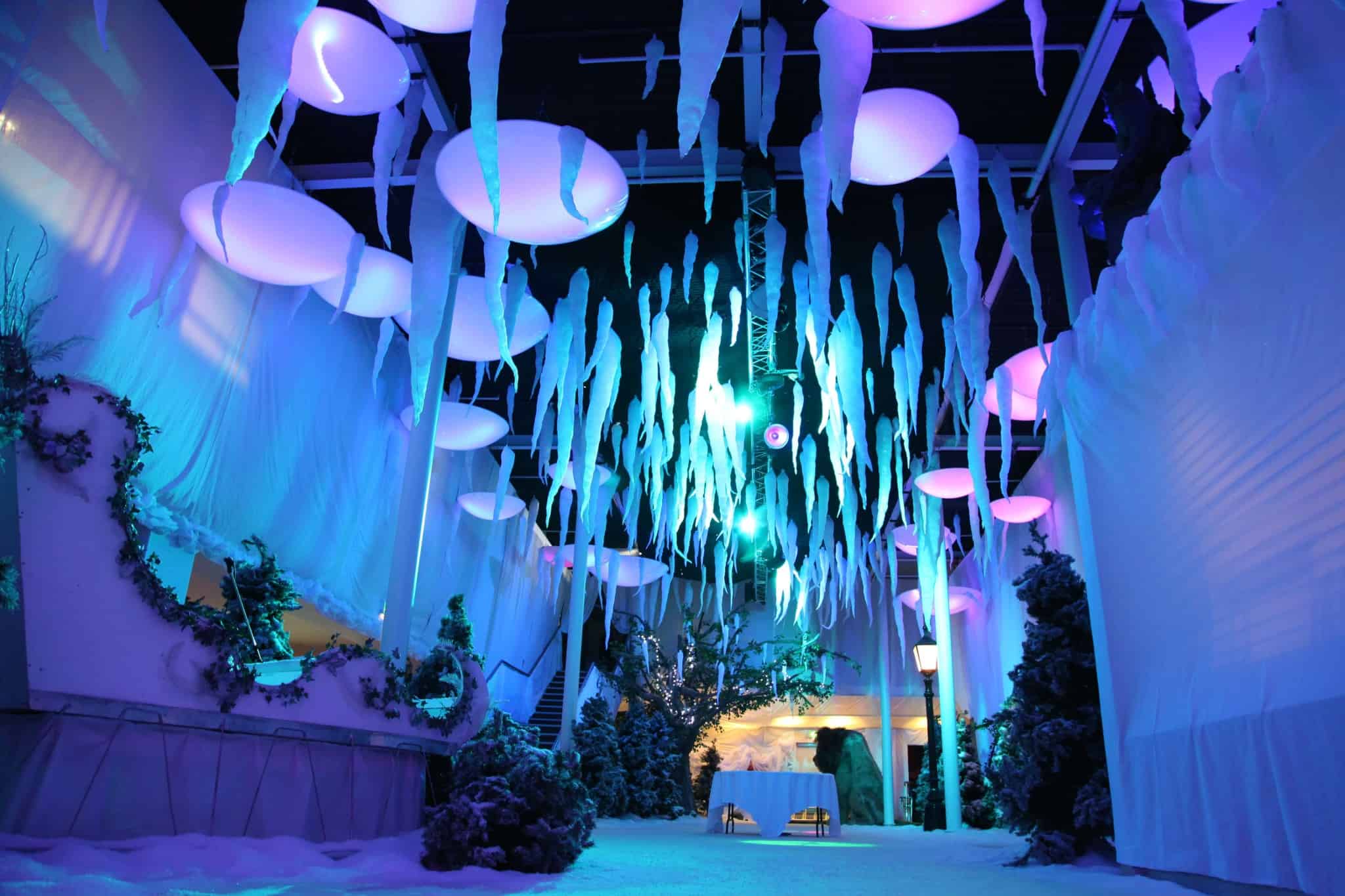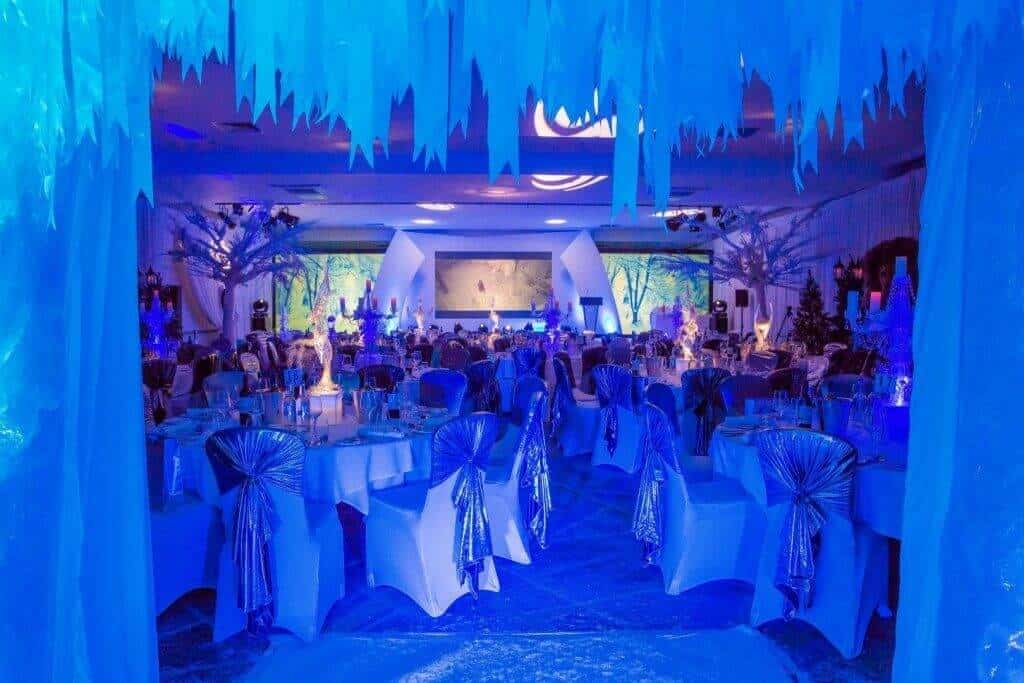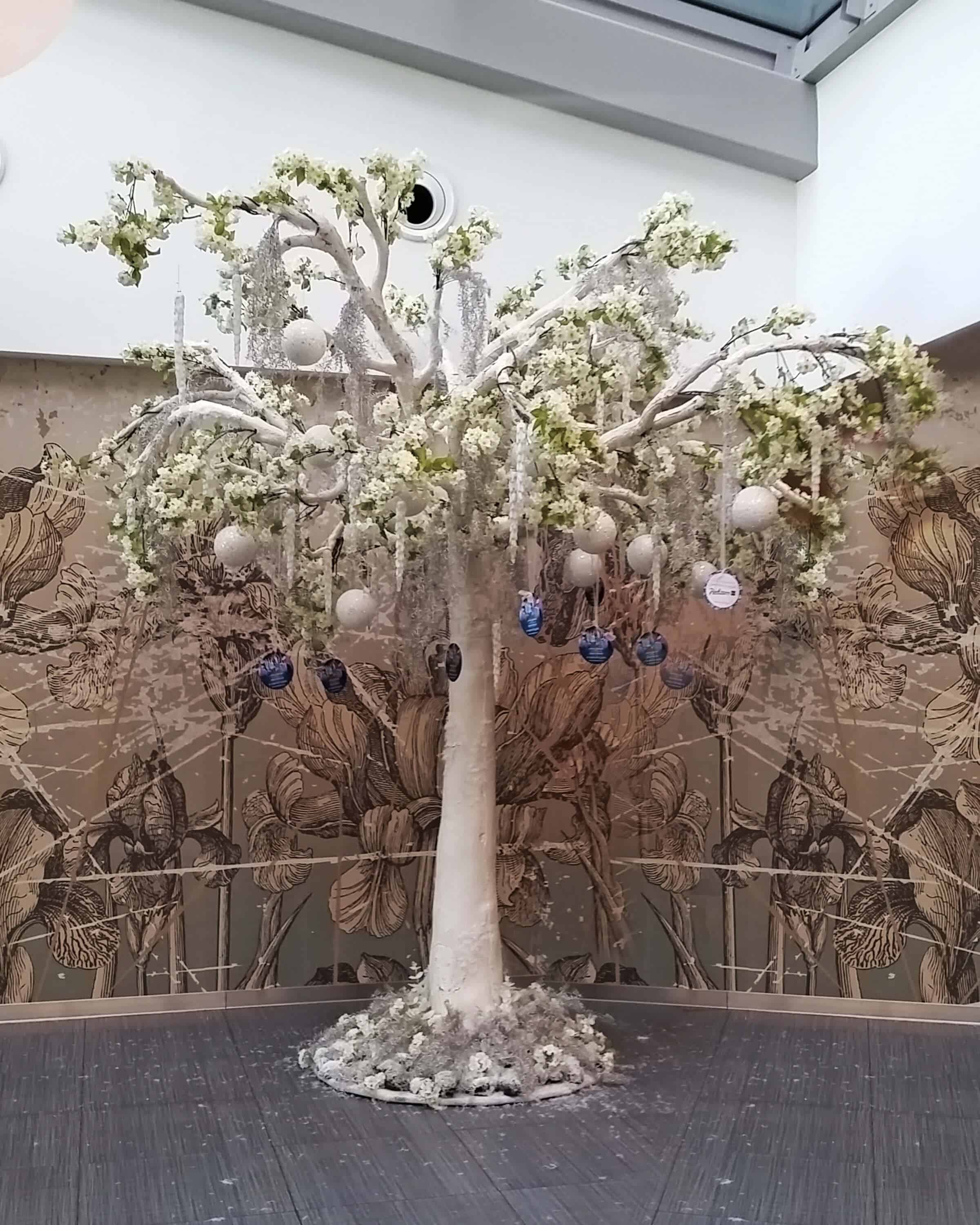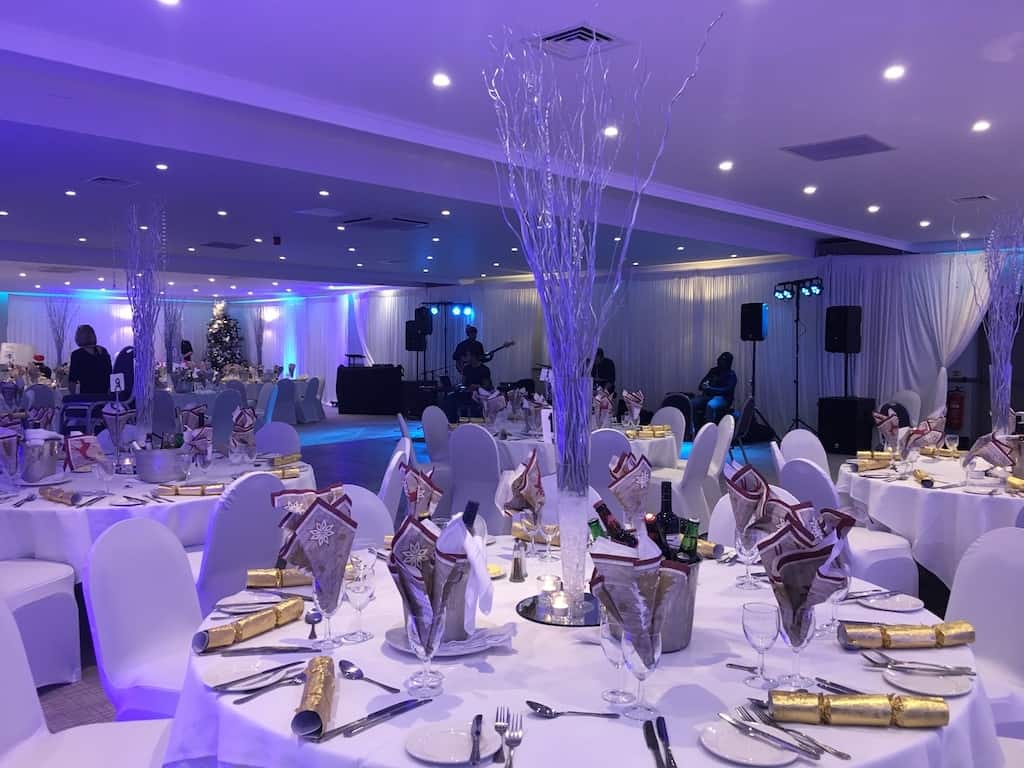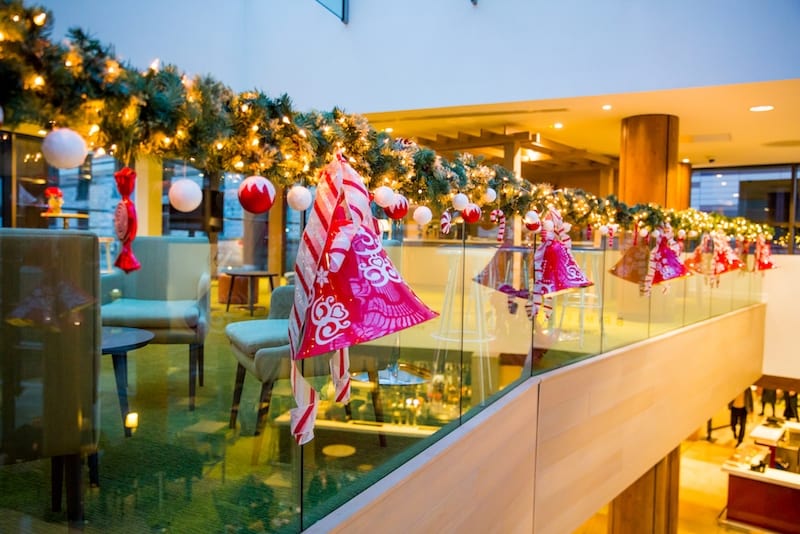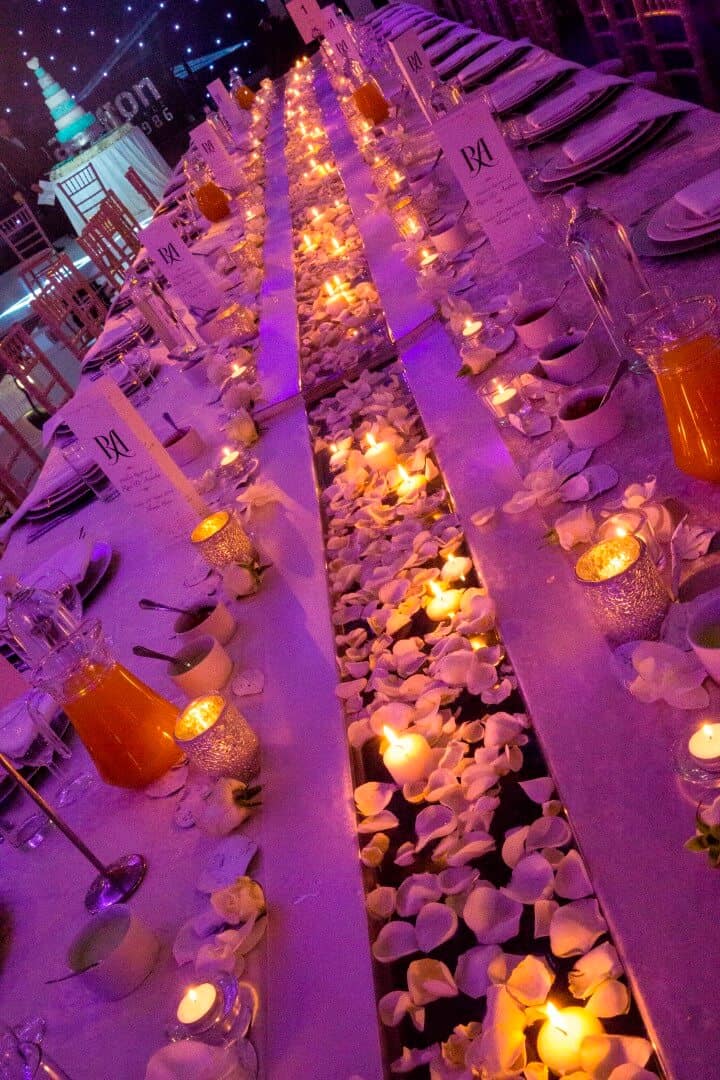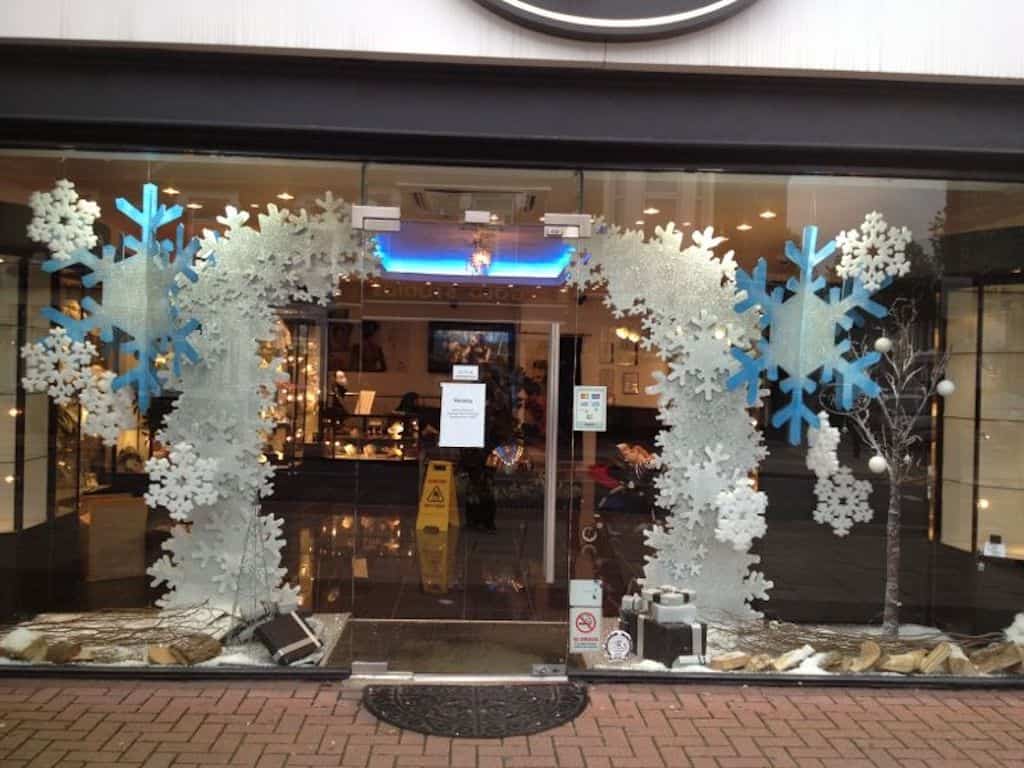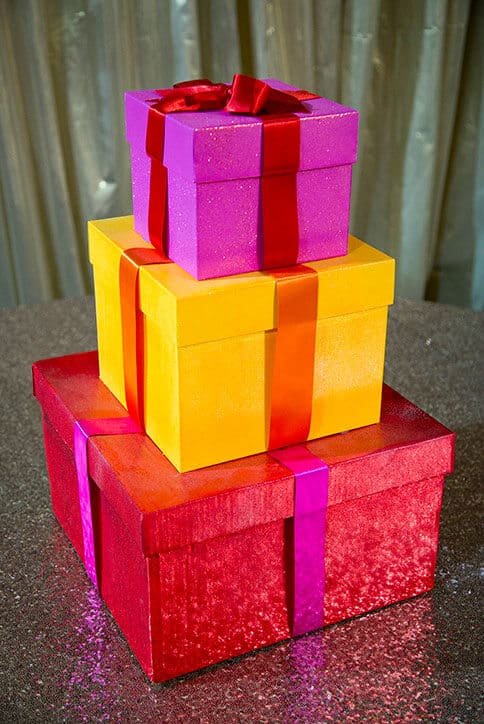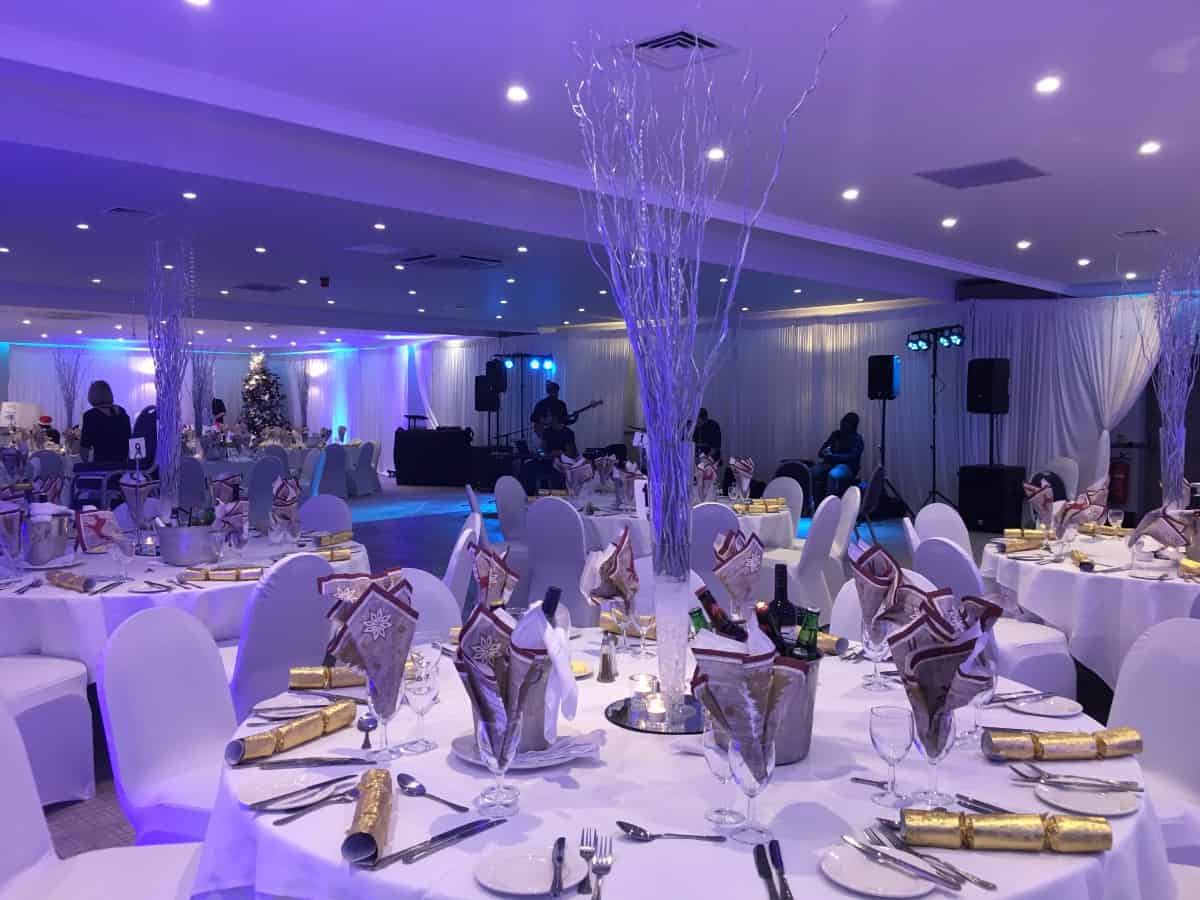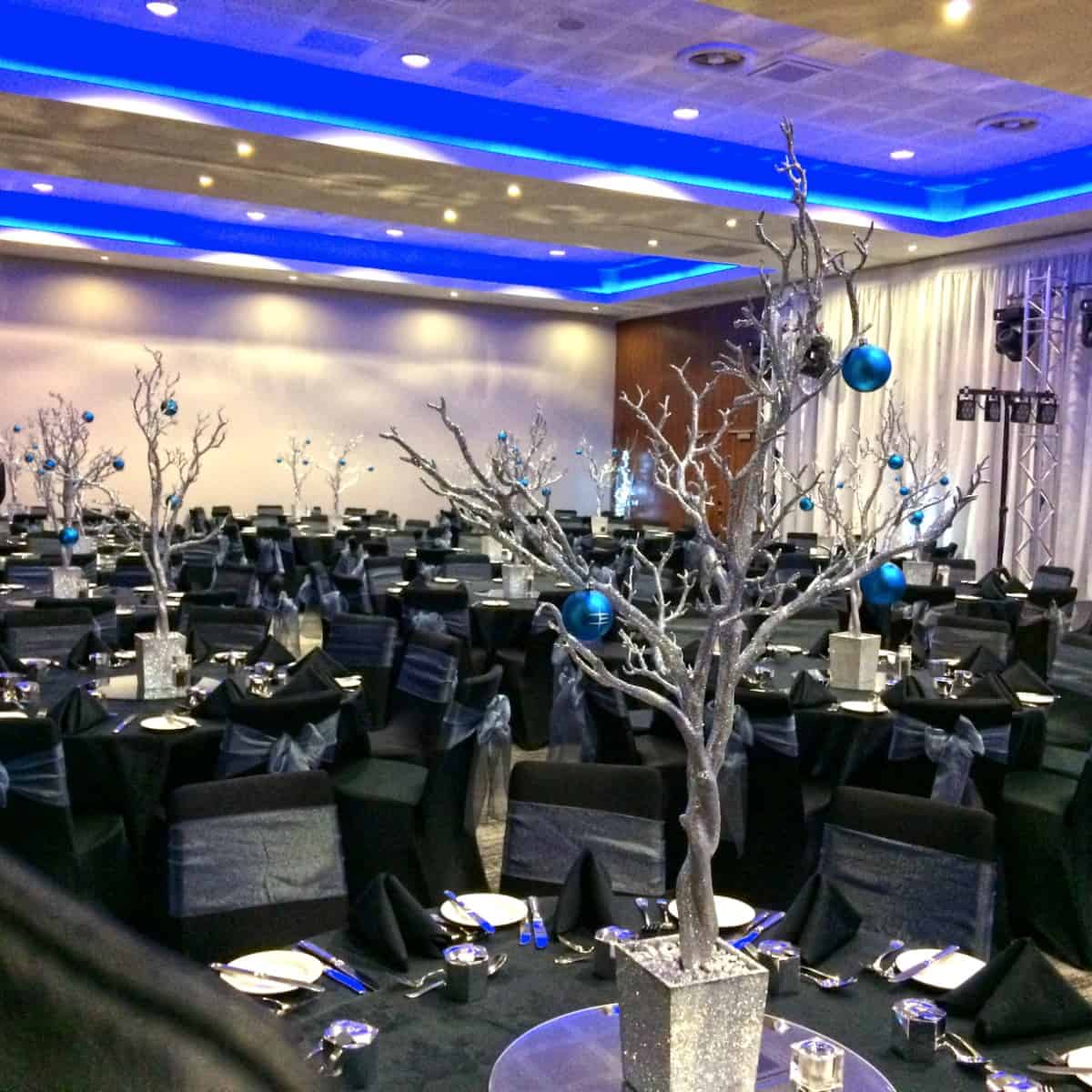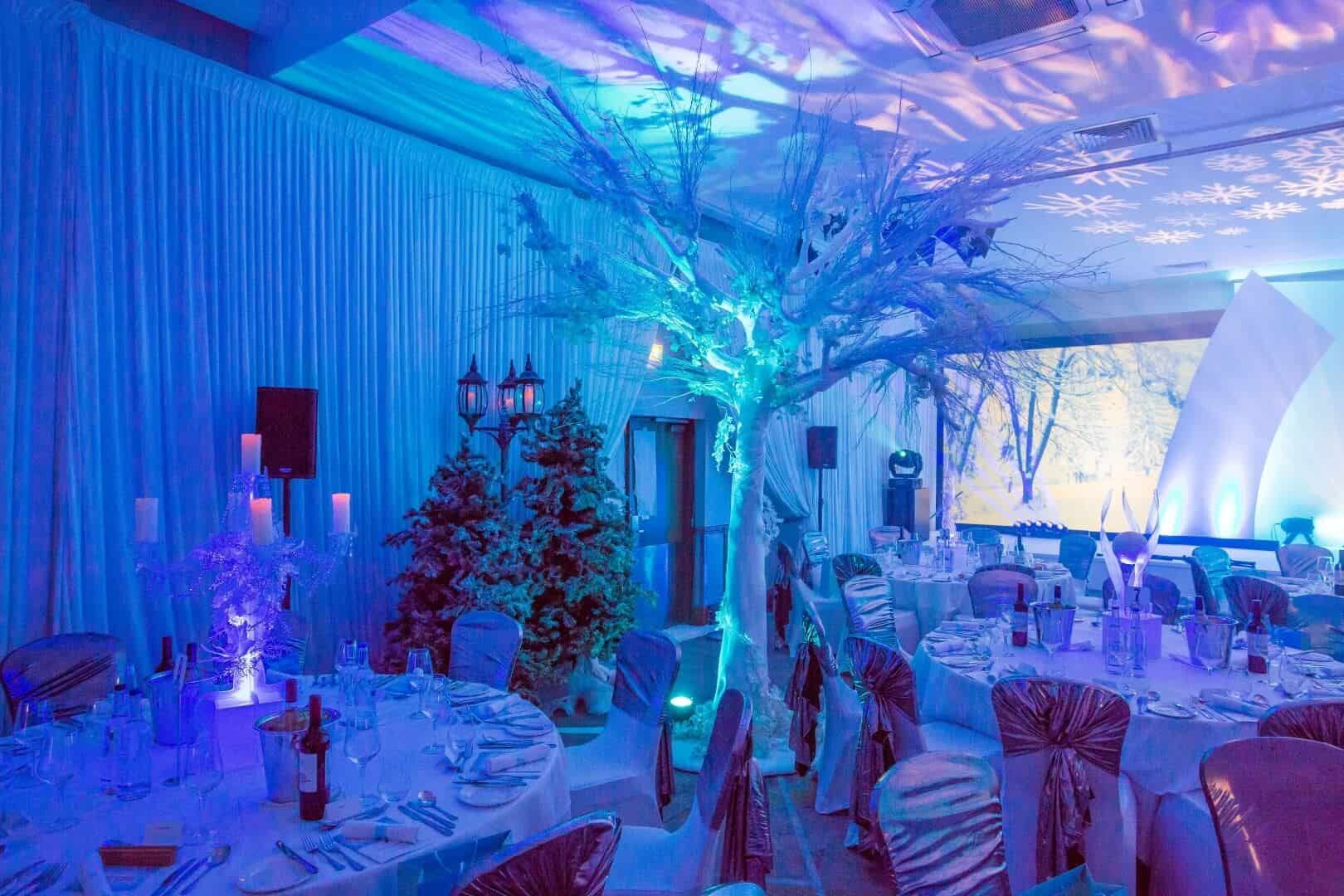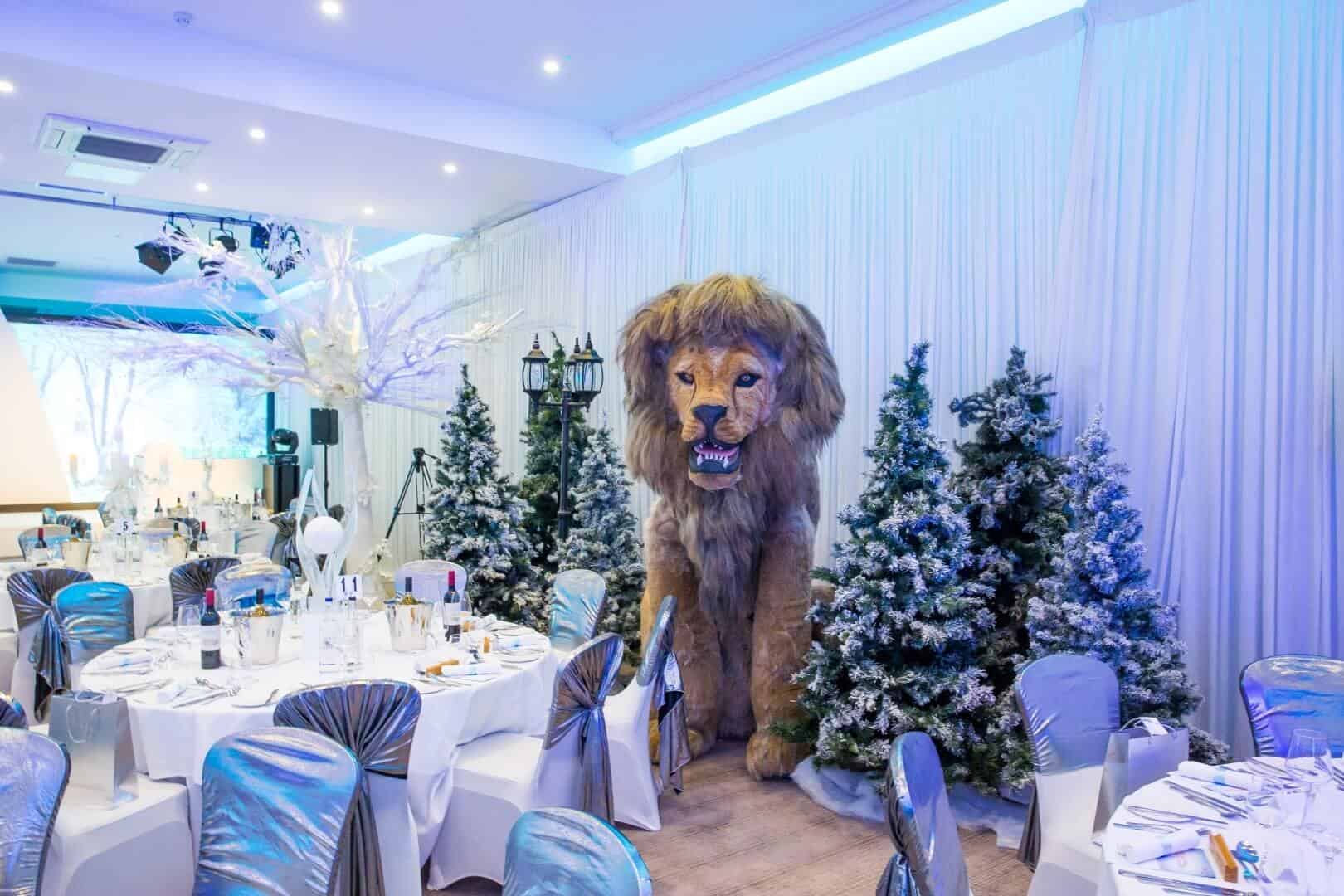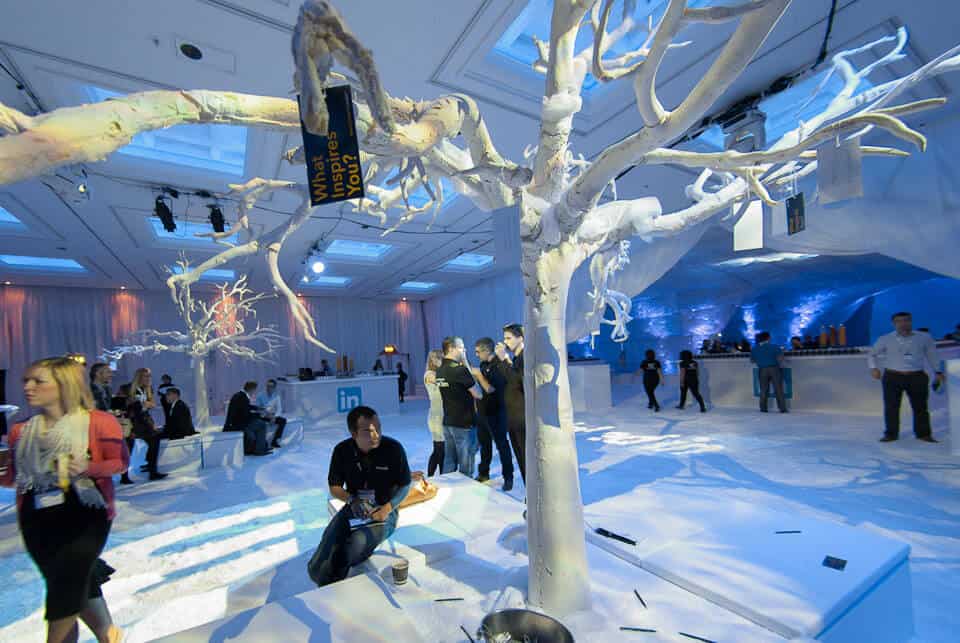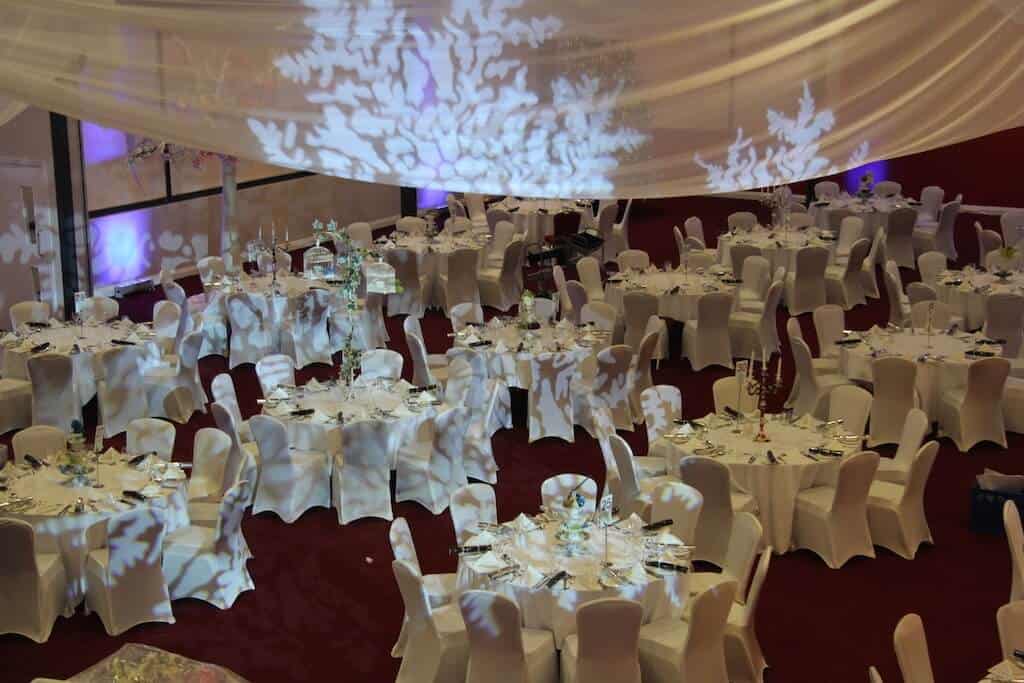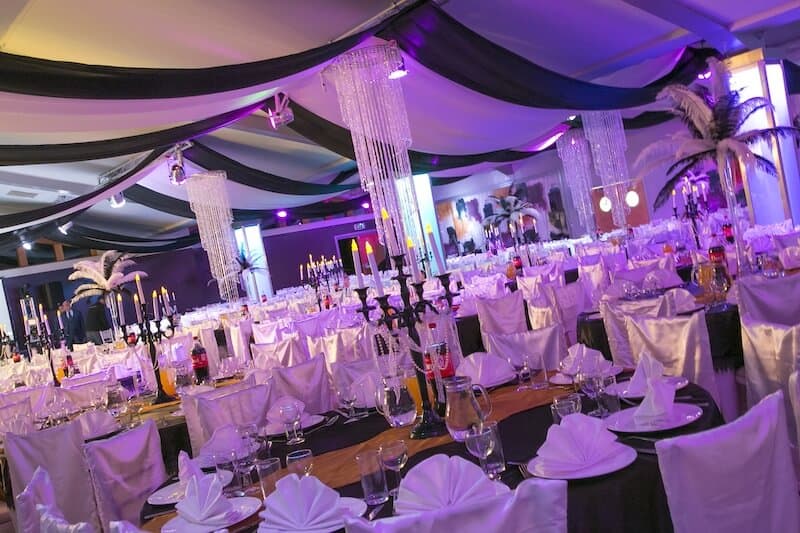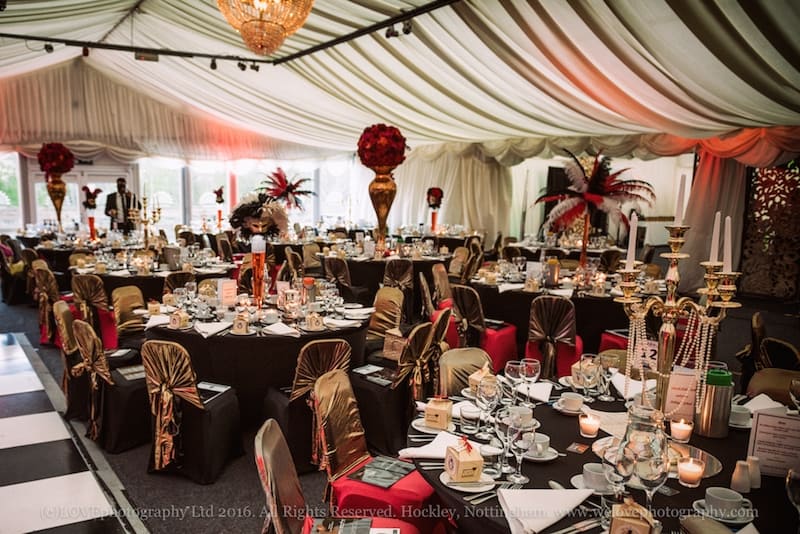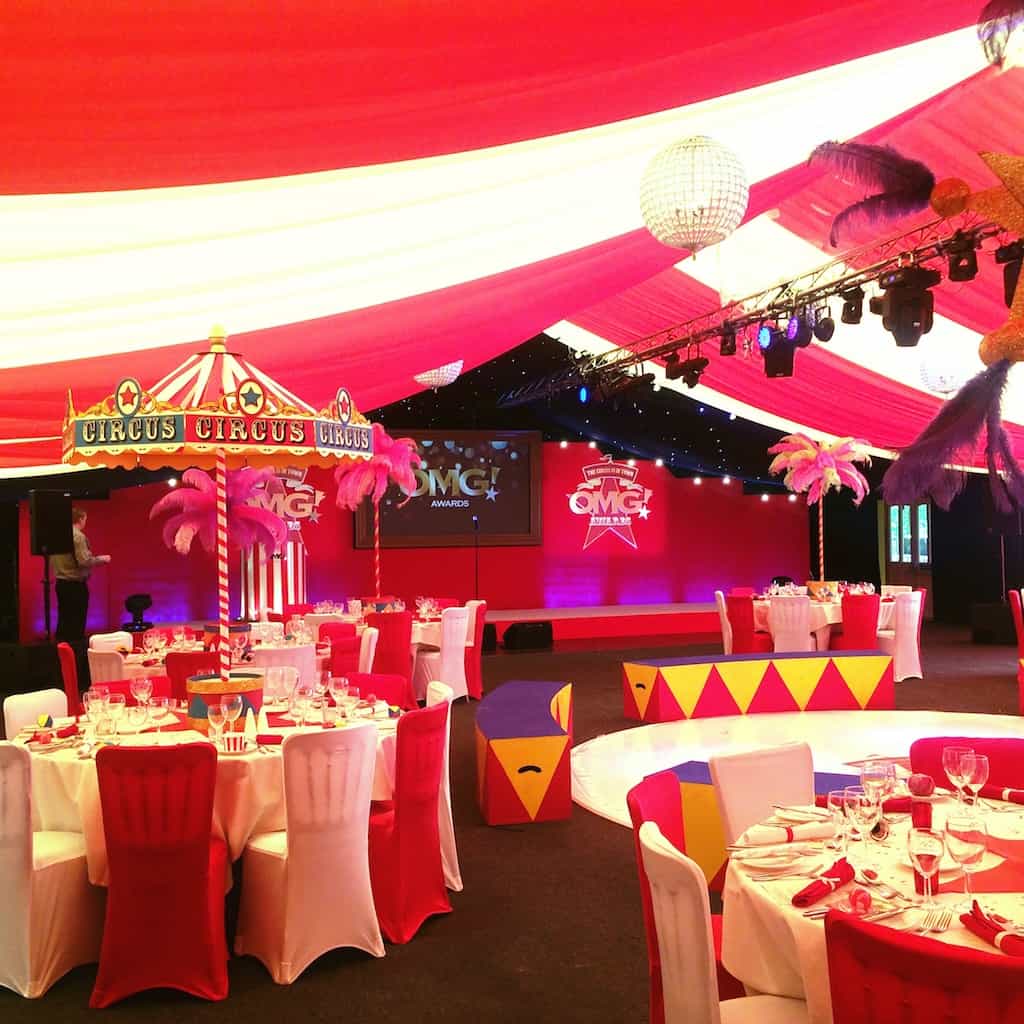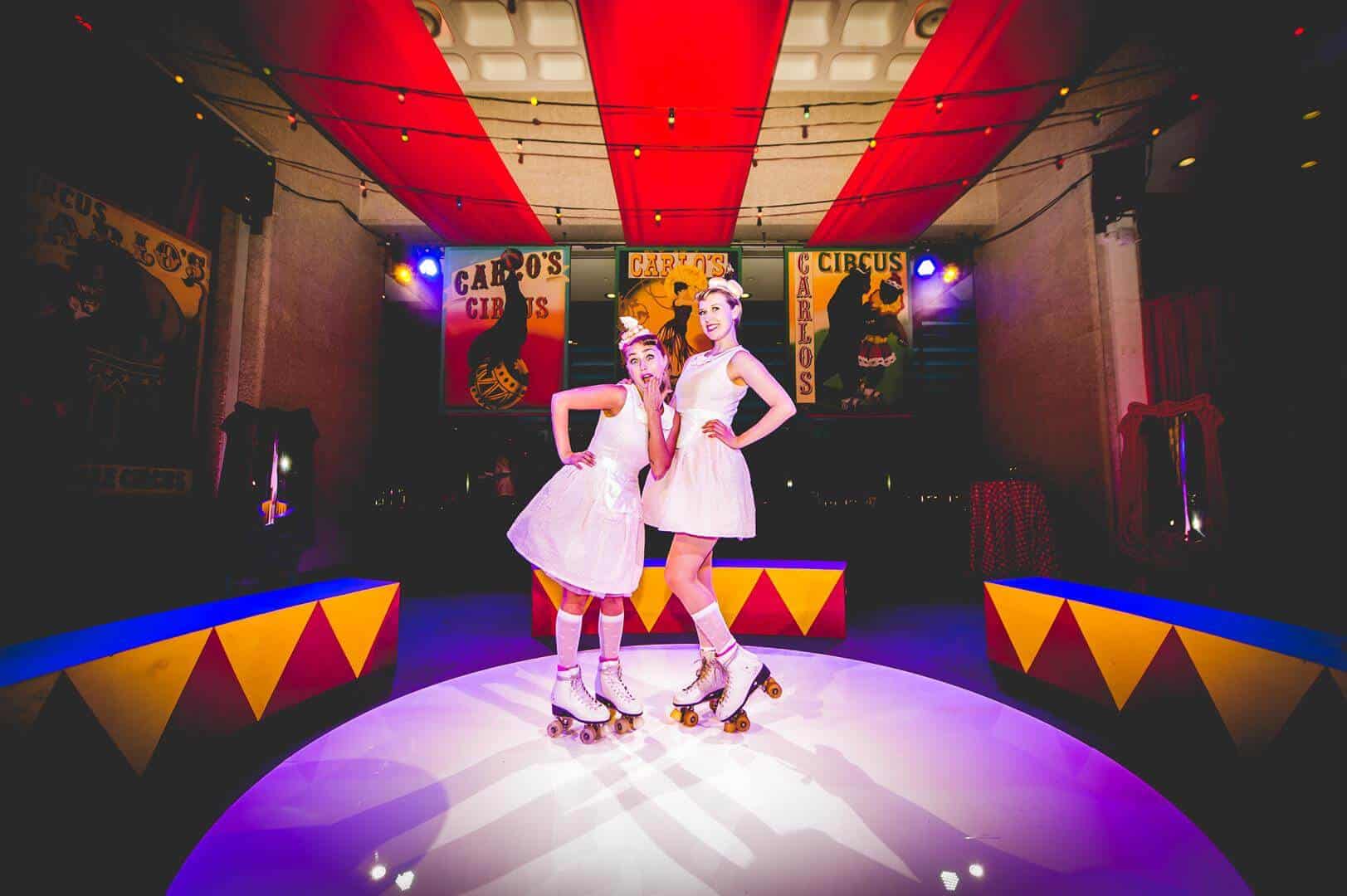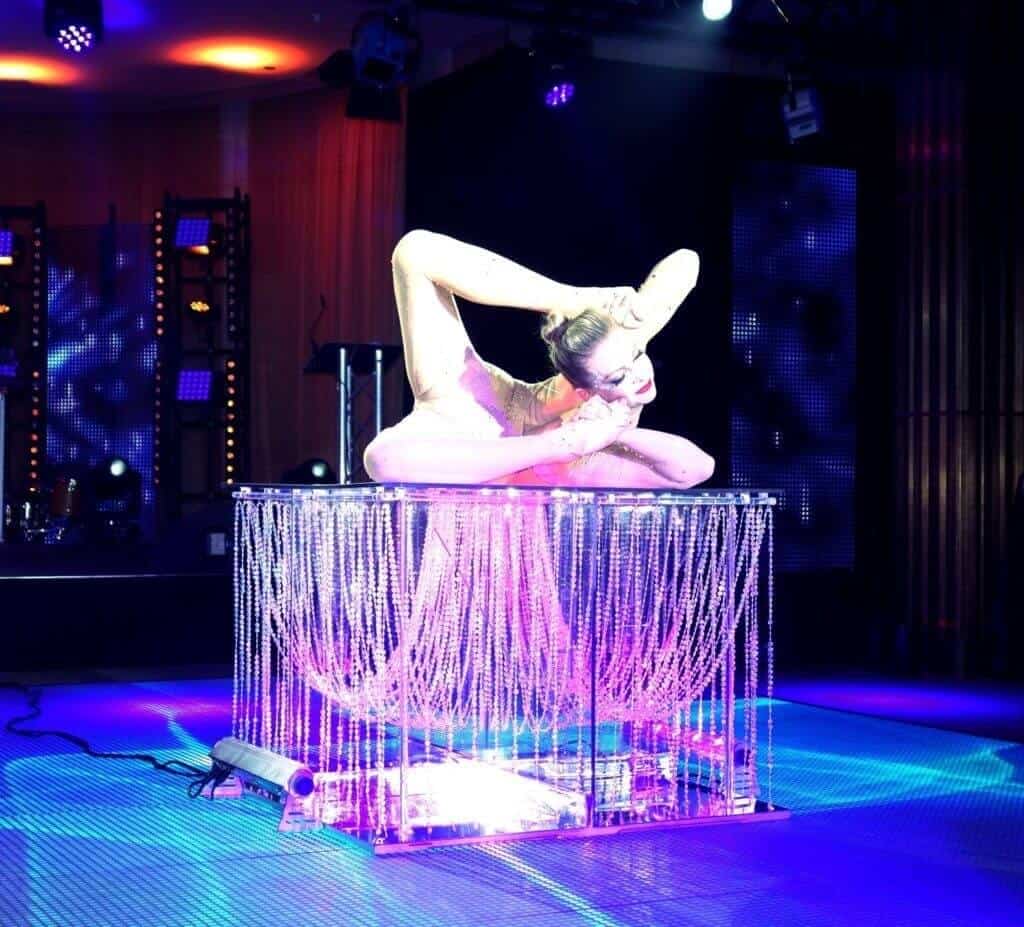 The Top 6 Corporate Christmas Party Themes This Festive Season
Tick Tock, Tick Tock – the clock is ticking down to Christmas and it's time to think about your next Christmas party theme! Christmas party season is just around the corner. If you haven't already organised your company Christmas Party, we can help you through the process.
At Eventologists, we love the festive season and will help take the worry out of your Christmas Theming needs. We can help you theme and decorate your corporate Christmas party or dress up your Christmas trees and decorate various areas of your office.
We have plenty of ideas and suggestions and all the things you would need to create the perfect Christmas event. See below for some of the most popular Christmas party themes we offer for the festive season:
Eventologists Top Themes:
Winter Wonderland Christmas Party Themes
Make your corporate Christmas Party magical with our Winter Wonderland theme. Our winter wonderland themed events are truly mesmerising! Picture your venue dressed stunningly in white, silver and ice blue, with snow drenched pines and wintery trees and fairy lights to create and enchanted wonderland scene. As guests arrive through our amazing ice tunnel, snow can delicately fall on guests as they enter. Guests can be greeted by stilt walking Ice Queens and Jack Frost Entertainers who then lead guests to dinner. At dinner, tables are dressed in crisp white tablecloths and frosted table centres, along with ice white chair covers. The room is lit in blue with mood lighting to finish off the winter themed event. Check out our top tips for your next winter wonderland event!
Narnia Christmas Party Theme
Narnia theming and Narnia party decorations are very popular ideas especially for Christmas Party ideas. A Mystical dream? Imagination running wild? We will simply escort you through the wardrobe into the mysterious and make-believe world of Narnia.
Narnia themed party prop selection includes sleighs, lions, polar bears, wardrobes, snow drenched trees, lamp posts, icicles and ice bars. Coupled with a snow-covered pathways and twinkling trees forming the Forest play to everyone's delight. A beautiful, inspirational and imaginative fairy tale world we've created especially for you and your guest.
Christmas Masquerade Ball Theme
The magic and glamour of masquerade balls make them a popular theme all year round for themed events and are especially popular for Christmas.
Masquerade balls take your guests back to the Italian Renaissance, an era that was steeped in rich materials, lavish wall drapings, themed backdrops, striking face and eye masks and Romanesque props and ambient lighting. Masquerade events are  sophisticated and elegant allowing guests to dress up in their finest gowns Guests can enjoy night of dancing set in a room with grandeur and coupled with a superb entertainment such as contortionists, illusionists and stilt walkers – you'll be sure to create a night to remember! Take a look behind the mask of our previous Masquerade Balls!
Christmas Circus Event Theme
Step right up to the greatest show on earth with our Circus themed events. This is a great new way to dress up your Christmas party and make it stand out from the norm. We can help transform your event venue into a spectacular big top with performances from jugglers, stilt walkers, contortionists and flying artists to make your festive evening a real whizz. Enjoy Popcorn and Candy Floss whilst browsing the many side shows. Check out our previous Circus theme events here.
Christmas Great Gatsby Event Theme
Venture back to the Roaring 20s – an era famous for economic boom and industrial growth, celebration and merriment. It was a time where aspirations were high, inhibitions were low and everything was about style and panache. The music halls were filled with party people, celebrated musicians playing jazz and swing music and rooms oozed glamour! There's nothing better than a 1920's themed event for the perfect party theme! Eventologists bring you the best ever party! A great Gatsby themed party!
Our event stylists will take you back in time and dress your venue top to toe with 1920's themed décor from backdrops to theatrical drapes and table settings that ooze sophistication.
Make the experience even more magical with Flapper girls who will welcome guests on arrival and then perform a cabaret show during dinner. Then sit back and sip on a Martini to enjoy a 1920s style band or our very own Cara Emerald! Want to join in? cluck those heels on the black and white dancefloor. Integrate a photobooth to give guests a chance to take away memorabilia from the 'Roaring 20s' event! This theme is all about glitz and glamour of the elegant 1920s and we really know how to do it in style!
Christmas Greatest Showman Event Theme
Roll up, Roll up to The Greatest Show on Earth by the one and only Eventologists! The Greatest Showman has been one of the latest Hollywood hits to influence the Themed Event Scene and is a great theme for corporate Christmas parties. Eventologists is delighted to bring you some exciting Greatest Showman Themed Party ideas to transform your event or venue into a stunning circus theme that wows everyone as the curtains drop! The Greatest Showman Circus Theme should be filled with colour, theatre, lights and entertainment. It all starts with the show Ringmaster who can be the host for the evening to set the scene to a circus themed corporate event! As far as themes are concerned, our specialists will help to create a fully immersive theme in the room to create a bespoke Christmas themed event to transform your event venue into the most beautiful festive space. To add that extra impact, we can provide Christmas themed entertainment that will keep guests engaged all evening.
Call one of our Event Specialists for more details about our Christmas Party Theming options and to book.
The Psychology of Colour in Events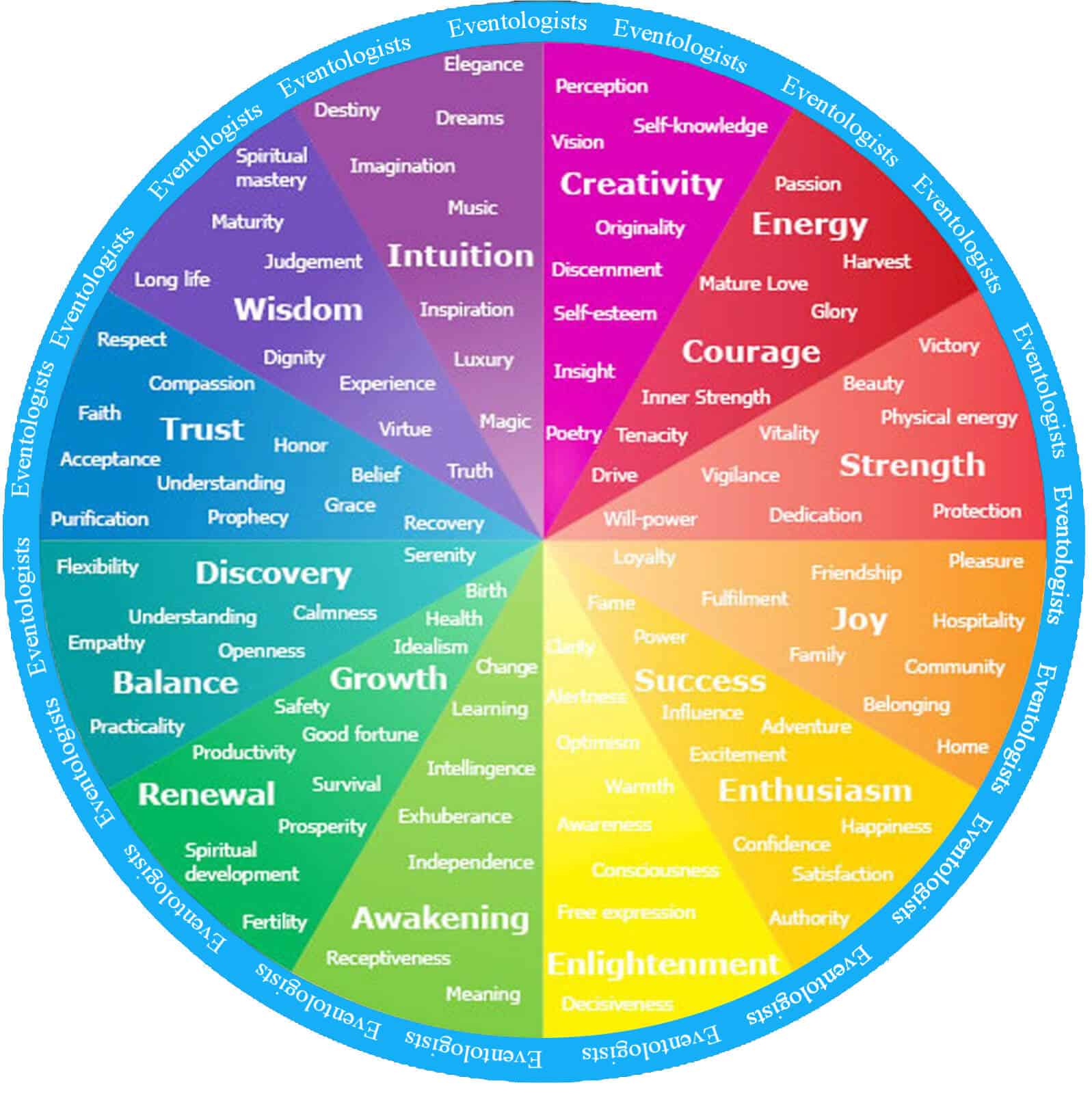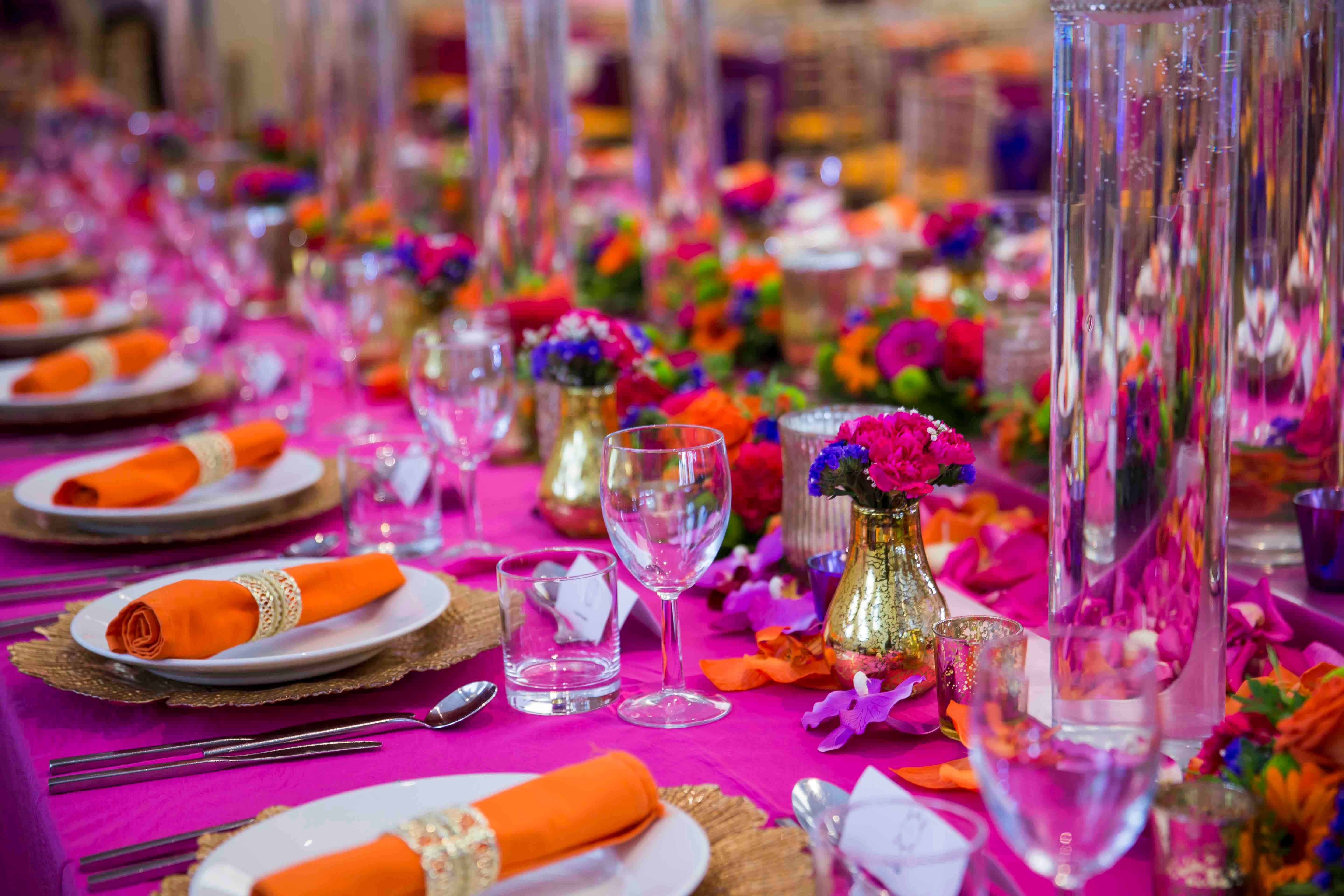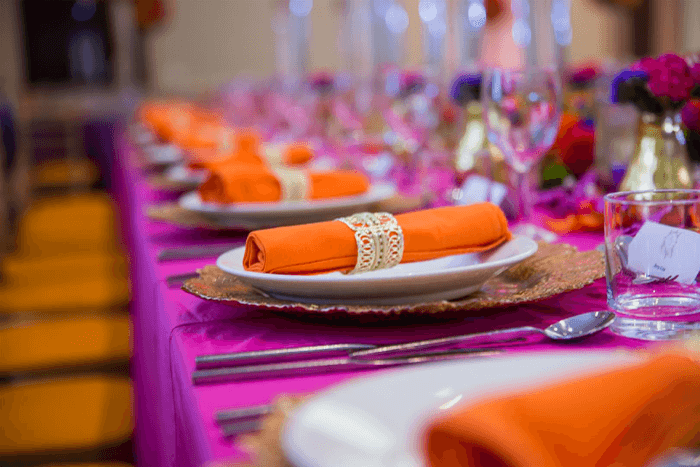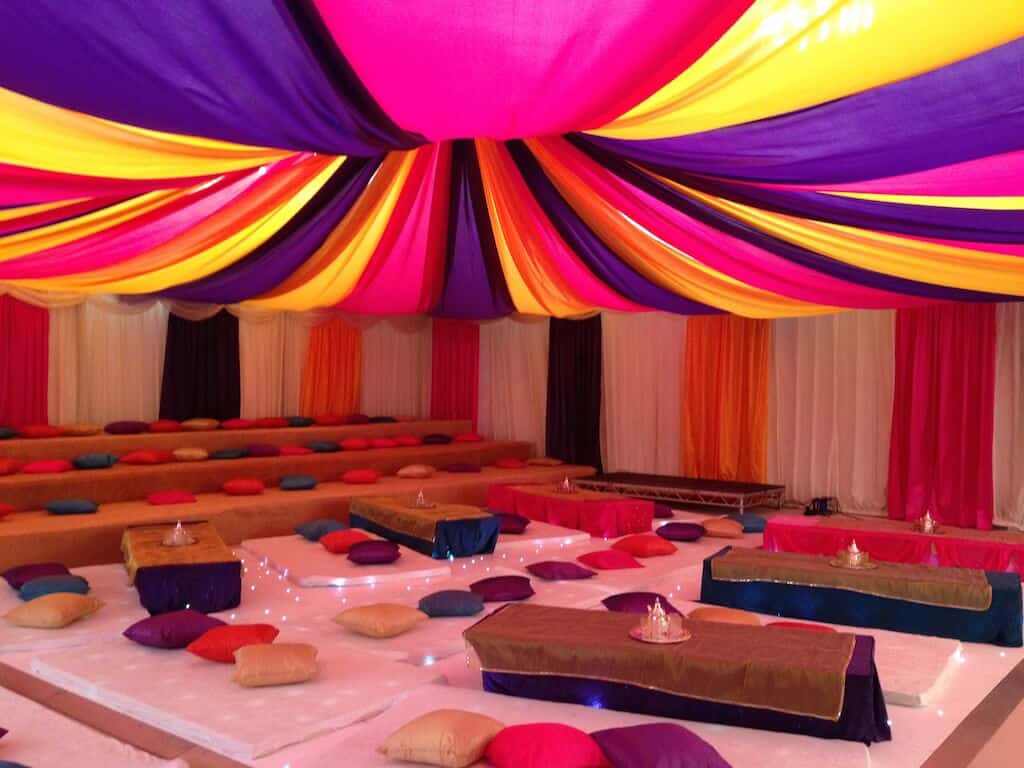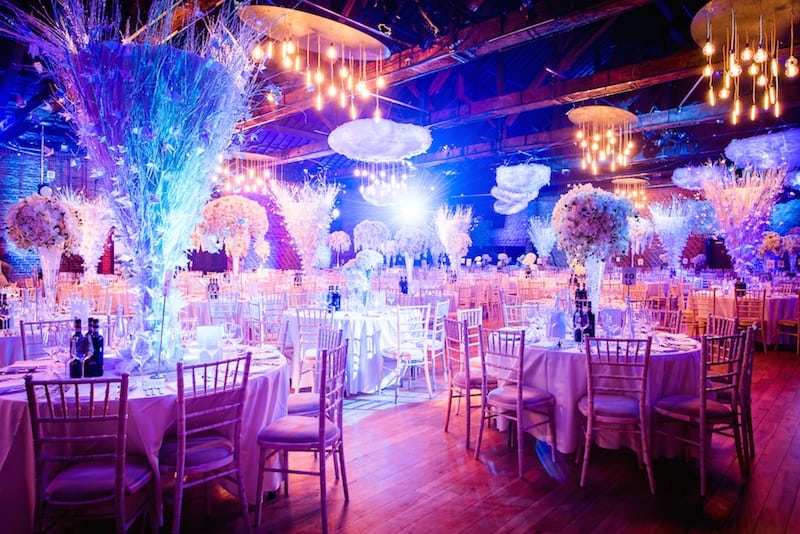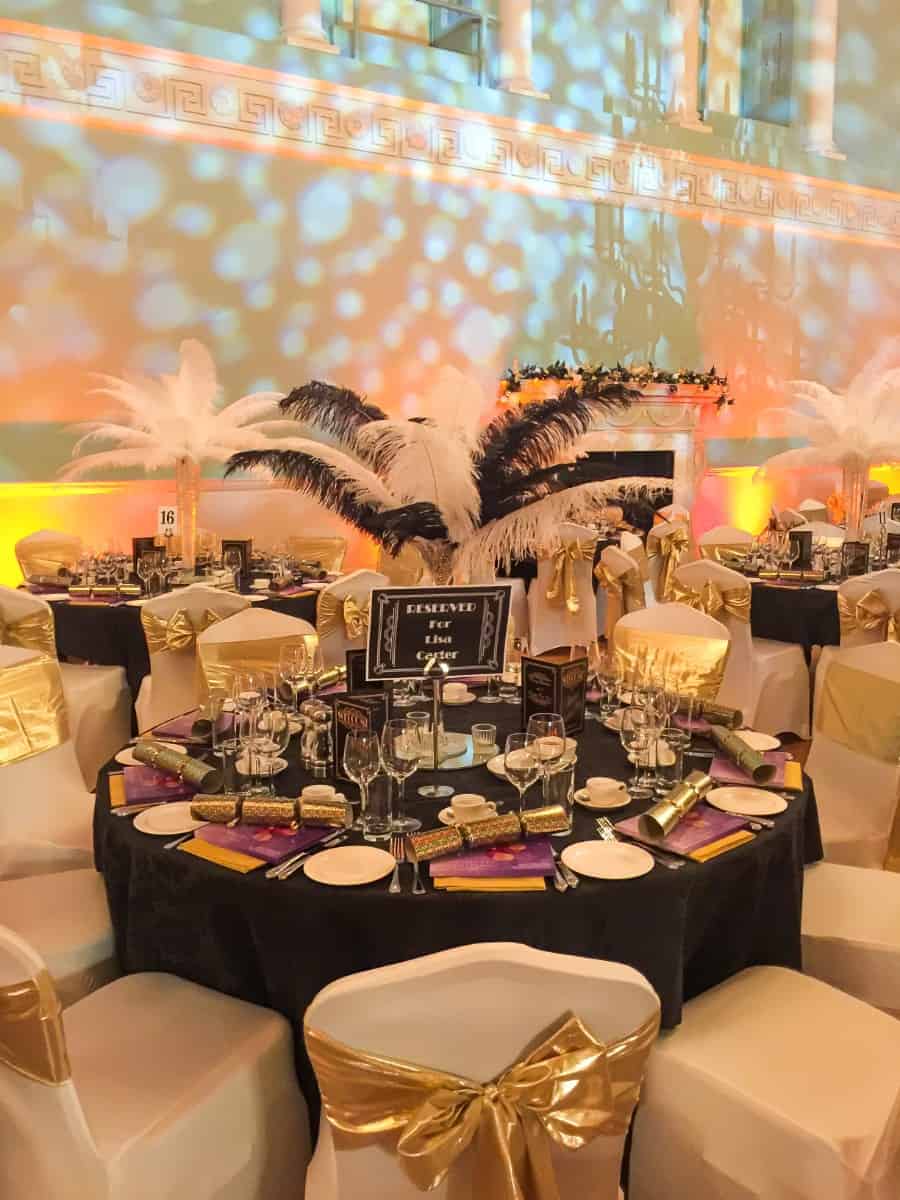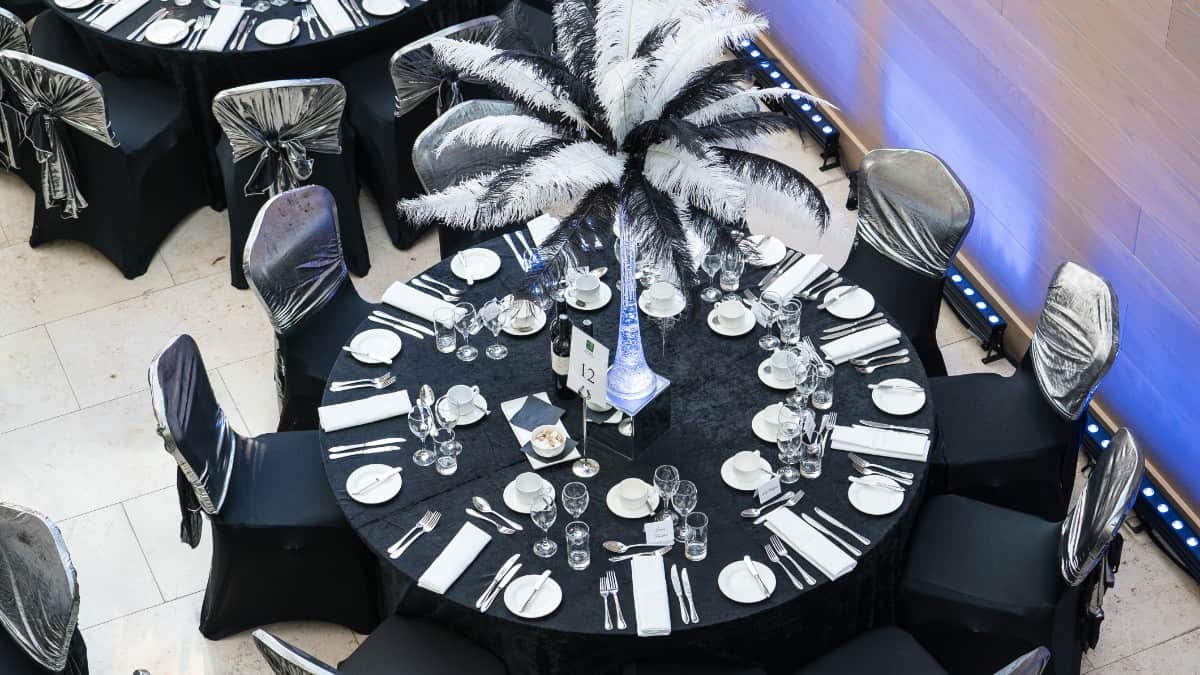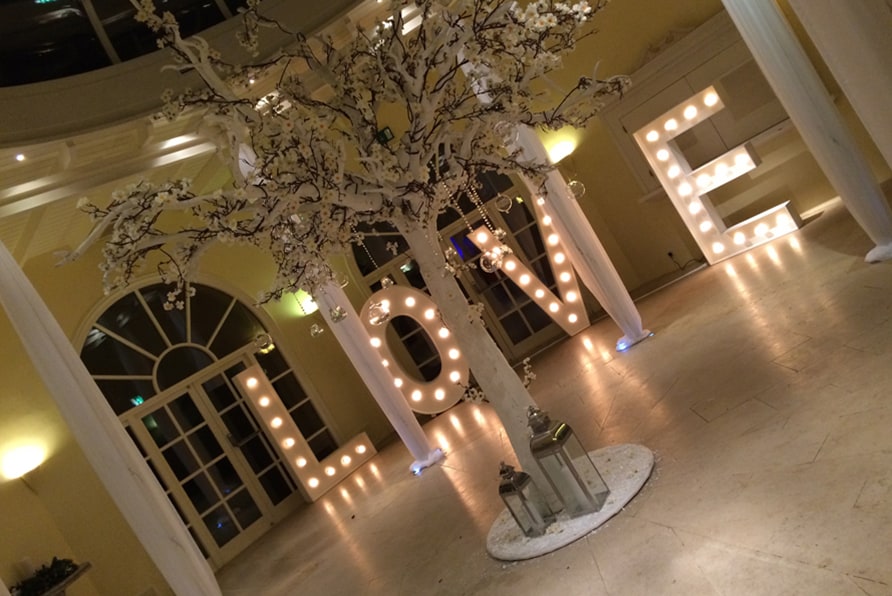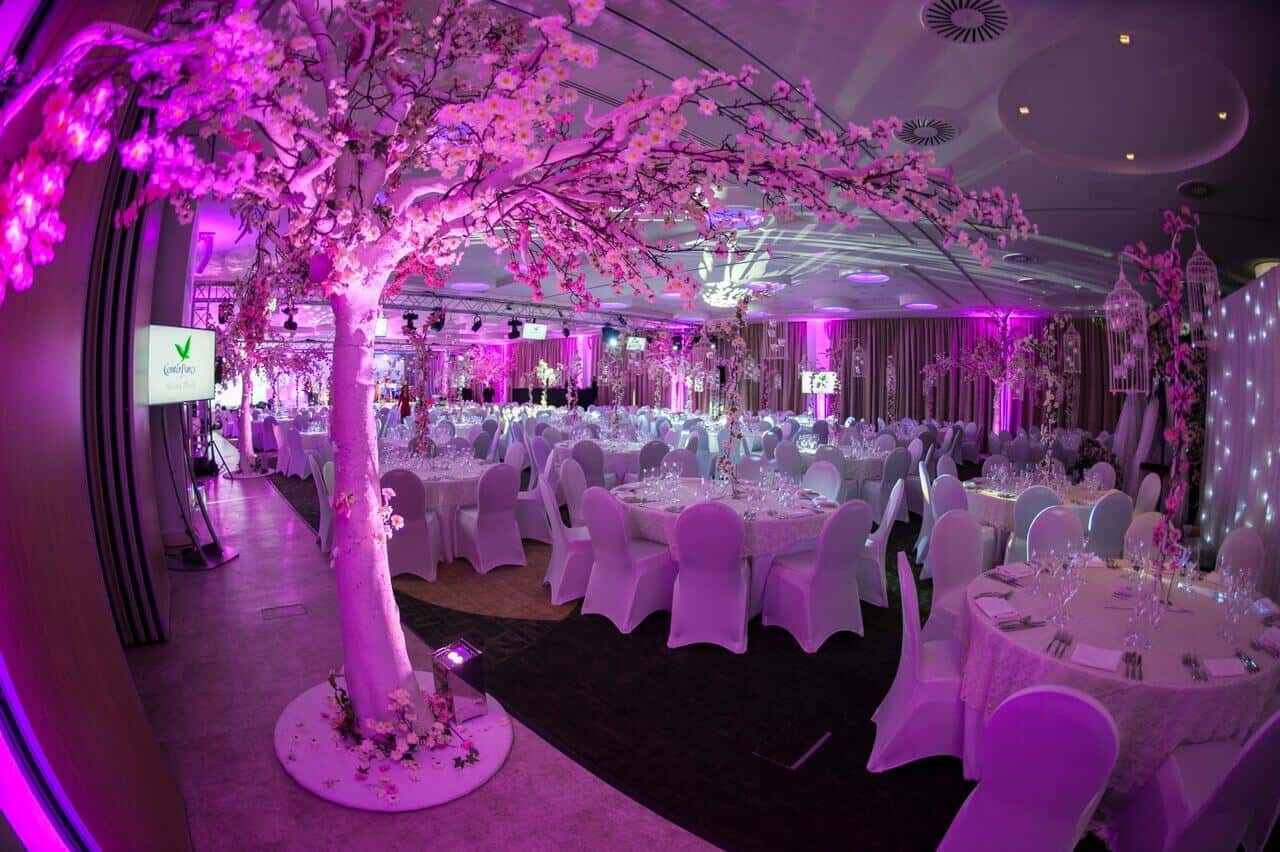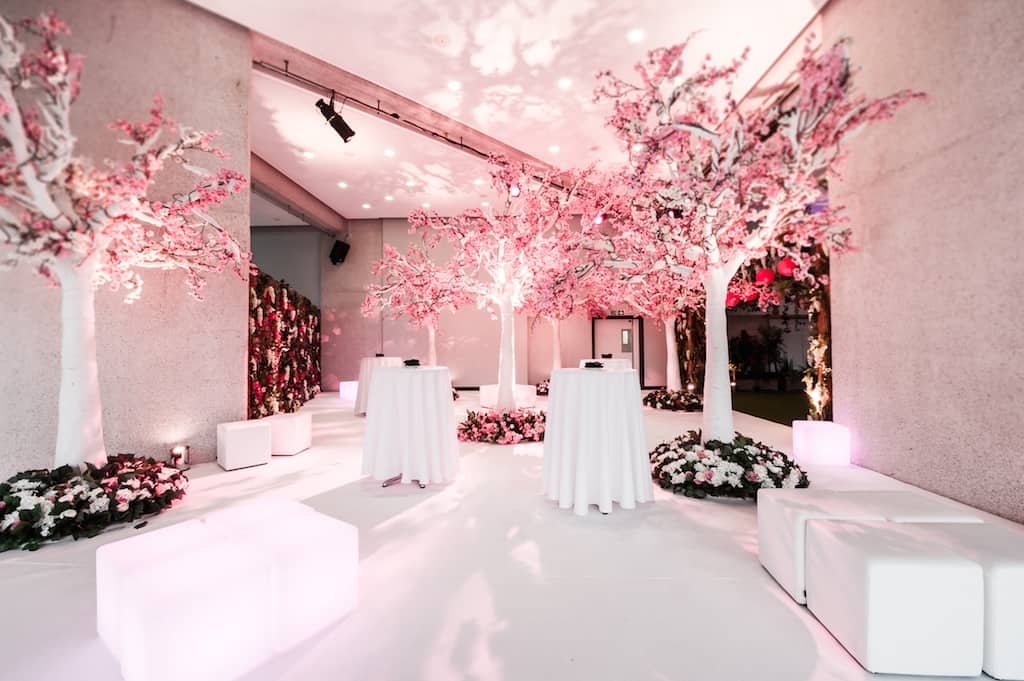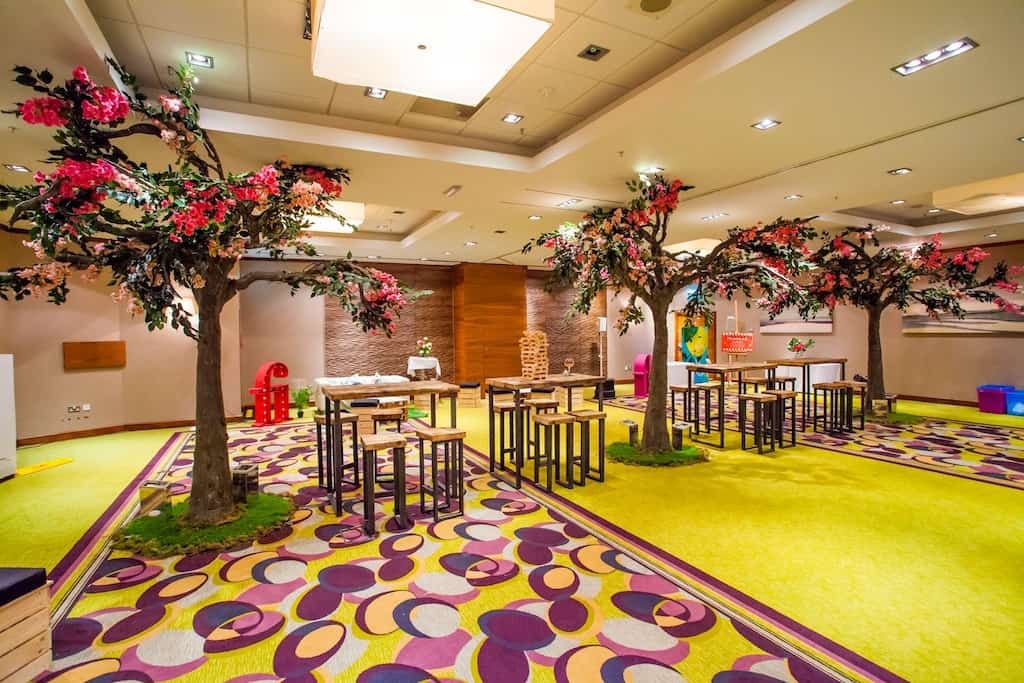 Colour and Emotions Event
Multi-coloured Floral Table Centre
Festival Coloured Table Decoration
Carnival Coloured Draping
Arabian Event Multi-Coloured Ceiling and Draping
Blue Sky Thinking Themed Conference Dinner
White Feather Table Centre
Black and White Theme Table Centre
Black and White Feather Table Centre
White Christmas Blossom Tree
Summer Cherry Blossom Trees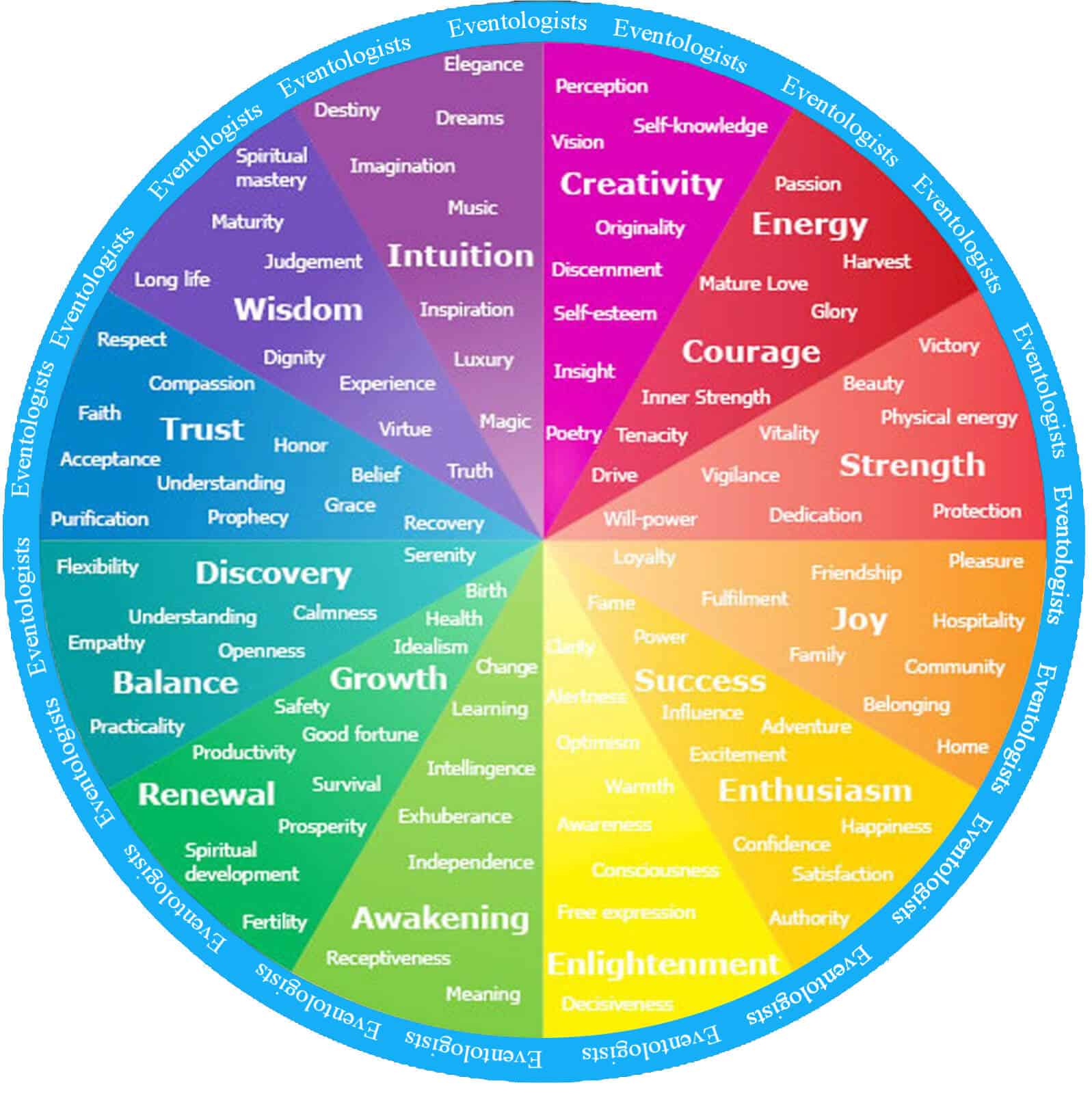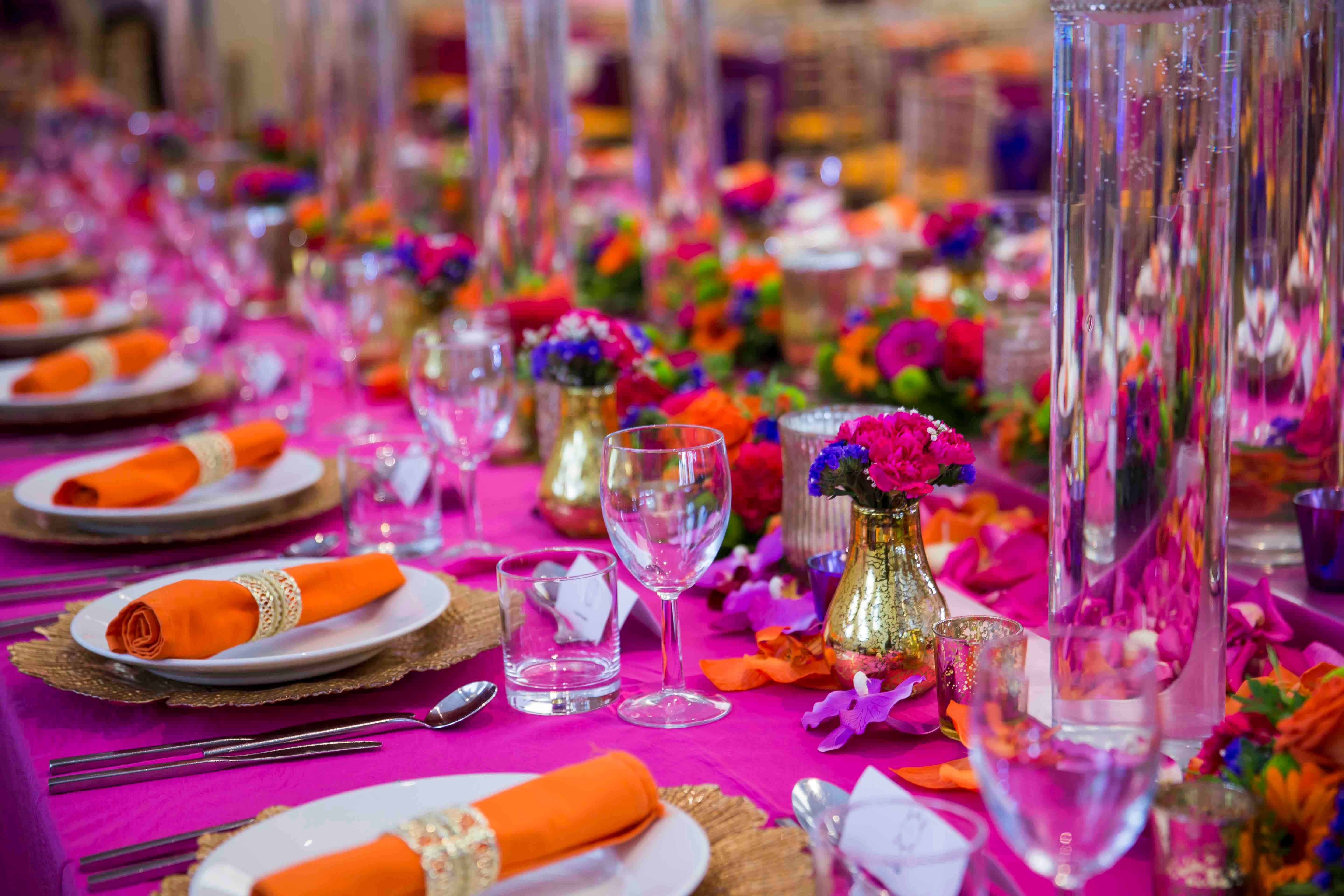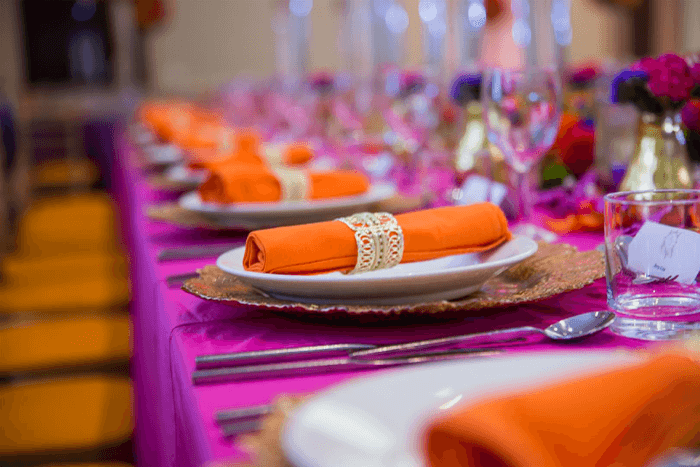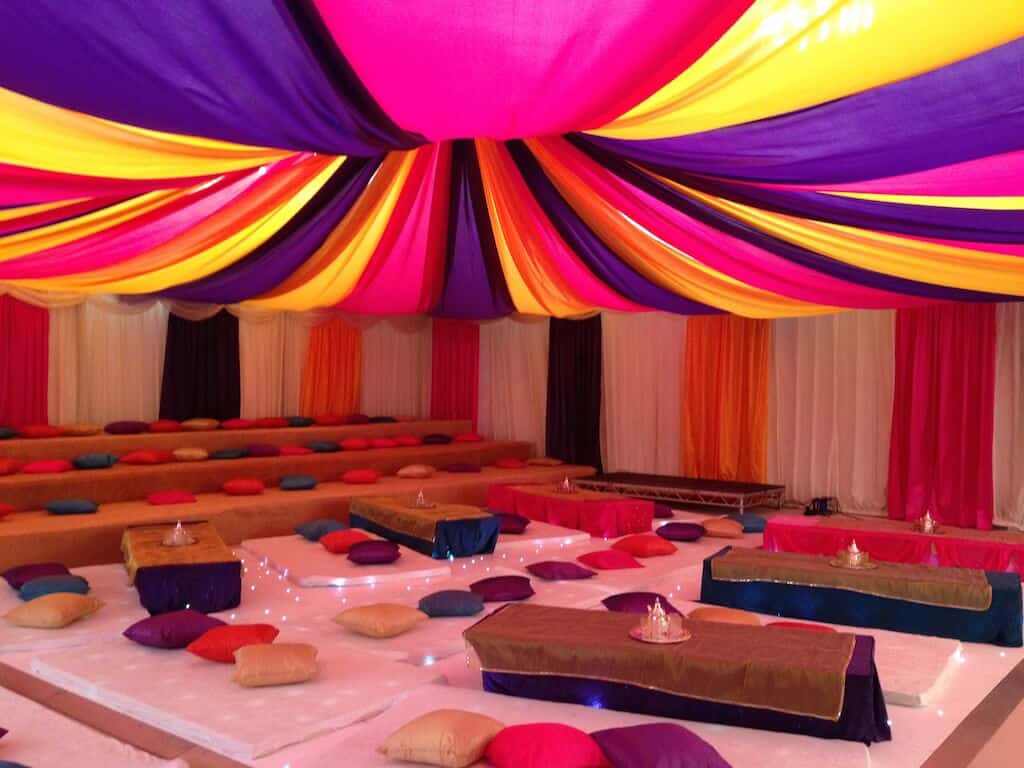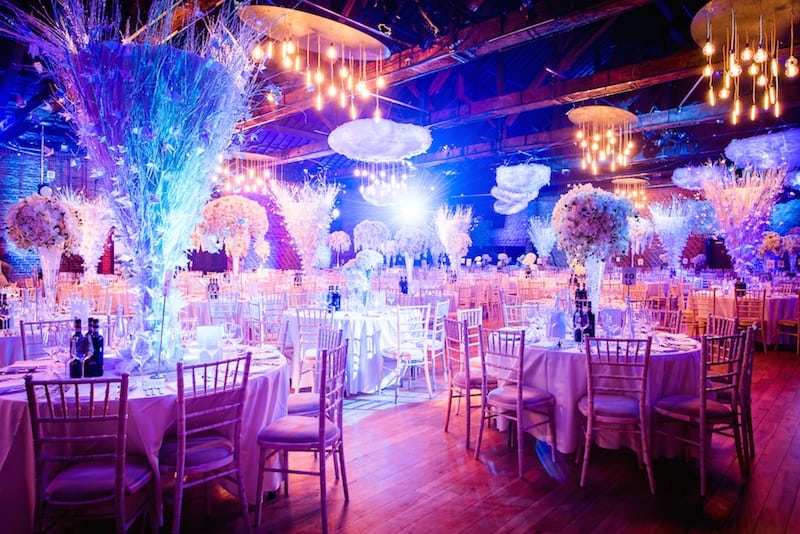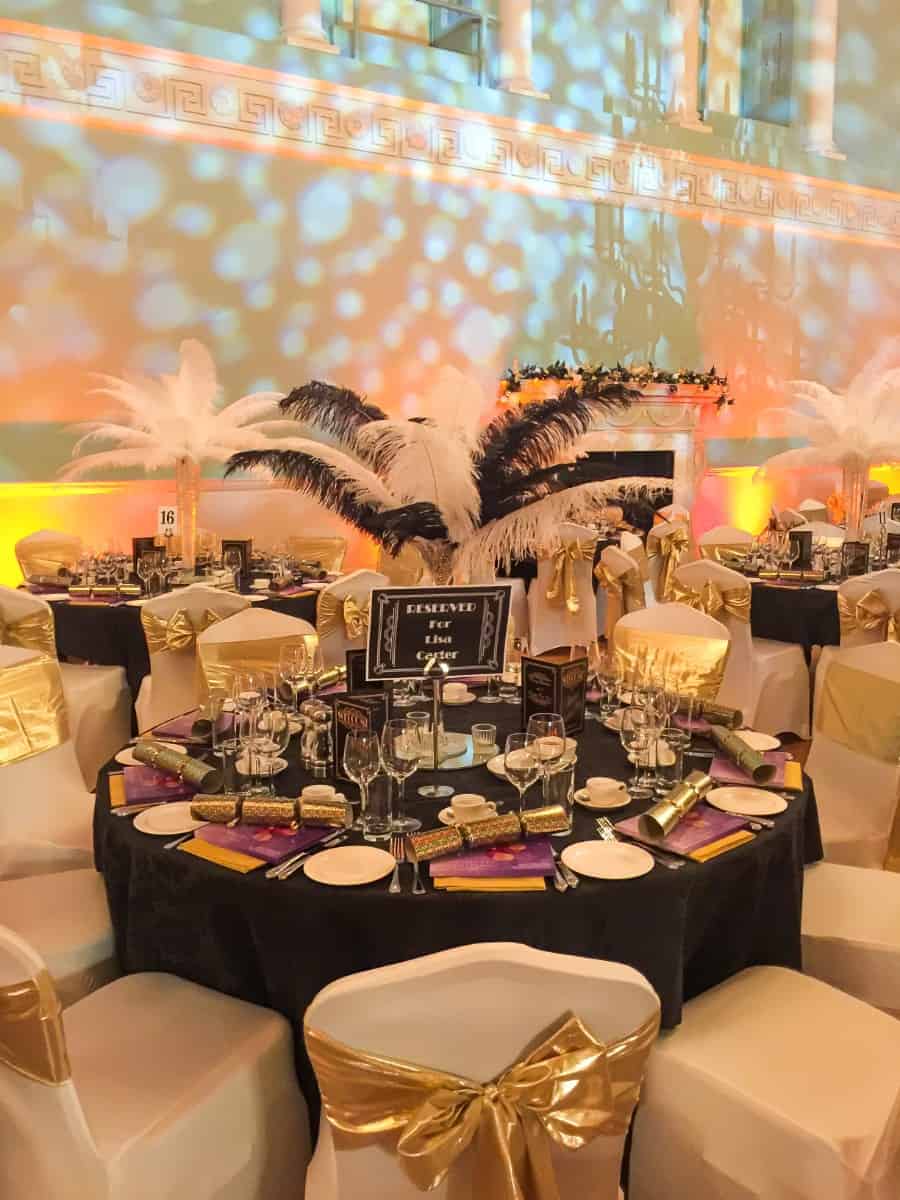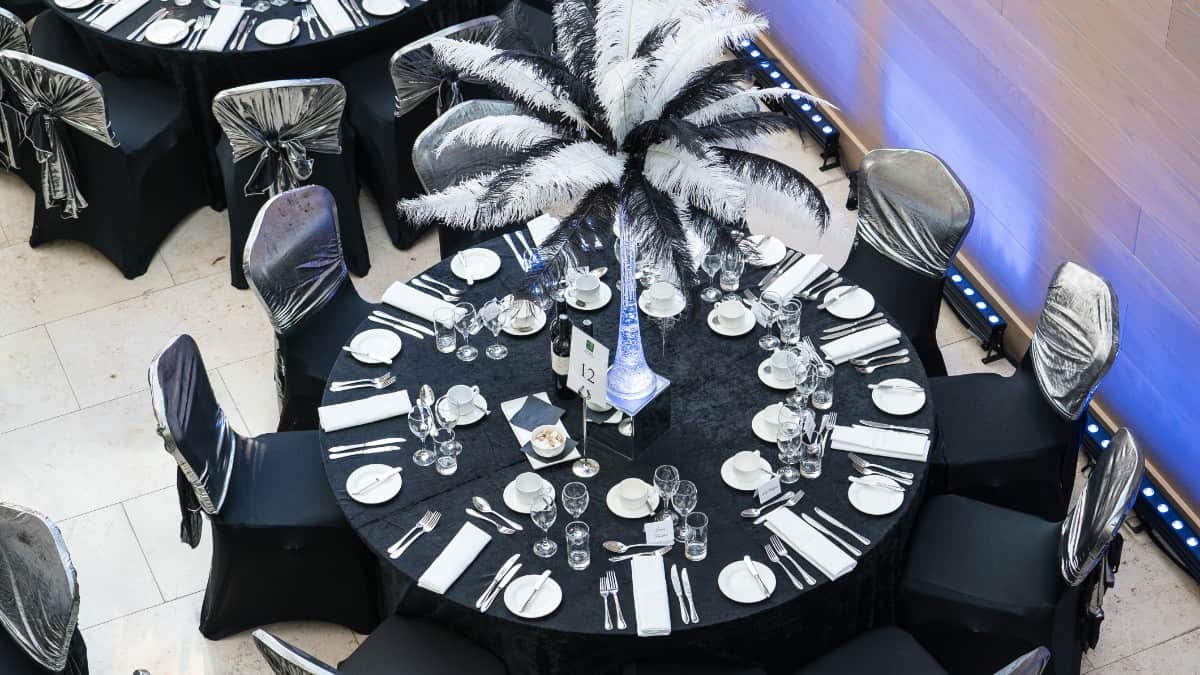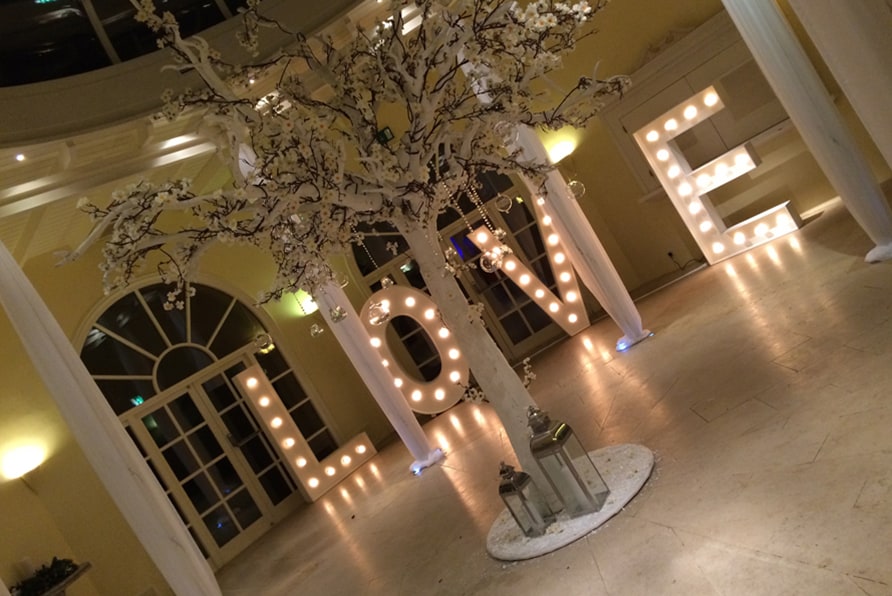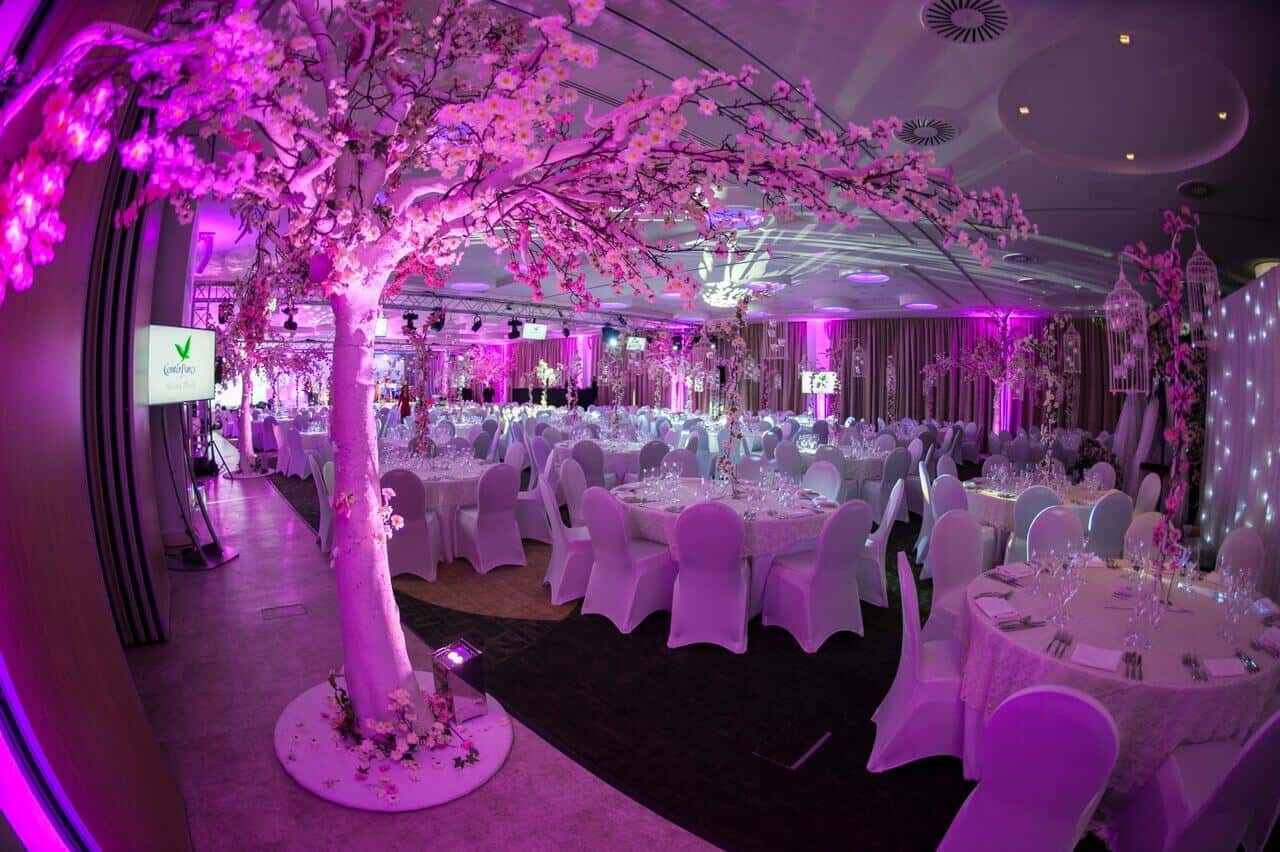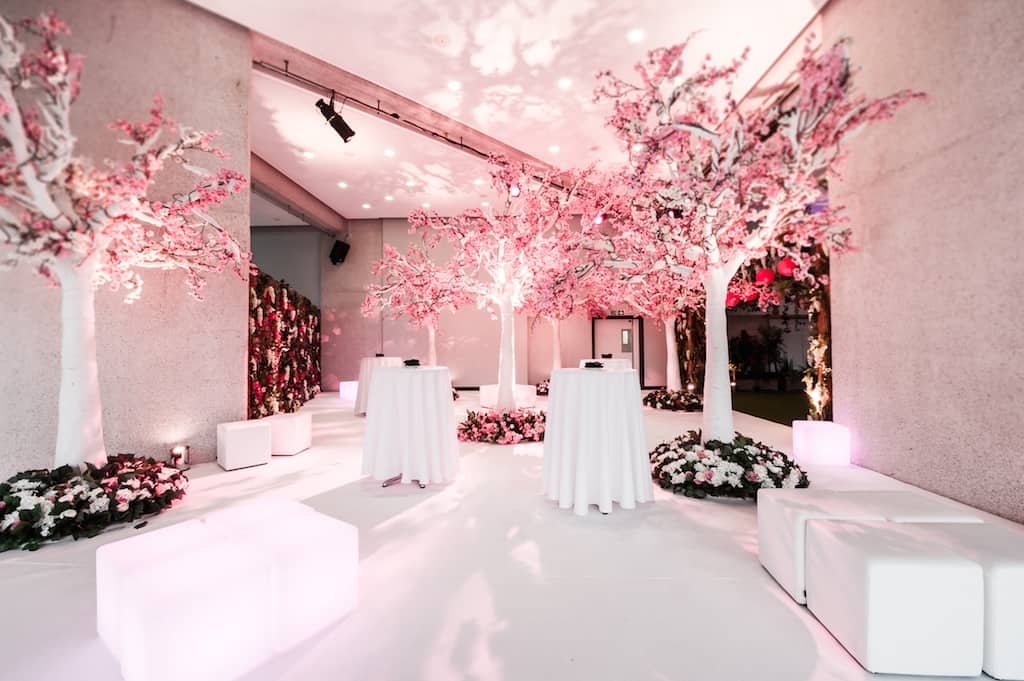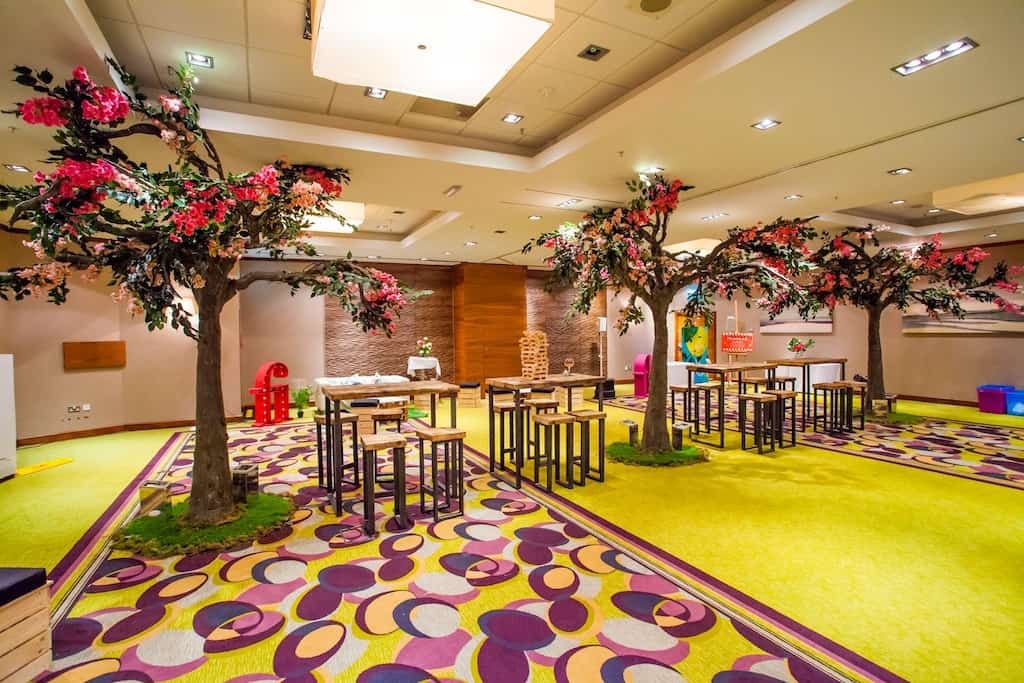 The Psychology of Colour in Events
The psychology of colour in events is an important aspect to any event design!
Eventologists' stylists are often asked the question about what colour to use for an event. Whilst colour is about preference or may represent a brand, we believe there is a lot more meaning to colour than being pleasing to the eye. Did you know that there is psychology of colour in event planning? What's the thinking behind colour? What feelings do changes in colour evoke?  What dynamic colours should be used at events to make those senses open? As an event planner, we don't just need to understand what colour is on trend, but also the psychology behind the use of different colours. What's equally important is what colours not to use at different events or to what extent colours should be used.
Different colours can dramatically affect moods and emotions as well as affect that initial impact when we see a room in a colour.  As an event theming company, we are very aware of colour psychology and work with our clients on ensuring the correct mix of colours are selected.
Generally, people will choose their favourite colours for their private party; but, when it comes to corporate event, event managers often don't have a colour theme in mind if they don't want to follow the brand colours. This is where we can advise! Let's take a look at the psychology of colour in events.
The Meaning behind Various Colours
White: signifies pure, clean, innocent in the West; mourning in the East. White creates a sense of space so works well in dark and small rooms. White can also represent new starts, giving a fresh new idea. White is a great colour for its simplicity, cleanliness and idea creation; White is therefore often used in the summer works well as it helps to create a cool and contemporary atmosphere and used for new launches! However, using too much white can mean isolation, loneliness and emptiness.
Black: signifies glamour, sophistication, power, elegance. seriousness, control and independence. However, in sharp contrast it can also mean death, darkness and frightening. For that reason, it's a great colour for black tie gala dinners as well as a colour for Halloween or haunted themed events.
Red: represents heat, passion, intensity, it's a racy colour which creates strongest emotions such as love, lust, anger, evil – some of the most extreme emotions are represented by red which can make the heart beat that much faster! It is not surprising that red is a popular colour for lighting and theming for a variety of exciting themes such as moulin rouge, burlesque, Vegas themed events, Fire and Ice themed events or even masquerade themes!
Yellow: is a happy, optimistic, warm, zingy colour that draws attention to the eye which is why it's a great day-time event colour. But when used in excess yellow can also be too overpowering and stir up emotions of annoyance and frustration. This is why many people team yellow with whites and blacks or multi-colours to become an accent colour rather than the dominant colour.
Pink: Pink is a softer version of red that creates a sense of compassion, hope and unconditional love. It's a colour that soothes and represents care, understanding and nurturing. It's often linked with romance as it shows empathy and sensitivity. Excessive pink at corporate events can mean reduced power and or even immaturity. For that reason, pink is often used as an accent colour with other colours at corporate events.
Green: always has many positive connections with nature, earthliness, growth, health, tranquillity. It's a powerful colour as it creates a calming
atmosphere, feels fresh so its colour that relieves stress and helps heal. It's often used for chill-out spaces and networking events to create an ambience of relaxation.
Orange: is connected with motivation, vibrancy, energy, excitement; as such it creates a positive attitude and enthusiasm for life. As such orange is great colour for bringing comfort in turbulent times and creating a sense of fun or freedom for your guests; for the very fact that it is an attention-drawing colour, it is often used at charity events or launches.
Purple: Purple is most commonly known for its imagination and spirituality, royalty, wisdom, wealth. People see purple as colour linked with luxury, extravagance, courage, mystery and magic. However, avoid using it too often as it can also cause distraction. Purple is often used lighting for events especially chill out areas and bars for its very powerful emotions that it stirs up!
Blue: is known for its trust, peace, loyalty and dependability. It's reliable, responsible and mentally soothing as it lowers pulse rate and body temperature and creates productivity. It's one of the best-liked colours, especially by males. It's a perfect colour to use for corporate functions however it can be perceived as distant, cold or unfriendly if used in excessively. Often it is purposefully used to create ice themed events, underwater themed events or sometimes used to create an eerie atmosphere.
We hope this guide provides a guide for your next corporate event. Whilst colours have positive and negative meanings, we always say to clients to be daring with colour which will set apart and leave a lasting impression on your clients.
Contact our Event Management Team today and they will support your corporate event planning and design every step of the way!
Top 20 Classic Event Themes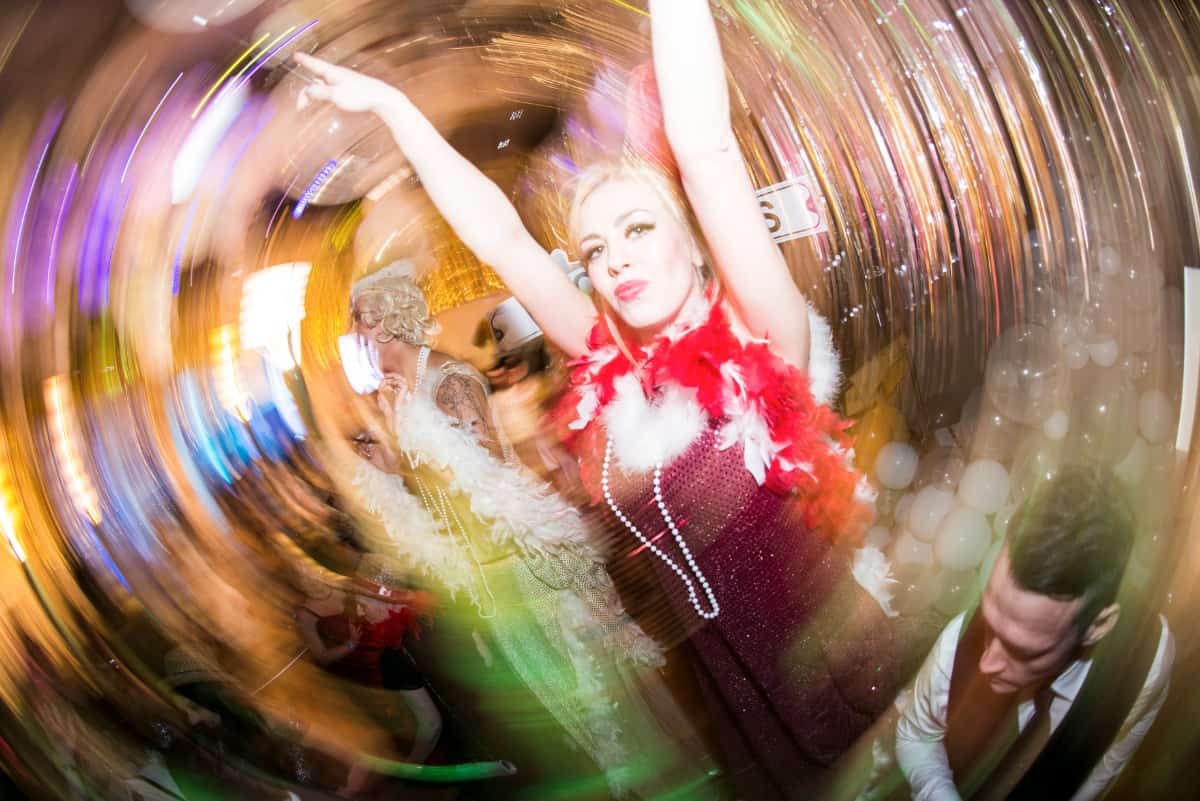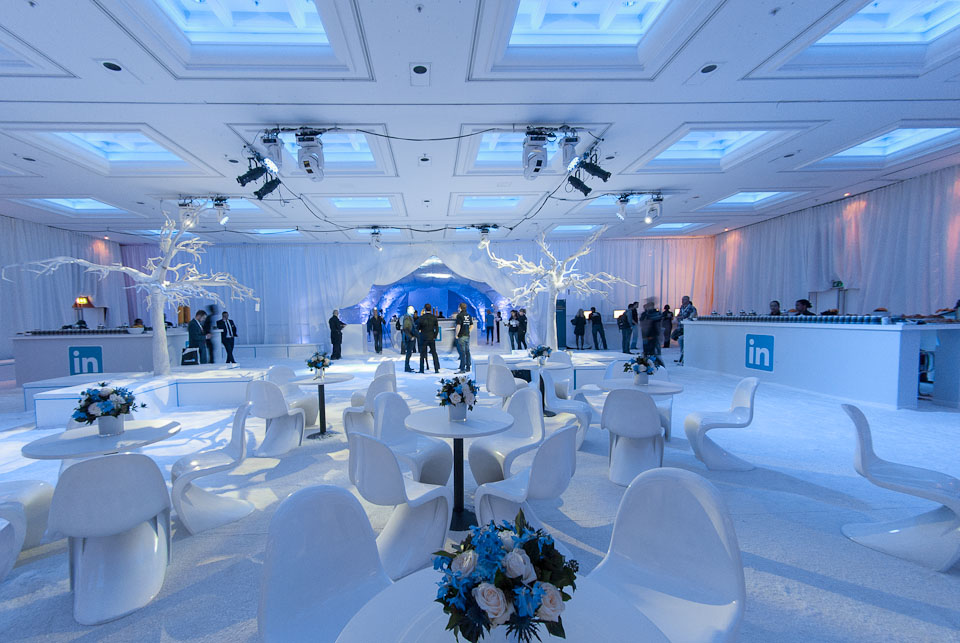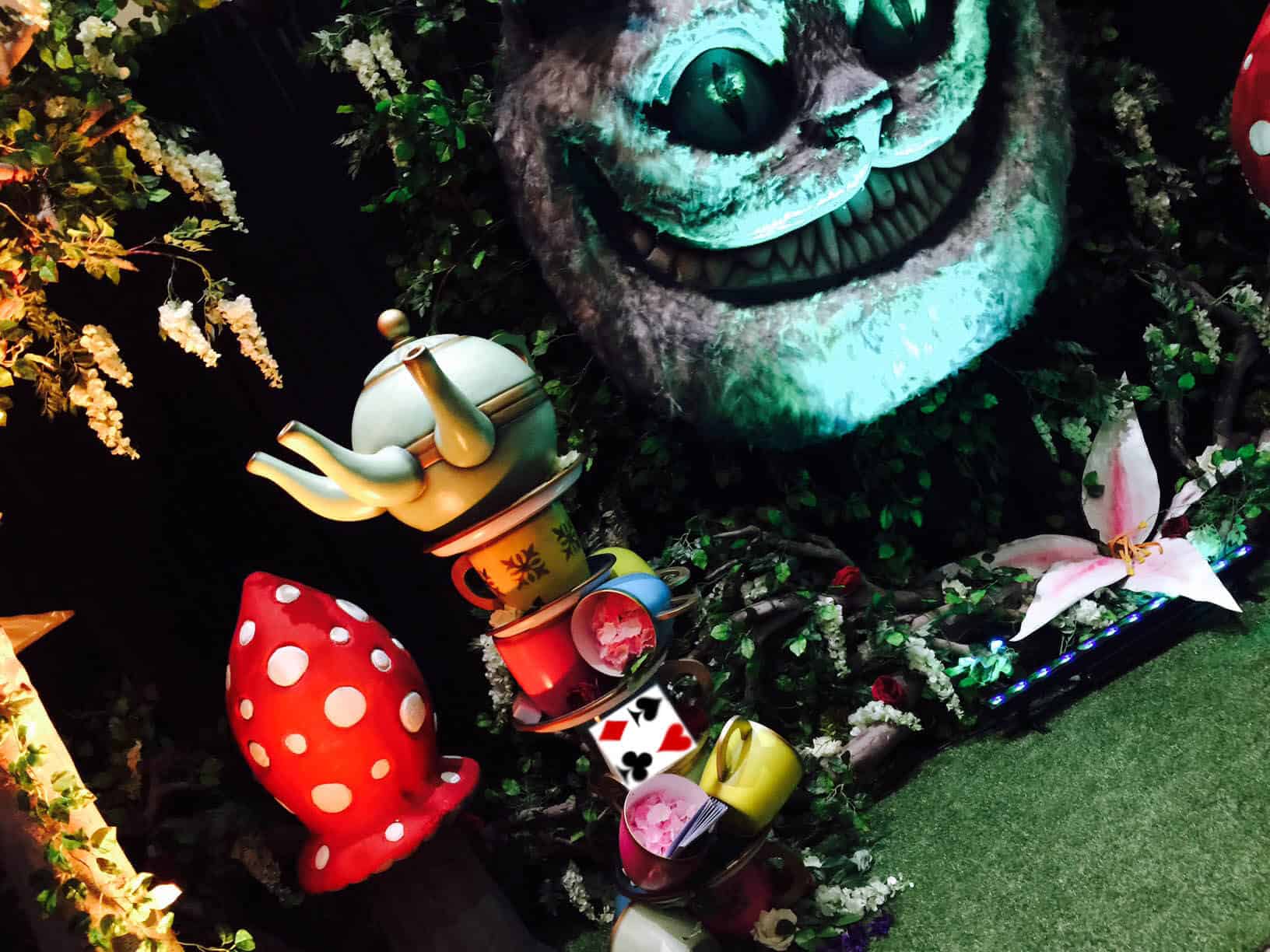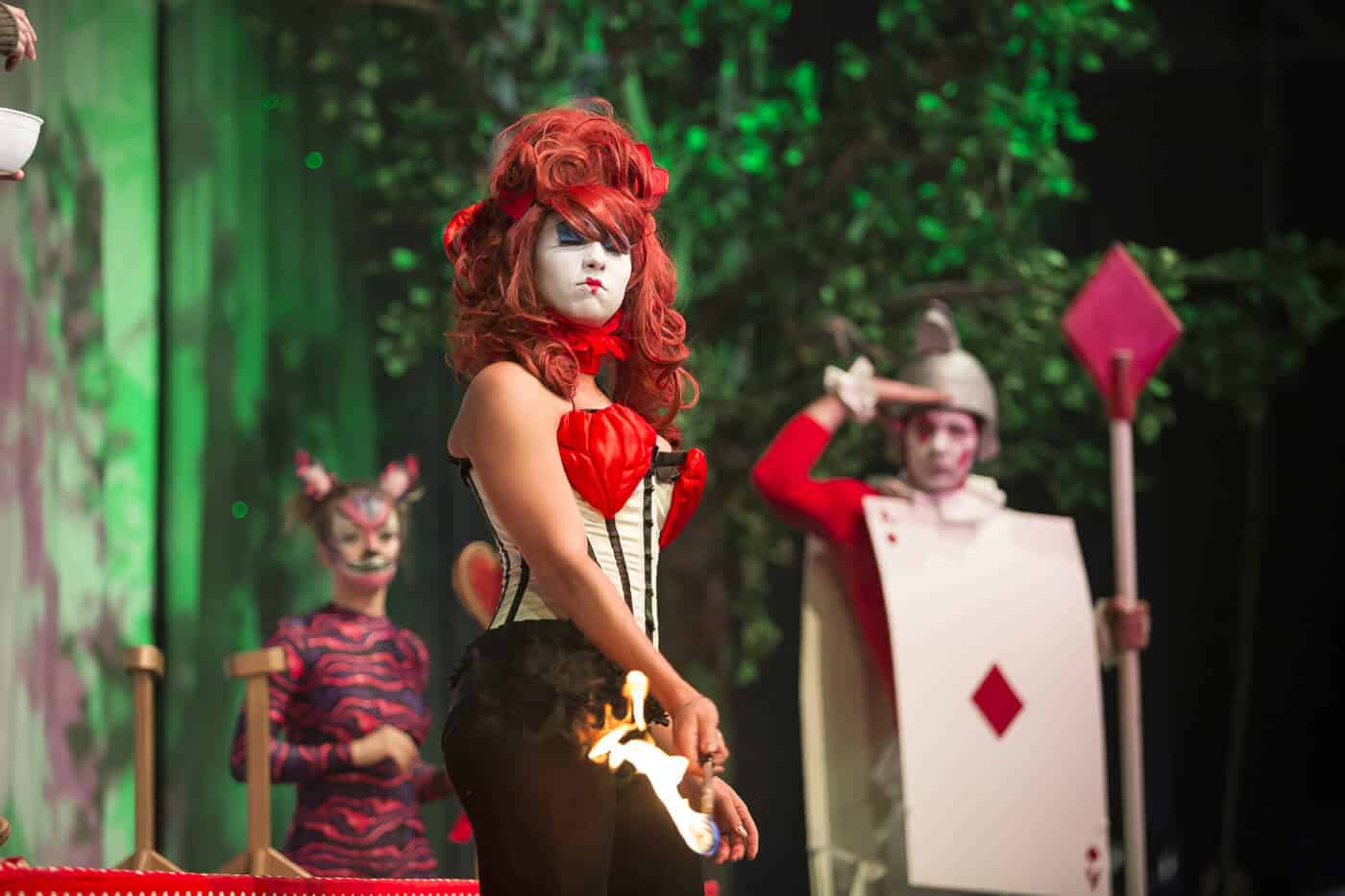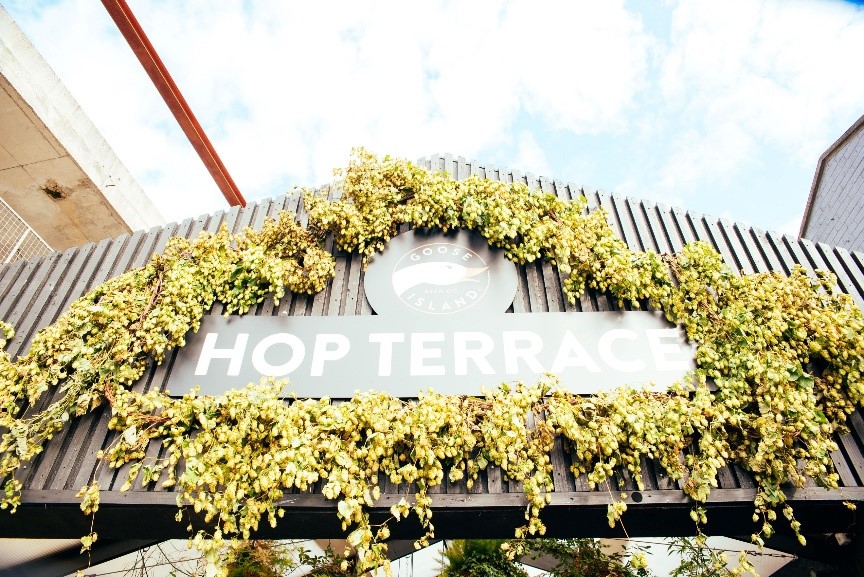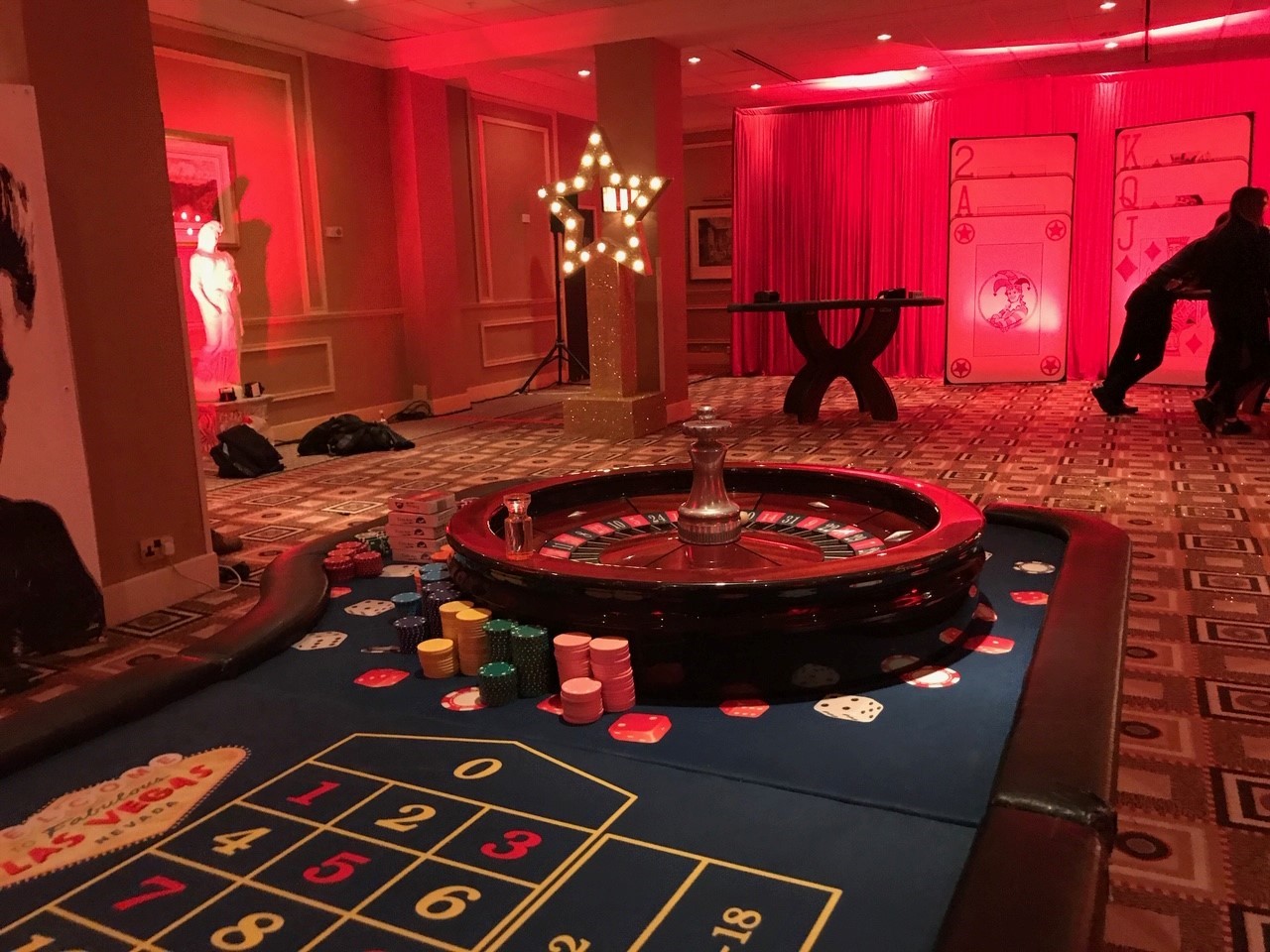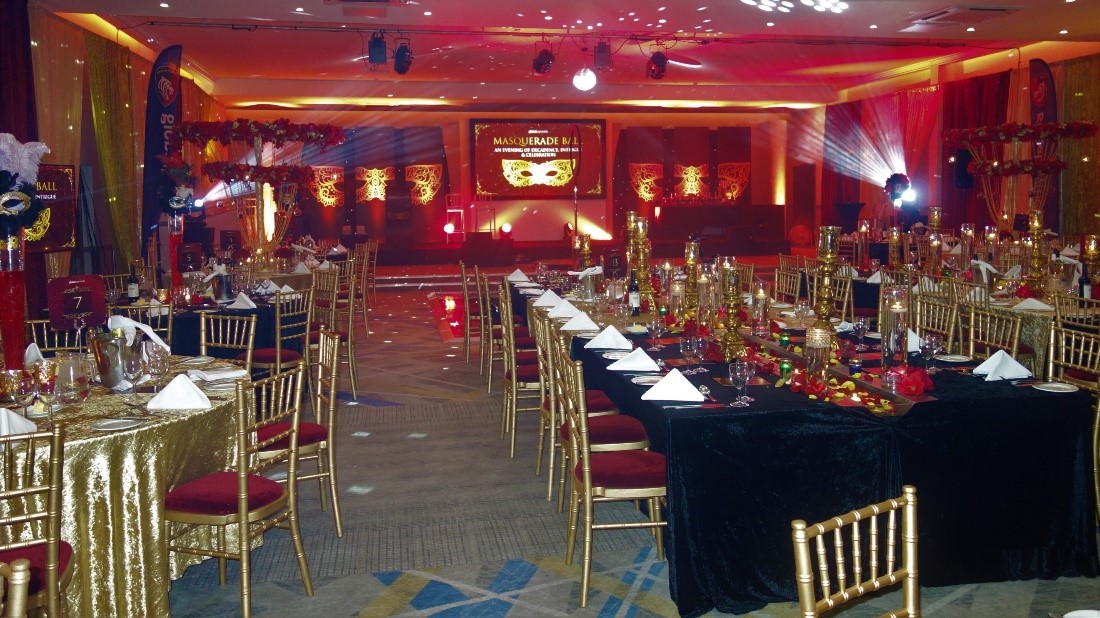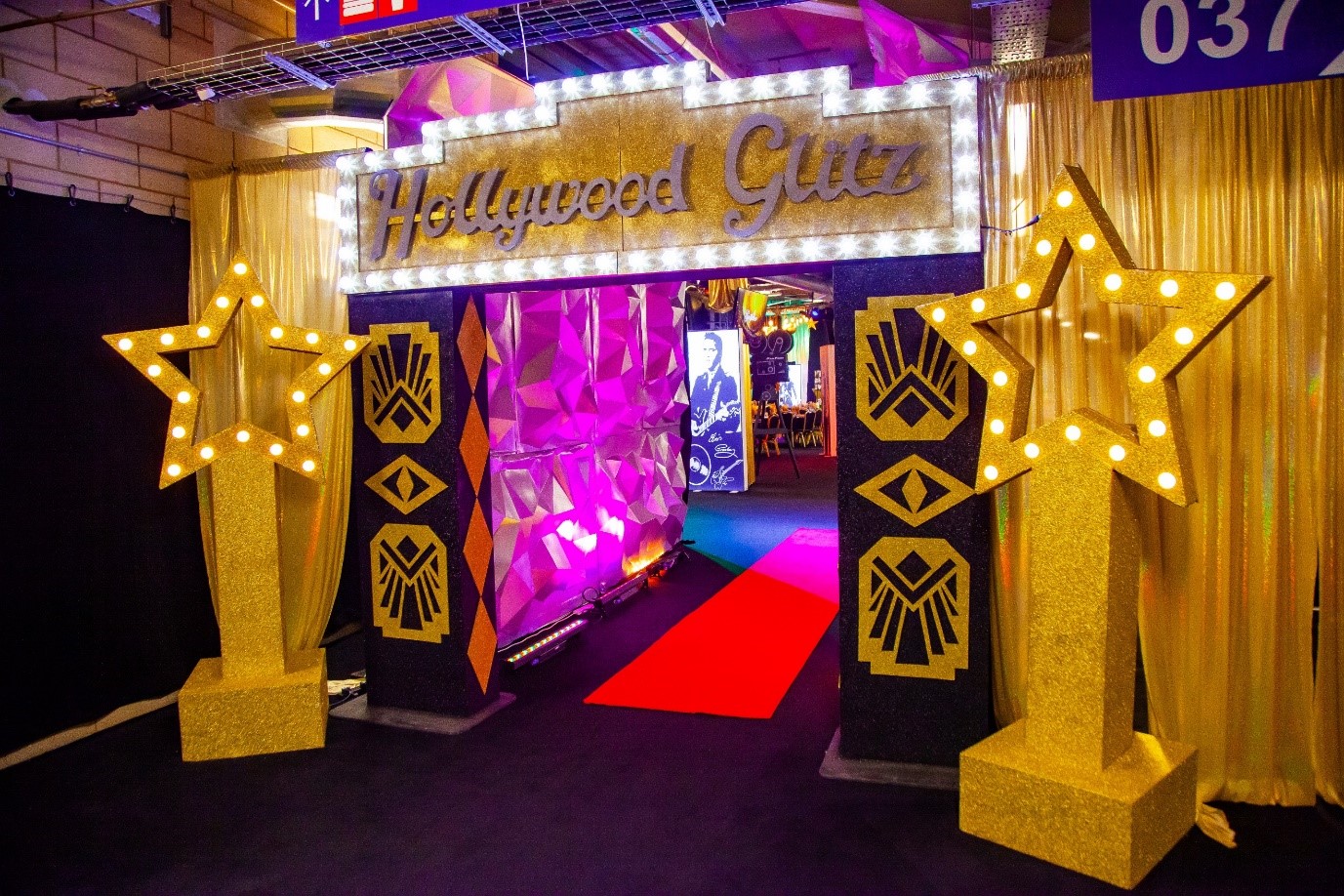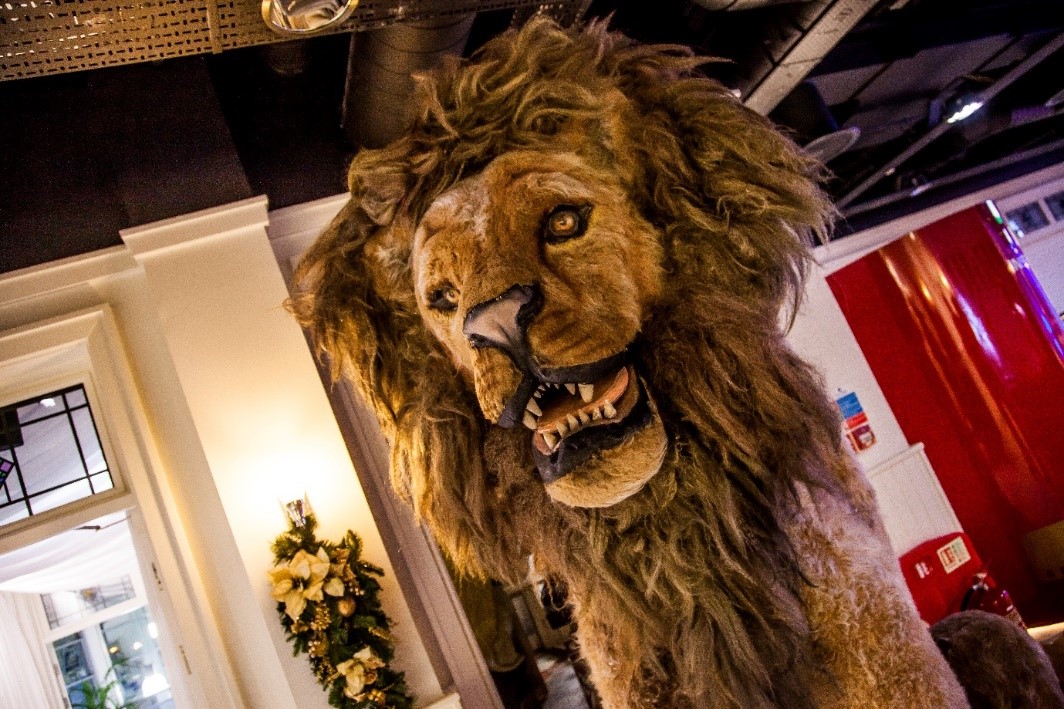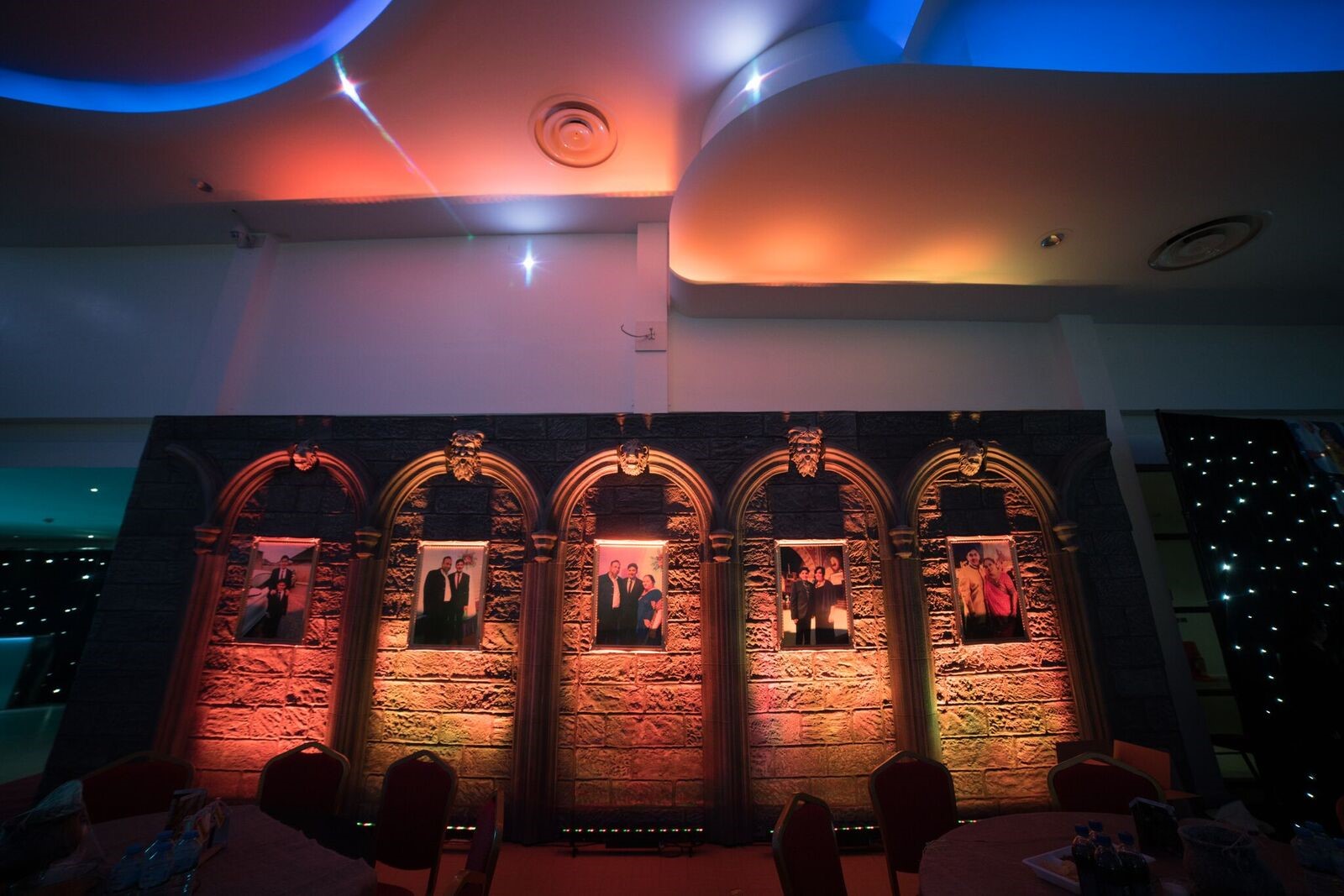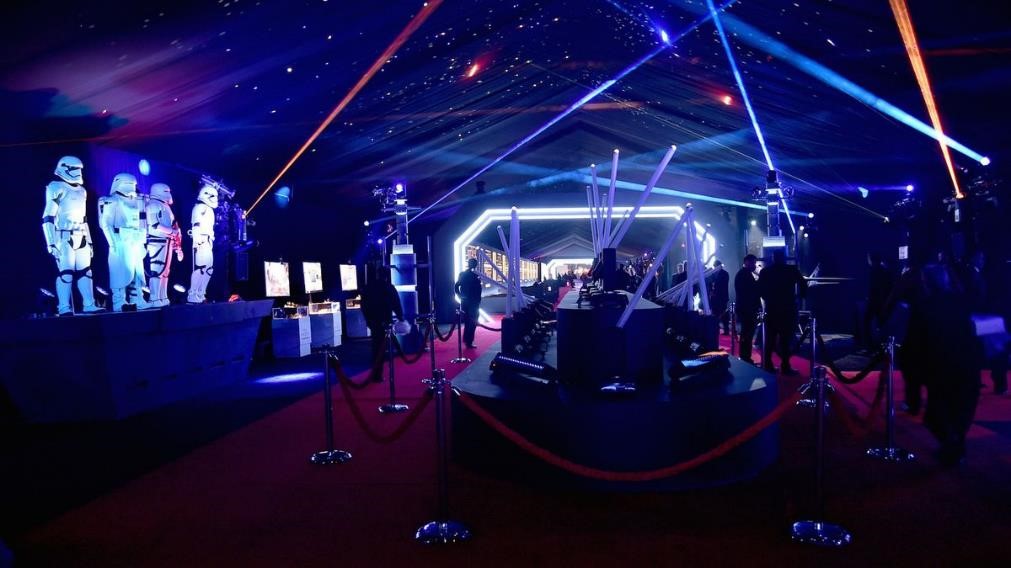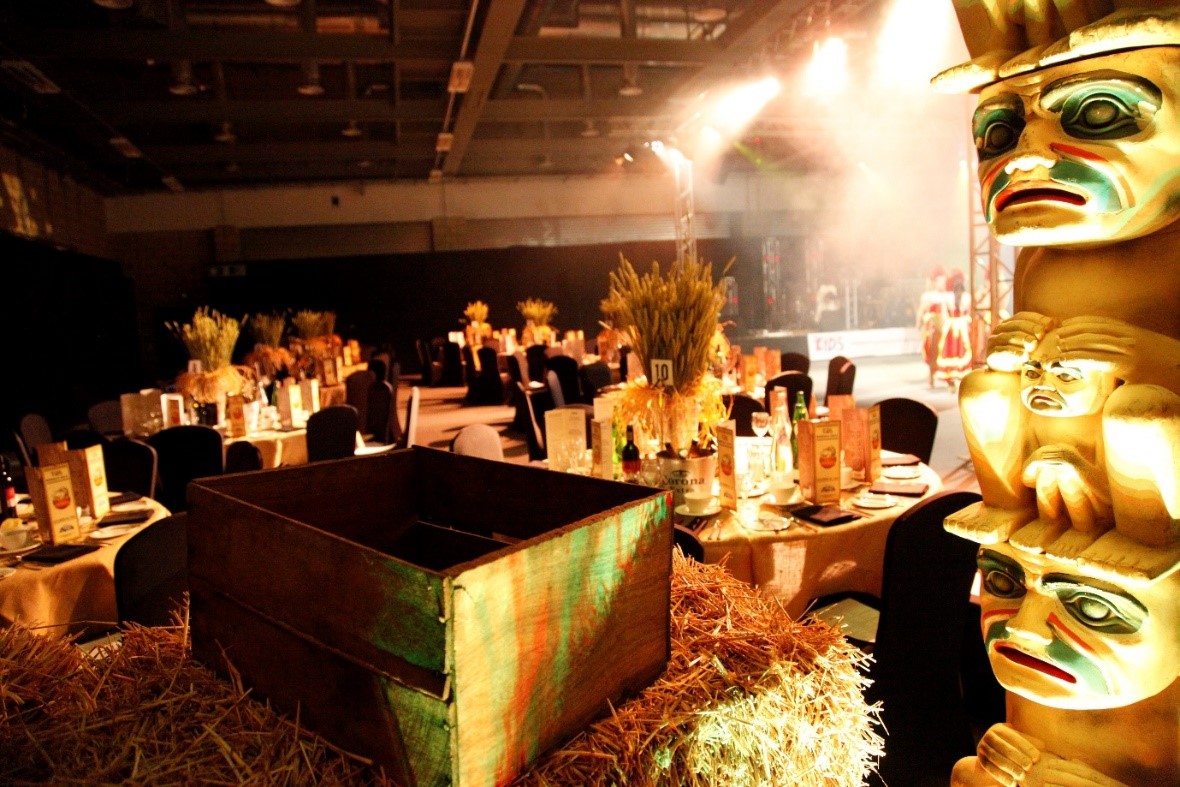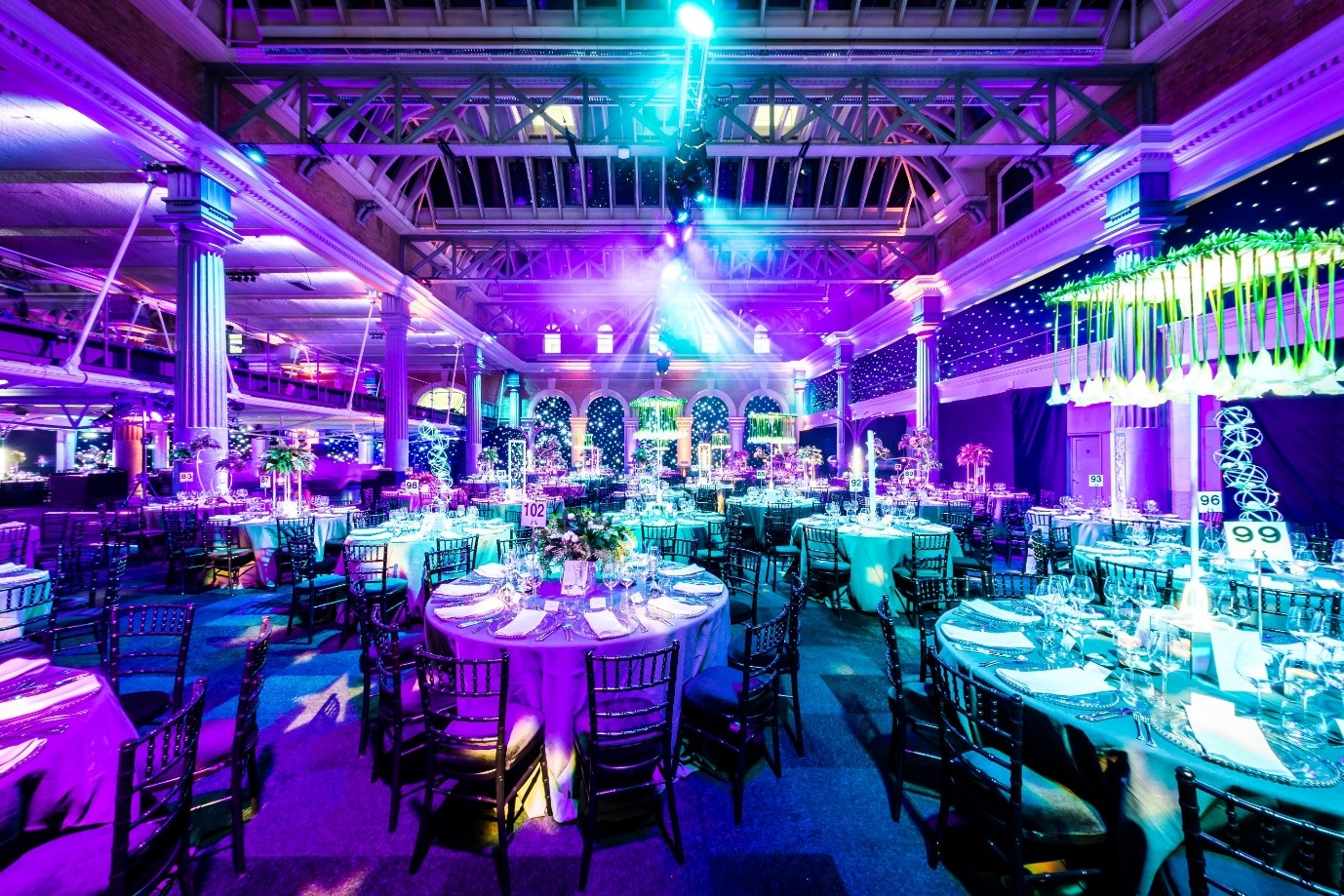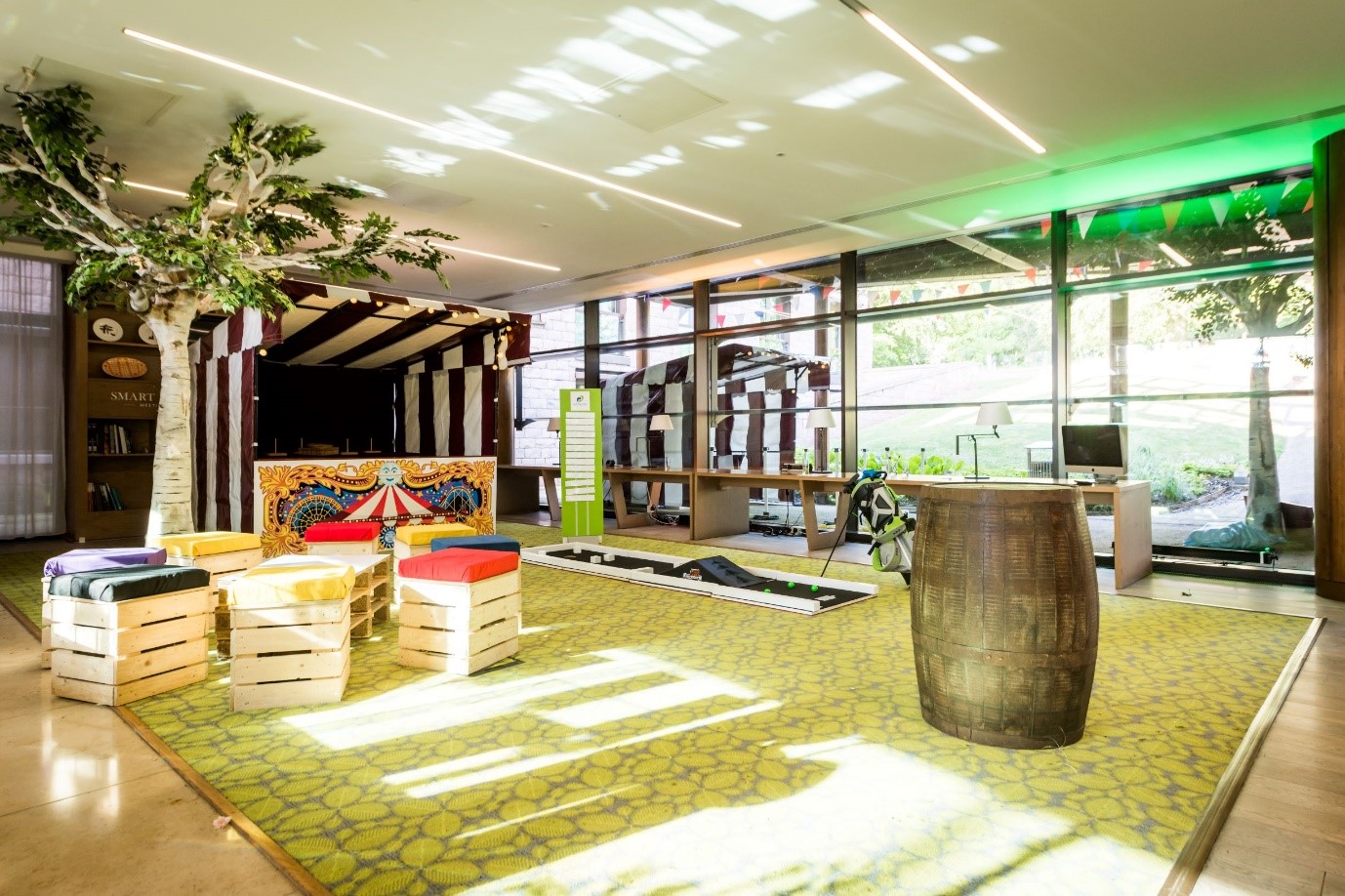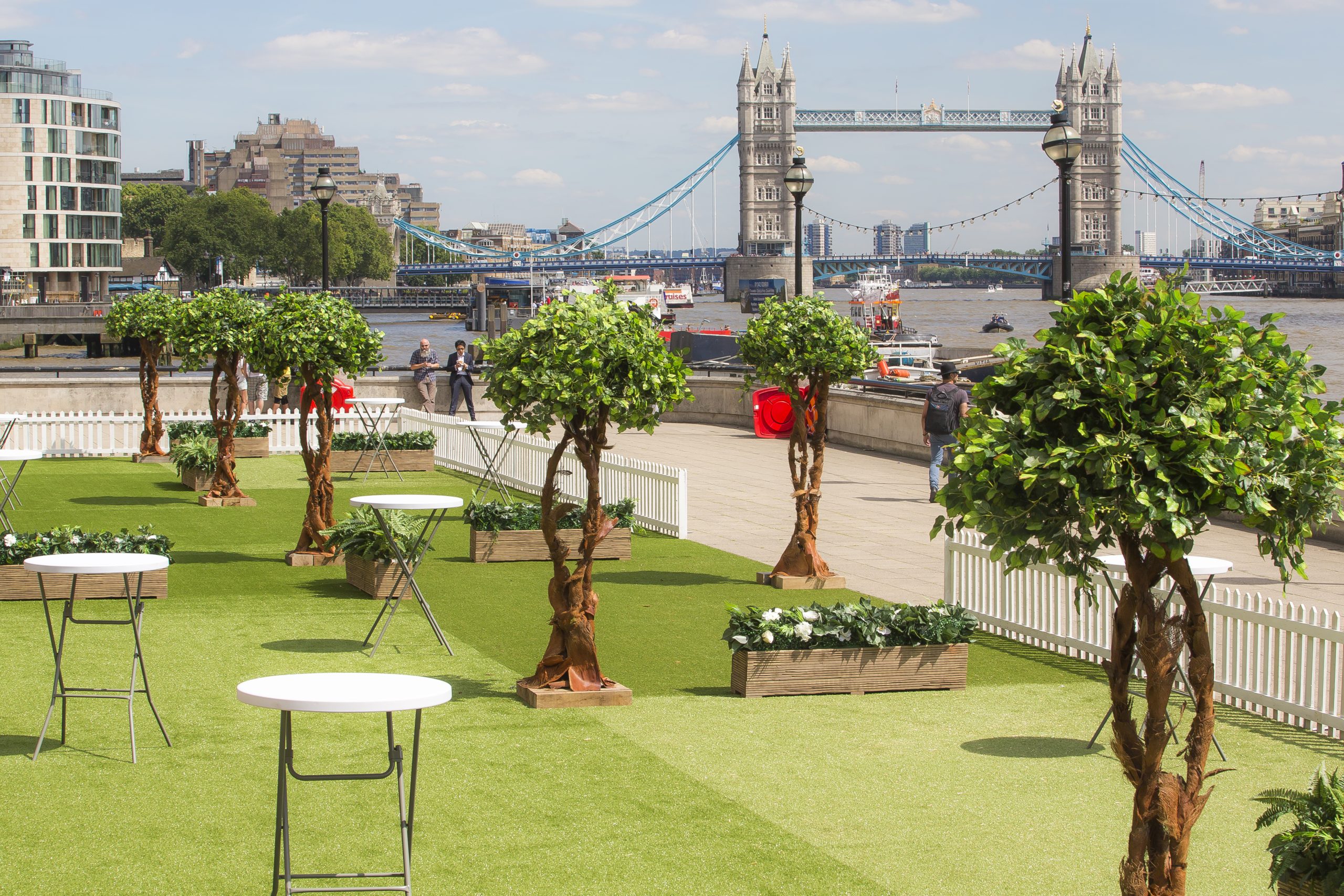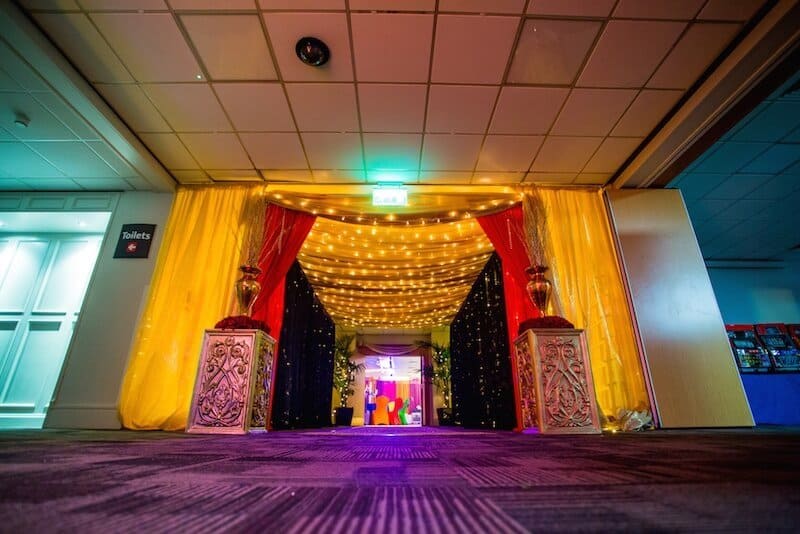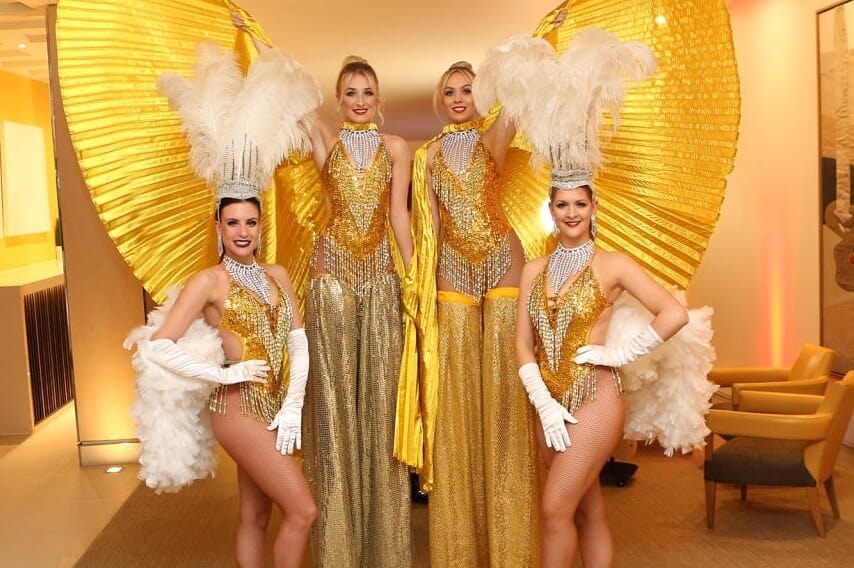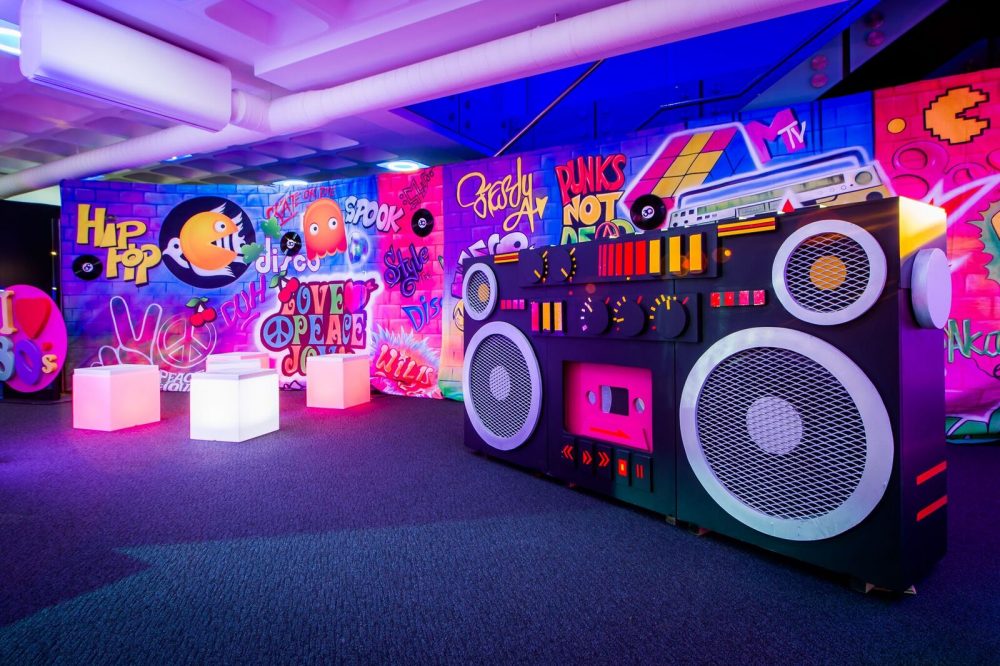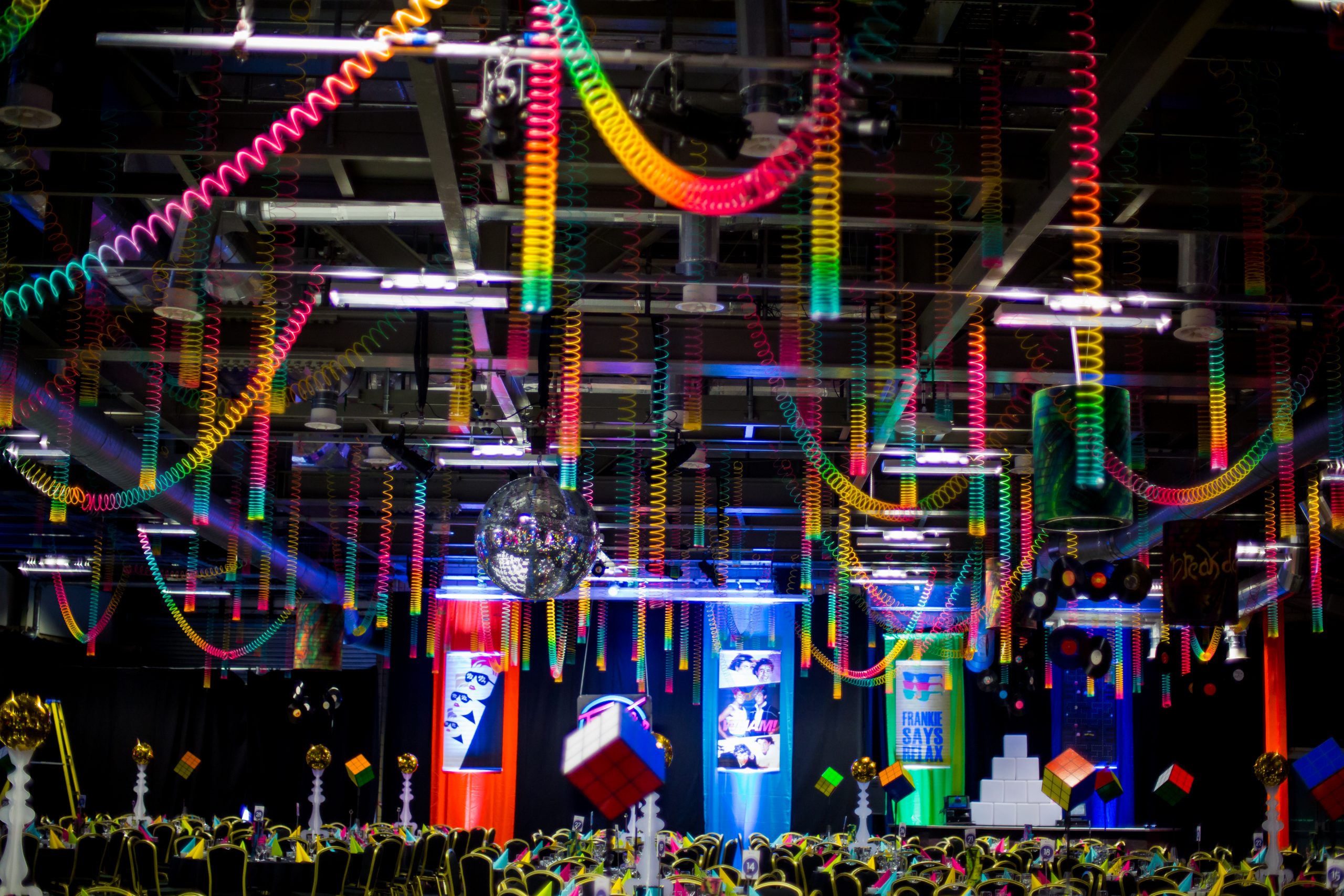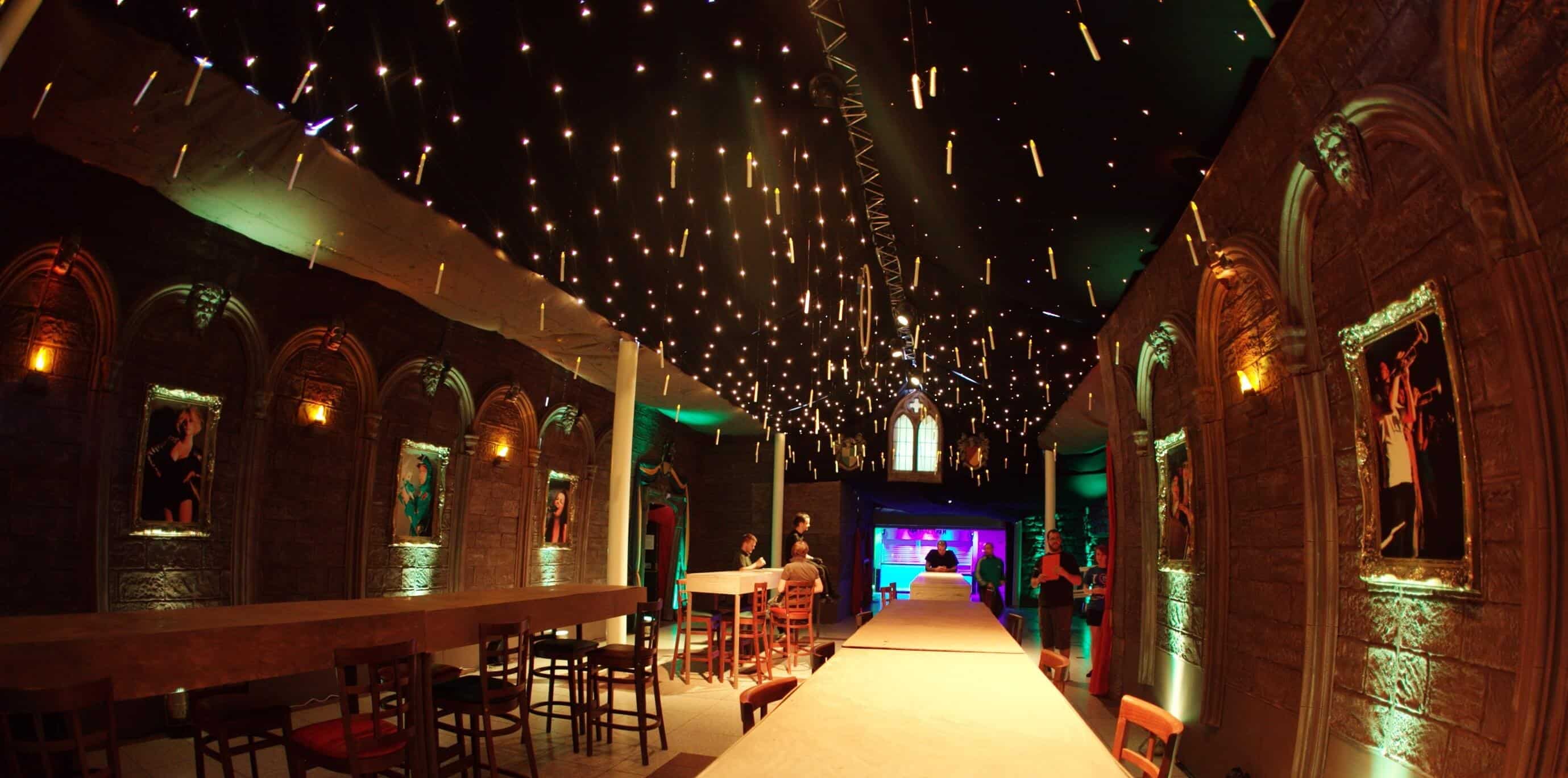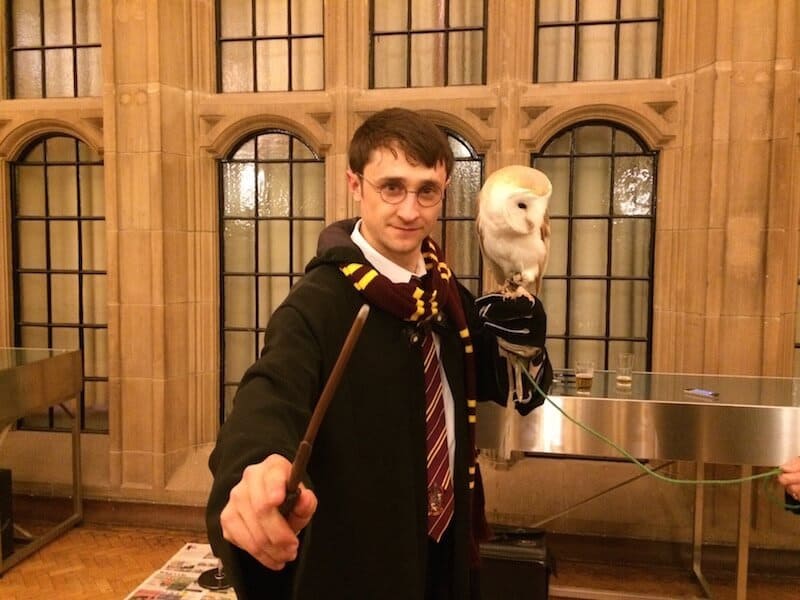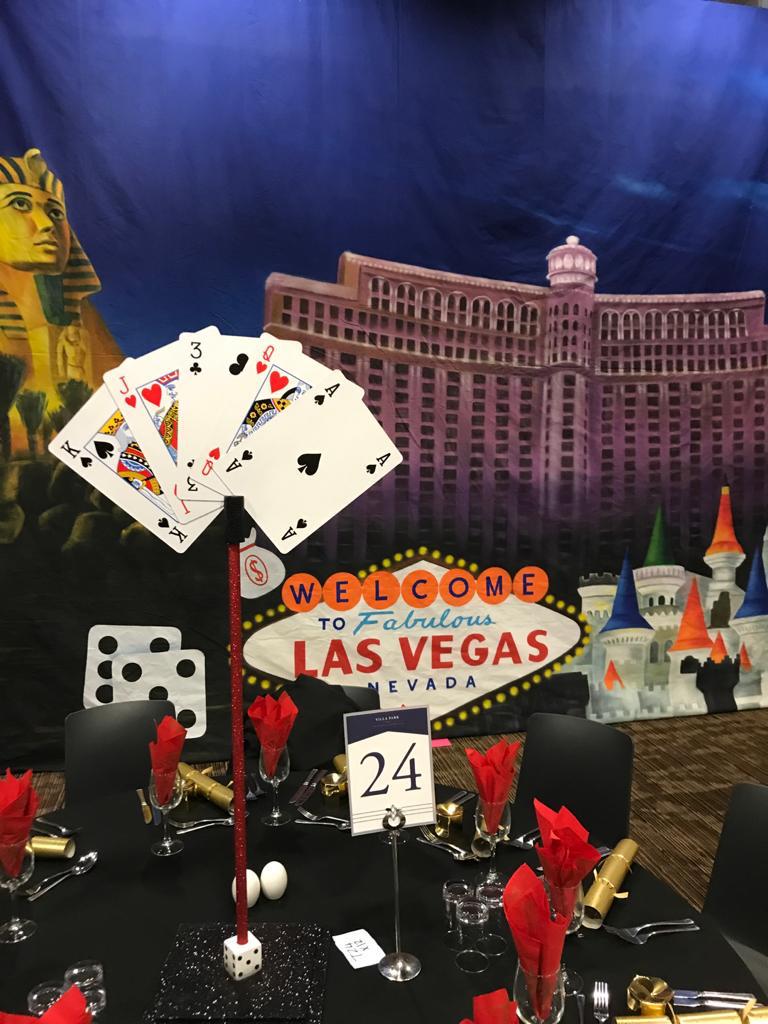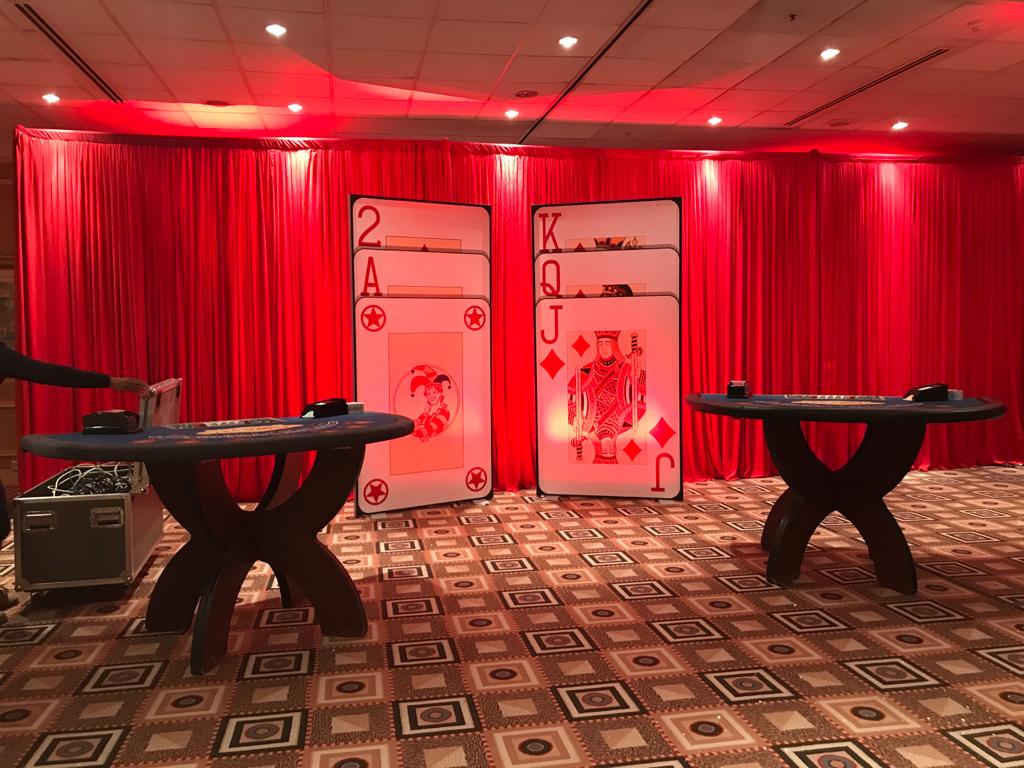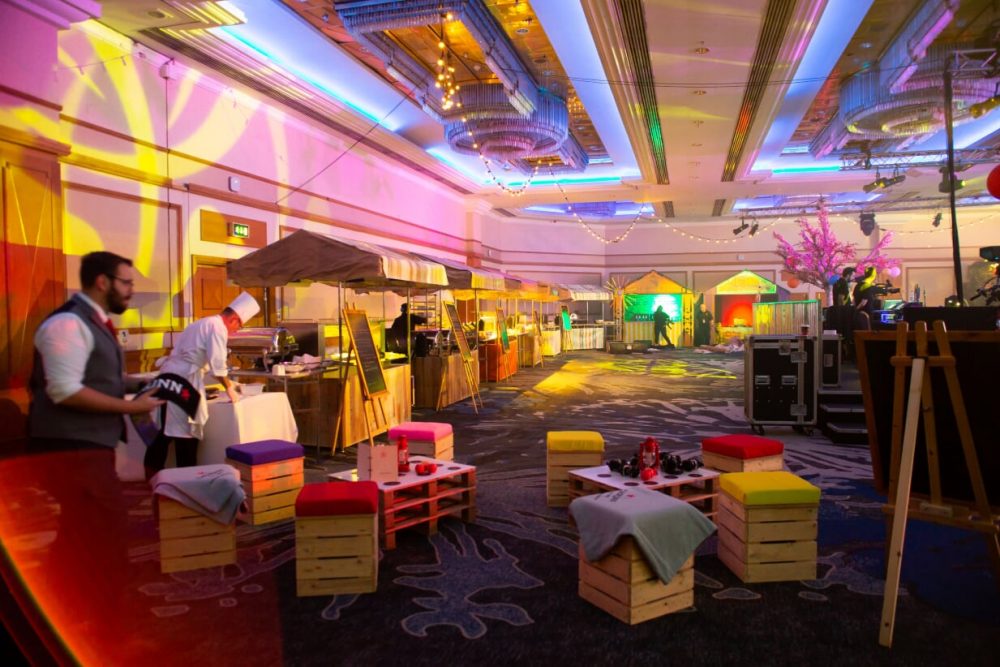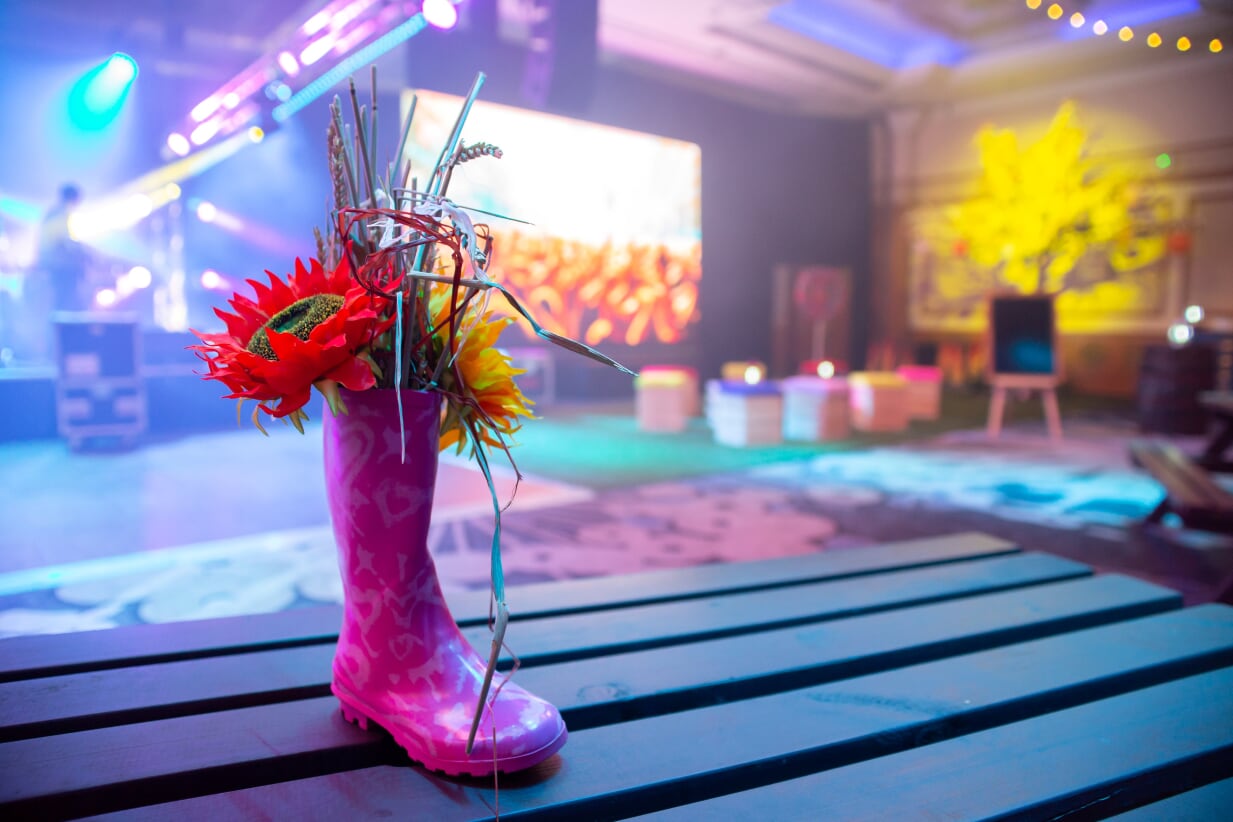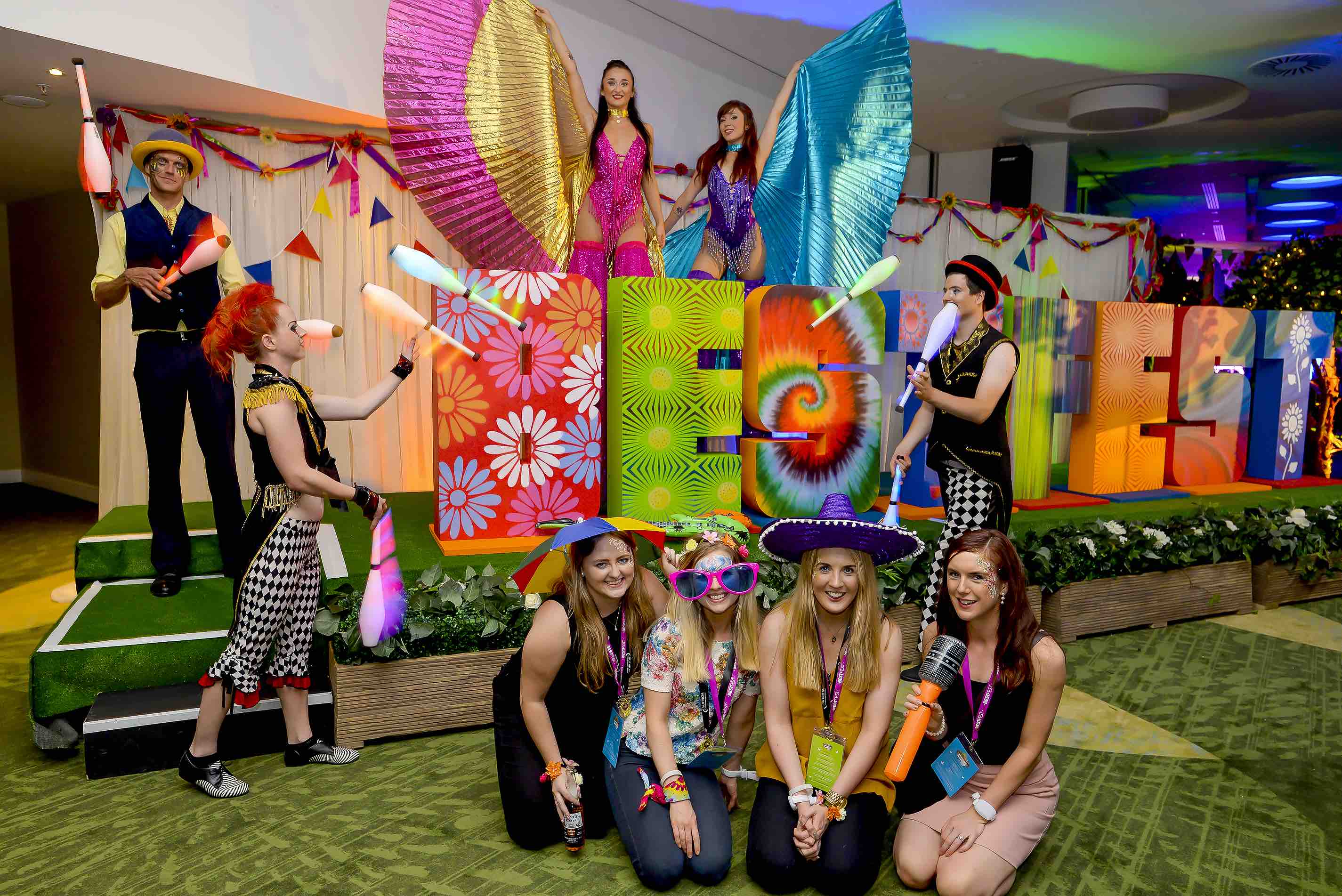 Roaring 20s Flapper Girls
Great Gatsby Theme Table Centrepieces
Winter-wonderland-ice-tunnel
Winter-Wonderland-Themed-Event
Winter Wonderland or Ice Themed Event Bar Hire
Alice-in-Wonderland-theme0
Alice-in-Wonderland-Characters0
Las Vegas Theme Roulette Table
Masquerade Dinner Event Theme
The Lion, Witch and Wardrobe Event Theme
Great British Picnic Event Theme
British Outdoor Pub Theme
Great-British-Garden-Party (1)
Great-British-Summer-Theme (1)
Oktoberfest Theme Food Hut
Masquerade Mask Table Centre
Red-and-Gold-Masquerade-Themed-Event
Glam-And-Glitz-Entrance-feature
Glam-and-Glitz-Entertainment
1980s Retro Themed Event Bar Hire
80s Rubiks Cube Table Centre 2
Willy Wonka Theme Table Centres (2)
Willy-Wonka-Theme-Table-Centres
Willy-Wonka-Lollipops-and-Cndy-canes
harry-potter-theme-table-centres
Las Vegas Event Theme Props
Las Vegas Event Theme Playing Cards Props
Festival Theme Welly Table Centre
Festival-Theme-Entertainers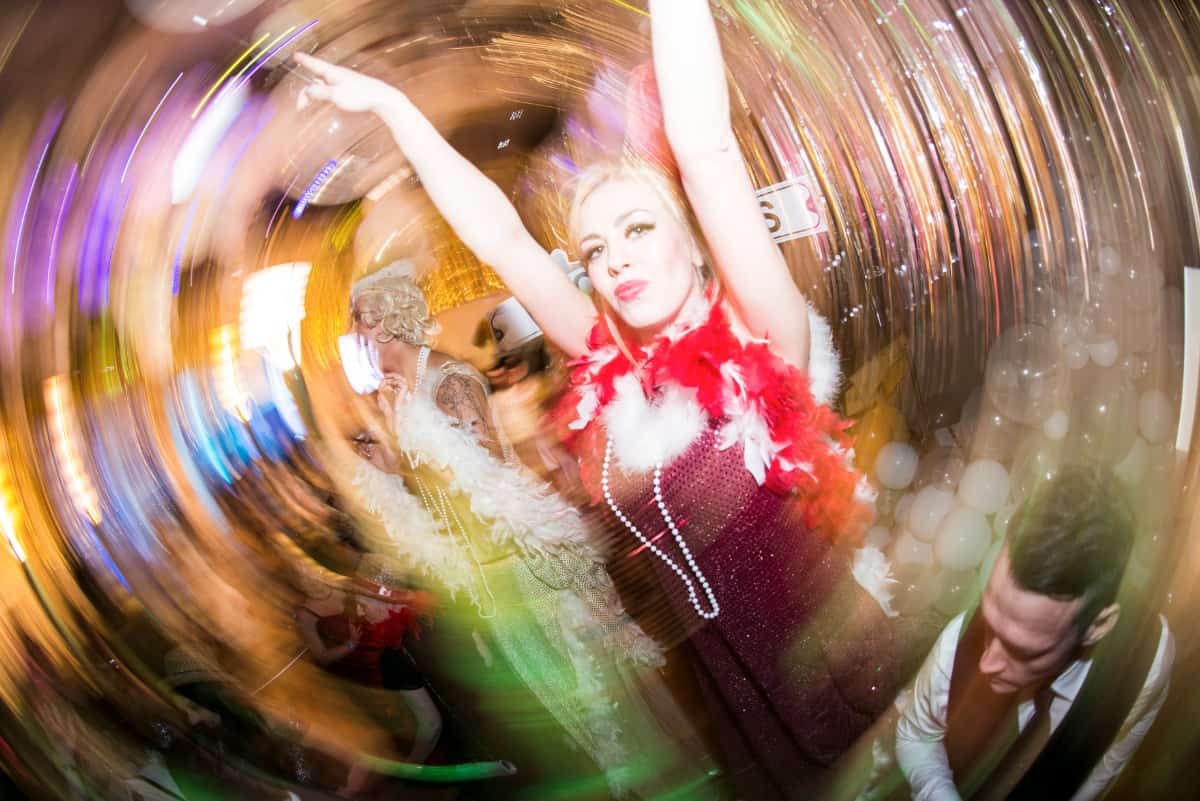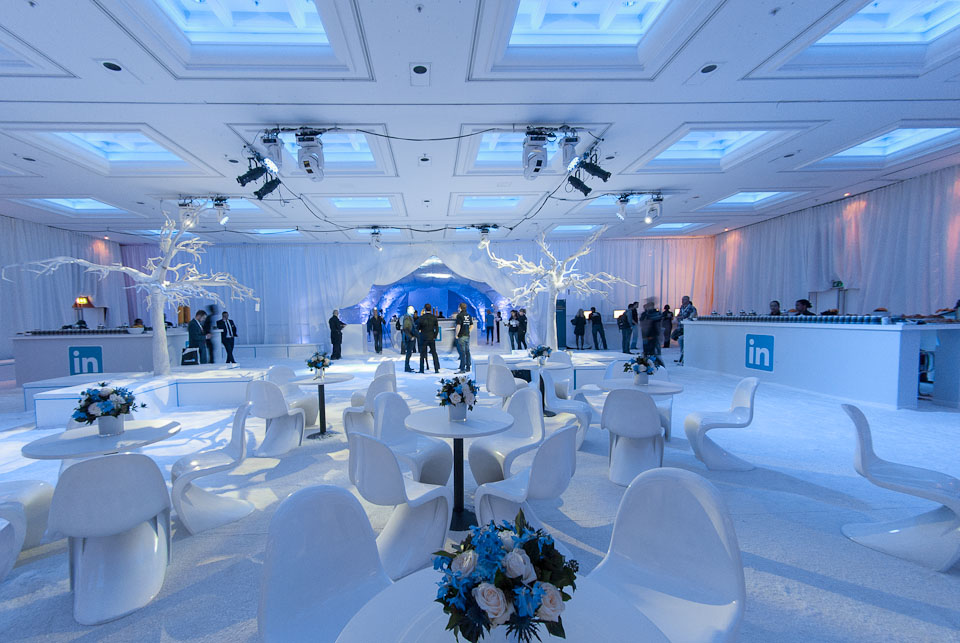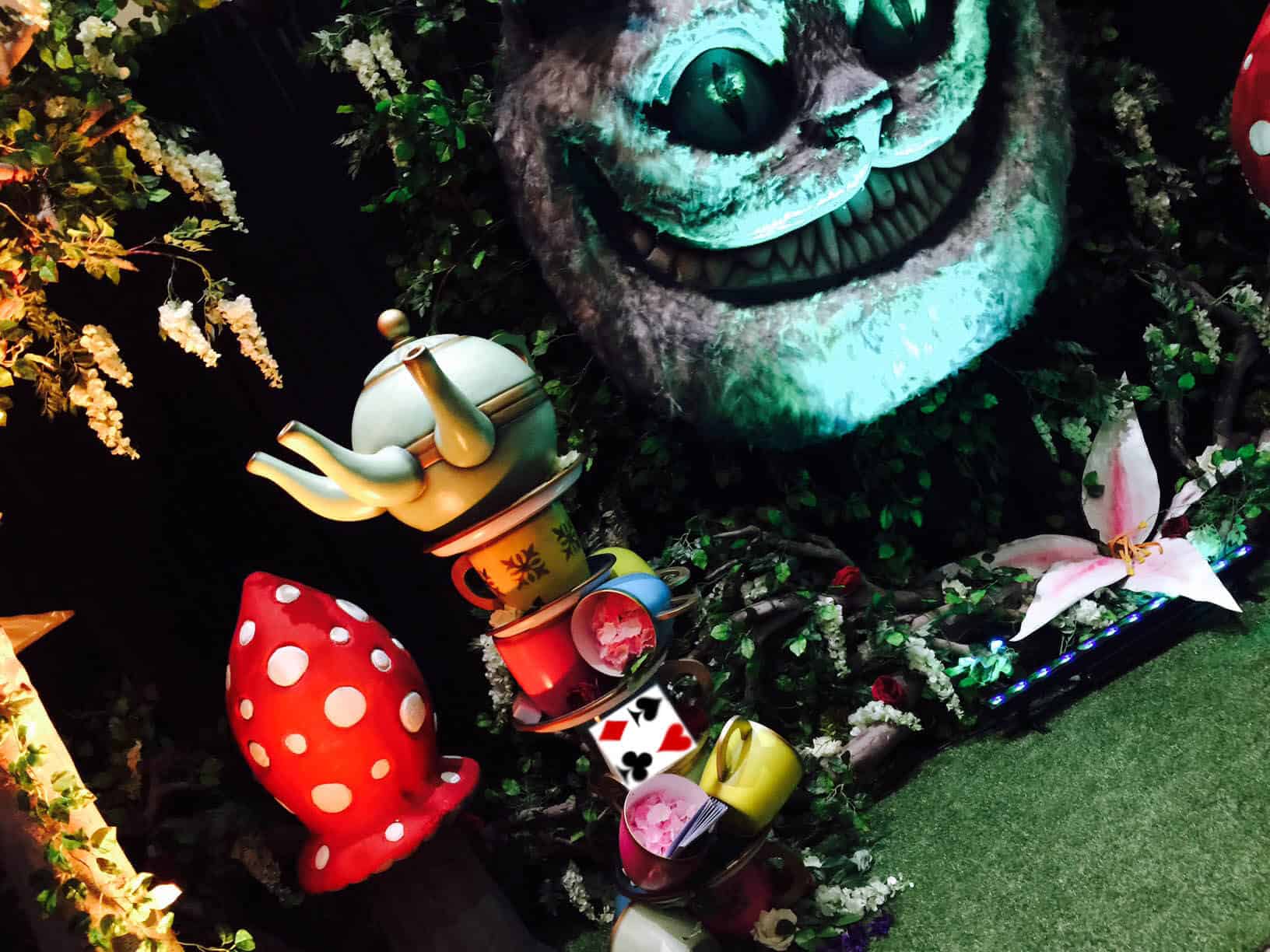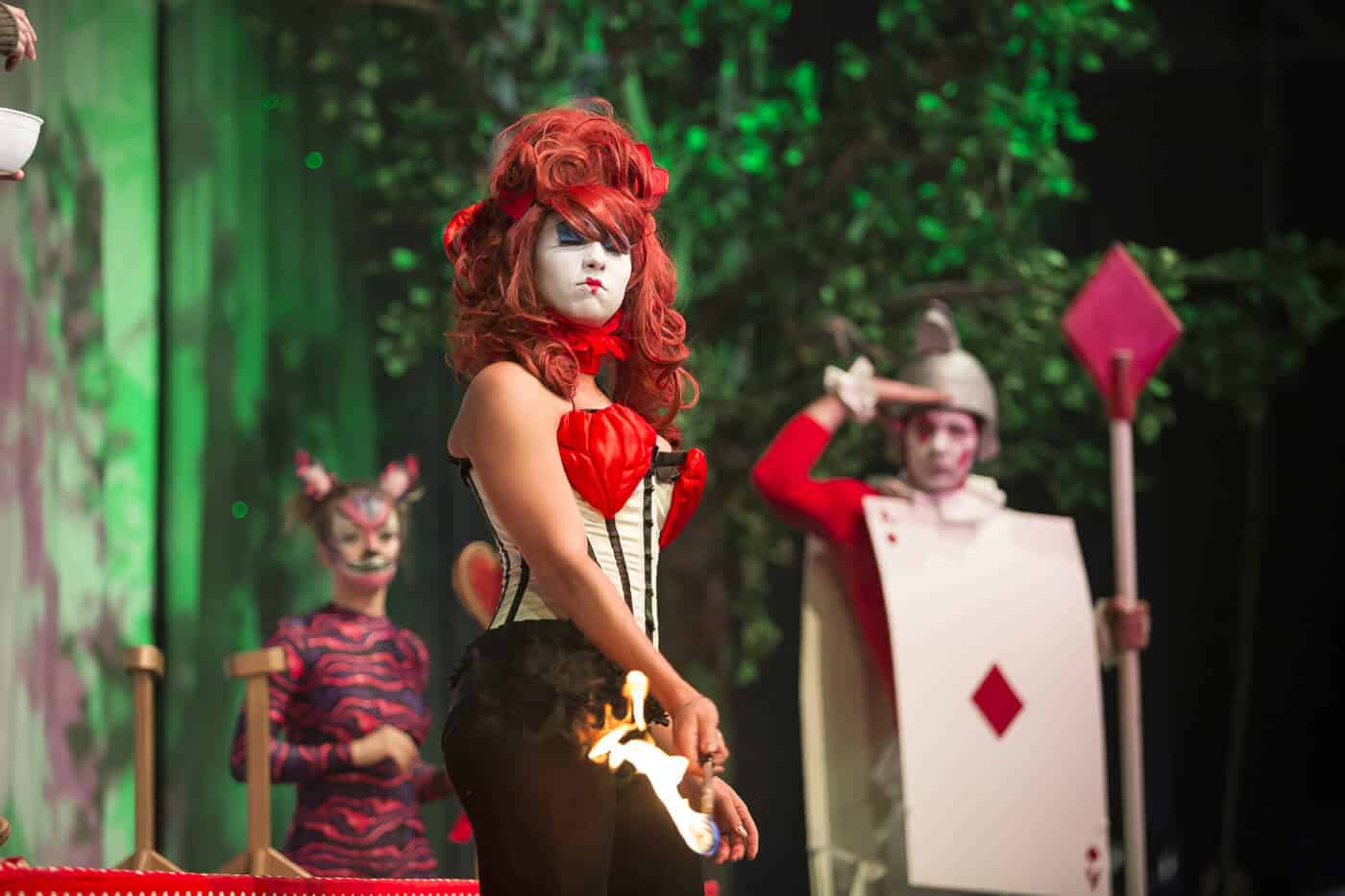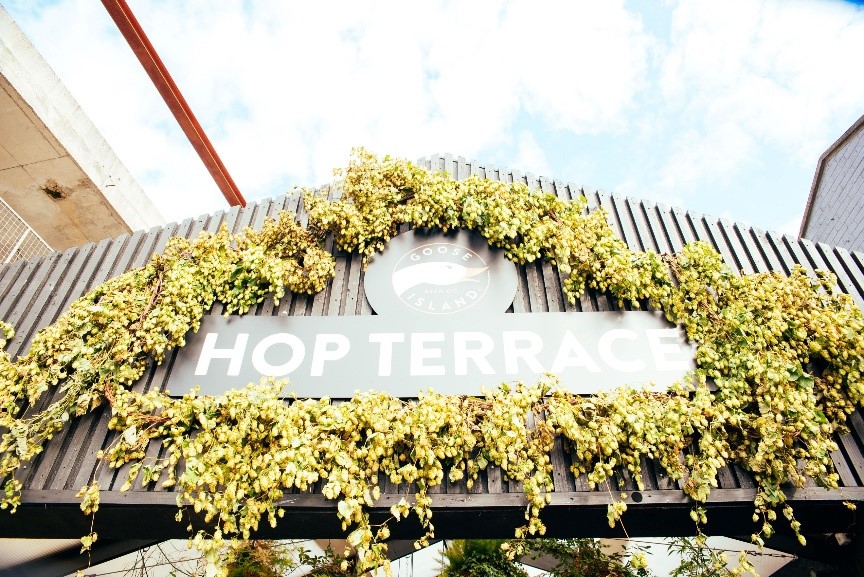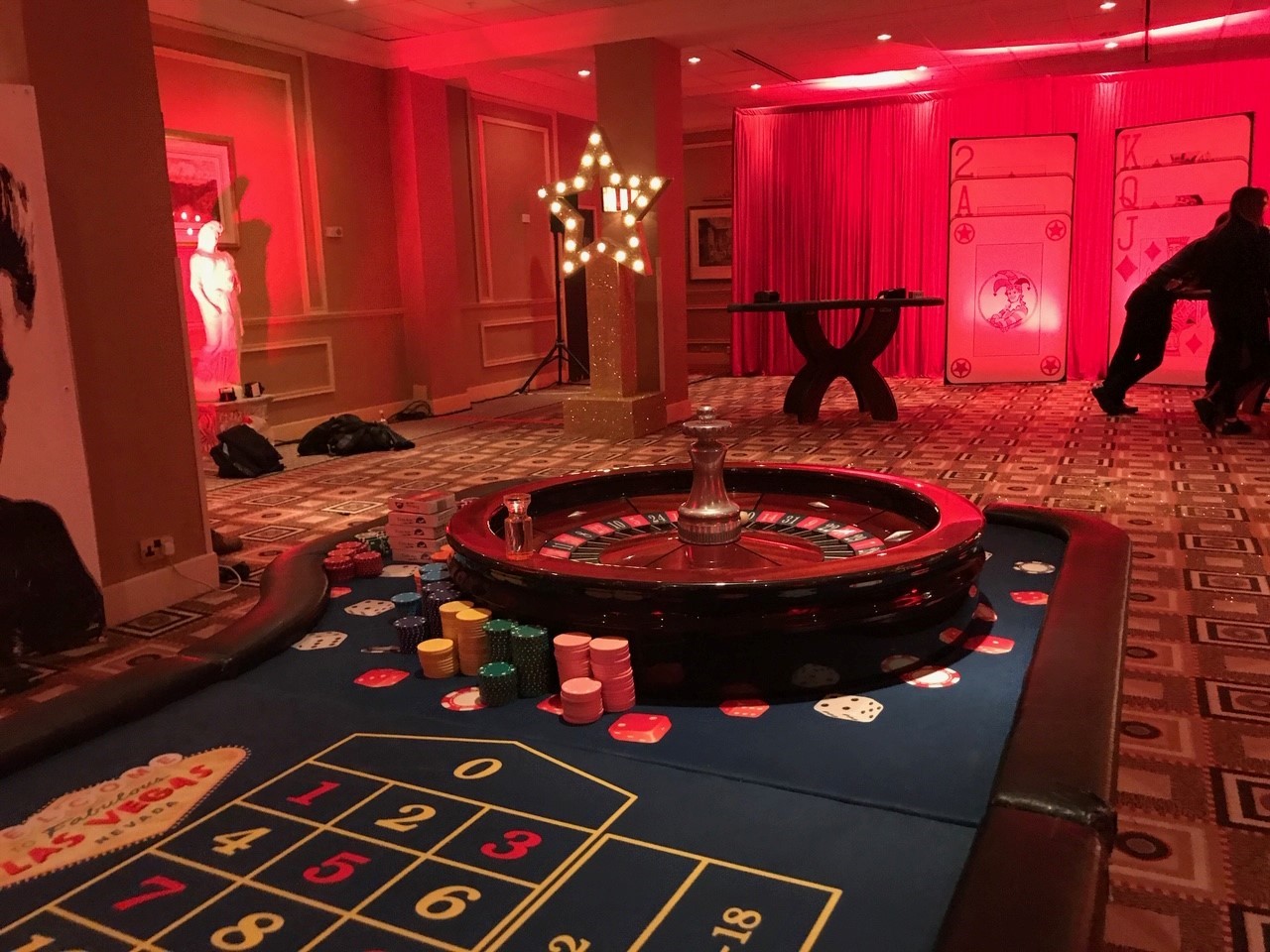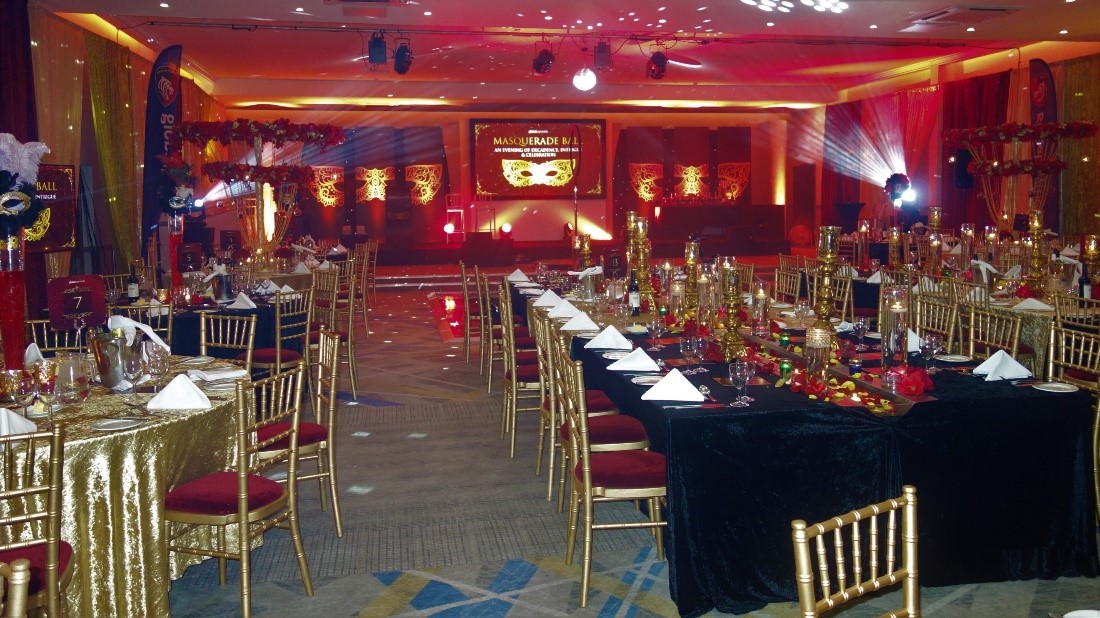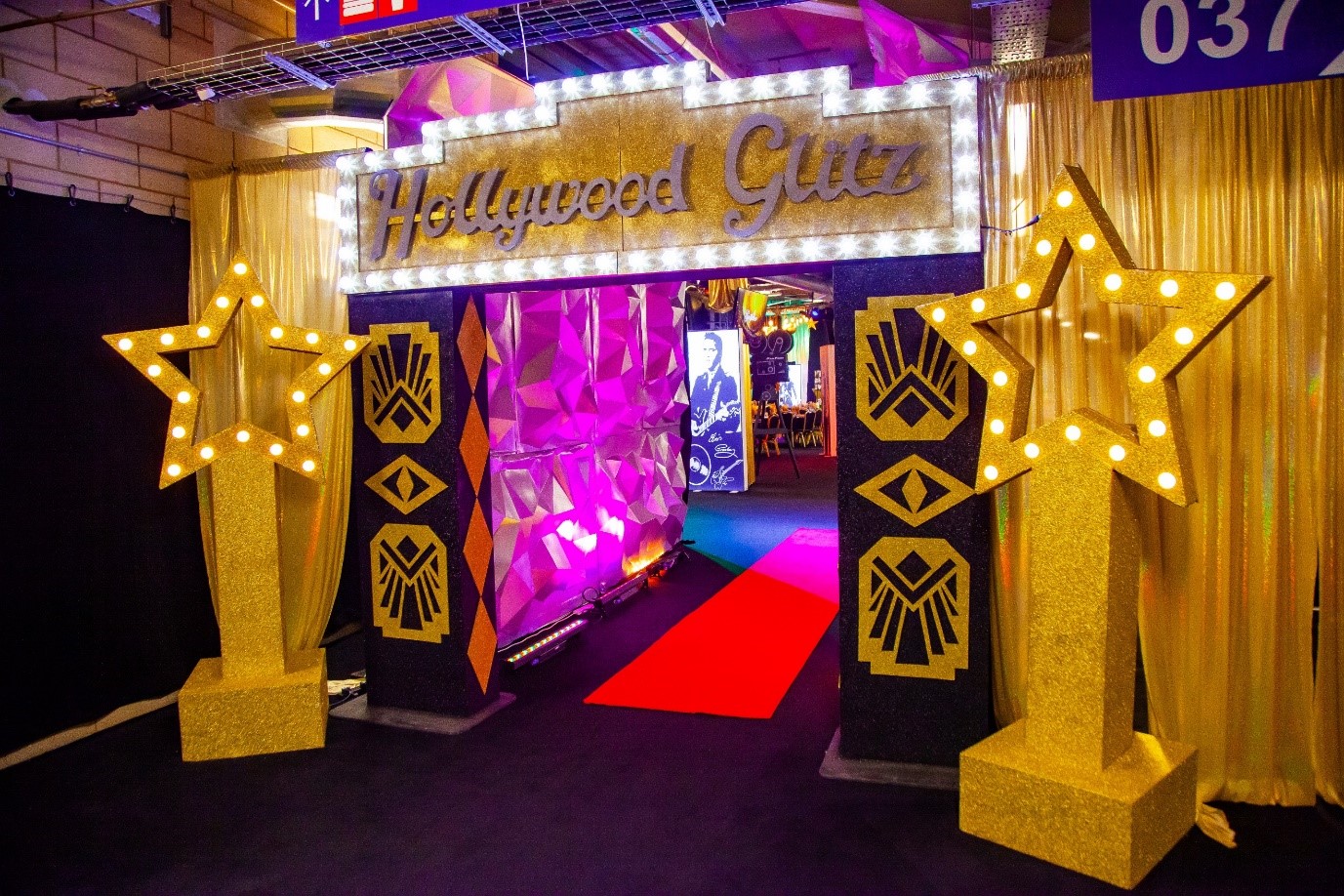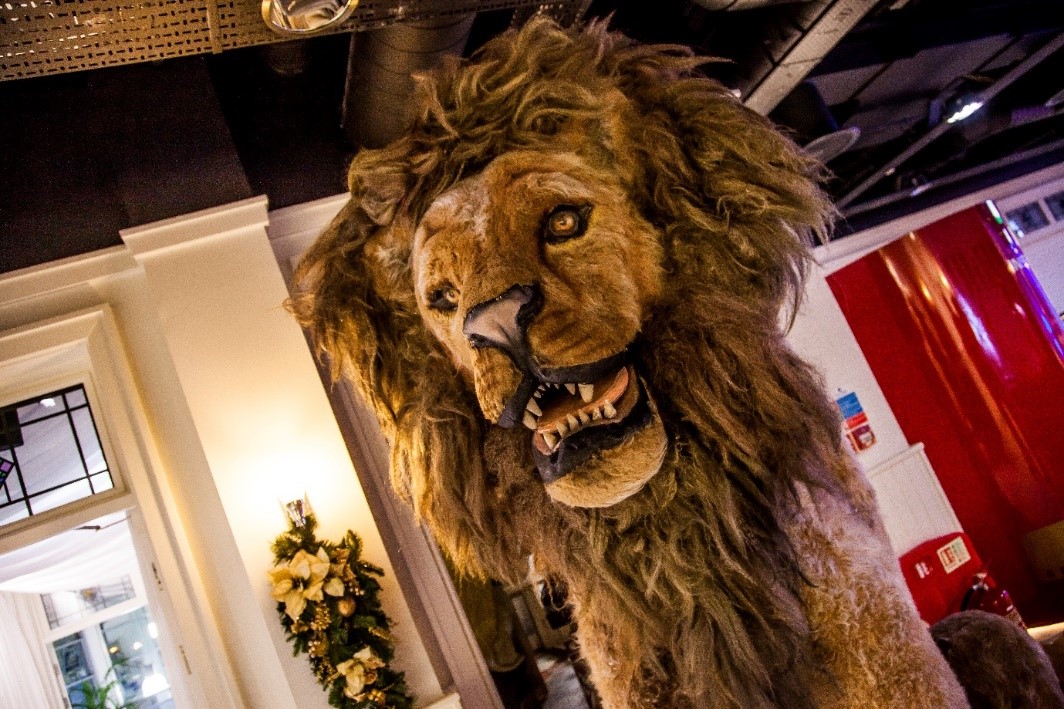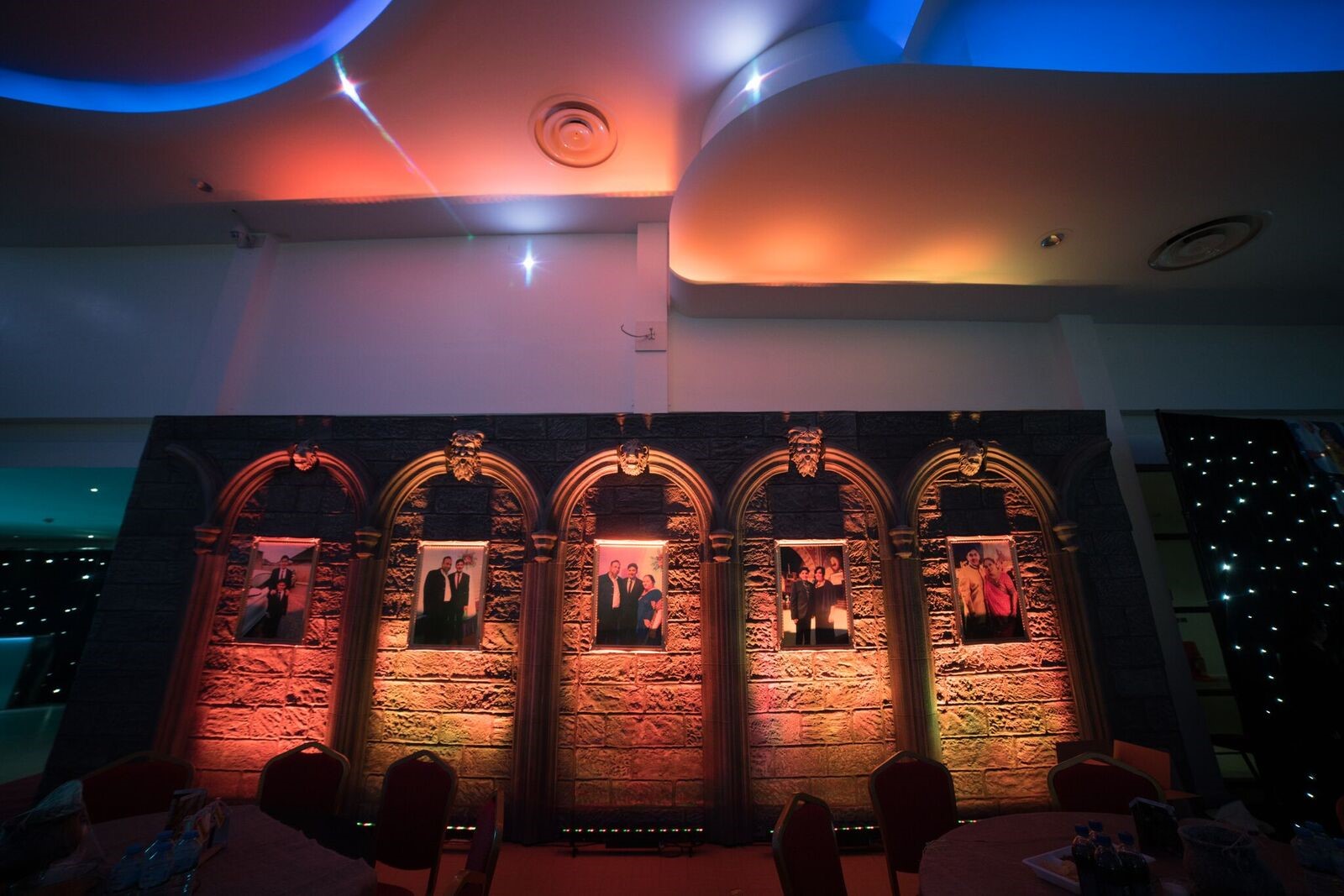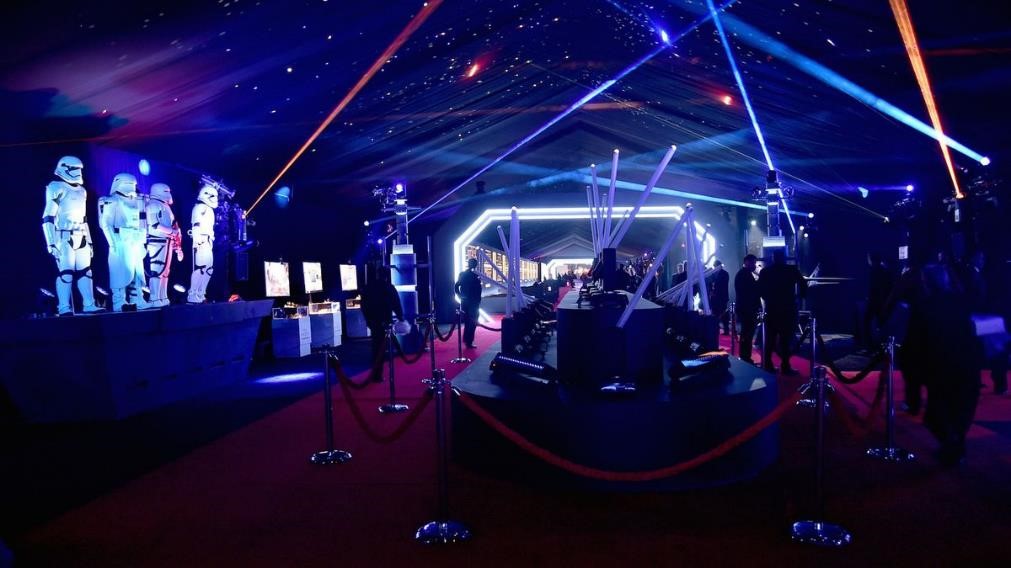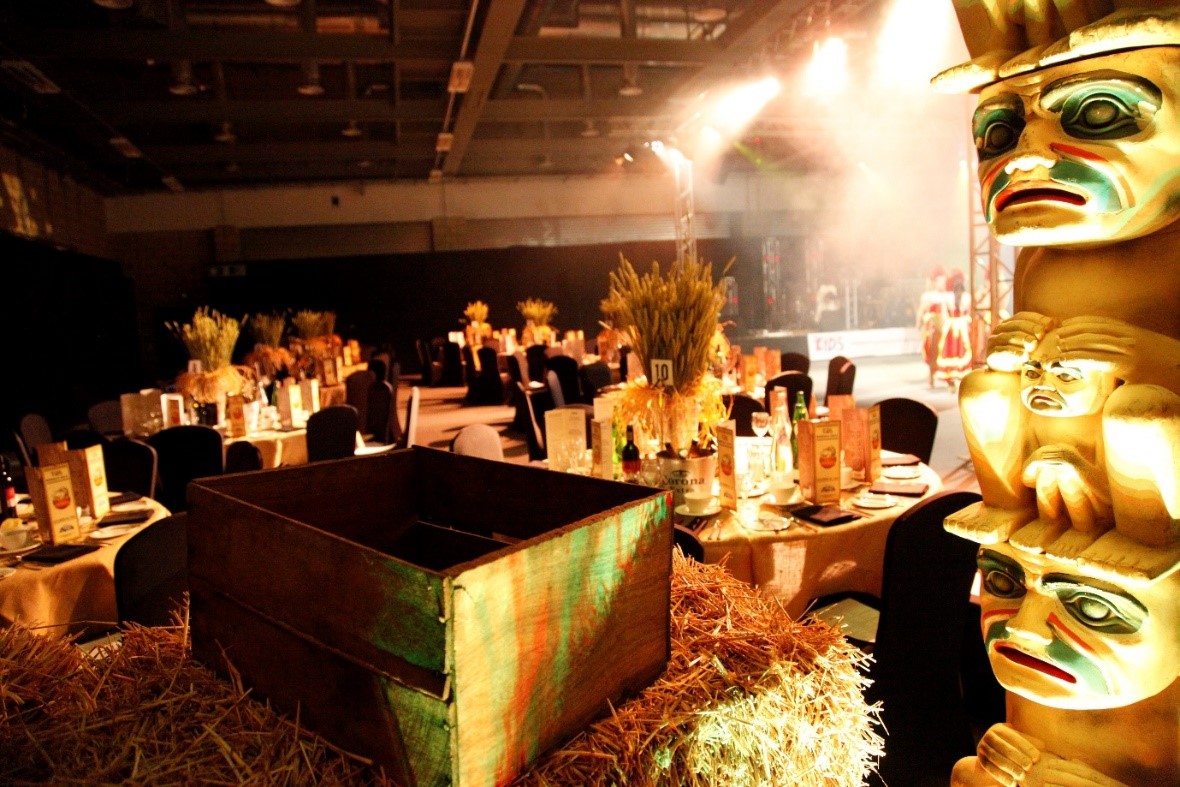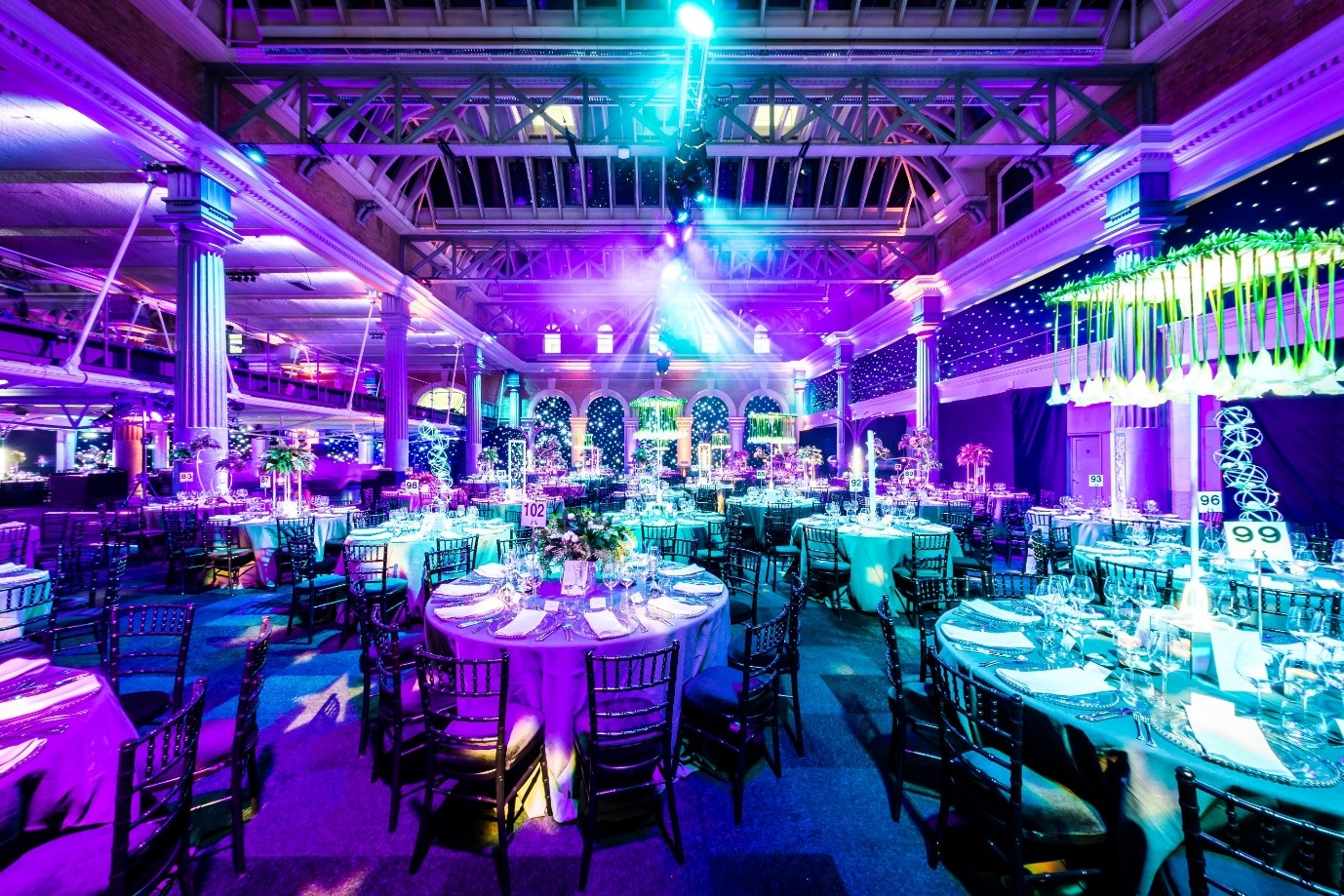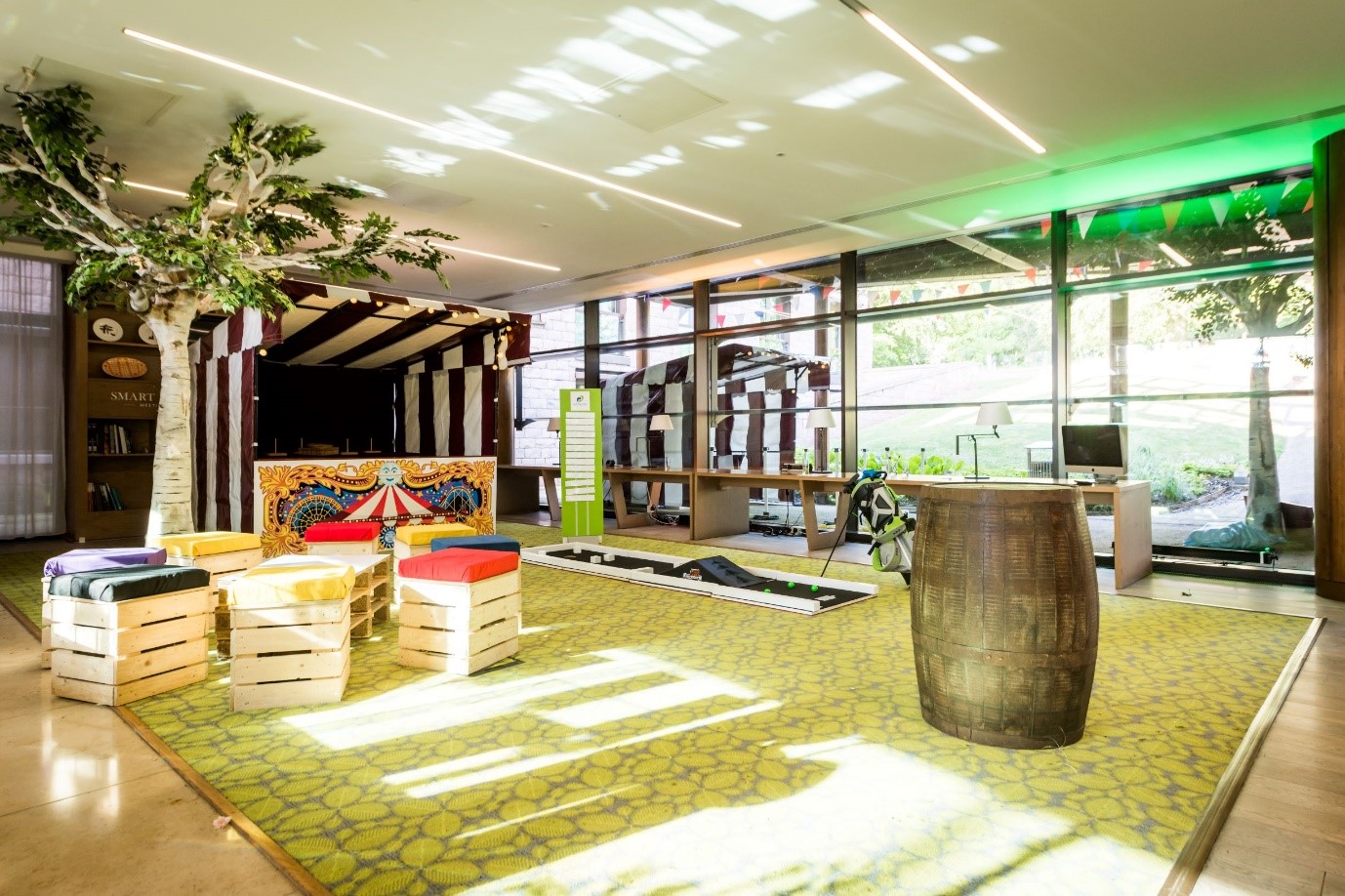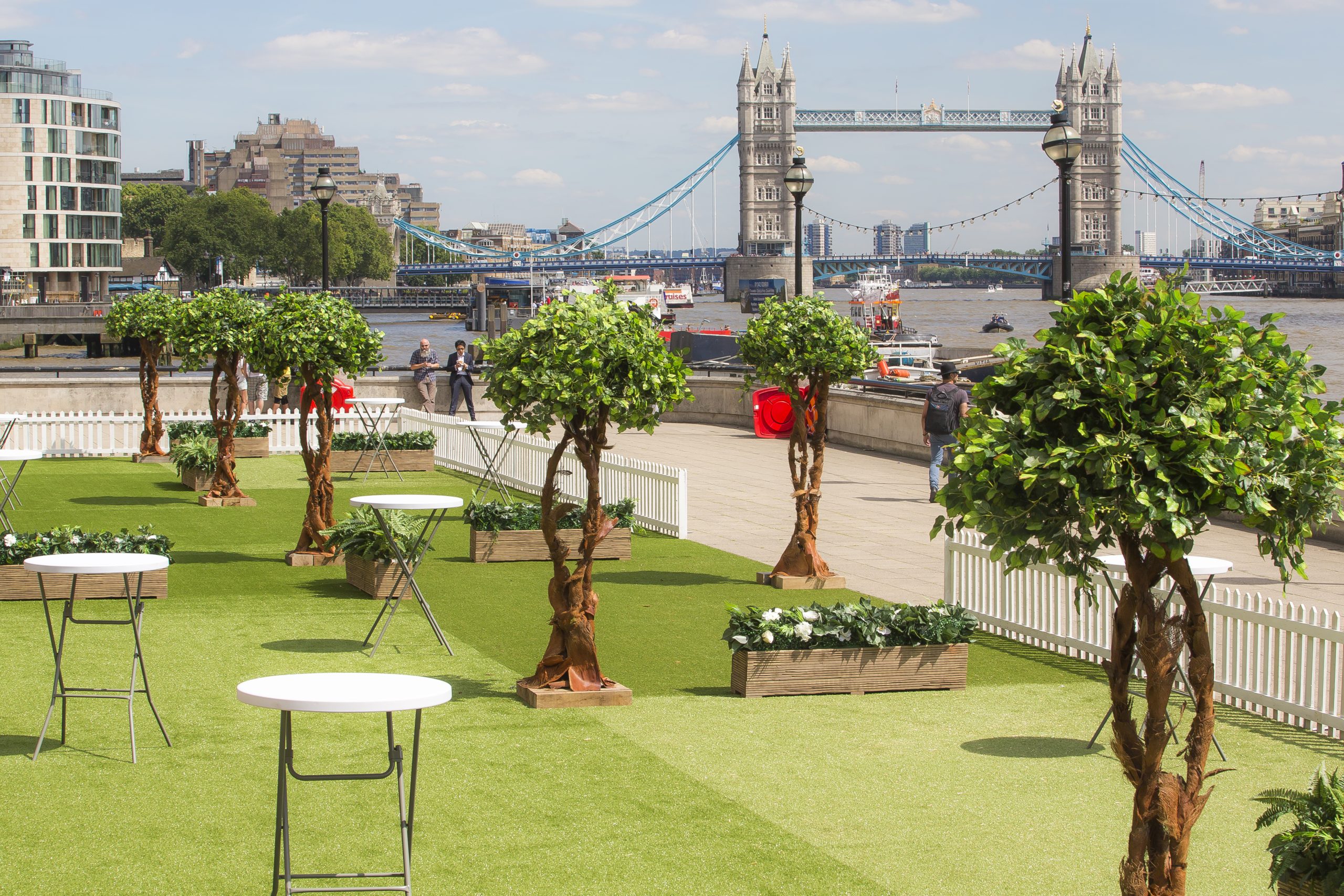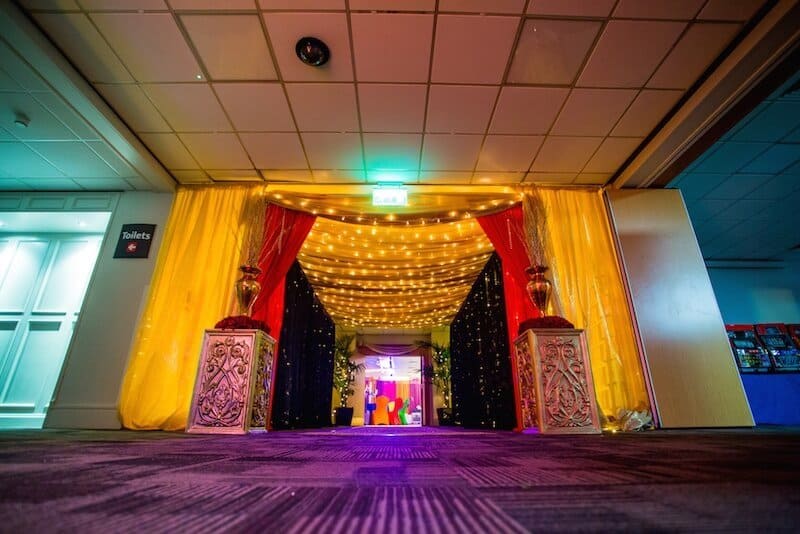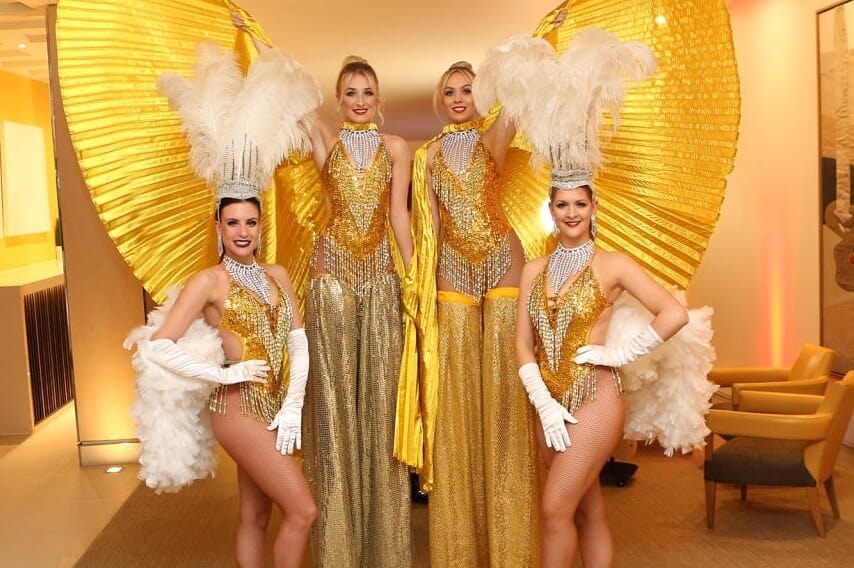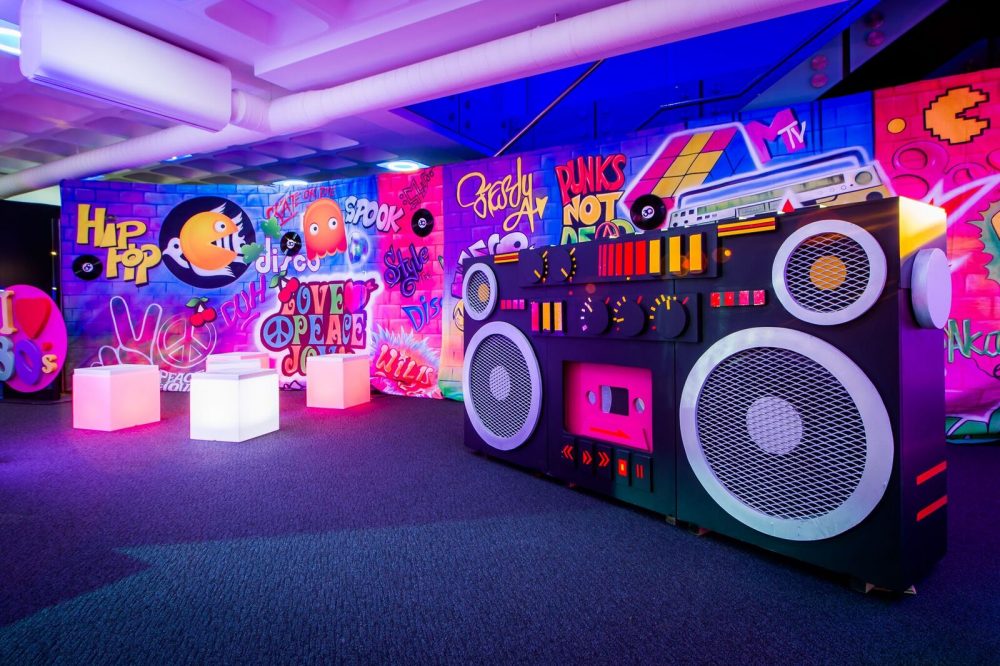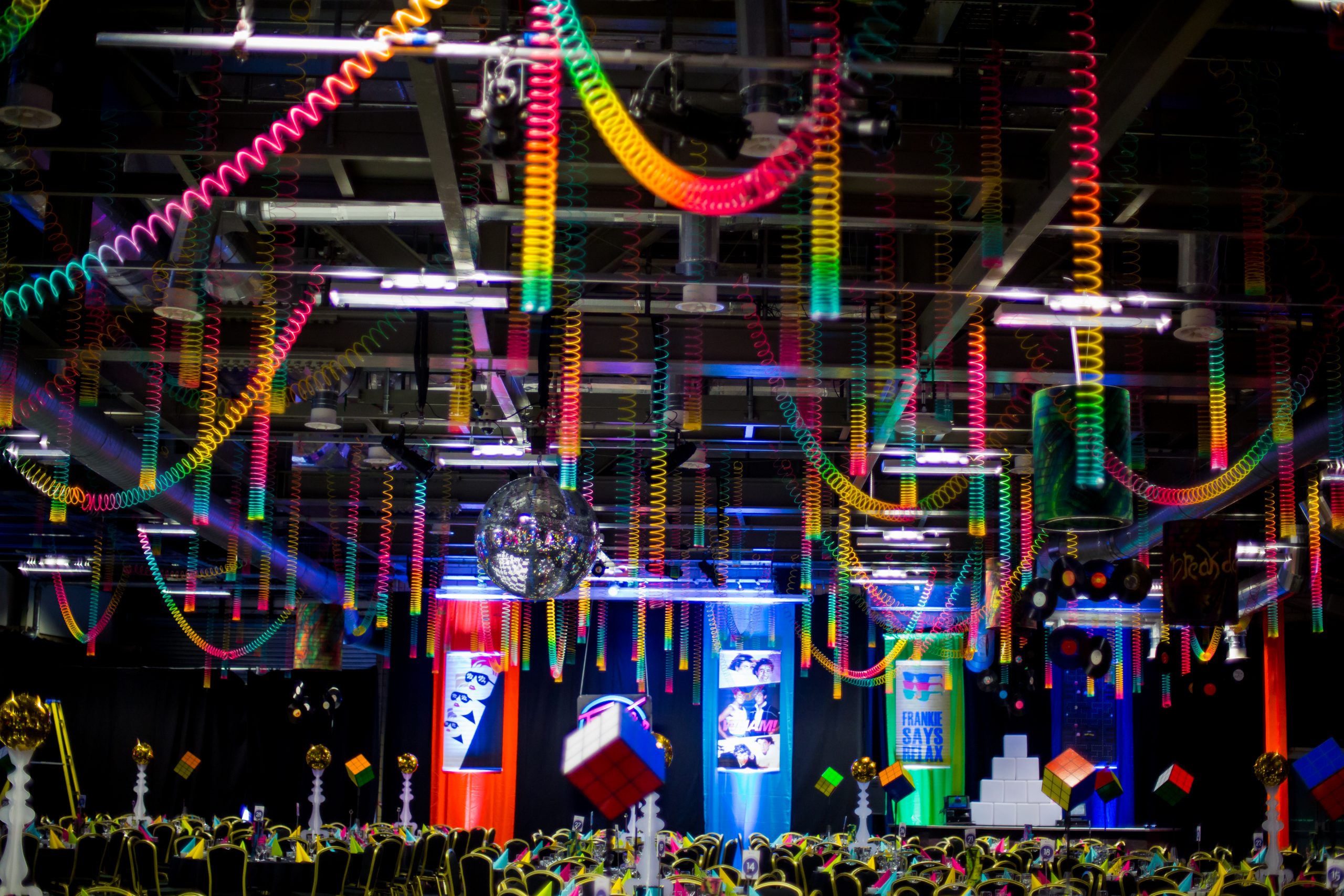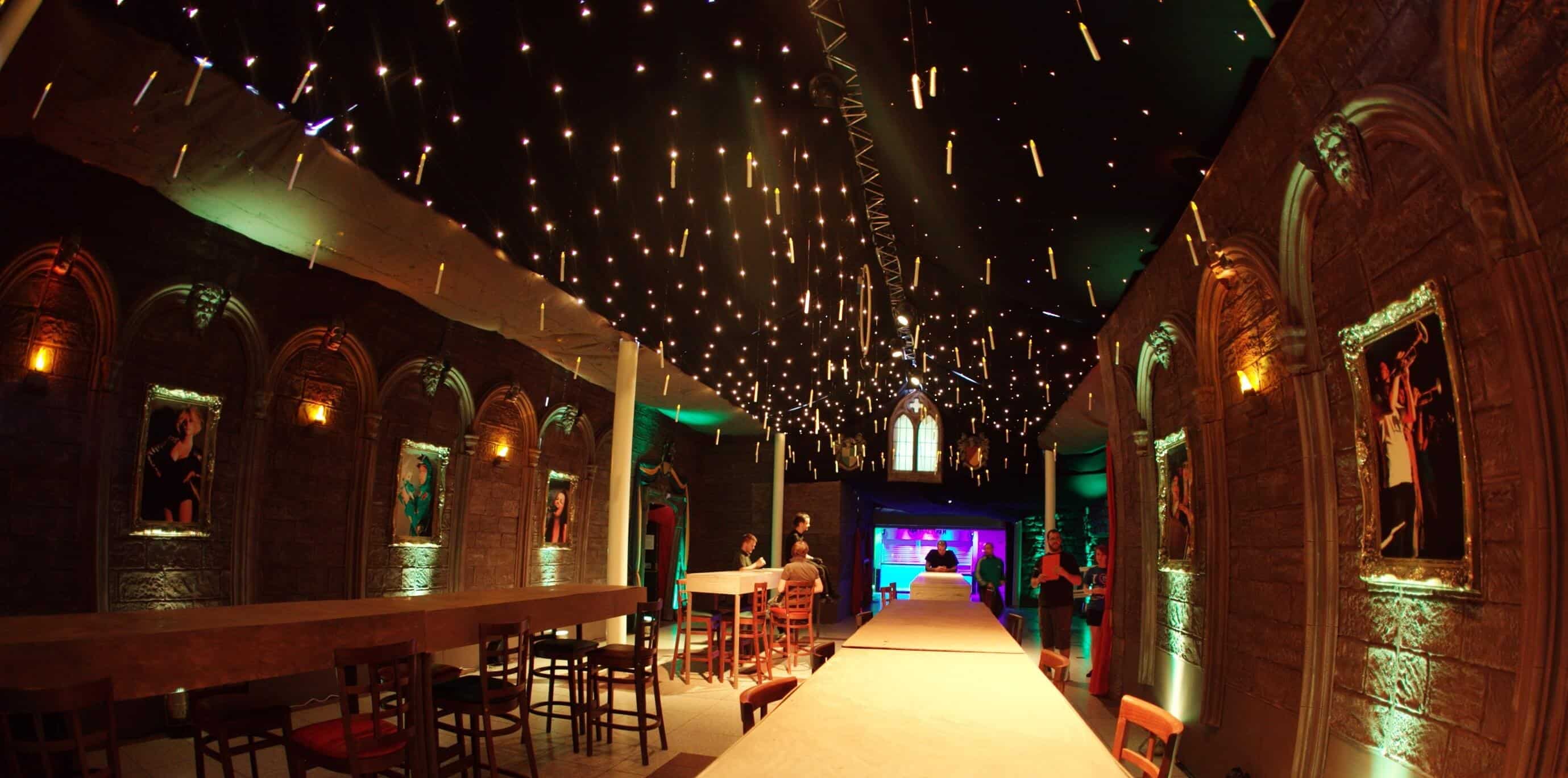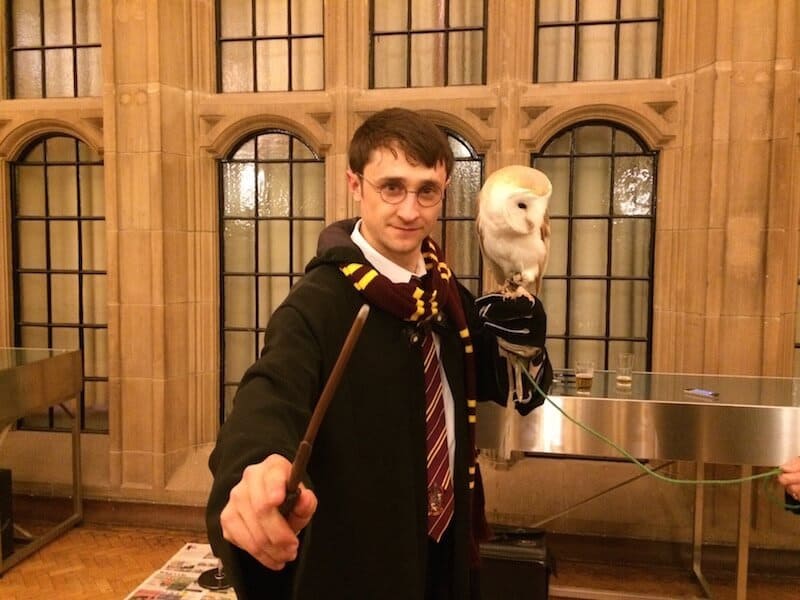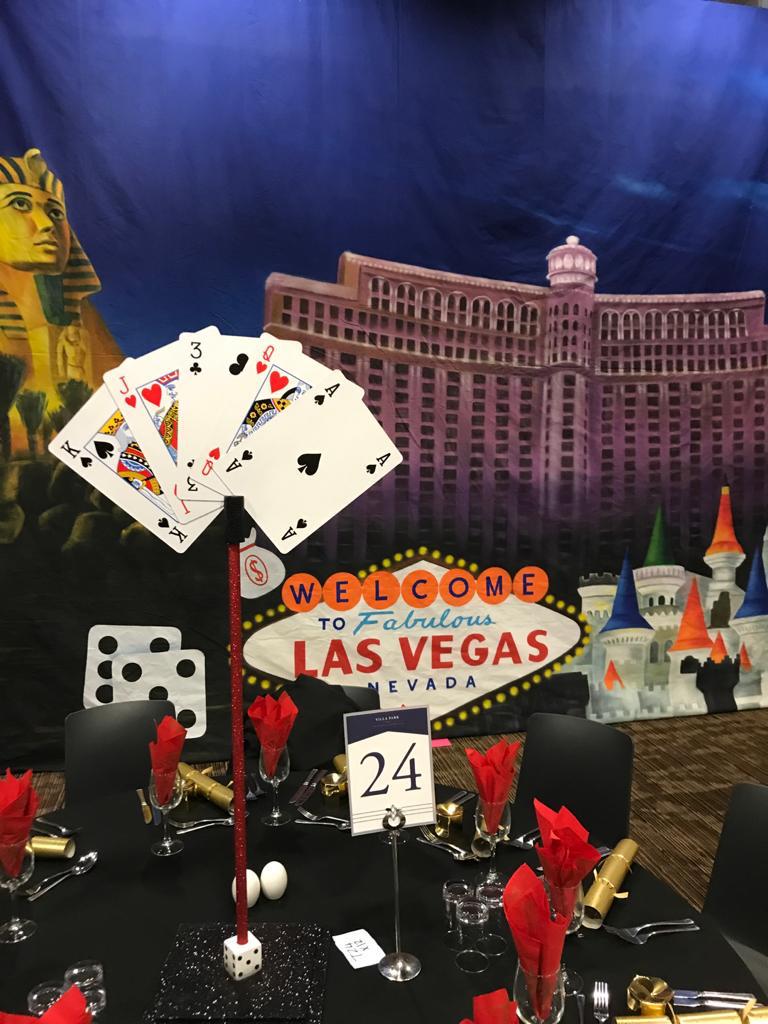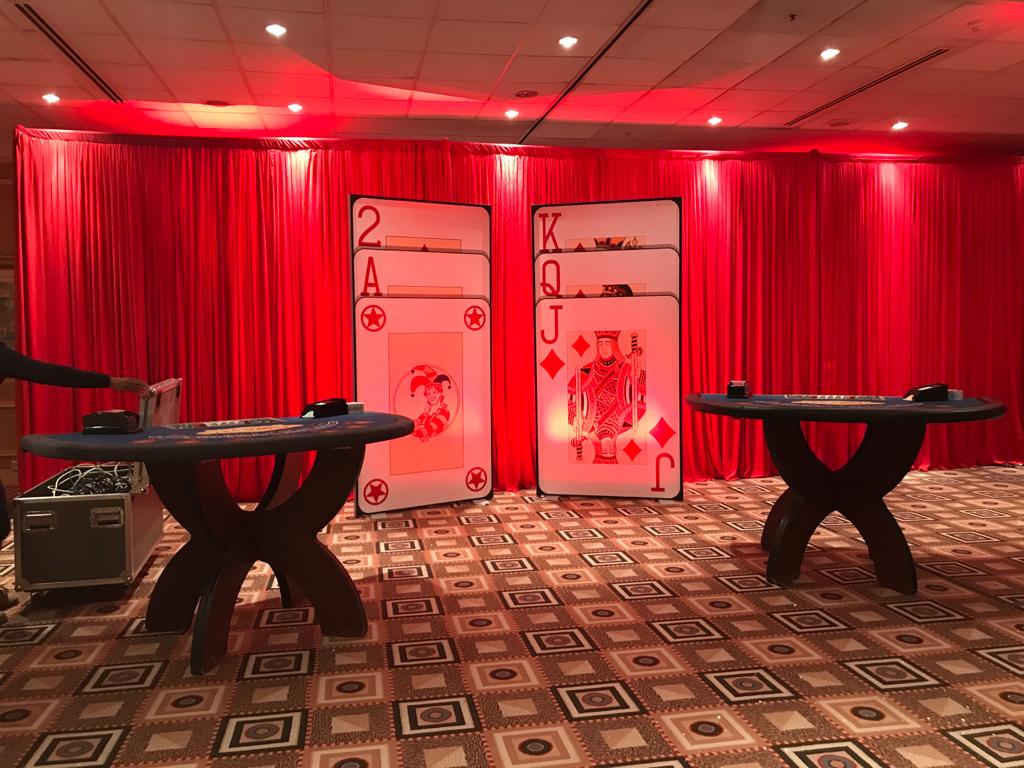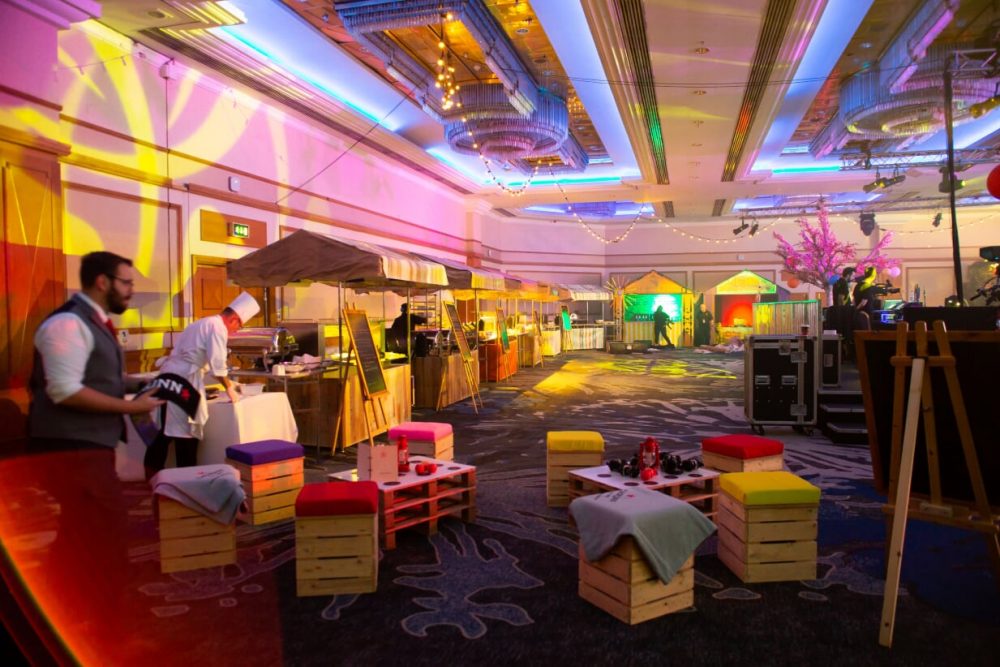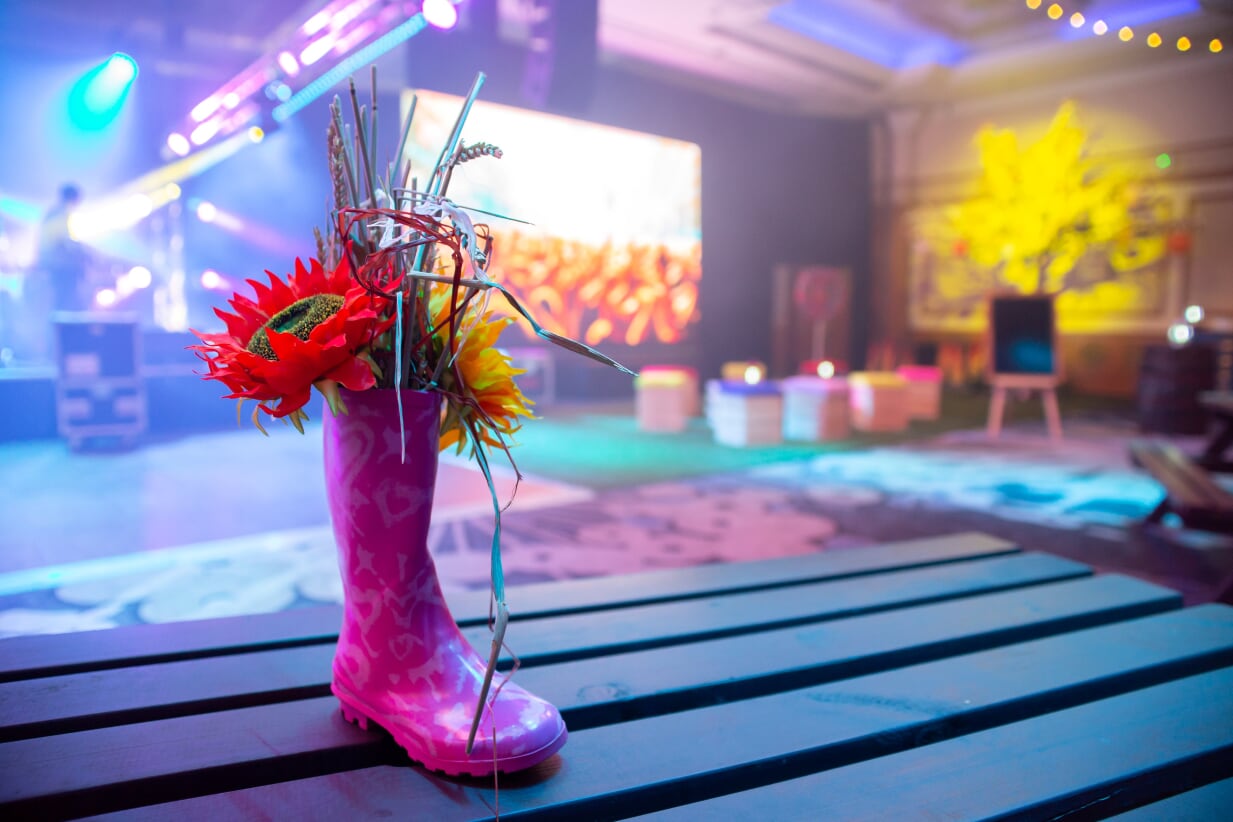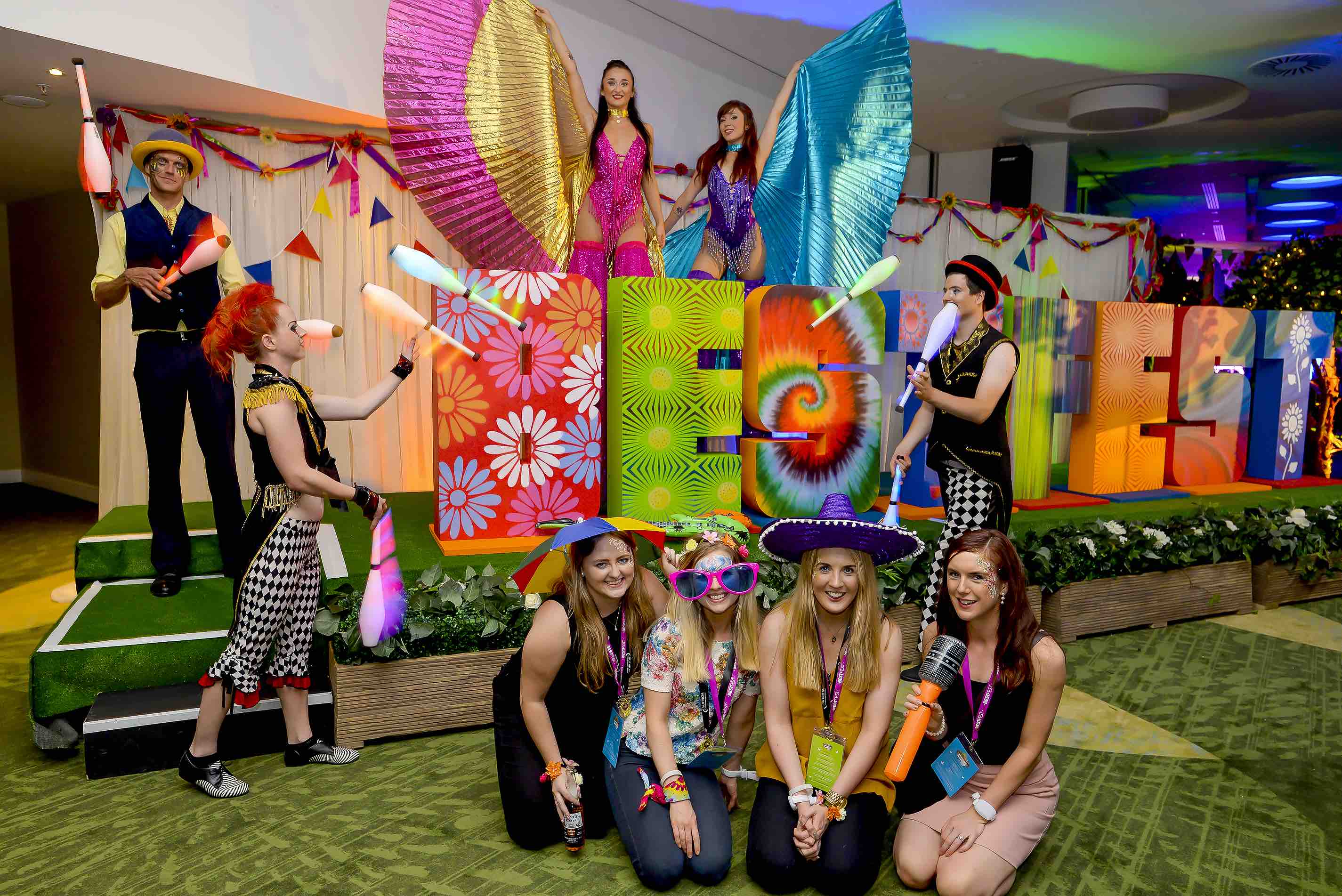 Top 20 Classic Event Themes
At Eventologists we strive for the best, most outstanding and outrageous events and designs we can create therefore, we have created a list of our top 20 classic event themes! This, of course, comes with a lot of different themes that can make an event spectacular and interesting. To make it easy for you to decide on the theme for your next event, we put together a list of 20 classic event themes that will never disappoint your customers.
You can never go wrong with a Whimsical Winter Wonderland Theme between December and February! Surround the room with snowy Christmas trees, sparkly white table centres, winter themed centrepieces, ice themed props and dazzling fairy lights for the most magical experience you could wish for. We all love Christmas classic event themes!
Festival themed Events are exciting throughout the year but a Beer Festivals is one that will definitely excite beer drinkers for sure. Whether you are looking to run Fam Trips or Beer Tasting Sessions or just want to do something different with a Bavarian Themed Event. Beer inspired events work really well as an Autumn Theme along with Street food stalls and German Food Huts!
3. Glam & Glitz
A Glam & Glitz themed party is all about sparkles and glamour, from black tie events, charity balls to Christmas parties, it fits to all. Dazzle up the room with crystal chandelier table centres, shimmery wall draping, glittery floors, theatrical ceiling draping and sparkly or light up table centrepieces to wow your guests with all things that glitter and shine! We can even transport you and your guests back to the roaring 20's and dazzle them with classic event themes.
4. Las Vegas
Create a Saturday night on any night of the week with a Las Vegas themed event. Welcome your guests through our Casino entrance where show girls, magicians and fire eaters will entertain them.  Dress the room with red wall draping, theatrical feather centrepieces and Casino themed props with Frank Sinatra playing in the background and the ching ching of the Slot Machines and Roulette Tables.
5. Masquerade
Create a mysterious vibe with a Masquerade themed event or Venetian themed event. Take your guests back to the Italian Renaissance with a beautifully themed room with lavish wall draping, striking face and eye masks and Romanesque props, gold table centres and luxurious masquerade backdrops. Our masquerade themed entertainers will then transport you to a land of magic and mystery to enjoy a night to remember!
6. Great Gatsby
Venture back to the 1920s with a Great Gatsby themed event, the era of economic boom and industrial growth, celebration and merriment. From Flapper and Dapper entertainers, to giant chandeliers, sparkly draping and jazz, swing music, there are lots of ideas to get your Great Gatsby party to one your guest will never forget.
7. Hollywood
The elegant and dazzling world of Hollywood is a perfect theme throughout the year! The glamour and glitz arrive is Hollywood style with giant Oscar statues, paparazzi entertainers, celebrity look-a-likes, stunning Hollywood themed table centres and Hollywood themed props such as Giant Clapper Boards, Hollywood Camera Props and even a Giant Directors Chair!
8. 80s Theme
Take your guests back in time to the 80's for a classic event theme – the era of bright neon colours, slinkies and Rubik's cubes. Create a retro themed room with multi-coloured curtains, funky 80's themed chandeliers, giant 80s posters, giant 80's themed props and Rubik's cube table centres. Dress up as your favourite 80's icons and groove to the music around your handbag till late in the night!
Transform your event to the magical world of Alice in Wonderland. Want into a truly extraordinary adventure with Giant Cupcakes, giant cards & tea cups, mystical forests and even a giant cat Cheshire. Alice in Wonderland themed events work wonderfully throughout the year for a totally immersive and exciting adventure.
10. The Lion, The Witch and the Wardrobe
A classical book and a firm favourite at Christmas. Walk through the wardrobe to an adventure that you'll never forget in the make-believe world of Narnia. Sparkly fairy lights and snow-covered pathways will lead your guests down through to an imaginative fairy tale world. A Narnia Themed Event is a great Christmas party theme and a great alternative to a Winter Wonderland theme. We bring you sleighs, Aslan, polar bears, snow drenched trees, icicle ceiling and chandeliers and ice bars to create Narnia at your venue.
11. Harry Potter
Be wowed with wizardry and magic at a Hogwarts themed event where everything including a Harry Potter and Dumbledore look-alike will amaze you! A Harry Potter themed event is a great alternative to a Halloween Themed event which sparks everyone's imagination. From the moment guests go through the magical wall at Platform 9 3/4, all your guests will be amazed by this spooky and majestic event.  Let's transform your venue with ceilings with floating candles, magical backdrops of Diagon Alley and The Great Hall as well as spooky table centres that light up!
12. Willy Wonka
Buy a Golden ticket and transport you and your guests to a world or pure imagination. A Willy Wonka Themed event is full of colour, scenery, lighting and table decorations, to get the feel of the most amazing Chocolate Factory in the world. From chocolate fountains and Oompa Loompa entertainers to swirly tree tables centres and multi coloured-draping around the room, your guest will be blown away.
13. Star Wars
Create a space-like scenery for your guests with a Star Wars themed event, where guests can step into a spaceship and get to experience different planets. With star ships hanging from the ceiling and life-size 3D or human Stormtroopers and a 3D Yoda model you can have your guest feel as if they are experiencing the movie itself.
14. Wild West
Put the Yee Haw into your event with a Wild West themed party! An ultimate adventure where guests can truly have an immersive experience with the deep wild west where guests can dress up as Cowboys and girls. Let us transform your room into a scene from Blazing Saddles with wagon prop hire, hay bale seating, wagon wheel props, wild west themed props, totem poles, bucking bronco hire and lots more to create the wildest night of merriment with line dancing, drinking and singing!
15. Circus
Roll up roll up – get ready for the best show in town with a Circus themed event– full of colour, nostalgia and imagination. Circus themed props in bright colours and circus themed table centres create impact and drama of the big top. Circus entertainers astound and amaze with their juggling skills, acrobatics and circus tricks whilst guests tuck in to endless amounts of popcorn and candy floss!
16. Hanami Festival
A blossom theme is the ultimate spring theme when it comes to creating the outdoors indoors! Japanese Blossom Trees, Blossom Ceiling decor, blossom Living wall backdrops, foliage and blossom table centres, blossom themed entrance arches and other blossom décor to create a forest for the most beautiful season!
A Future Thinking themed event is all about being creative, limitless and thinking outside of the box. With futuristic table centres, mirror bars and cloud and contemporary furniture, this is a really unusual theme that combines all stunning ideas to represent a futuristic themed event that is not a space theme.
18. Festival Theme
Our festival themed event is full of colour, excitement and vibrancy of a music festival. We bring you the best of a Glastonbury Themed Event with colourful pallet seating, bunting trees, music, and food stalls. It's an innovative, experiential and truly immersive theme where there is no need for muddy feet, long waiting lines and personal hygiene, you get only the good!
Whether you are looking to create the ultimate British event or celebrating an industry milestone, our British themed party is a brilliant theme and popular throughout the year especially during British sporting moments and British Royal Events. A great option for summer parties, gala dinners, or awards dinners, company fun days, we'll take your guests on a journey from the iconic buildings of London to the hills and sheep of wales!
20. Summer Parties
The corporate summer party is an annual event in the social calendar allowing companies to bring their teams together for internal events, annual gala dinners, family fun days or company summer fetes.
Our annual social gatherings, can be themed with summer décor ideas or be an outdoor themed event with outdoor furniture, summer themed props, artificial trees, inflatables, summer fete games or outdoor food vendors.
A Focus on Favourite UK Venues: Nottingham, DeVere East Midlands Conference Centre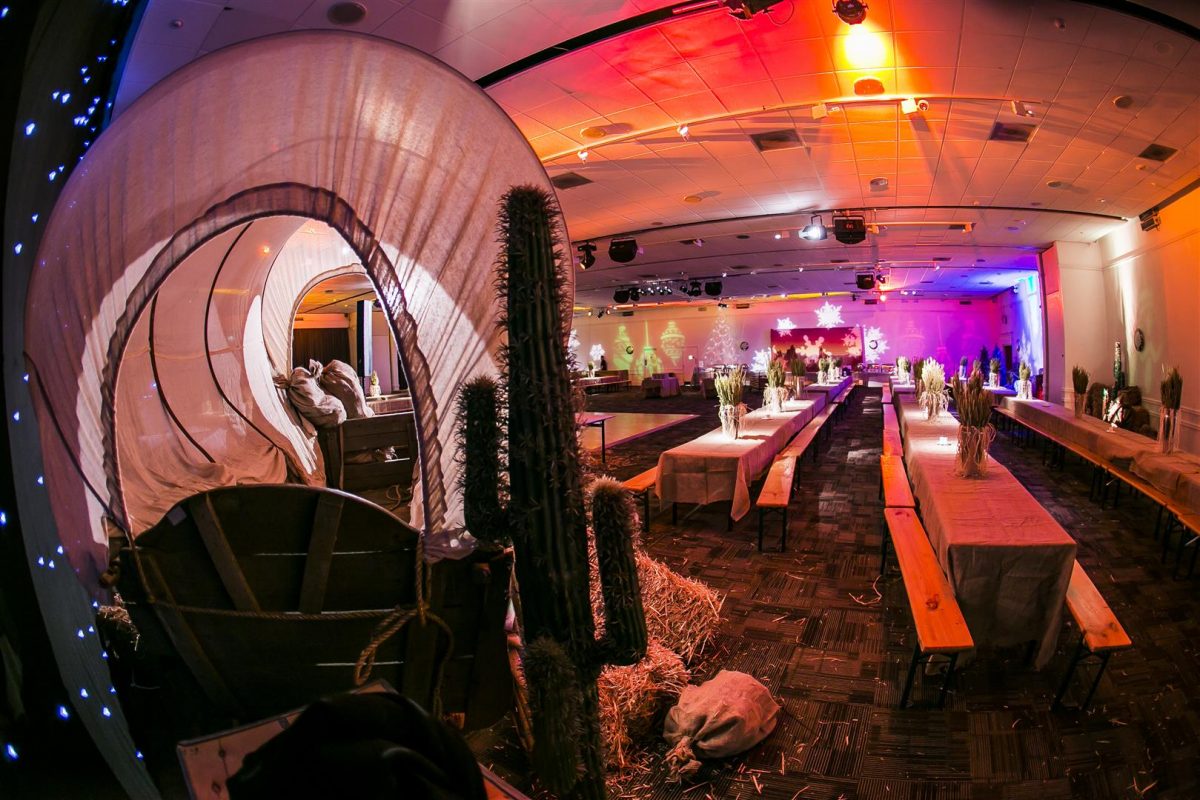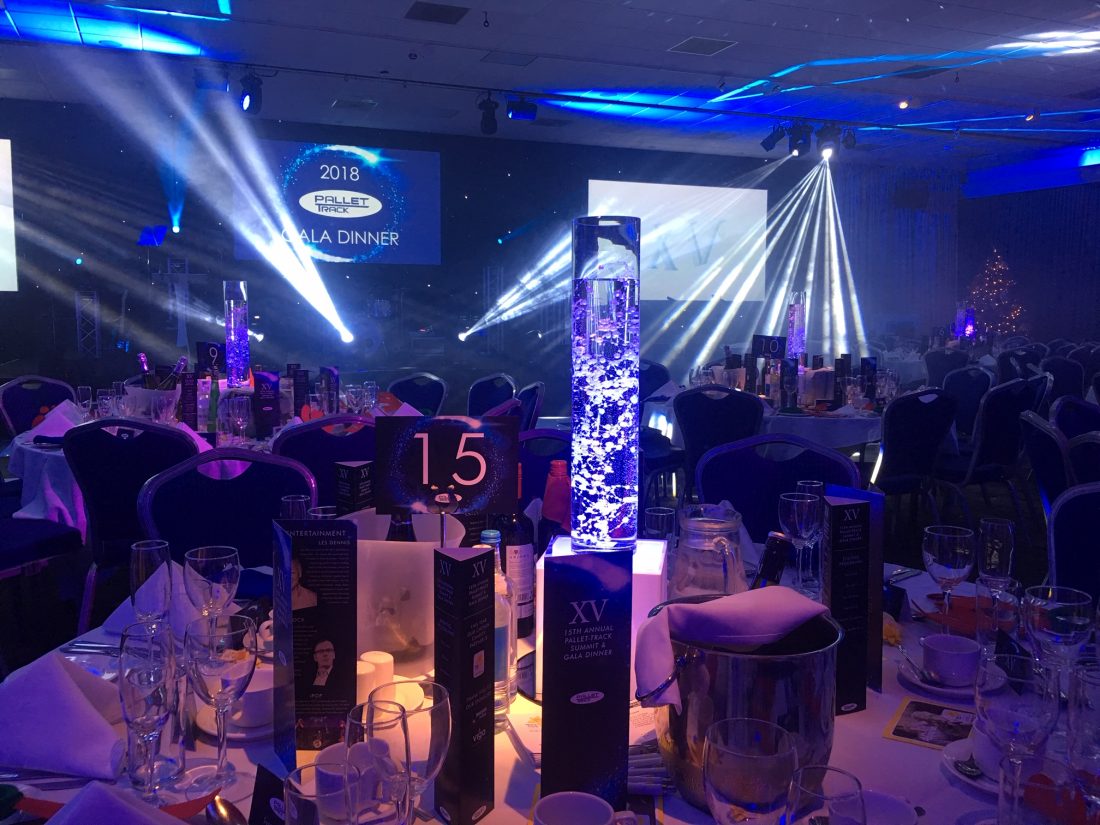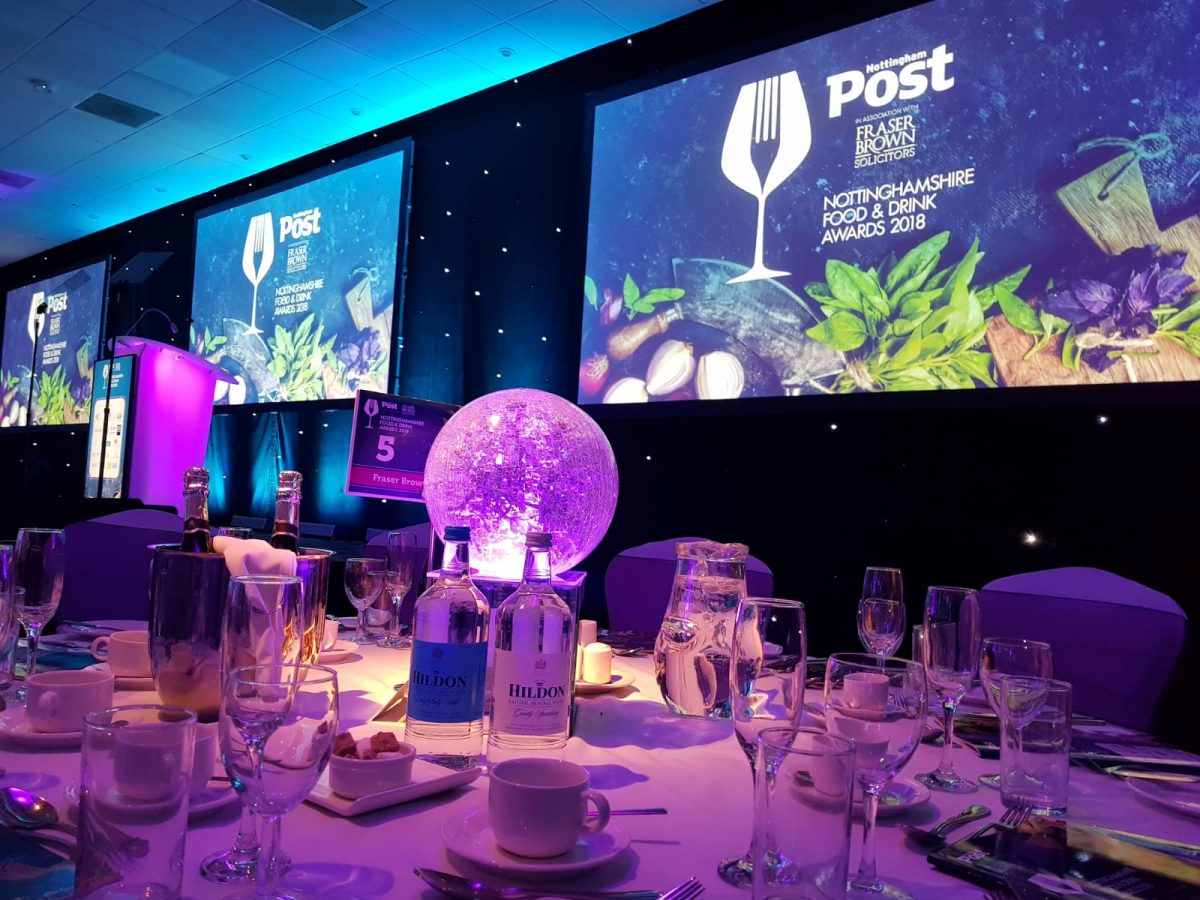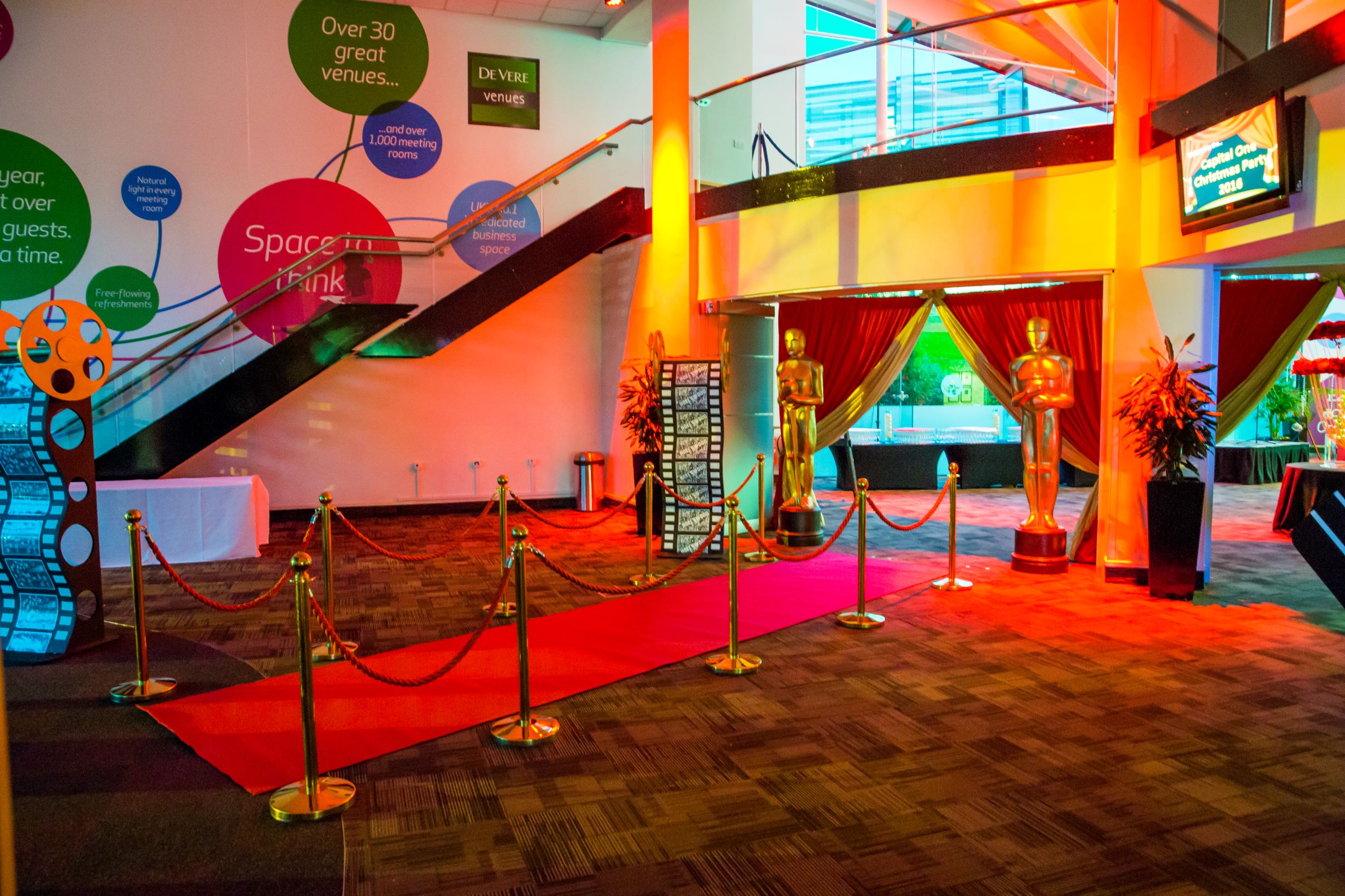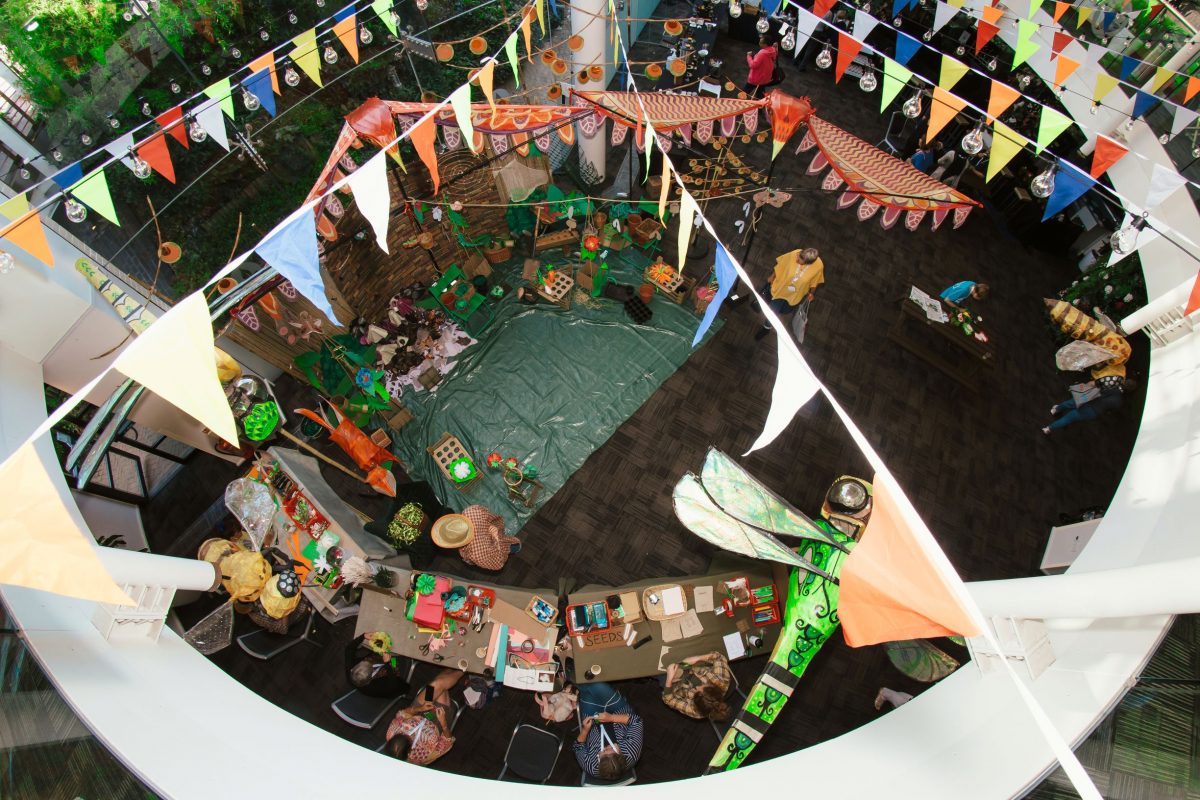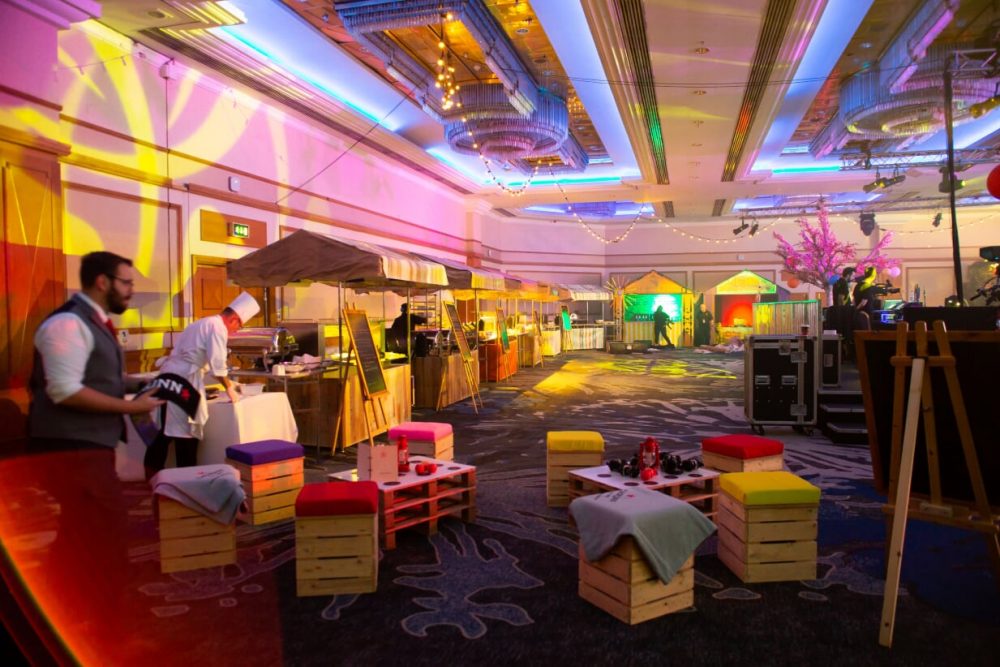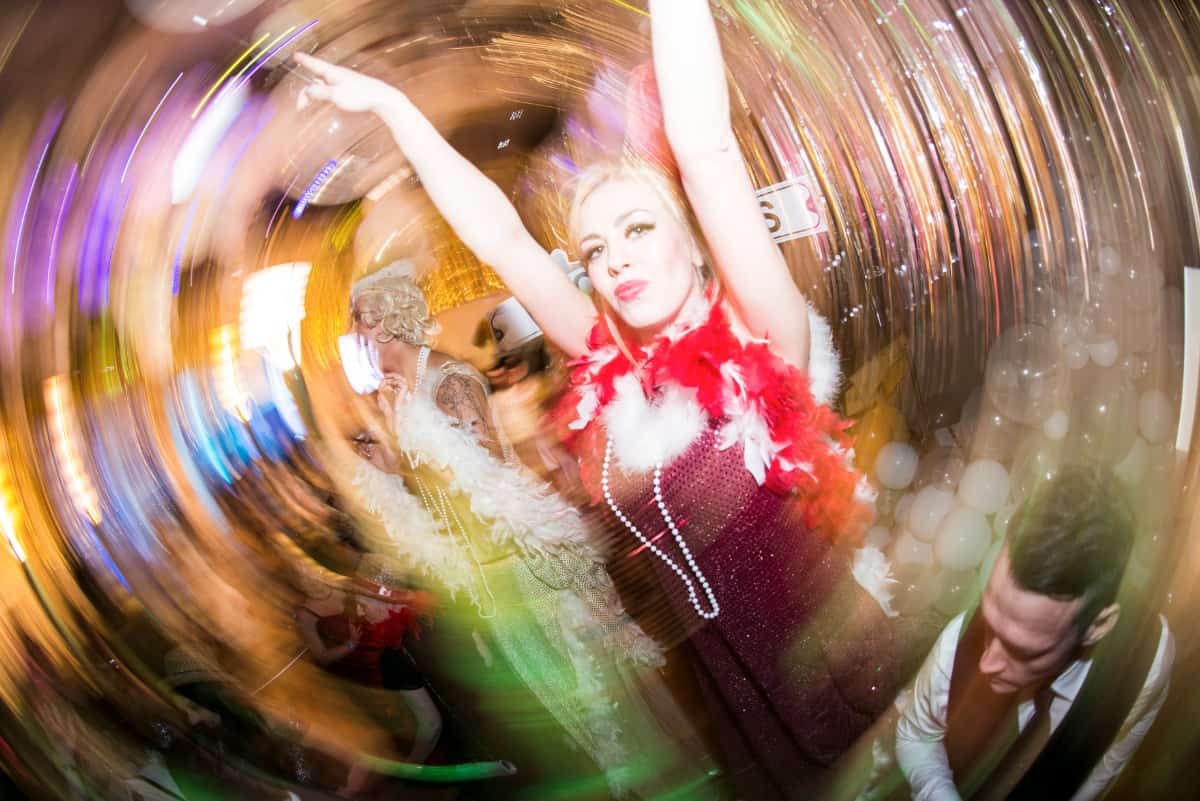 Wild West Theme, East Midlands Conference Centre
Wild West Christmas Tree, East Midlands Conference Centre
Futuristic Theme, East Midlands Conference Centre
Crackle Ball Table Centre, East Midlands Conference Centre
Hollywood Theme Draped Entrance, East Midlands Conference Centre
A Night at the Oscars at East Midlands Conference Centre
East Midlands Conference Centre Nottingham
Great Gatsby Theme Table Centrepieces
roaring 20s flapper girls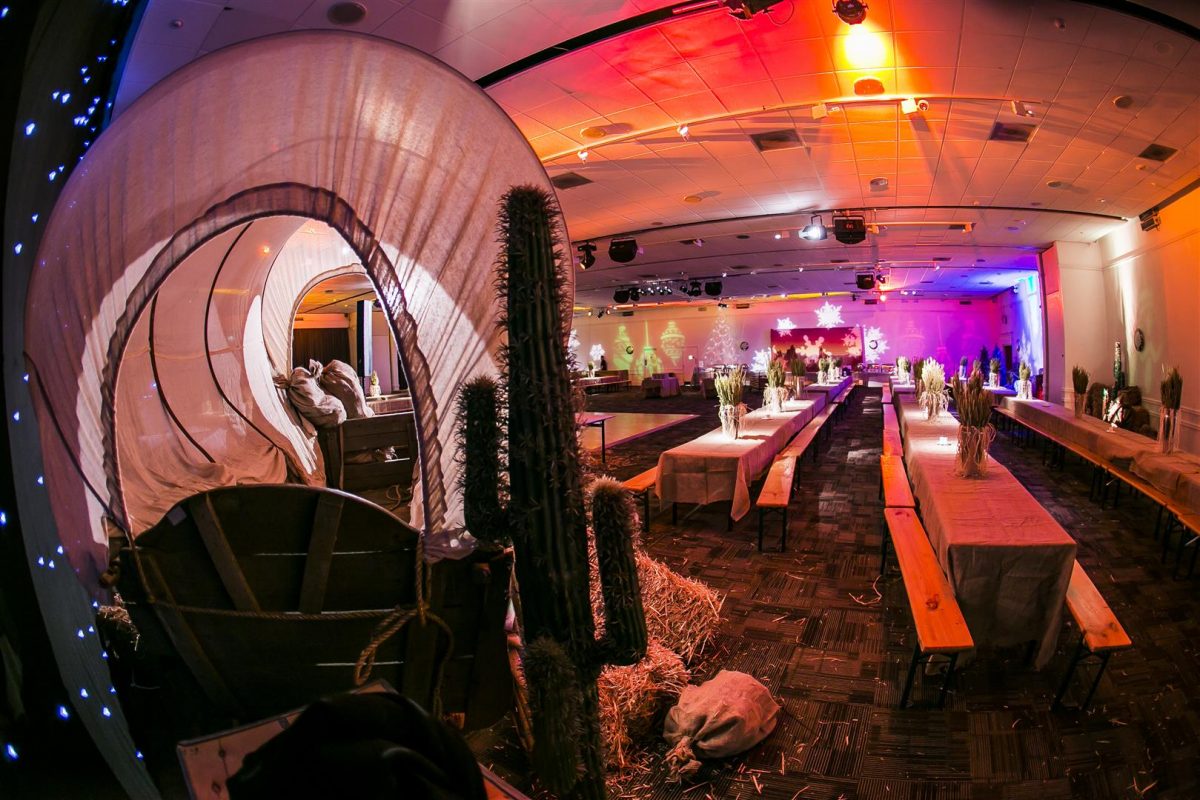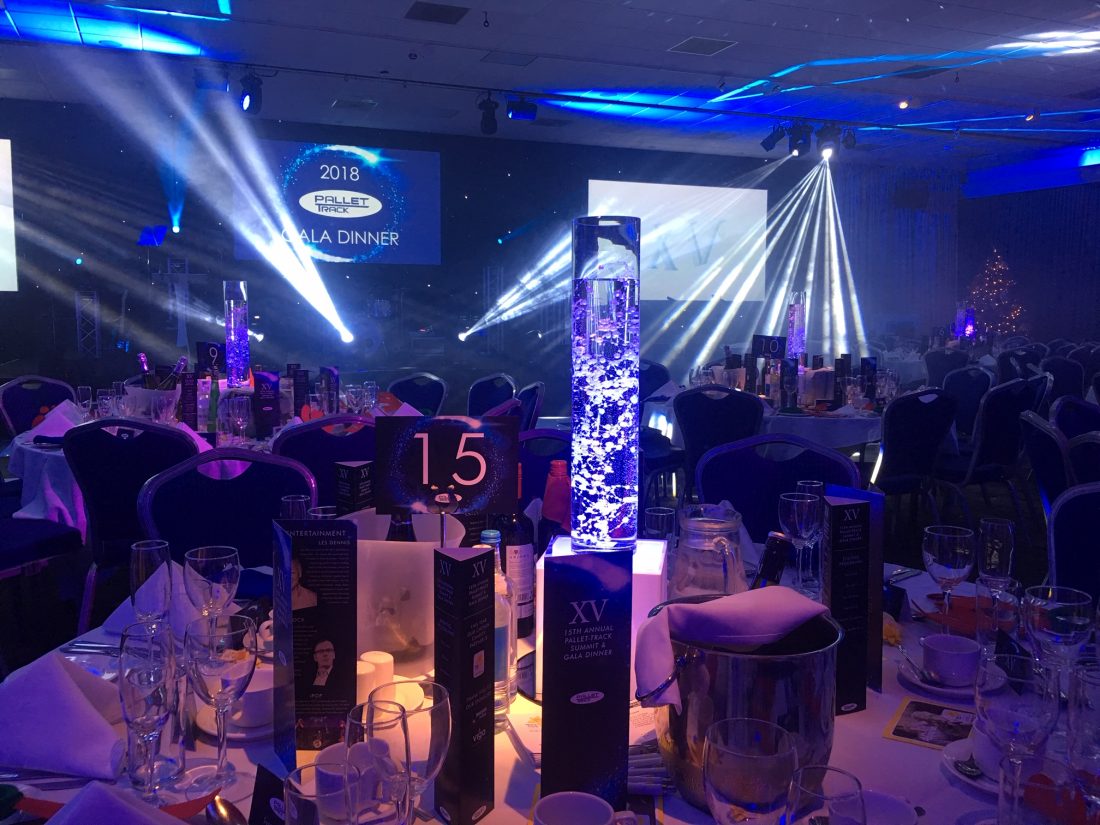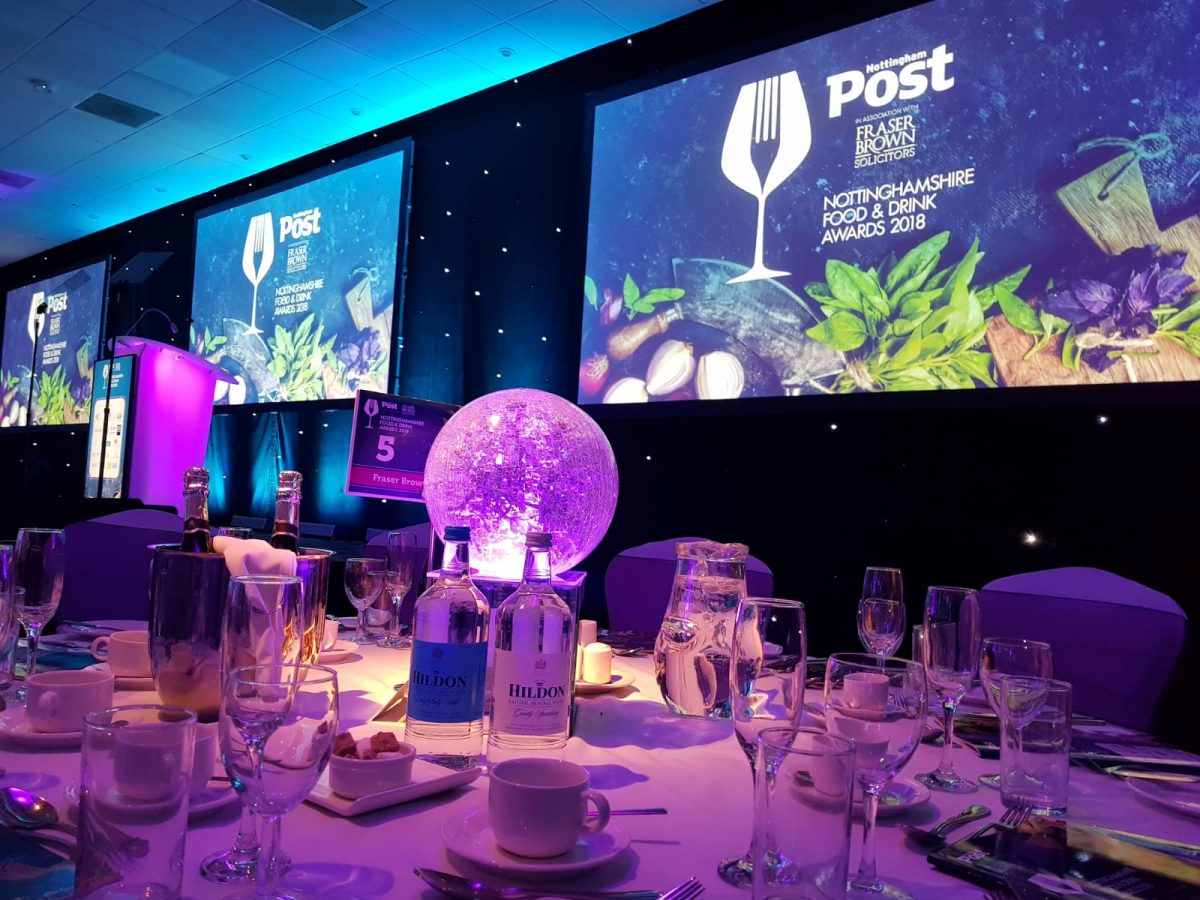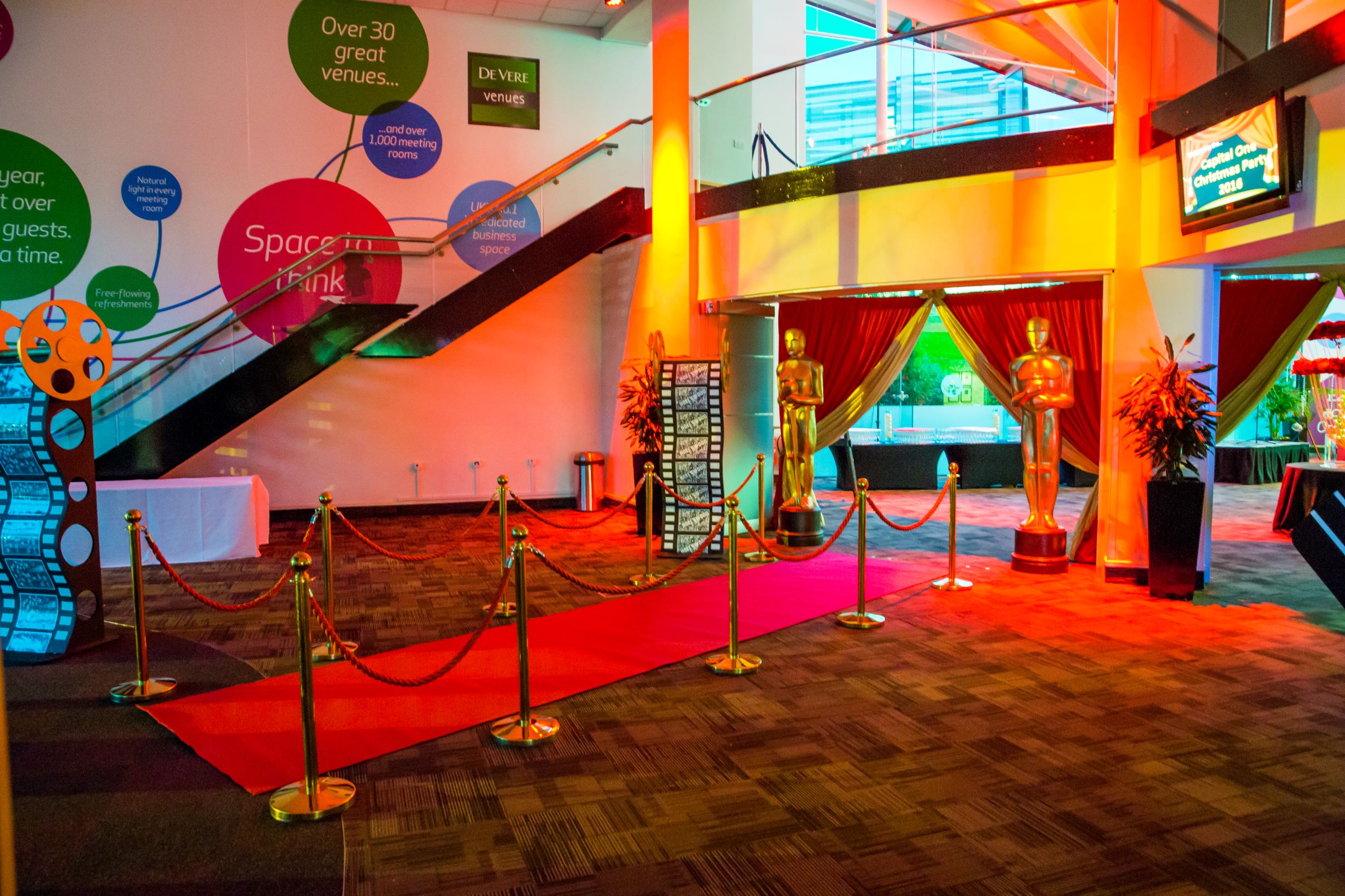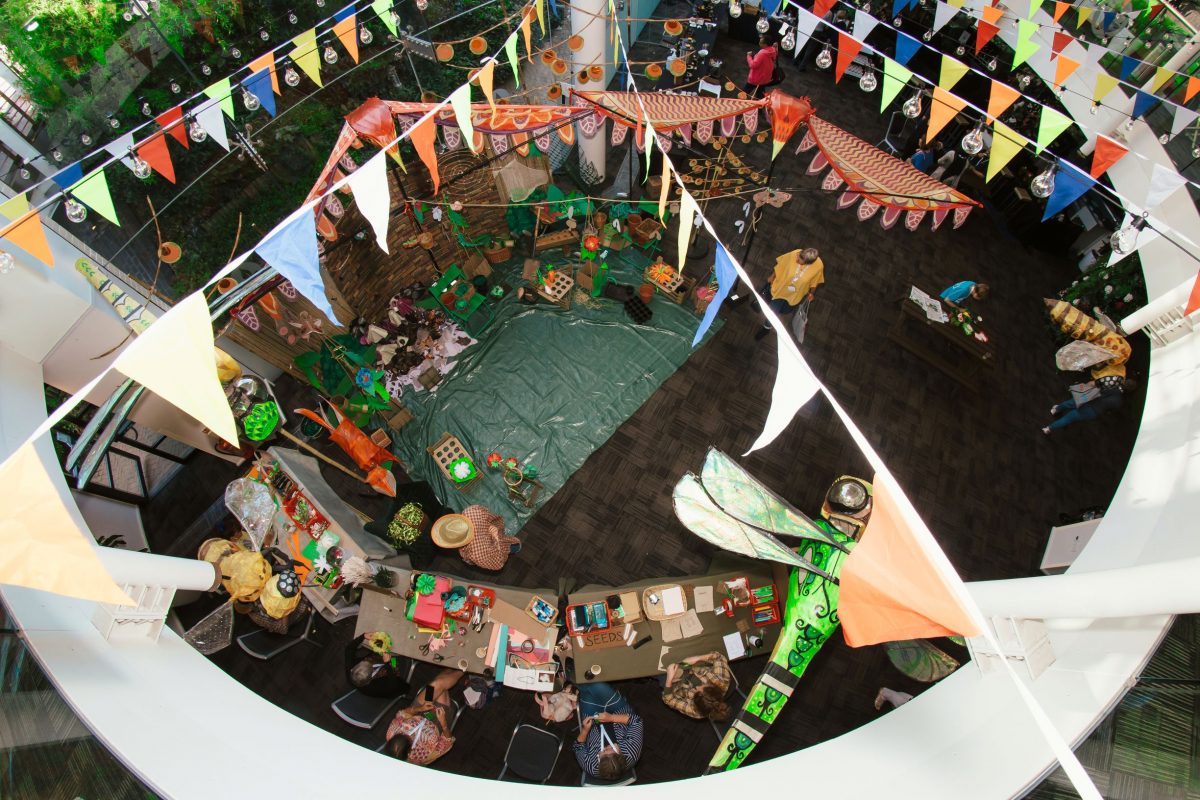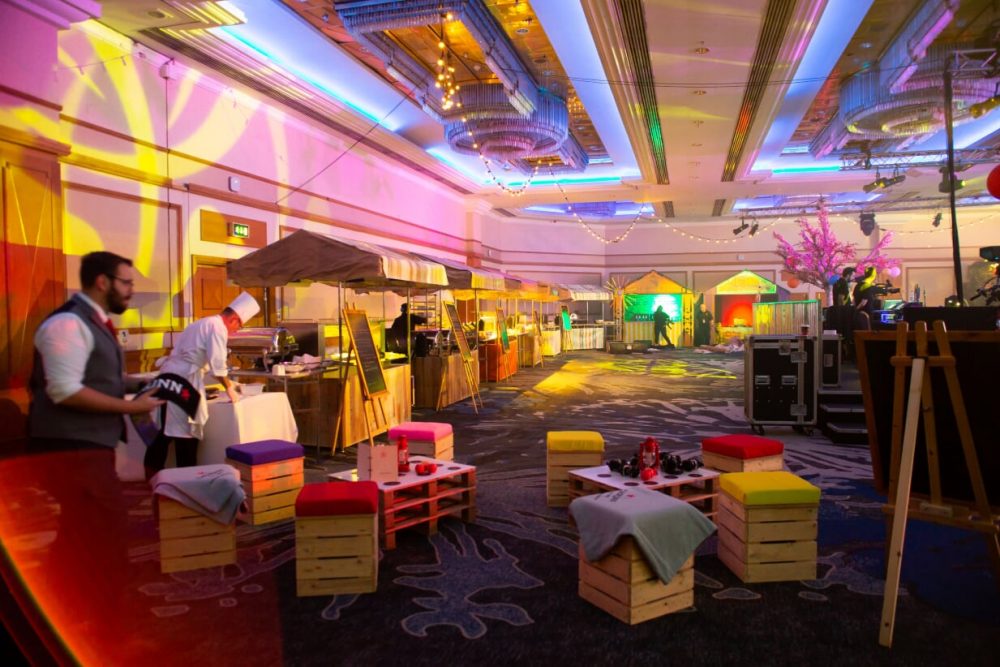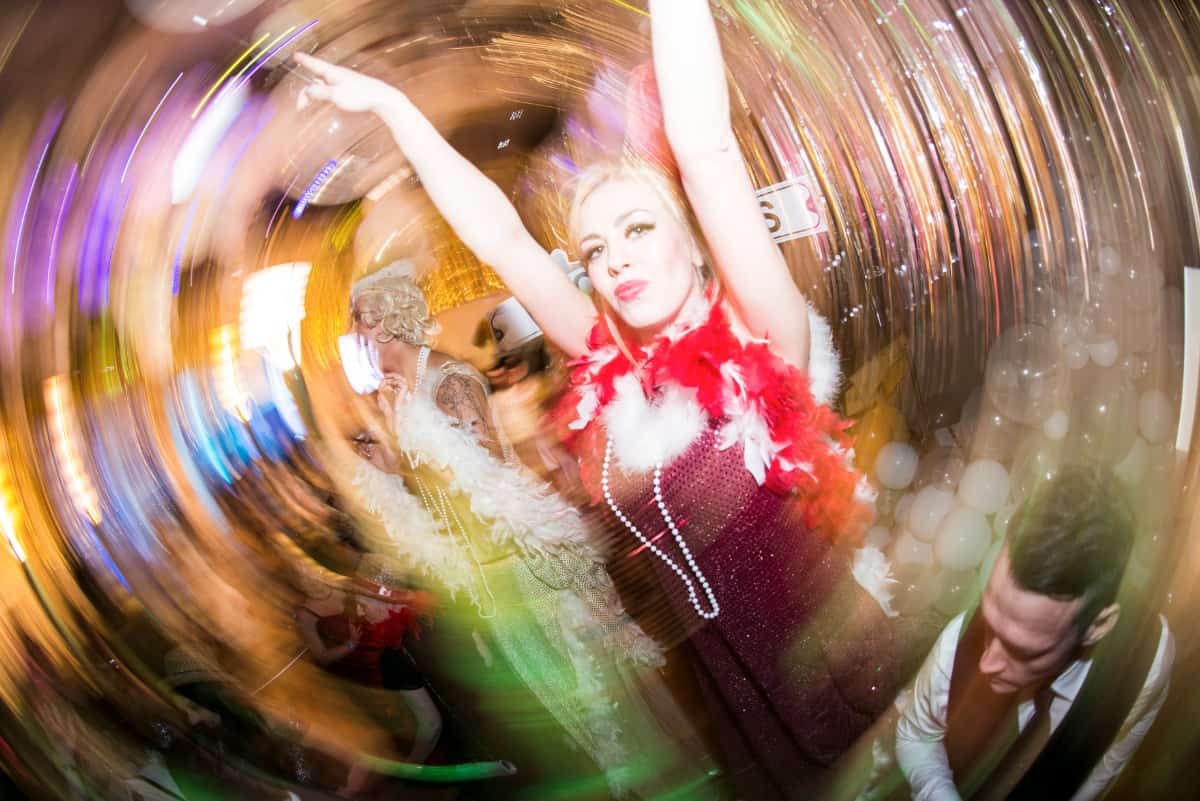 A Focus on Favourite UK Venues: Nottingham, DeVere East Midlands Conference Centre
As Event Professionals, we've lucky enough to work at some great UK venues and have developed great connections with many venues and their teams. We'd like to review another venue we are missing during lockdown and that's the awesome DeVere East Midlands Conference Centre.
The venue is not just known for its sustainability, but also its incredible professional Sales and Operations team who deliver personal service like a small boutique hotel whilst having the branded badge of DeVere. The venue offers great options for holding large and small events across the site. Let's discover some of our favourite events that we have worked on here.
A Venue for Large and Small Events in Nottingham
DeVere East Midlands Conference Centre is an idyllic location for conferences and conventions. Its set in 330 acres of the University of Nottingham's landscaped parkland so it feels like you're a million miles away but you're not! De Vere East Midlands Conference Centres has recently been refurbished and is a stone's throw from the eco-friendly De Vere Orchard Hotel.
Voted as Best Auditorium and short listed for the Best Onsite Audio Visual at the CHS 2018 Awards, East Midlands Conference Theatre provides a great space for up to 550 delegates. The Auditorium has tiered seating and a large screen for symposiums and presentations as well as a Banqueting Suite that offers a flexible space for exhibitions, awards evenings, and gala dinners, hosting up to 1000 for a conference or 580 for a meal.
With a choice of 21 meeting rooms plus accommodation of 202 bedrooms at DeVere Orchard Hotel, it's a perfect location for a residential conference in the East Midlands or a full day conference and Awards dinner. It is a great option for those seeking perfect UK venues for corporate events.
Highlights of the Venue
21 flexible meeting and event rooms for conferences, exhibitions, gala dinners, and meetings
Easily accessible via road, rail, or air with East Midlands Airport nearby
10 minutes to Junction 25 off the M1
Can accommodate events large or small, for up to 1000 guests
Free, superfast Wi-Fi with a maximum bandwidth of 1Gb is available throughout the venue
Intuitive, smart technology with dedicated in-house tech savvy support
Dedicated conference host on hand throughout to help with the event
202 guest rooms at DeVere Orchard Hotel
We share some of our most favourite events at UK venues and in particular the DeVere East Midlands Conference Centre to give you great ideas of how versatile the venue is for a range of events and just why we've chosen to rave about it!
Christmas Ho Ho Ho Down for Capital One
The financial firm Capital One hired the Eventologists Team to design and deliver one of the biggest Christmas Parties at East Midlands Conference Centre with almost 1000 party revelers. Going away from your traditional Christmas Theme, we worked with them on a Wild West Themed Showdown for their staff Christmas Party. With long tables, wild west themed props, full room transformation, can-can dancers and other wildwest entertainers such as a Rodeo Bull, Shoot Out Games as well as Wild West Photobooths! What a night to remember! 
Gala Dinner Decor – Futuristic Theme
Eventologists often get requests for futuristic themed table centres or modern centrepieces to fit in with a future theme gala dinner. Futuristic Themes are great at East Midlands Conference Centre as the building itself is so modern and contemporary. Our client, who is a logistics company gave us a brief of lit table centres and we suggested our Light Up Bubble Vase Table Centres along with a futuristic tunnel and blue and white lighting. It's a great theme for male dominated awards events and also a popular theme for scientific companies, IT companies and manufacturing companies!
Venue Décor – A Night at the Movies – Oscars come to Hollywood!
We have designed some unique Christmas party for Capital One at DeVere East Midlands Conference Centre. This time the theme was A Night at the Movies. It's an alternative idea to an Oscars Themed Event or a Hollywood Theme Corporate Event. Our ideas for this staff party with a twist included a secret cinema space, Hollywood poster props, glitzy Hollywood entrance as well as an array of Hollywood Theme Entertainment and Hollywood Look-a-like entertainers to amaze guests with their canny resemblance to Hollywood Super stars. An Oscar Themed Party is always popular at Christmas or for Awards Dinners as its such a celebratory theme. We have so many Oscar Themed/Hollywood Themed Décor and Entertainment to choose from, so you can be guaranteed that no one event will be the same! 
Festival Themed Conference
Another great event was hosted at East Midlands Conference Centre and Nottingham University where Eventologists were given just 4 hours to transform the entire site in a festival theme. The event was a 2-day conference held at the UK venue.
We were given a task of transforming the entire site in a sustainable festival theme. The Summer Festival event had the objective of a space where people could network, share creative ideas and future thinking and collaborative.  Décor include summer artificial trees, a living sponsor wall, artificial turf hire, foliage pillar wraps, a cloud in the blue-sky thinking space, giant festival letters with real plants for people take away and pallet furniture for booths and outdoor seating.
Gala Dinner – Great Gatsby Theme
One of our favourite spaces at the East Midlands Conference Centre is dressing the long corridor that leads to the main banqueting suite. There's just so much that you can do with entrances especially when it's a Great Gatsby style entrance area. Stunning 20's style fret screens, art deco fan props, stunning Great Gatsby themed table centres.
Nottingham University Conferences and East Midlands Conference Centre feels like home from home. We can't wait to do our next event there. This a great space for Self-distancing Events in Nottingham and a Corporate Venue in Nottingham that has so many possibilities for any type of corporate event – a dream for Event Management Companies or Venue Search Companies!
Contact our event management team today to discover more about our favourite UK venues and working with us to create your next great event! Chat to our team today. 
The best event furniture, décor and props for hire – we have them all at Eventologists!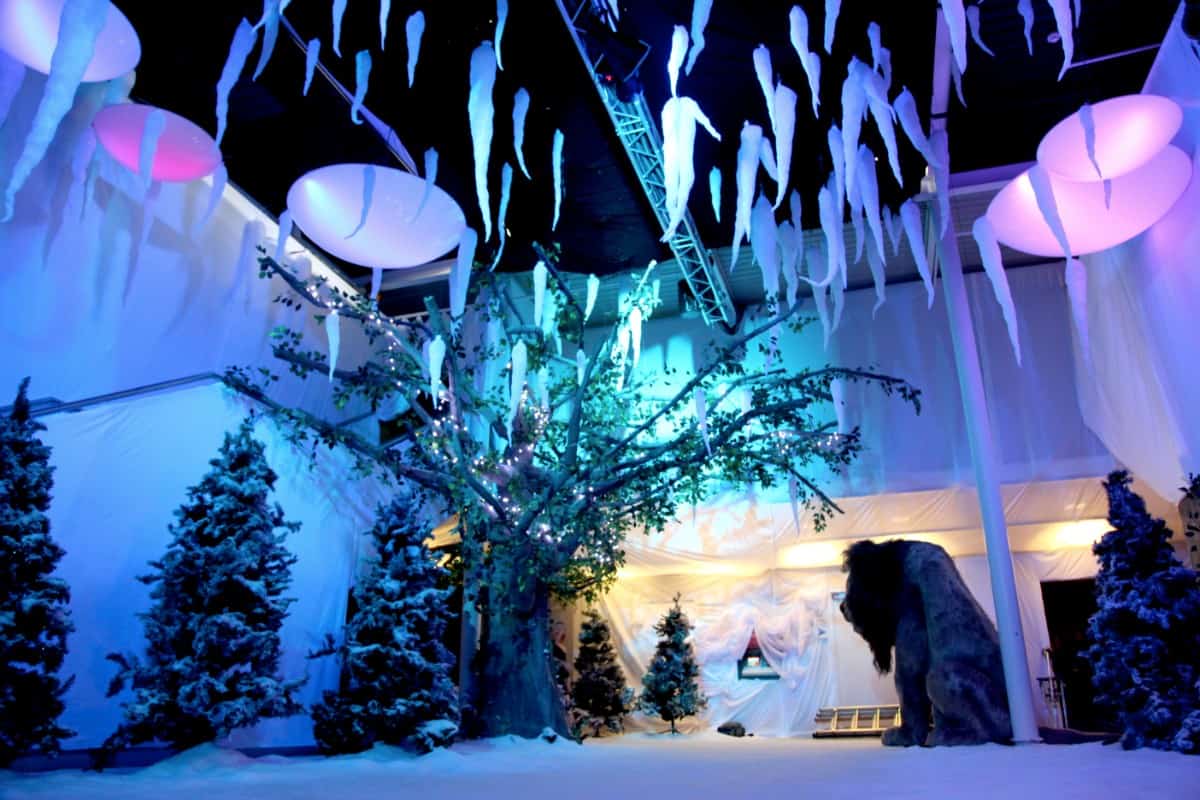 We know that organising an event can be a lot. Between the picking of the venue, the list of guests, choosing the mood you want for it and then finding all the decorations that can make what you envision become true. However, it's never been easier to find all the perfect elements to create your dream party, thanks to Eventologists Event Hire, you will have it all in just one place!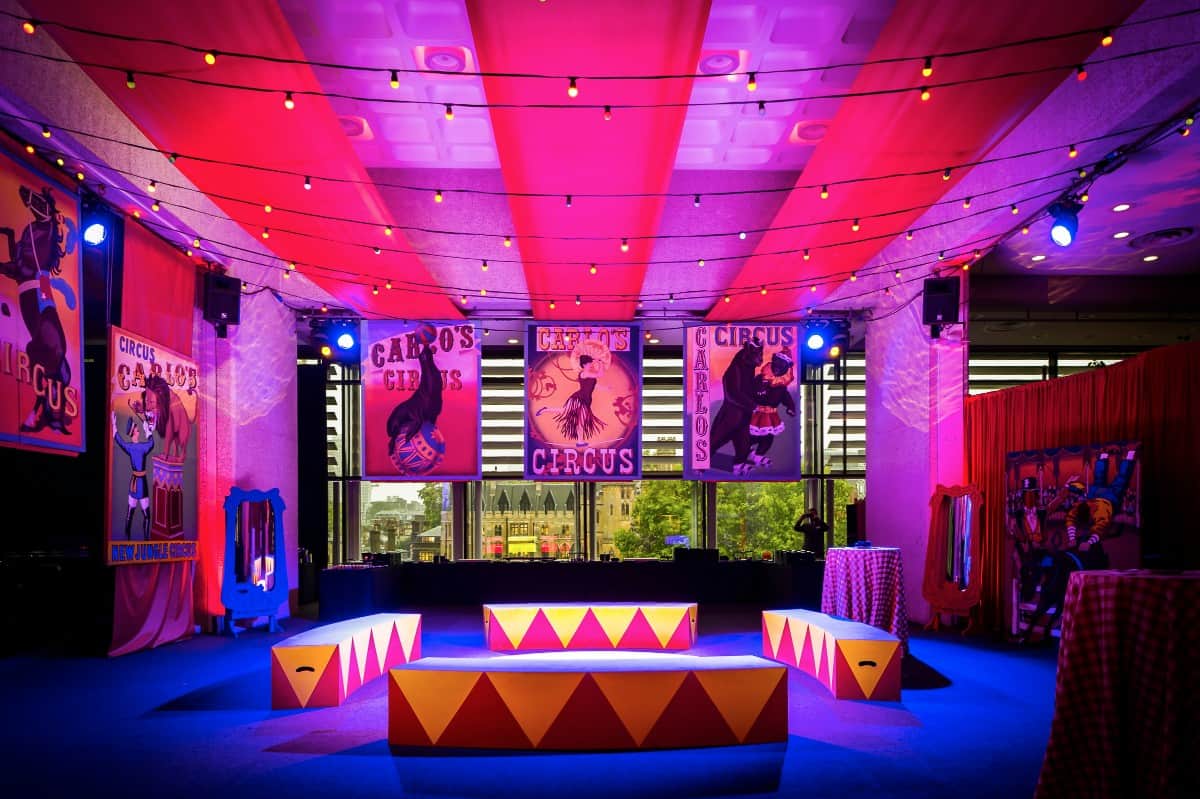 From the moment you contact our talented team of event stylists, you will be in the best hands. We want to transform your creative vision into a reality, and for that we need the best there is to be in terms of party furniture, decorations and themed props.
We are proud to offer you our own massive in-house catalogue of décor, furniture and event prop hire, to make sure that you always get value for money and to make the whole process of transforming your venue into the stage of a top tier event a seamless one.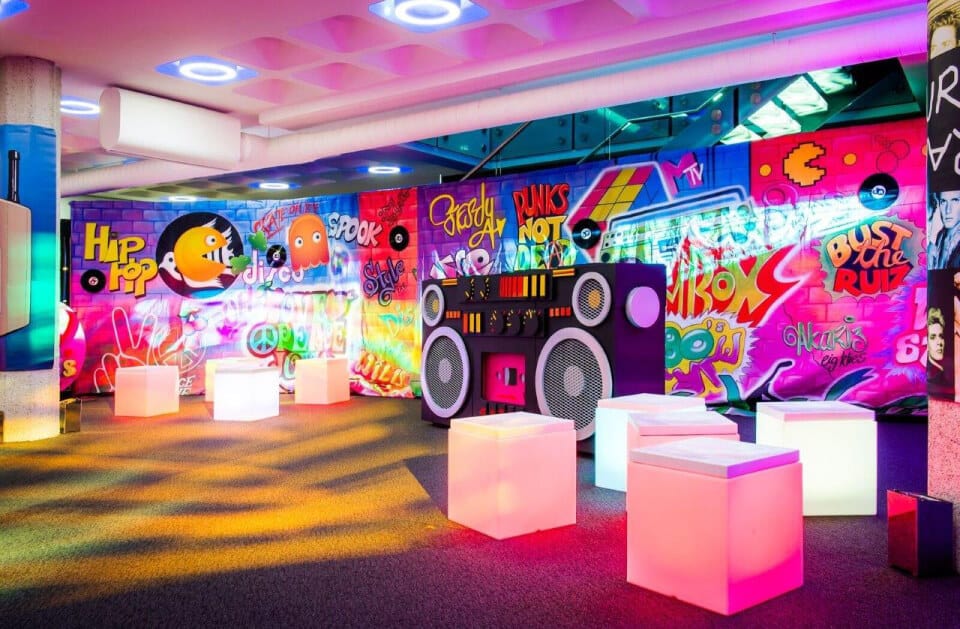 We count with a wide and varied range of products and props for hire for any type of events, including corporate, themed and private parties. We have at disposition table centres, chair covers, wall and ceiling draping, bars hire, furniture hire, trees hire and every themed prop you can imagine – all the products and services you could need to enhance the venue and take the event from good to great!
We also offer a wide array of Professional Entertainers and Corporate Entertainment ideas to create a truly immersive atmosphere at your next event. Our unique, contemporary, stylish event accessories are perfect to dress up your exhibition, corporate party, gala dinner, awards ceremony or anything that you have in mind.
Check out some of our most popular Event Prop Hire items below or contact us, for our Event Specialists will help you source just what you need!
Top Tips to Organising a Gala Dinner or Awards Night that people will Remember
Our Event specialists will assist transforming your room for corporate events and Gala Dinners
If you are a planning a Gala Dinner, Awards Night or Post conference dinner for the first time, we feel your pressure. In fact, it doesn't matter how many times you've organized your Company Gala Awards Night, there's a lot to manage and so much that can go wrong without good planning! Whether a Virtual Awards night or a Live Gala Dinner, there is a lot to consider.
That's why many people choose Event Management Specialists such as Eventologists to provide the expertise to help create a memorable event that people will have fun at. We have vast experience in planning events from family fun days and corporate launches to Gala Dinners and charity balls. From the smallest intimate meeting to the largest corporate launch event, our team of events experts can plan and deliver flawless logistics, prepare unique event concepts including themed events, and deliver striking and high impact production including the audio-visual content for your event.
Having delivered thousands of events over the past 15 years, what would be our top 3 tips to focus on?
Visual Impact at Events – from the moment that guests walk through the door, they should feel transported. Stunning entrances, dramatic venue styling and then entertainers that are highly visible. If it's a night out, then it should feel like a night out of the normal! This issue is even more challenging with a virtual event and its not just about a platform.
Exciting Gala Dinner Entertainment – if they're attending, they want to be entertained, so look at the best entertainment options from the moment they walk in. Think about in-between courses and a star performance or a key act that they will all talk about!
Inclusivity adds to the interaction – making guests feel part of the event rather than just a spectator is hard, but if you crack it, you're set to create an event that everyone will remember. That's why many people choose Themed Events that encourage people to participate in the Theme.
The alternative is booking an expert Events Agency to offer you a fully integrated service can start and finish where you need it to. Our strengths lie within the depth of experience of our outstanding events management team, taking care of everything from finding the venue and site planning through to creative solutions and seamless event delivery. Our Events Planners will present a range of options across all disciplines, so you save on time, cost and conversation.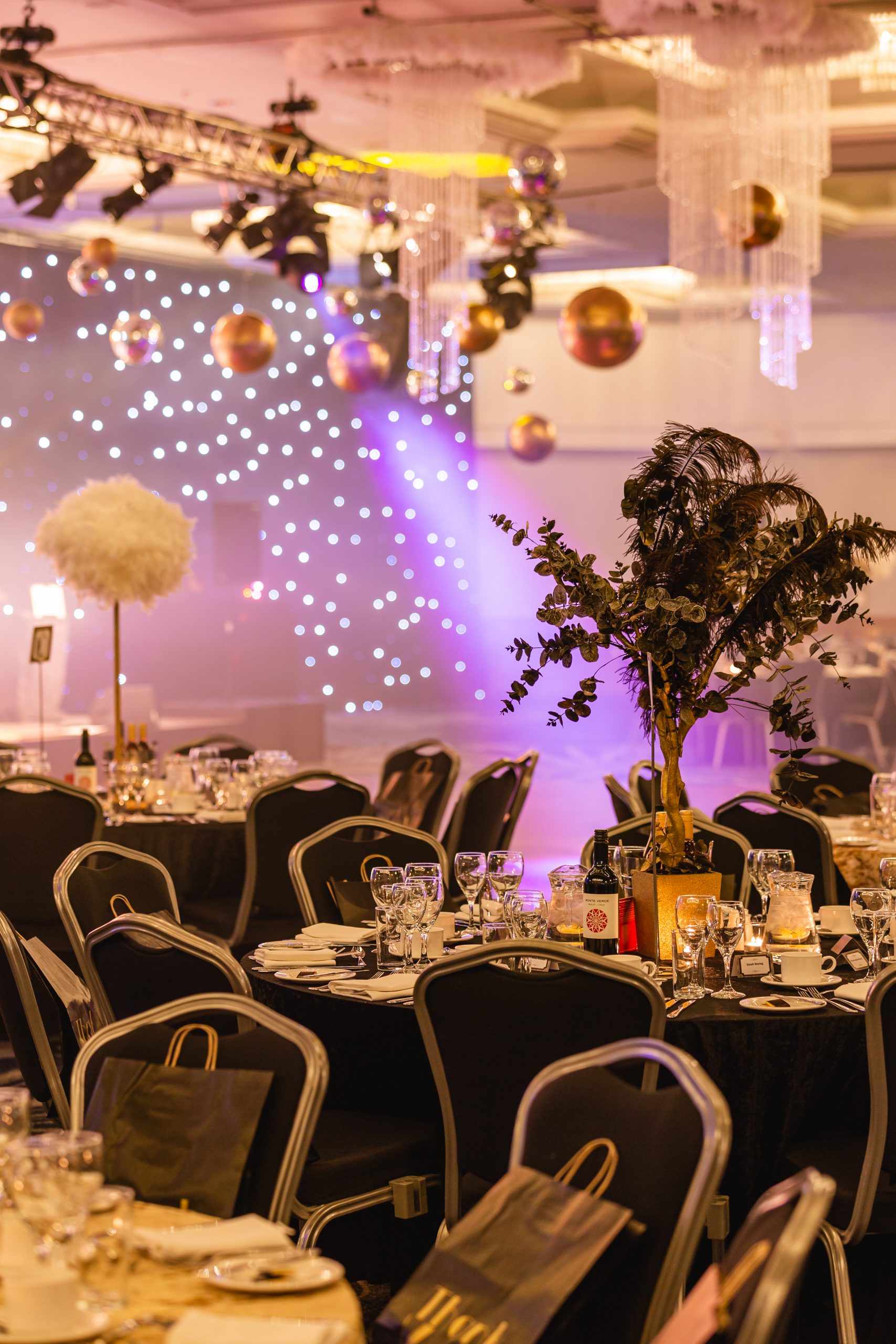 When it comes to Gala Dinners and Awards Ceremonies, Eventologists offer a superb range of event décor ideas and gala dinner centrepieces. We are experts in bringing your corporate dinner functions to life, offering unique event concepts for your corporate event which include Event Furniture Hire, Lit Table centres, Corporate Centrepieces, Table Décor, Prop Hire, Event Styling Concepts, Bar Hire and Entertainment specialists.
If you are thinking of a themed gala dinner, we have over 100 stunning and unique centrepieces and themed props to create a truly memorable themed event from Great Gatsby Theme, Hollywood Themes, Christmas and Winter Themed to Contemporary and Futuristic Themes. Check out our Themed Events Gallery for inspiration and Ideas!
Our fully integrated service can start and finish where you need it to. Our strengths lie within our experience of over 40 years of delivering outstanding gala dinner management who can take care of various aspects of your awards dinner theming from initial design to seamless event delivery to budget.
We believe that detailed and thorough overall project planning is vital to the success of any event, as it ensures that no details are missed and the time spent on the event is 100% productive and therefore value for money. Your budget is our budget and we will strive to deliver the most impactful Corporate Company Dinner at great value for money!
Hop into the sun with a Festival Themed Party!
Festival Themed Party!
Are you an organisation planning for the conference season? Or would you simply like to plan a fun spring and summer event? In any case, the Eventologists' Festival Themed Event is an exciting fit for any type of event or party, for our creative team can transform your indoor space into a festival full of vibrant colours, fun entertainment and an all-round celebration, or have an outdoor event – all the brighter and bolder!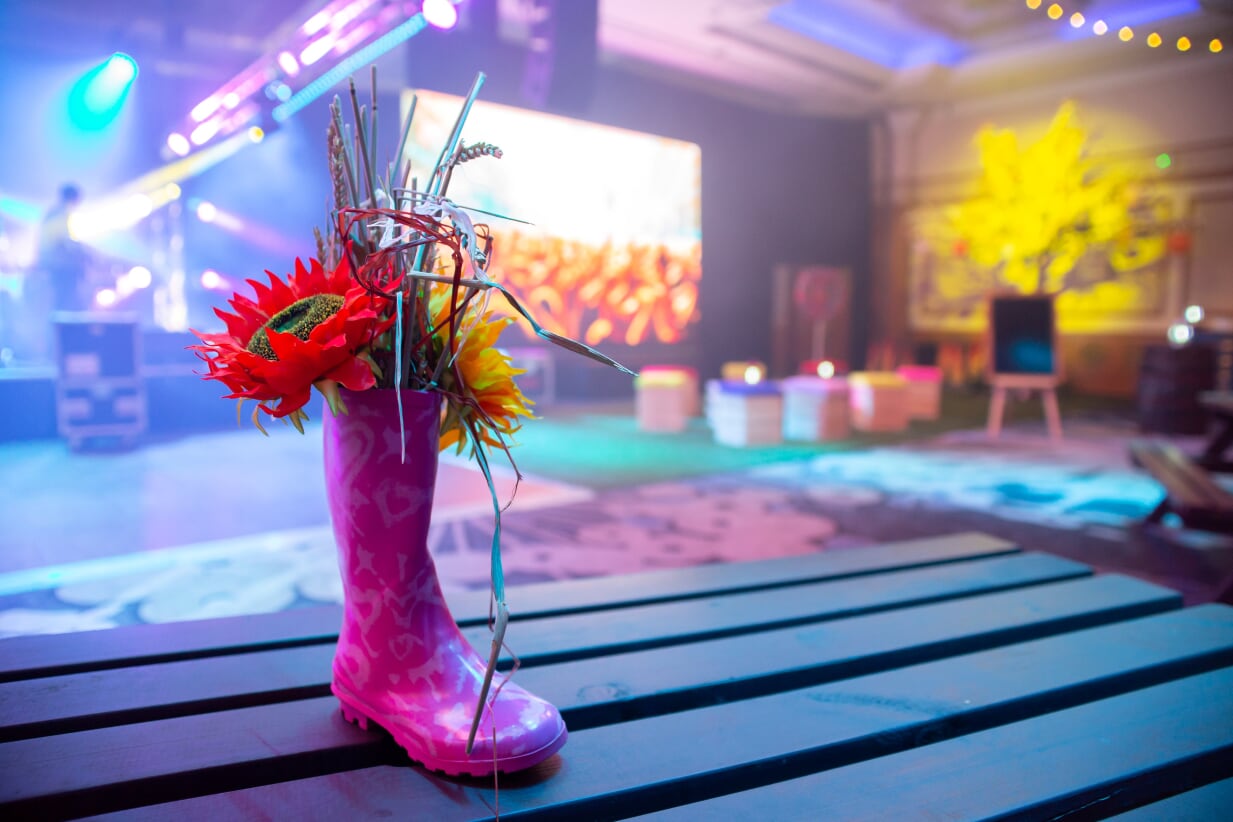 As people grab their wellies and put up their tents across the country for weekends full of fun in the sun, the Eventologists creative teams invent festival themed events and parties indoors. We bring colour, vibrancy, and fun from the best festivals in the country, and there is no need to traipse through the mud or battle the crowds, for you can simply enjoy the vibe of our festival themed entertainment in the comfort of your venue with no worries or stress involved.
It is an excellent option for a corporate event to celebrate with a mini-fest where your guests can experience all the good and none of the bad. At the same time, you will have no worries at all, because our team of experts will put up an amazing work into making your Festival party ideas into a reality, offering you a wide array of Festival themed props and decorations to transform the site of your choosing, such as:
Colourful and comfortable palette-style seating accompanied by tables with colourful centrepieces.
Floral décor, trees for hire, lanterns and colourful pennants to bring the feel of your favourite festivals.
Big signs and festival props that work as an excellent photo op for everybody.
Food huts with a wide variety of festival themed options for the guests to enjoy.
To start the event, welcome your guests through an amazing festival entrance, greeted by entertainers who can wristband your attendees and lead them through to the drinks' reception.
Gather around the palette-style seating and get your faces painted by festival artists to get you in the partying
mood. From there, you can enjoy lots of different food huts and watch a variety of live acts and festival themed entertainment.
And when then the sun finally comes out in the spring and summer, you can't go wrong with an outdoor Festival themed event, for it triggers some extravagant conference theming ideas and conference concepts that go above and beyond the usual light up table centre pieces and glamorous gala dinners and heralds the start of fun filled times and exhilarating themes influenced by the festival season, creating a casual, immersive and inclusive atmosphere.
Get ready to experience one of the brighter and bolder themed events you've seen!
Top 10 West Midlands Venues For Corporate Events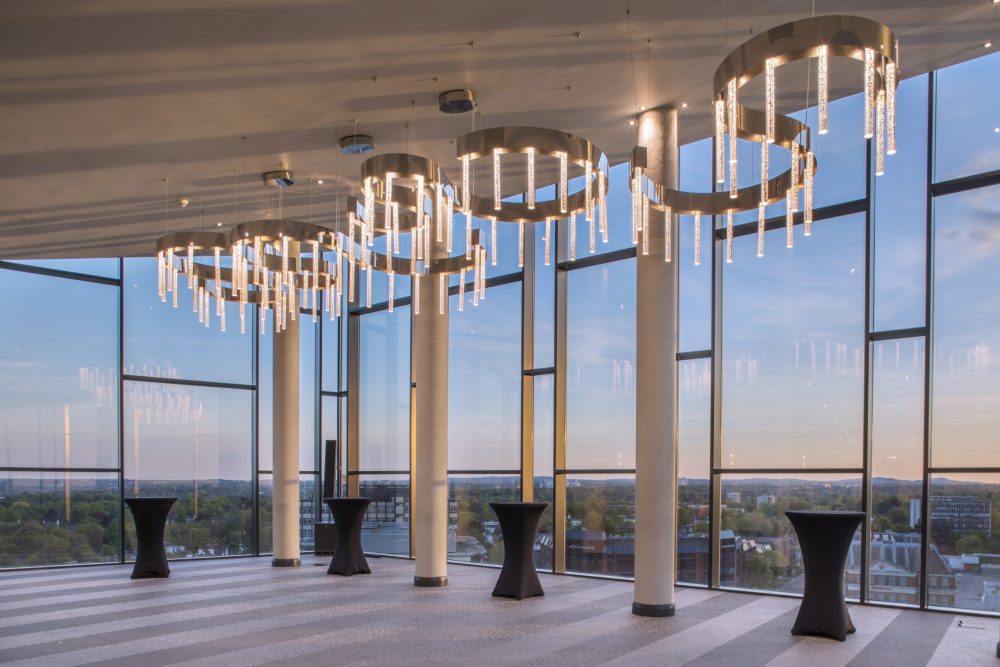 Check out our top 10 suggestions for West Midland venues in the UK for corporate events. 
There's a huge market for corporate events and so many amazing venue ideas out there!
So, what's available in the West Midlands? Moreover, what will help make your event stand out?
Below are our top 10 suggestions to leave a lasting impression:
Conveniently located close to the M42, the Belfry has plenty of function room space, bedrooms and even a spa.
However, it's probably best known for its golf facilities. For example, here you can book corporate golf days on fabulous courses, including the iconic Brabazon course.
Having hosted world famous golfing events including the Ryder Cup, all players would be proud to play here!
If you're looking for something a little different, how about taking your team or clients to try their luck here?
Whilst each escape room can only facilitate a handful of people, Escape Live has several rooms on site. For example, a Peaky Blinders inspired puzzle and a hostage situation both need to be solved.
Although this venue doesn't facilitate meetings or hire space, it's a great base for team building activities. 
Set in beautiful surroundings, Birmingham Botanical Gardens has three event spaces of differing size available for hire, all specifically created to include extensive natural daylight.
Additionally, all guests receive complimentary access to the Gardens which allows them to spend any break time in stunning surroundings.
The world-renowned Ricoh Centre is an amazing base for any number of corporate events.
Set just off the M6, it's a central location and has great facilities including catering and parking.
Also home to Coventry City FC, the space element is vast and it's a great option for exhibitions.
Located at Warwick University near Coventry, this venue makes a great base to use for more creative events.
As such, it has theatre auditoriums, hugely useful for conference and awards events, alike.
This unique venue promotes itself as 'the perfect venue for all occasions'.
Although it's situated in the heart of the Black Country, the historic building is a beautiful setting.
Equally, it has lots of space and can hold up to 700 guests for private parties.
Another venue located incredibly conveniently is the National Motorcycle Museum, situated at Junction 6 of the M42.
Whilst a great event space, it's an interesting museum in itself with over 1000 motorcycles on display. In conjunction to the next door, award-winning National Conference Centre, there are 13 purpose-built suites available to hire.
If you have an interest in history, this beautiful building in central Birmingham is a great choice.
Lovingly refurbished in the 1990s, the building dates back to 1866 and offers a large main area.
Consequently, this makes a dramatic setting with period features and lots of natural light.
Although not necessarily a place for a business conference, this cool venue is a great location for an event.
This unique Georgian style building situated in the Jewellery Quarter can hold up 600 standing guests.
Equally perfect for exhibitions and celebrations, it's a great option for a promotional event. 
Warwick Castle is part of the Madame Tussauds empire and is maintained beautifully.
Consequently, it can offer a truly amazing experience for corporate events.
You can host an event within the Great Hall and State Rooms for any number up to 130 guests.
Additionally, you can book bespoke packages to include complete access to all the Castle has to offer. A spectacular way to make an impact!
To learn more, get in touch with us today.
This blog was produced in collaboration with producers of Vertical Vendors: Metalfacture and Comfortable Shoes: Jhuti.
EventWell announces support of Eventologists in new corporate partnership
EventWell announces support of Eventologists in new corporate partnership
Eventologists is very pleased to announce that we will be supporting EventWell, the event industry's community and charitable social enterprise – in an exciting new corporate partnership.This new partnership will support the community and charitable projects that EventWell will be offering over the next 12 months including the 2021 event wellbeing day and week educational campaigns, the EventWell Illuminate event management student education programme, and plans for a much needed and dedicated industry support and helpline for creative, event, hospitality and travel professionals.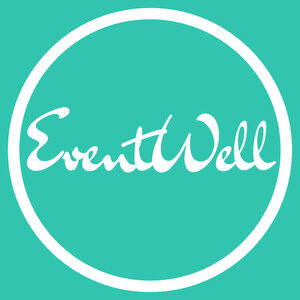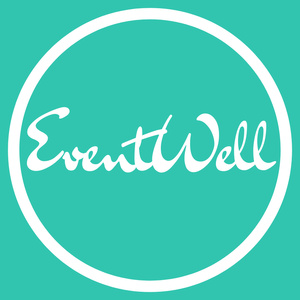 Inspiring Ideas to Make a Splash at your Next Event with our Underwater Theme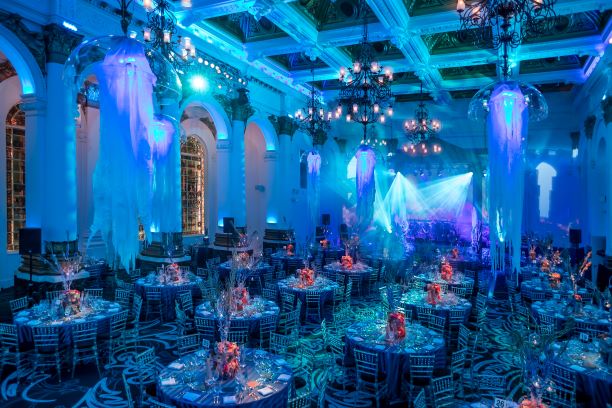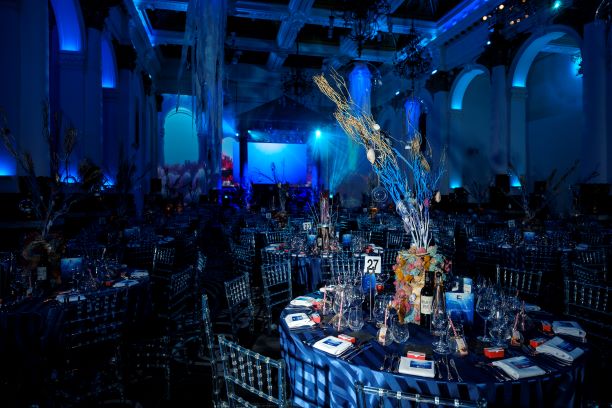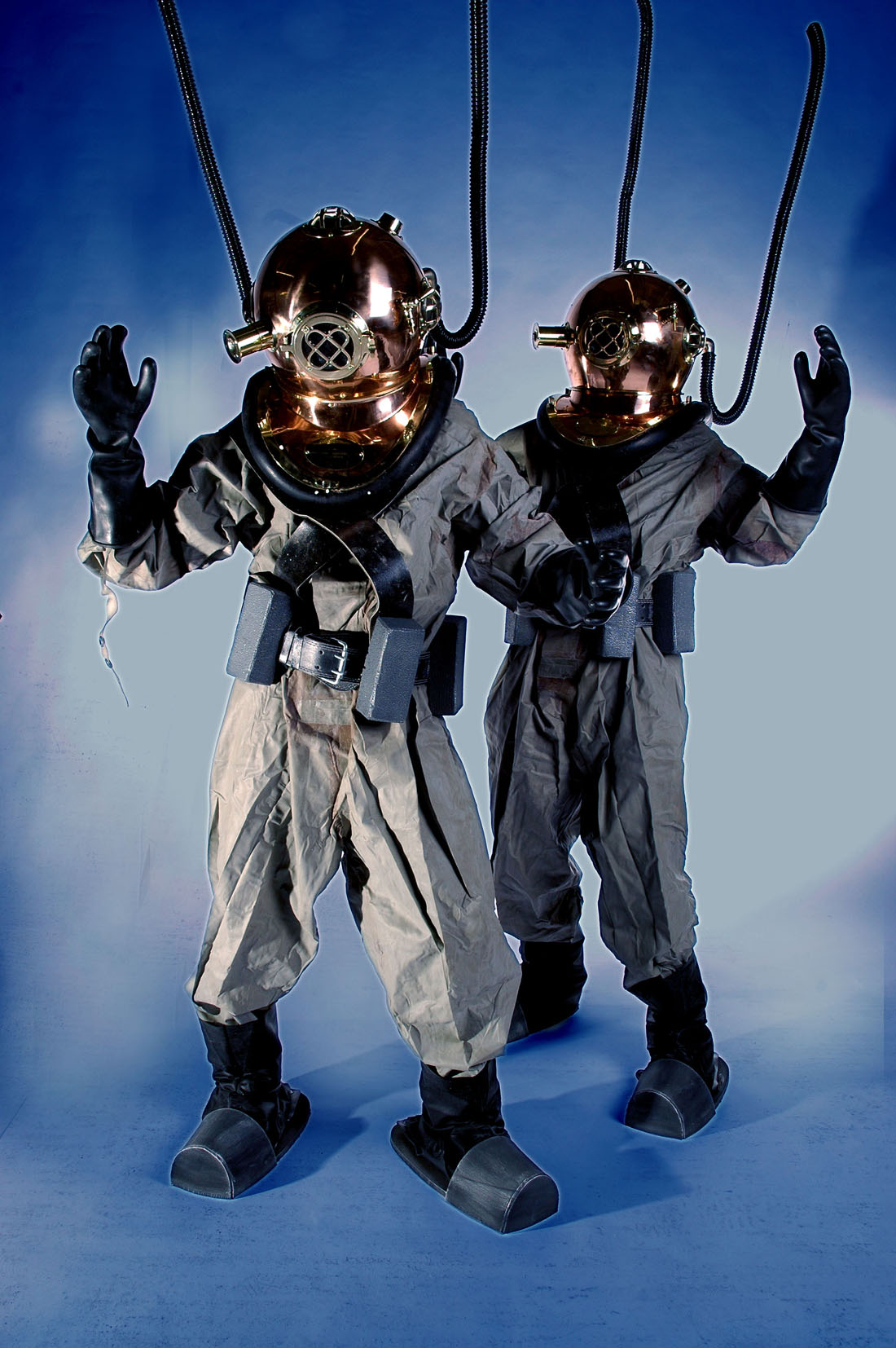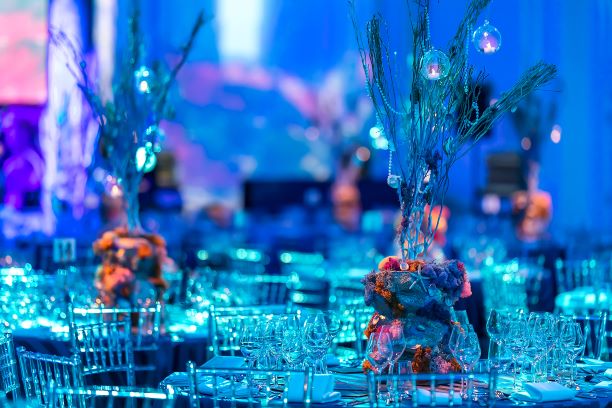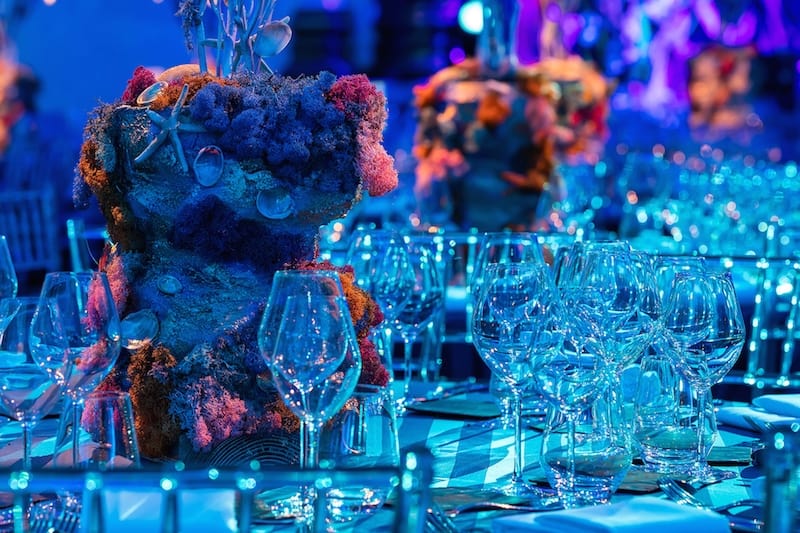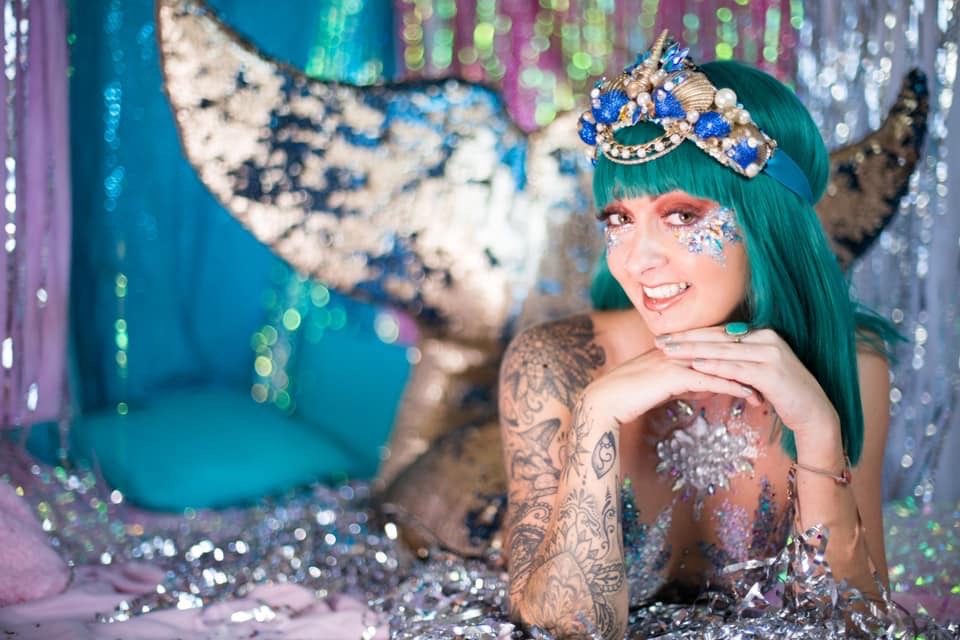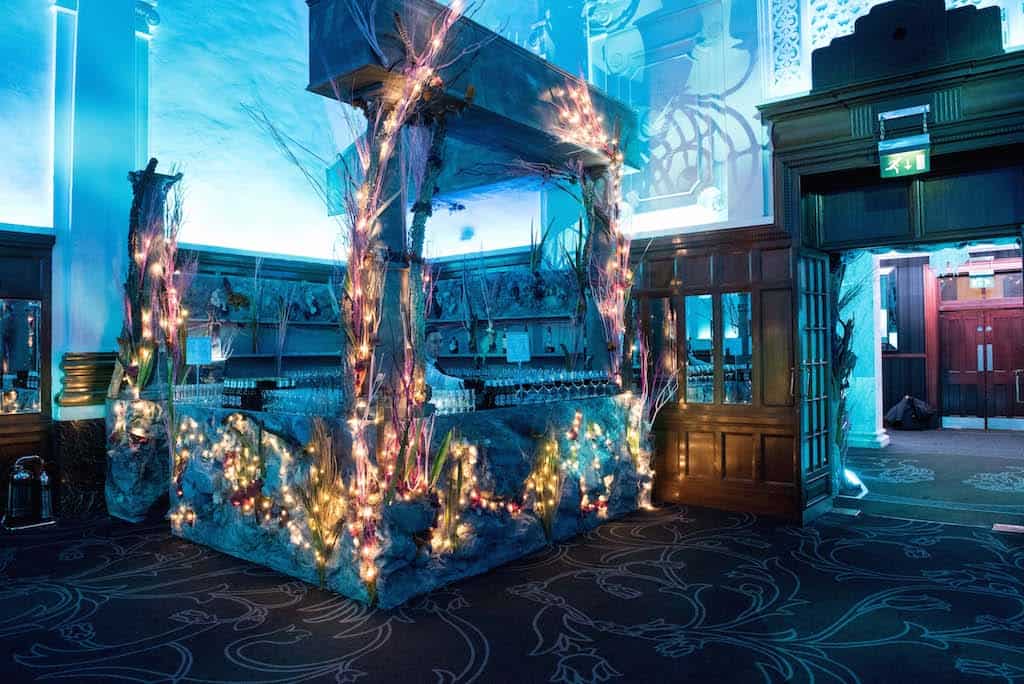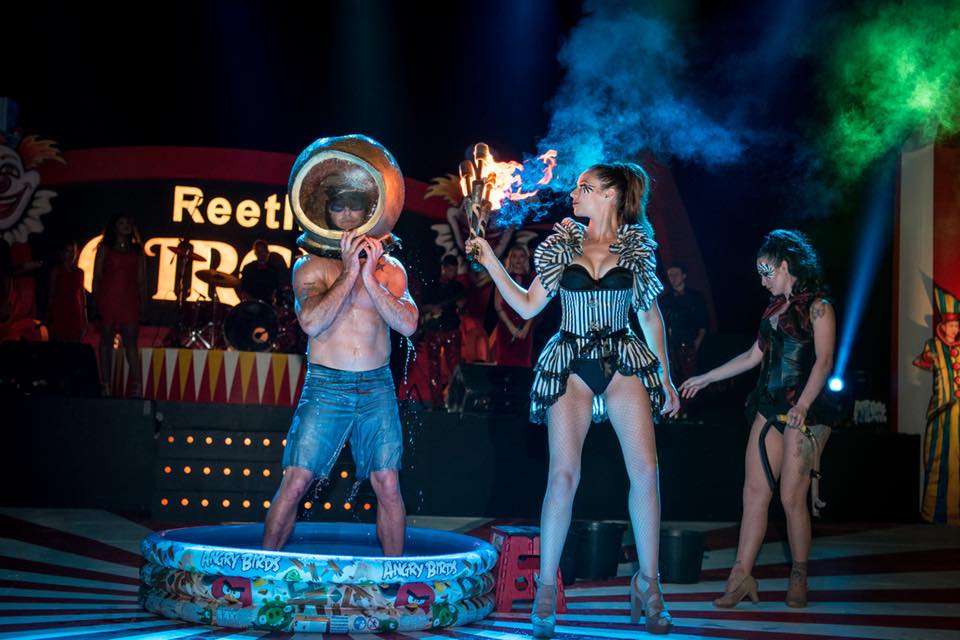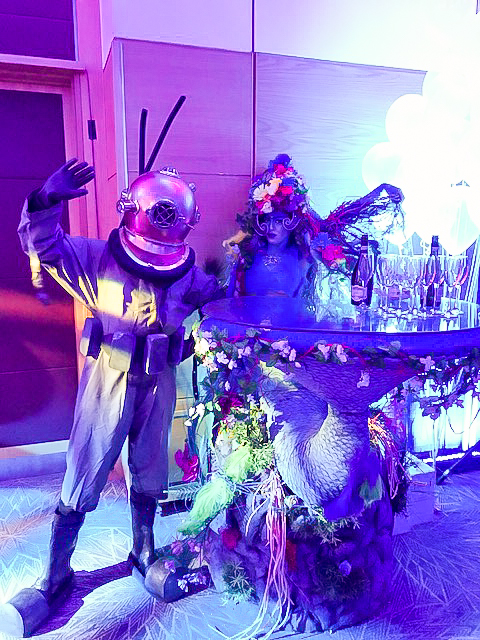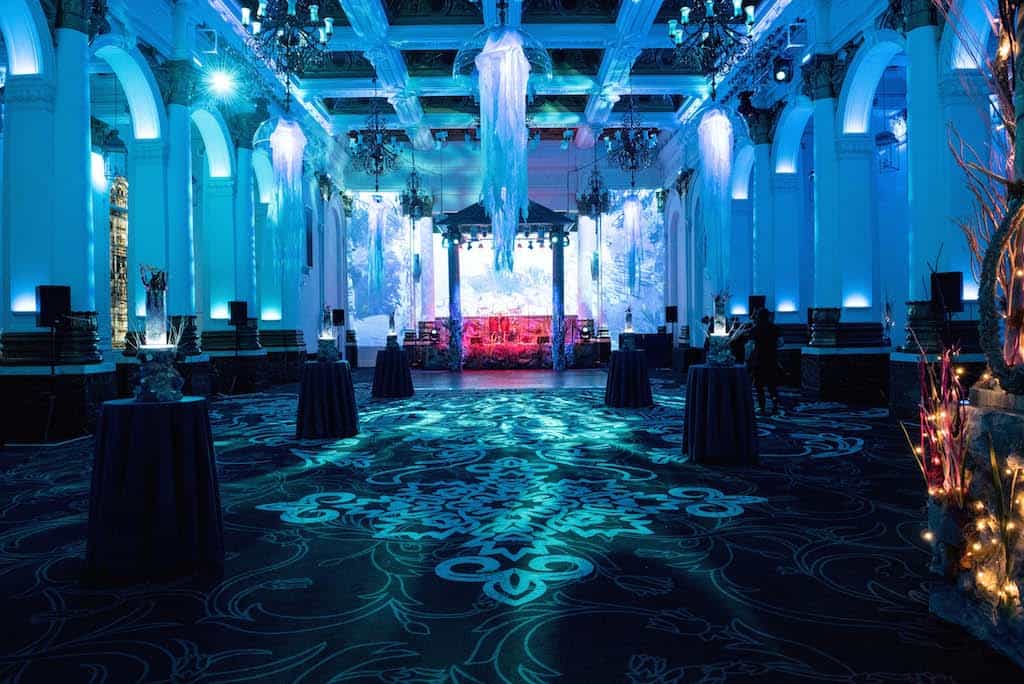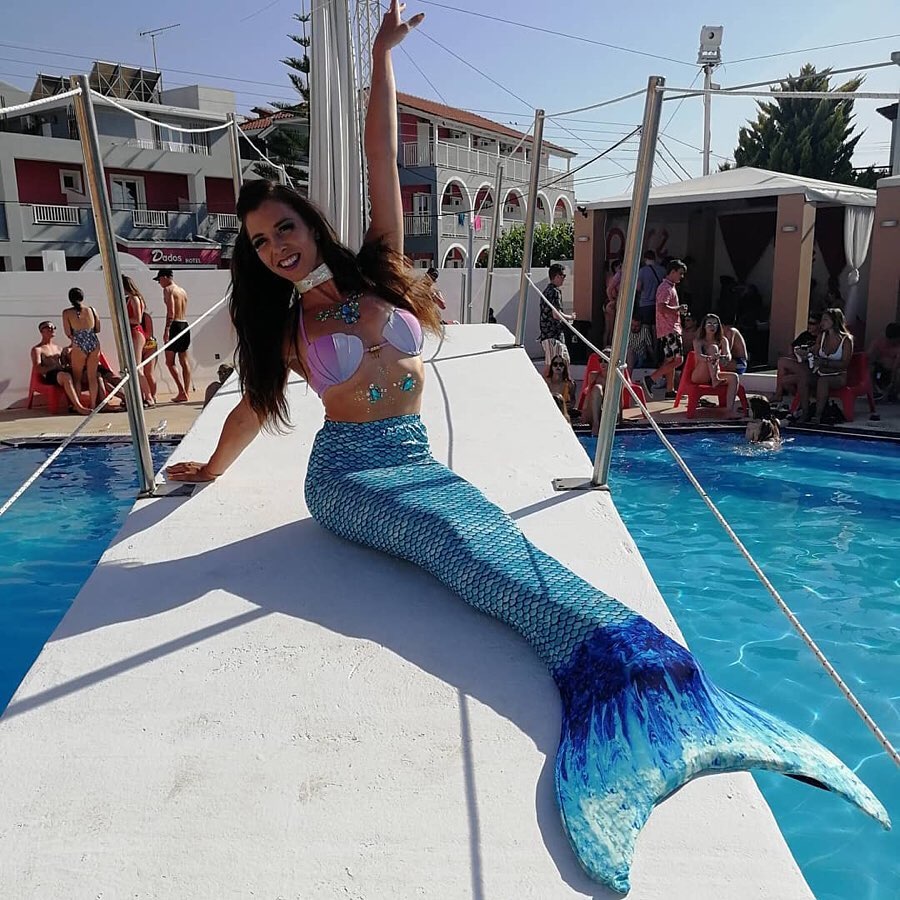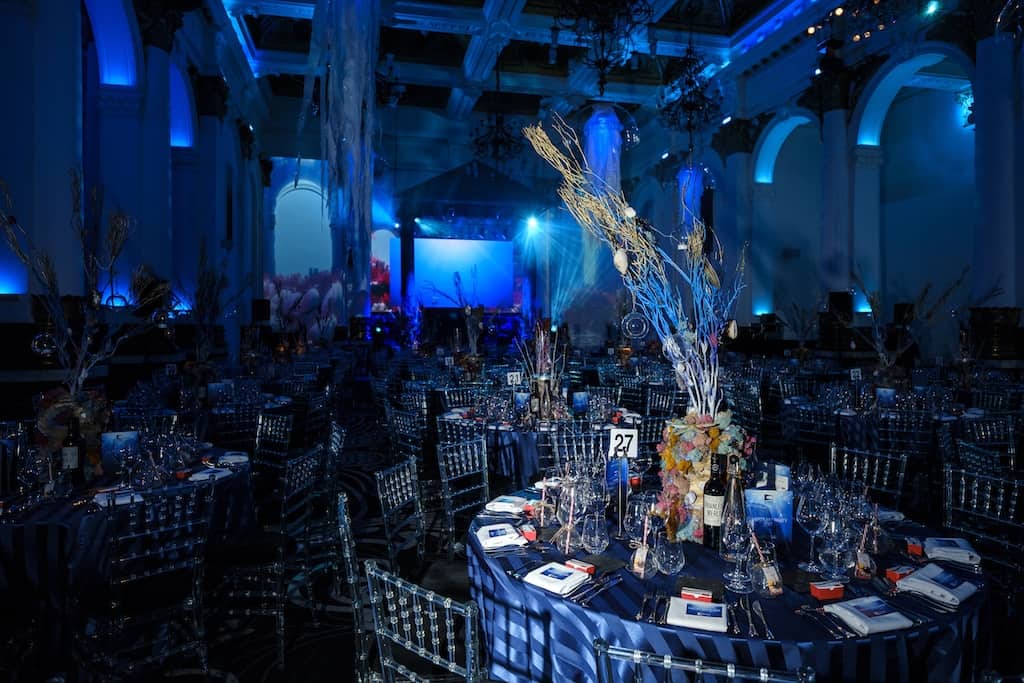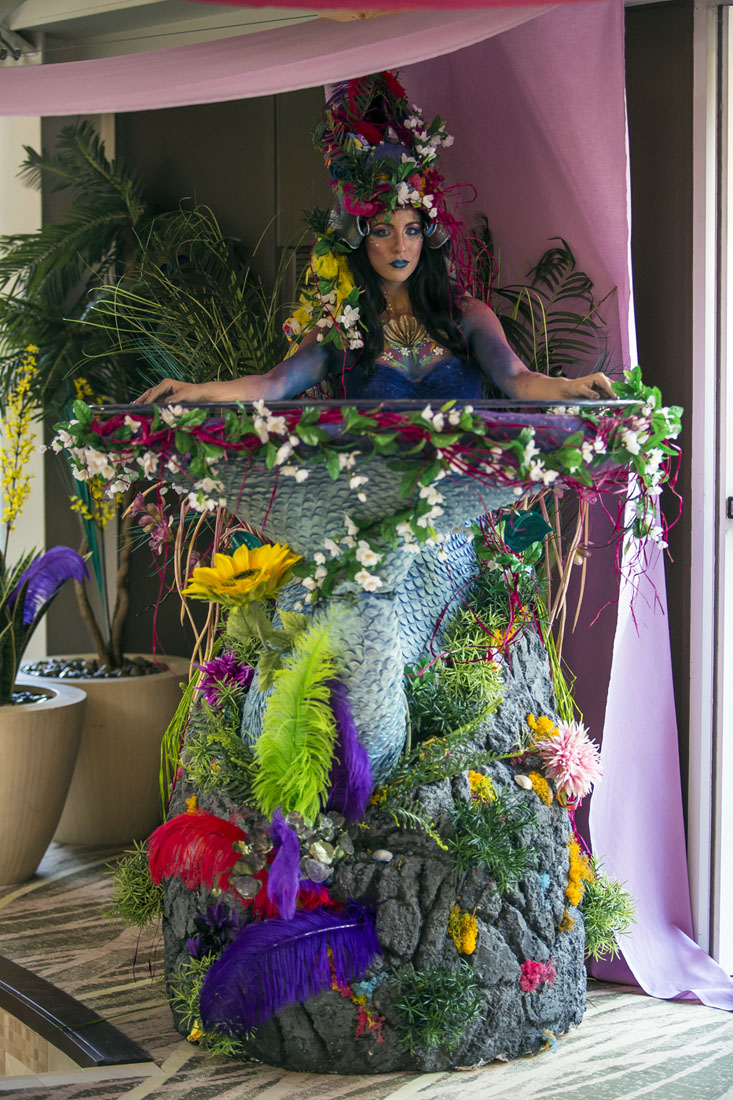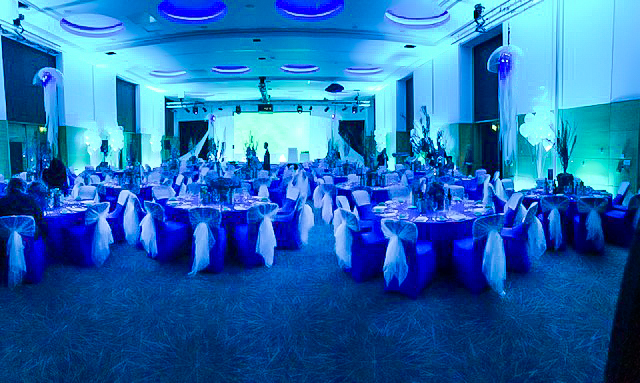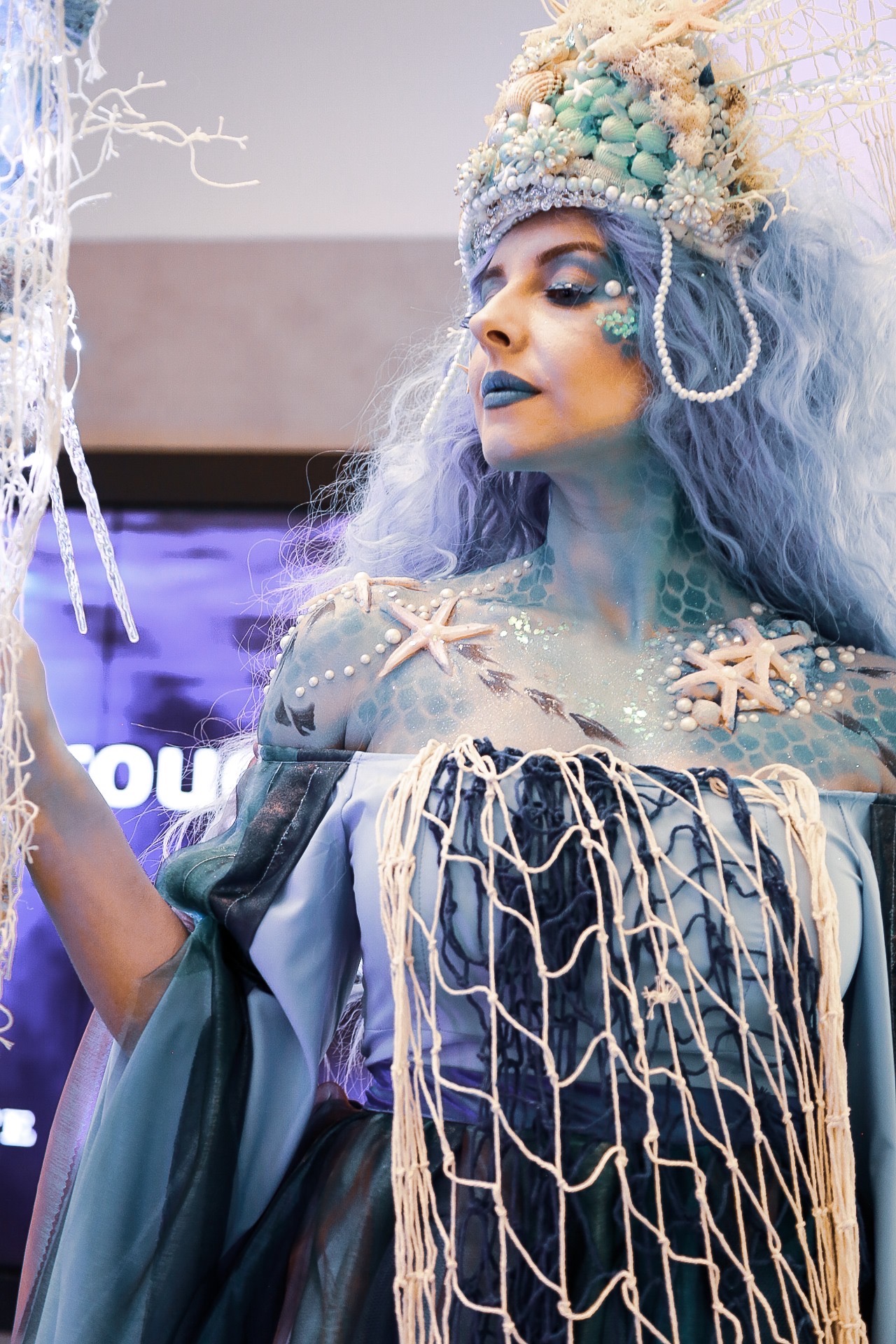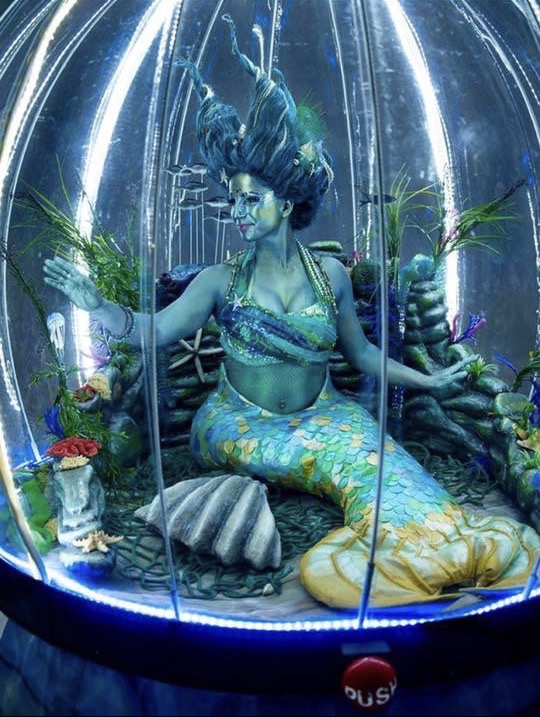 Underwater Themed Event Party Ideas
Underwater-Table-Centrepiece-1024x683
Underwater Theme Coral Table Centre (4)
Underwater Theme Coral Table Centre
Underwater Theme Coral Table Centre 4
Deep Sea Divers for Underwater Theme
Underwater Theme Coral Table Centre 2
Underwater-Themed-table-Centre
Mermain Make-up artist Underwater Theme
Deep-sea diver escapology act Underwater Theme
Underwater Themed Event Bar Hire
Underwater-Theming-and-Decor
Mermaids for Underwater Themed Events
Underwater-Themed-Gala-Dinner
Living Table Underwater Theme
Sea Goddess Underwater Theme
Underwater Theme Showglobe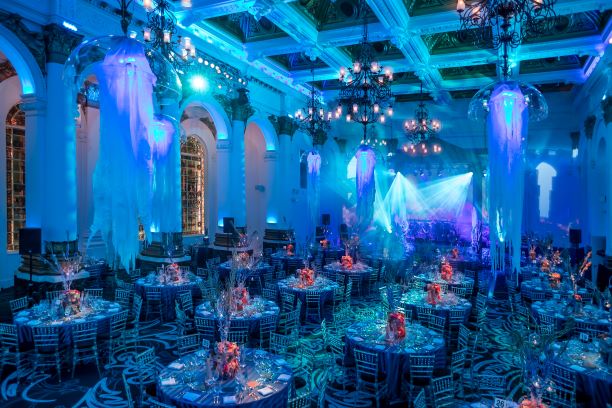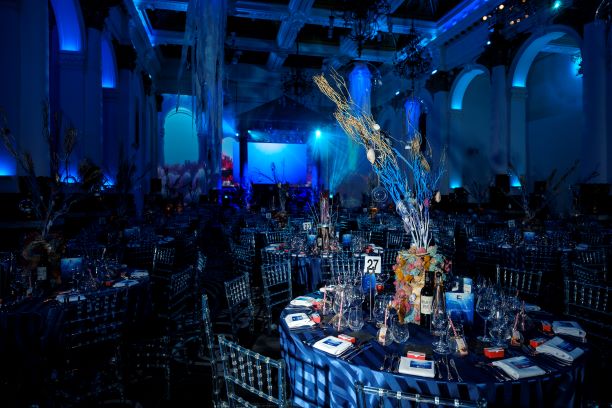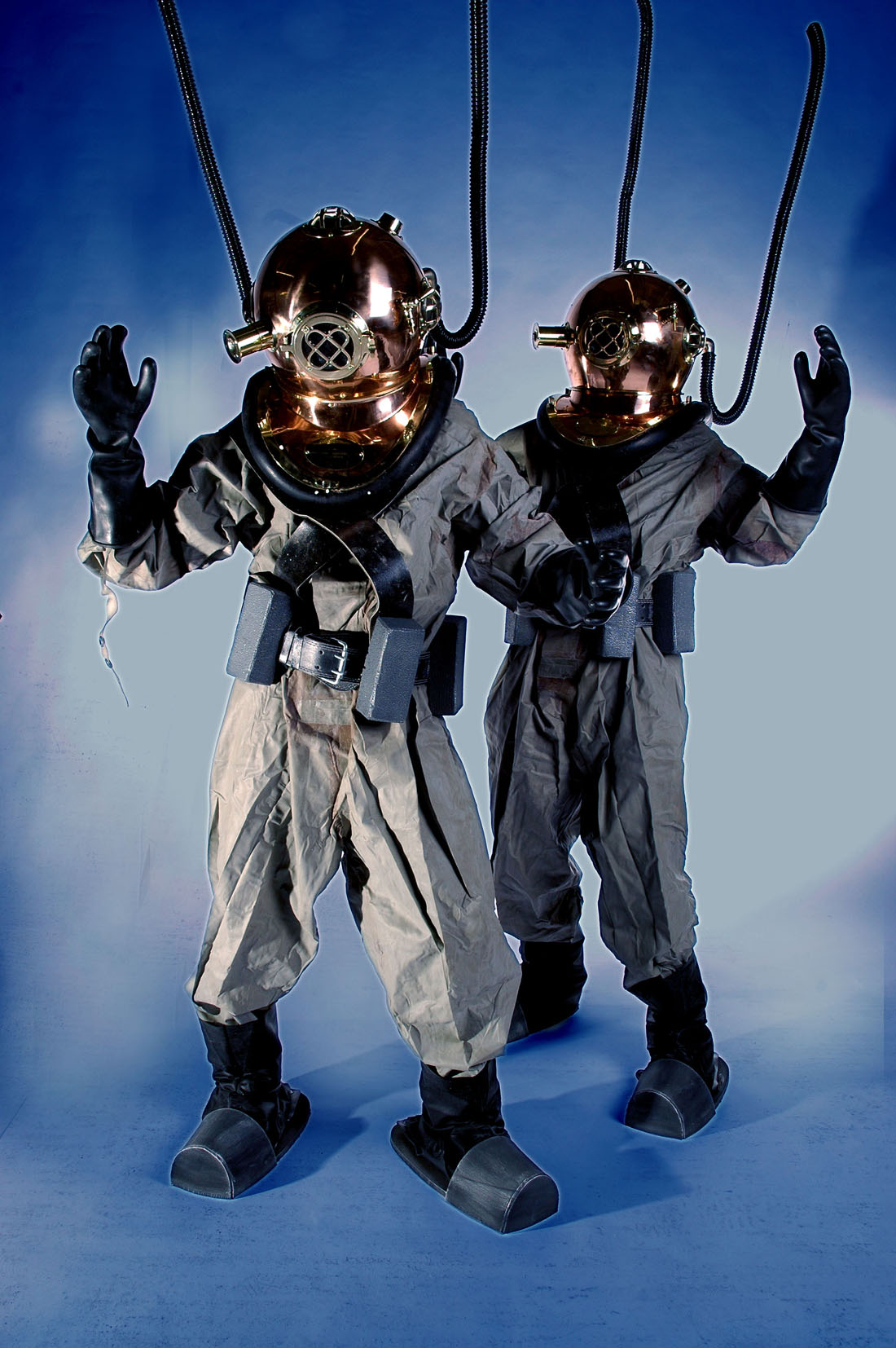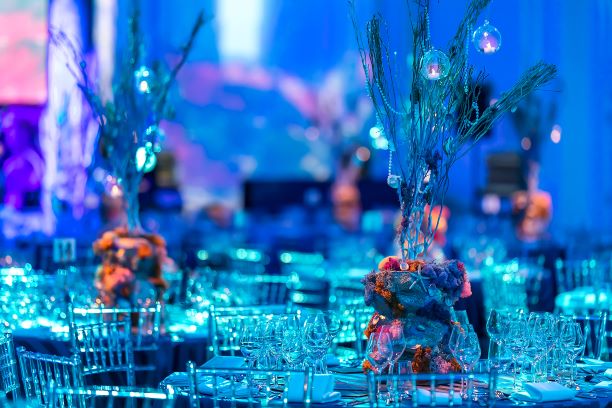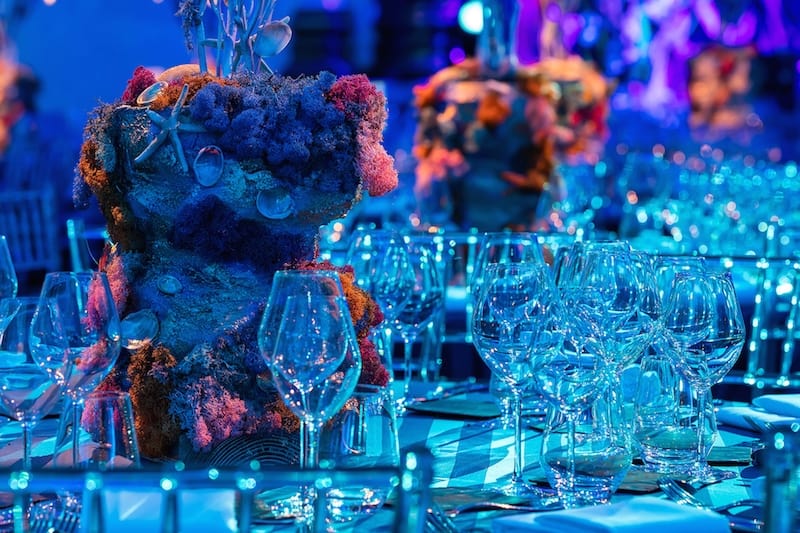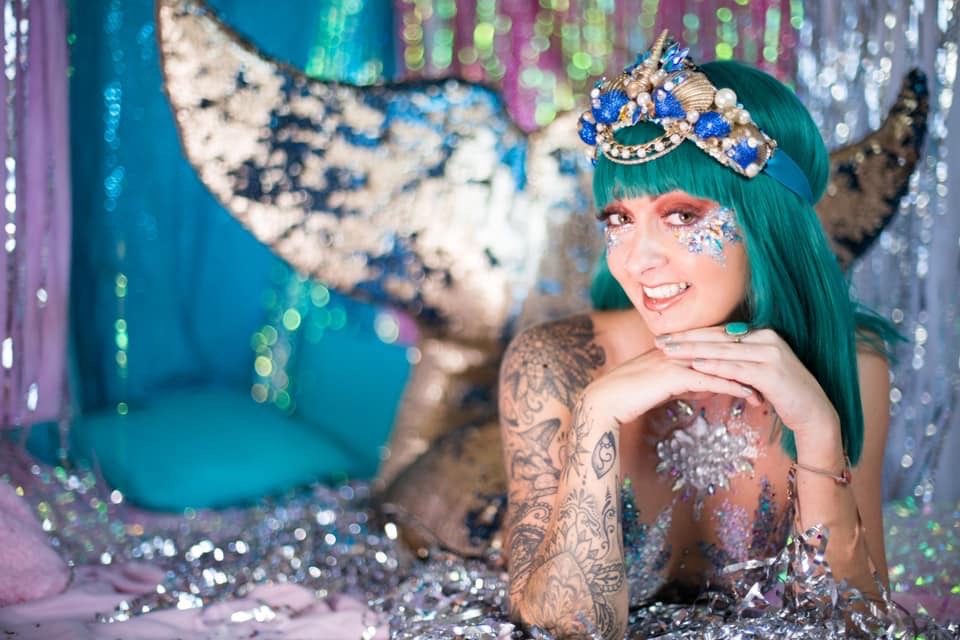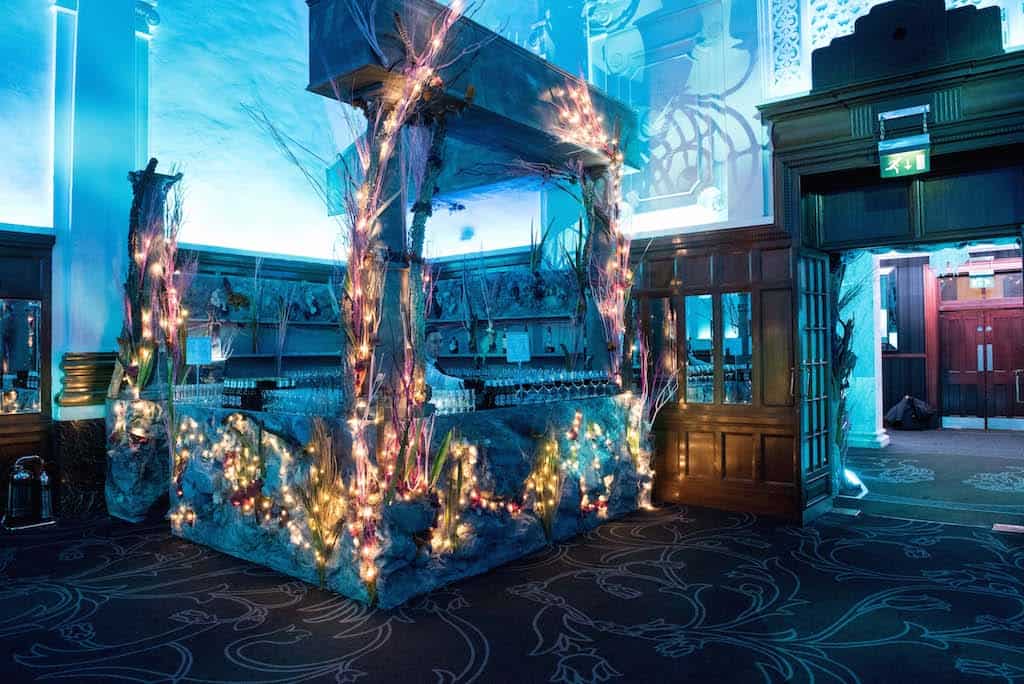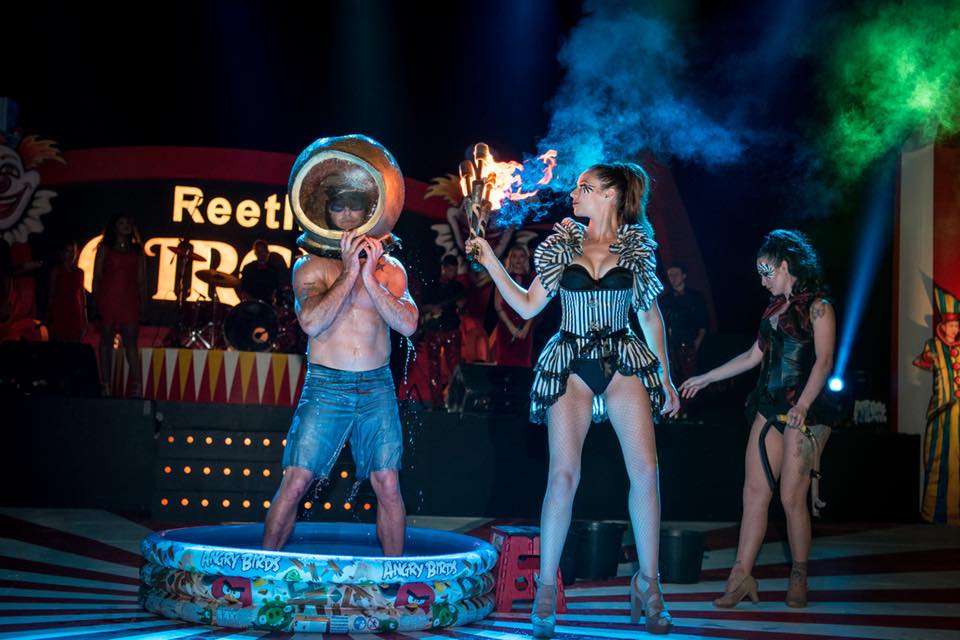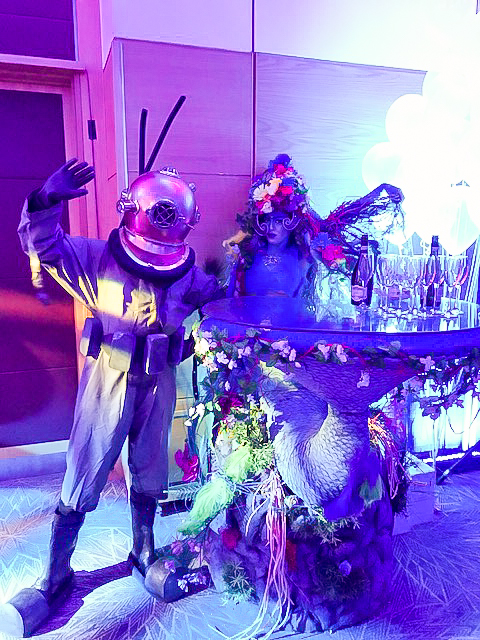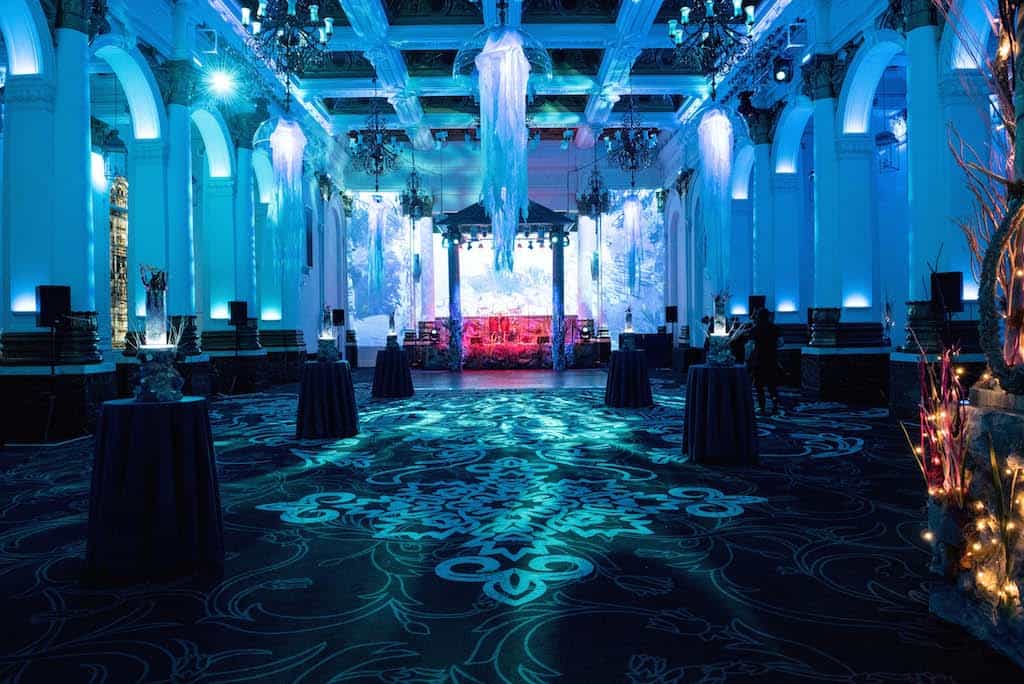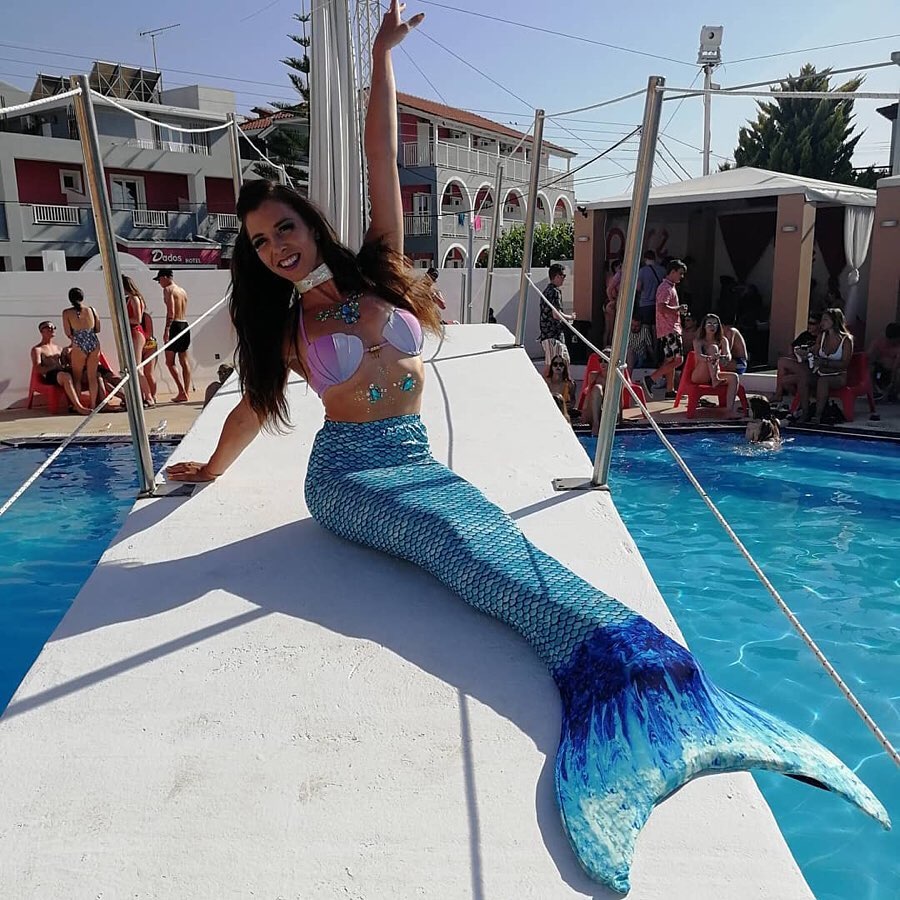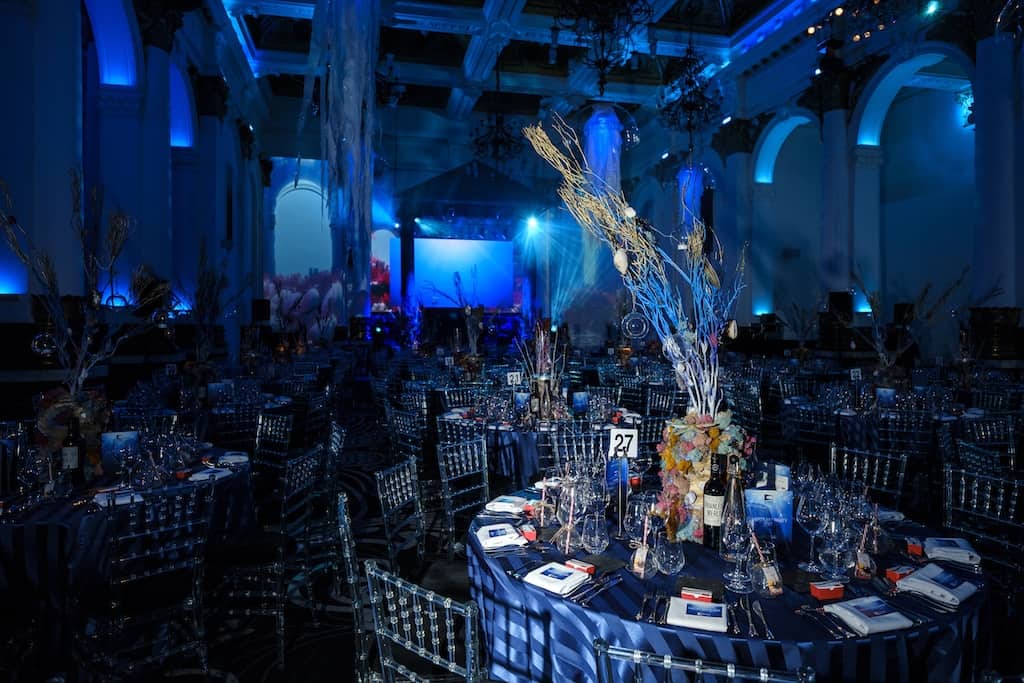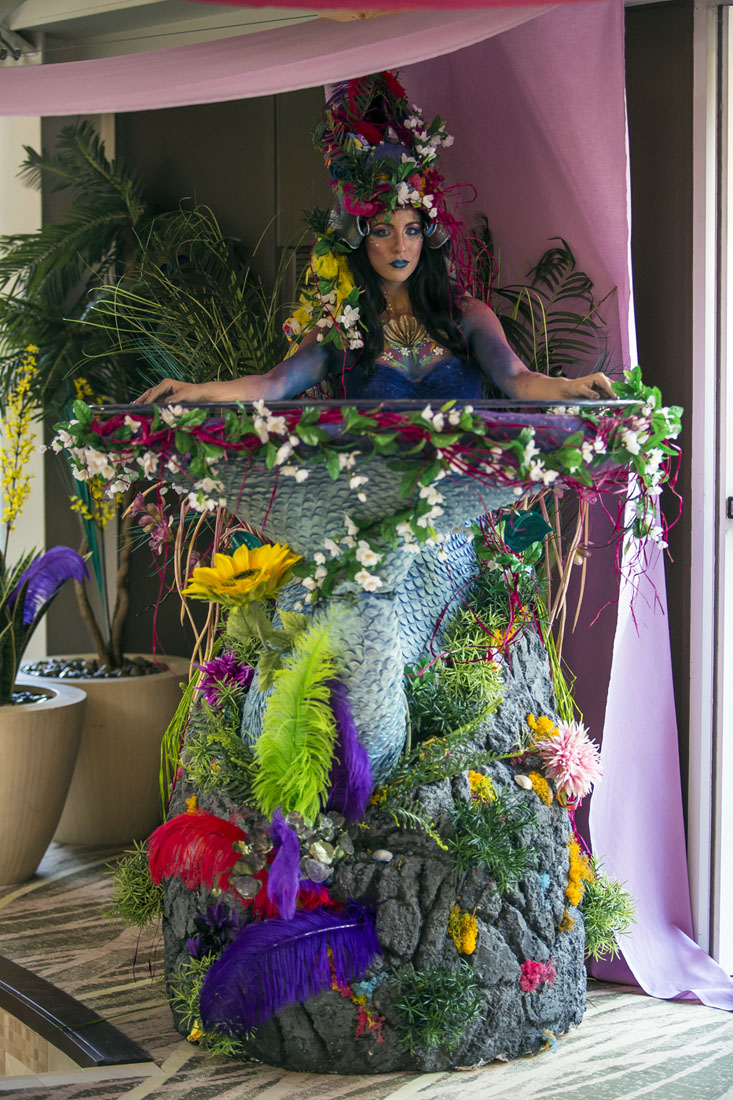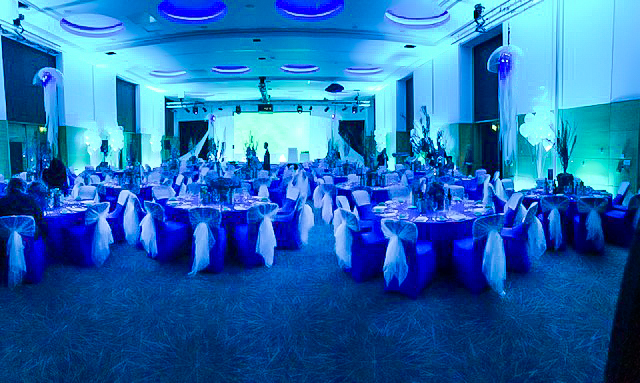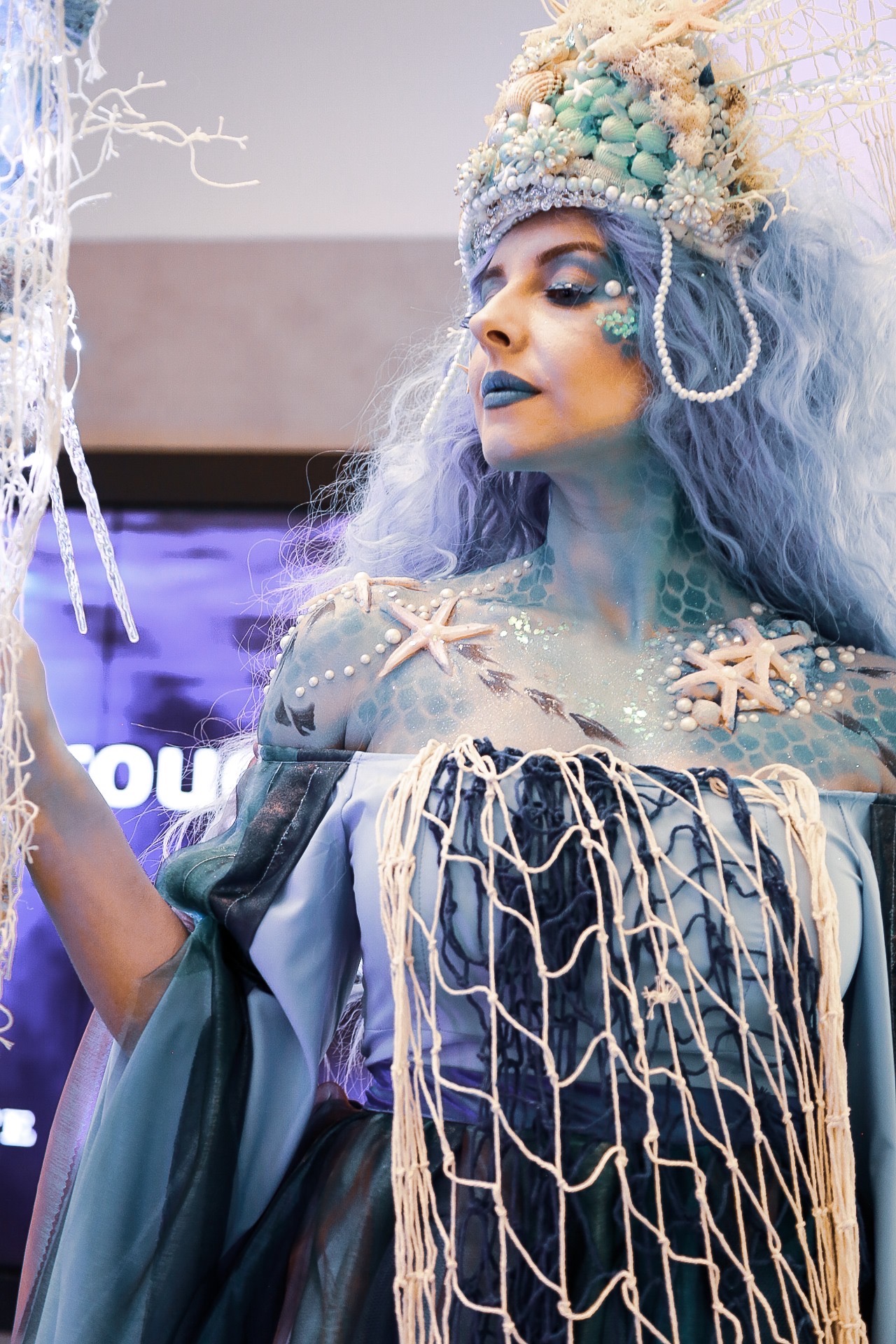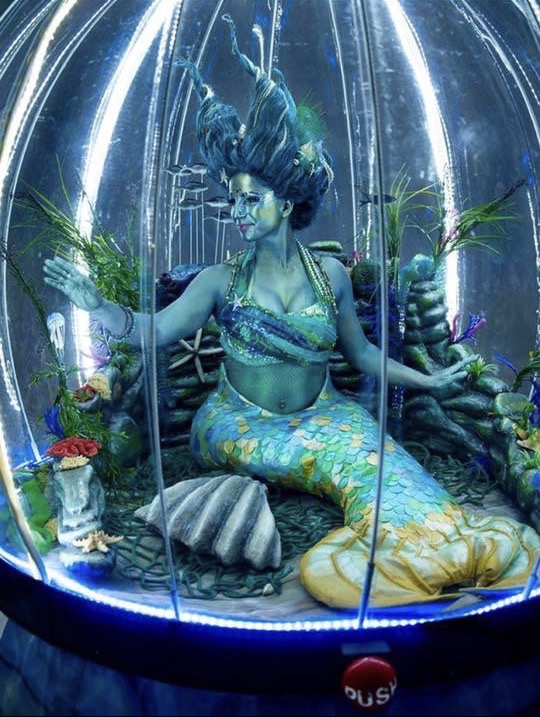 Inspiring Ideas to Make a Splash at your Next Event with our Underwater Theme
Looking to create your own magical underwater Atlantis at your next event?  Or maybe wanting to swap the summer heat for the cool depths of the ocean blue.  Whatever the weather or season, let Eventologists show you a sample of our inspiring tips to make sure you're not just paddling in the shallows but having a swimming time in the deep blue.
Picture your guests entering though a sea themed entrance as they're surrounded by the sights and sounds of the sea with underwater props.  Imagine splashes of blue wall draping, twinkly twig table centres, coral table centres and mysterious coral cave entrances. Our stunning jellyfish ceiling canopy of shimmering sea-life really captures the essence of the sea.
Your guests will feel fully immersed as we transport them to an underwater world of sea themed entertainment where mermaids exist and underwater explorers discover.  With Eventologists, you get an amazing variety of underwater music, dance and fun! With our live sea theme performers at your disposal, you can be sure that your sub-aquatic soiree will go swimmingly.
Your Underwater event theme décor could include:
Twinkly Sea Tunnel Hire
Bubble and Floating Fish Ceiling Hire
Ice Sculpture Hire
Sea Foliage or Coral Table Centrepieces Hire
Underwater Stage Hire
Your Underwater themed entertainment may include:
Jellyfish on Stilts
Bubbleologists
Underwater Contortionist
Underwater Explorers
Mermaid Bars
Mermaid Stilt-walkers
Tank Entertainers
Call our Event Stylists to help you create your awesome Underwater Themed Event – 01162436986.
We have worked with Eventologists for the a couple of years now and can't fault them from start to finish the whole process is very seamless and the stuff they do is incredible! We have themed evenings and they always come up with some fab ideas that help to emphasise the theme and bring it to life. Our events have conference sessions in the venue during the day and we transform them for our awards in the evening and Eventologists always completely transform the space for the evening so that it feels like you're in a completely different space which makes it all feel so much more special and a real celebration and by the time morning arrives its all completely cleared as if by magic!

PPMA Admin


May 19, 2022

Great props, prompt delivery, awesome team. Would use again.

Richard Buxton


May 19, 2022

A wonderful team who made our event space look incredible. Jacob took our ideas and brought them to life. We've had amazing feedback about the event design, so we couldn't be happier. Everyone really loved the living wall and trees!

Olivia Rocky


April 19, 2022

Rita has been an absolute pleasure to work with; she listened to our ideas and vision and then totally ran with it and created something better than we could have ever imagined! On the event day, Rita and her team swooped in and decorated our venue in record time. Rita and the team were professional and efficient. We look forward to working with Eventologists again next year!

Neighbourly Brands


March 19, 2022

Eventologists are a pleasure to work with. The whole experience from start to finish isn't nothing short of perfection. The team are super professional and Jen makes working with them a breeze. Nothing is too much and she is always so responsive. Can't wait to work with them again :)

Andrew Chalk


March 19, 2022

Eventologists have been a dream to work with. No fuss, straightforward communications and pricing. Delivery and collection on the day was simple and efficient. Professional and friendly at every turn - thanks for your part in making our event a great success!

Emma Bird


February 19, 2022

We've used the services of Eventologists on numerous occasions and their expertise is priceless. Great service as always from Rita and her team who are always full of ideas and ways to make your event stand out. We've hired sets for Moulin Rouge, Great Gatsby, Hollywood and Glitz and Glam plus they created a wonderful set for a festival including tress with festoon and flags. Highly recommended and great to work with.

MrandMrsGrey


July 19, 2021

Wonderful team, from the event manager to the decorators! The choices of set ups and themes are really original as well as well made. Each event is done with lots of passion , always keeping the client best interest at heart. Great value for money, and they always go the extra mile!

Astrid Guillabeau


July 19, 2020