Top 20 Unique Christmas Party Ideas
Unique Christmas Party Ideas
Hello, Christmas party planners of the UK! With the holiday season fast approaching, it's time to wave goodbye to the usual and say hello to the extraordinary! We've rounded up 20 exceptional and one-of-a-kind Christmas party ideas that are sure to make your celebration shine. Let's dive in and make your festivities unforgettable! Introducing our top 20 most unusual Christmas party themes:
1. North Pole Casino Night: Bringing Vegas to the UK with a Christmas Twist!
Ready for a unique Christmas party? Try our North Pole Casino Night, blending the glamour of Vegas with festive cheer. Transform your venue with candy cane decor, enjoy gingerbread martinis, and roll the dice with poker and roulette!
How We're Adding Vegas to the UK:
Chic Frosty Decor: Combine North Pole charm with Vegas glamour using icy blue decor and faux fur throws. Capture picture-perfect moments against snowflake backdrops.

Frosty Attire: Dress up in winter glam meets casino chic for a sophisticated yet fun look.

Festive Games: Play frosty blackjack for a Christmas twist on classic casino games.

Win Big with Holiday Prizes: Win jingle bell jackpots and snow globe trophies, adding a merry touch to the excitement.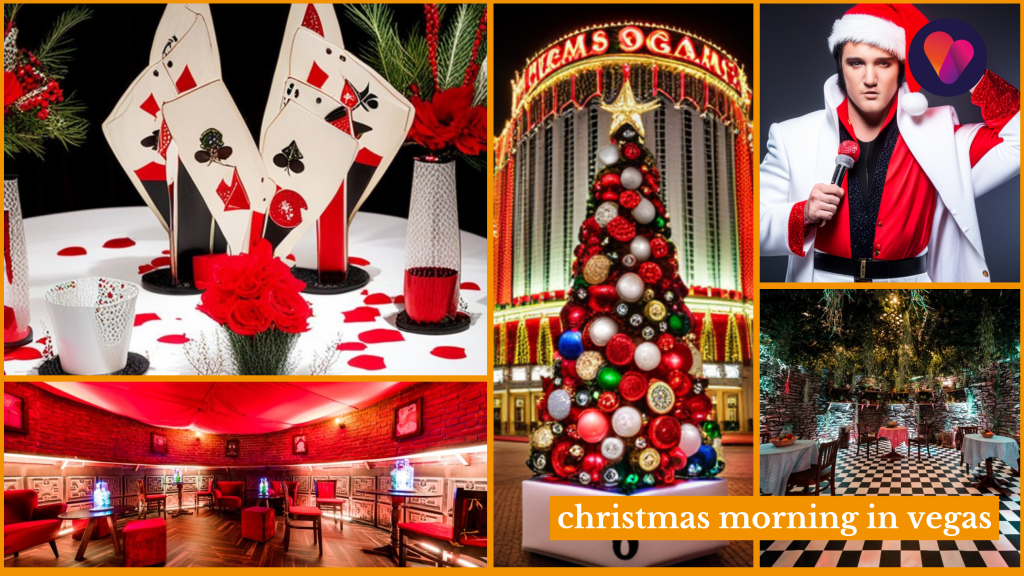 2. Villain's at Christmas: A Mischevious Party
Prepare for a holiday celebration that defies tradition with our "Villains' Christmas Soiree". Step into a world where the mischievous and the merry combine, paying homage to the most iconic Christmas villains. Think, Grinch, Scrooge and of course 'The Wet Bandits'!
Wickedly Festive Decor: Immerse yourself in an atmosphere where the dark side of the holiday season takes centre stage. Our event designers will skilfully blend the sinister charm of Scrooge, the Grinch, and other infamous villains with traditional holiday elements.
3. Tropical Paradise Christmas Party: Ibiza-Inspired Winter Wonderland
Get ready to escape the chilly UK weather and step into a tropical paradise with the ultimate fusion of Ibiza summer festival vibes and Christmas party cheer! Transport your guests to a world of sun-soaked beaches and swaying palm trees, all while celebrating the festive season with a refreshing twist.
Picture this:
Palm Trees and Tiki Torches: Transform your venue into a tropical haven with life-sized palm trees and flickering tiki torches that cast a warm, beachy glow.

Festive Flower Crowns: Welcome your guests with vibrant flower arches and encourage them to create flower crowns for that authentic island feel.

Beachside Chill Zones: Set up cosy lounging areas with beach chairs and colourful cushions, reminiscent of Ibiza's laid-back beachside ambiance.

Live DJ and Summer Beats: Elevate the energy with an Ibiza-worthy playlist or a live DJ spinning summer beats that encourage dancing and festive revelry.
4. All Aboard for Polar Express Brunch'mas
All aboard for a magical Christmas celebration with our "Brunch'mas" Polar Express Theme Party! We're taking the cosy brunch concept and giving it a wintry twist inspired by the beloved Polar Express story. Get ready to embark on a journey of delightful flavours and heart-warming festivities.
Polar Express Decor: Transforming venues into a whimsical train station from the story. Use vintage suitcases, train signs, and snow-covered scenery to capture the essence of the Polar Express adventure.

Cosy Lounge Area: Set up a cozy lounge area with comfy seating and blankets, inviting guests to relax and enjoy the warmth of the holiday season.

 Hot Cocoa and Coffee Bar: Create a hot cocoa and coffee bar with a variety of flavors and toppings, allowing guests to customize their perfect holiday beverage.
5. Tim Burton's Christmas Nightmare
Step into the whimsical and slightly eerie world of Tim Burton with a Christmas Nightmare theme. Combine his iconic films like "The Nightmare Before Christmas" and "Edward Scissorhands" for a delightfully weird and wonderfully dark holiday gathering.
Eerie Dark Decor: Transform your venue with Tim Burton's signature style – think quirky, gothic, and enchantingly odd decorations that bring his world to life.

Character Mash-Up: Encourage guests to dress as a fusion of characters from different Tim Burton films, adding an element of surprise and creativity to the party.

Darkly Delicious Delights: Serve up treats inspired by Burton's films, from "Corpse Bride" cupcakes to "Beetlejuice" cocktails.
6. A Pink Christmas Delight
Embrace the magic of a Pink Christmas Delight! This year, it's all about celebrating in a dreamy pink wonderland. Picture pink Christmas trees, lights, and décor that will transport you to a fairytale realm.
Highlights:
Dreamy Pink Decor: Transform your venue with pink trees, lights, and enchanting decorations that create an Instagram-worthy backdrop.

Symbolic Love: Pink symbolizes love, making it the perfect theme for a heartwarming Christmas celebration.

Festive Fun with a Twist: Enjoy pink-themed activities, treats, and mocktails that add a playful touch to the holiday spirit

.
7. Alien Christmas Invasion
Are you ready to take your holiday celebrations to a whole new level? Imagine an intergalactic twist on Christmas that's sure to leave your guests amazed and talking about your event for years to come. At Eventologists, we specialise in creating unique and unforgettable experiences, and our Alien Christmas Invasion Extravaganza is no exception.
Decor Delight: Elevate your event space with stunning metallic silver and iridescent blue decorations, setting the stage for an immersive alien encounter. Our event designers will transform your venue into an otherworldly wonderland, complete with twinkling lights and captivating holographic accents.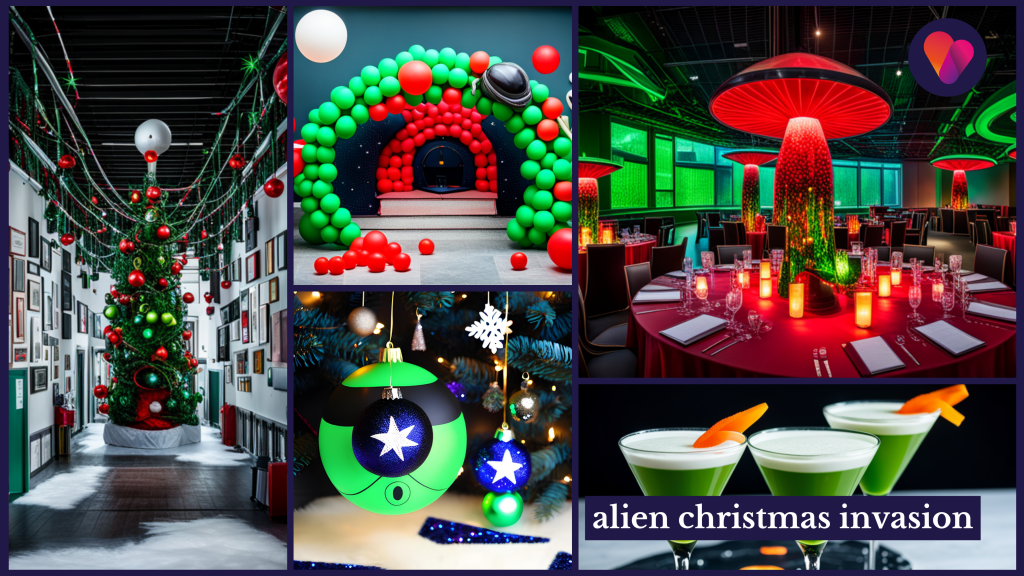 8. Santa's Workshop Disco
Combine the magic of Christmas with the funky vibes of a disco party. Have your guests dress up as elves, reindeer, or disco divas, and dance the night away under colourful lights.
Funky Festive Decor: Immerse yourself in a realm where Santa's workshop meets the disco era. Radiant lights and vibrant colours create an electrifying atmosphere that sparks the festive spirit.

Costumed Revelry: Show off your best elf, reindeer, or disco diva attire and join the merrymaking. The fusion of Christmas and disco creates an eclectic dress code that guarantees a night of style and flair.
9. The Gingerbread Takeover
Get ready to be swept away by the sugary wonder of a Gingerbread Takeover. Immerse yourself in a world where gingerbread reigns supreme, blending creativity and celebration into an unforgettable event.
A sweet taste:
Gingerbread Decor: Step into a realm where gingerbread houses come to life. Our expert decorators will craft a captivating setting filled with gingerbread-inspired elements that transport you to a magical world.

Ginger-Infused Delights: Indulge in an array of treats inspired by the beloved gingerbread flavor. From gingerbread cookies to innovative gingerbread-infused cocktails, your taste buds are in for a delightful journey.
10. Christmas Carnival: Fun Games for a Memorable Christmas Party in the UK
Get ready for a one-of-a-kind Christmas Carnival with an additional Ugly Christmas Jumper Festival! This unique event combines hilarious ugly sweater fashion with lively festival games, guaranteeing an unforgettable evening filled with laughter and excitement.
Highlights:
Ugly Jumper Contest: Show off your quirkiest, most creative ugly sweater and compete for the title of the ultimate fashion maverick.

Carnival-Style Games: Enjoy classic festival games with a holiday twist.

Delicious Treats: Indulge in cotton candy, popcorn, and candy apples, along with hot chocolate and mulled wine to keep the festive spirits high.

Live Music and Dance: Groove to upbeat Christmas tunes, dance, and celebrate with fellow partygoers.

Capture the Moment: Snap memorable photos at our festive photo booth, complete with holiday-themed props.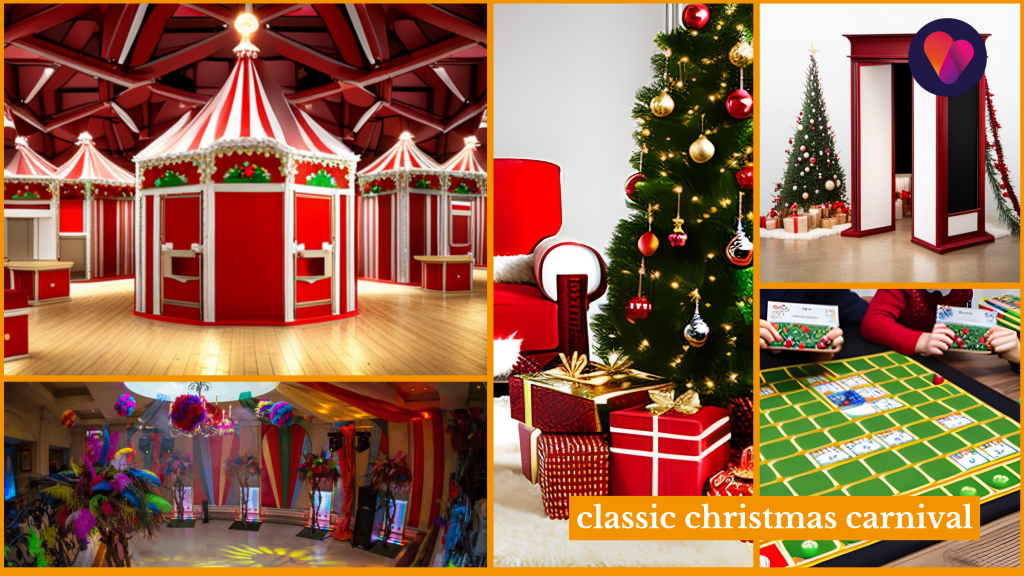 11. A Christmas Candy Wonderland
Indulge your senses in a holiday celebration like no other at our "Christmas Candy Wonderland Party". Immerse yourself in a sugary fantasy world where candies reign supreme, promising an enchanting and unforgettable experience.
Sweet Inspiration:
Candy Decorations: Embark on a journey into a candy-coated dreamland, where vibrant hues and larger-than-life candy props create a visual spectacle. Our expert designers will craft an atmosphere that captures the imagination and delights the eyes.

Candy Craft Stations: Unleash your creativity at candy-themed craft stations, where you can make your own edible masterpieces.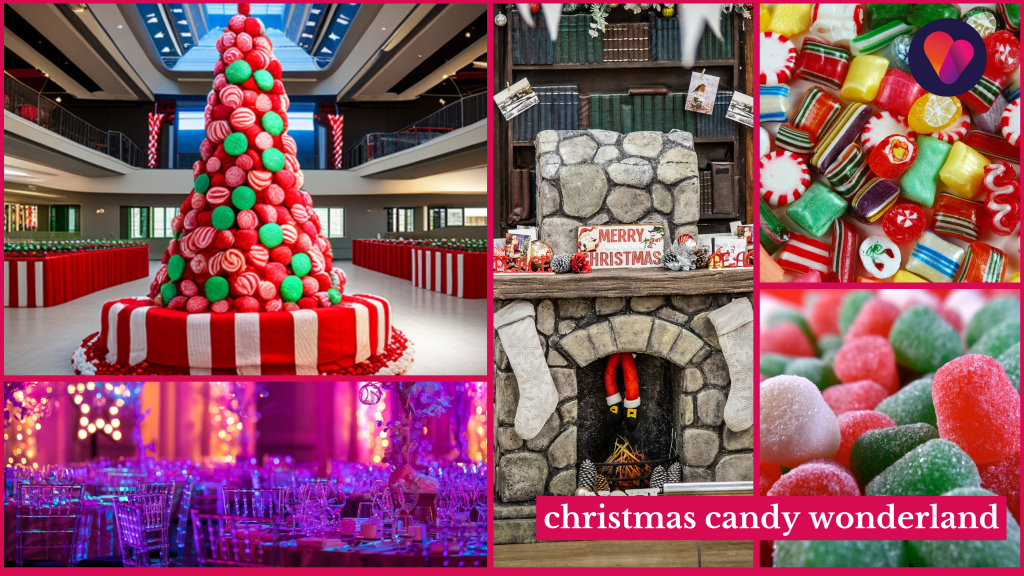 12. Under the Mistletoe Masquerade
Combine masquerade elegance with the playful tradition of mistletoe. Encourage guests to wear masks and enjoy dancing and festivities under mistletoe decorations.
Masquerade Splendour: Step into sophistication with our masquerade-inspired event. From ornate masks to elegant attire, our event is designed to capture the allure and mystique of classic masquerade balls.

Masked Revelry: Encourage guests to mirror their personal style with a festive mask, adding an air of mystery to the festivities. The blend of masquerade elegance and festive flair guarantees a night of charm and delight.

Dance and Festivities: Enjoy a night of enchanting dance and merry-making under the soft glow of mistletoe decorations.
13. A Glowing Arctic Party
Host a blacklight party with an Arctic twist. Use neon colours to create a glowing winter wonderland, and encourage guests to wear white and fluorescent attire.
Arctic Neon Vibes: Imagine being in the Arctic under mesmerizing neon lights. We can create an enchanting atmosphere that sparks the imagination.

Blacklight Dance Magic: Get ready for a dance floor like no other! Neon lights bring the night to life, and your moves become a mesmerizing spectacle under the blacklight magic.
14. Santa's Secret Garden
Imagine Santa's hidden garden filled with magical creatures and plants. Create an enchanted forest atmosphere with lush greenery, fairy light and fairytale decorations.
Enchanted Garden Ambiance: Immerse yourself in an atmosphere that transports you to an enchanted forest. Lush greenery forms a backdrop while delicate fairy lights twinkle like stars. The air is filled with a sense of mystery and enchantment.

Magical Creatures: Imagine encountering fairies, talking animals, and other fantastical beings that call Santa's Secret Garden home. These charming creatures add an extra layer of magic to the event, inviting guests into a world of fantasy.

Fairy Tale Decor: Decorations inspired by classic fairy tales adorn the space. From storybook pathways to whimsical ornaments, every corner is a reminder of the enchanting tales that come to life in Santa's Secret Garden.
15. Christmas Around the World
Celebrate the diversity of holiday traditions by featuring decorations, food and activities from different cultures around the world.
Global Festive Ambiance: Immerse yourself in a multicultural wonderland as decorations inspired by different countries fill the space. From vibrant lanterns to intricate ornaments, each corner reflects the beauty of diverse holiday customs.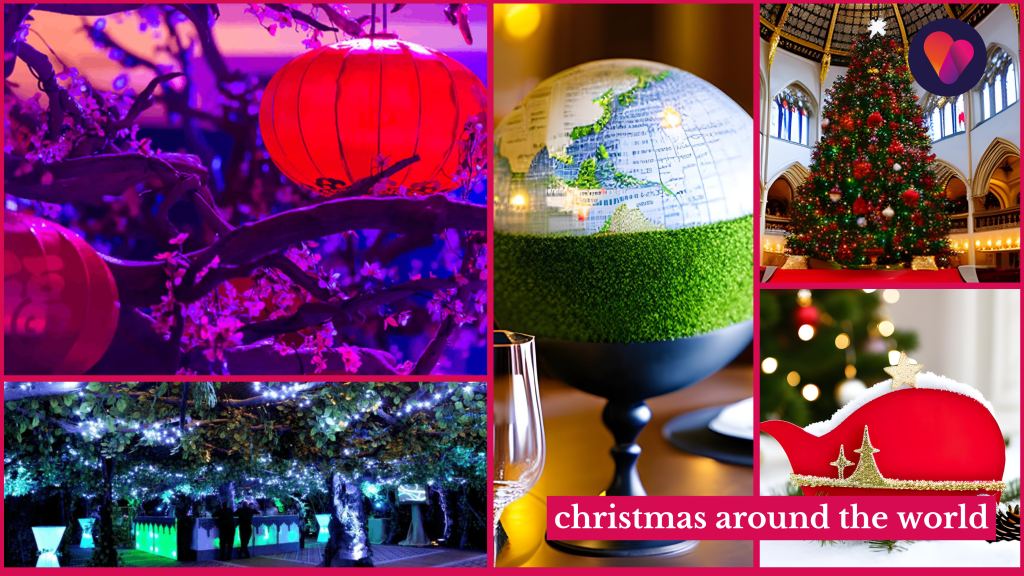 16. Santa's Beach Bash
Break the tradition of a white snowy Christmas by celebrating on a tropical beach. Decorate with palm trees, serve summery treats, and have a blast in your Santa hats (and maybe your swimsuit!).
Sunny Decor Delights: Picture a beachside paradise adorned with palm trees, tiki torches, and vibrant beach-inspired decor. Sandcastles, seashells and starfish motifs transform your space into a coastal wonderland.

Summery Treats Galore: Delight in a feast of tropical delights that cater to your beachy cravings. Sip on refreshing fruity cocktails served in coconut shells and indulge in seasonal fruits!

Capture the Joy: Step into a world of pure joy against a backdrop of lively beach balls that infuse an air of playfulness into the celebration.
17. Pantomime Extravaganza: Unveiling the Magic of Christmas
Prepare to be enchanted as you step into a realm of magic and laughter with our "Pantomime Theme Christmas Party." Immerse yourself in the captivating world of pantomime, where classic tales come to life with a touch of comedy, music, and magic.
Highlights:
Theatrical Wonderland: Transform your venue into a theatrical wonderland, with vibrant backdrops that transport you to the heart of classic pantomime tales. From enchanted forests to royal palaces, each corner of the space captures the essence of timeless stories.

Larger-Than-Life Characters: Be greeted by larger-than-life characters straight out of your favourite pantomime stories. From the brave hero to the mischievous villain, every encounter is a step into a storybook world.
18. Radiant Christmas Light Theme
Step into a shimmering wonderland of light with our "Radiant Christmas Lights Theme'. This dazzling theme celebrates the magic of Christmas lights, turning your party into a mesmerising spectacle that captures the spirit of the season.
Luminous Delights: Transform your space into a breath-taking realm of twinkling lights. Adorn walls, ceilings, and even the floors with an array of colourful and sparkling lights that create an ethereal ambiance.

Glowing Attire: Encourage guests to wear attire that shines as brilliantly as the Christmas lights. From sequins to metallics, everyone will add their own luminous touch to the festivities.

Dance under the Stars: Step onto a dance floor illuminated by thousands of LED lights, creating a starry night experience indoors. Dance to your favourite tunes and witness the lights synchronize with the music.
19. Narnia, Enchanted Wardrobe Christmas Party
Step foot beyond the wardrobe with our Narnia themed Christmas party, where snow-covered forests, mythical creatures, and a sense of wonder await at every turn.
Narnia-Inspired Decor: Transform your venue into a portal to Narnia, complete with snowy landscapes, flickering lanterns and enchanting forest backdrops!

Mythical Creatures and Characters: Encounter mythical creatures like fauns, talking animals, and even the majestic lion Aslan himself. Meet characters that embody the magic of Narnia, adding an extra layer of enchantment to the event.
20. Die Hard Holiday Havoc
Step into the heart-pounding world of "Die Hard" with our "Die Hard Holiday Havoc" party, a thrilling and action-packed celebration that pays tribute to the iconic Christmas movie. Get ready for an adrenaline-fueled holiday bash that will keep you on the edge of your seat!
New York Ambience: Transport yourself to New York City, twinkling lights and New York inspired table centres, the ambiance Eventologists' creates captures the essence of the urban jungle.
Blockbuster Event Decor: We will transform your venue into a cinematic wonderland. Walk the red carpet, pose with life-sized movie cut-outs and enjoy a blockbuster event!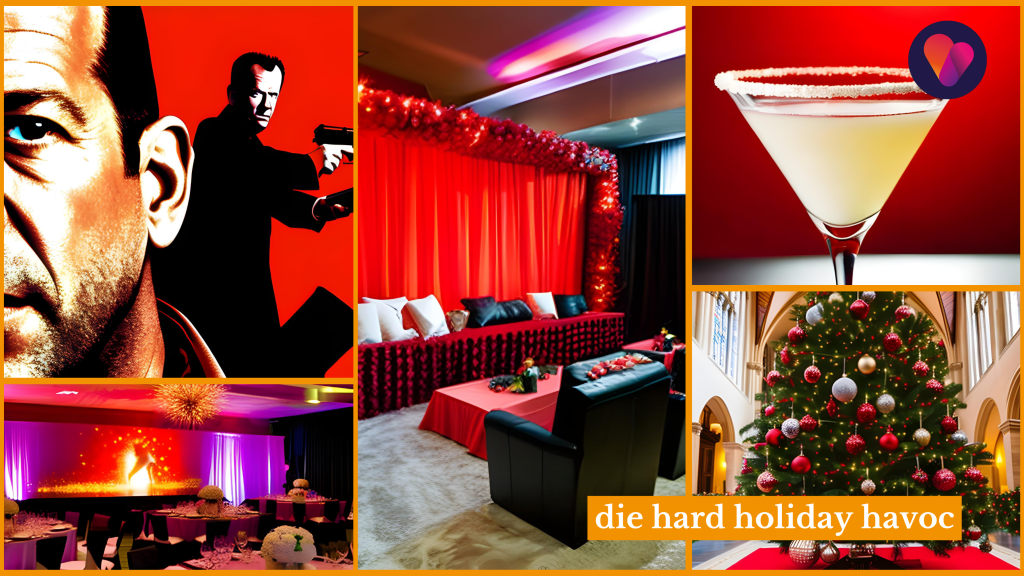 As you can see, there are countless ways to make your Christmas party truly special and unforgettable. Whether you're planning a corporate event or a festive celebration with friends and family, the options are endless. From cosy and traditional to extravagant and unique, there's something for everyone.
To bring your dream Christmas party to life, contact our event management team today. They're here to help you plan, coordinate and execute the perfect holiday gathering that will leave a lasting impression on your guests.
So, reach out now, and let's make this holiday season one to remember!
Please note that some graphics have been created using ai features.
Be the most shining starlet in this Glam & Glitz themed event!
Roaring 20s Party Ideas
Feeling like a classic superstar? Bring on all the fabulousness with a super Glam & Glitz themed event full of sparkle and glamour that is guaranteed to dazzle your guests! Eventologists introduce our Roaring 20s Party Ideas guaranteed to dazzle your guests.
Due to their elegant tone, Glam & Glitz themed events are always extremely popular for many types of occasions – Charity Balls, Christmas Parties, Corporate Events, Themed Weddings, Gala Awards Dinners. Glam and Glitz themed parties are timeless and classical, giving an opportunity for guests to glam up to the max and dress up in sparkle and shine. Everybody enjoys choosing a new sparkly gown or dashing tuxedo, and this opportunity will sure make every guest feel like a star.
A Glam & Glitz evening is also a perfect theme for an Awards Gala Dinner, ensuring your guests feel even more special and valued, and giving the winners the chance to shine as much as the recognition they are receiving.
Here at Eventologists, our team of party stylists with great expertise will be happy to show you many possible visions for this classic event. They will also be more than glad to guide and walk with you through the way of whole creative process if you bring your own Glam & Glitz party ideas to make the event you envision no more a dream but a truly shiny and shimmering reality.
Thanks to our in-house staff and wide array of Glam & Glitz themed props and decorations for hire, we will be able to add all the theming needed to match the mood of such a splendid event, having to your disposition, among others, elements such as:
Crystal chandeliers hanging from the ceiling to reflect the glitz from the mood lighting and the guests.
Crystal curtains to add a sparkle in every corner of the room.
Glitter floors.
Theatrical draping and tablecloths in elegant, metallic colours to enjoy dinner in the classiest manner.
Elegant cups, details in pearls, feathers and garlands, crystal balls, elegant cloches and feather lamps.
The most glamorous of table centrepieces, such as glass pieces, shiny trees, reflecting spheres, candelabra, are ready to shimmer on all occasions.
Enhance the evening with a live jazz band or a super dance troop with the most authentic Glitz & Glam costumes and party the night way in your sparkly stilettos until your feet can't move any more!
Check out our Glam & Glitz Themed Event Packages here! Contact our event management team today and they will dazzle you with their expertise in corporate event planning.
Alice in Wonderland – A Unique Christmas Party Theme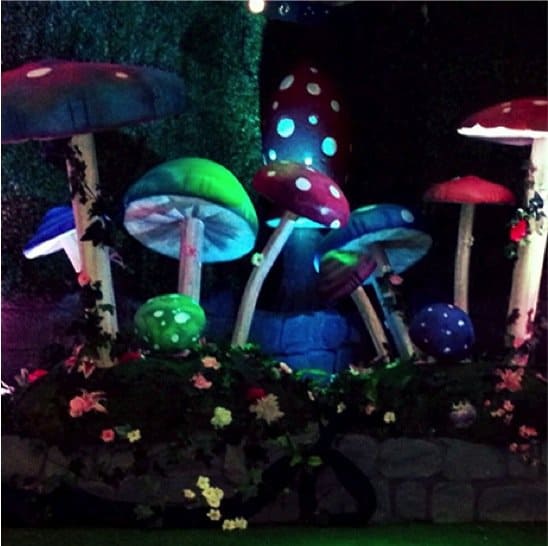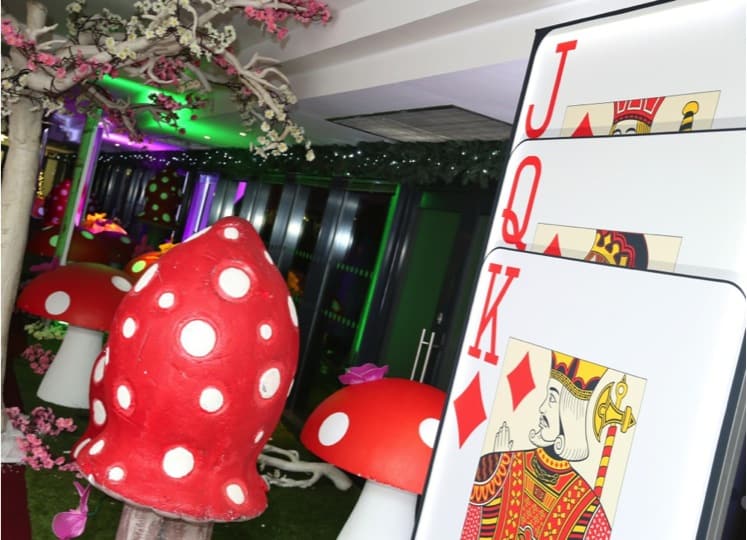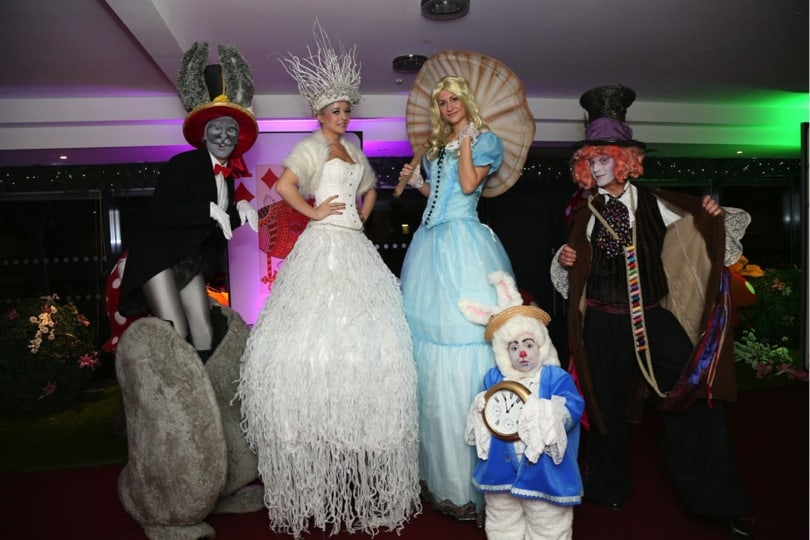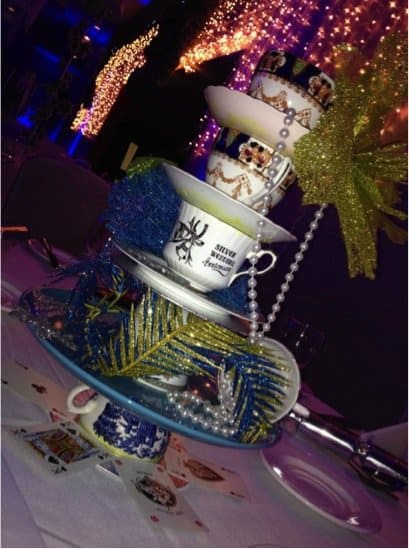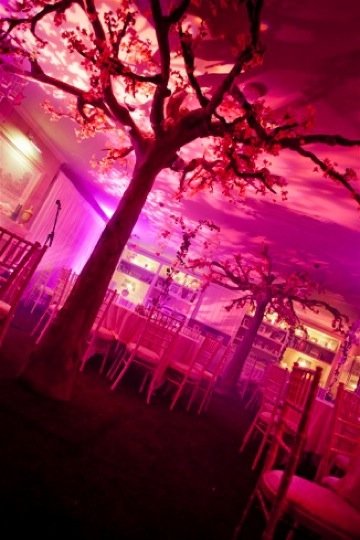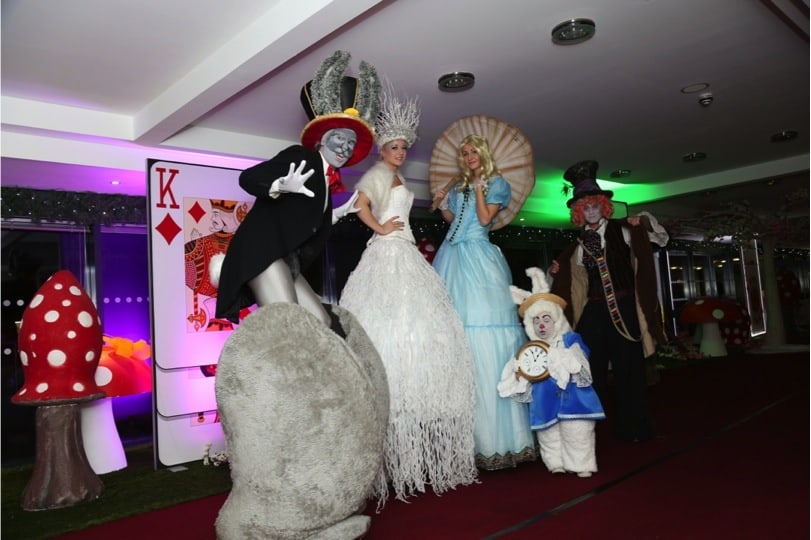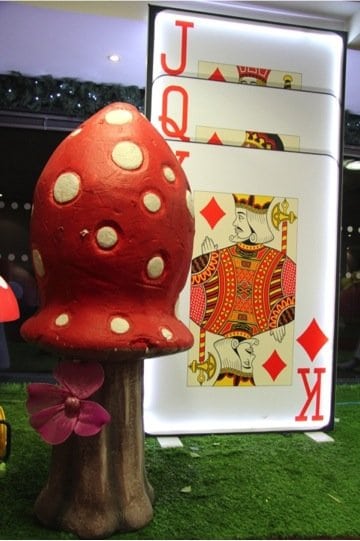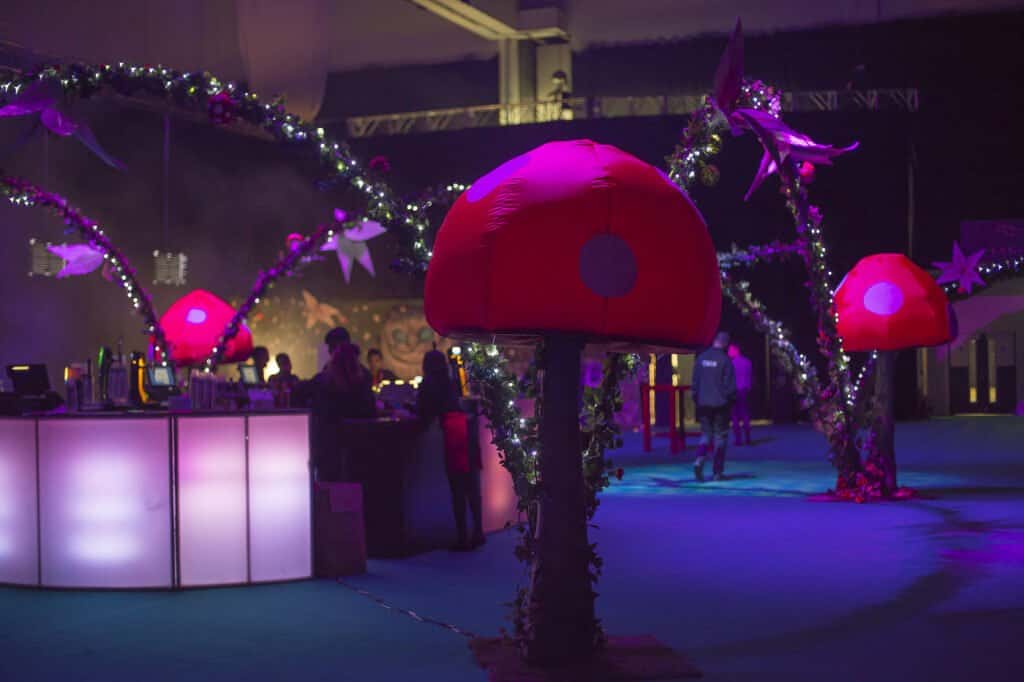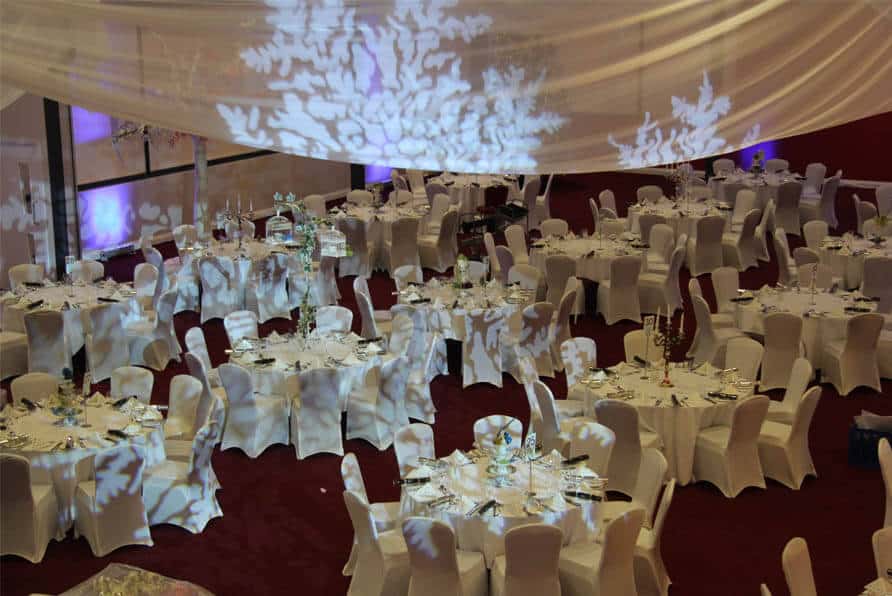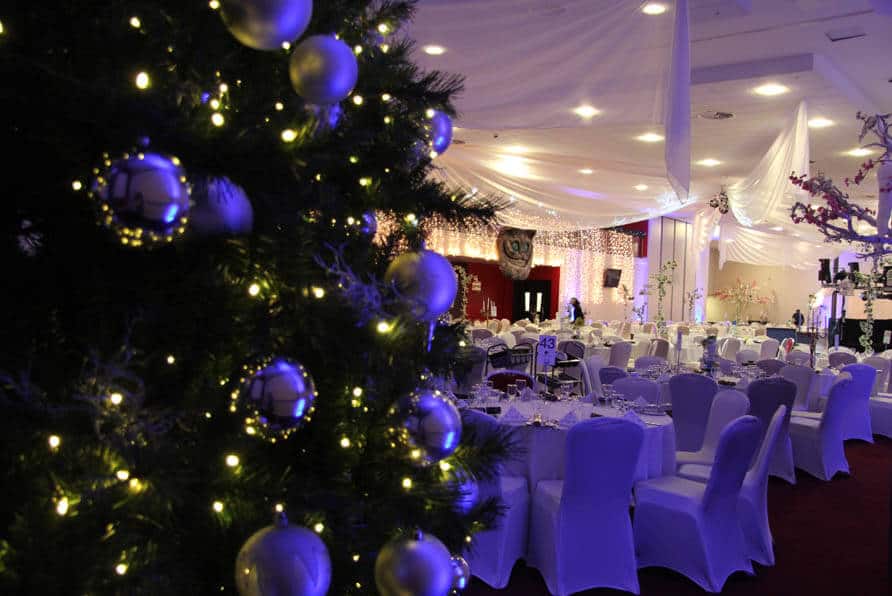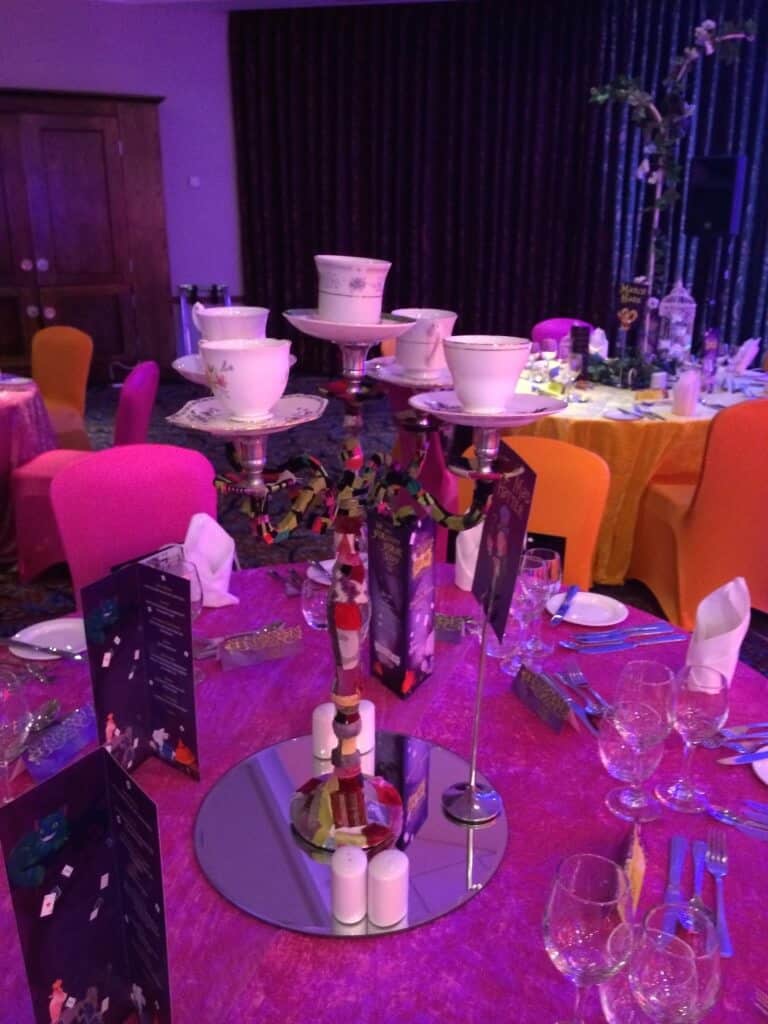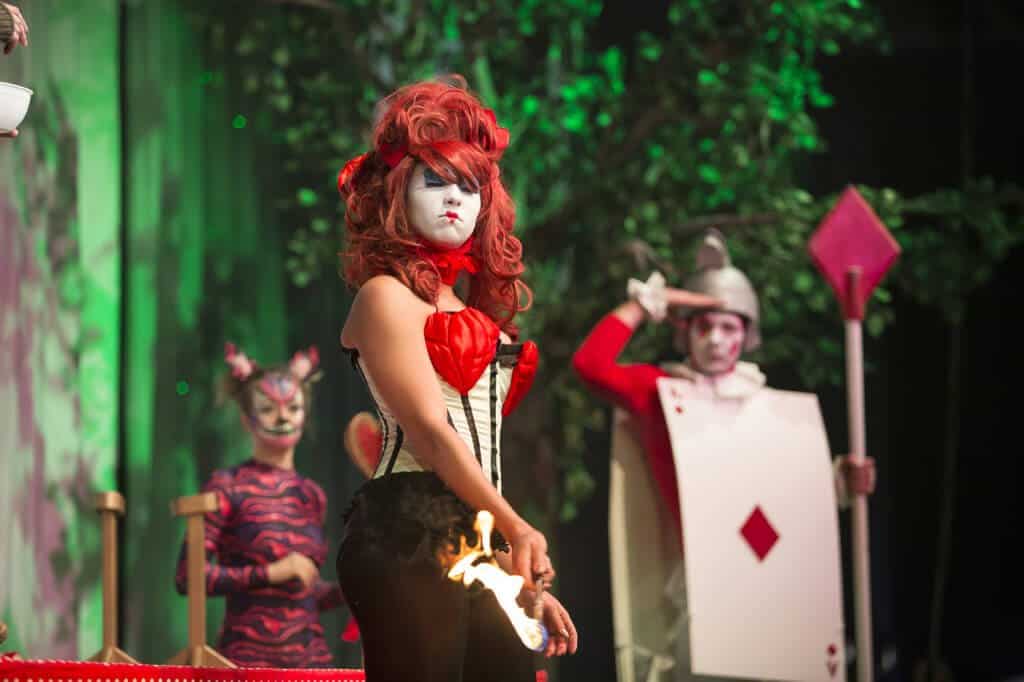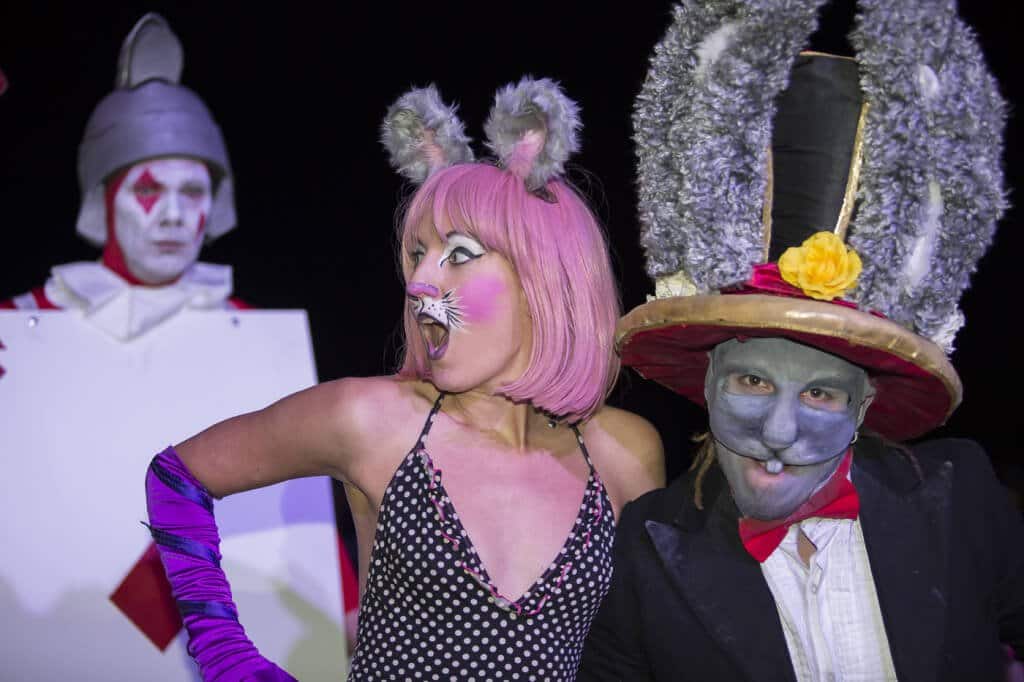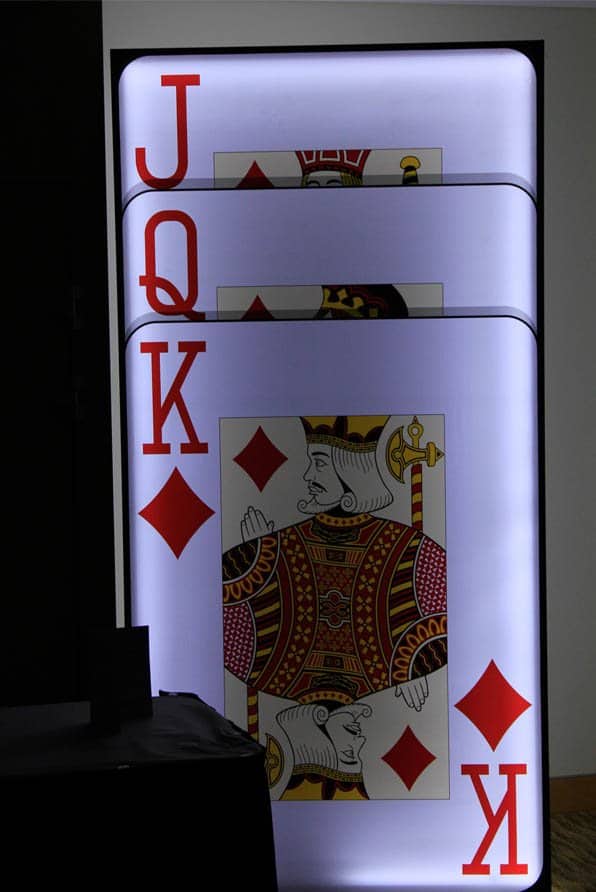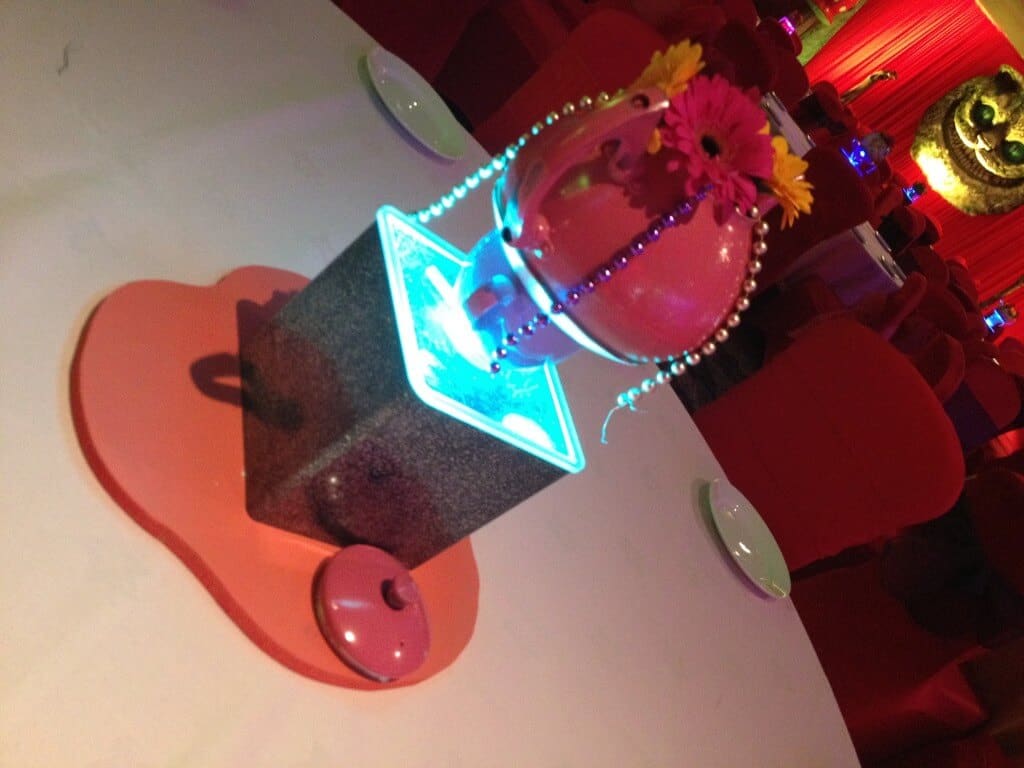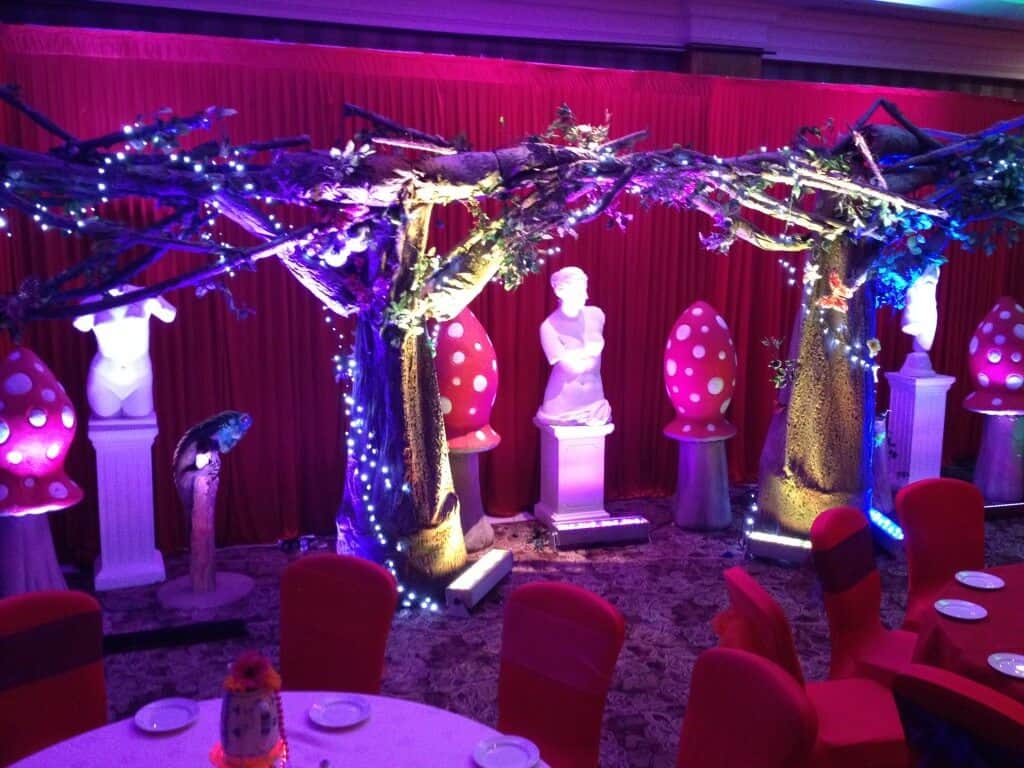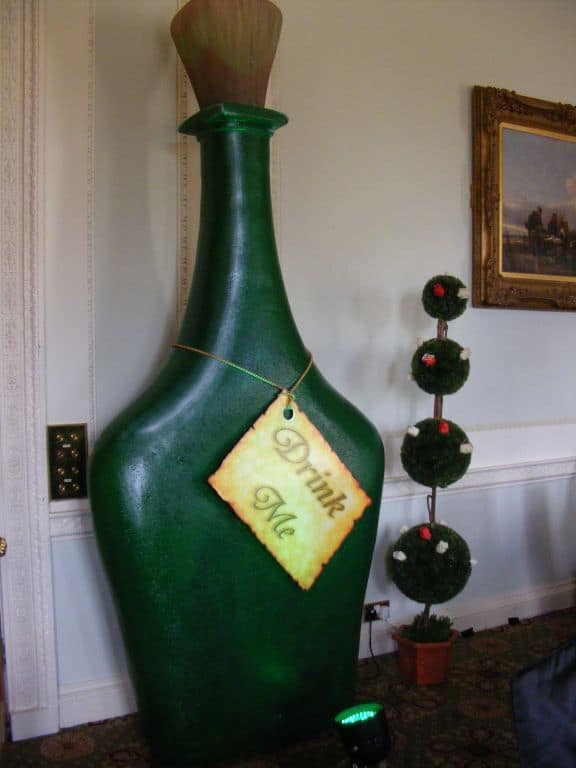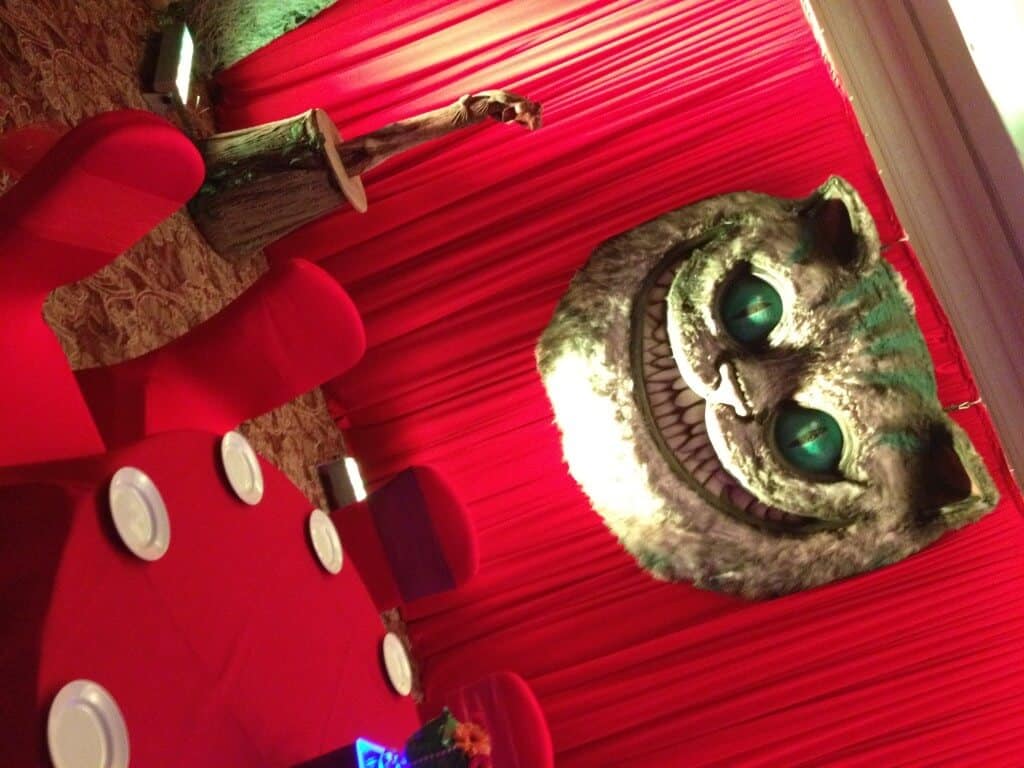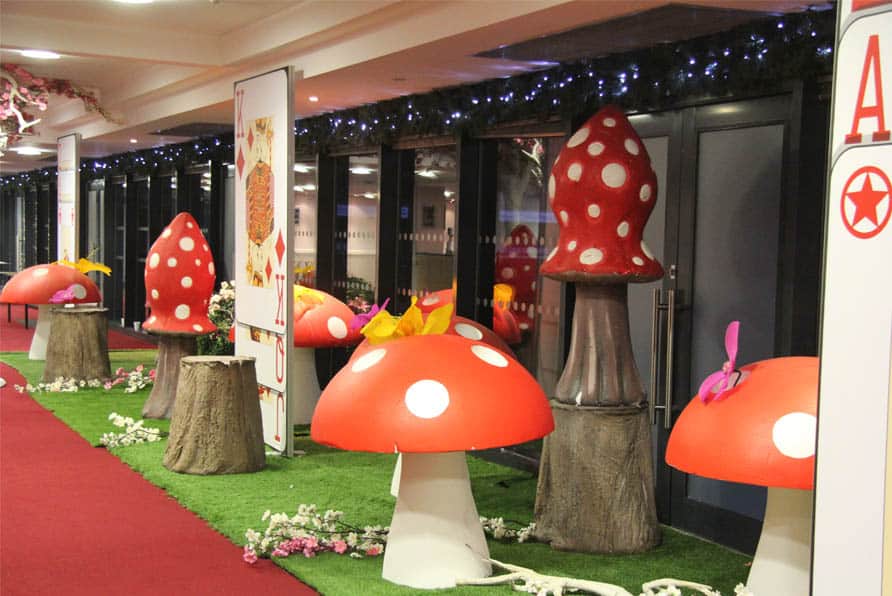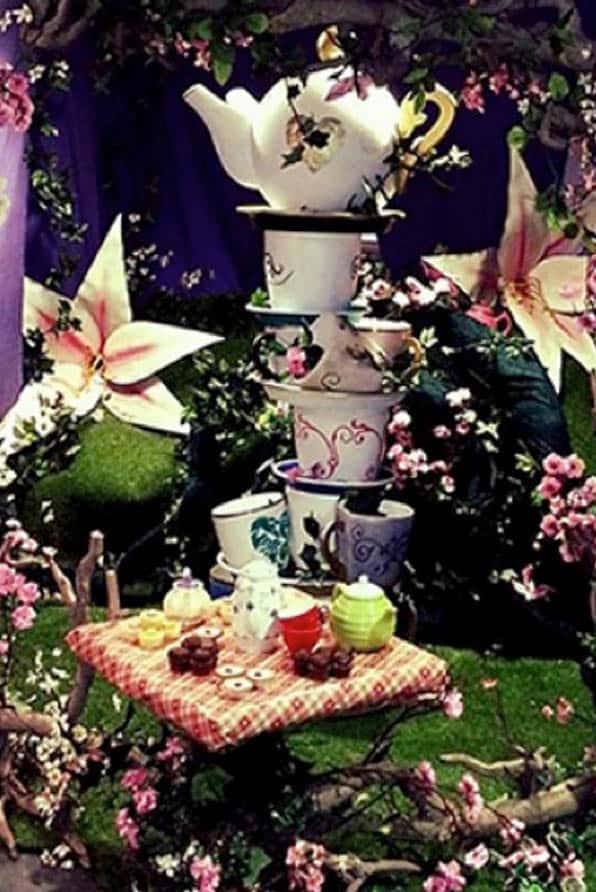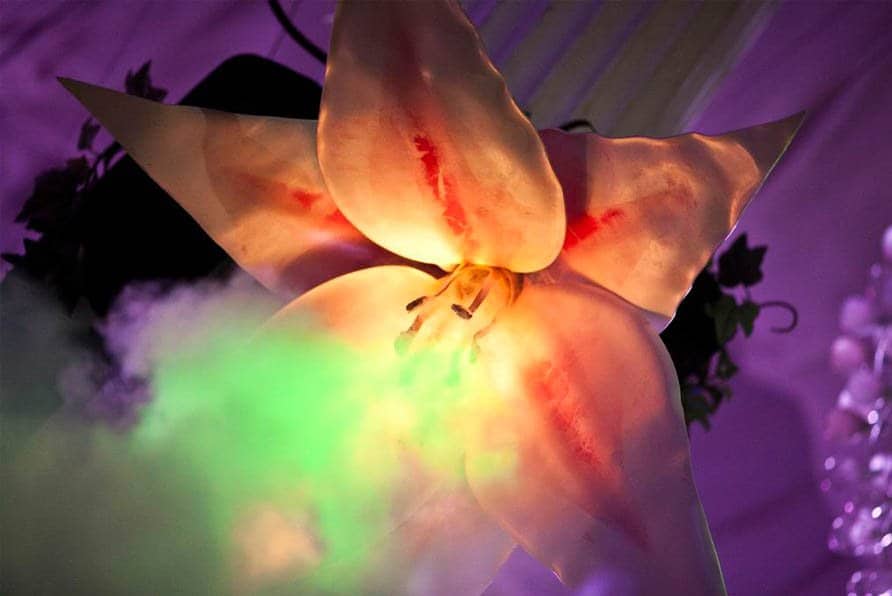 Alice-Giant-Mushrooms-1024x682
Alice-in-Winterland-Themed-Event
Alice-in-Wonderland-Centre-Pieces-768x1024
Alice-in-Wonderland-Characters-1024x682
Alice-in-Wonderland-Entertainment-1024x682
Alice-in-wonderland-playing-cards
Alice-in-Wonderland-Table-centre-and-Cheshire-Cat-1024x768
Alice-Tea-pot-table-centre-1024x768
Alice-woods-uplit-1024x768
Giant-Cheshire-Cat-1024x768
Giant-Playing-Cards-Lightbox-2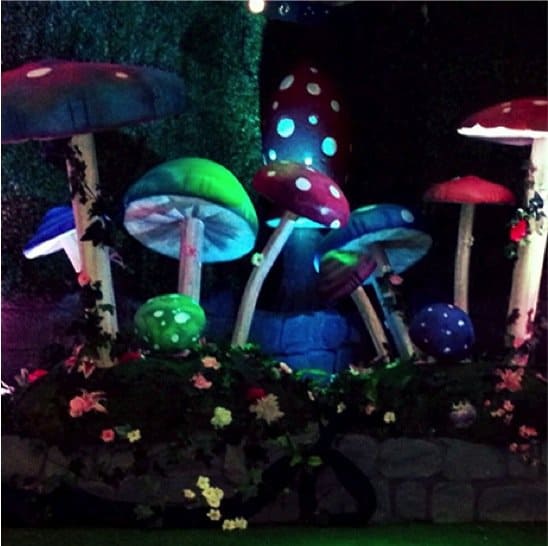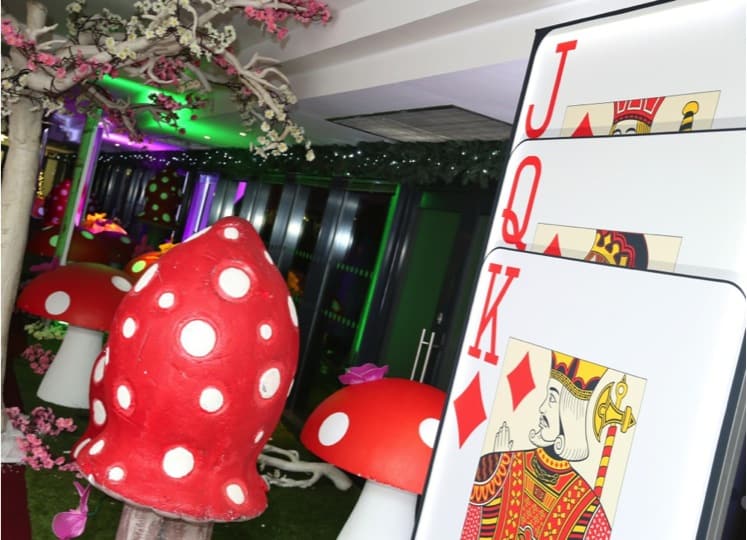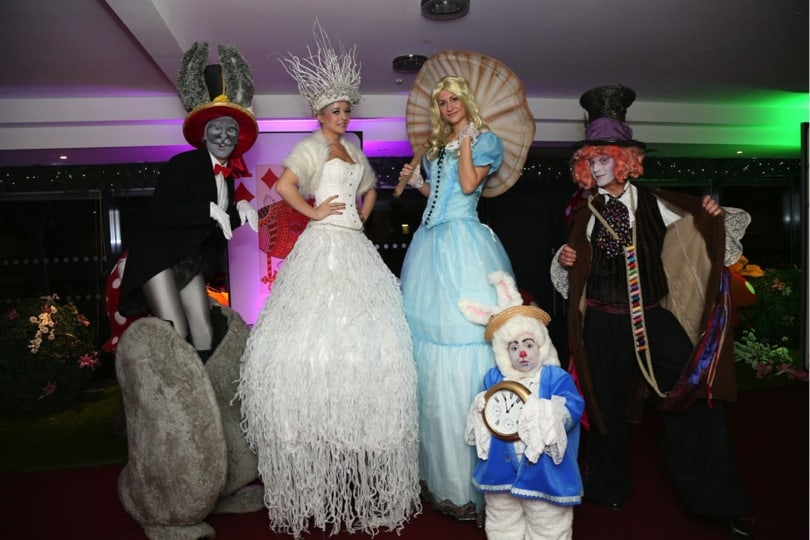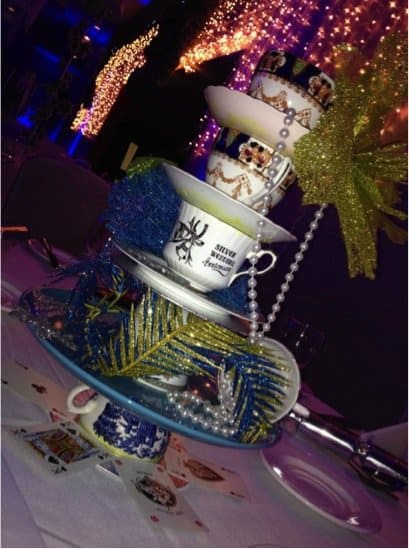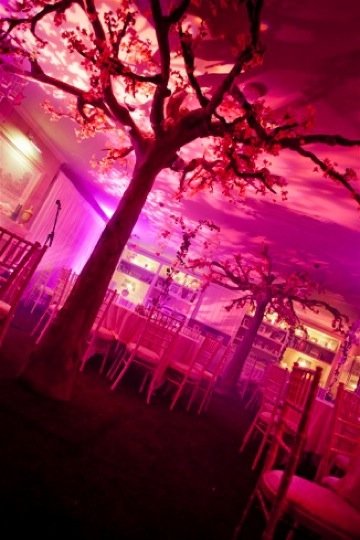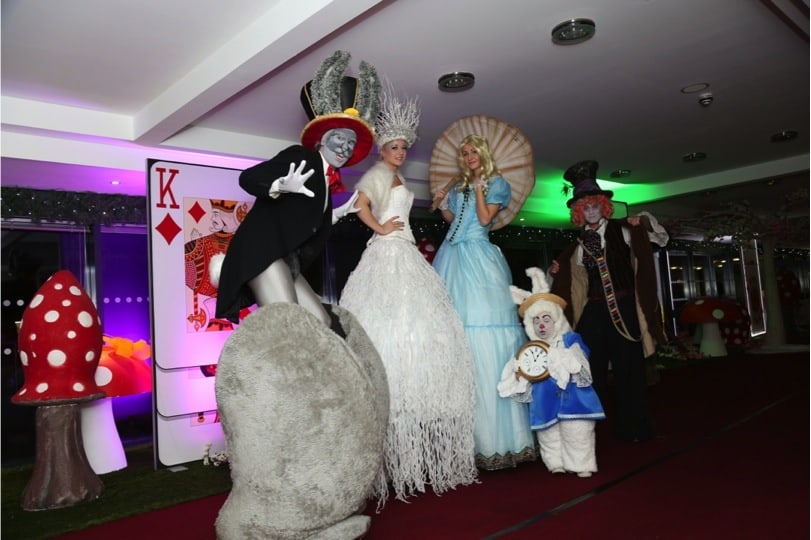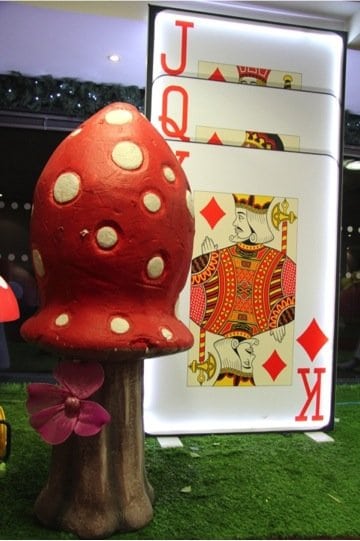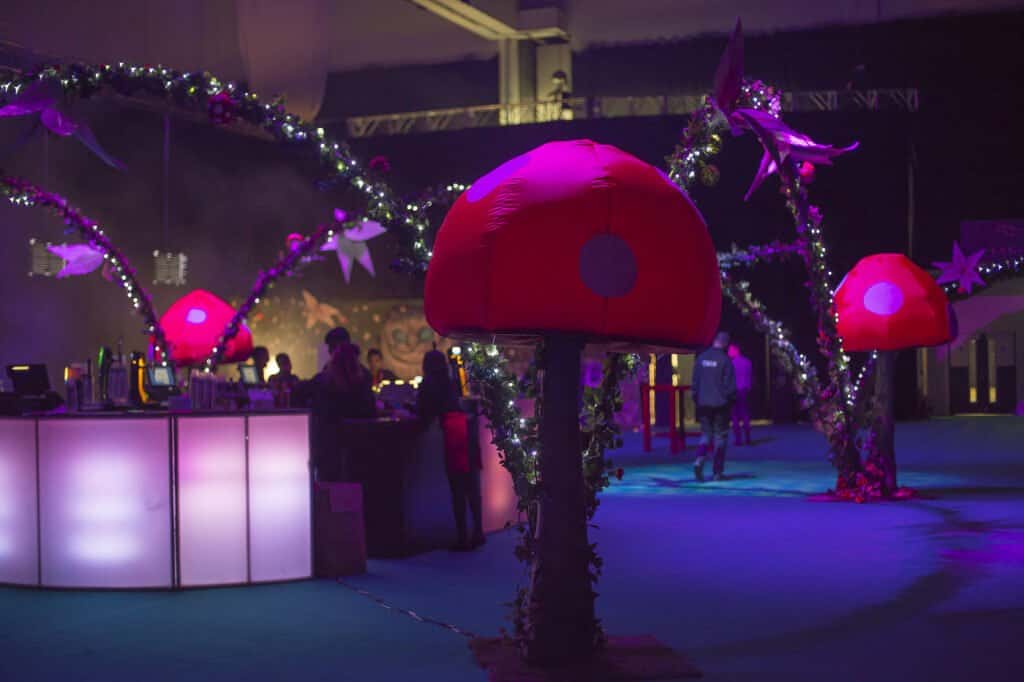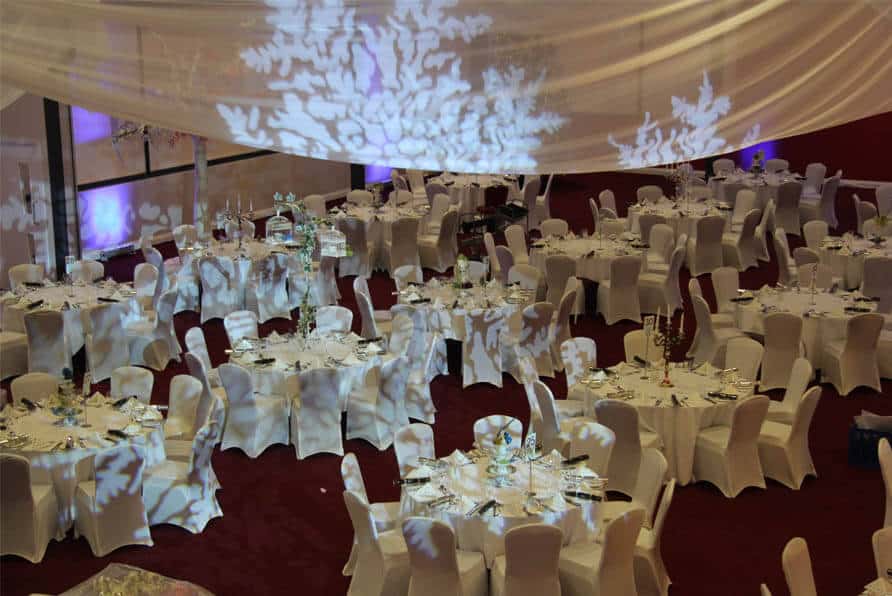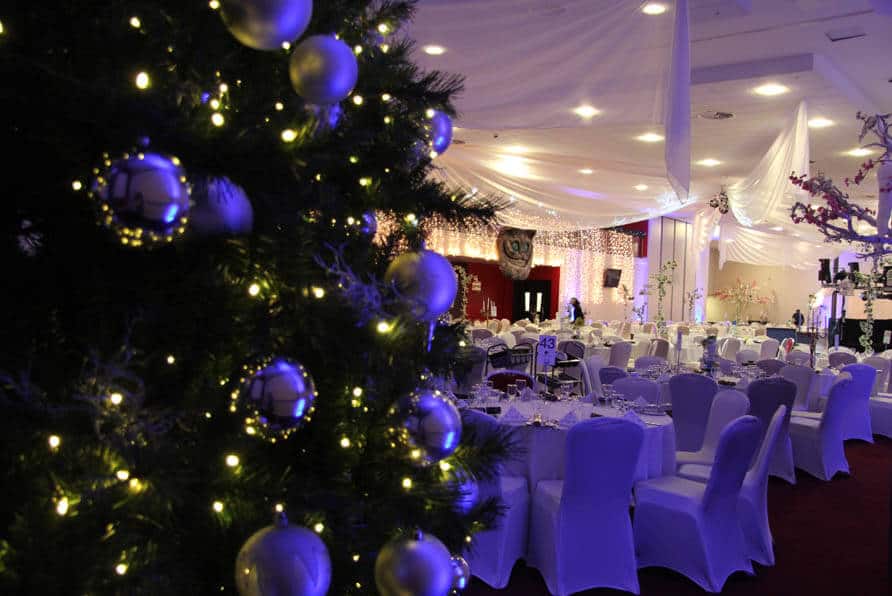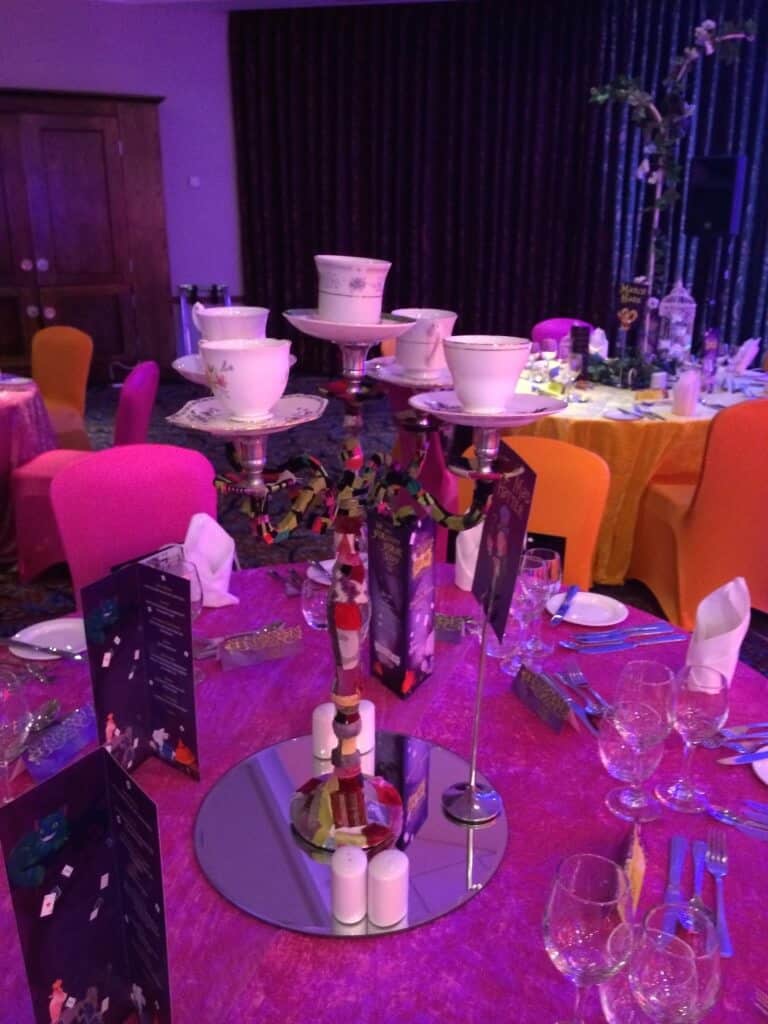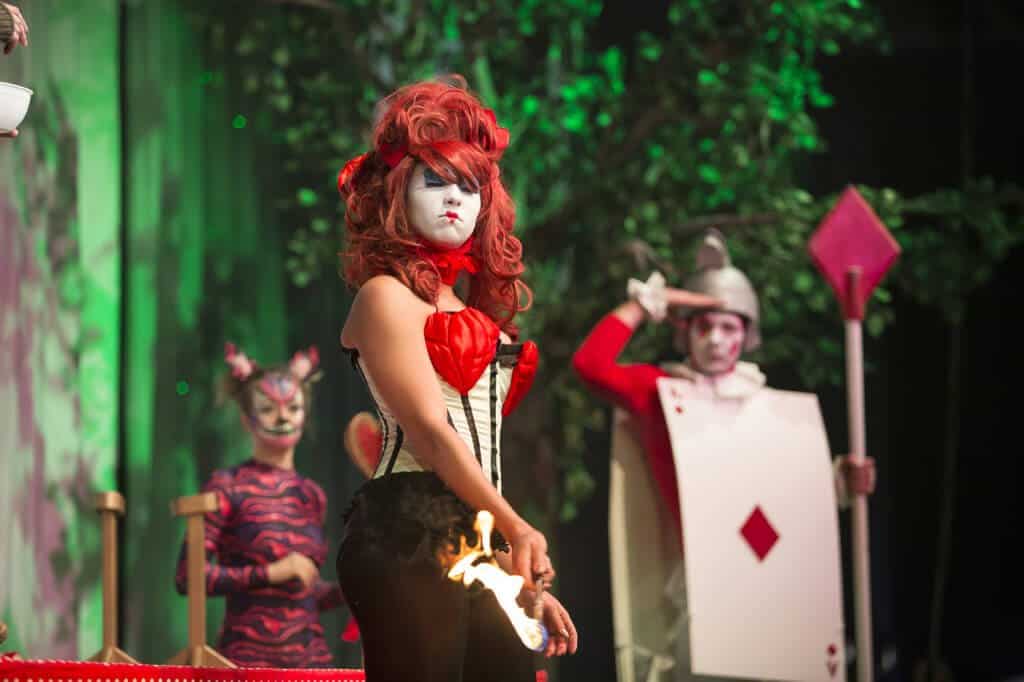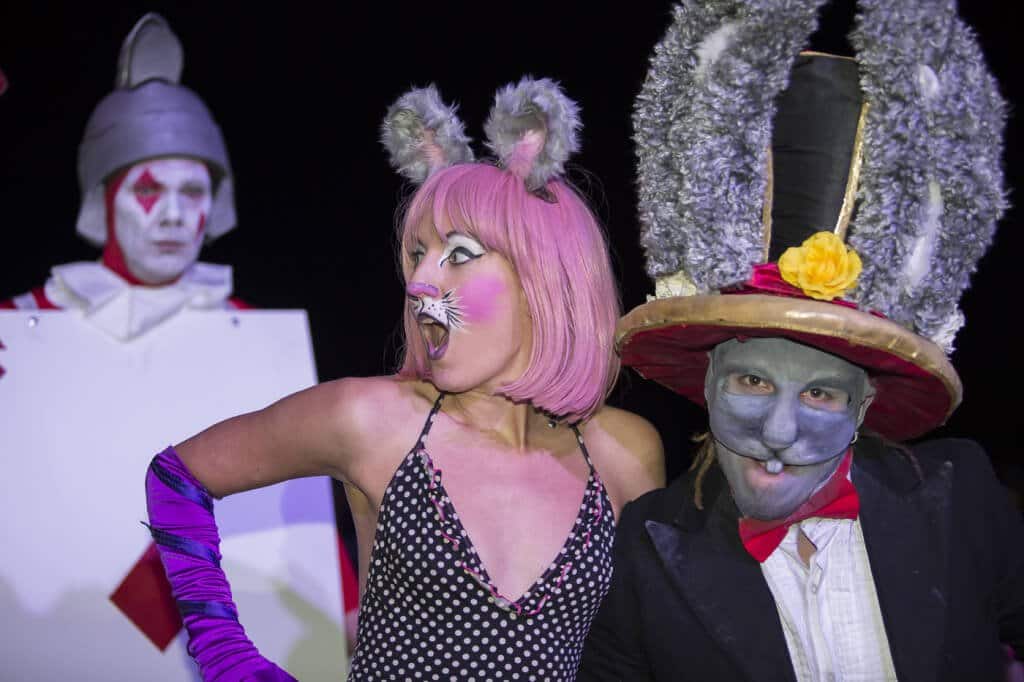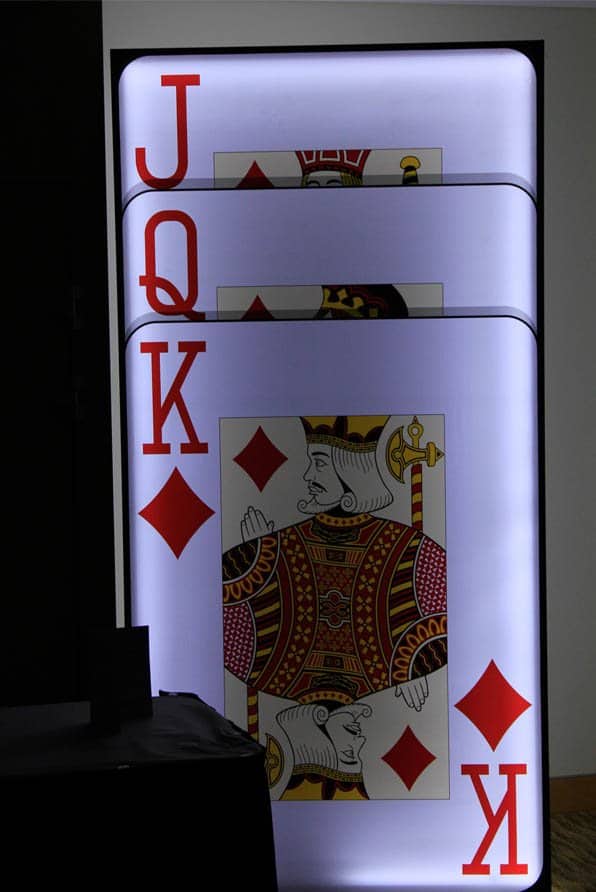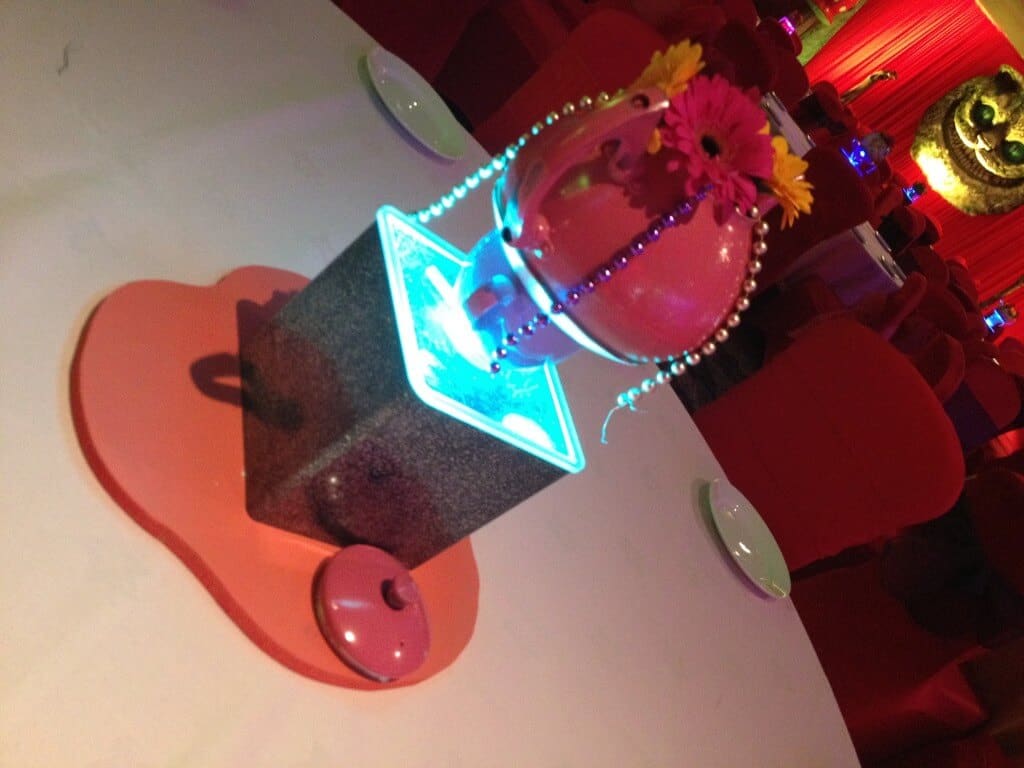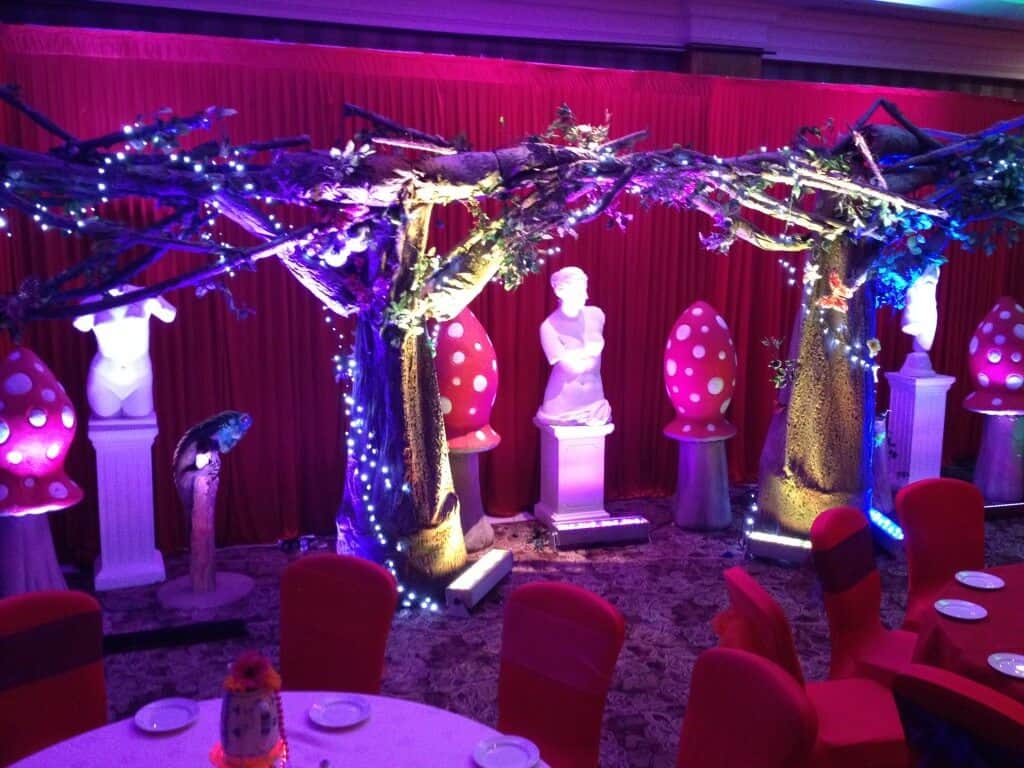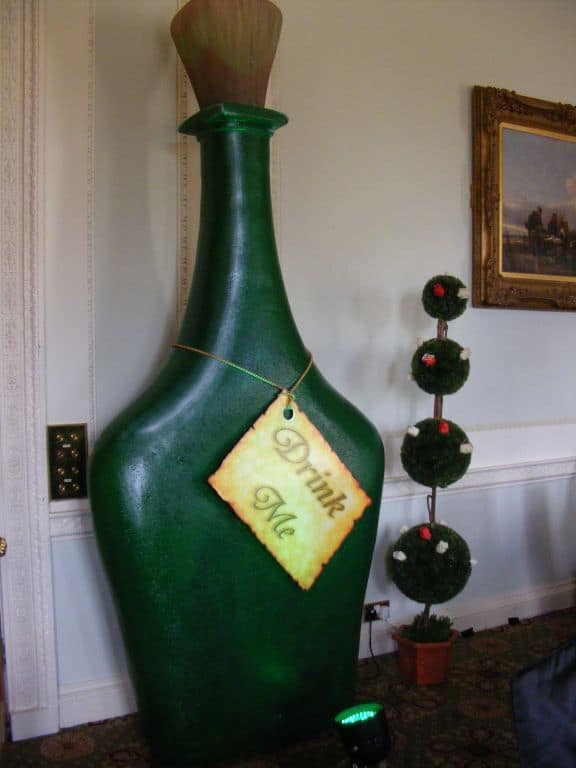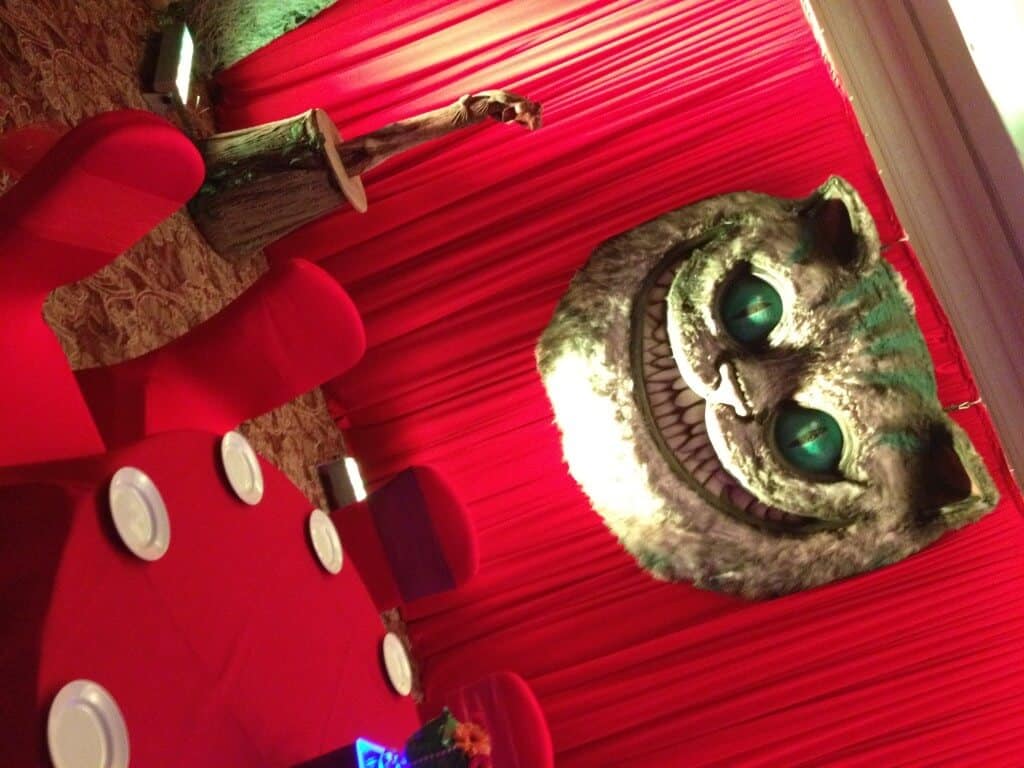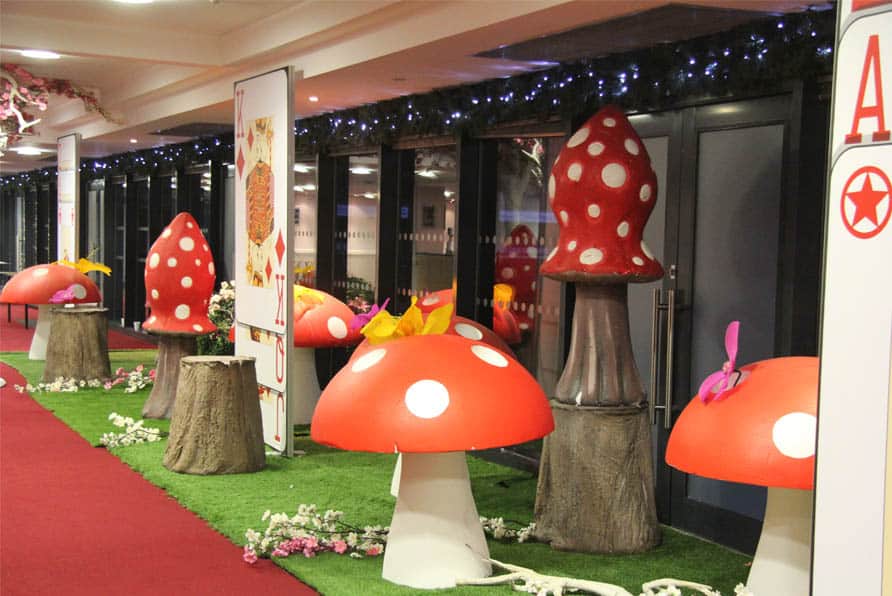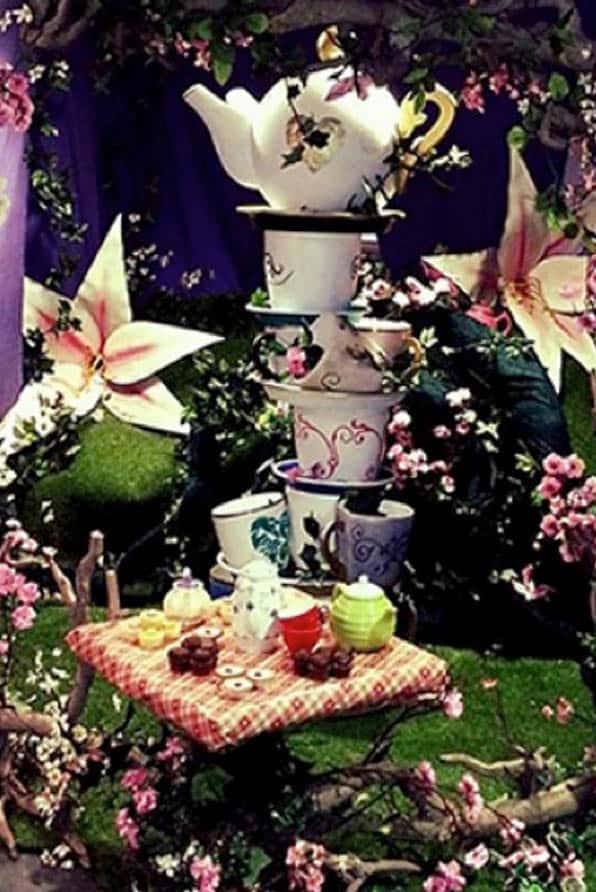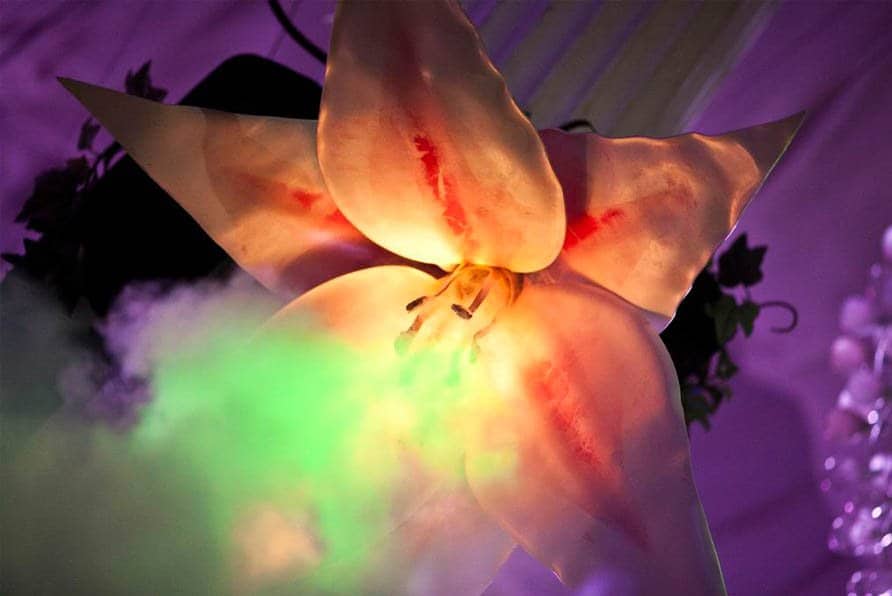 If you are looking for a unique Wonderland Christmas Party Theme for your office party, why not look outside the box and instead of googling commercial Christmas tree decorators or corporate events specialists why not google unique themed décor and discover Eventologists! Eventologists brings the topsy turvy and magical world of Alice in wonderland to venues around the country with an exciting wonderland Christmas party theme, with stunning venue dressing and entertainment that brought Alice to Life. From the moment guests walked in guests were surrounded by iconic props and characters – they were met by the Mad Hatter who ushered guests to one of his legendary tea parties and then 'pop'  they walked through a rabbit hole into a stunning forest of flora and fauna and slightly crazy quirky things!
As the guests entered the main banqueting suite they descended further into Wonderland with a mad hatters picnic as they get entertained by the queen of hearts and tweedle dum and tweedle dee. Along with an enchanted forest, guests were mesmerized by room theming and Alice themed props such as the Rabbits Giant Pocket watch, A Giant Drink Me Bottle, Giant Flower props, Enchanted table centres and Mushrooms. If you are looking for an Alice themed party or a mad hatters themed party, look no further than Eventologists who can help you with everything from a bespoke party themed décor to themed entertainment and dispel those thoughts of prop hire being the route to take!
To book your Christmas party, contact our event experts.
How To Dress The Perfect Christmas Tree
It's that time of year again when the elves at Eventologists start work on creating spectacular Christmas displays and plan awesome Christmas Party theming and decorations for clients. We focus on Christmas Trees at this time of the year planning on how we will make statements with trees of all sorts of shapes and sizes – Banish the Bland we say and make sure that this year your festive décor in your office or venue says everything about you, your brand and the people that work there. It's a feature that sits proud in company reception areas for almost a month, so why do some people over look this important. We believe its because people just aren't sure how to dress the perfect tree and always end up sticking to conventional ideas and colours.
We share some great ideas of how people are pushing the boat out to make their Christmas Décor stand out;
A classic – traditional colours
This year the colours and styles have been wide and varied; traditional colours in red, white and green are always popular. There's nothing that beats the classic nut cracker themed look, it's always a favourite but adding a twist of modern can be quite quirky!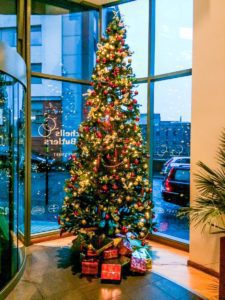 A funky festive theme 
Our Top of the Pops or 80's style festive tree is dressed in bold bright colours and slinkies – We have so much fun dressing this tree with bright tropical colours delivering a really electric look! The jewel coloured baubles make any tree vibrant, royal and rich.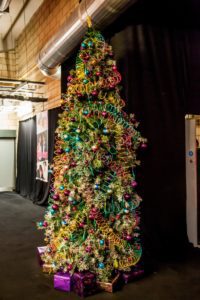 Peacock themed special
Moving on is a Peacock themed festive tree – which is one of the largest we dress each year. The Norwegian Spruce towers over 20ft in the air which makes dressing the oversized Christmas tree a particular challenge! We used vibrant turquoises and teals with gold and silver and then intertwined with peacock feathers and acorns.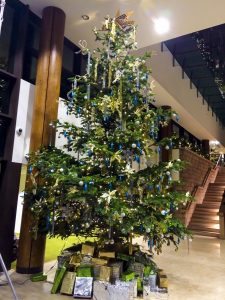 Christmas with a twist
You don't need to have conventional Christmas Decor, we can dress or provide a tree that is a little out of the ordinary and give it a snow drenched look! Whether it's a Narnia inspired or just classical winter wonderland!
We suggest Festive Decorations starts early in the year but don't panic if you've left it too late – A dresser or event organiser can come to your rescue even now!
Check out our Winter Wonderland Theme Event Package and contact one of our event experts today!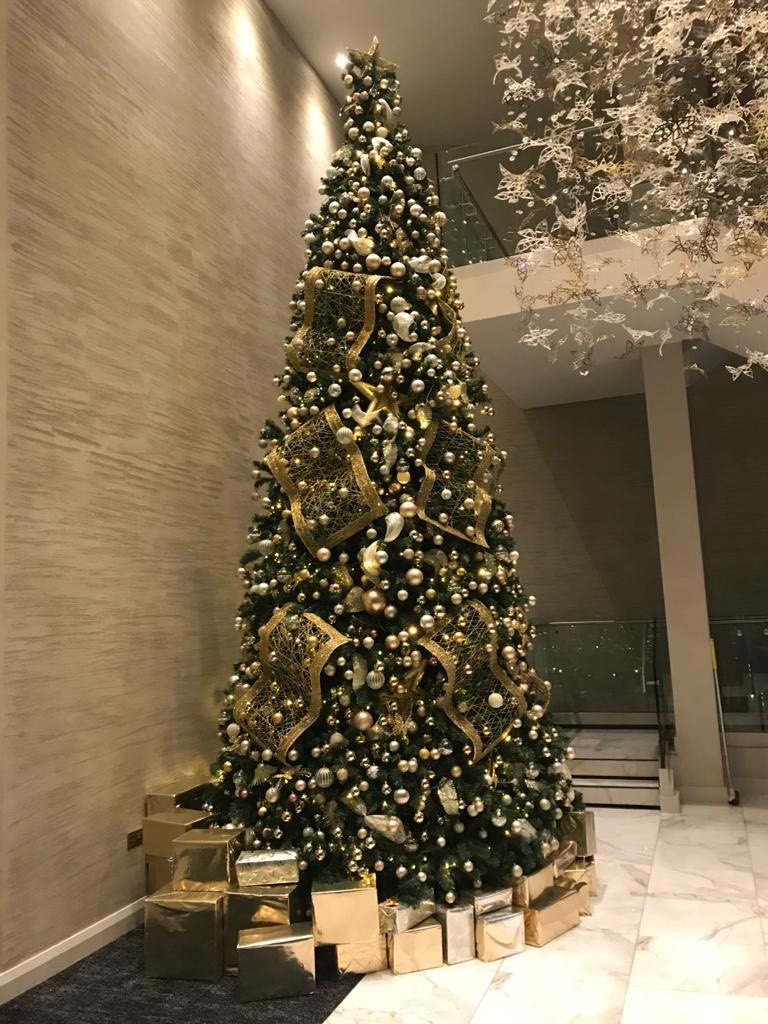 Christmas Party Planning Top Tips
Christmas Party Planning – Why it's best to plan early!
Christmas Parties are all about magic, imagination and memorable moments. Therefore, you will not be surprised that Christmas Party Planning at Eventologists; having such a busy client portfolio, starts early with planning and imagination. This sometimes takes months even years in advance…for those large projects!
Christmas trees and décor are often secured 11 months in advance to ensure the right quality, the right height and the right décor is delivered bang on schedule. It's a fabulous and also frenetically exciting time for us when it comes to Christmas Party planning. People are still amazed to discover the schedules we work to but if you look deeper into what it takes to create a magical experience for Christmas events it really is not that surprising.
For commercial Christmas decorations we usually start to plan very early in the year and this is for 2 simple reasons.
1 – The clients know that to create something spectacular they need the time to cover all areas in detail. This may be anything from physical logistics all the way down to the final design and installation. For many of our venue and hotel clients we find that as they are open to the public, working around this can be difficult. Therefore, we need to build this crucial consideration into everyone's schedule.
2 – You want the best in the market and sometimes leaving Christmas till the last- minute means you get only what is left. Failing to prepare is simply preparing to fail! Be sure not to leave yourself in a position where you are only able to have what is left by confirming late. Christmas is a crucial trading time and leaving anything to chance could mean a lack lustre approach and therefore often a lukewarm reaction from customers.
When supplying our services to clients who are looking to plan and create a extraordinary experience for guests who attend Corporate Christmas parties, we always start to confirm all details early! This includes, acts and entertainment, the baubles on the trees and the centrepiece for the tables. This could be as early as March to ensure we secure absolutely the right product and service at the right price!
So Planning has only started now – is it too late?
Eventologists are very fortunate to plan events for some of the worlds most well known, reputable brands and even though they are also some of the most organised, many times a Christmas party is the last thing on their minds. This is where we come in!
As an event management company who knows how to create events with little notice it is beneficial to our clients to outsource their needs to make sure all is planned to a professional and high standard. You would not believe how many times a company may leave the all important Christmas celebrations to people and committees who already have a hectic day- job! We have been able to successfully minimise a lot of stress because of our experience, knowledge in events.
It is never too late!
A perfect example was when a client of ours believed they simply needed some table centres for their Christmas party. Following an exploratory meeting to make sure there was nothing else they needed from our expertise the floodgates opened, resulting in a full ten page proposal being submitted. This included entertainment, venue finding and venue décor all within their budget. It just goes to show that being creative and building a relationship with our clients has been the driving force to our success.
Just think how many people there are out there looking to create a spectacular event just like you are – but thinking they might have left it too late? So keep this in mind when planning your event this Christmas as it is like the old saying goes.
The early bird catches the worm!….if you want the best and still within your budget, you simply have to partner with experts who really know how – and that means now!
Contact our event expert team today and we will manage your next Christmas event!
Turn up the Heat this Christmas with our Dramatic Fire & Ice Themed Event!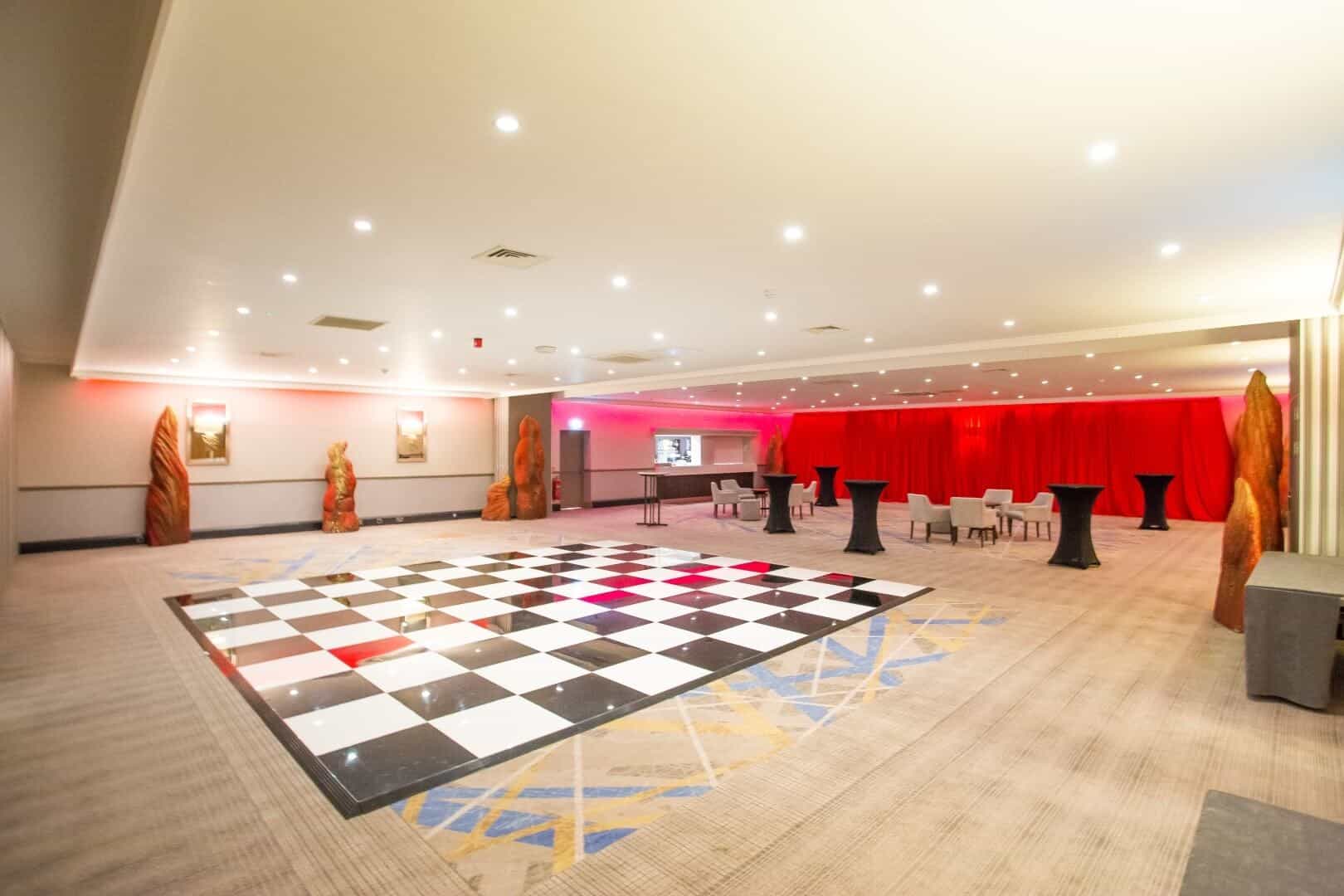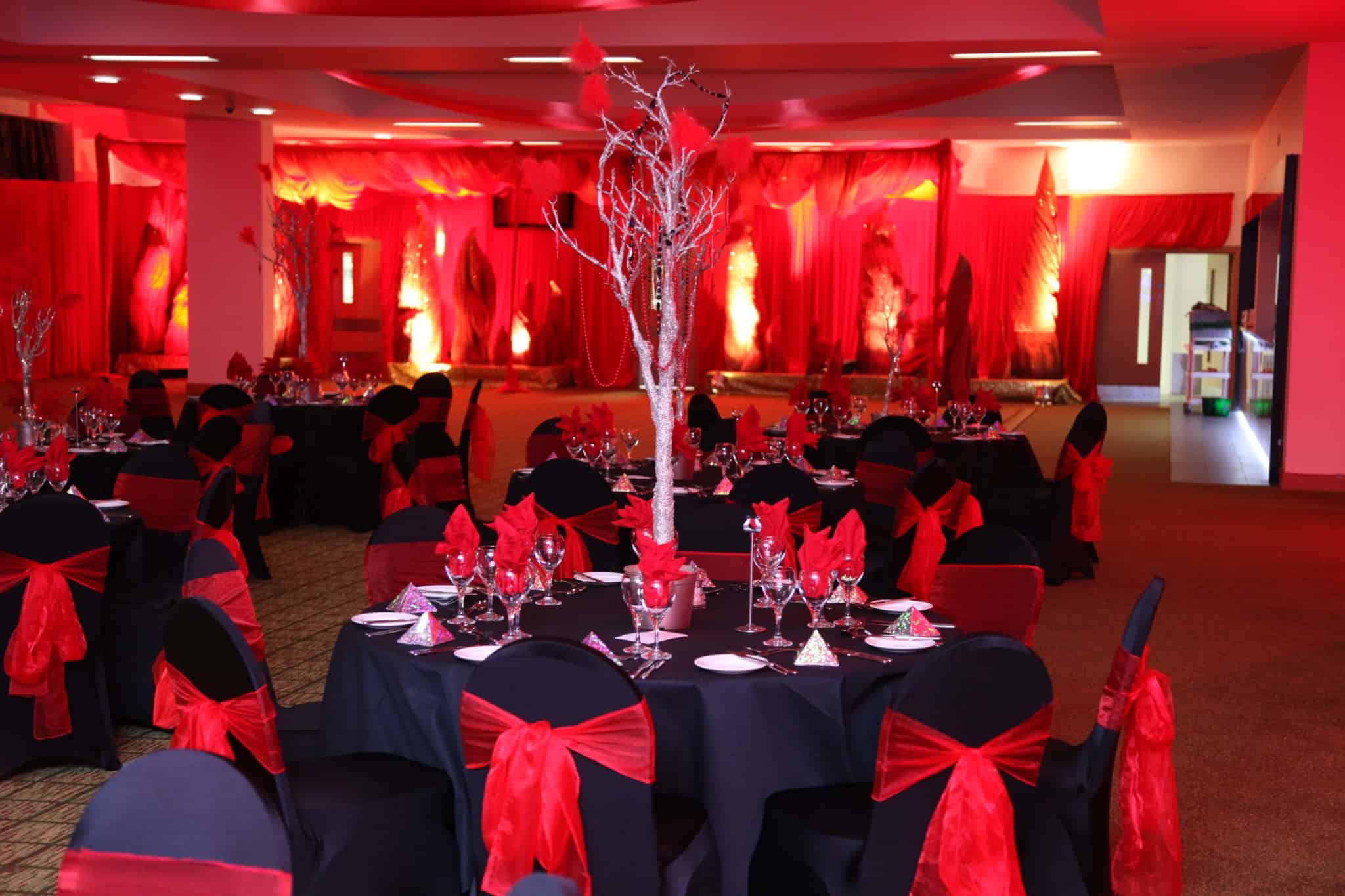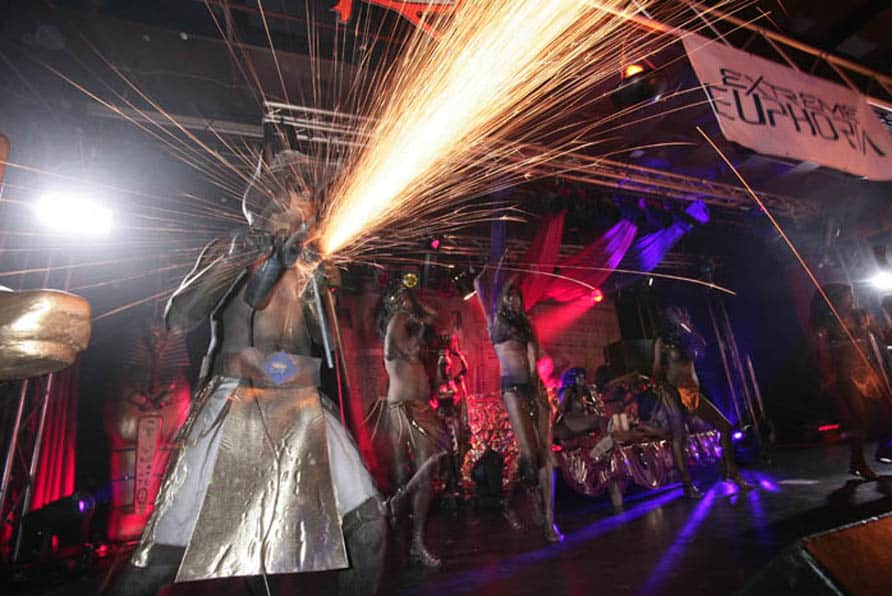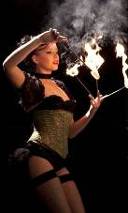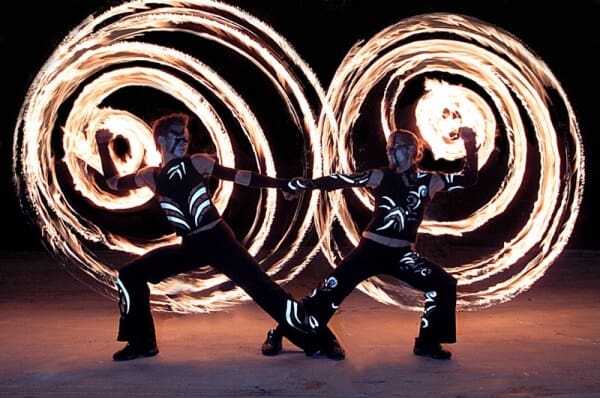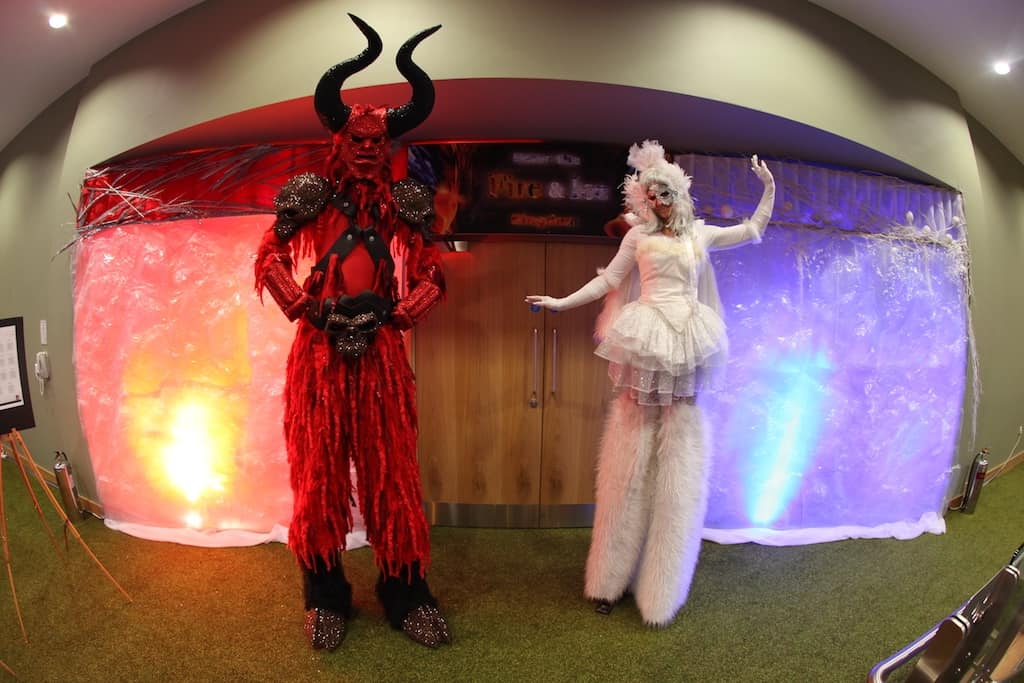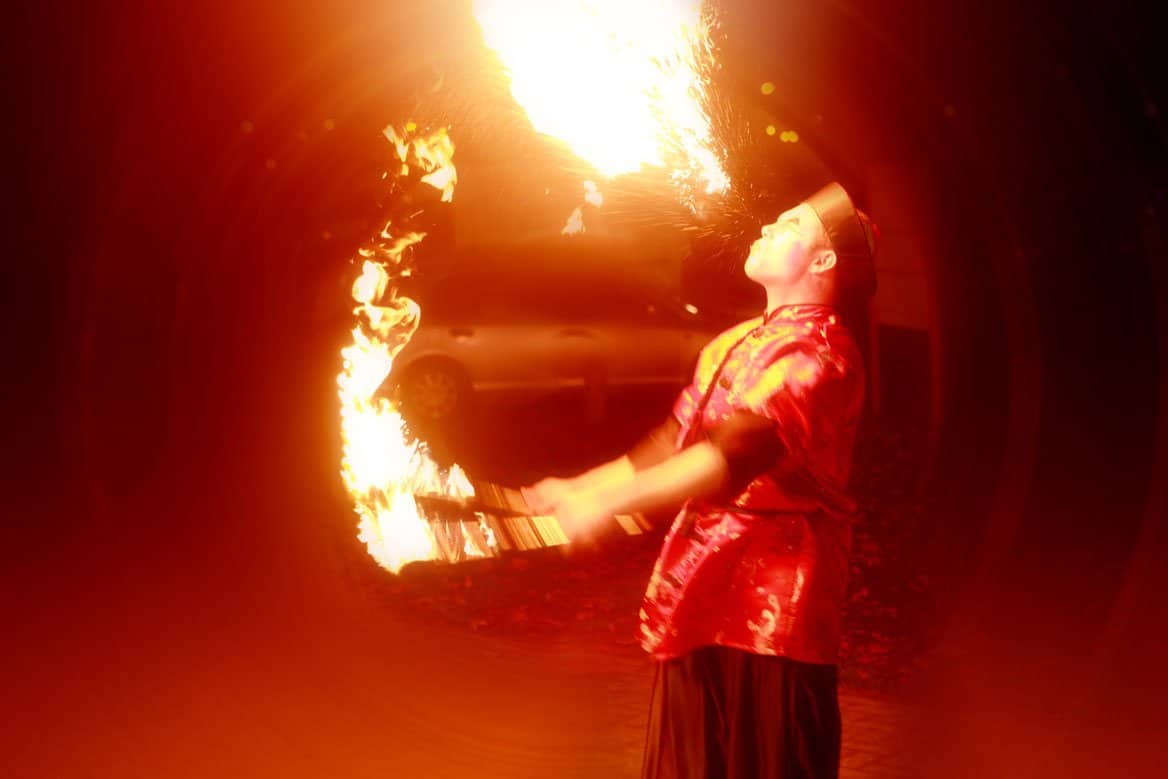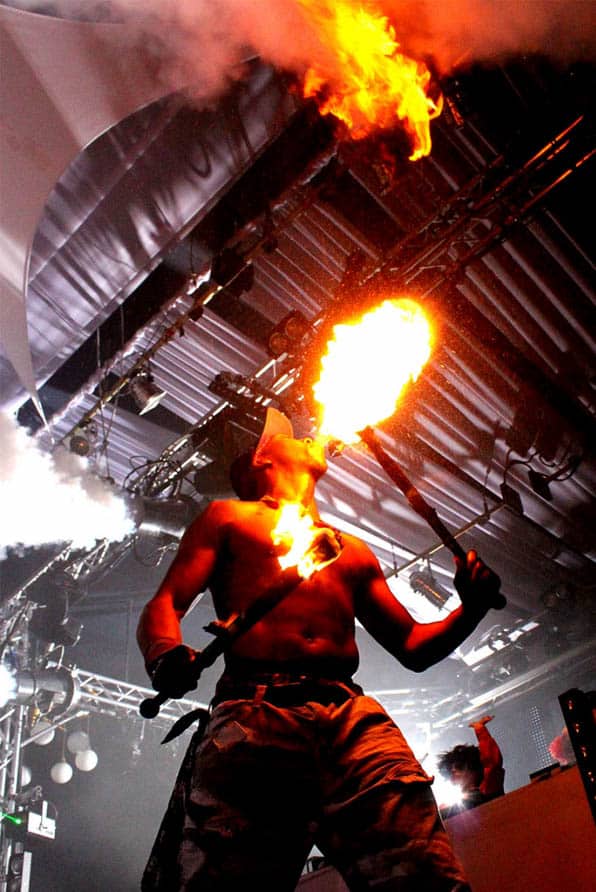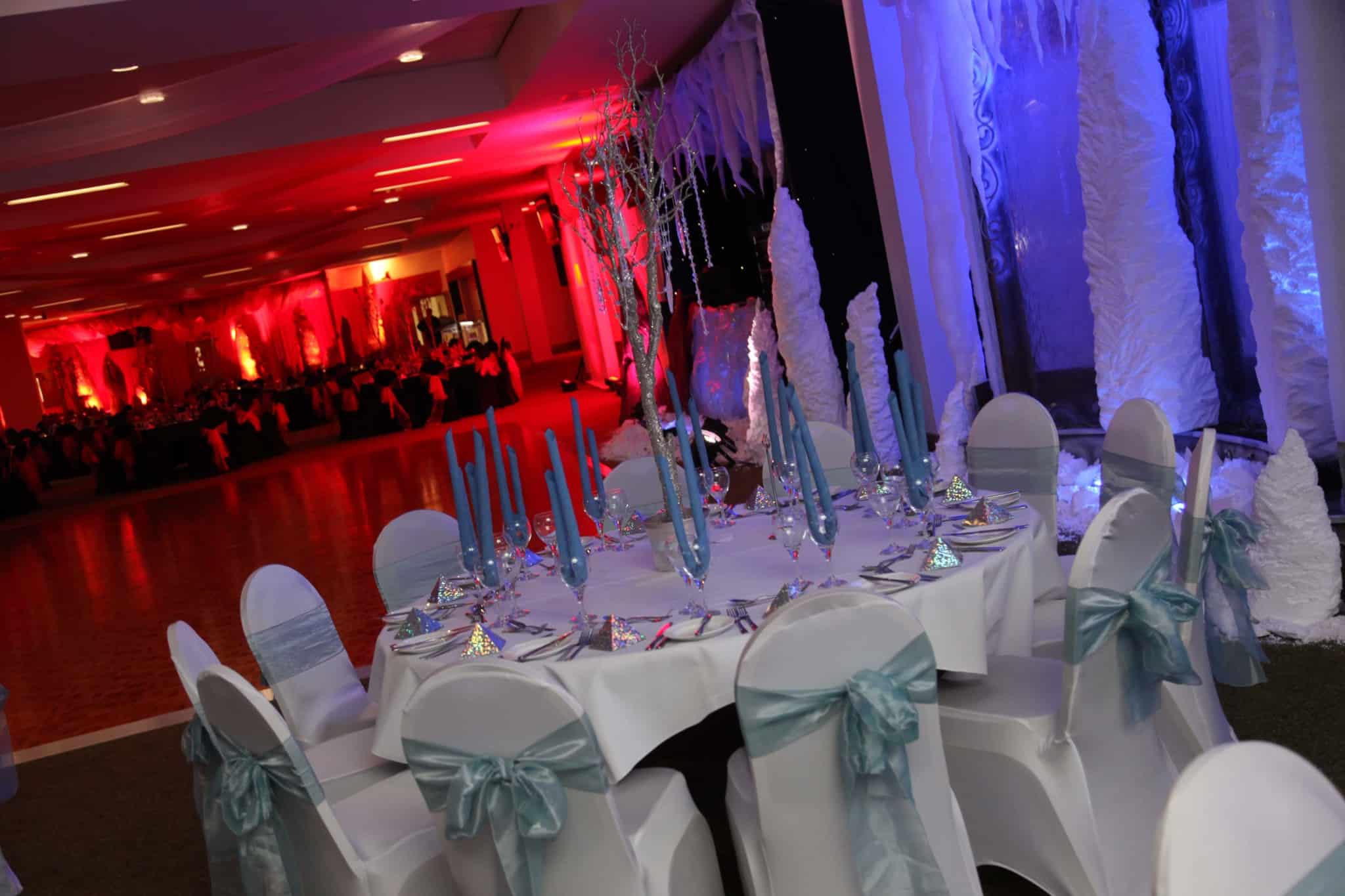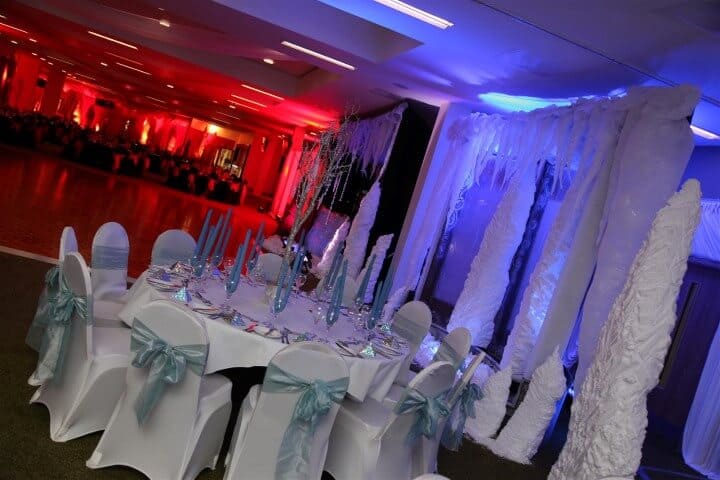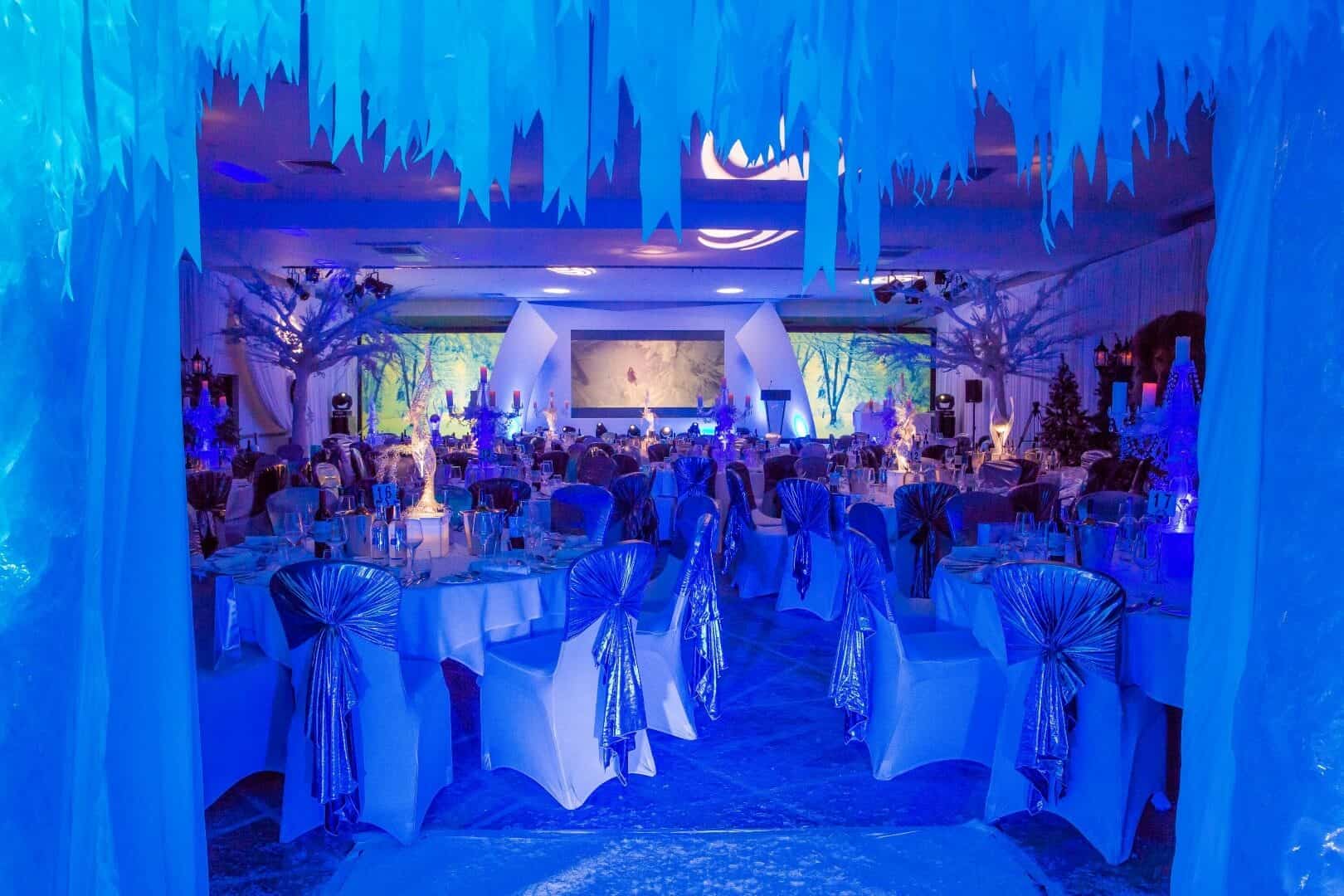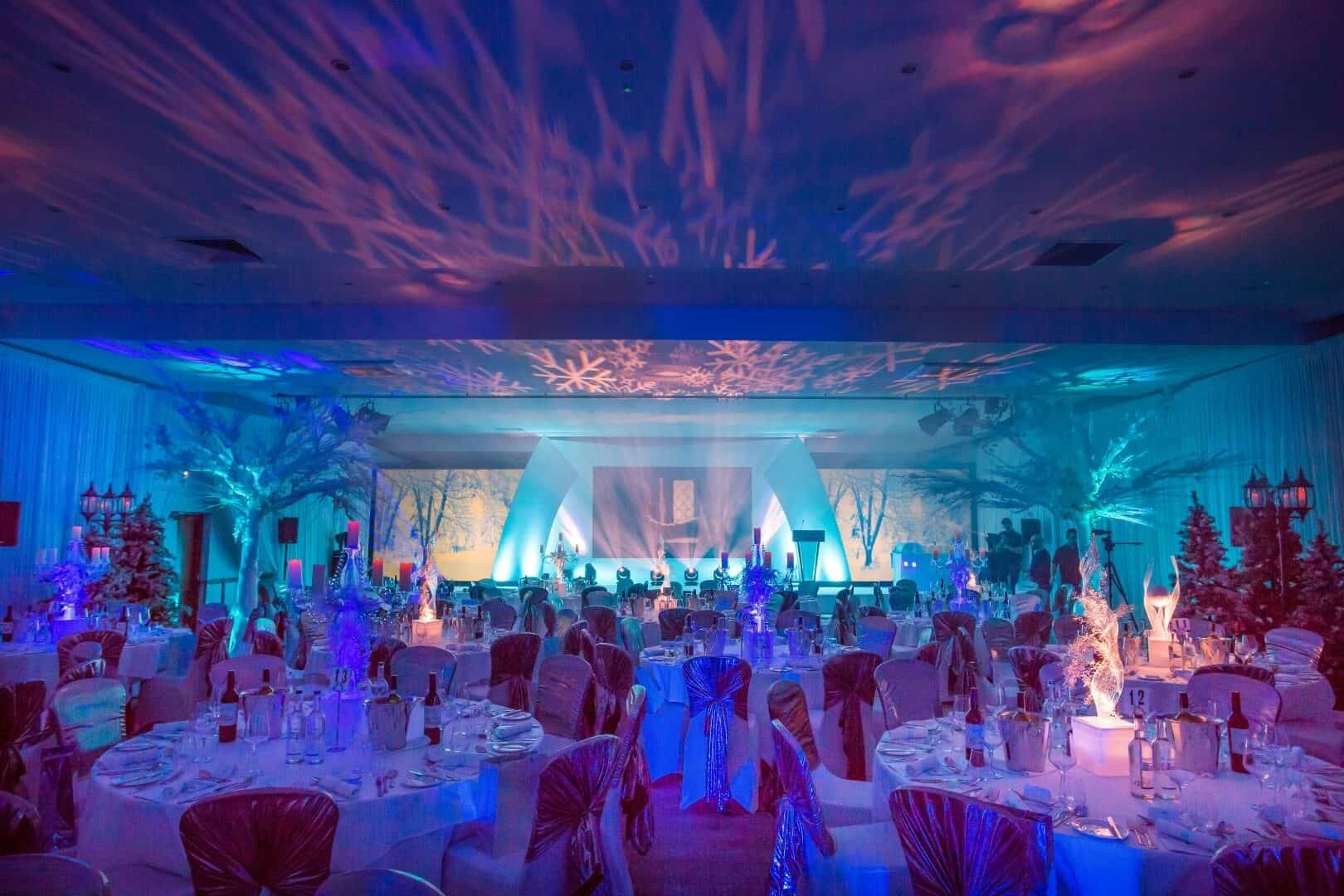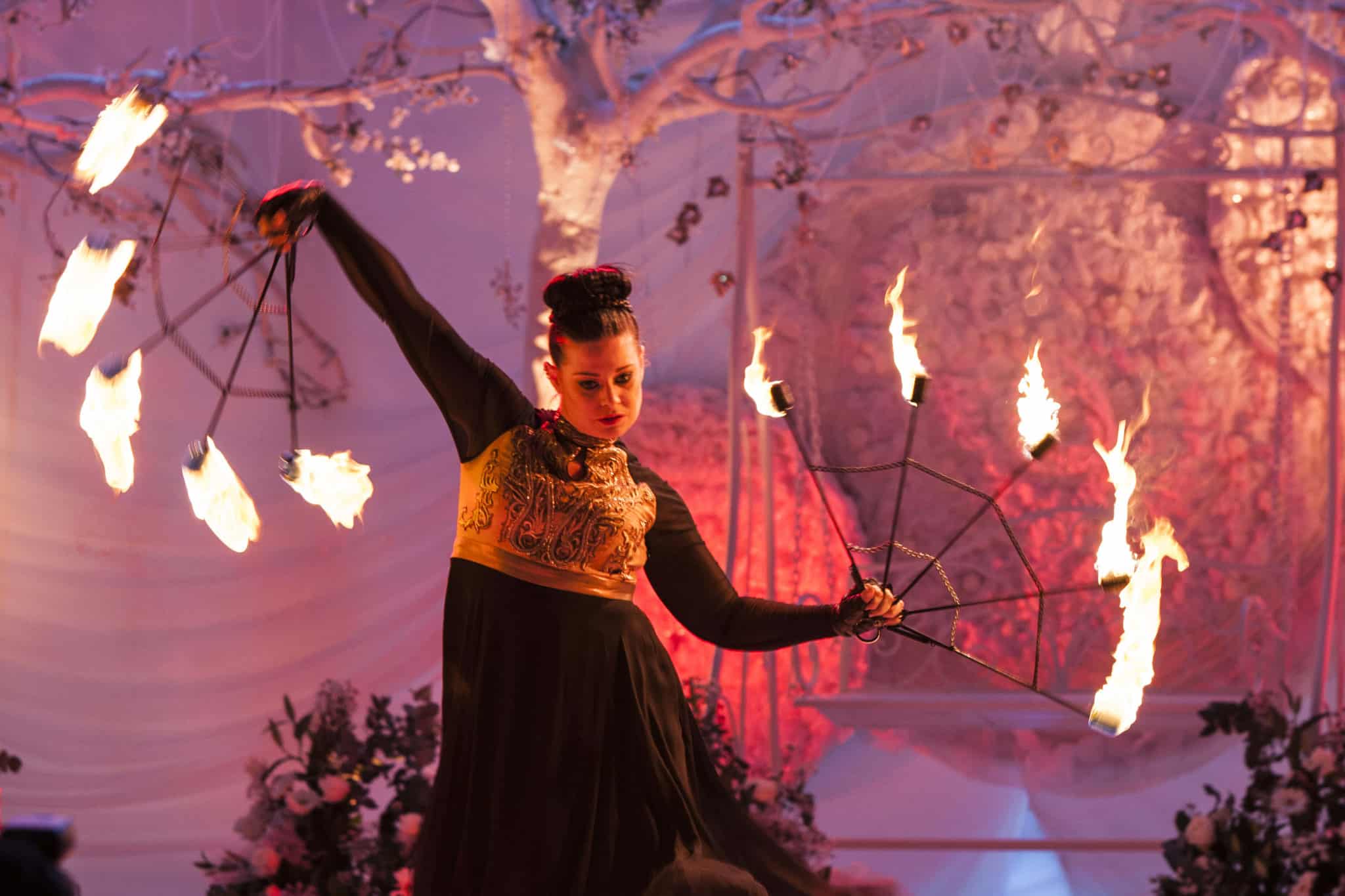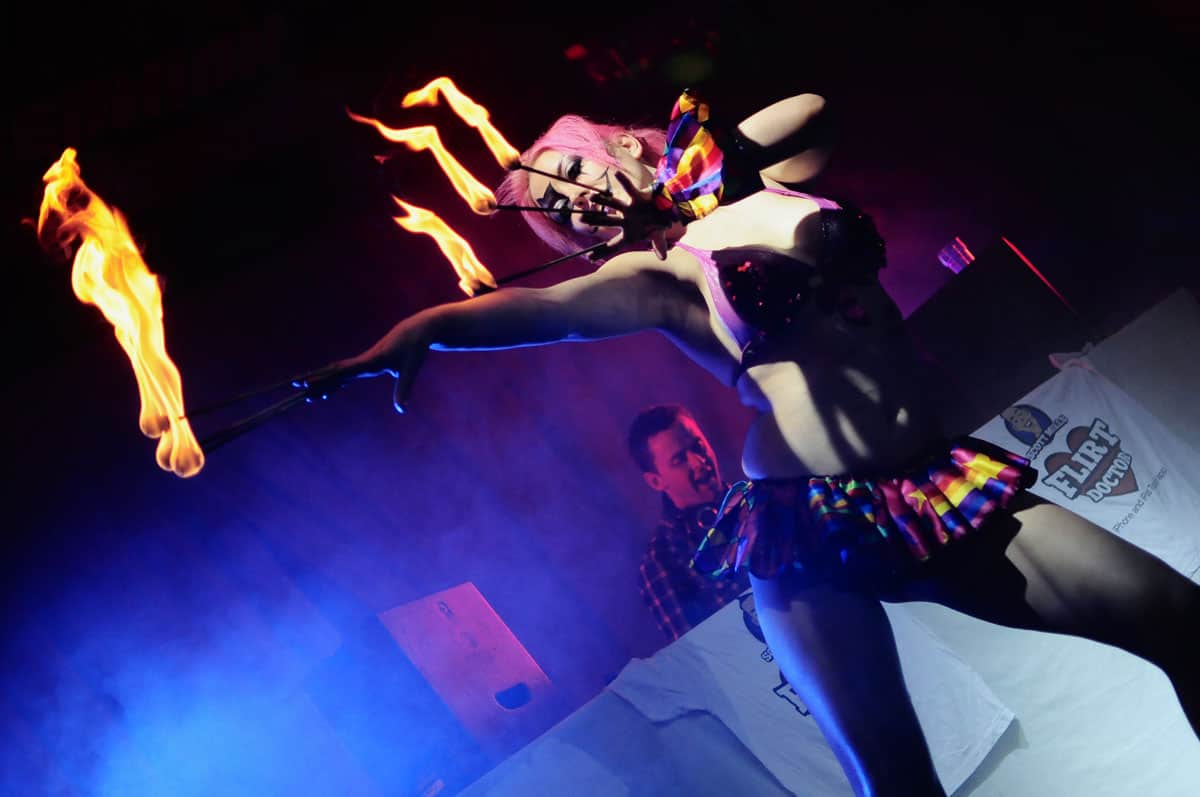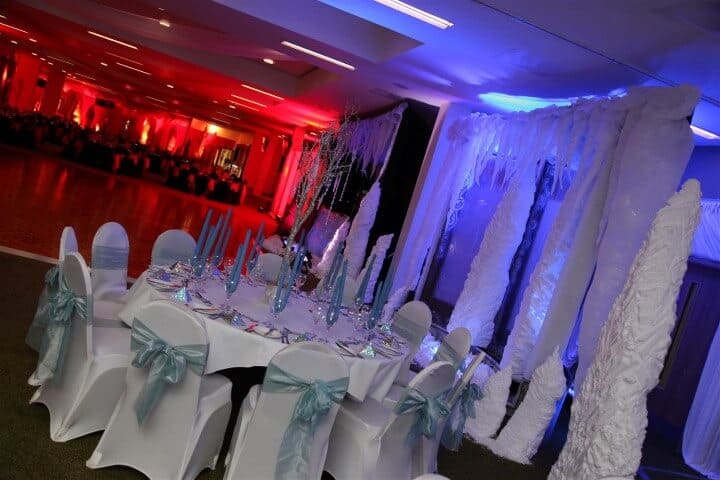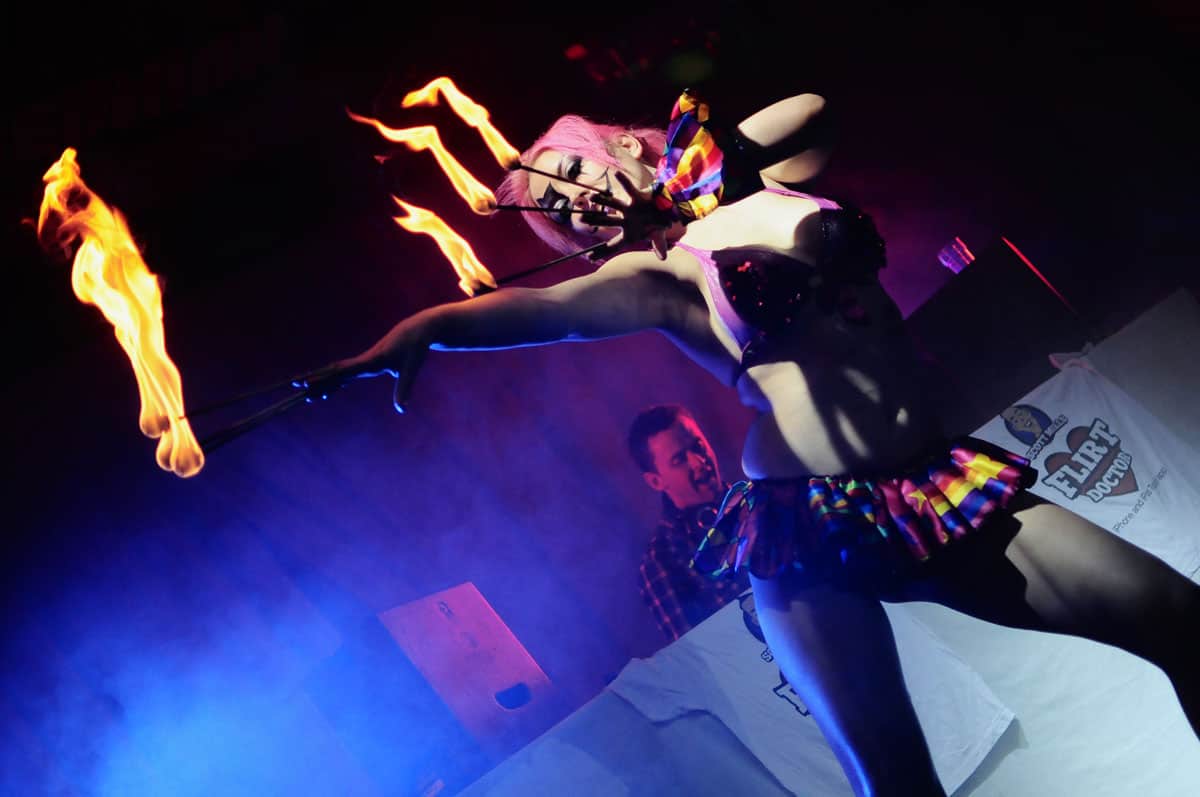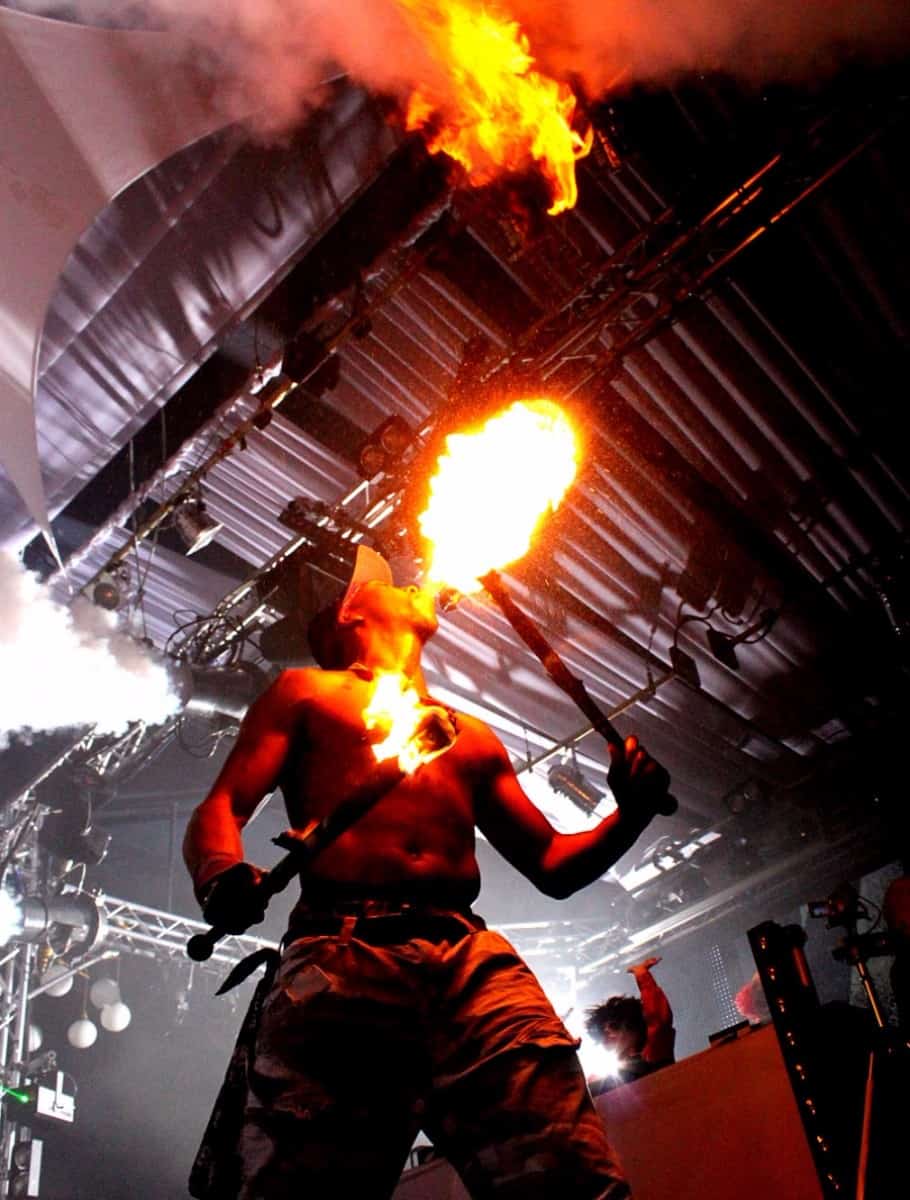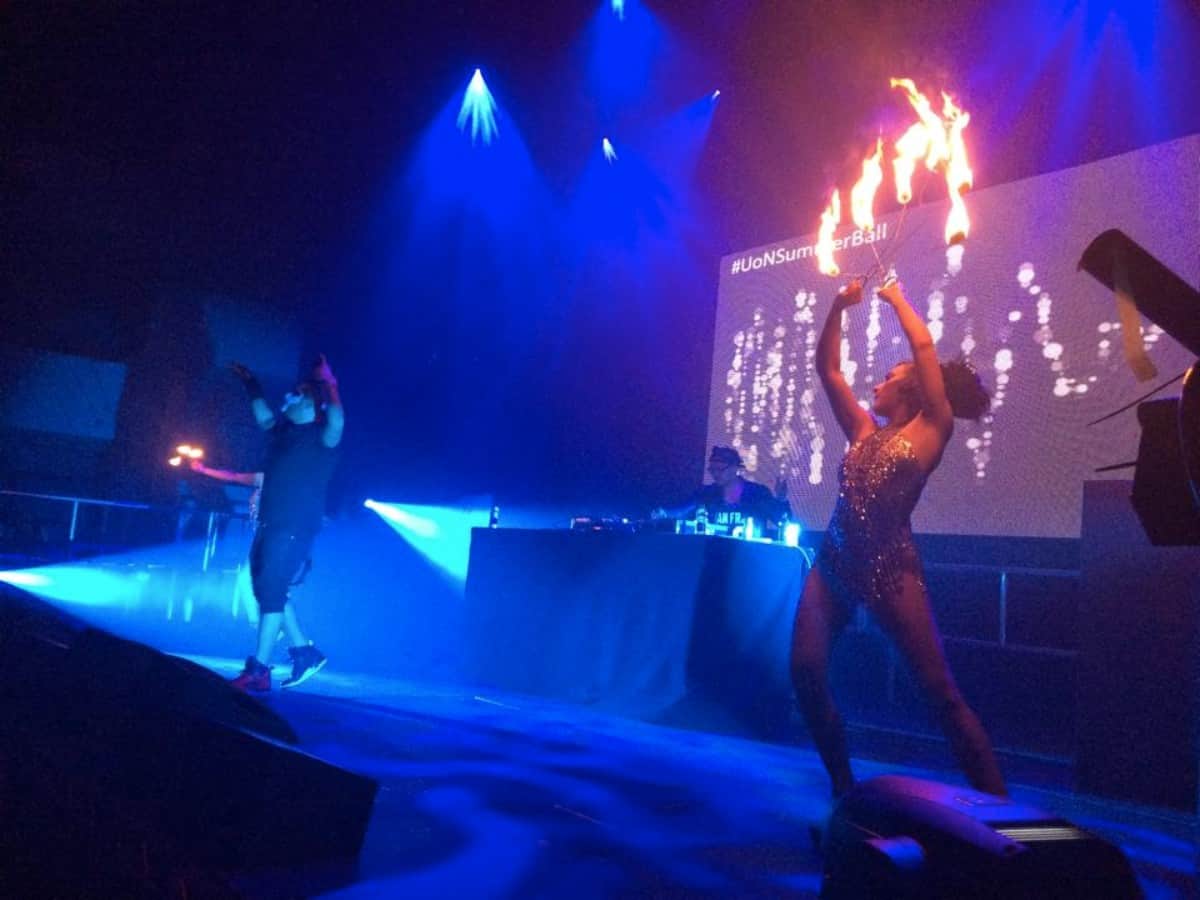 Leicester-Tigers-Fire-and-Ice
Fire-themed-Entertainment
fire-demon-and-ice-fairy-1
Fire-and-Ice-theme-Large-Small
Fire-and-Ice-Themed-Event
Fire-and-Ice-theme-Large-Small
led fire twist table centres
Leicester Tigers Fire and Ice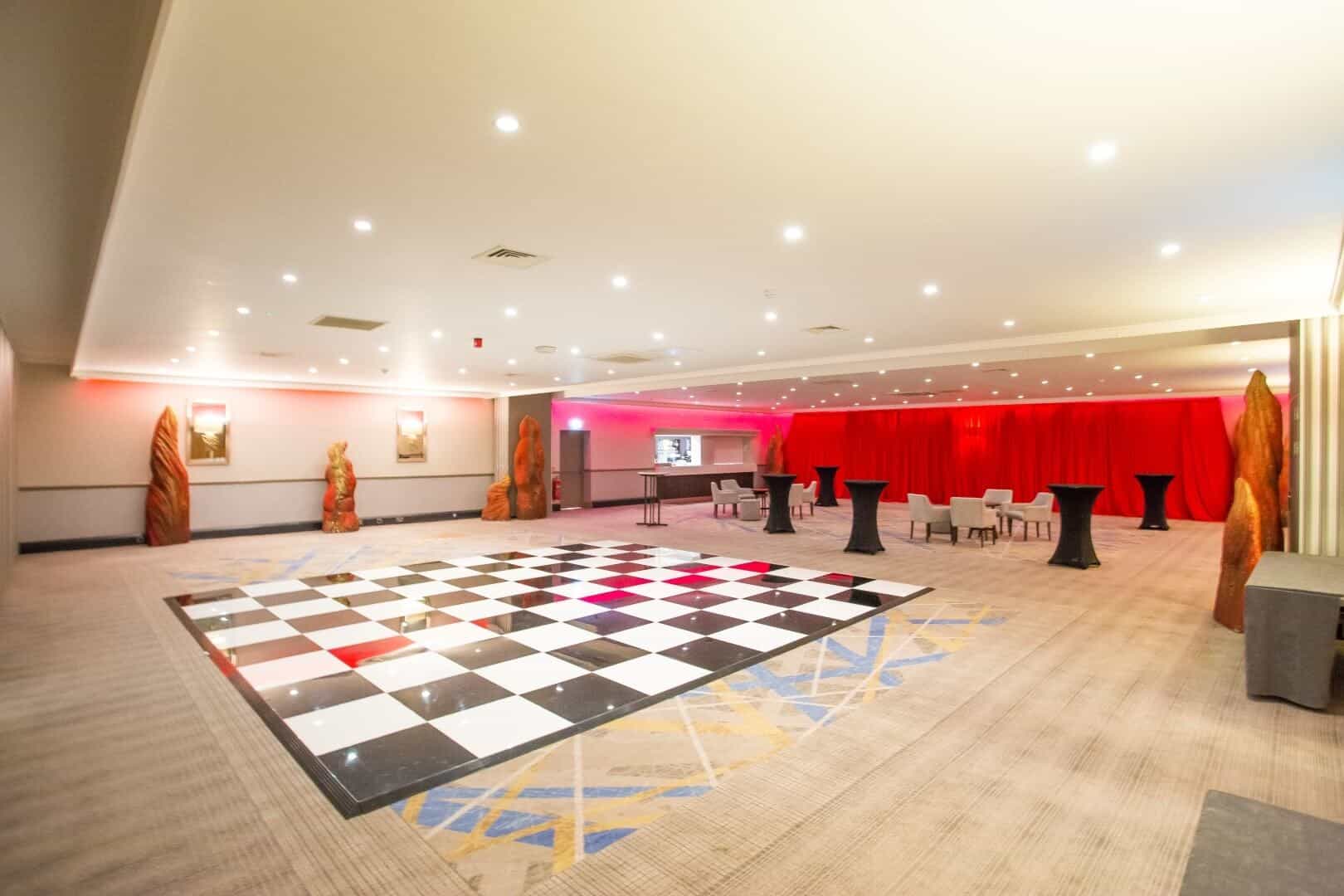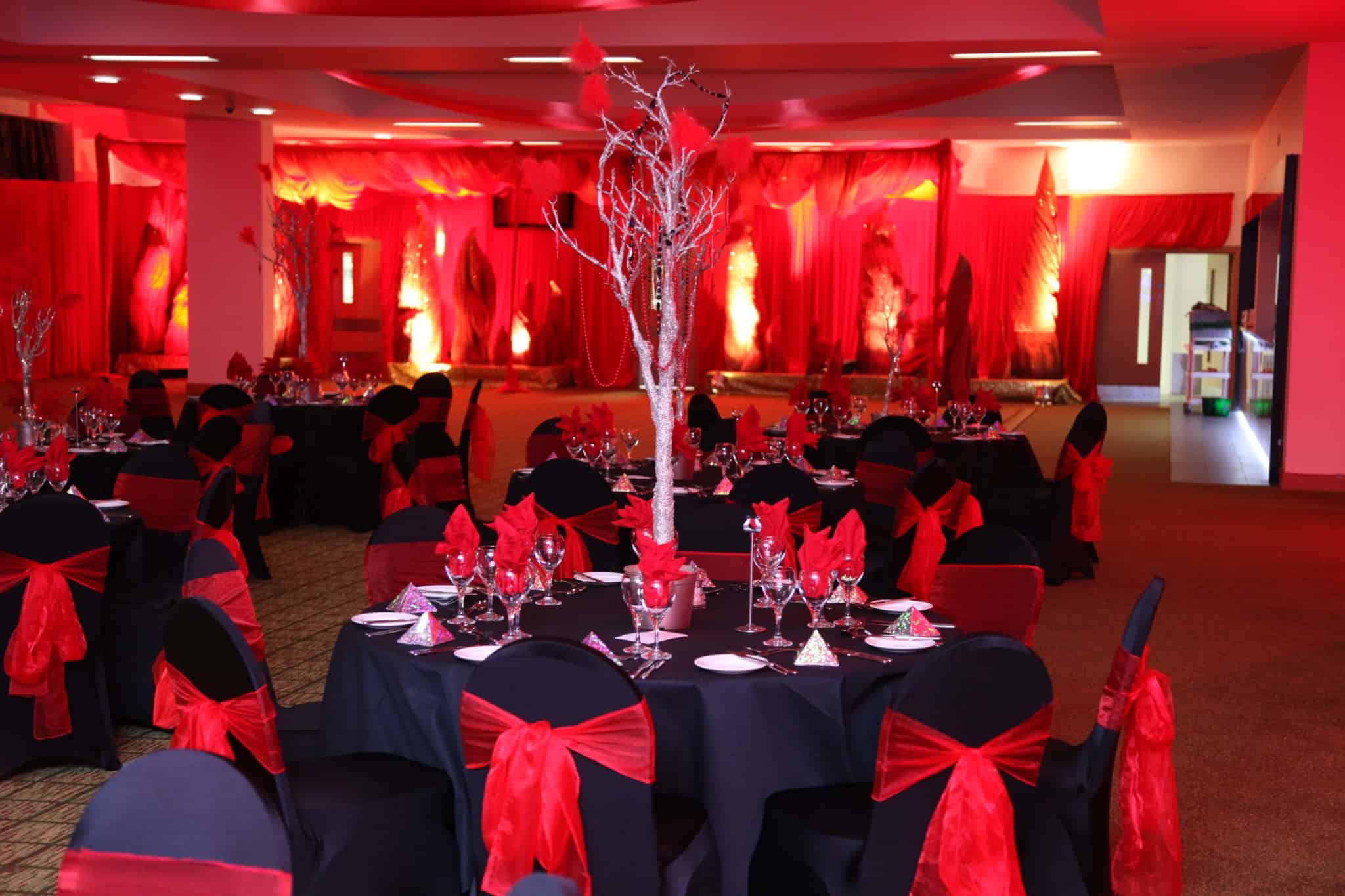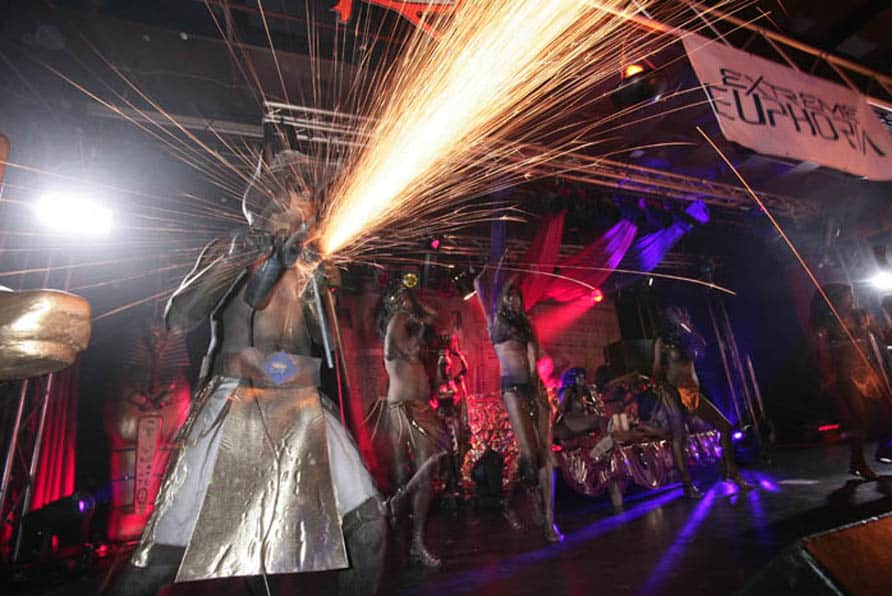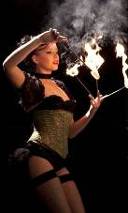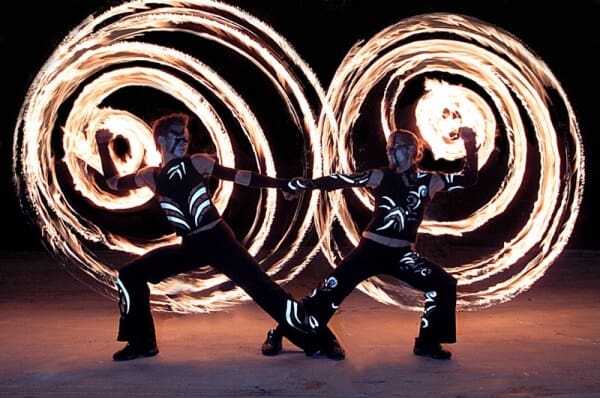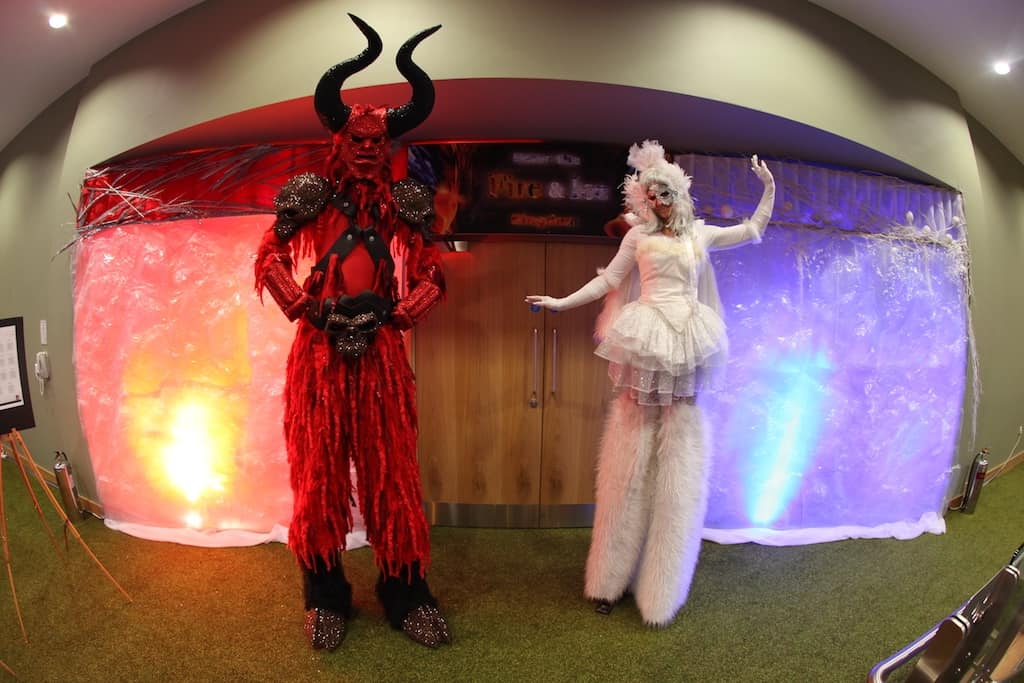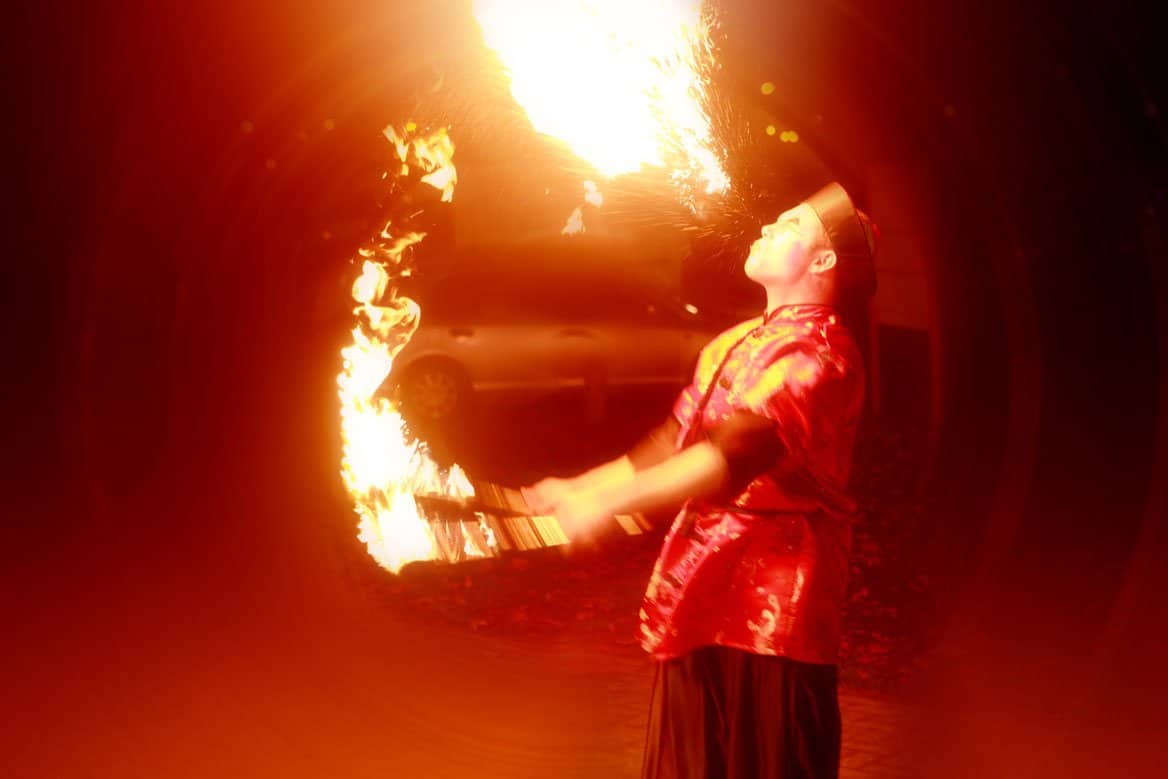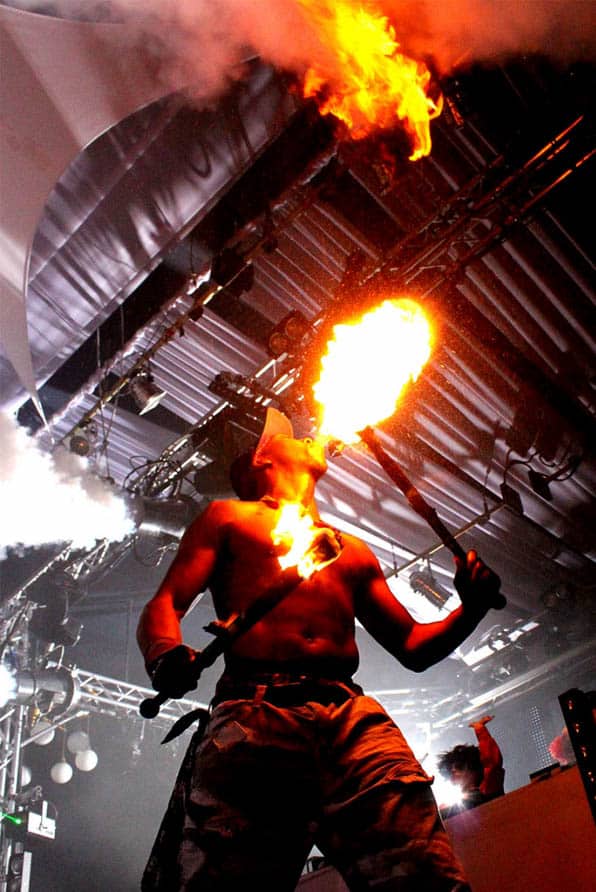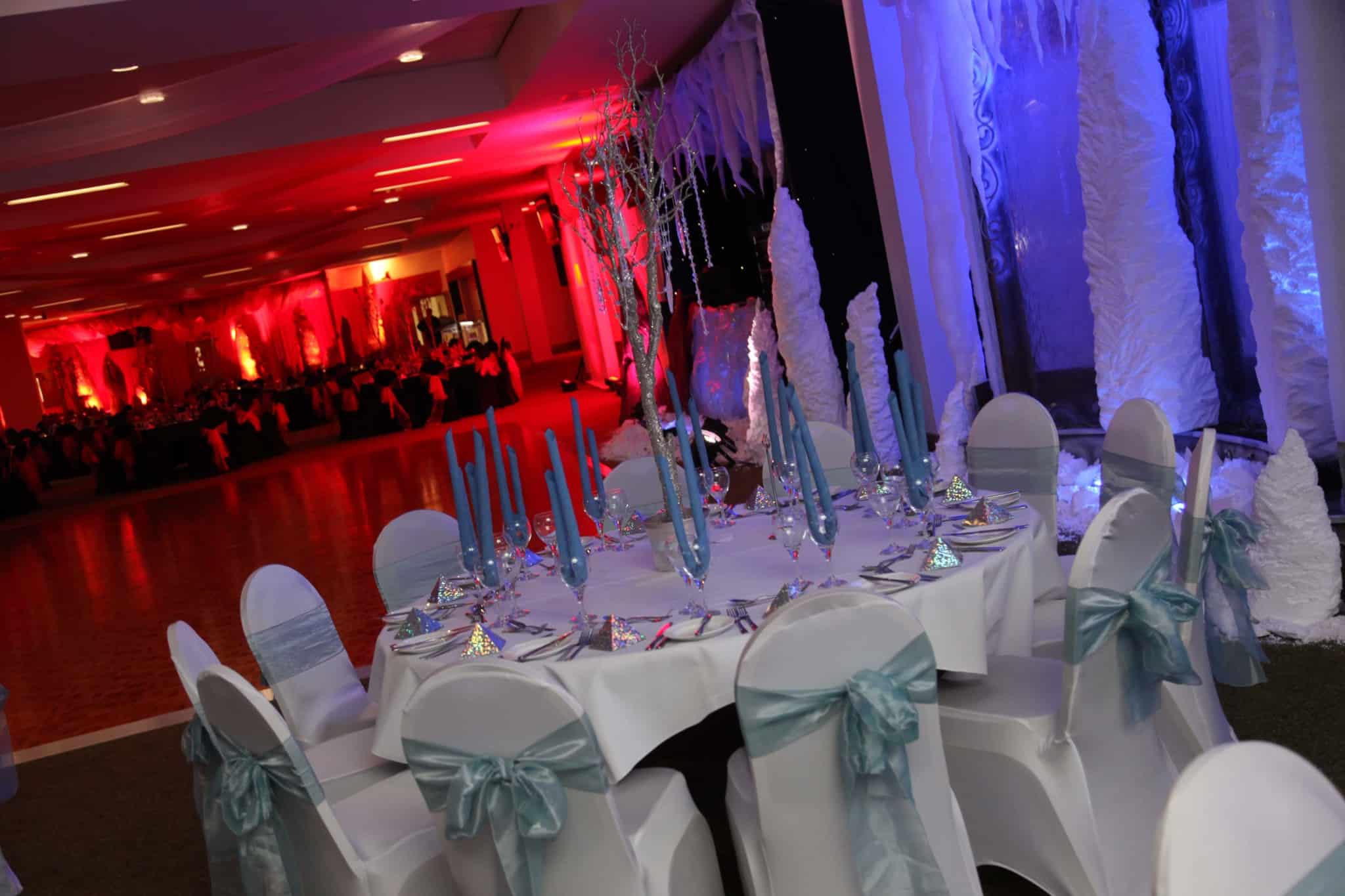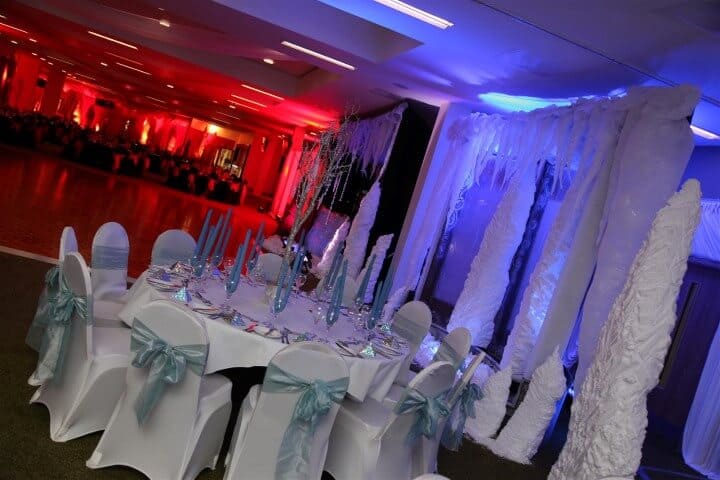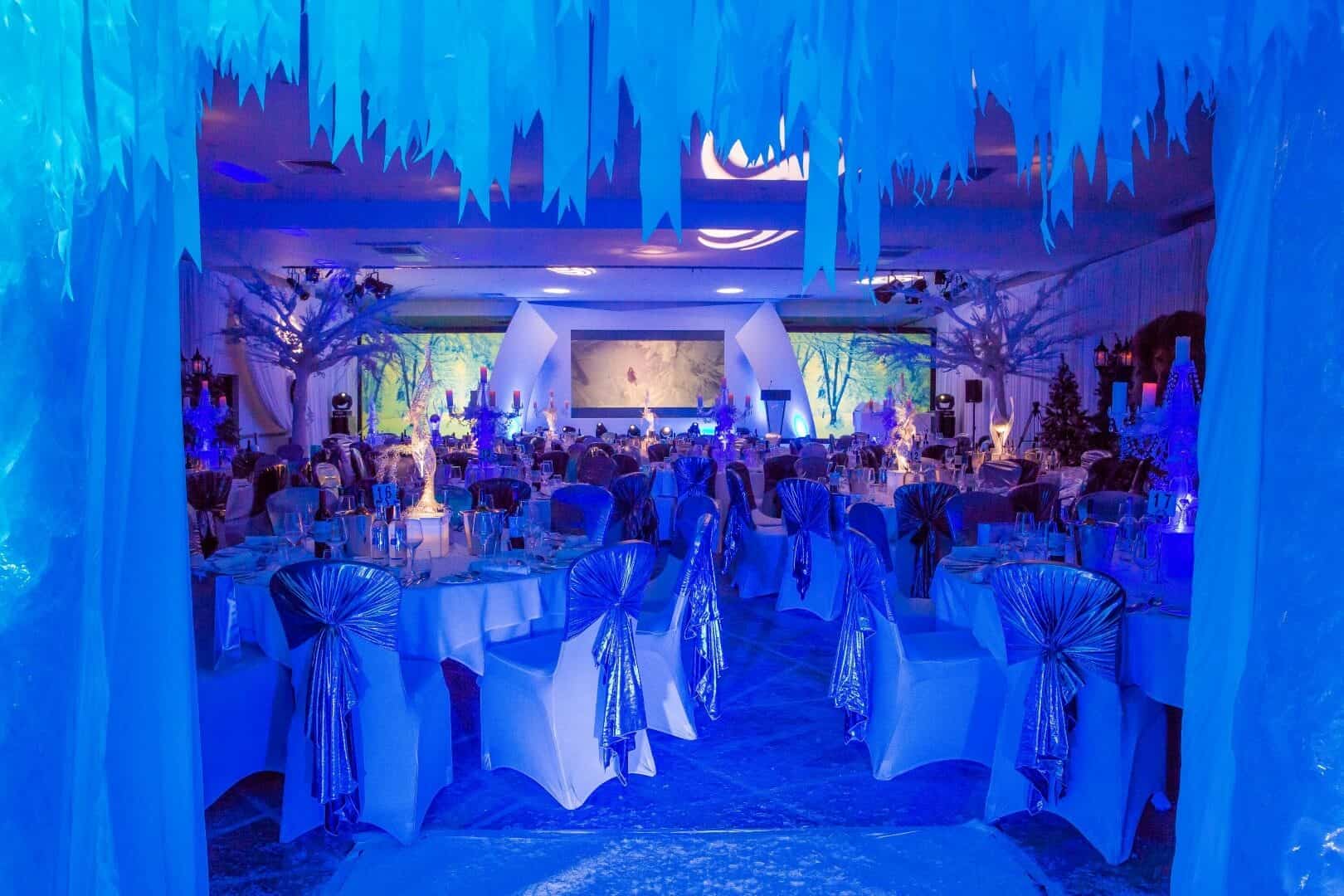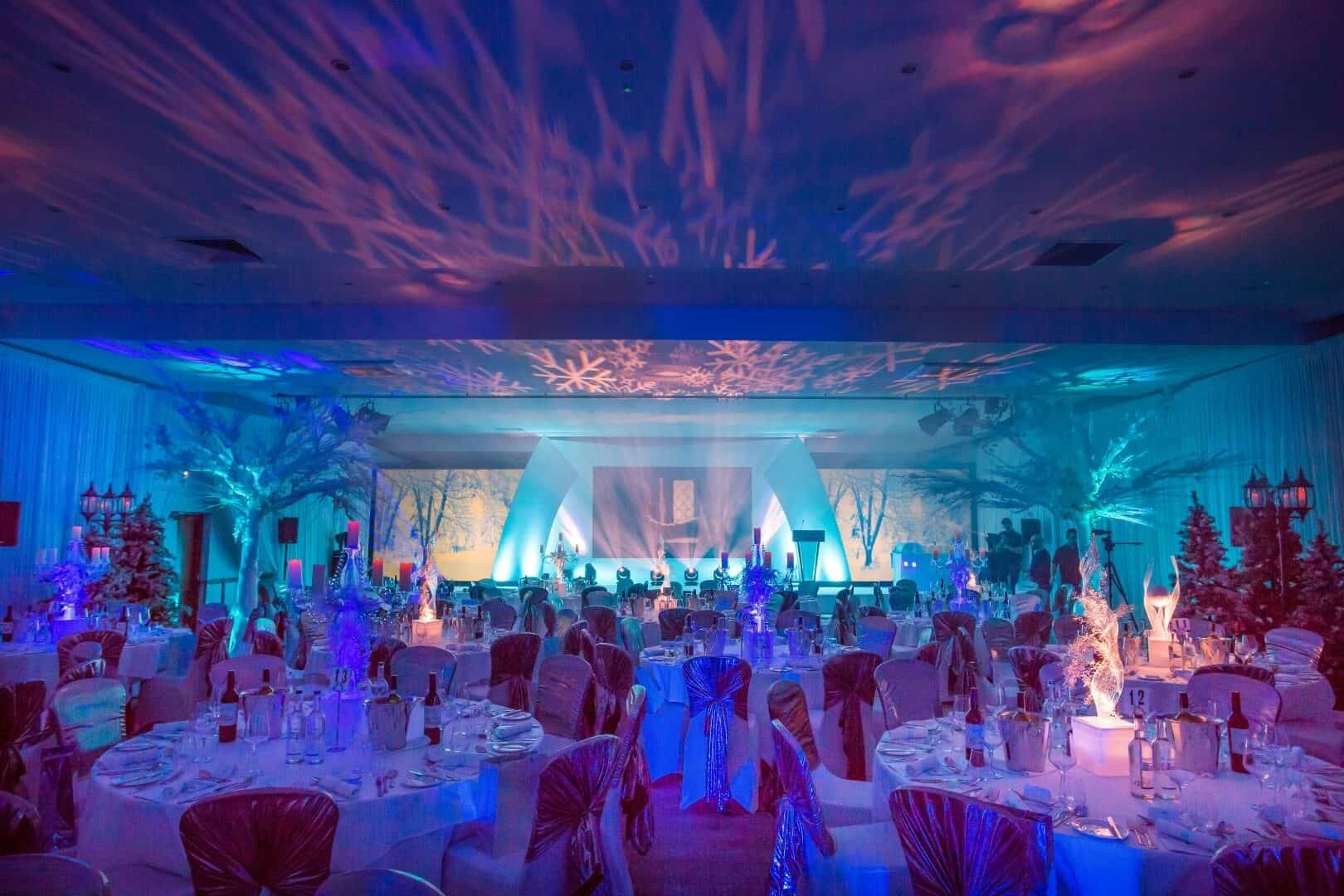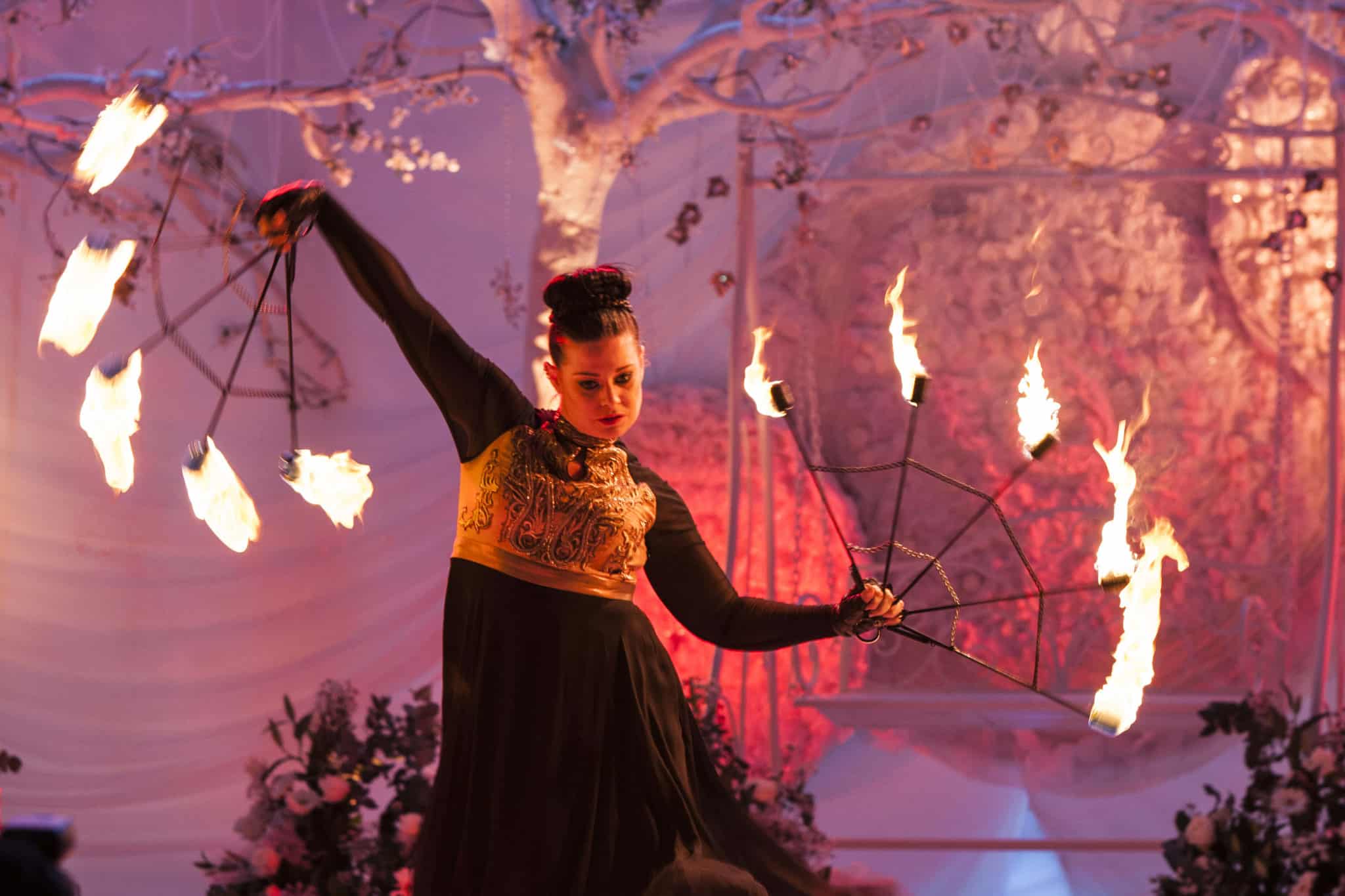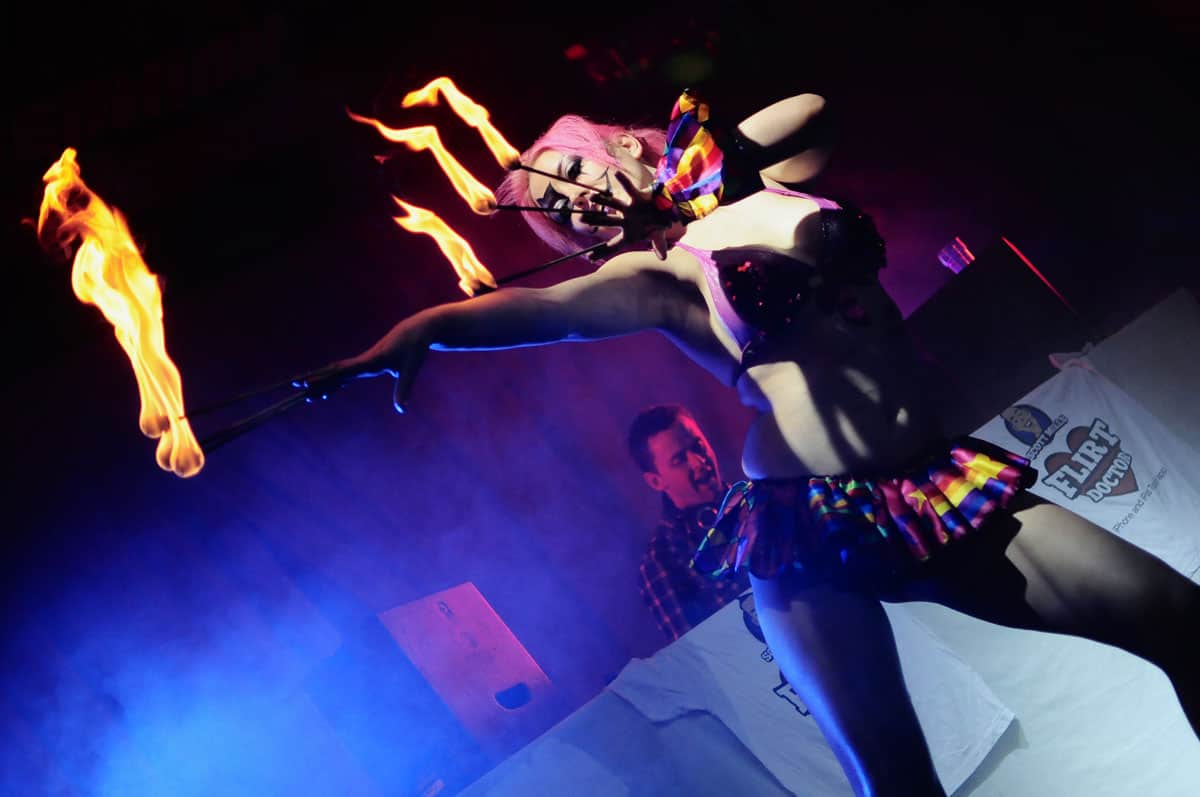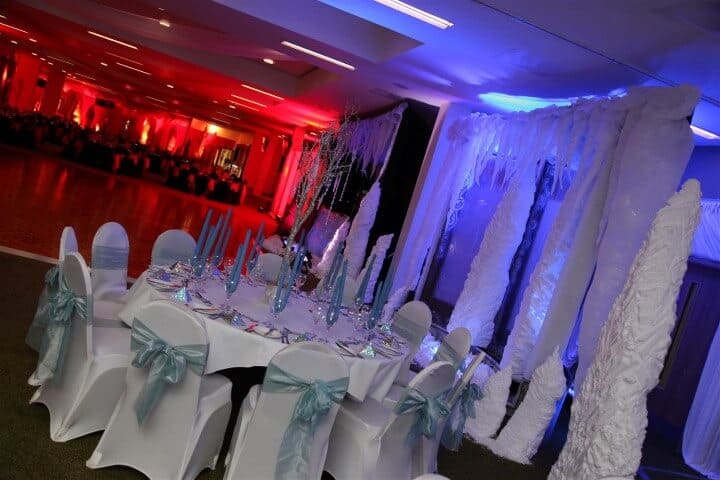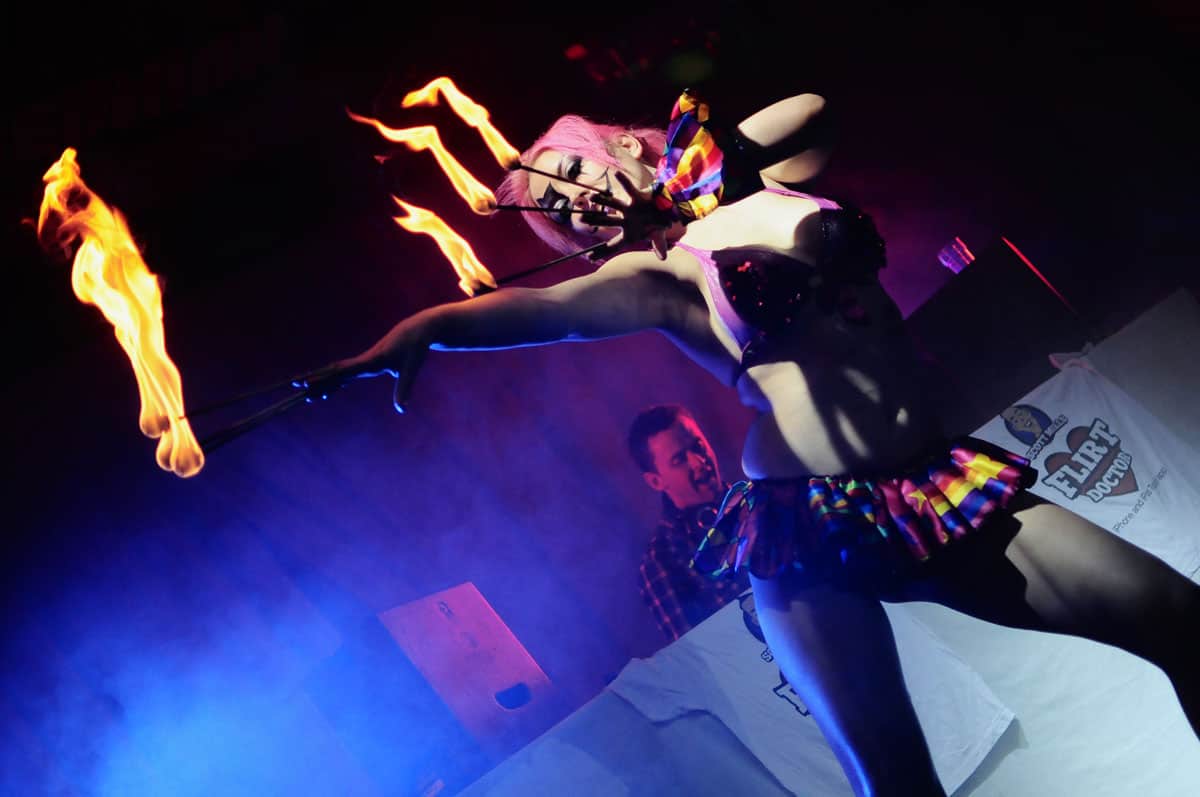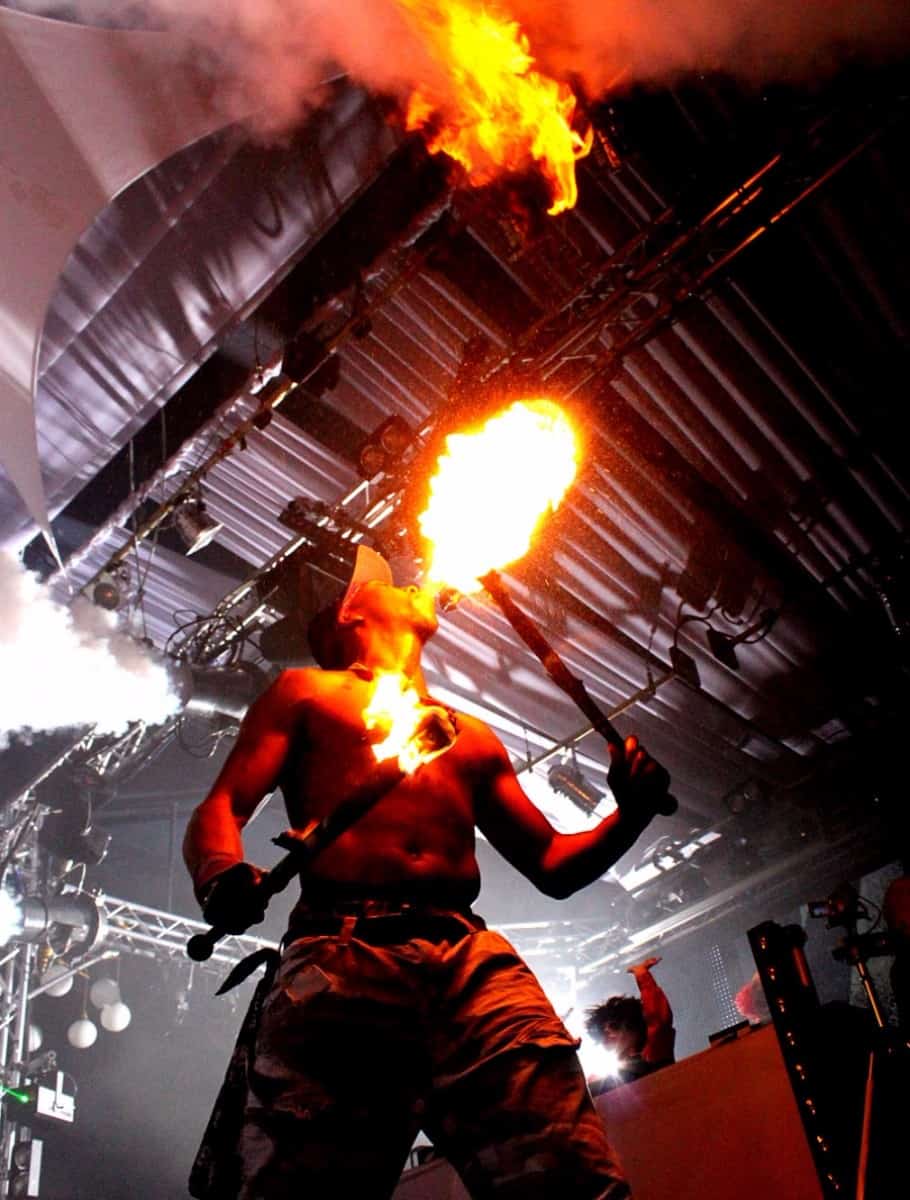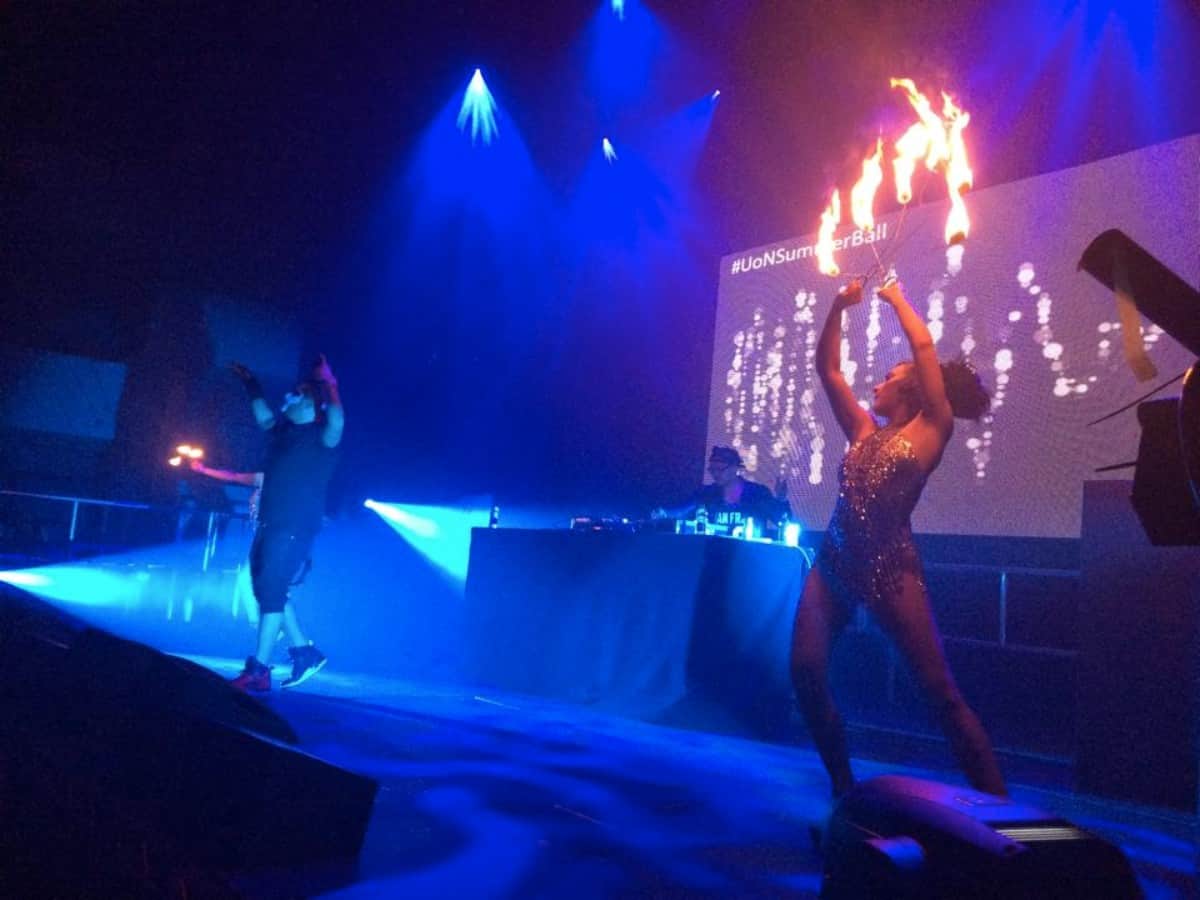 Turn up the Heat with our Cool Fire & Ice Christmas Party Theme!
Things are looking hot for your next Christmas Party Theme! Ever heard the saying opposites attract, well it couldn't be more true, especially when it comes to the theatrical Fire & Ice event theme by Eventologists, a perfect way to turn up the heat for your next Christmas party theme. This innovative theme combines two of the most dynamic and opposing elements to create a dramatic play on duality and an ambience your guests will never forget.
The creation of this event has two exciting options with regards to the layout. You can either split your venue into two separate Fire and Ice areas, keeping the contrasting elements apart, or you can fuse the two together for an explosion of heat and frost. Either way this explosion of elements is sure to fuel an event your guests will never forget!
To transform the room into separate Fire and Ice spaces, Eventologists will use red, yellow and orange coloured décor schemes and props across one side to represent the flames and heat of the fire, alongside blue, white and purple décor on the other side to make your guests feel icy cold. Dress it up with a showcase of Flame table centrepieces or Candelabras on one side and Icy Willow or Ice Sculpture table centres on the other. Finally, we will tie this incredible atmosphere together with our amazing Fire Performers and Ice Fairies to provide your guests with mesmerising entertainment, aligning the two themes for a night filled with drama!
If you choose to have these elements separate, an exciting way to split the themes between different rooms ensuring your guests are immersed from start to finish, is to have guests enter via a fiery drink's reception, with flames, hot beverages and Fire Performers. From there on, your guests will walk through a cool ice tunnel into a room adorned with icy décor and frosty details. This will ensure that your guests are surrounded in the perfect atmosphere for them to 'chill' out in as the evening goes on!
If you chose to fuse the two elements together in a mesmerising event exploring the heat of fire and the cold of ice, we can offer a mixture of red and orange draping, icy table centres and frosty décor. You will have both our incredible Fire performers and our elegant Ice Fairies entertaining your guests throughout your event, each showcasing their spectacular element, allowing your guests to chose which is superior.
Whatever way you chose to present this event, the captivating combination of opposing elements is sure to grab your guest's attention and immerse them in a dramatic event that they will never forget!
Our Fire and Ice Décor and Props include:
Large Fire Prop Hire
Fire and Ice Stage Backdrop Hire
Twinkle Twig Entrance Hire
Star Cloth Draping Hire
Candle Table Centres Hire
Check out our Table Centre hire here.
Fire and Ice Entertainment includes:
Ice Fairies
Fire Performers
Contortionists
Aerialists
To find out more about our dramatic Fire & Ice event theme, speak to one our Event Stylists today.
The Top 6 Corporate Christmas Party Themes This Festive Season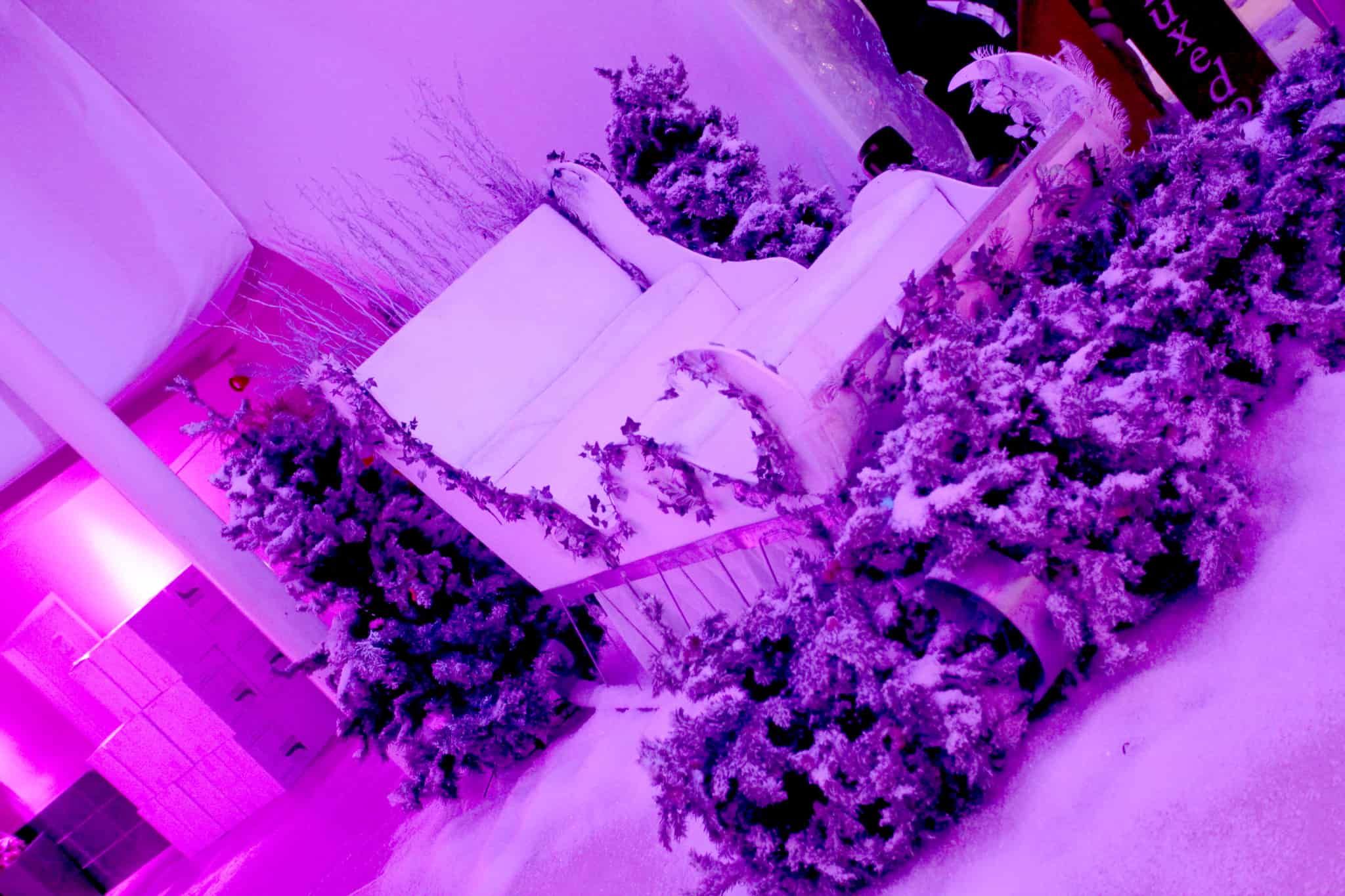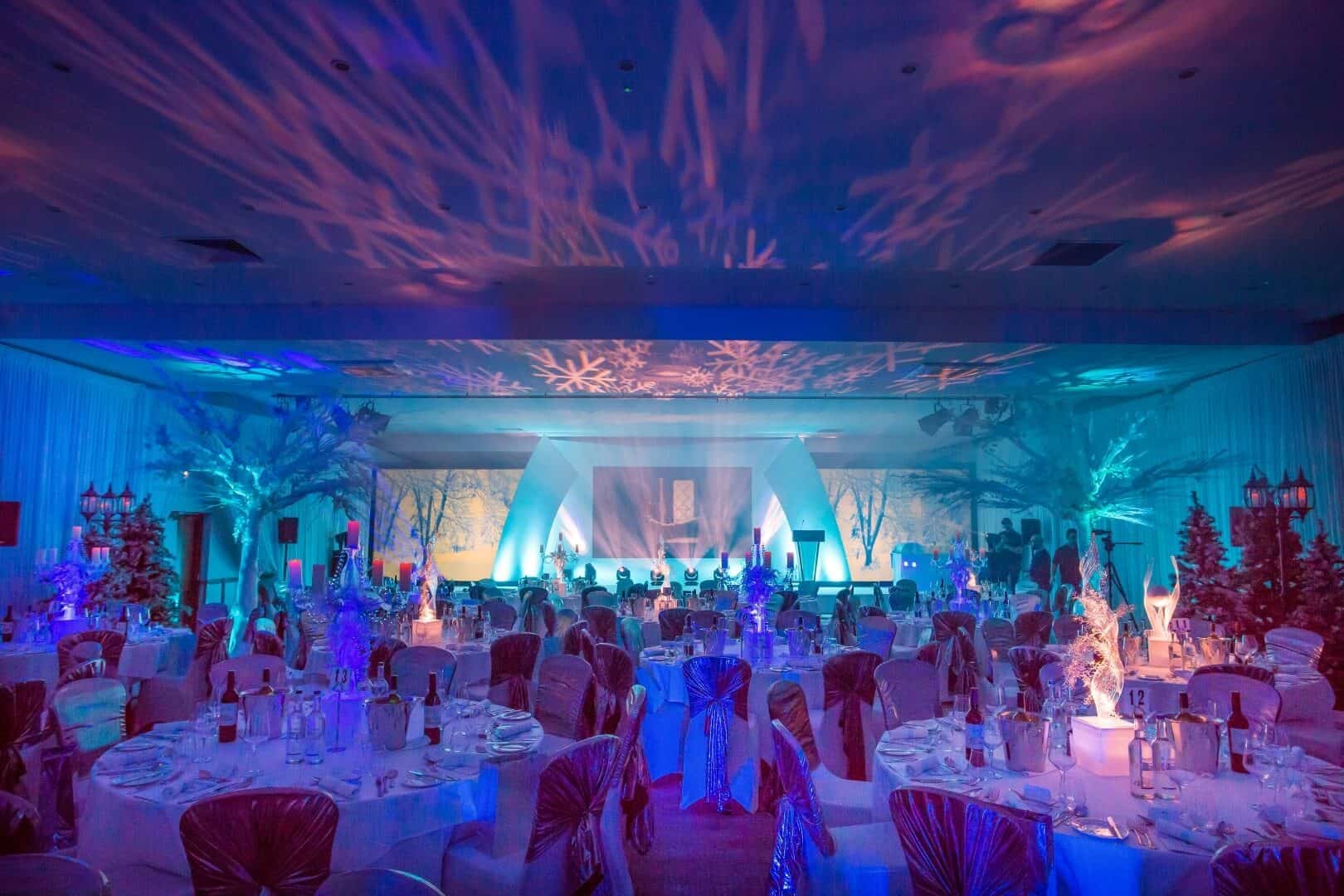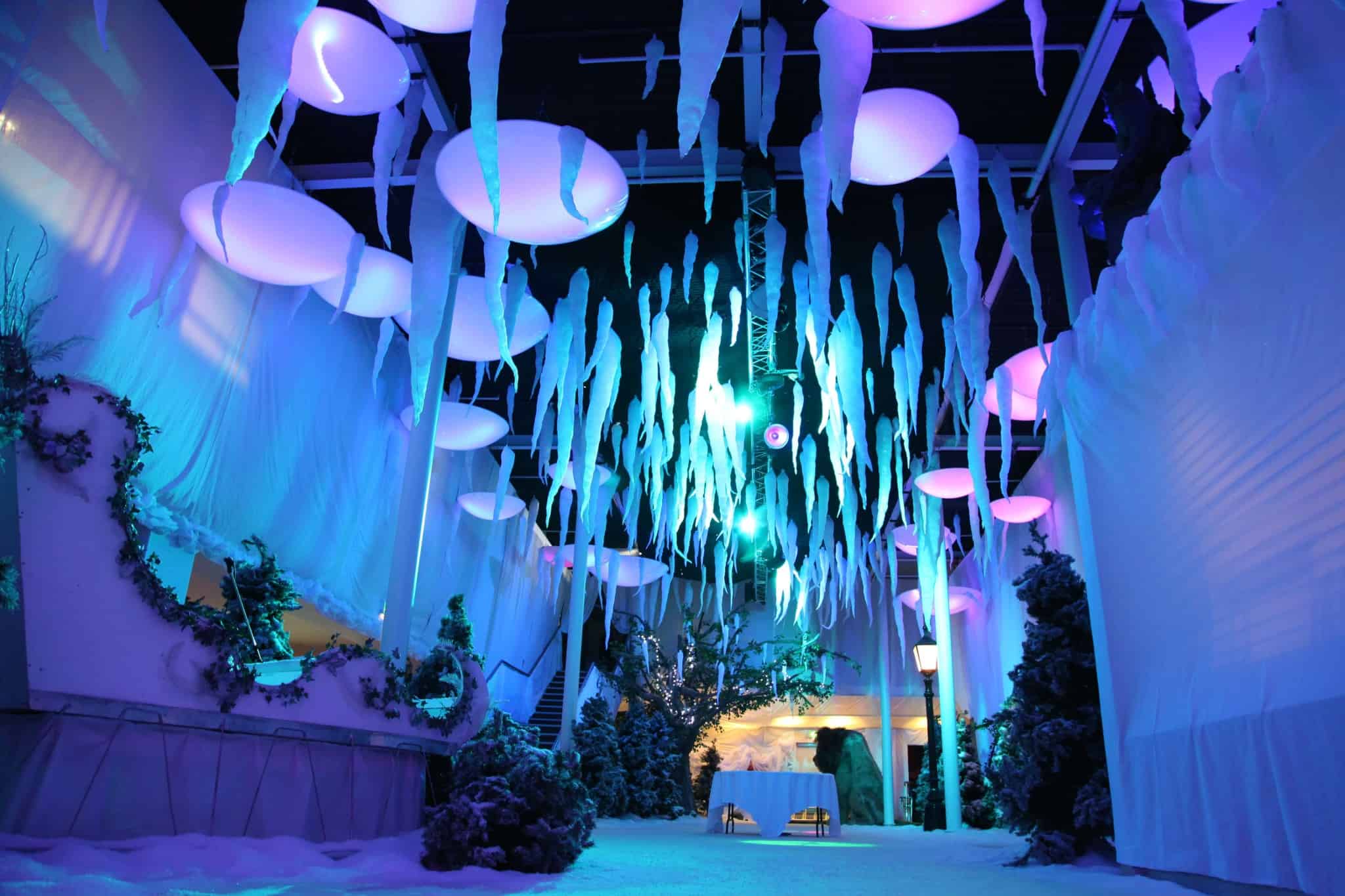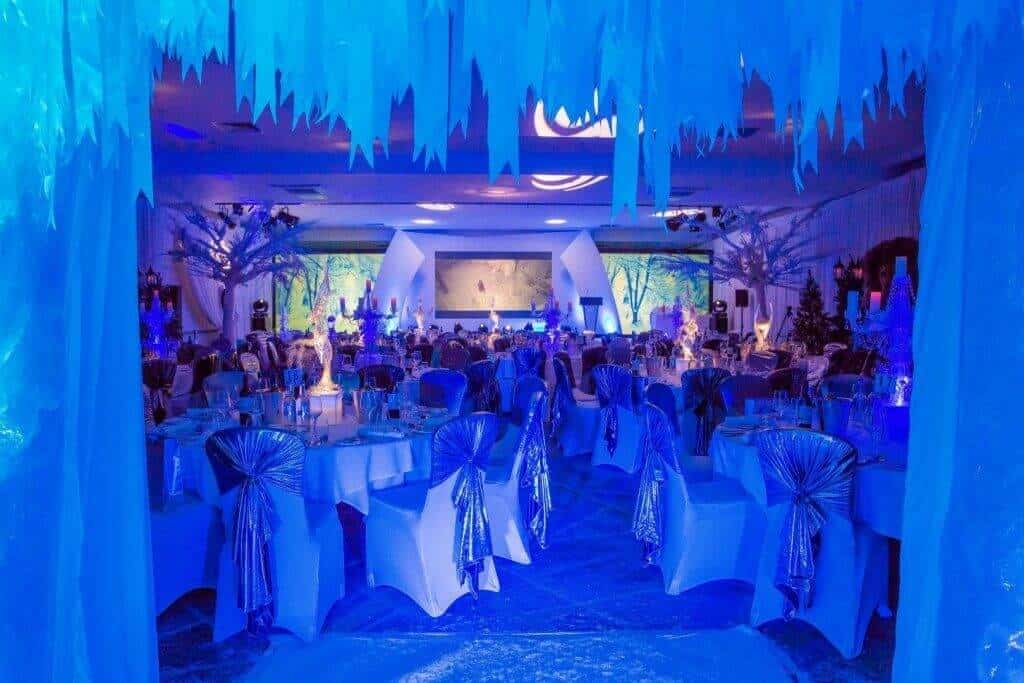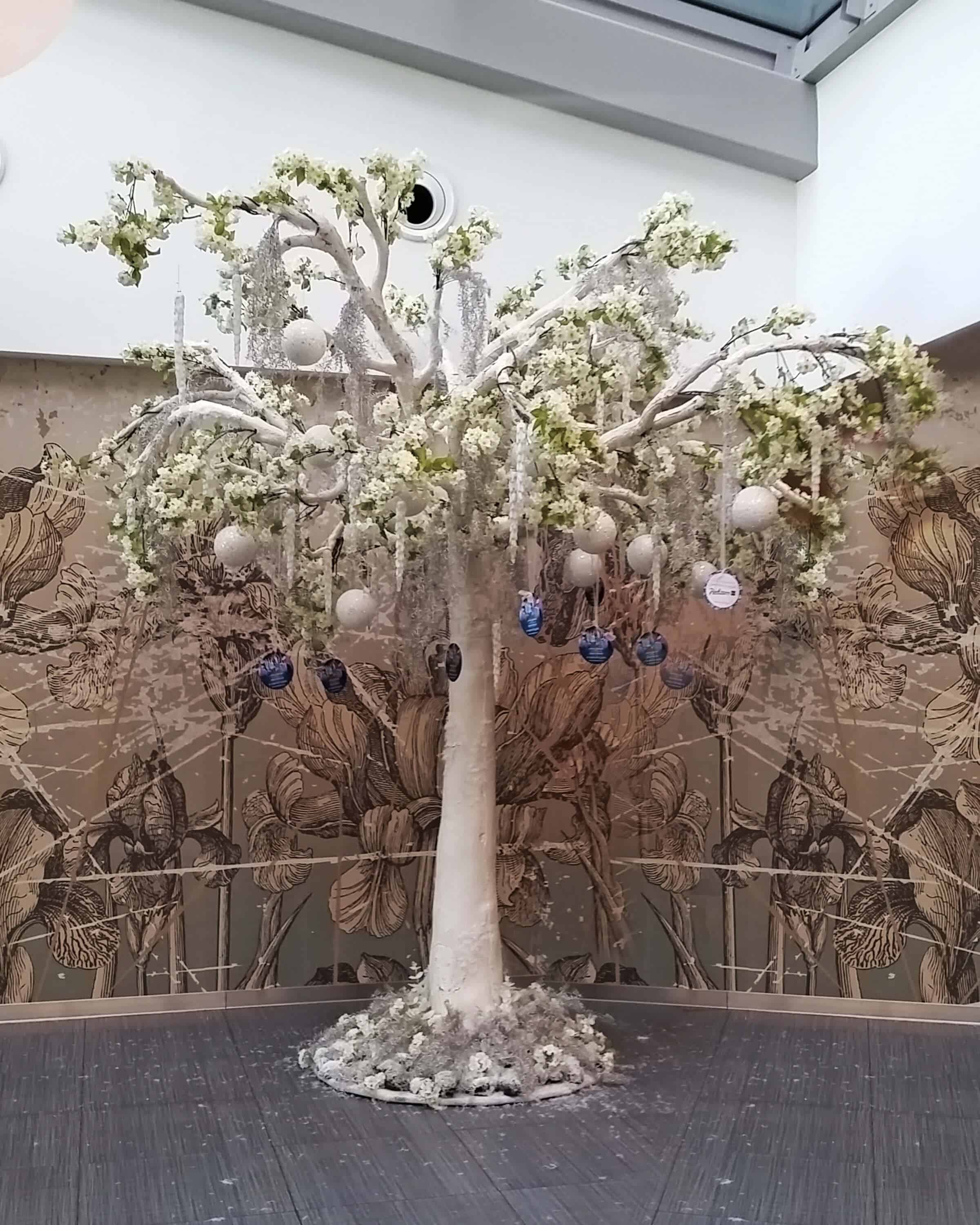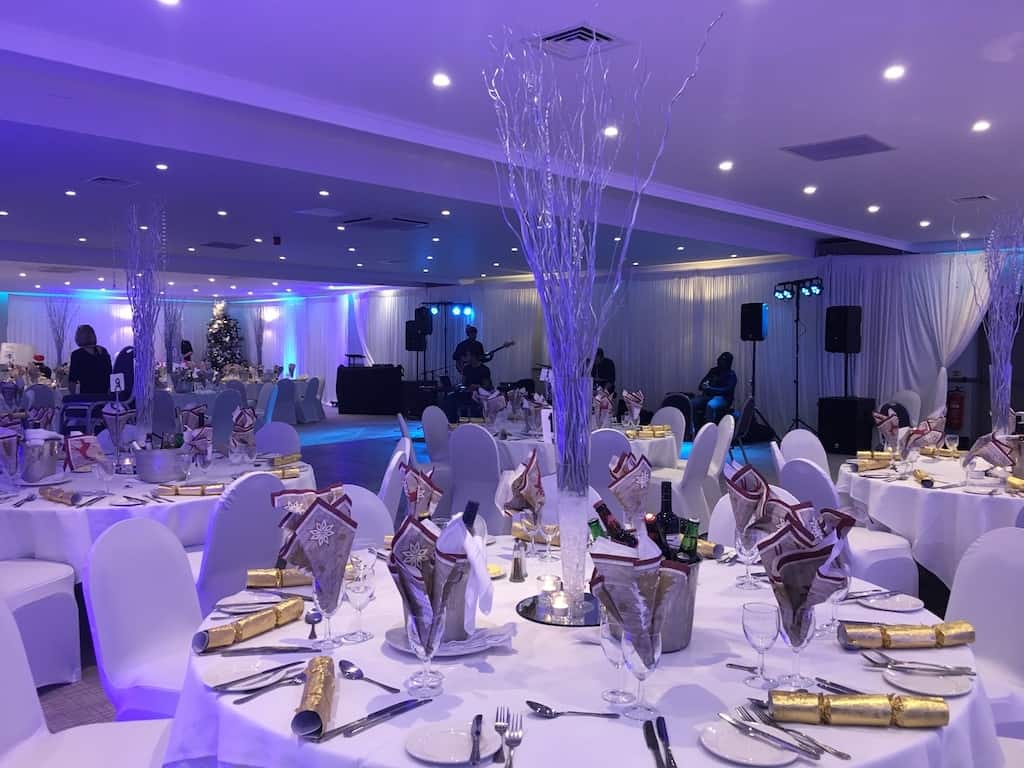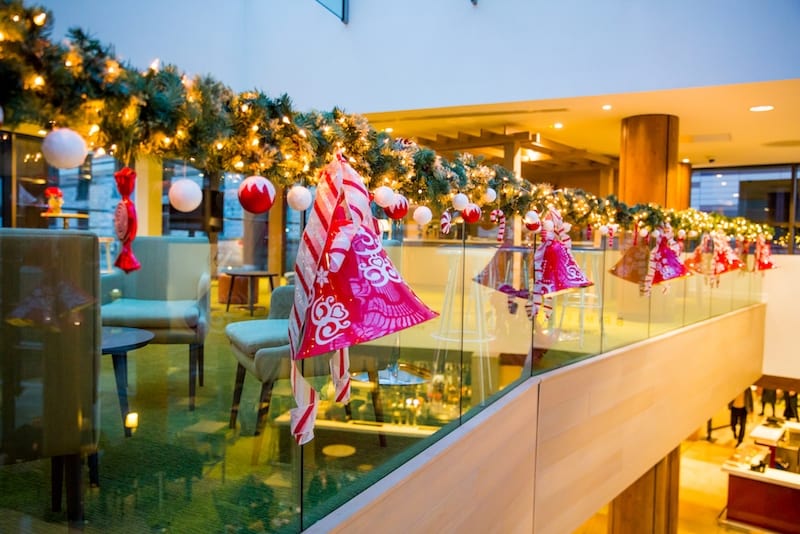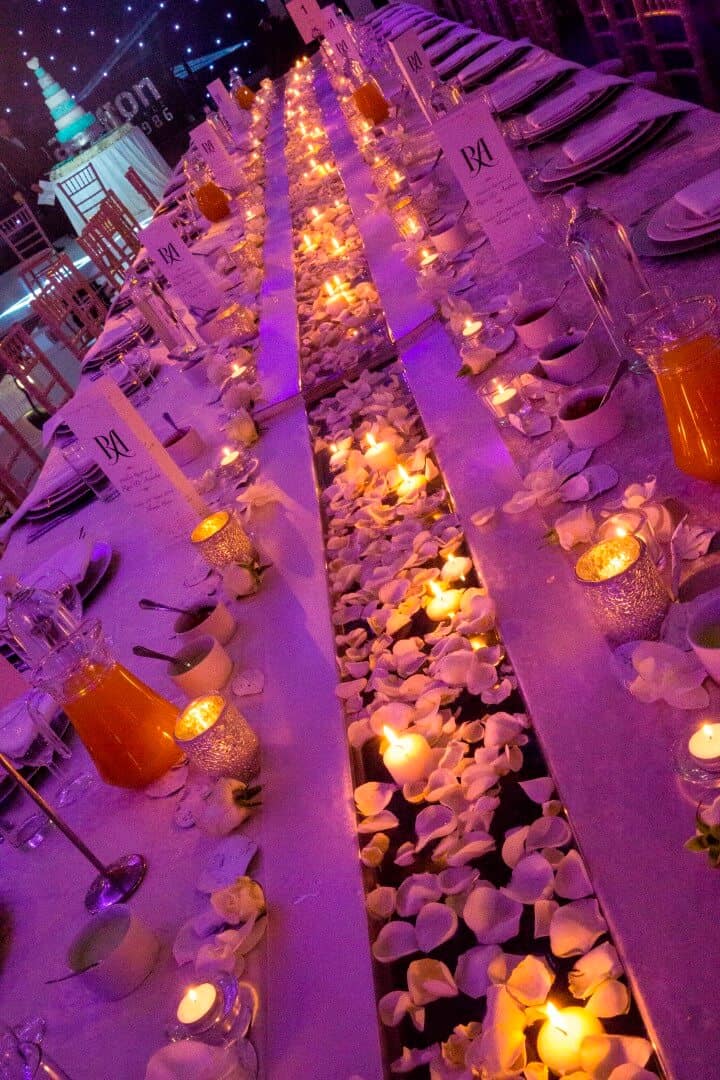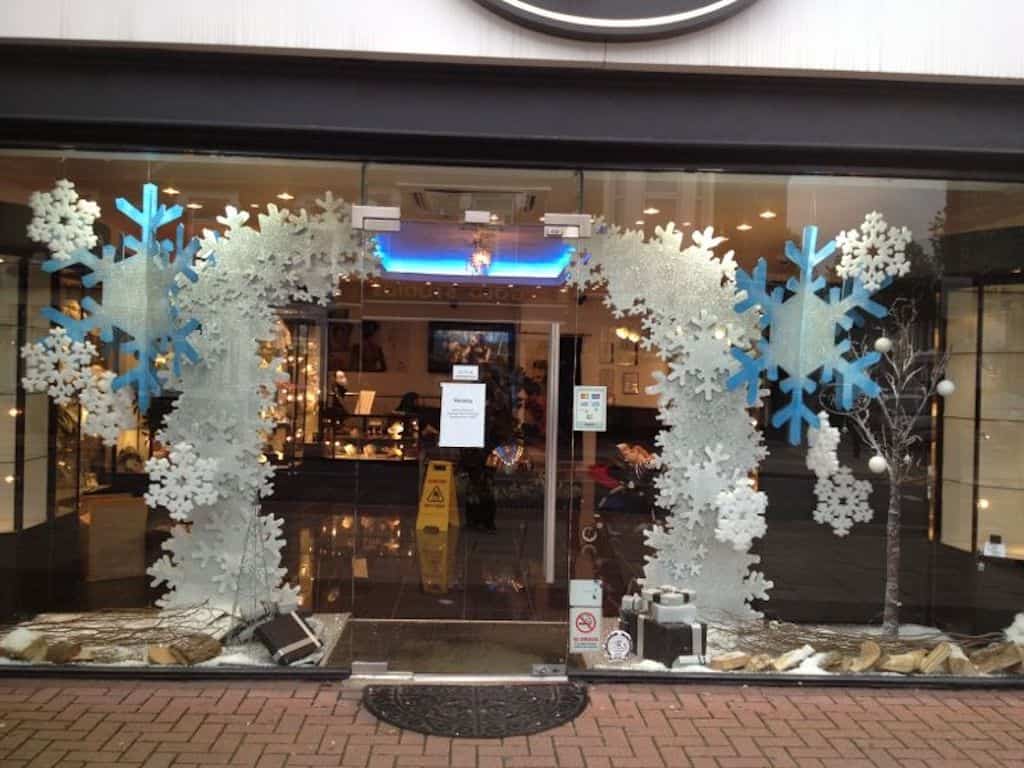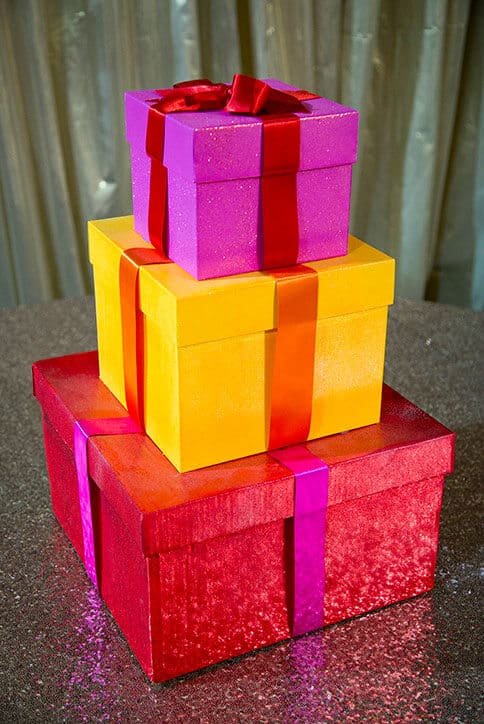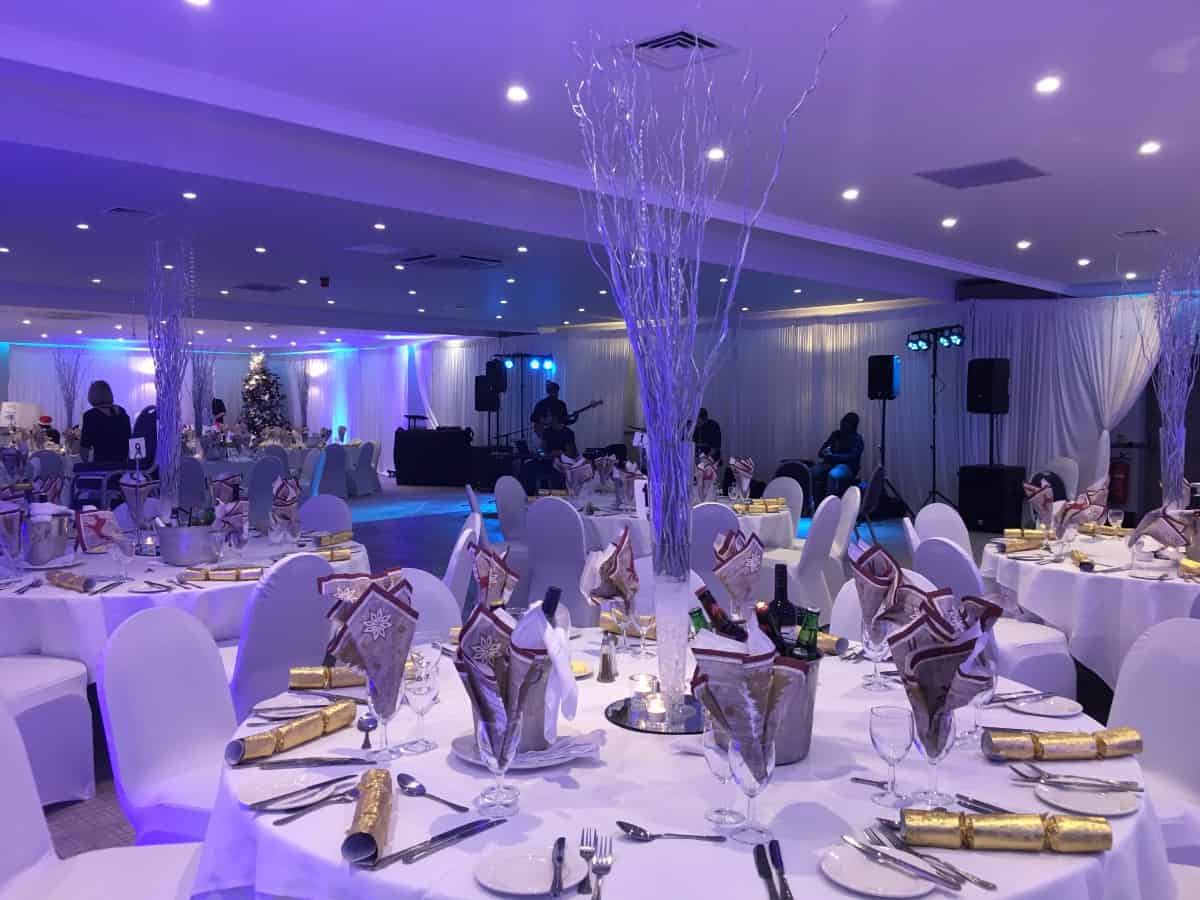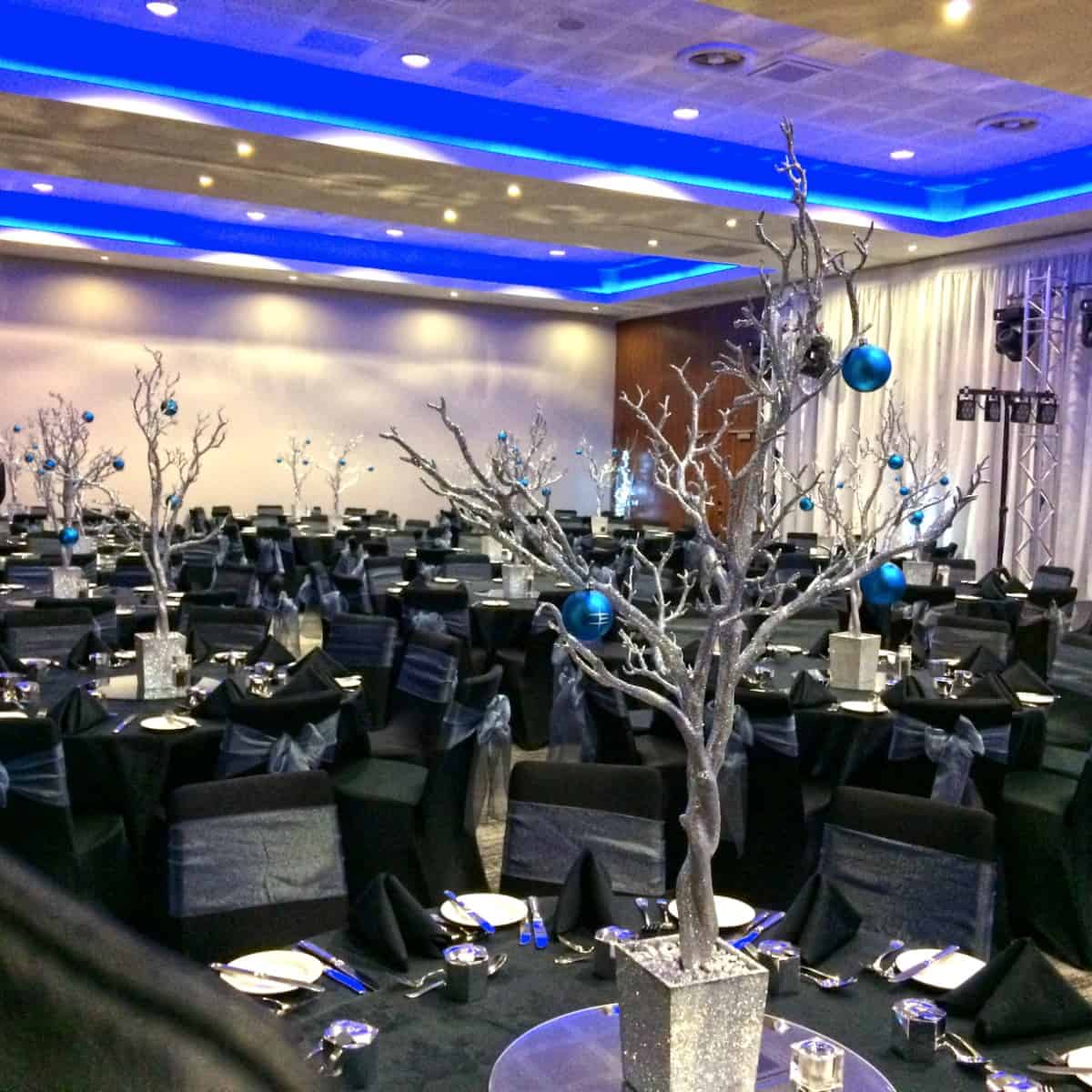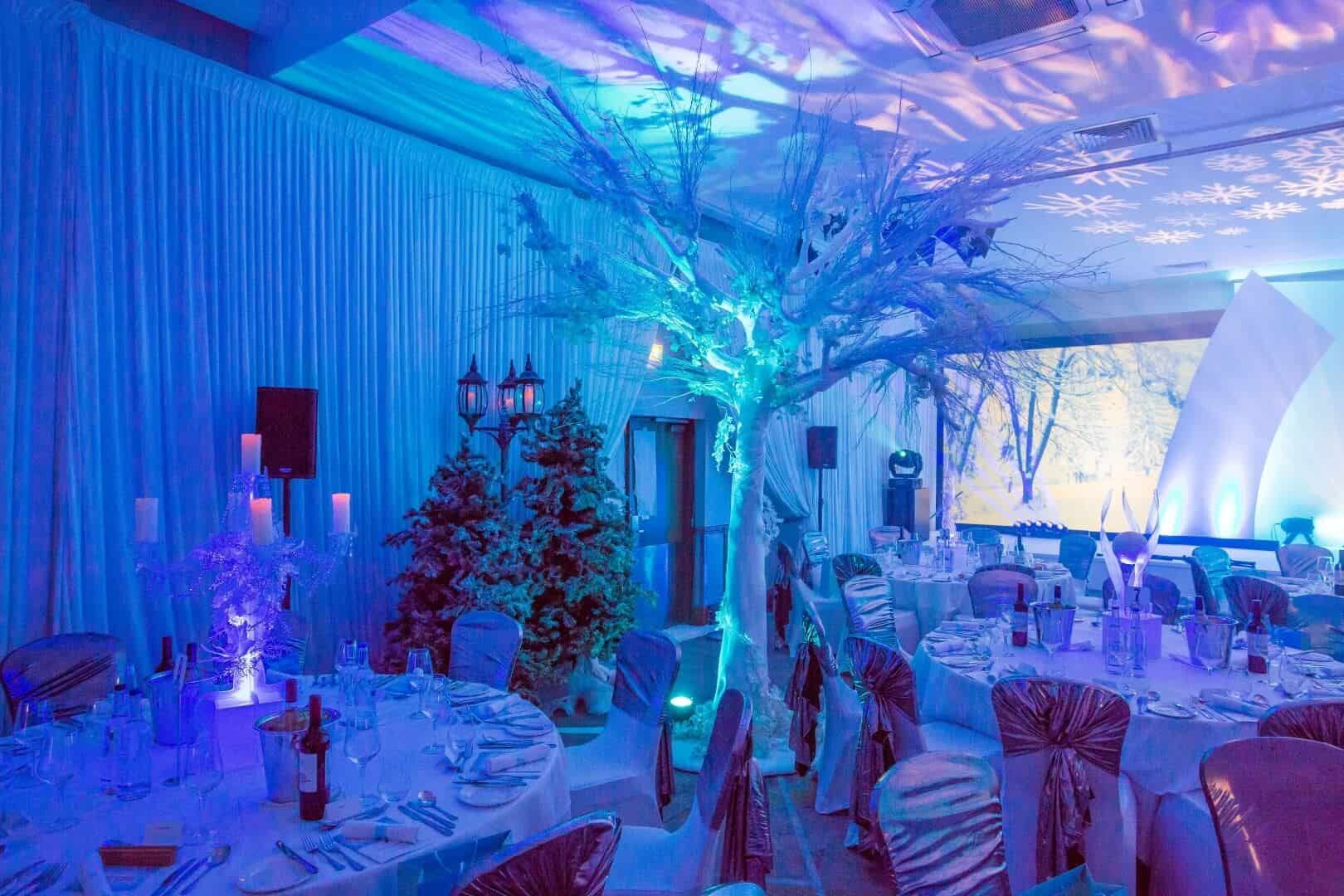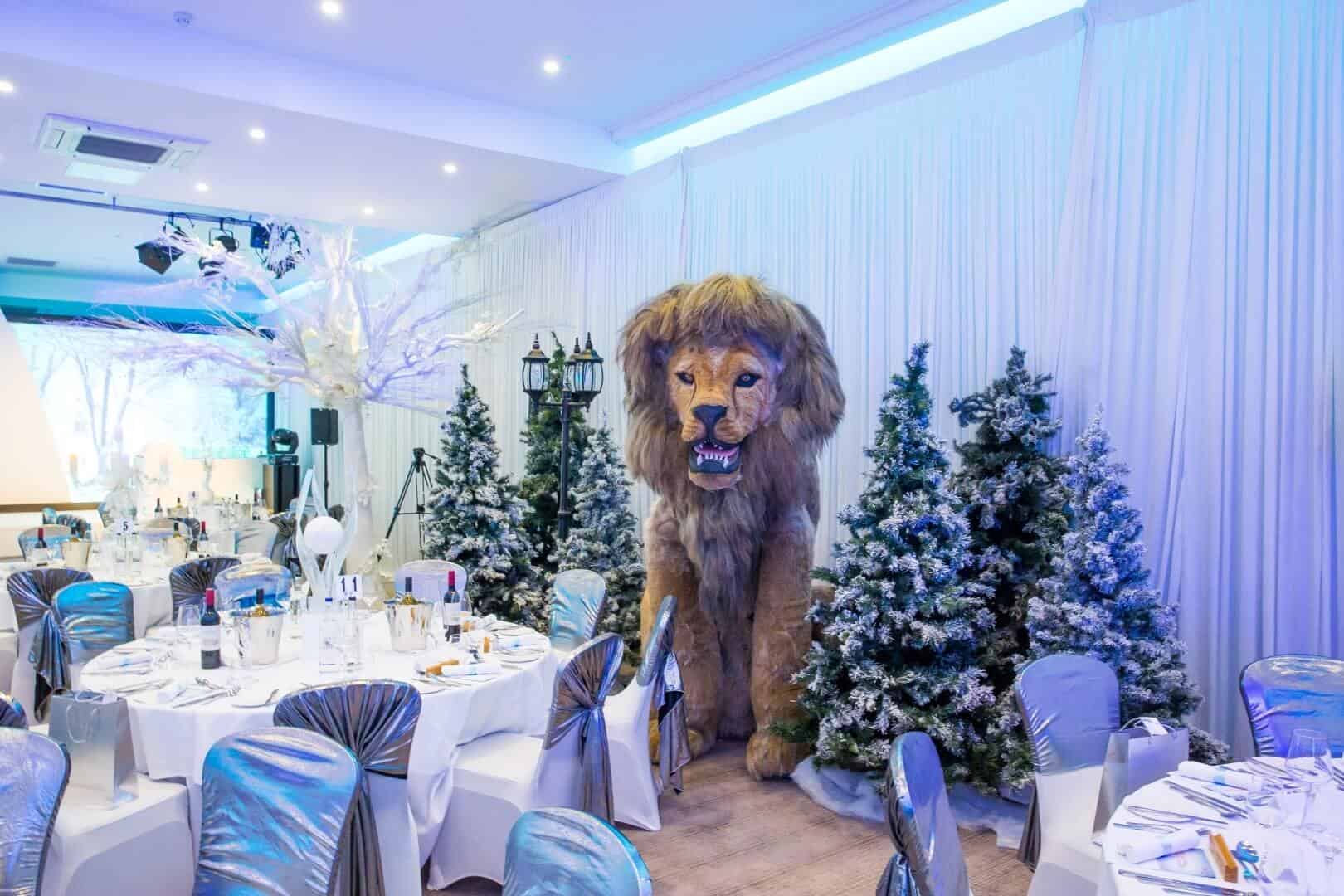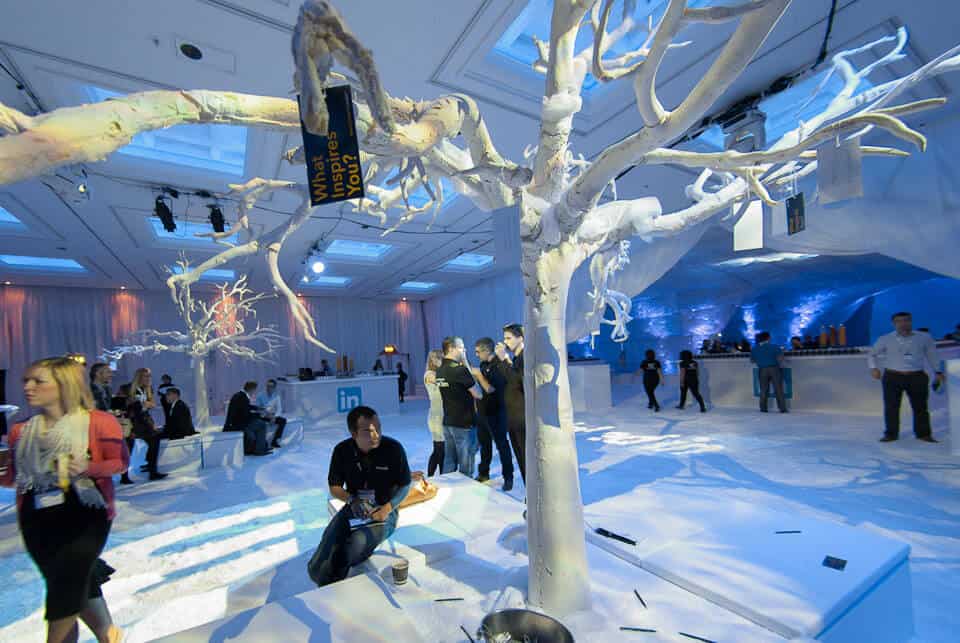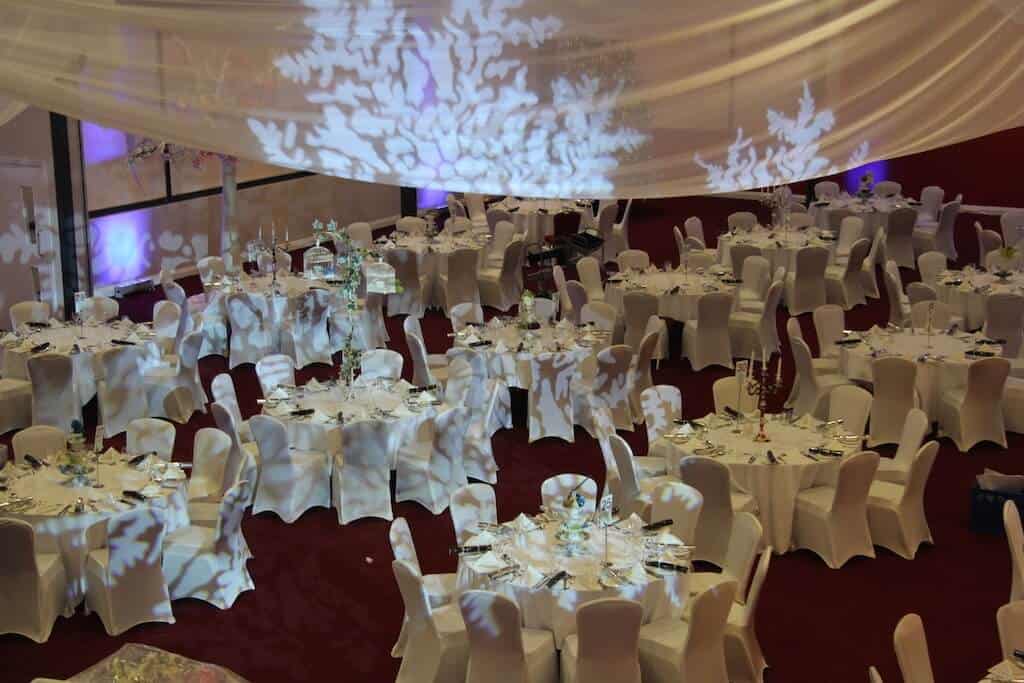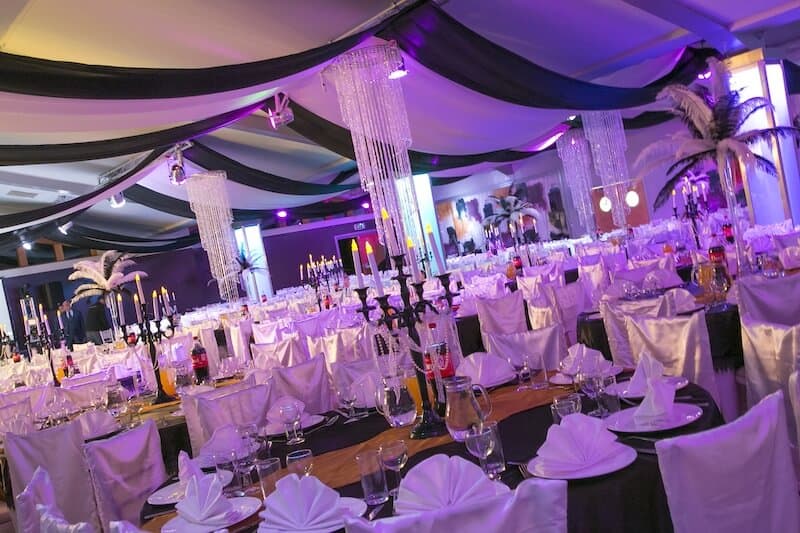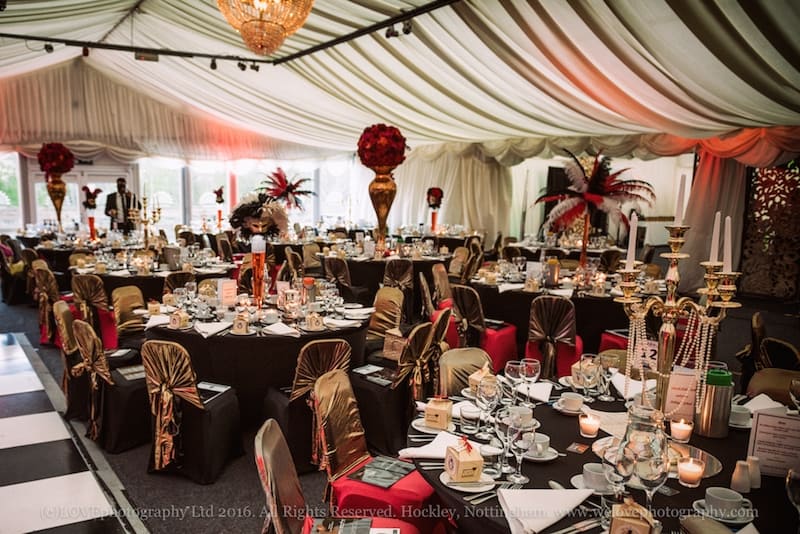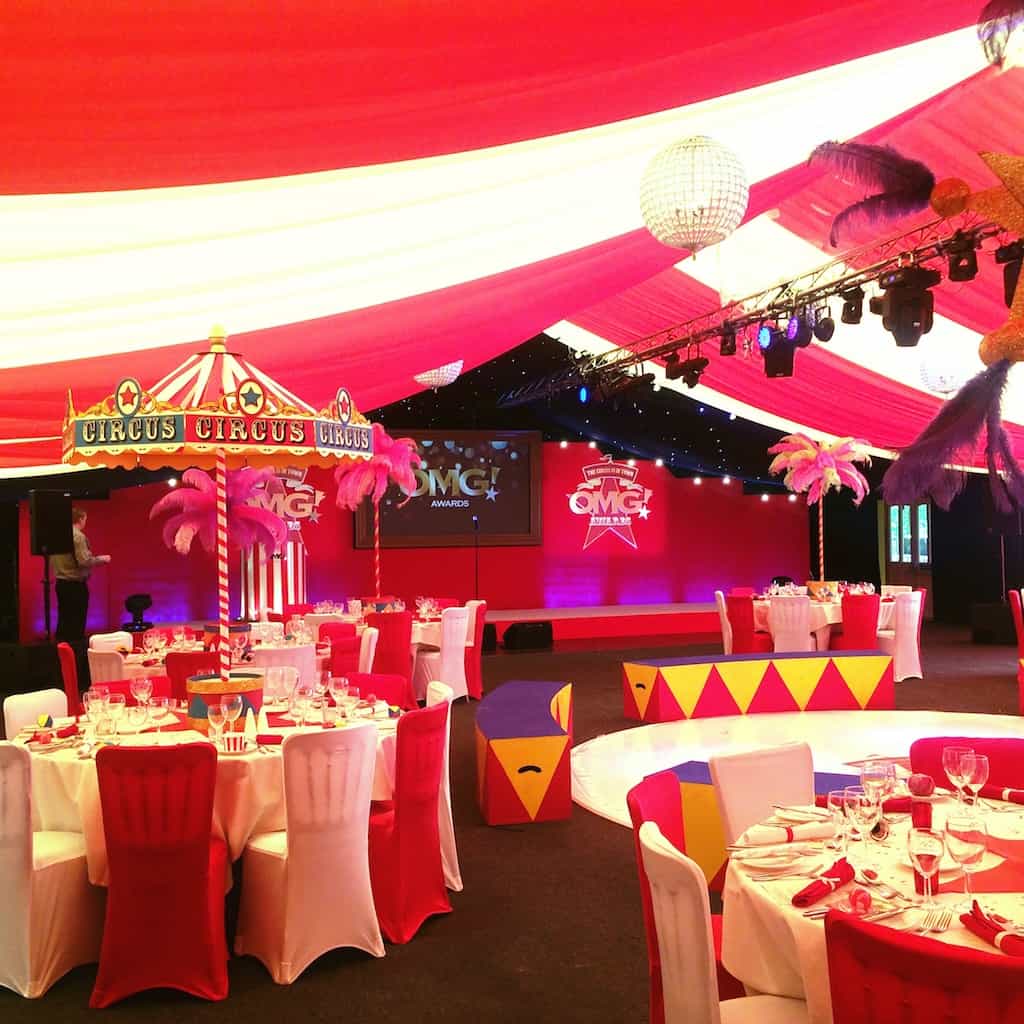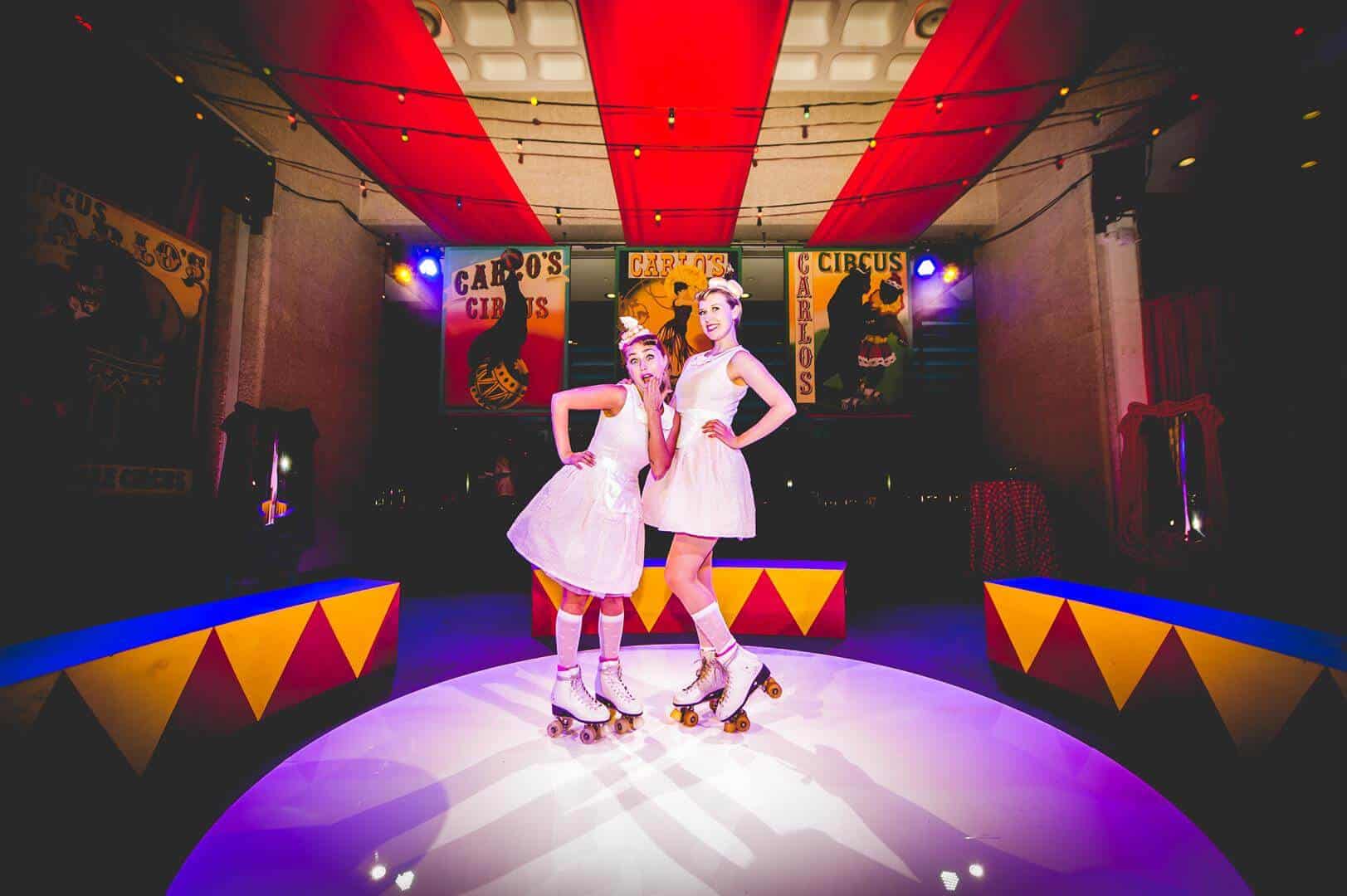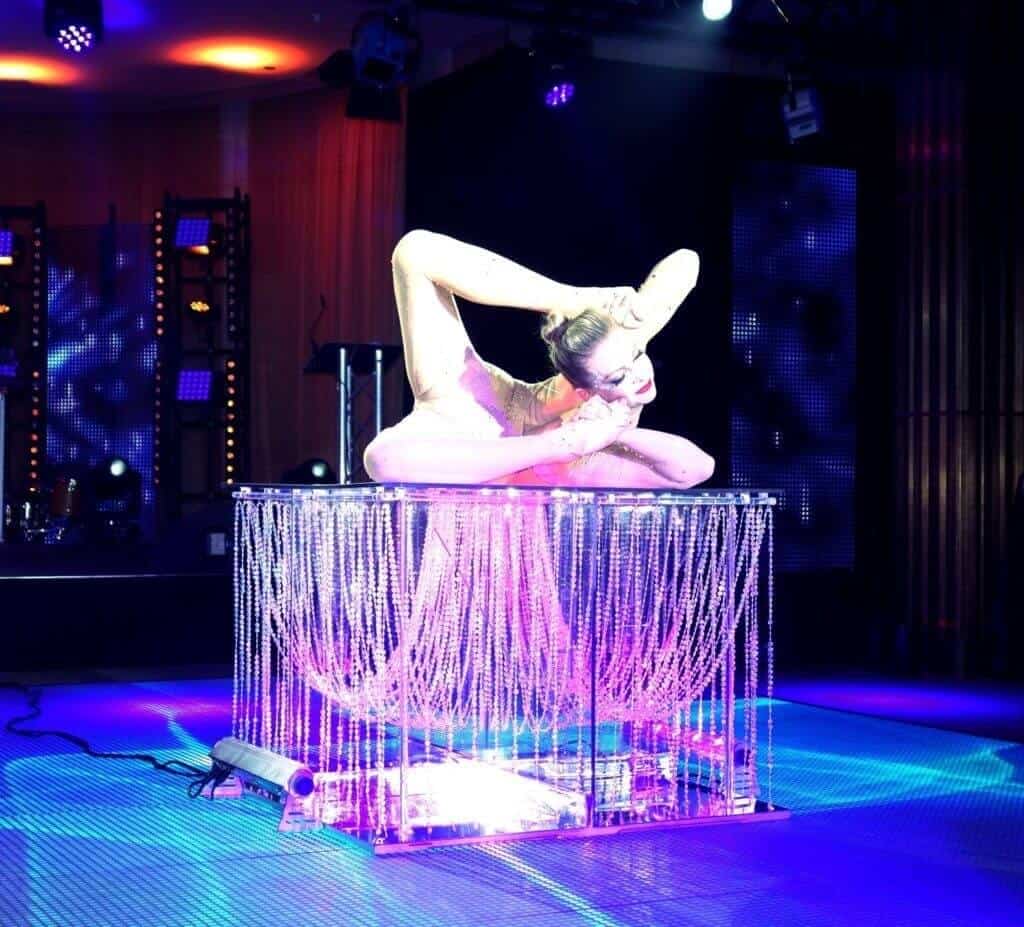 Narnia-Christmas-Decorations
Narnia-Christmas-Decor-1024x683
Radisson-Blu-Christmas-Tree
Commercial-Christmas-Event-Theming
Commercial-Christmas-theming
Christmas-Table-Decorations
Christmas-Red-and-White-Chair-covers
Christmas-box-table-centre
Radisson-Blu-Christmas-Tree-819x1024
Narnia-Christmas-Tree-683x1024
christmas themed table centre
Narnia-White-Tree-Prop-for-Hire
Narnia-Snow-Drenched-Trees
Winter-Wonderland-Theming-Ideas
Winter-Wonderland-Table-Centres0
Winter-wonderland-ice-tunnel
Great-Gatsby-Entertainment-2
Great-Gatsby-Themed-Table-Centre-Large
Great-Gatsby-ceiling-dressing1
N-Masquerade-Themed-Event-Large-Small
Red-and-Gold-Masquerade-Themed-Event
Masquerade-Themed-Table-Centre
Masquerade-themed-decoration
Red-Circus-Themed-Table-Centres
Large-Circus-Poster-Props
Circus-Themed-Table-Centre-1
Circus-themed-event-Large1
circus-themed-contortionist-performing-resize-1024x927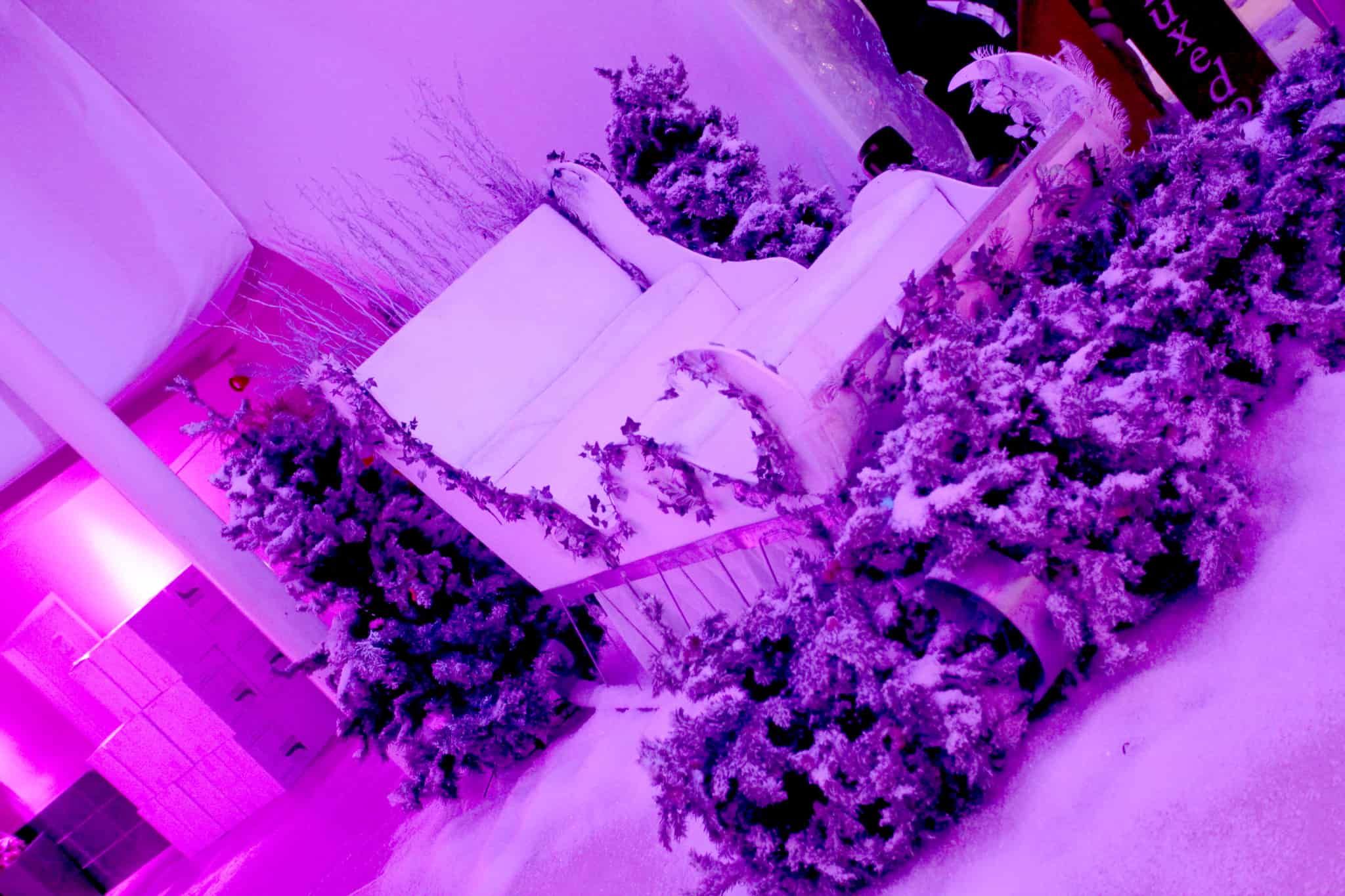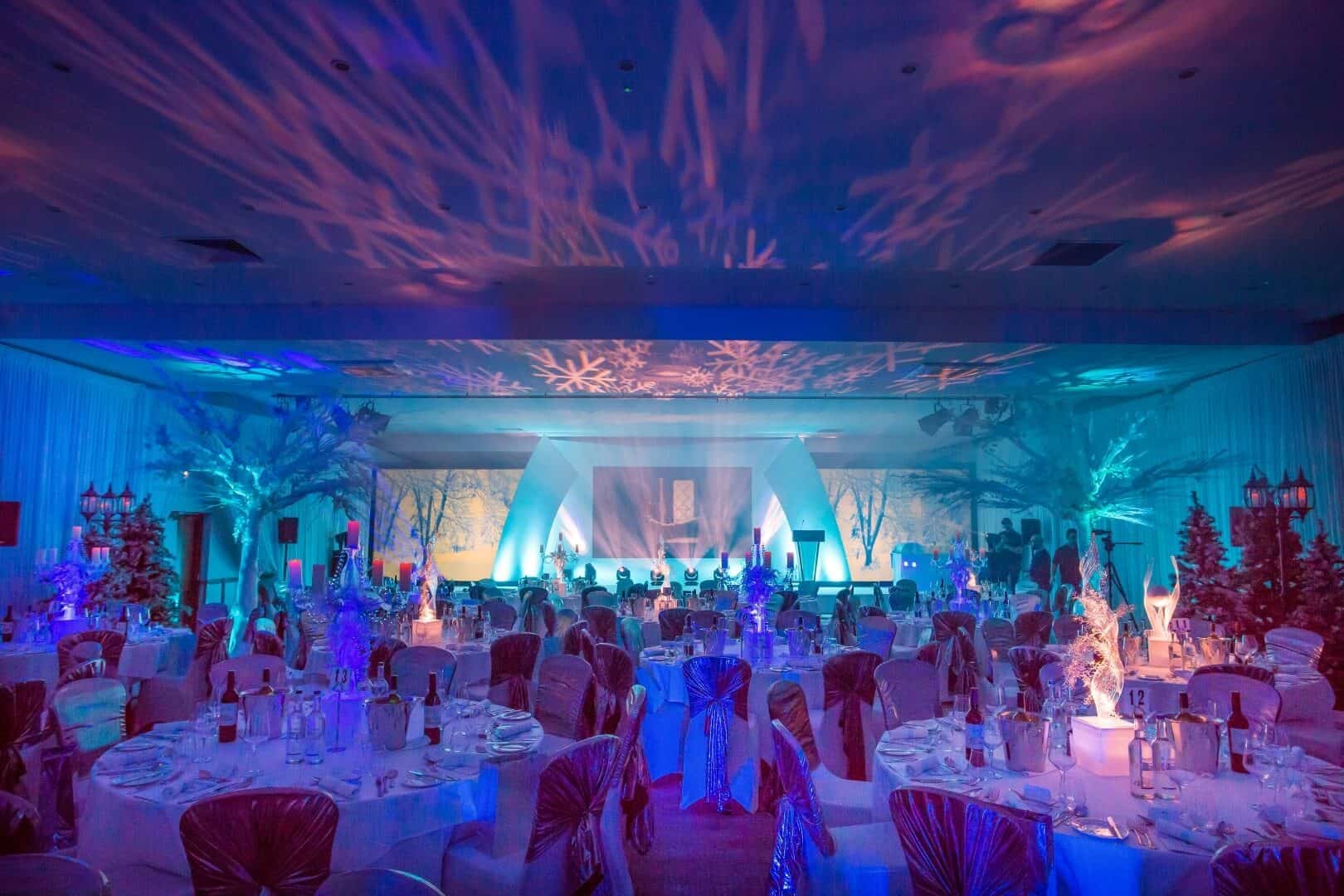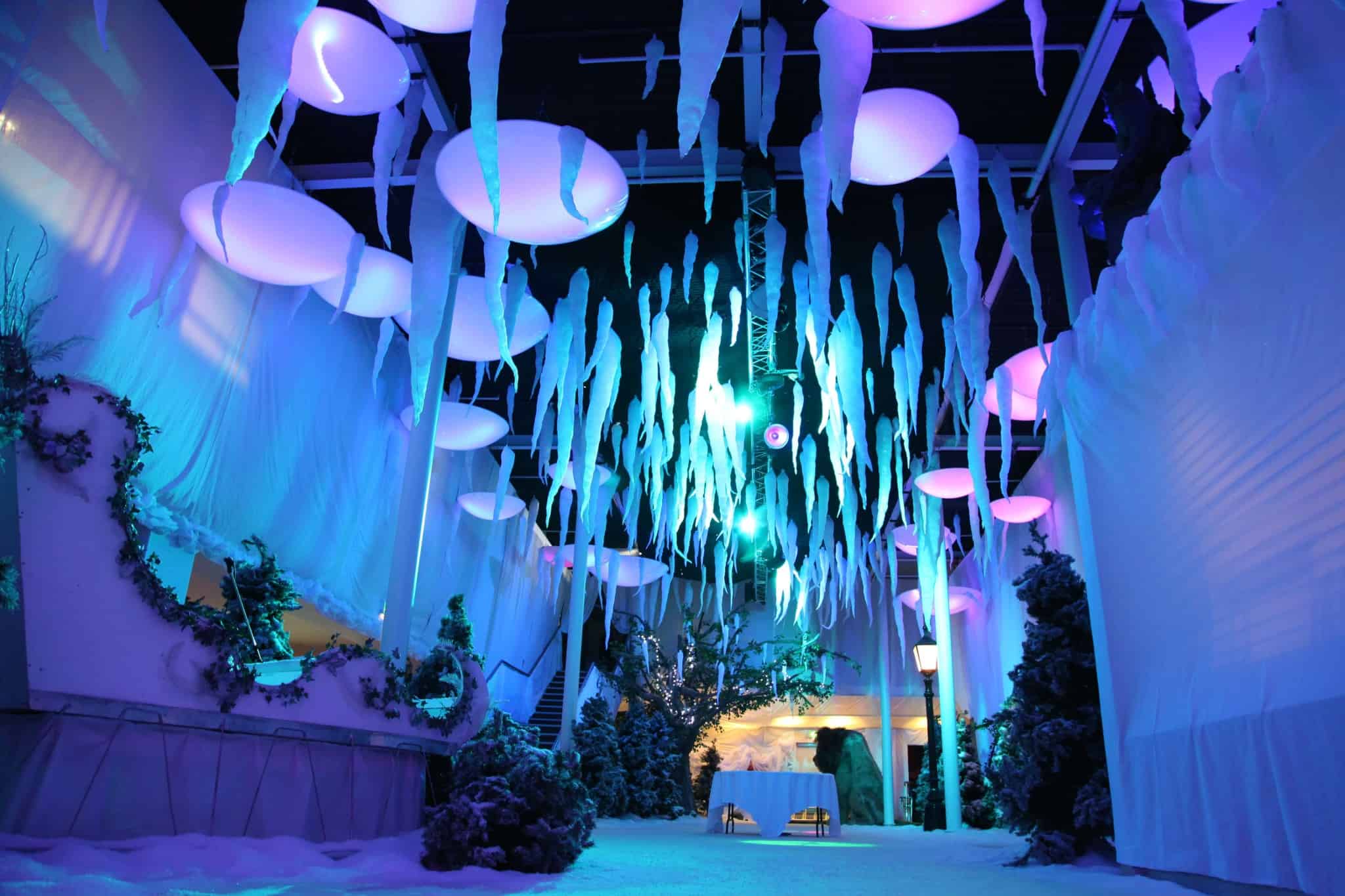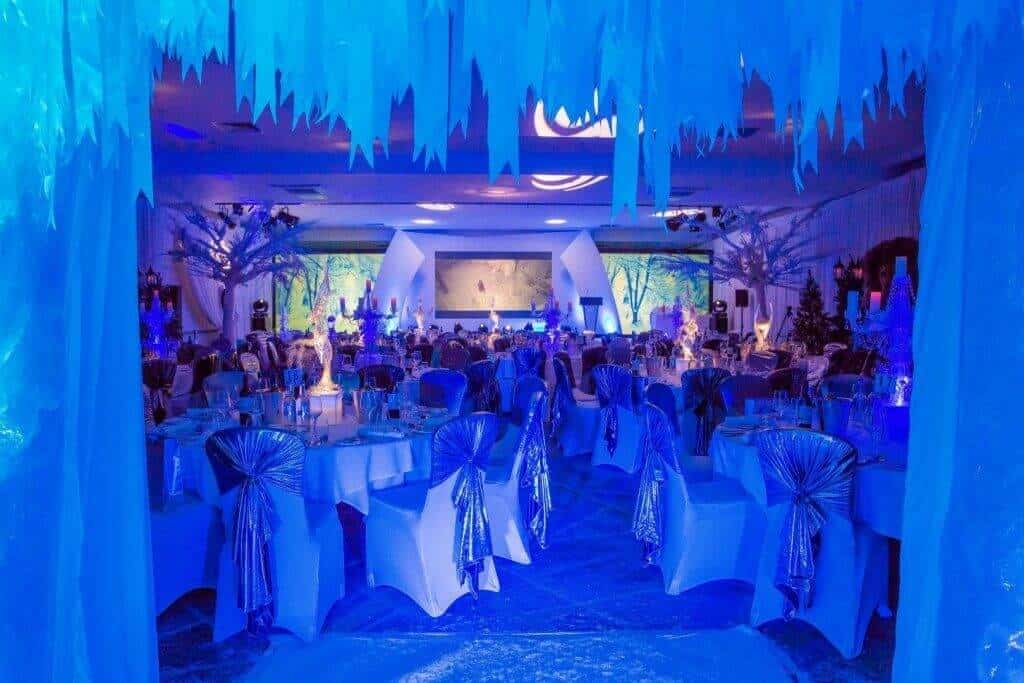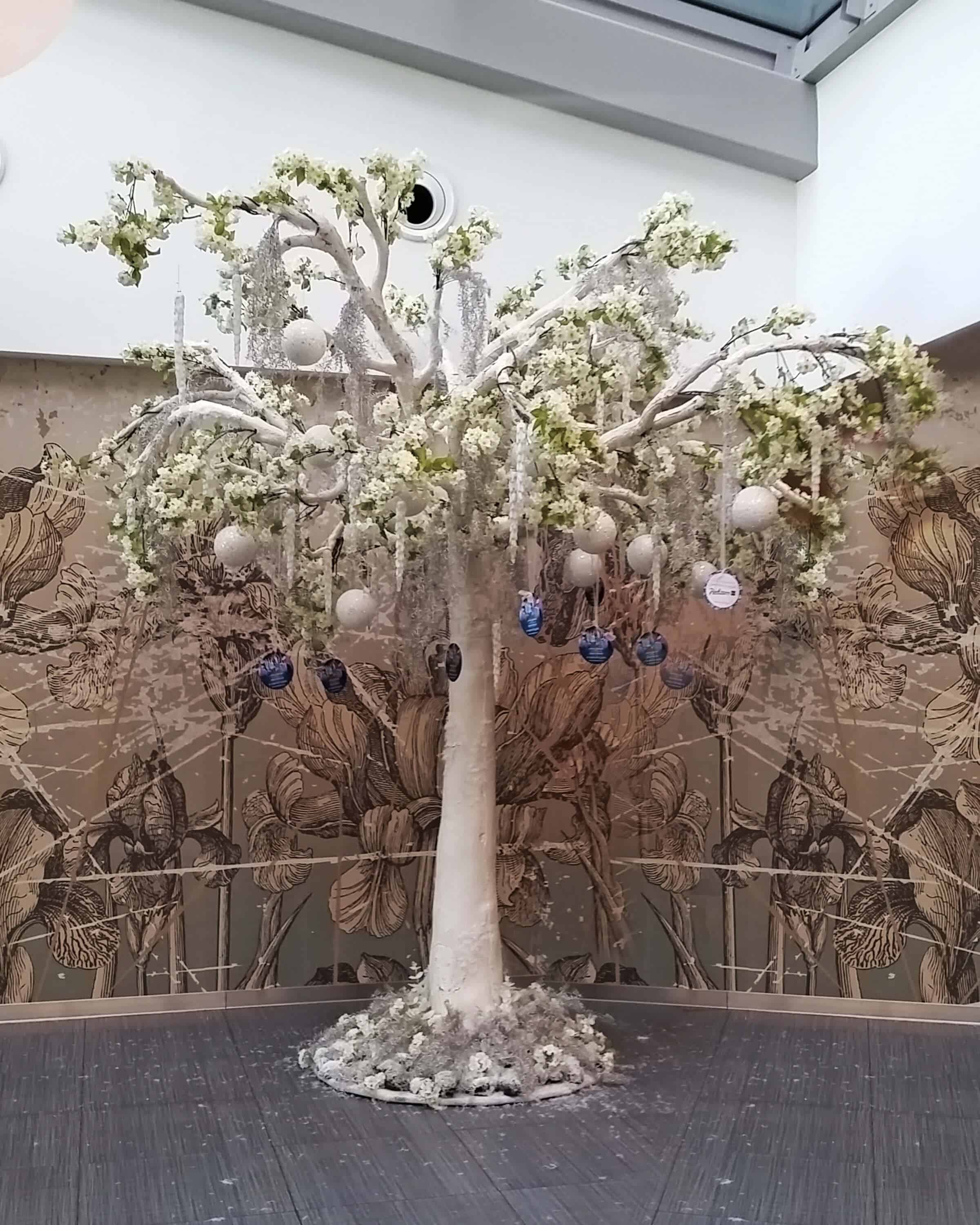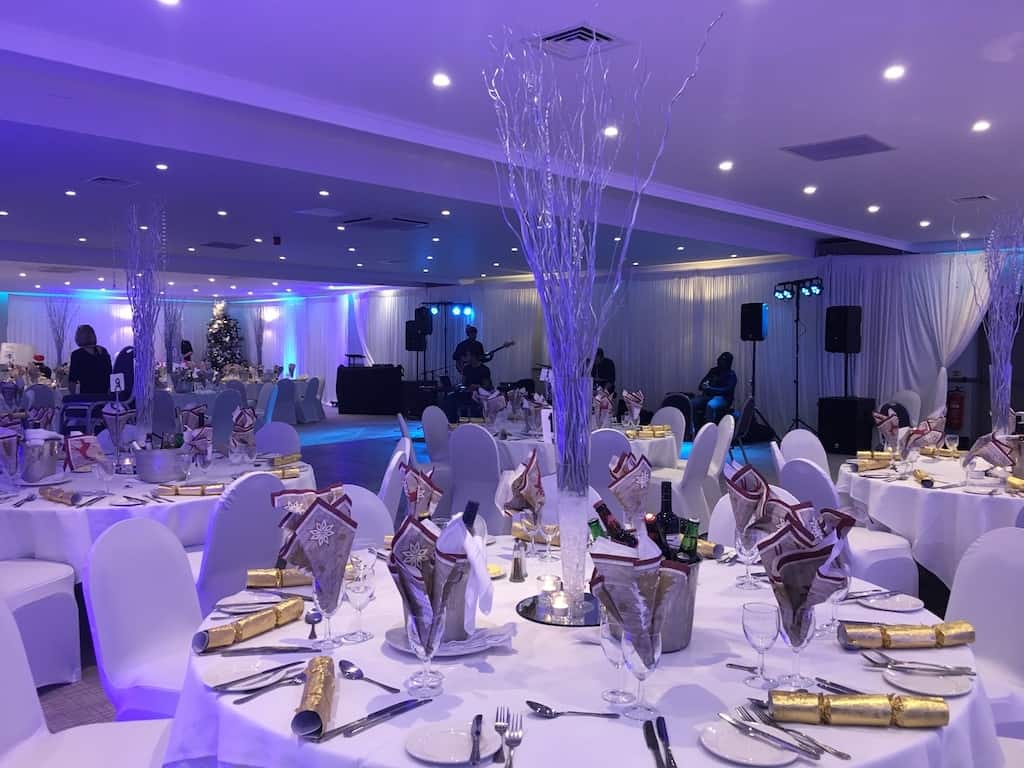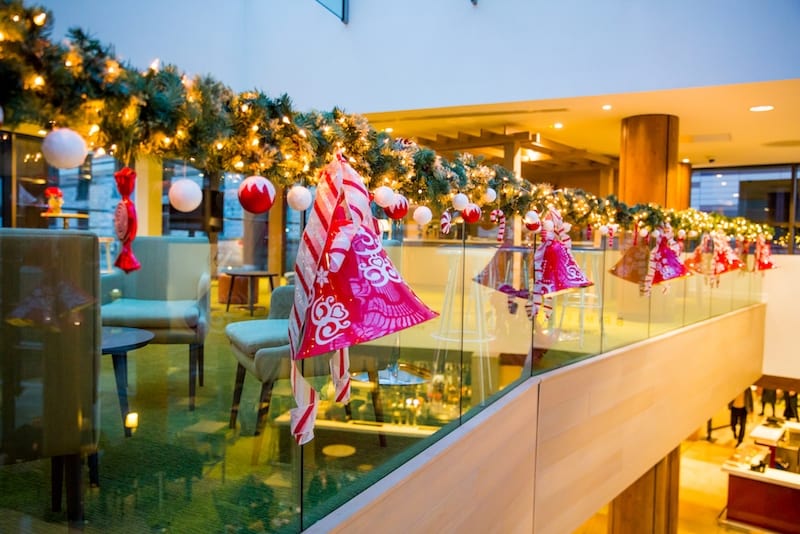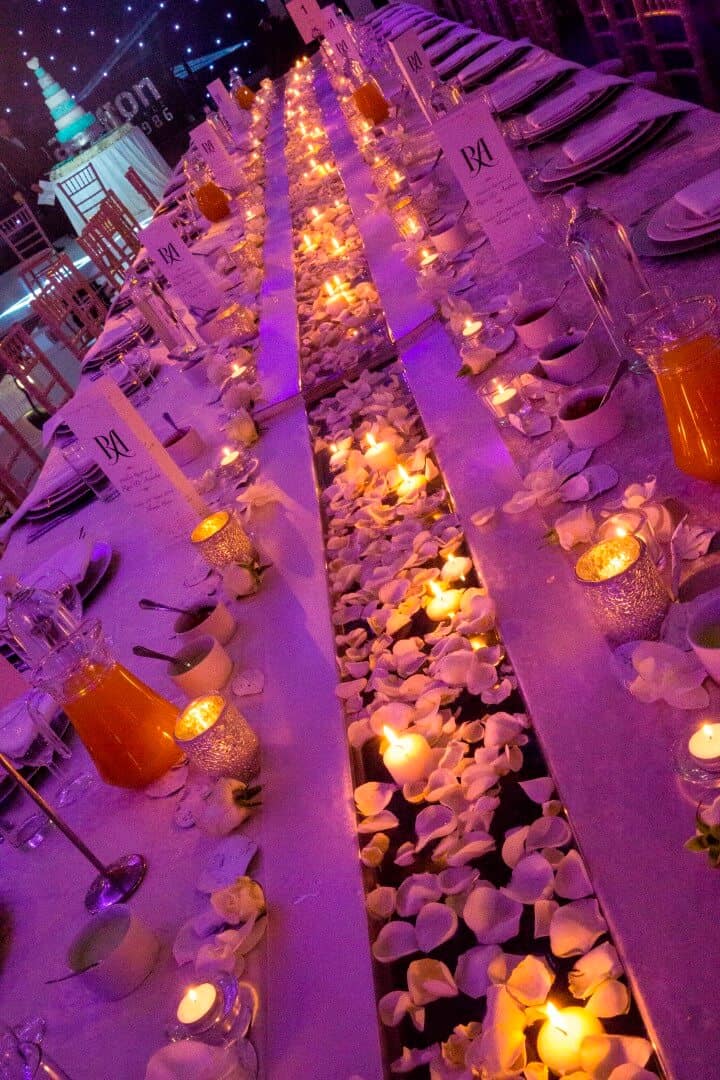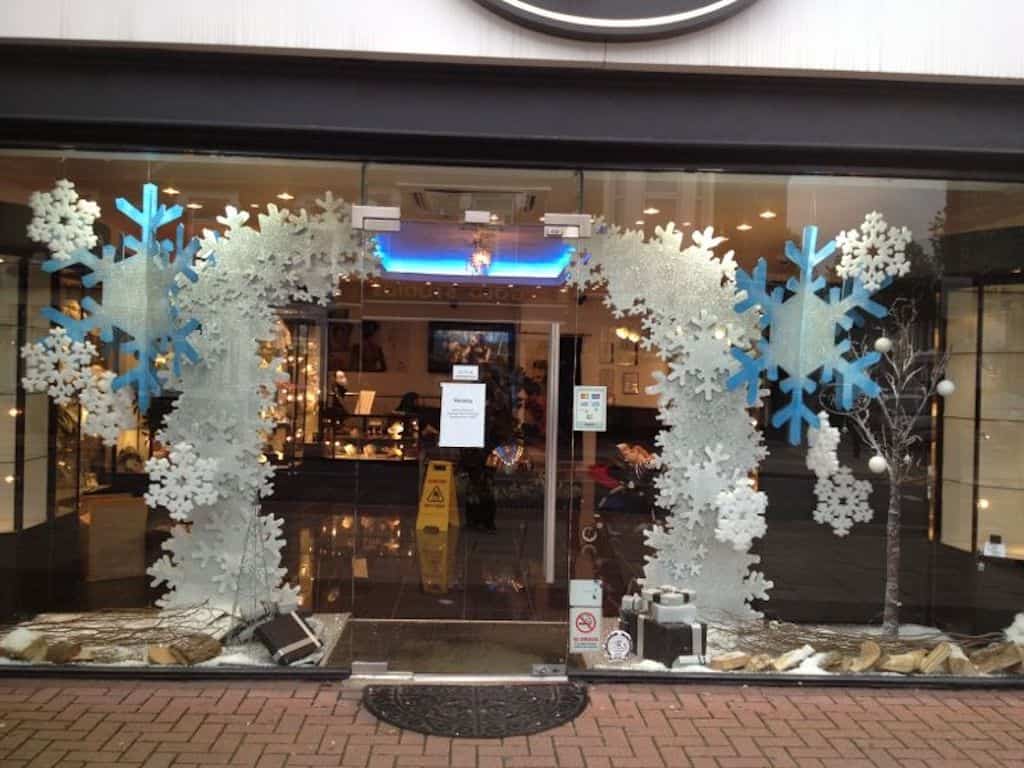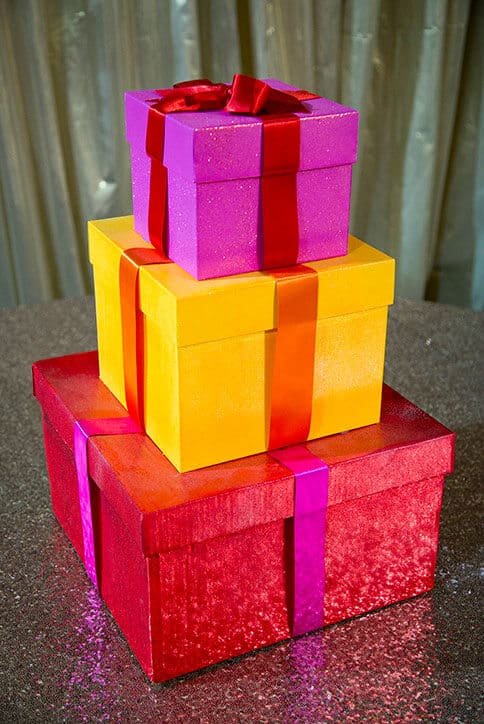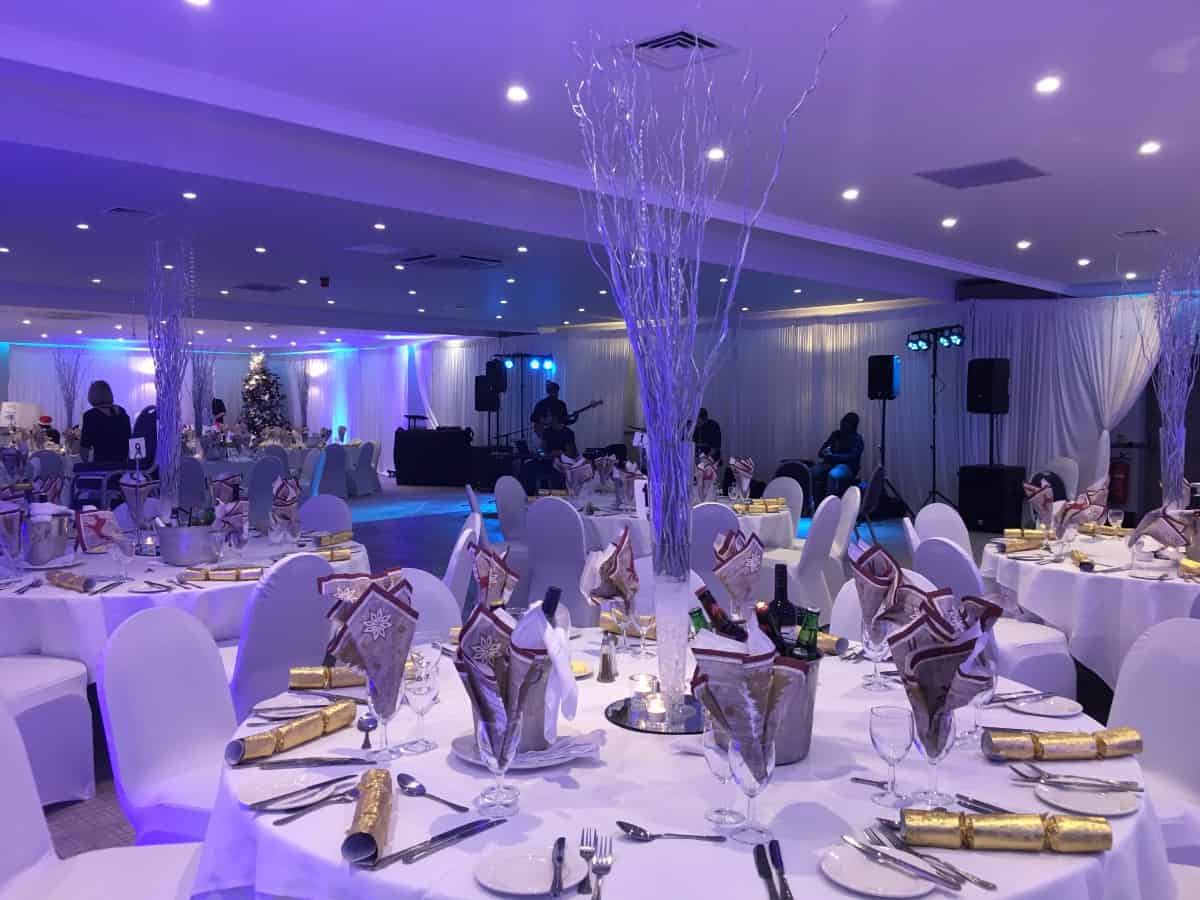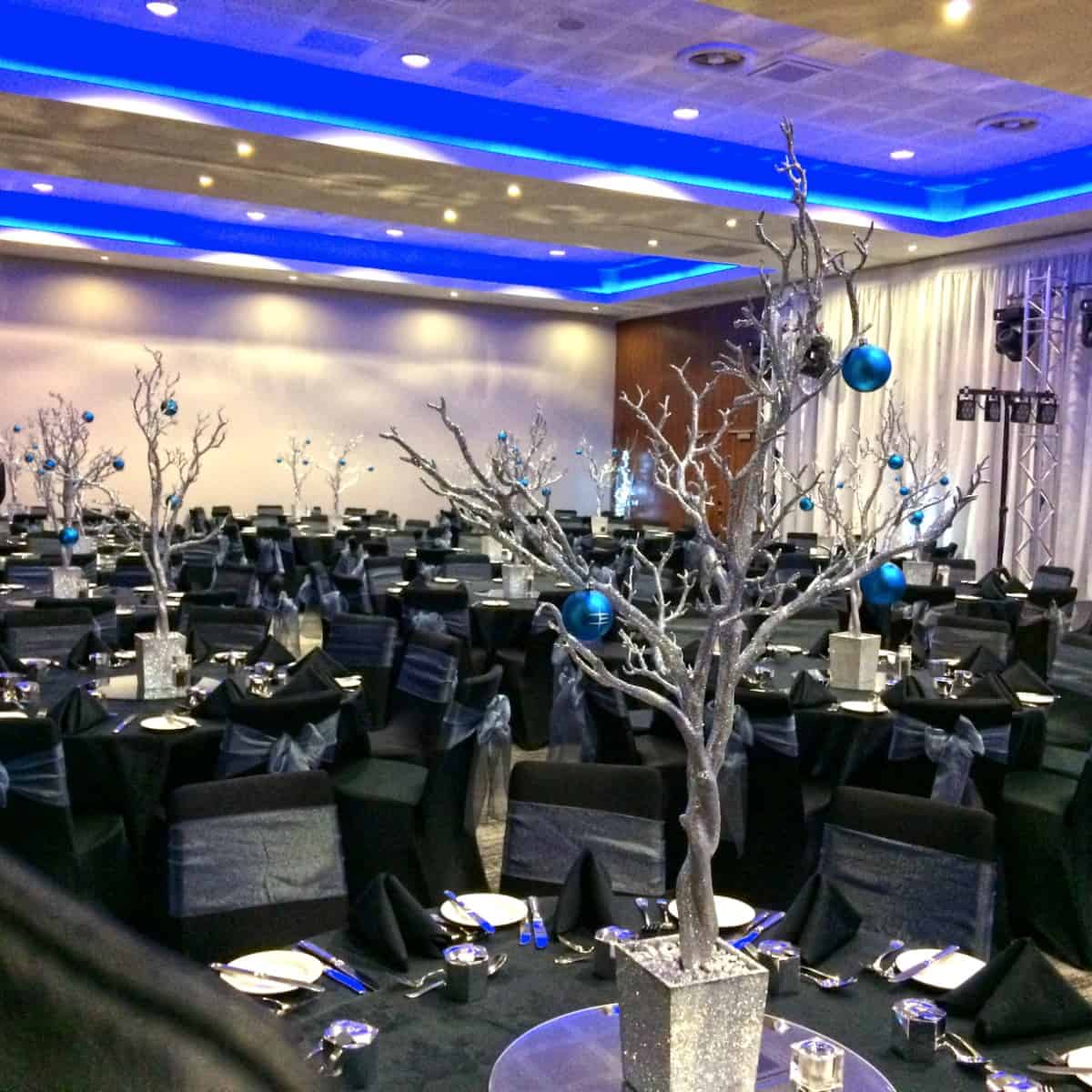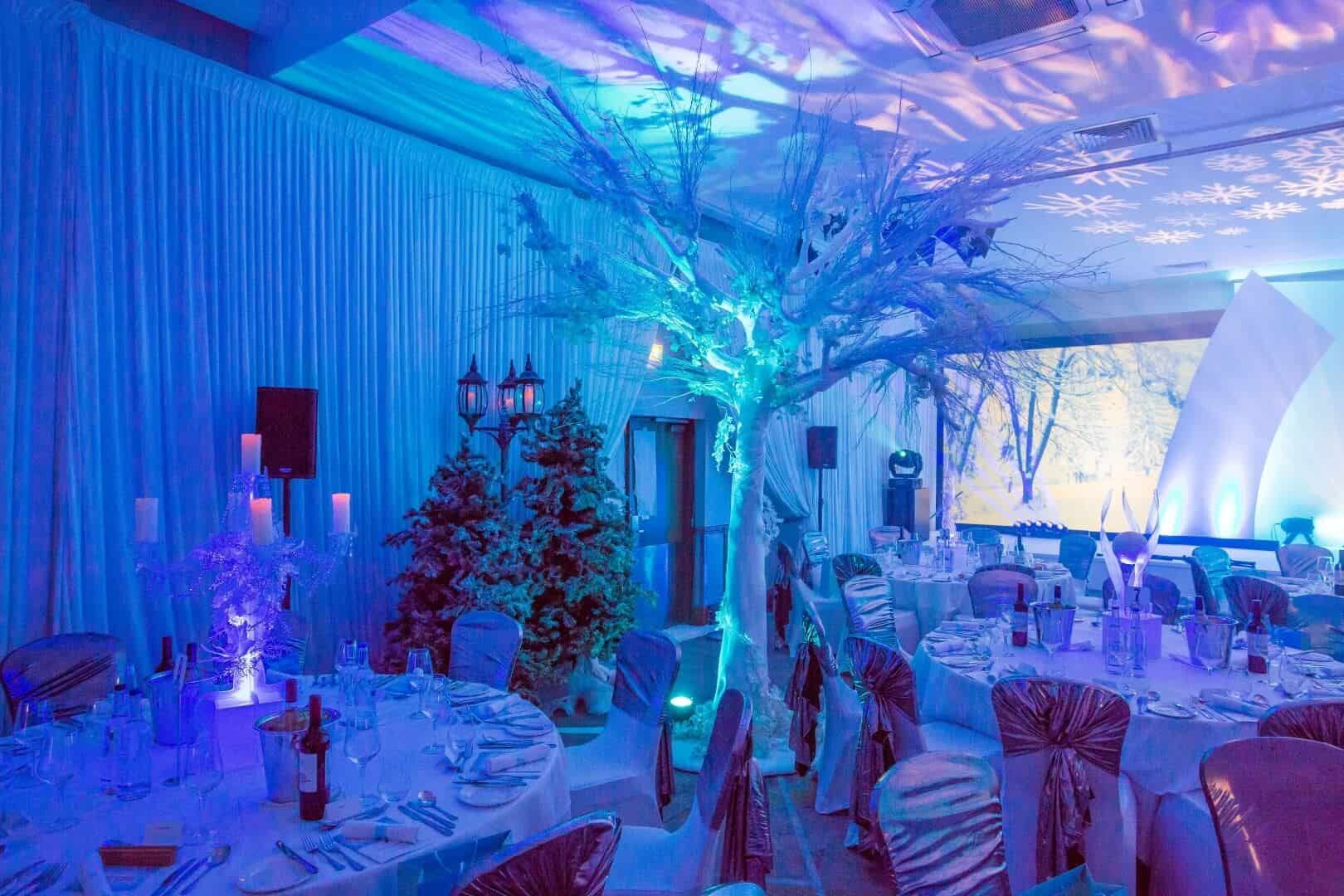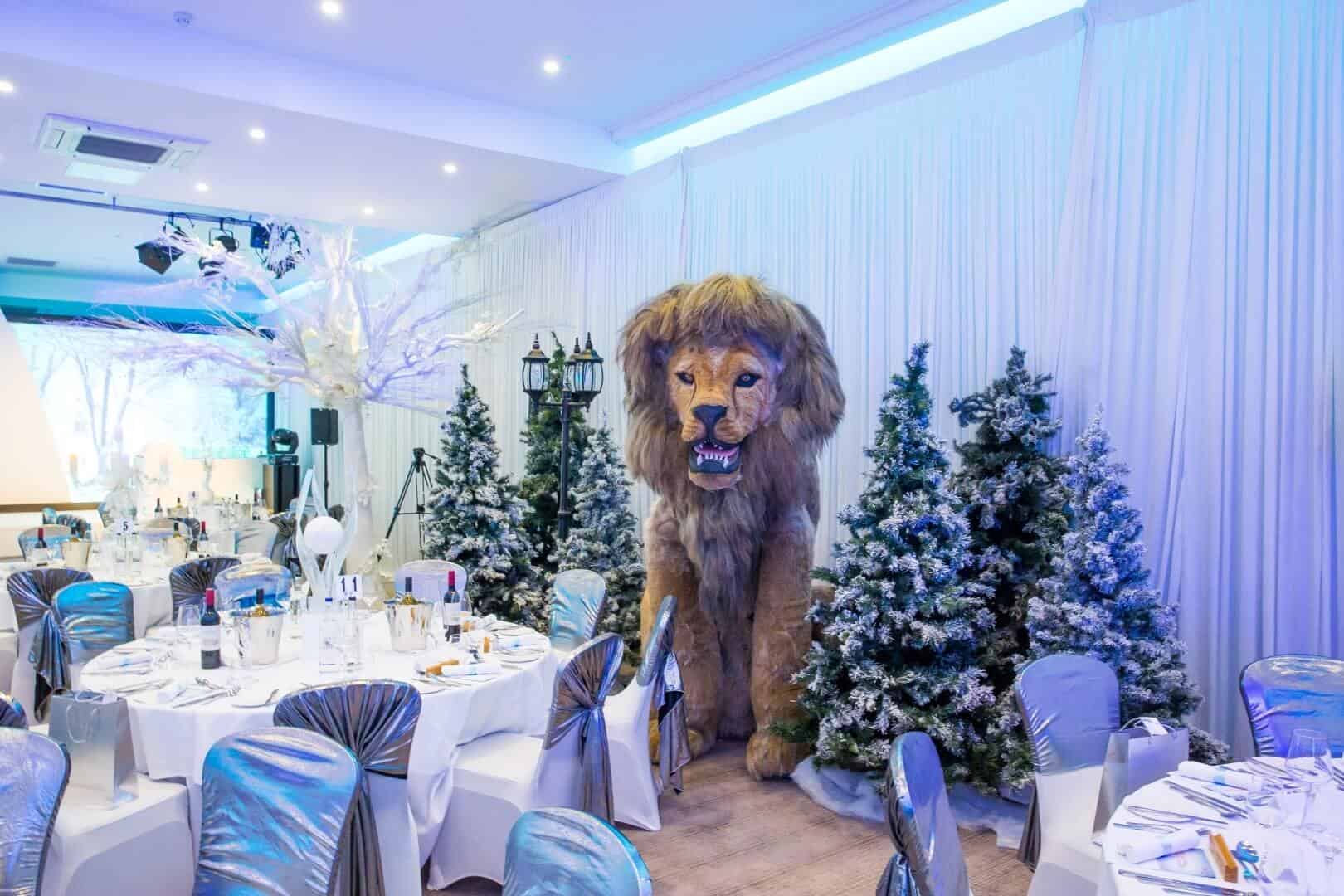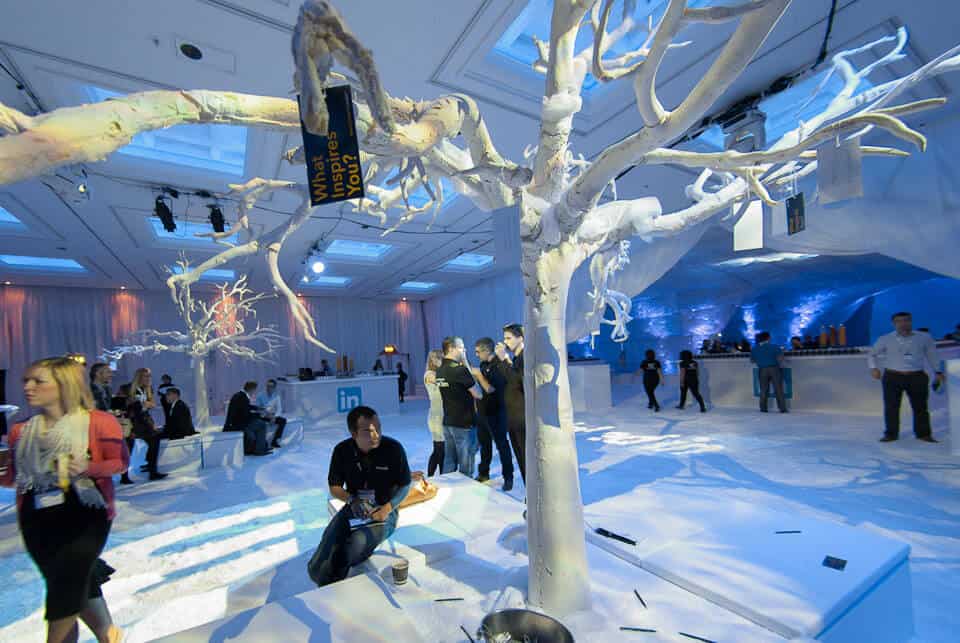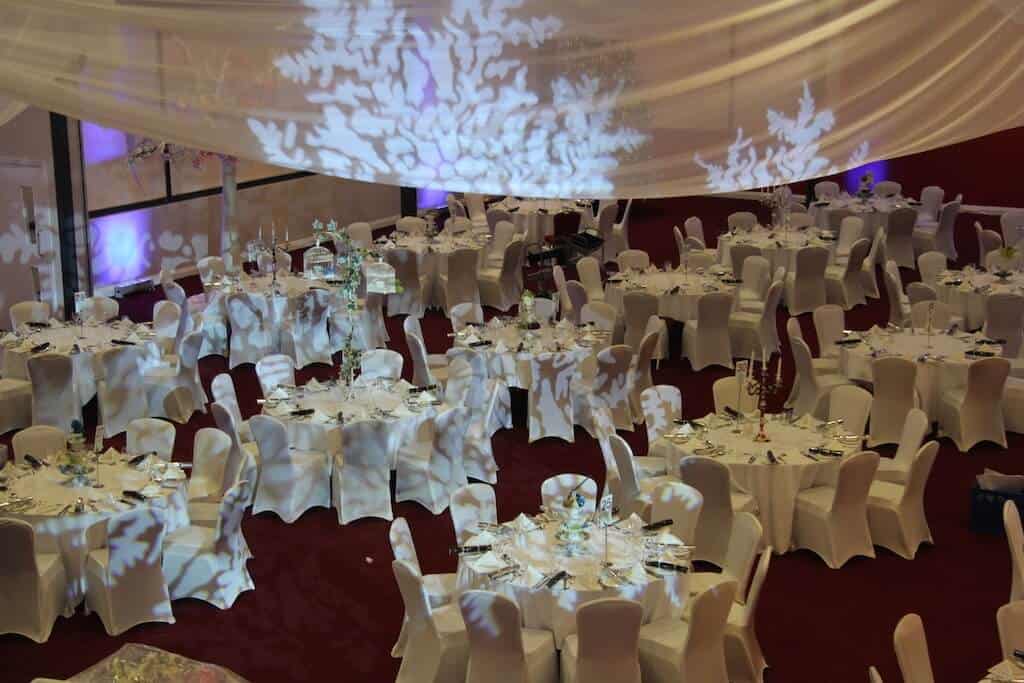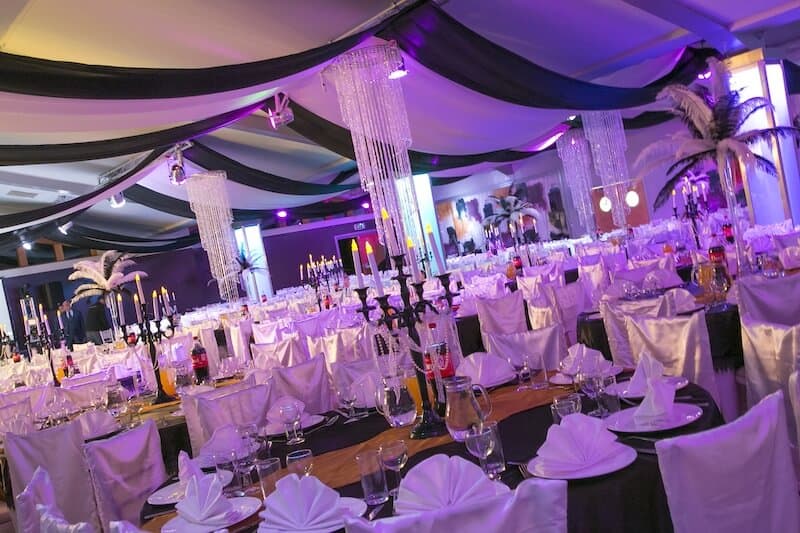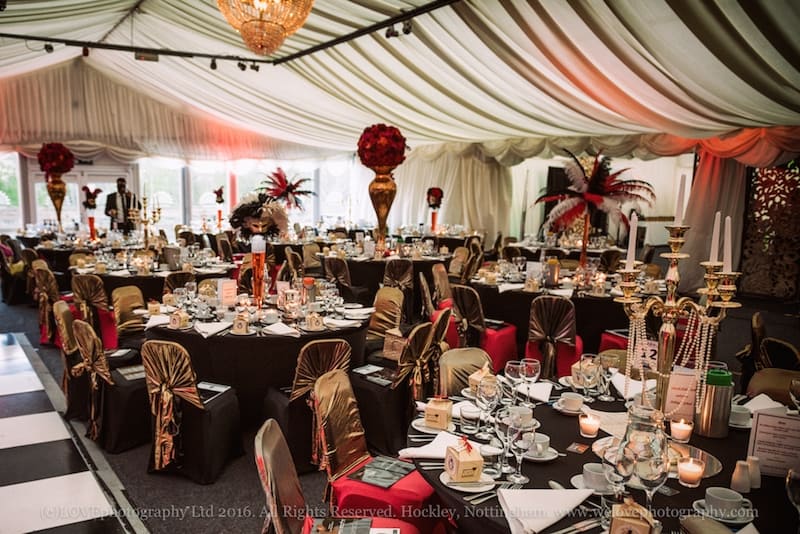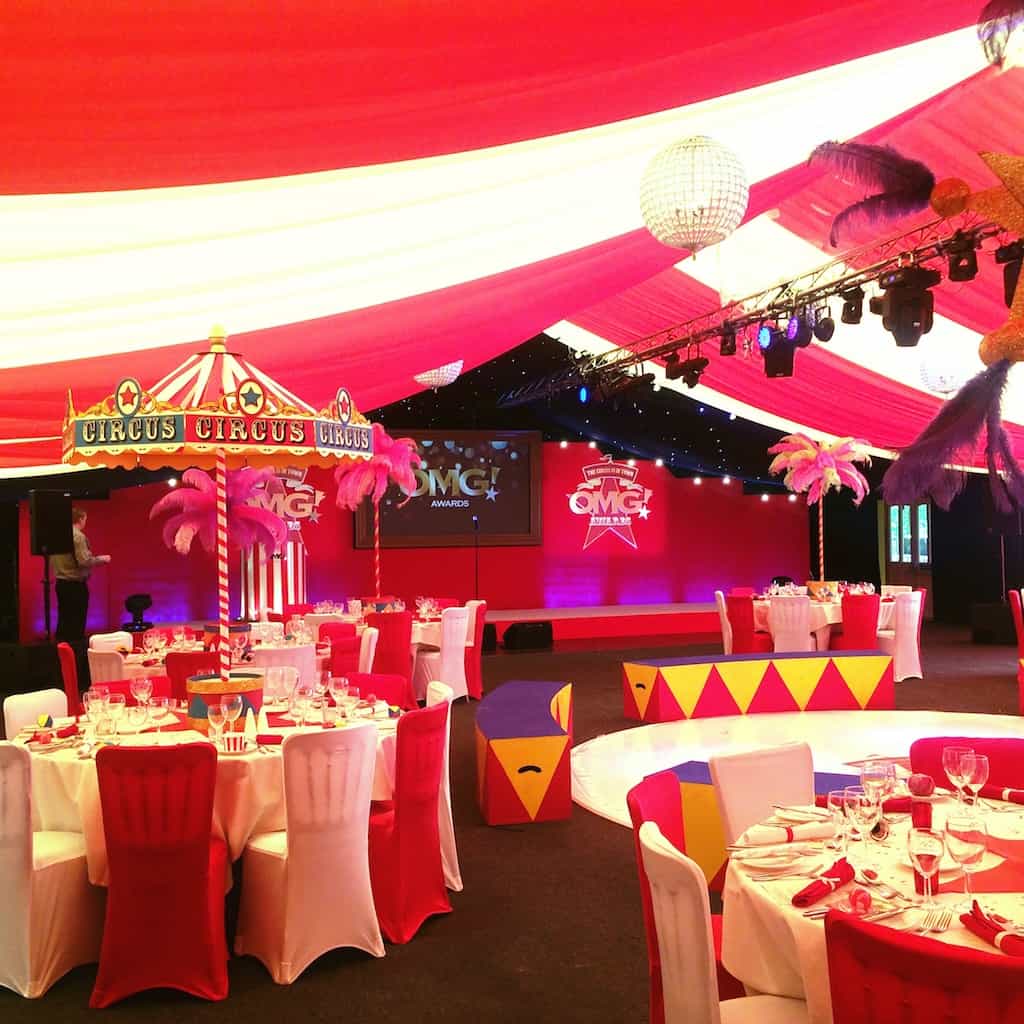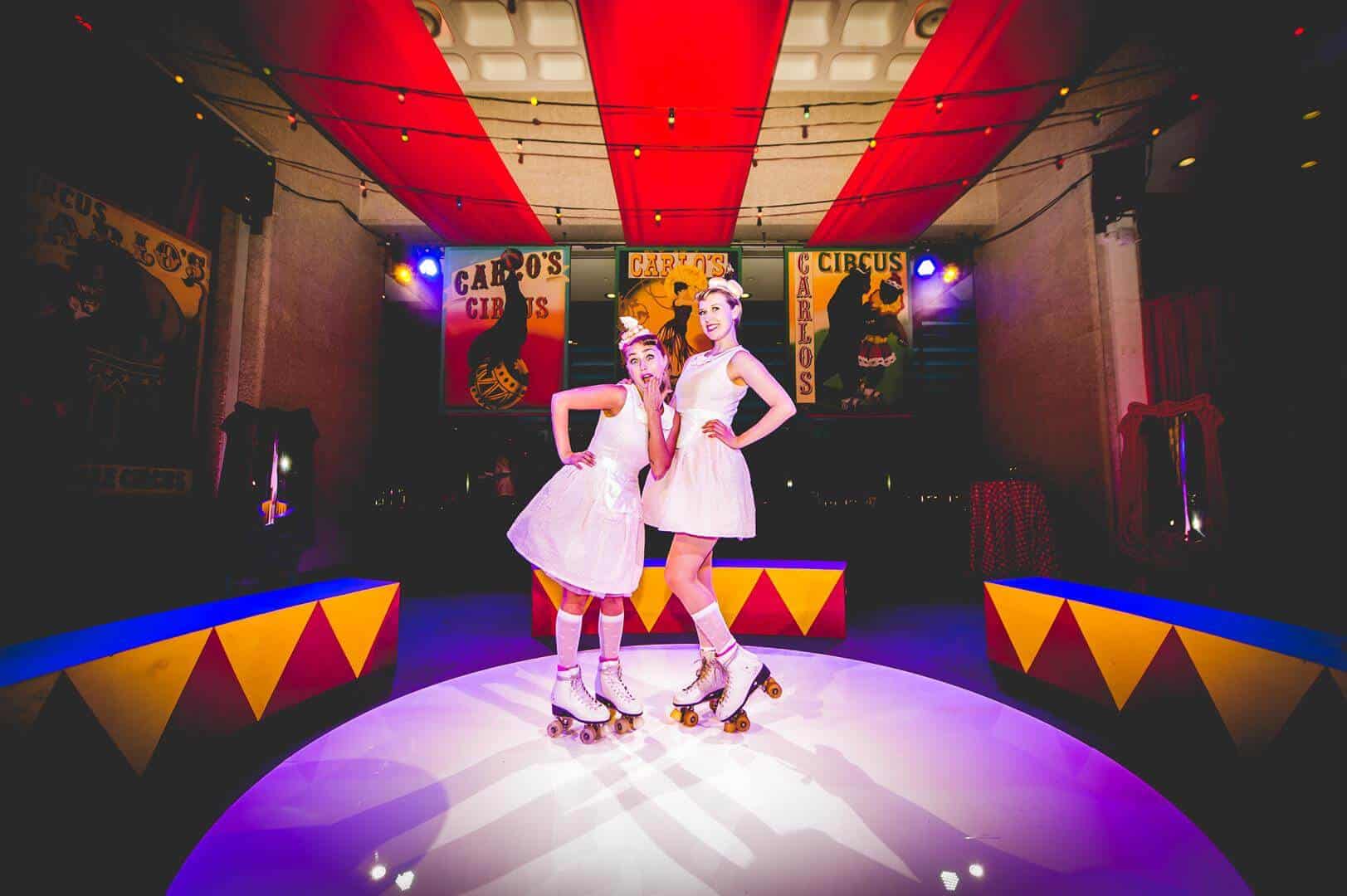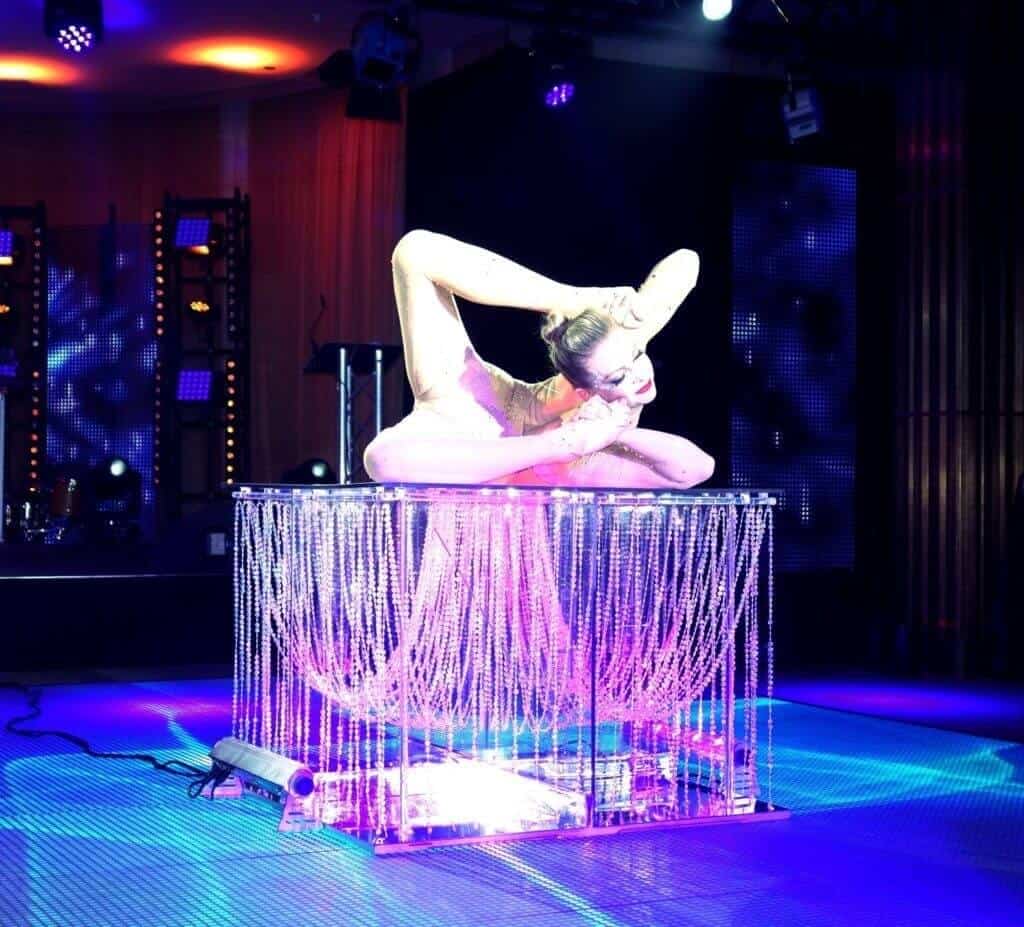 The Top 6 Corporate Christmas Party Themes This Festive Season
Tick Tock, Tick Tock – the clock is ticking down to Christmas and it's time to think about your next Christmas party theme! Christmas party season is just around the corner. If you haven't already organised your company Christmas Party, we can help you through the process.
At Eventologists, we love the festive season and will help take the worry out of your Christmas Theming needs. We can help you theme and decorate your corporate Christmas party or dress up your Christmas trees and decorate various areas of your office.
We have plenty of ideas and suggestions and all the things you would need to create the perfect Christmas event. See below for some of the most popular Christmas party themes we offer for the festive season:
Eventologists Top Themes:
Winter Wonderland Christmas Party Themes
Make your corporate Christmas Party magical with our Winter Wonderland theme. Our winter wonderland themed events are truly mesmerising! Picture your venue dressed stunningly in white, silver and ice blue, with snow drenched pines and wintery trees and fairy lights to create and enchanted wonderland scene. As guests arrive through our amazing ice tunnel, snow can delicately fall on guests as they enter. Guests can be greeted by stilt walking Ice Queens and Jack Frost Entertainers who then lead guests to dinner. At dinner, tables are dressed in crisp white tablecloths and frosted table centres, along with ice white chair covers. The room is lit in blue with mood lighting to finish off the winter themed event. Check out our top tips for your next winter wonderland event!
Narnia Christmas Party Theme
Narnia theming and Narnia party decorations are very popular ideas especially for Christmas Party ideas. A Mystical dream? Imagination running wild? We will simply escort you through the wardrobe into the mysterious and make-believe world of Narnia.
Narnia themed party prop selection includes sleighs, lions, polar bears, wardrobes, snow drenched trees, lamp posts, icicles and ice bars. Coupled with a snow-covered pathways and twinkling trees forming the Forest play to everyone's delight. A beautiful, inspirational and imaginative fairy tale world we've created especially for you and your guest.
Christmas Masquerade Ball Theme
The magic and glamour of masquerade balls make them a popular theme all year round for themed events and are especially popular for Christmas.
Masquerade balls take your guests back to the Italian Renaissance, an era that was steeped in rich materials, lavish wall drapings, themed backdrops, striking face and eye masks and Romanesque props and ambient lighting. Masquerade events are  sophisticated and elegant allowing guests to dress up in their finest gowns Guests can enjoy night of dancing set in a room with grandeur and coupled with a superb entertainment such as contortionists, illusionists and stilt walkers – you'll be sure to create a night to remember! Take a look behind the mask of our previous Masquerade Balls!
Christmas Circus Event Theme
Step right up to the greatest show on earth with our Circus themed events. This is a great new way to dress up your Christmas party and make it stand out from the norm. We can help transform your event venue into a spectacular big top with performances from jugglers, stilt walkers, contortionists and flying artists to make your festive evening a real whizz. Enjoy Popcorn and Candy Floss whilst browsing the many side shows. Check out our previous Circus theme events here.
Christmas Great Gatsby Event Theme
Venture back to the Roaring 20s – an era famous for economic boom and industrial growth, celebration and merriment. It was a time where aspirations were high, inhibitions were low and everything was about style and panache. The music halls were filled with party people, celebrated musicians playing jazz and swing music and rooms oozed glamour! There's nothing better than a 1920's themed event for the perfect party theme! Eventologists bring you the best ever party! A great Gatsby themed party!
Our event stylists will take you back in time and dress your venue top to toe with 1920's themed décor from backdrops to theatrical drapes and table settings that ooze sophistication.
Make the experience even more magical with Flapper girls who will welcome guests on arrival and then perform a cabaret show during dinner. Then sit back and sip on a Martini to enjoy a 1920s style band or our very own Cara Emerald! Want to join in? cluck those heels on the black and white dancefloor. Integrate a photobooth to give guests a chance to take away memorabilia from the 'Roaring 20s' event! This theme is all about glitz and glamour of the elegant 1920s and we really know how to do it in style!
Christmas Greatest Showman Event Theme
Roll up, Roll up to The Greatest Show on Earth by the one and only Eventologists! The Greatest Showman has been one of the latest Hollywood hits to influence the Themed Event Scene and is a great theme for corporate Christmas parties. Eventologists is delighted to bring you some exciting Greatest Showman Themed Party ideas to transform your event or venue into a stunning circus theme that wows everyone as the curtains drop! The Greatest Showman Circus Theme should be filled with colour, theatre, lights and entertainment. It all starts with the show Ringmaster who can be the host for the evening to set the scene to a circus themed corporate event! As far as themes are concerned, our specialists will help to create a fully immersive theme in the room to create a bespoke Christmas themed event to transform your event venue into the most beautiful festive space. To add that extra impact, we can provide Christmas themed entertainment that will keep guests engaged all evening.
Call one of our Event Specialists for more details about our Christmas Party Theming options and to book.
Winter Wonderland Themed Event!
If you're trying to find the ultimate way to bring the white and the sparkle of Christmas to your party, then look no further, because a Winter Wonderland Themed Event by Eventologists will transport all the wonders of a frozen land to your venue!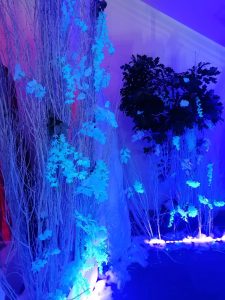 Get ready to be immersed in a traditional winter setting whilst hosting a mesmerizing and classical celebration with a Winter Wonderland themed event. Picture your chosen venue and use your imagination to envision how we will transform it into a stunningly white, silver and ice blue creation.
Wow your guests from the entrance with a beautifully sculpted snow and ice tunnel where snowflakes delicately fall over them, making them feel the breeze of the chill winter air, surrounded by icicles and fake snow that will set the scene all around. They then will walk into a dinner area lit with whimsical white and blue lighting to encase the surroundings in a wintery feel.
Imagine snow drenched pines and wintery trees, then imagine dazzling fairy lights scintillating all around in the most magical of atmospheres. Everything is possible for Eventologists' team of event stylists. The ambience can be transformed from the coldest of ice caves to the snuggest of ski lodges, and it's all up to you and your preferences. Make sure to share with us all your best Winter Wonderland themed party ideas so we can tailor a unique experience that meets all your requirements and expectations.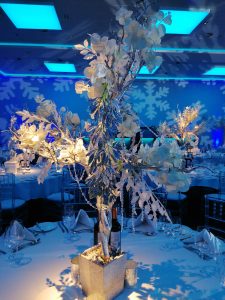 To guarantee you get value for money and to save you from any worries, we count with a wide array of in-house Winter Wonderland themed props and decorations at disposition: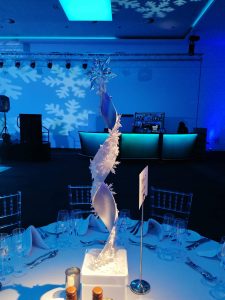 Elegant draping to adorn the venue, with tables and chairs dressed in crisp white paired with icy details in blue hues and metallic tones.
Original table centres that will make each table stand out: ice balls, ice shards, twinkle twigs, Christmas cloches, frosty candelabra, snowballs, icicles, ice buckets… everything icy and wintery, we have it!
Winter and Christmas themed props and decorations, such as snow-drenched Christmas trees, frosty white trees, icy stalactites, and sleigh rides, which besides of creating a magical ambiance make for a great photo op for guests.
Stunning mood lighting effects that will enhance the wintery feel and bring all the Christmas spirit.
Entertainment cannot be forgotten, so during the evening a variety of characters and performers will make an appearance. Ice Queens, Jack Frost, Snow Fairies, Ice Maidens, living statues and stilt-walkers, all can be found wandering around and catching the eye of the attendees. And when they need to get warm, guests can enjoy some tunes and make their way to a Starlit Dancefloor to party the night away! This Winter Wonderland themed event is an unforgettable experience!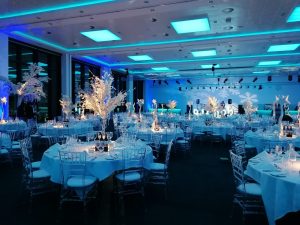 A Focus On A Favourite Birmingham Venue – Edgbaston Cricket Club
As an Event Management Company, we're lucky enough to work at some great sporting venues and have developed great relationships with the venue and their team. We'd like to review another venue we are missing during lockdown and that's the awesome Edgbaston Stadium.
Edgbaston Cricket Club offers a range of inspiring meeting spaces, engaging delegates from the moment they arrive to one of UK's leading sporting venues. Their dedicated team are always on-hand to help plan your meeting and ensure it runs as smoothly as possible. The venue offers great options for holding large and small events across the site. Let's discover some of our favourite events that we have worked on here.
A Venue for Large and Small Events in the Heart of Birmingham
Located in Birmingham, Edgbaston is an award-winning conference, events, and meeting venue. Their dedicated, passionate, and experienced events team will work with you to deliver a truly unforgettable occasion that you and your guests will remember for years to come. With many smaller suites to hold smaller meetings as well as 2 large conference spaces, we think Edgbaston Cricket Club is an ideal space for so many types of events!
Exhibition Suite
Over the last few years, they have seen the Exhibition Hall been transformed into themed Christmas Parties, catwalk shows, wedding fairs, local and national awards dinners and a range of unique events including Fashion Shows and White-Collar Boxing.
With 1050sqm to work with, this blank canvas space is very adaptable to any event requirements to suit customers' needs. This facility is the largest at Edgbaston and is ideal for large events with capacities up to 800 guests.
Banqueting Suite
The Banqueting Suite is a highly versatile space, perfect for hosting larger conferences, award dinners, graduation balls and weddings. It is one of the largest suites available at Edgbaston and boasts its own private balcony offering spectacular views across the iconic stadium and Birmingham skyline.
Our Banqueting Suite which is sure to provide the perfect venue to host your next event, offering exceptional adaptability to customise this space to make your event unique to you.
Room with a stunning view
Named after West Indies legend Brian Lara's record-breaking unbeaten 501 for Warwickshire in 1994, the new 501* brings a new sophisticated, stylish, and modern appeal to the facilities at Edgbaston.
The innovative design of the room encapsulates Lara's achievement with a tiled wall providing a ball-by-ball account of the innings and a plaque to greet you upon entering, dedicated to the events at Edgbaston on 6 June, 1994.
We share some of our most favourite events at the venue over the years which gives you great ideas of how versatile the venue is for a range of events and just why we've chosen to rave about it!
Wild West Theme for Properties for Kids
One of our most memorable and experiential events created at Edgbaston Cricket Club was a hoedown for Birmingham Children's Charity 'Property for Kids' . This Wild West Them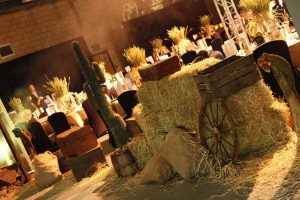 ed Showdown was on an epic scale with the exhibition hall full transformed with wild west themed props, cactus plants, wild west backdrops and other cowboy props. The evening was full of action with a cowboy cabaret , can-can dancers and other wild west actors, Rodeo Bull, Shoot Out Games as well as Wild West Photobooths! What a night thrilling night with over £40k raised!
Christmas Decor – Dancing through the Decades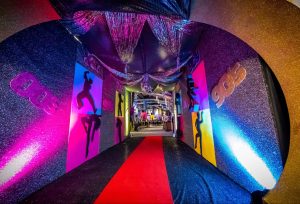 Eventologists transformed the Exhibition Hall during the month of December for the annual joiner parties which are by far one of the most popular parties to attend in Birmingham. From the moment that guests walk in, they were transported through musical decades with funky 70's disco props, 80's props and 90's décor. This theme was colourful and set the scene for the Smash Hits them
e. Walls in colourful draping, music posters, slinky ceilings, and cool selfie spots for a pic with your besties. This retro theme is fun and hugely immersive as everyone manages to get into the groove when they hear their favourite tracks!
Christmas Décor – Glam and Glitz
We have designed another glamourous joiner Ch
ristmas party at Edgbaston Stadium Exhibition Hall. This time the theme was Glitz and Glam – a popular dress up theme for Christmas Events. It's colours reminded us of the silver screen with blacks, silver and white as the base colour. A great alternative idea to an Oscars Themed Event or a Hollywood Theme Corporate Event. Our ideas for this staff party included Hollywood poster props, glitzy Hollywood entrance as well as an array of Hollywood Theme decor as well as a magical glittery ceiling with crystal chandeliers and mirror balls. Super chic and sexy, this alternative Oscar Themed Party is always popular at
Christmas or for Awards Dinners as it's such a celebratory theme. We have so ma
ny Oscar Themed/Hollywood Themed Décor ideas to inspire you, so you can be guaranteed that no one event will be the same!
Top 20 Classic Event Themes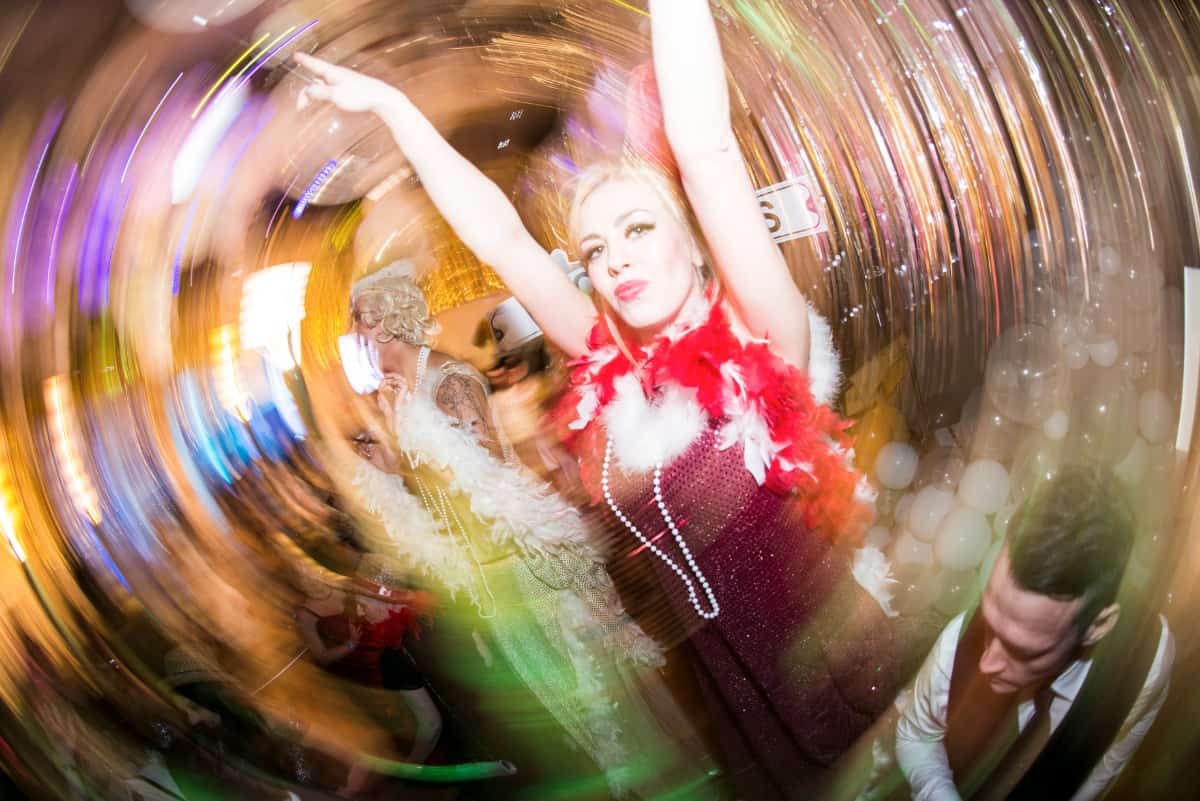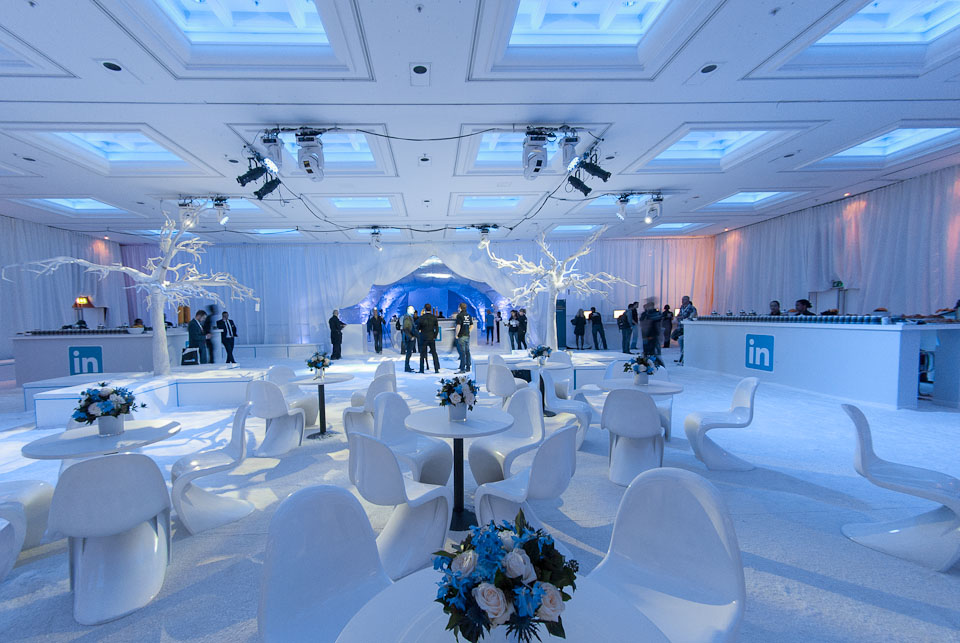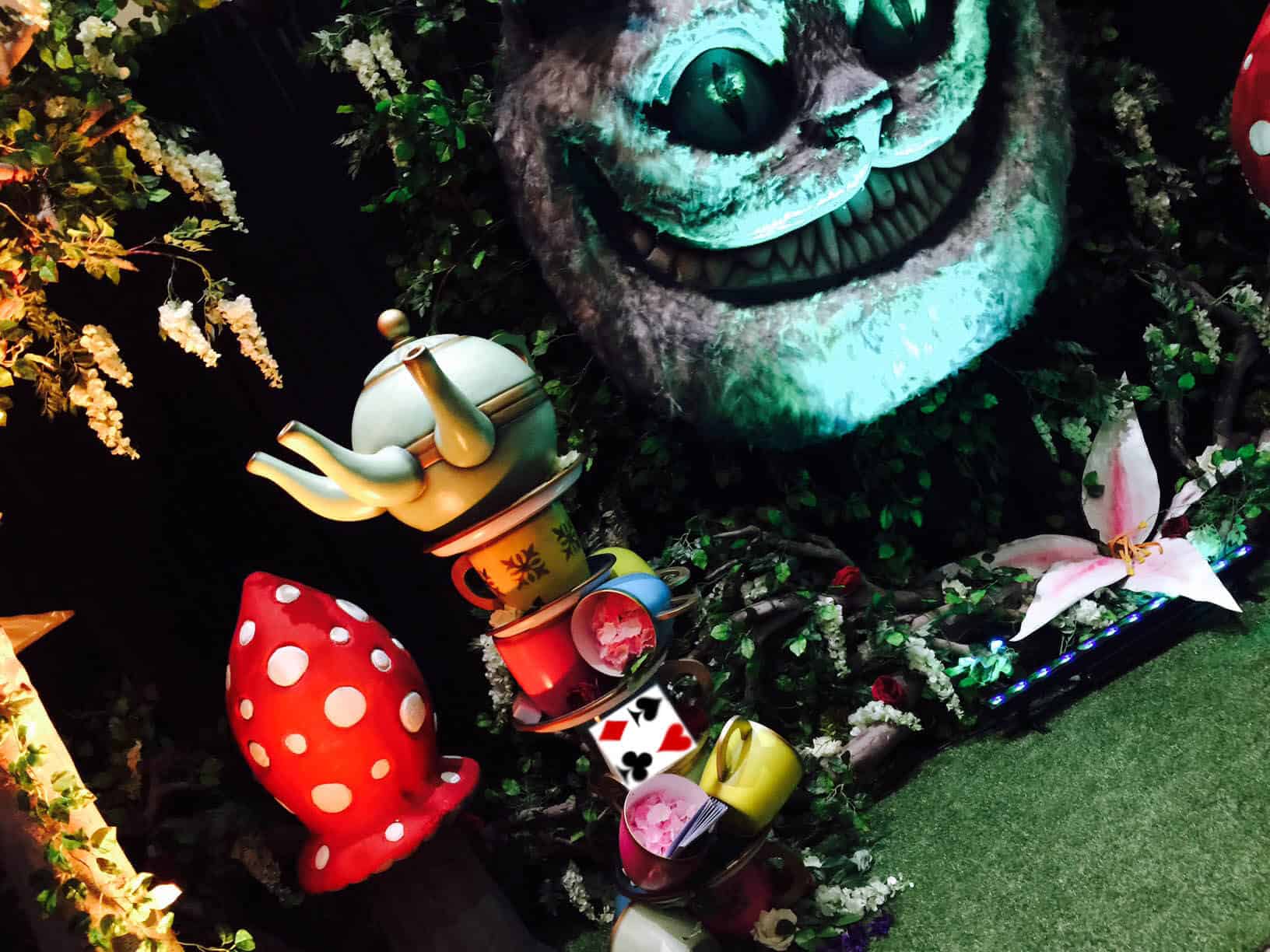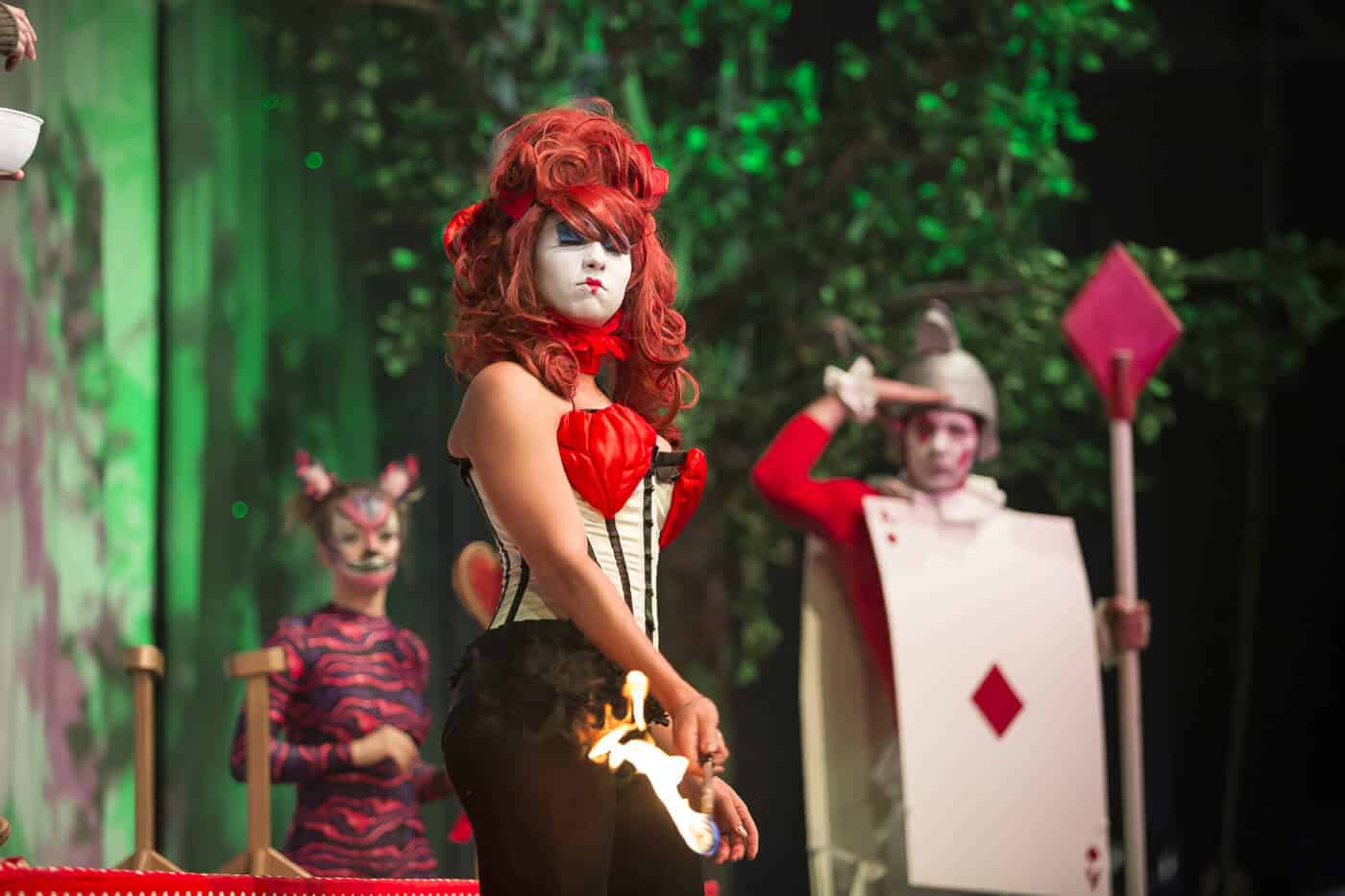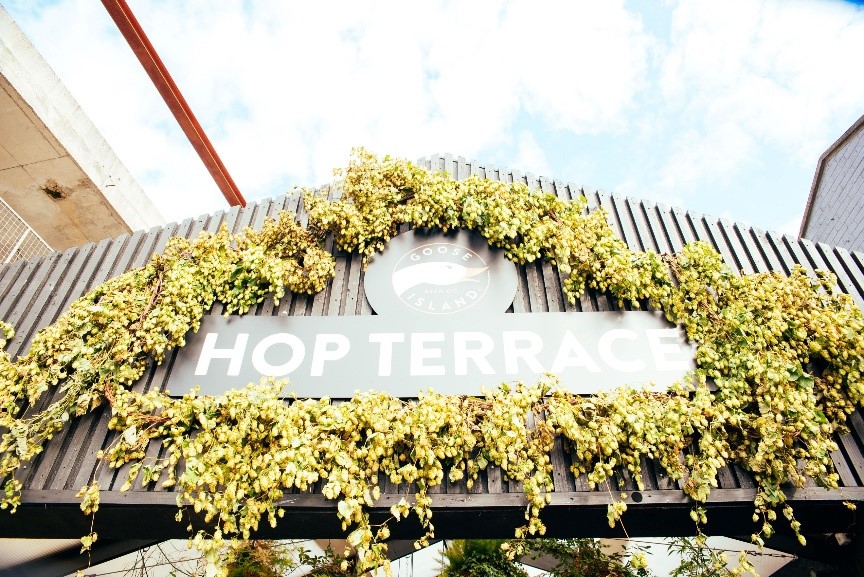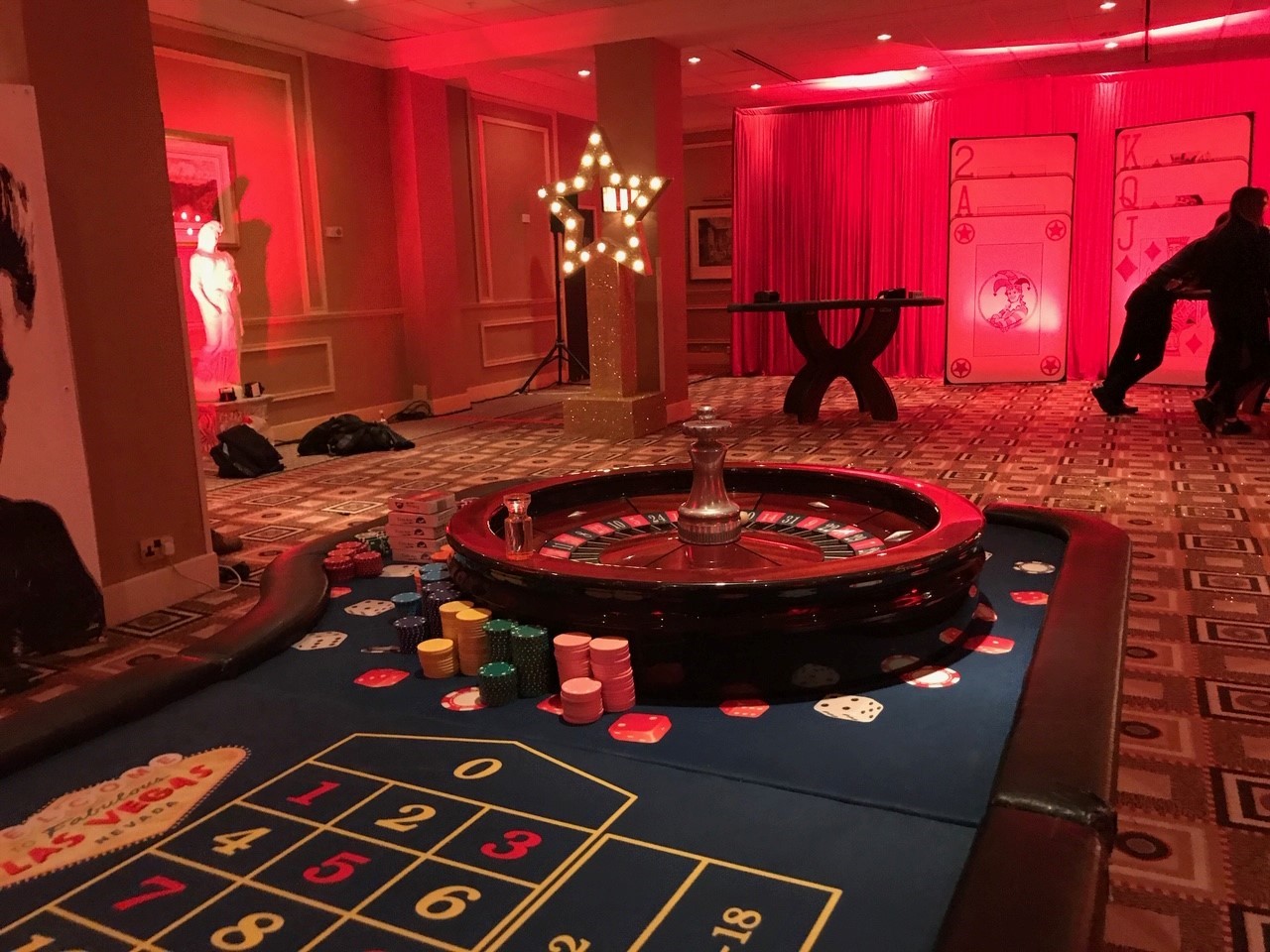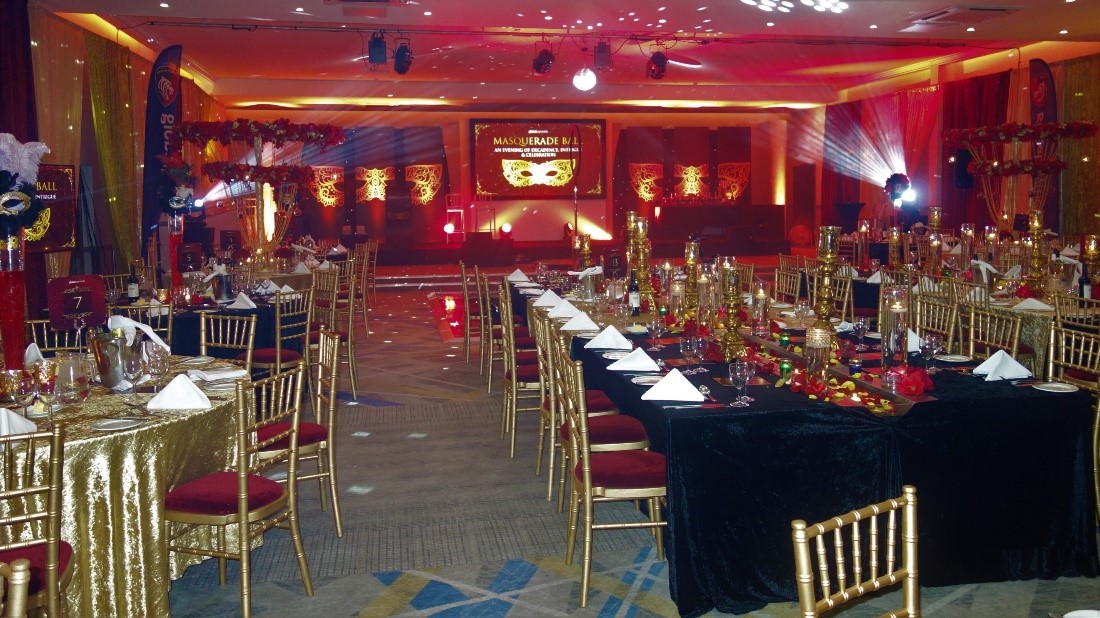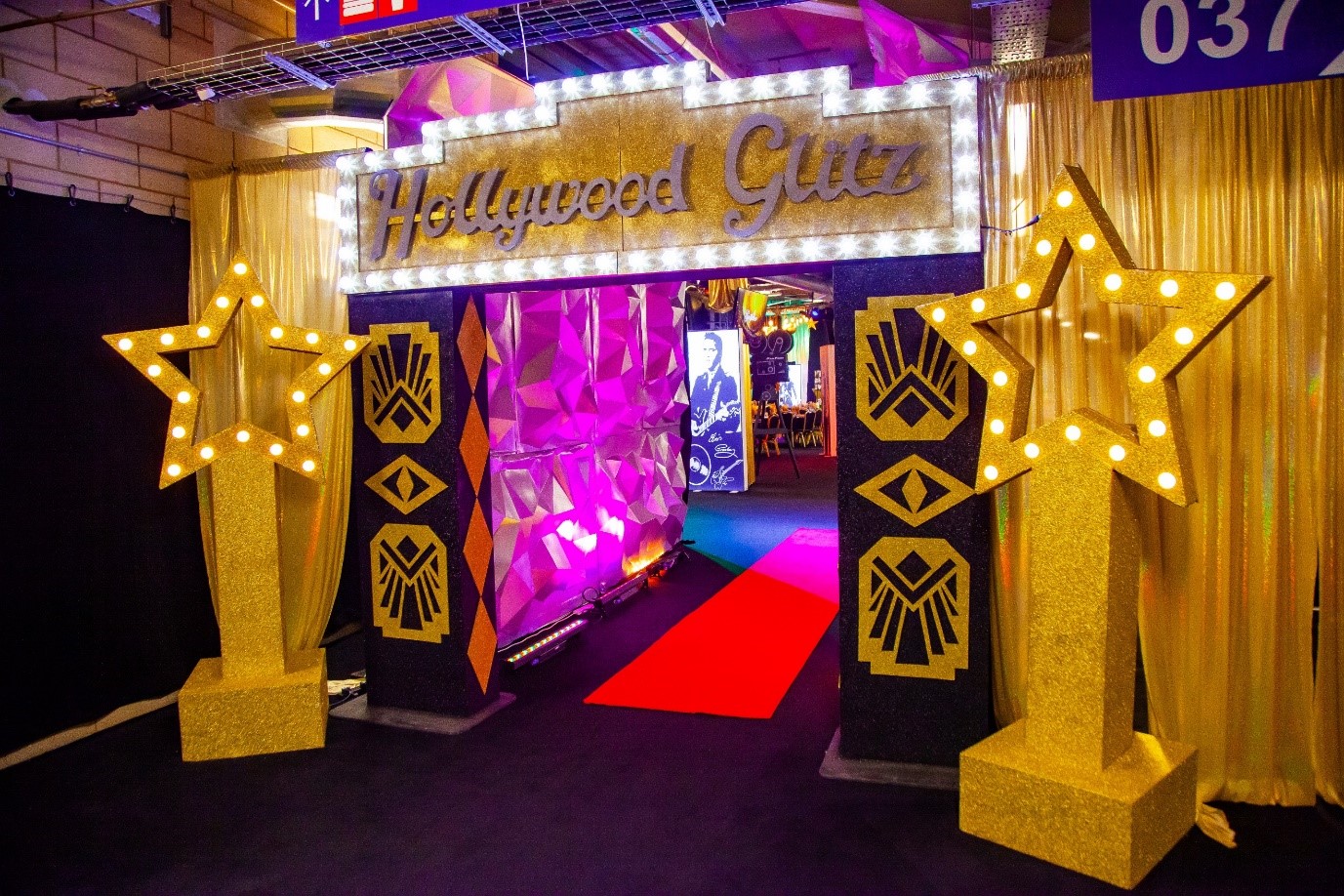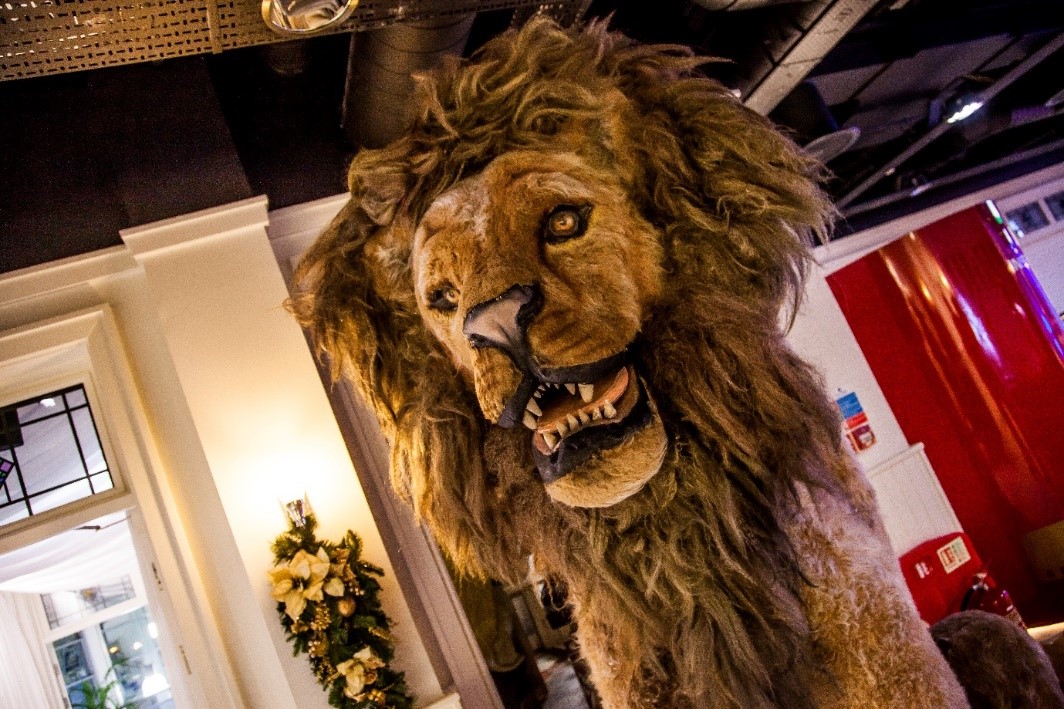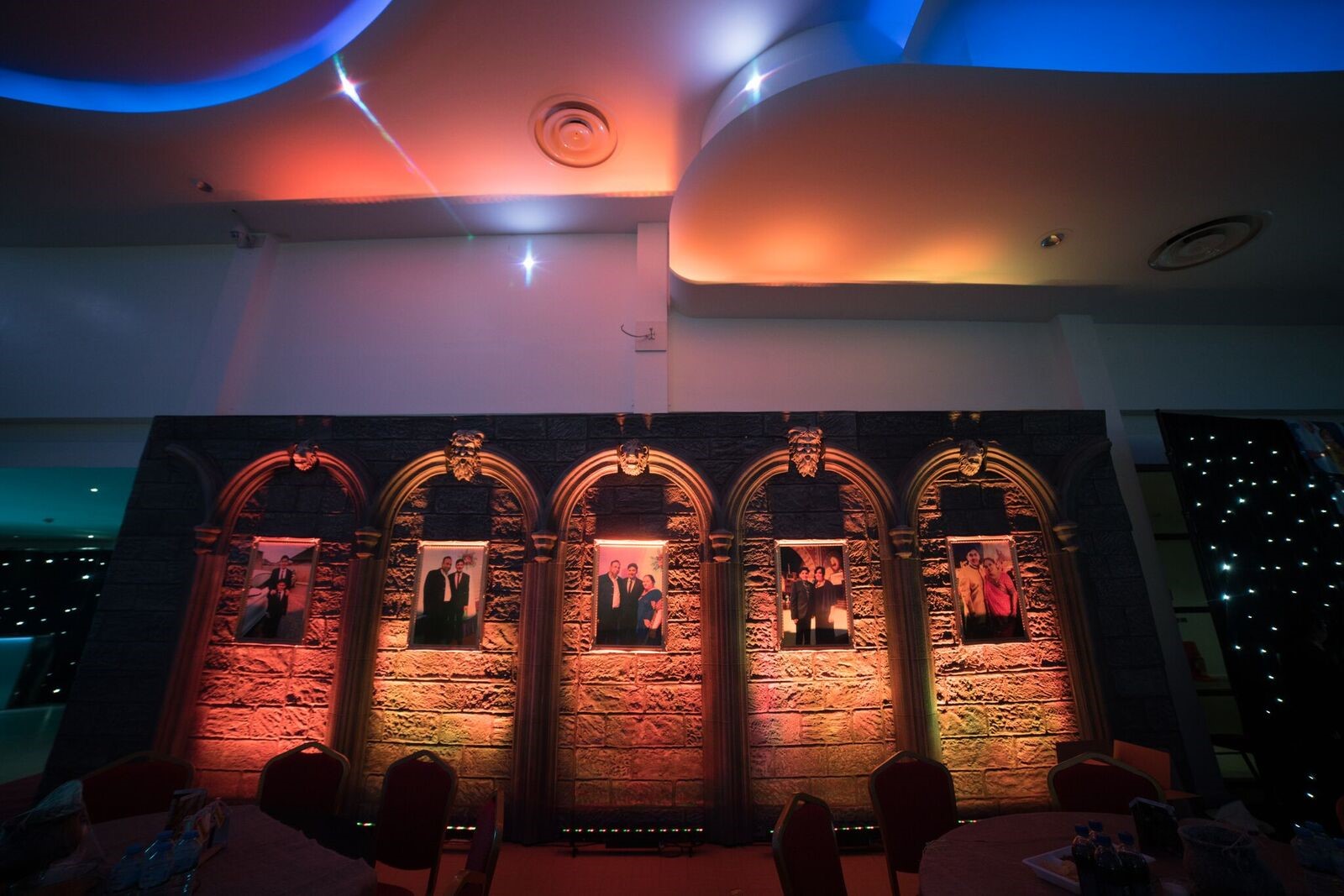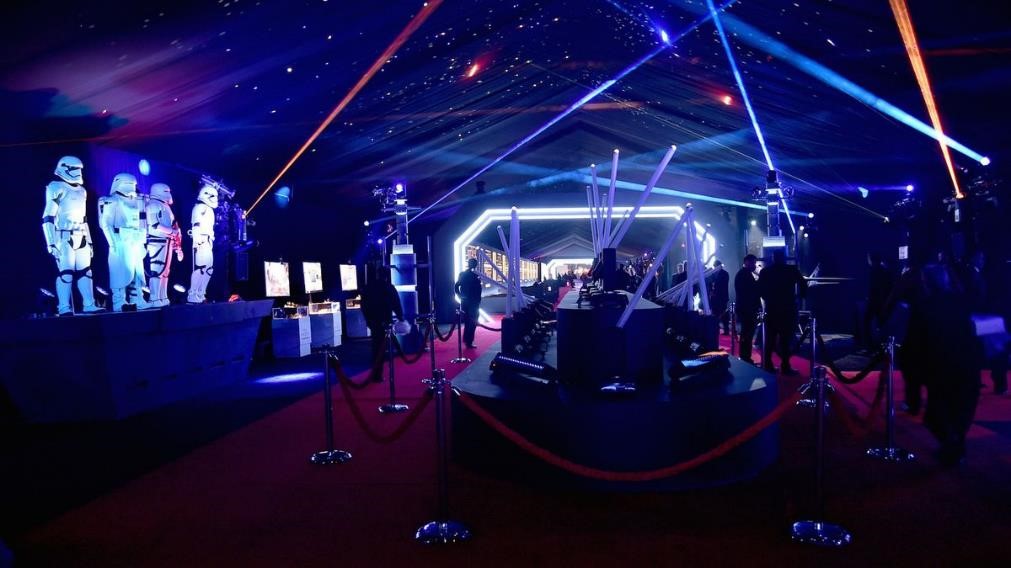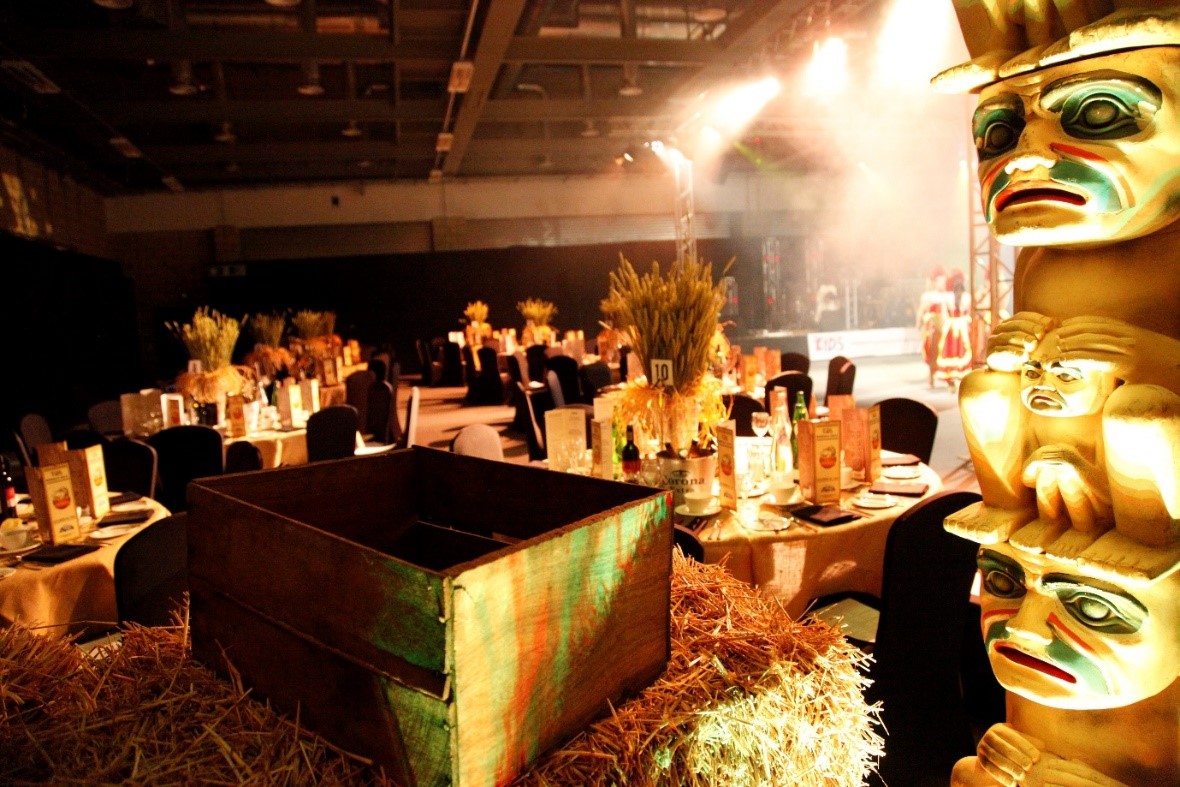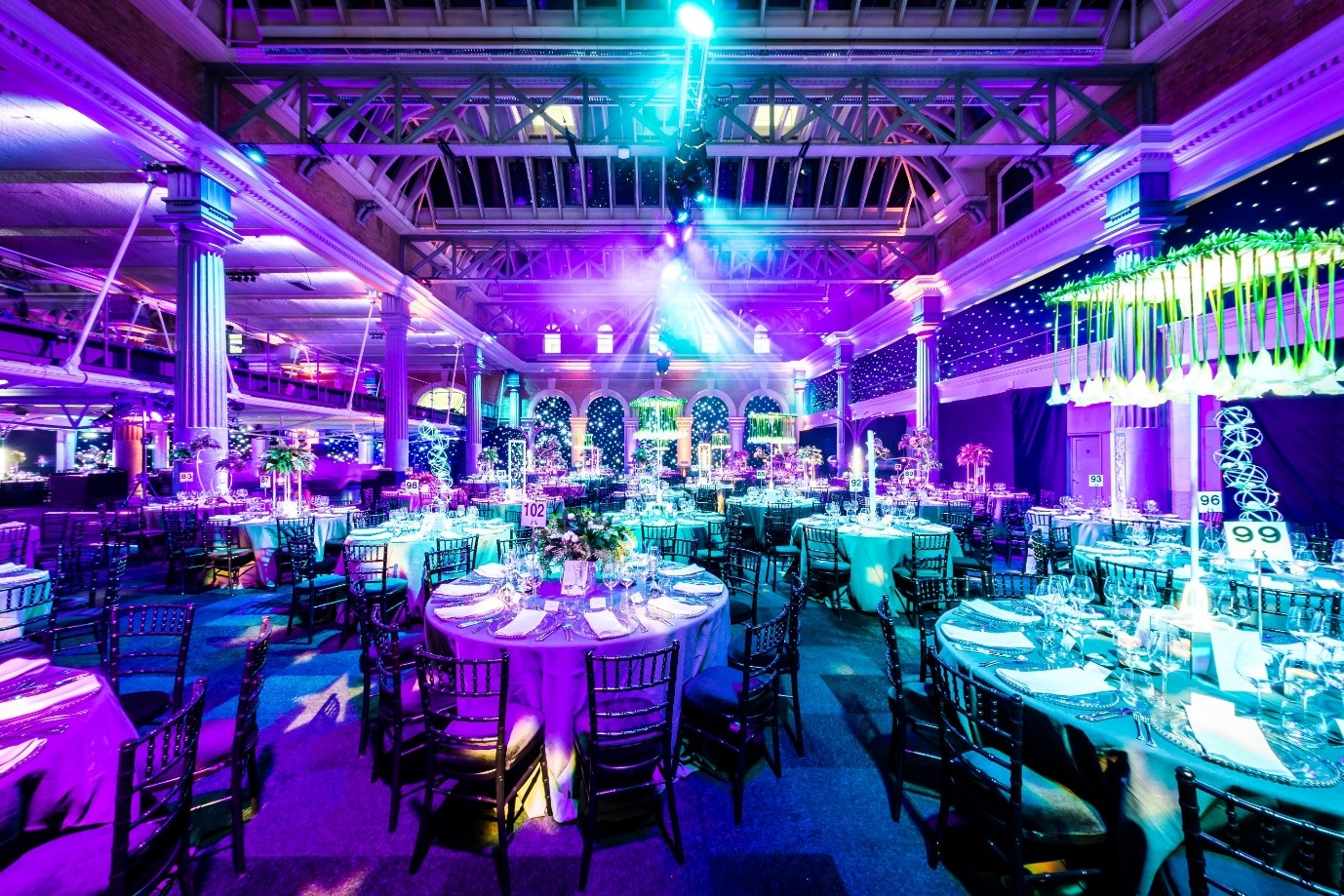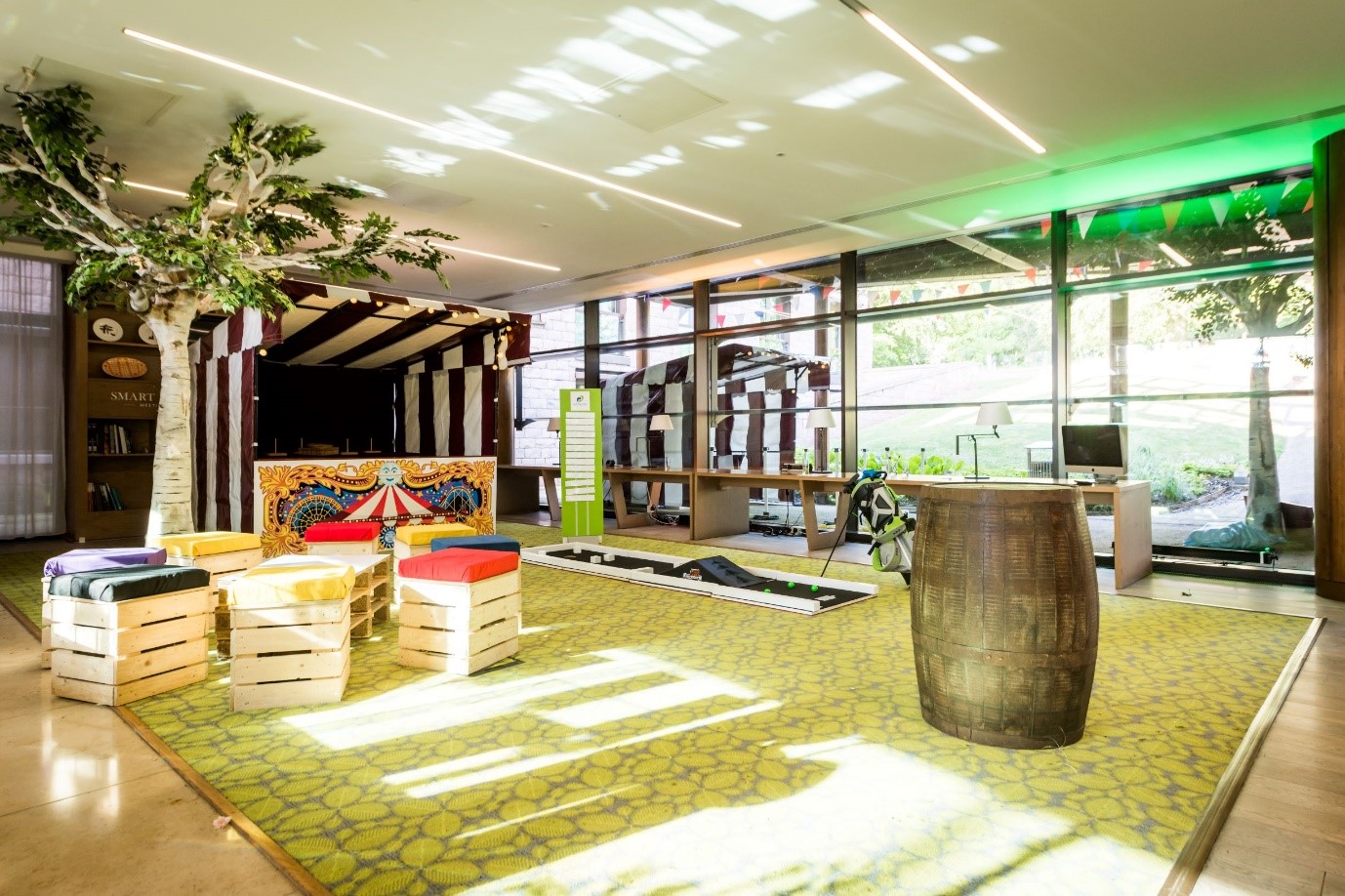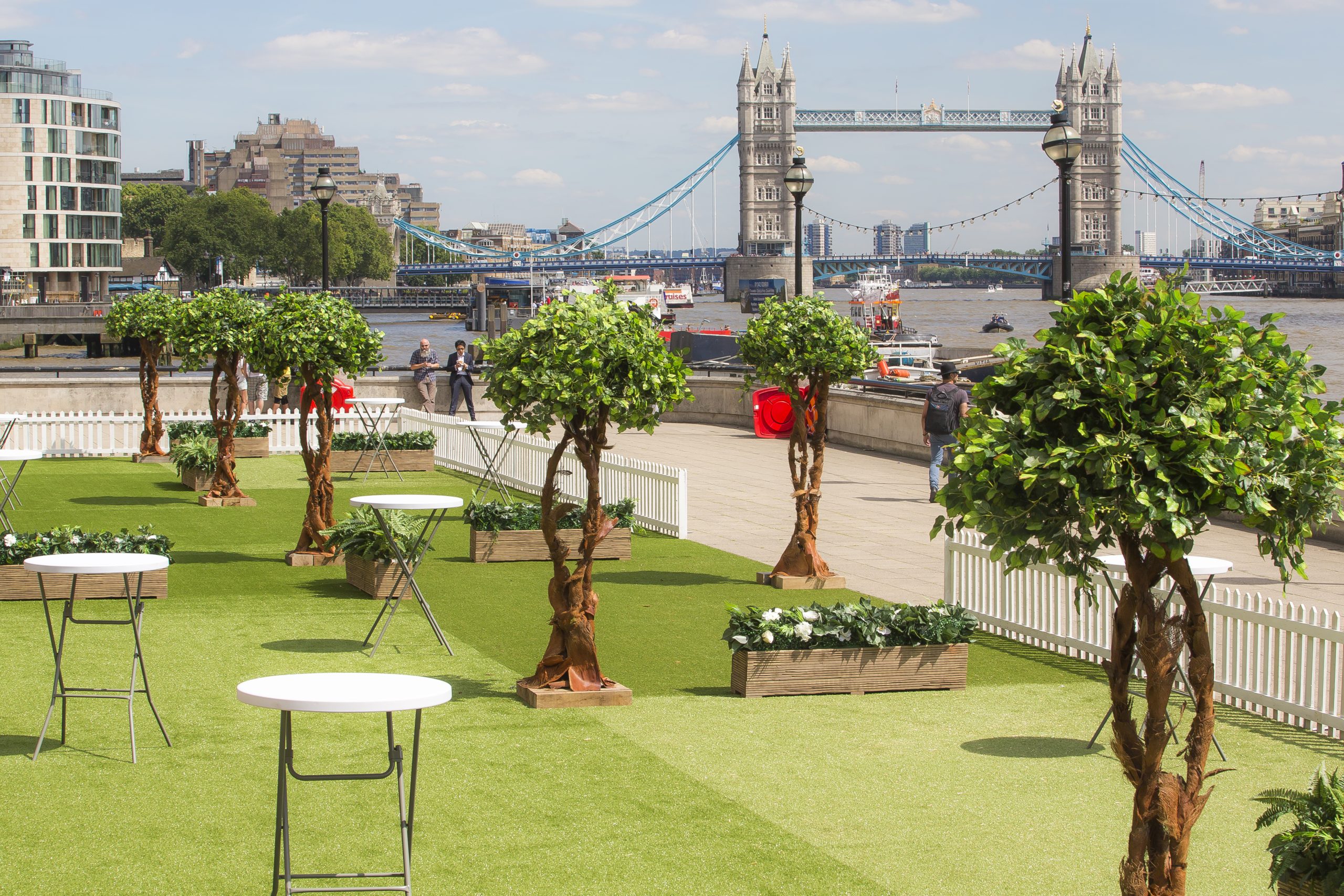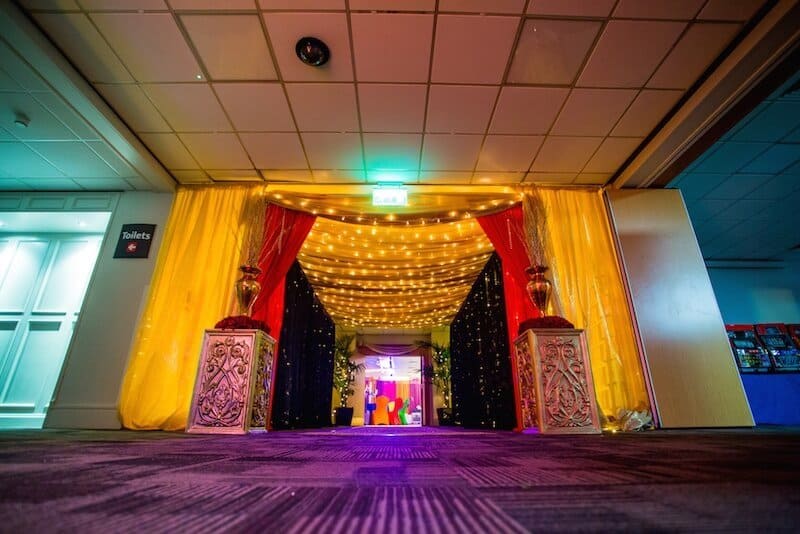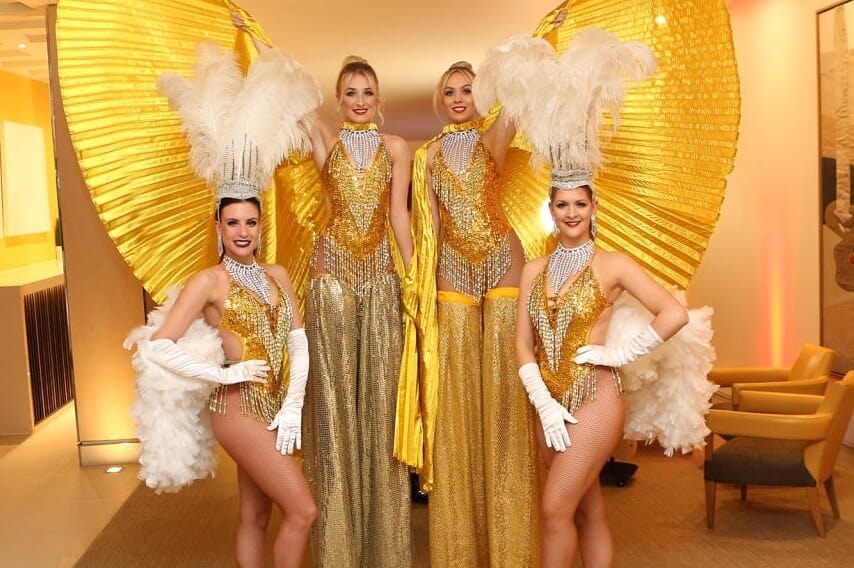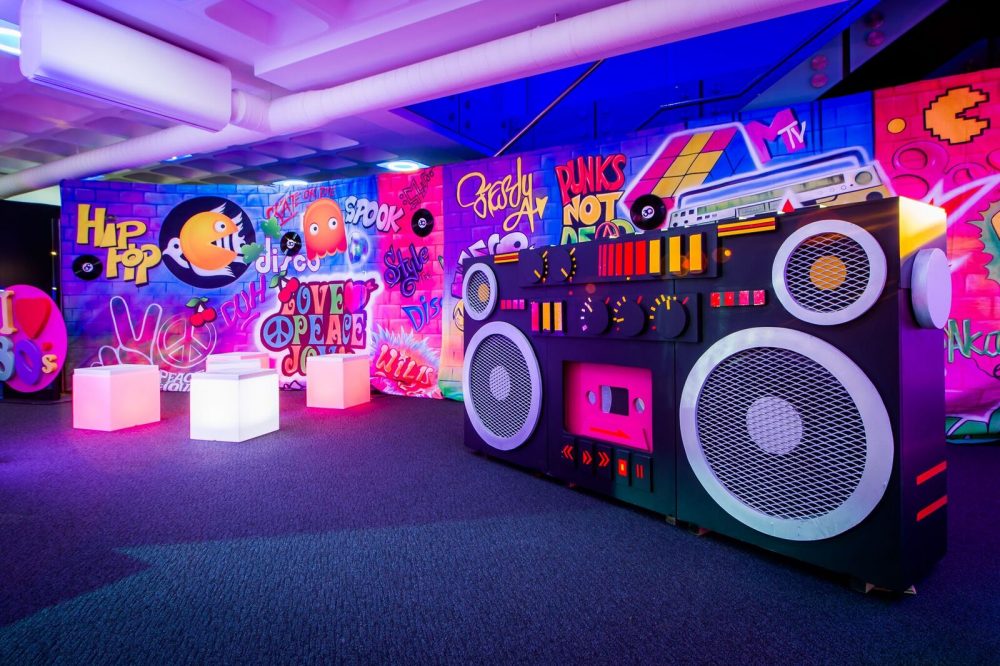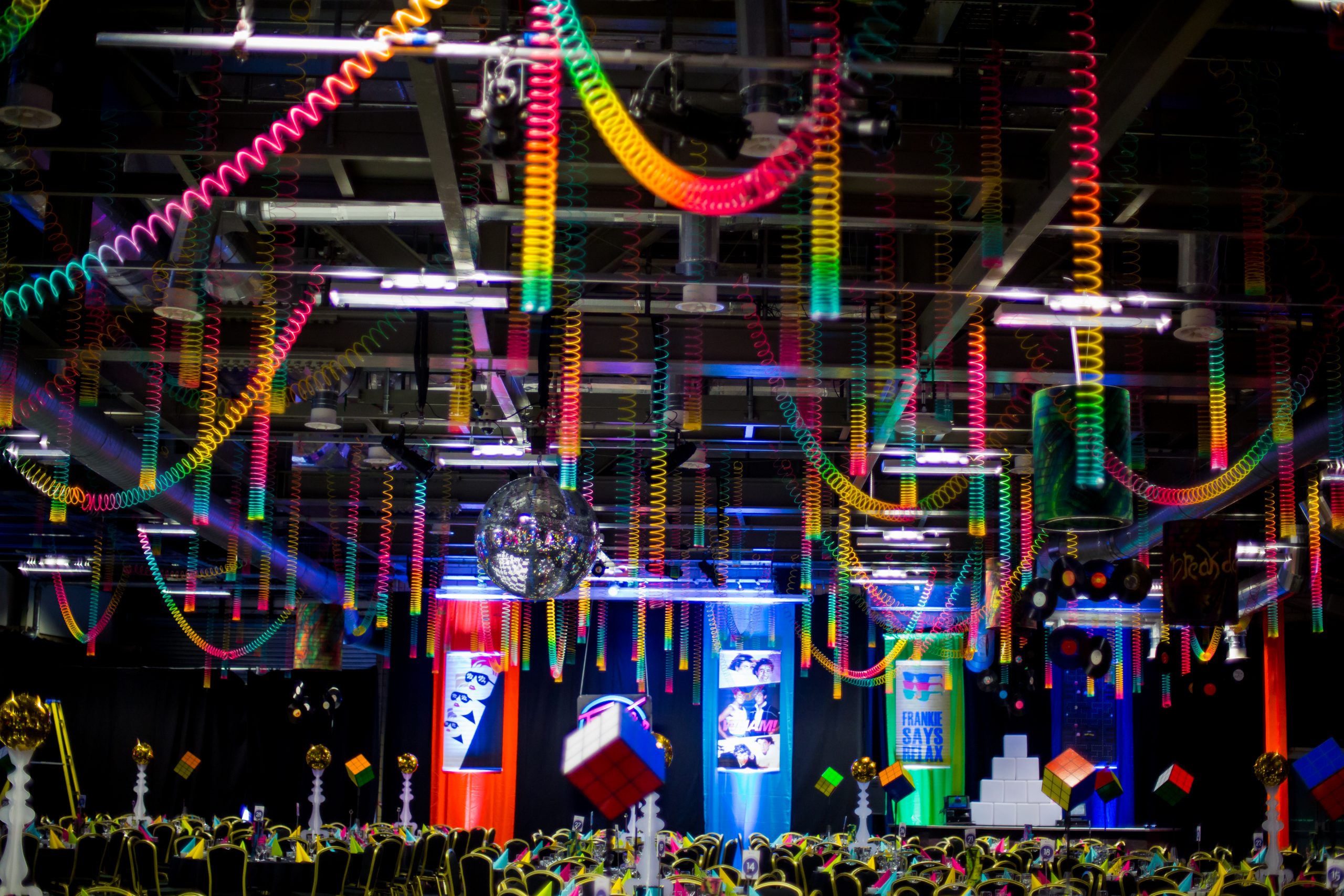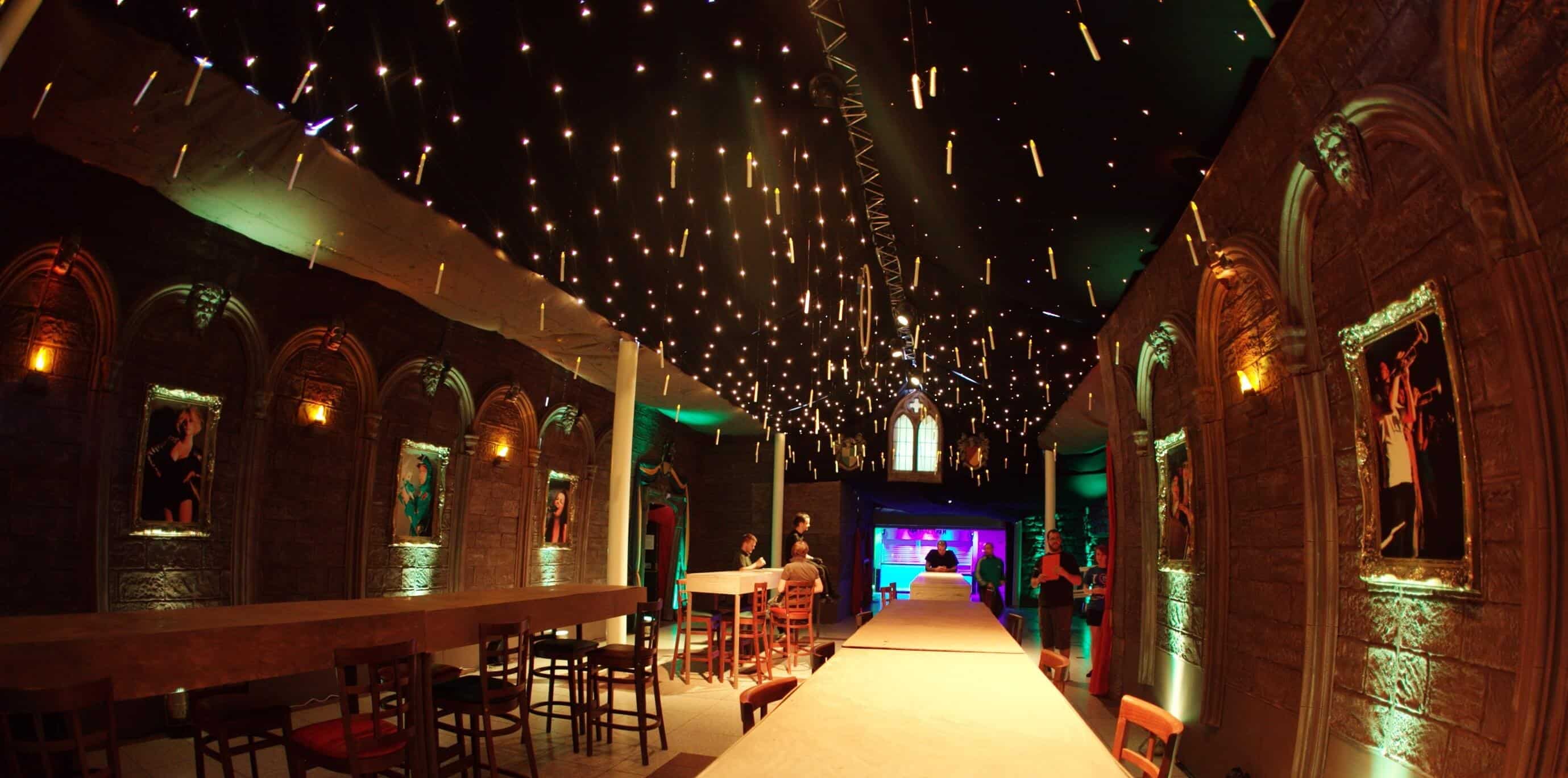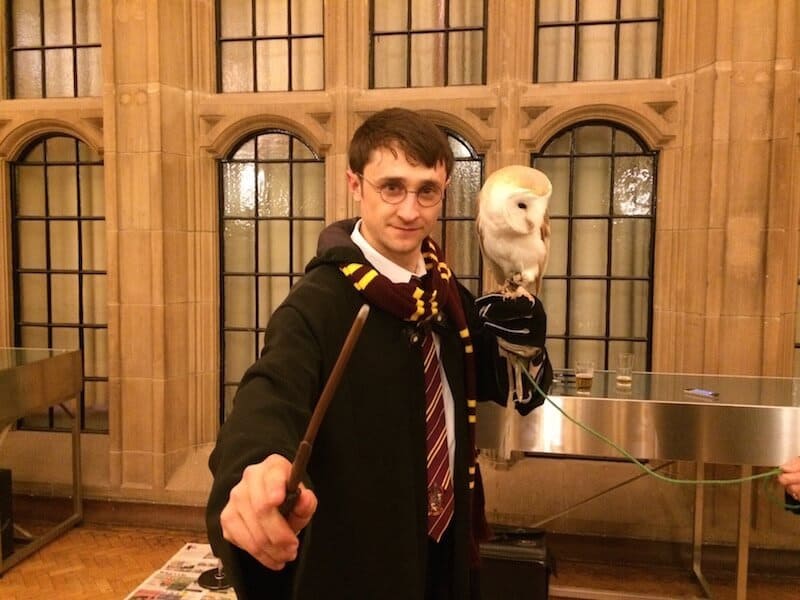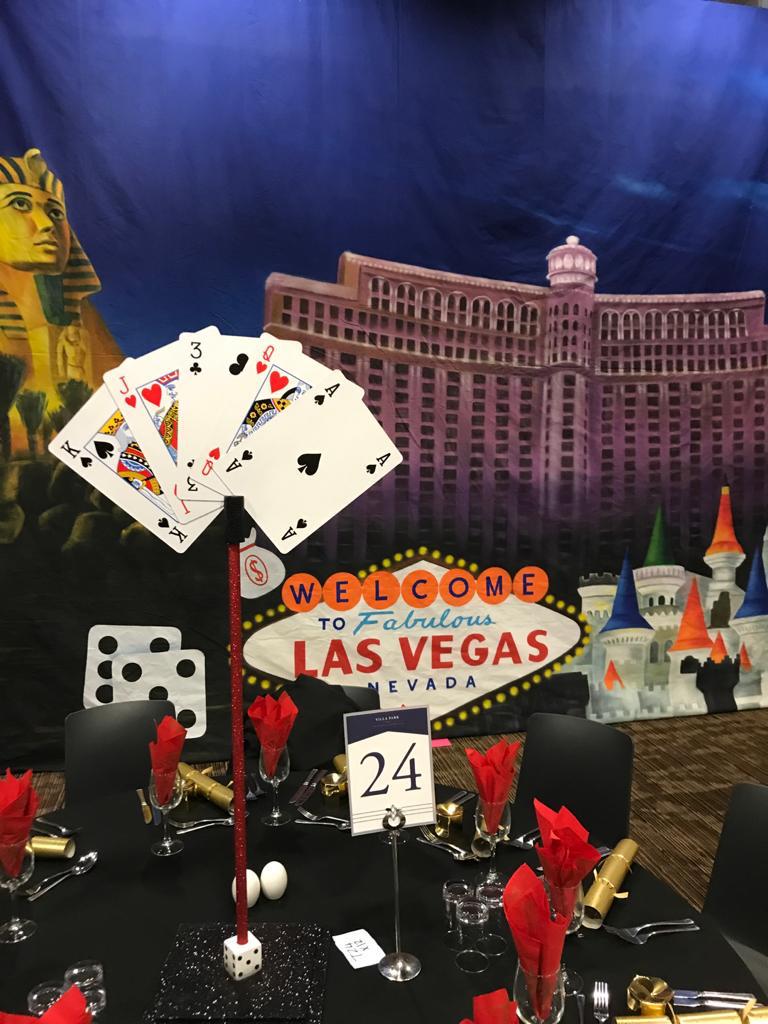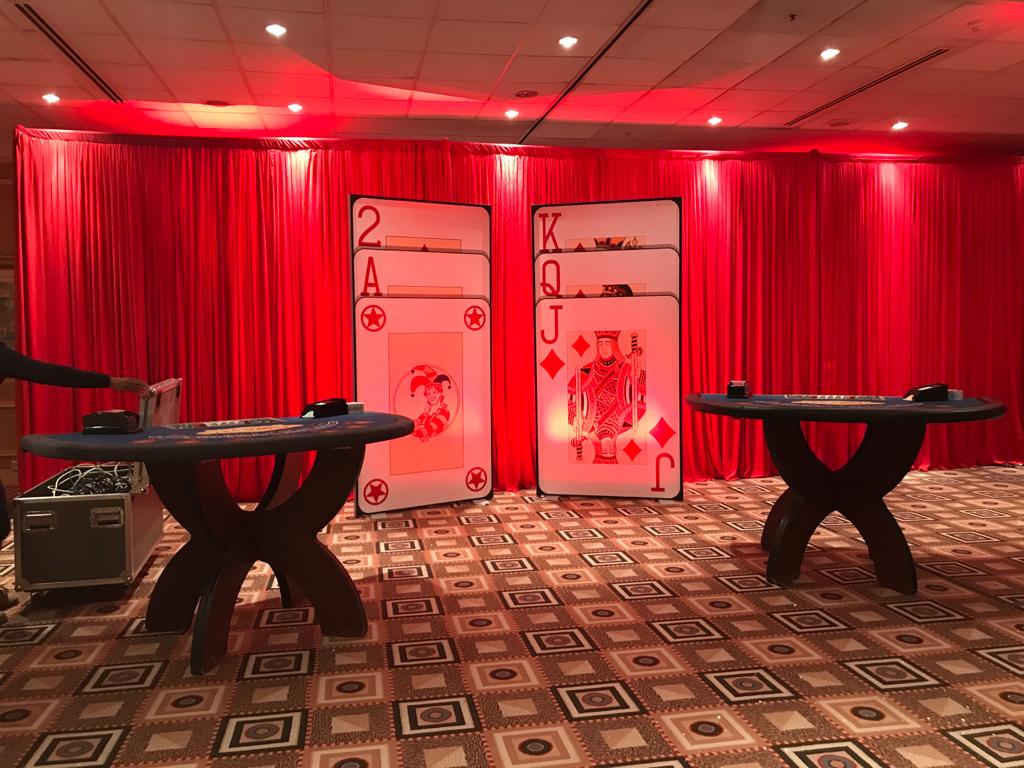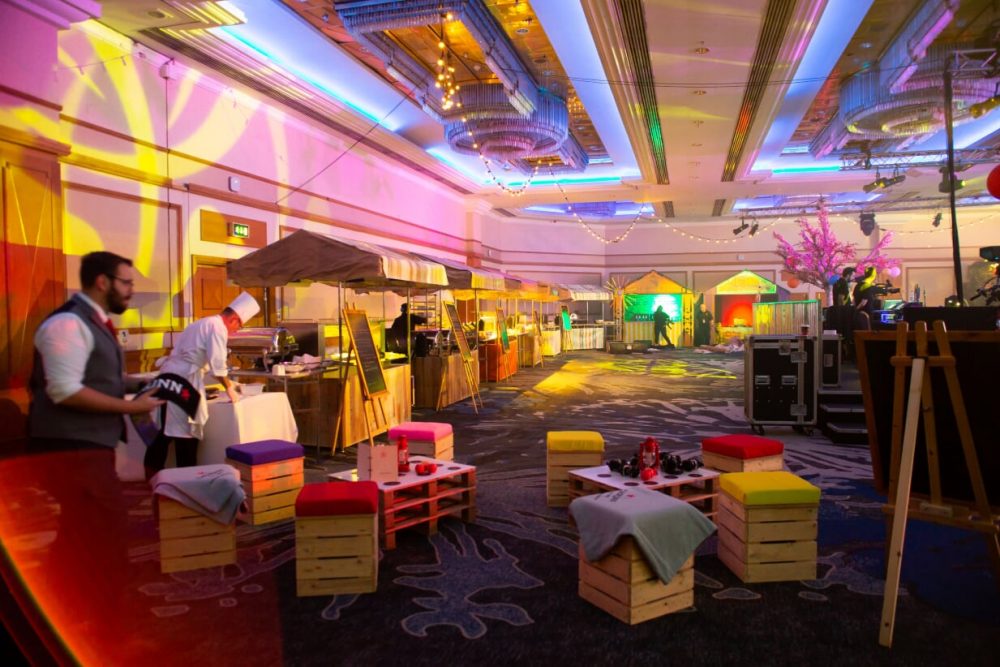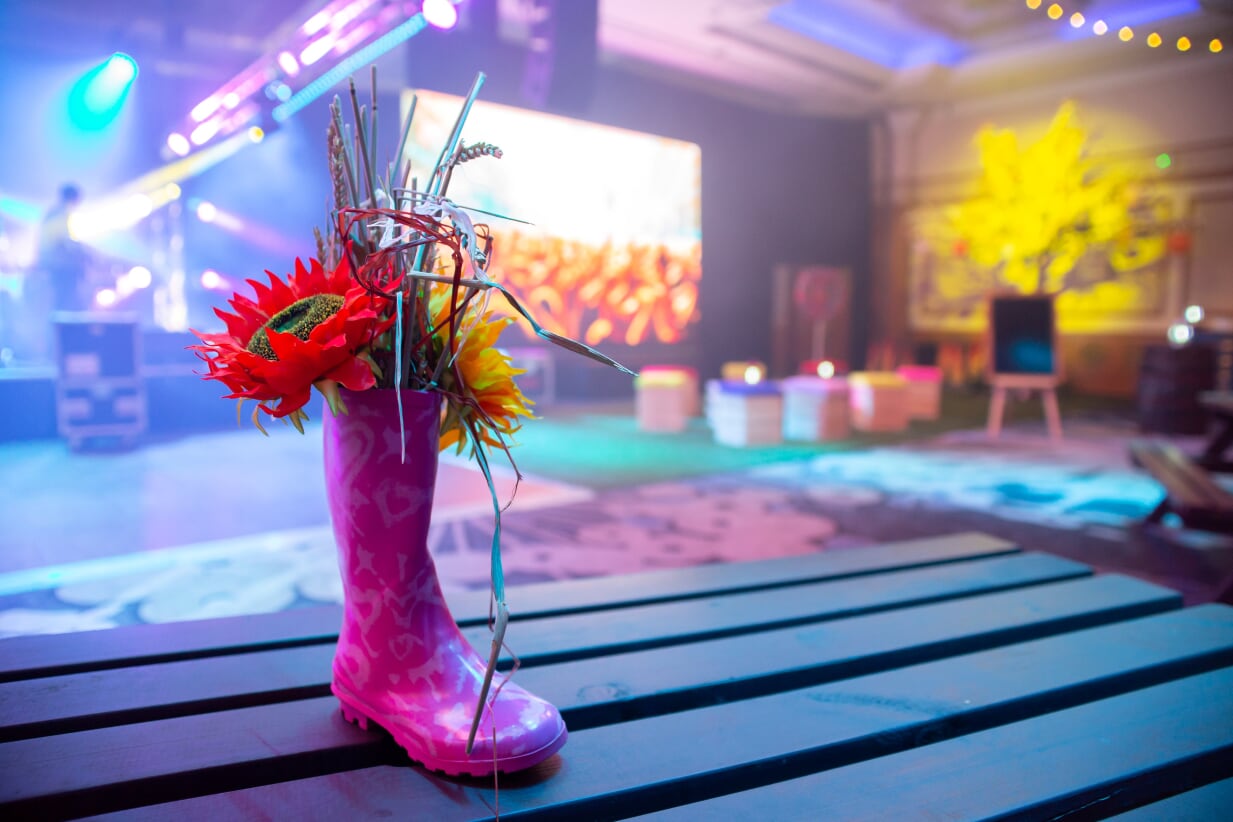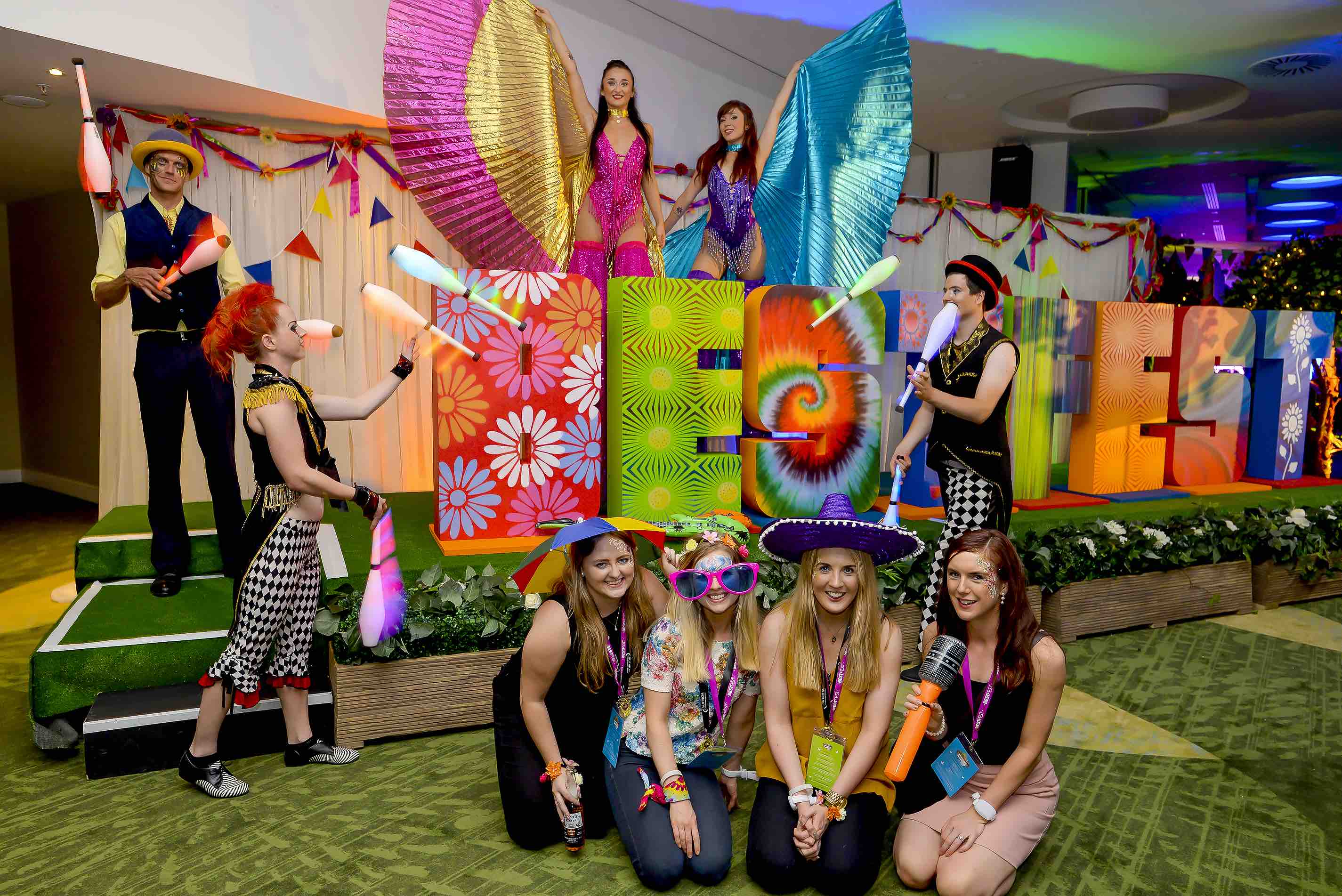 Roaring 20s Flapper Girls
Great Gatsby Theme Table Centrepieces
Winter-wonderland-ice-tunnel
Winter-Wonderland-Themed-Event
Winter Wonderland or Ice Themed Event Bar Hire
Alice-in-Wonderland-theme0
Alice-in-Wonderland-Characters0
Las Vegas Theme Roulette Table
Masquerade Dinner Event Theme
The Lion, Witch and Wardrobe Event Theme
Great British Picnic Event Theme
British Outdoor Pub Theme
Great-British-Garden-Party (1)
Great-British-Summer-Theme (1)
Oktoberfest Theme Food Hut
Masquerade Mask Table Centre
Red-and-Gold-Masquerade-Themed-Event
Glam-And-Glitz-Entrance-feature
Glam-and-Glitz-Entertainment
1980s Retro Themed Event Bar Hire
80s Rubiks Cube Table Centre 2
Willy Wonka Theme Table Centres (2)
Willy-Wonka-Theme-Table-Centres
Willy-Wonka-Lollipops-and-Cndy-canes
harry-potter-theme-table-centres
Las Vegas Event Theme Props
Las Vegas Event Theme Playing Cards Props
Festival Theme Welly Table Centre
Festival-Theme-Entertainers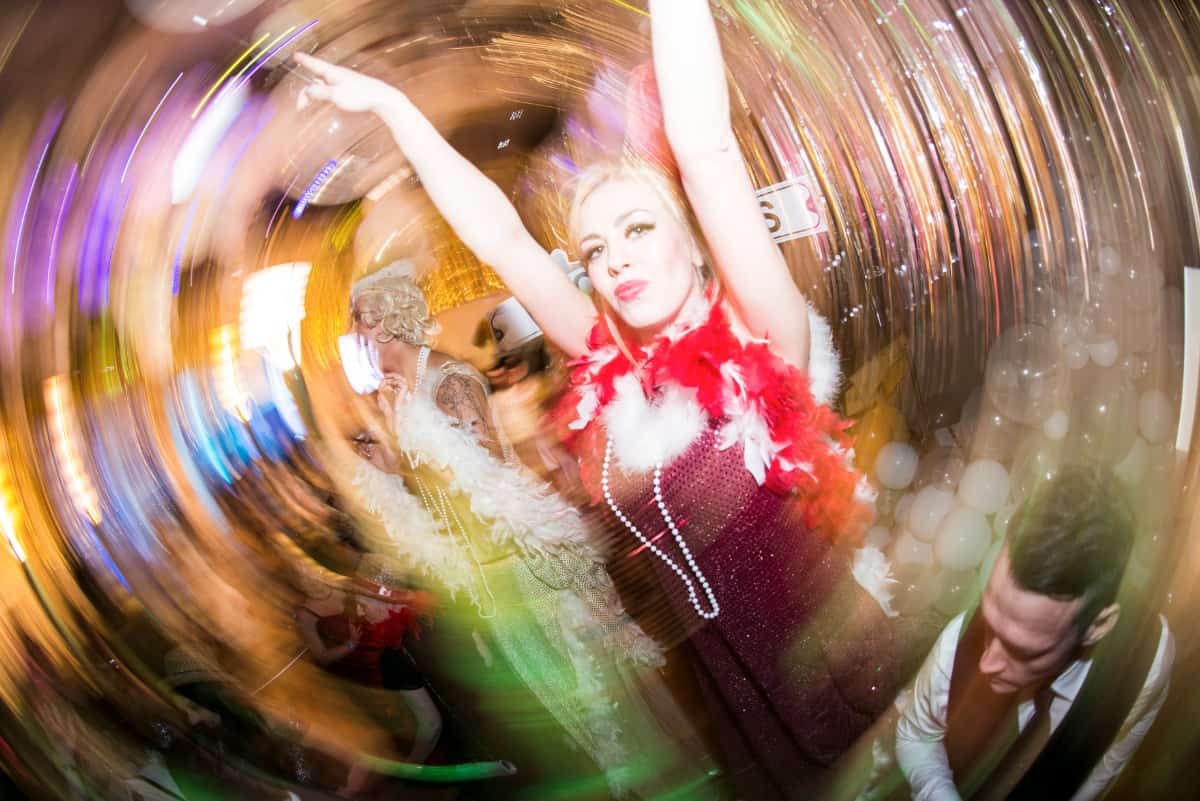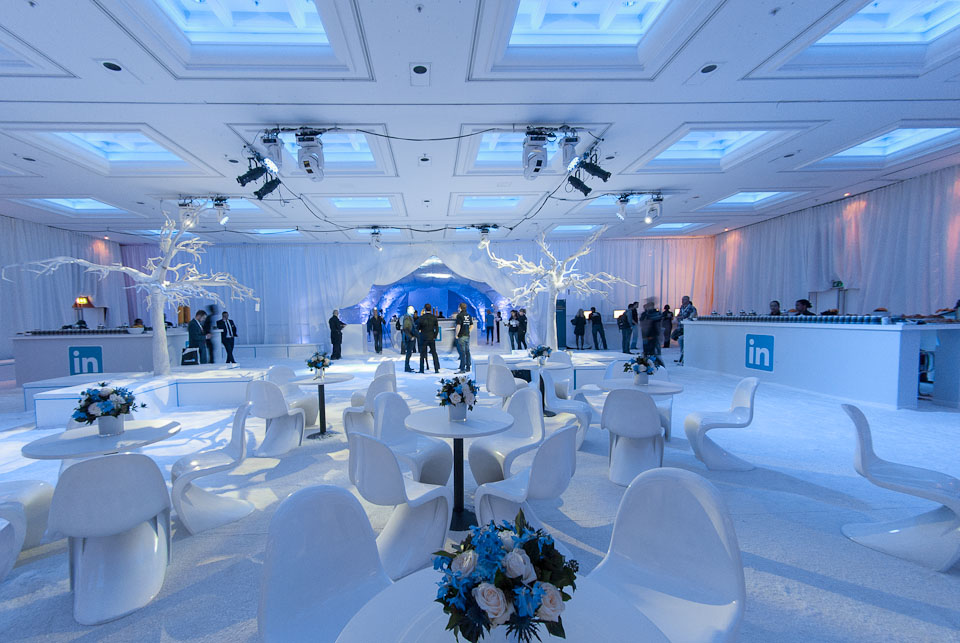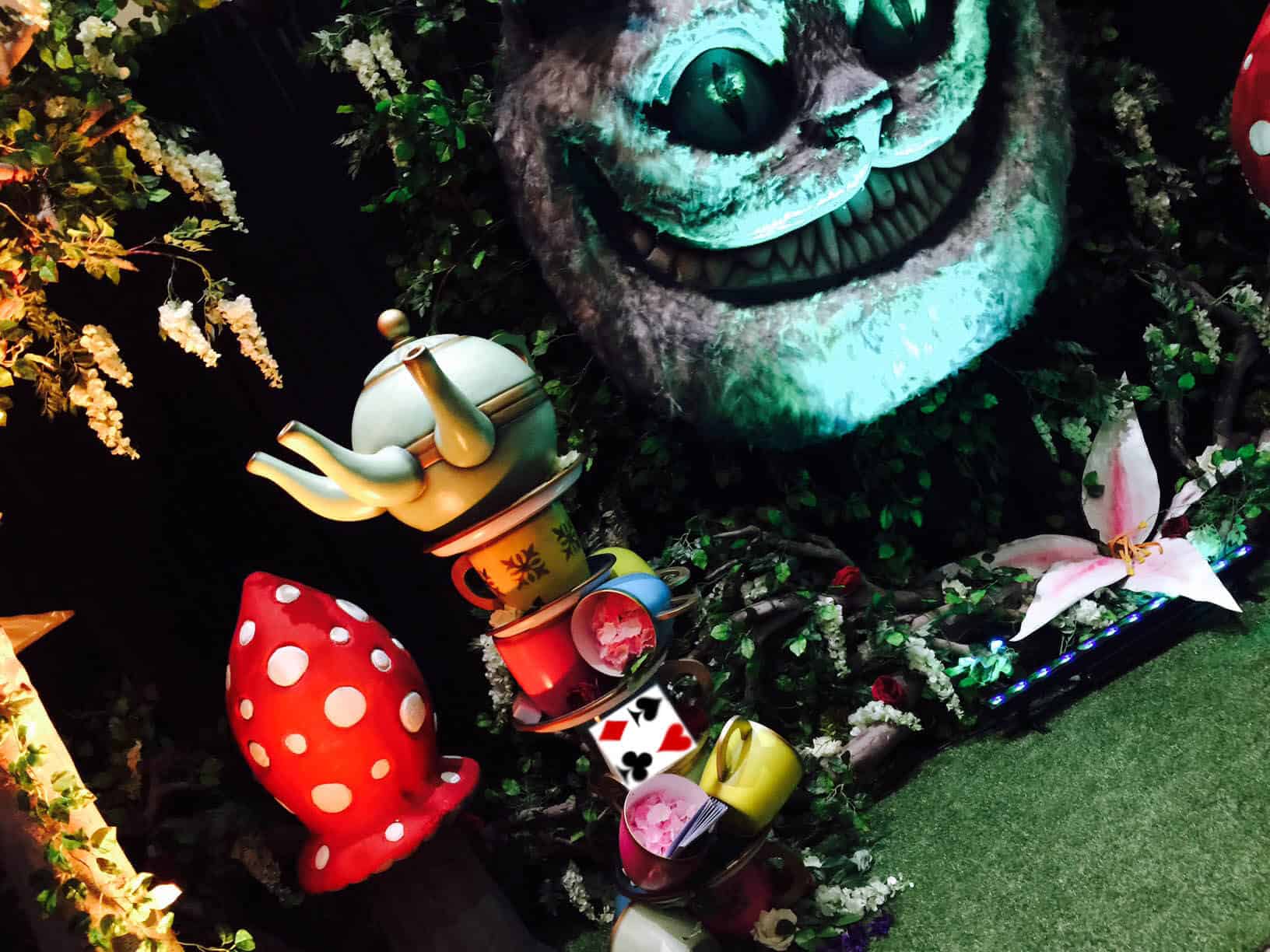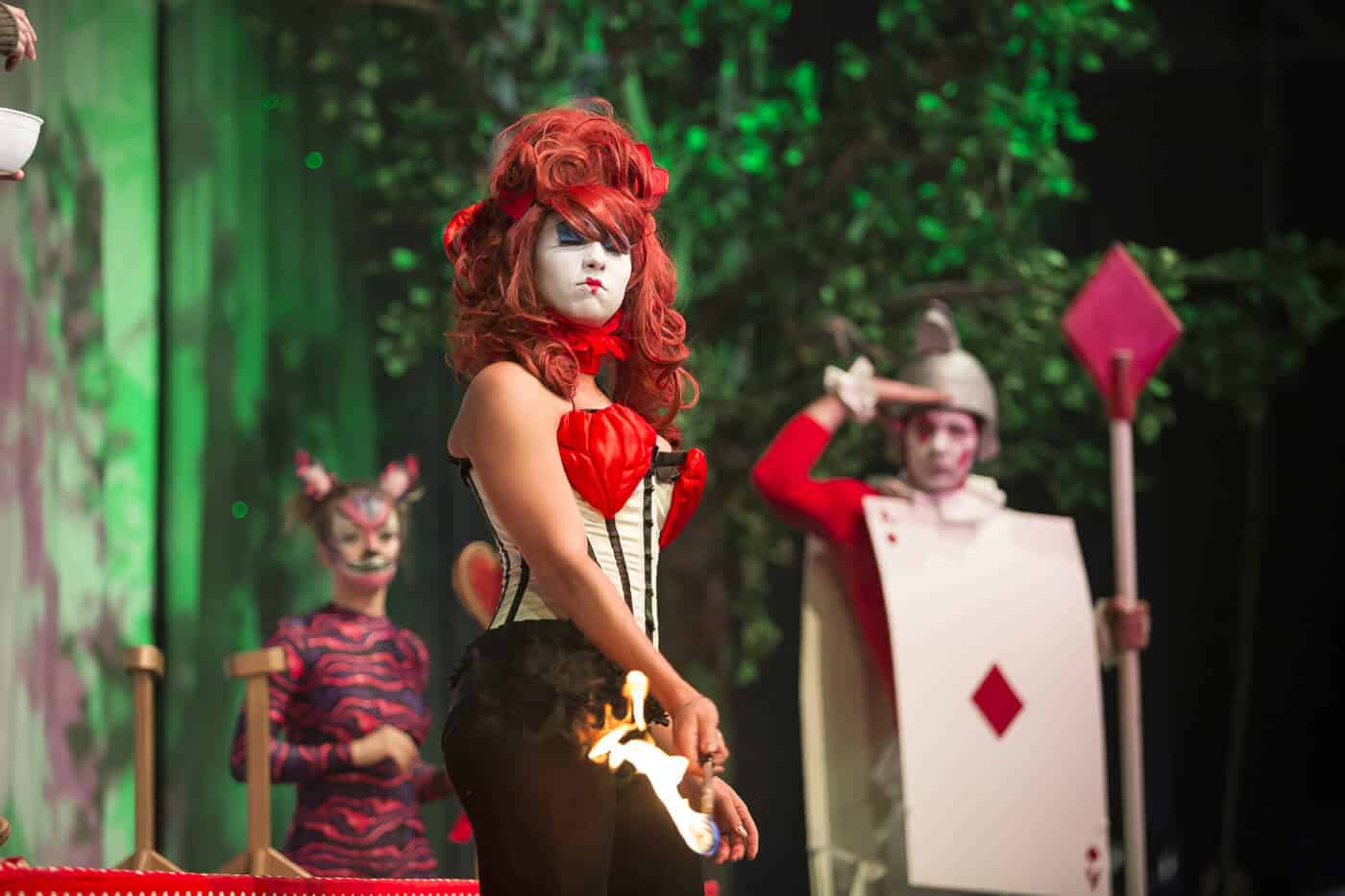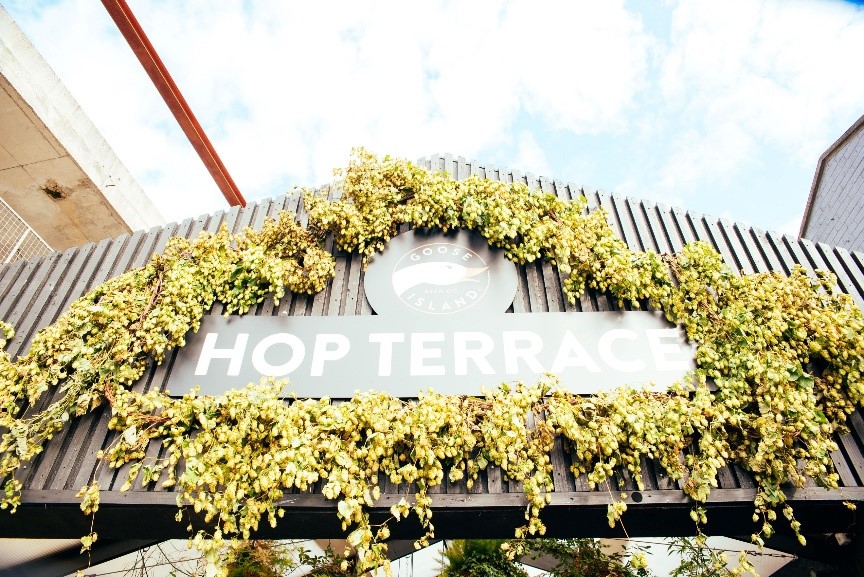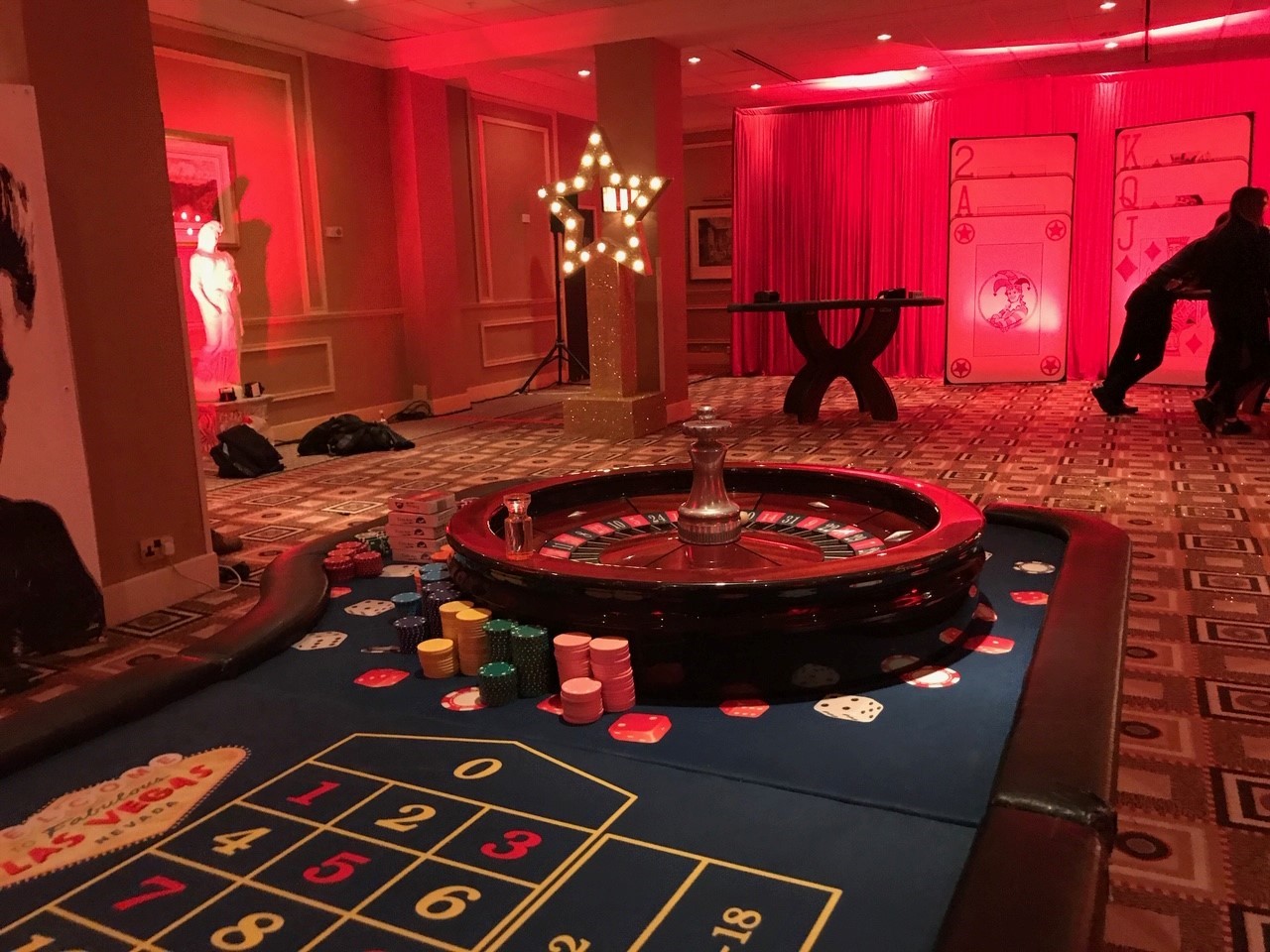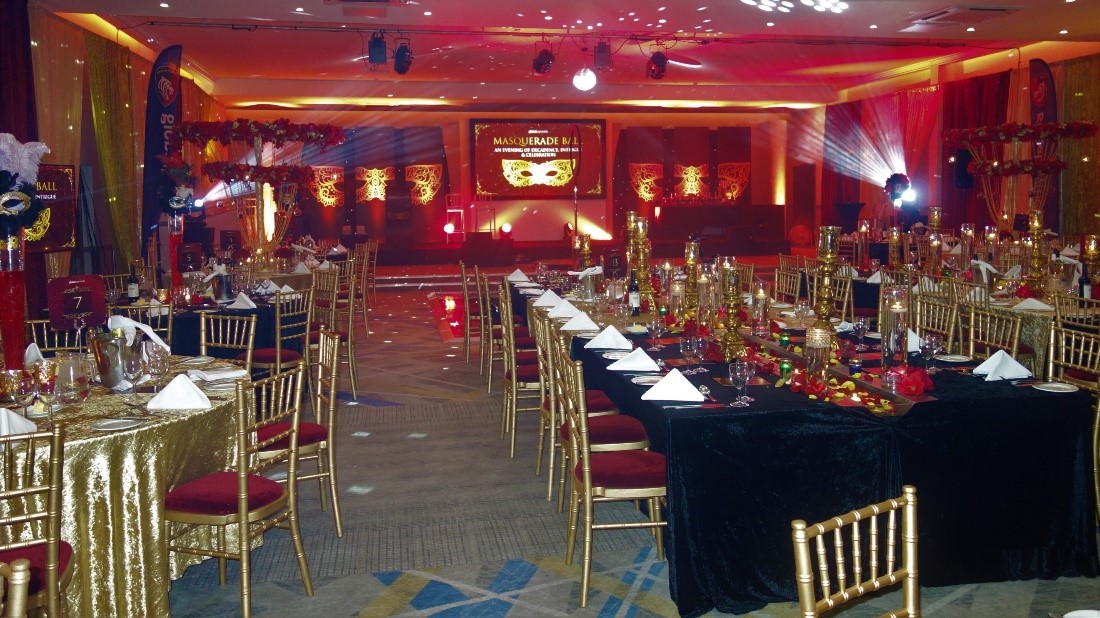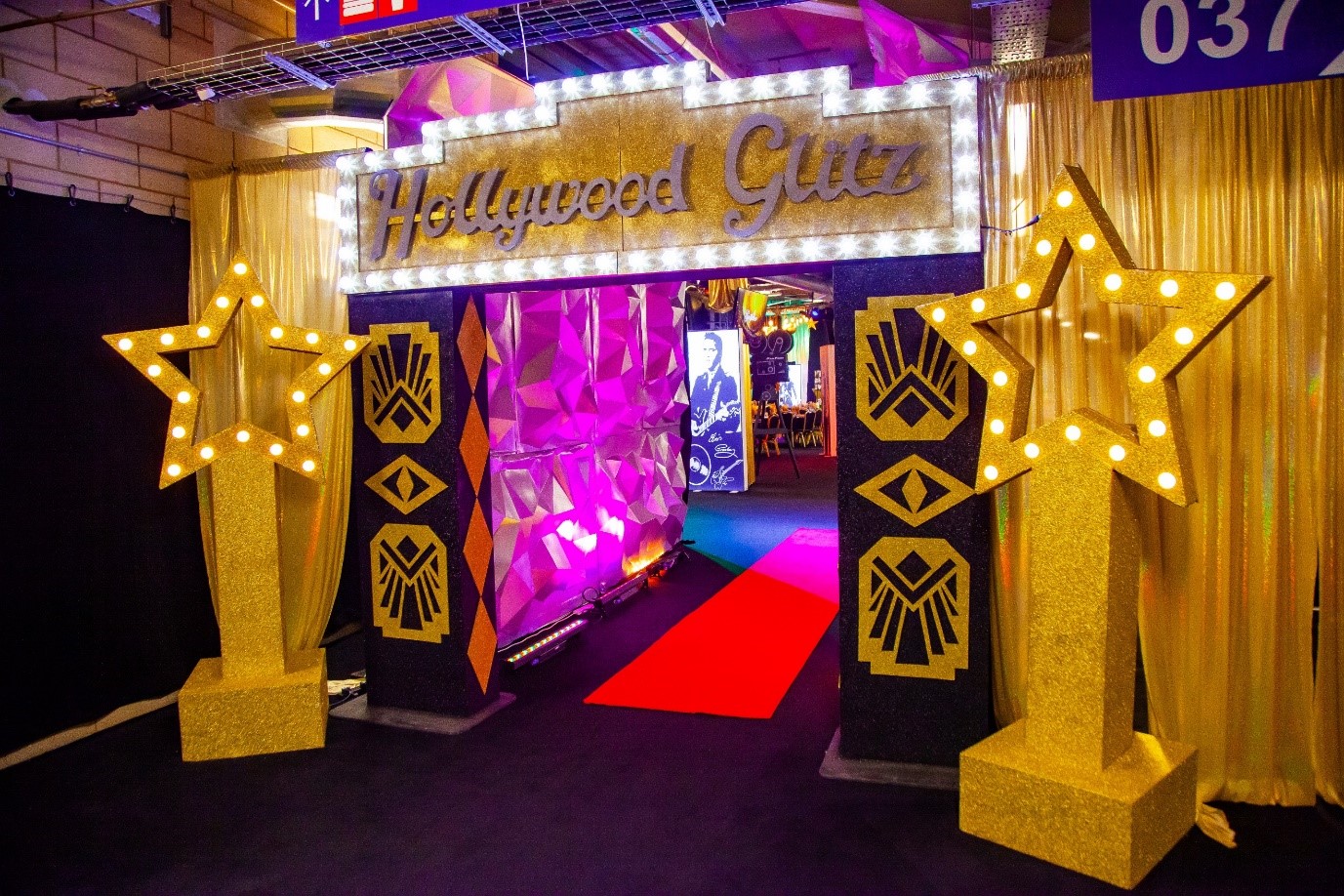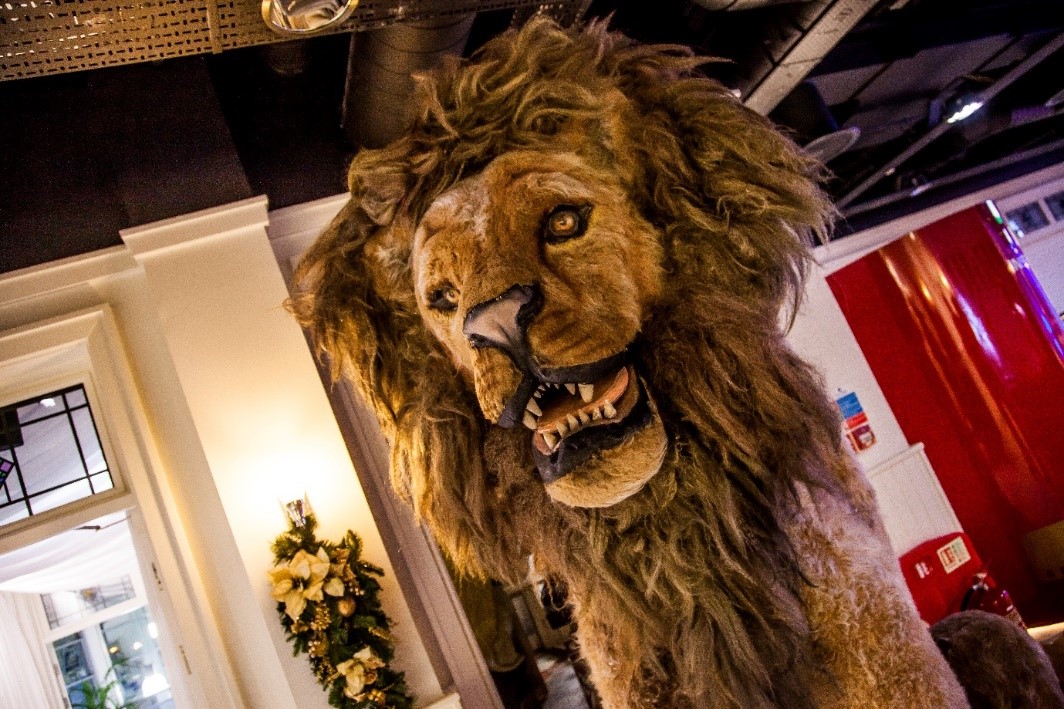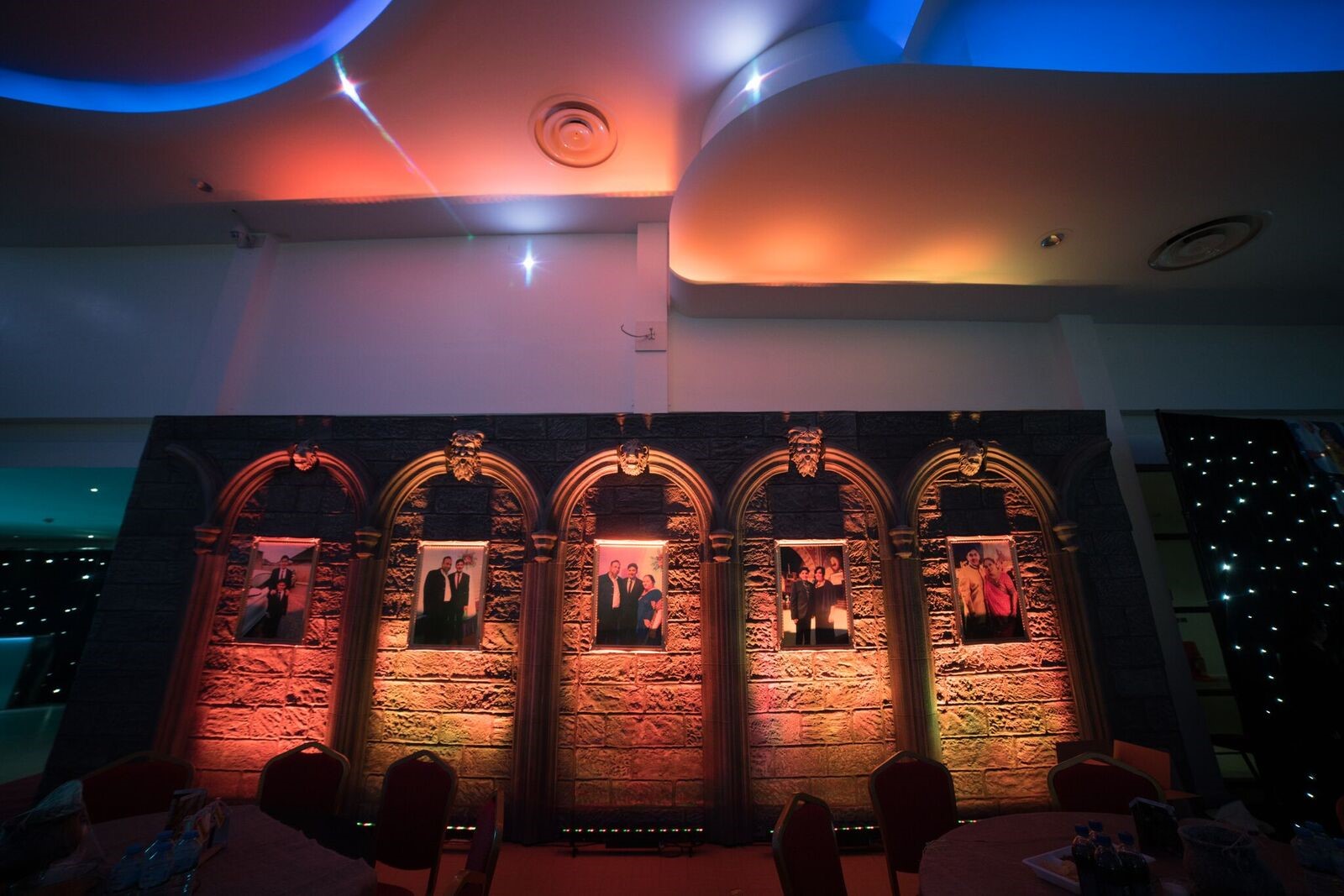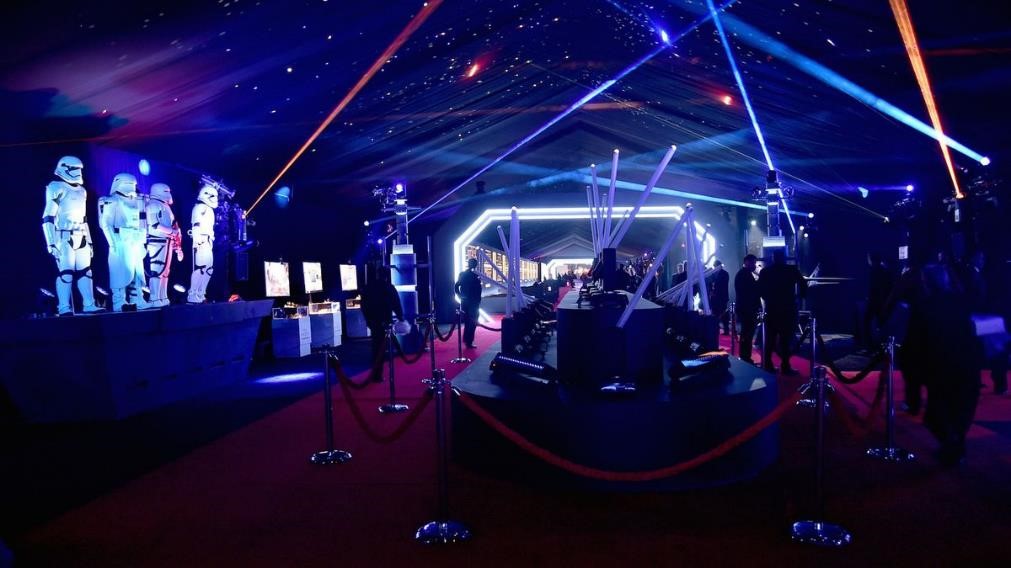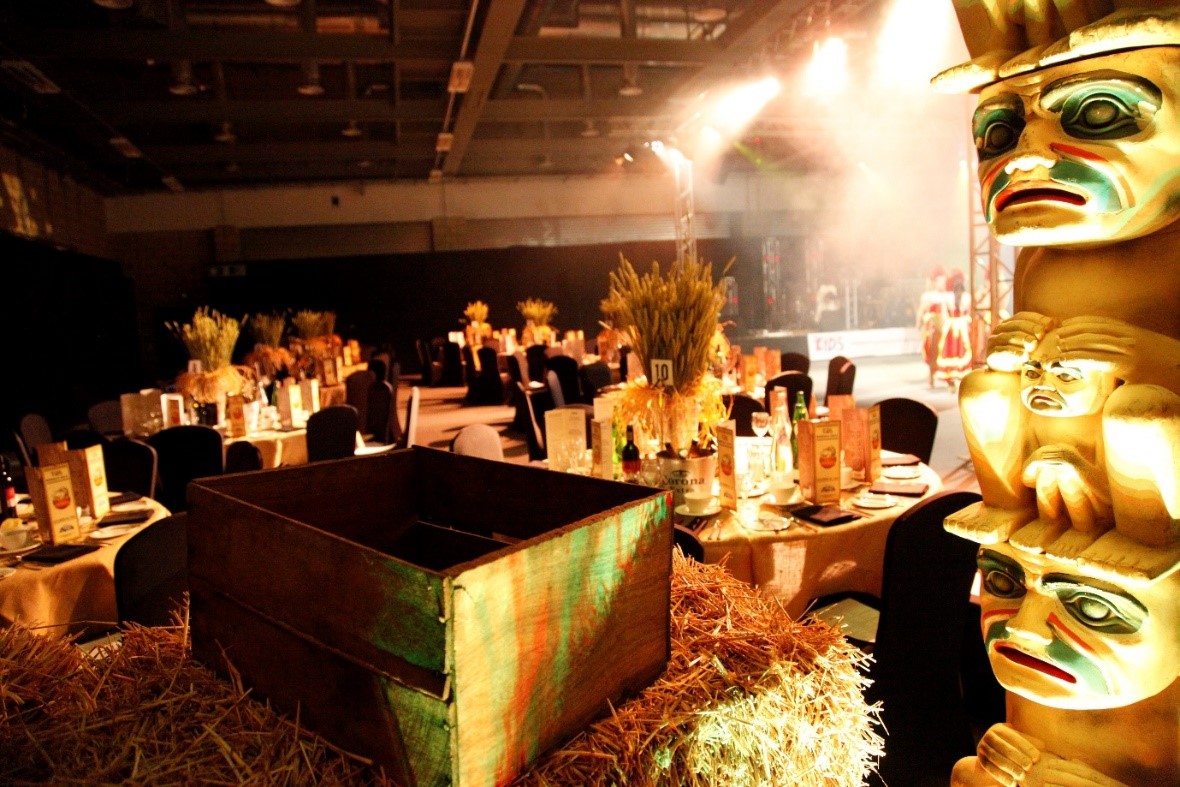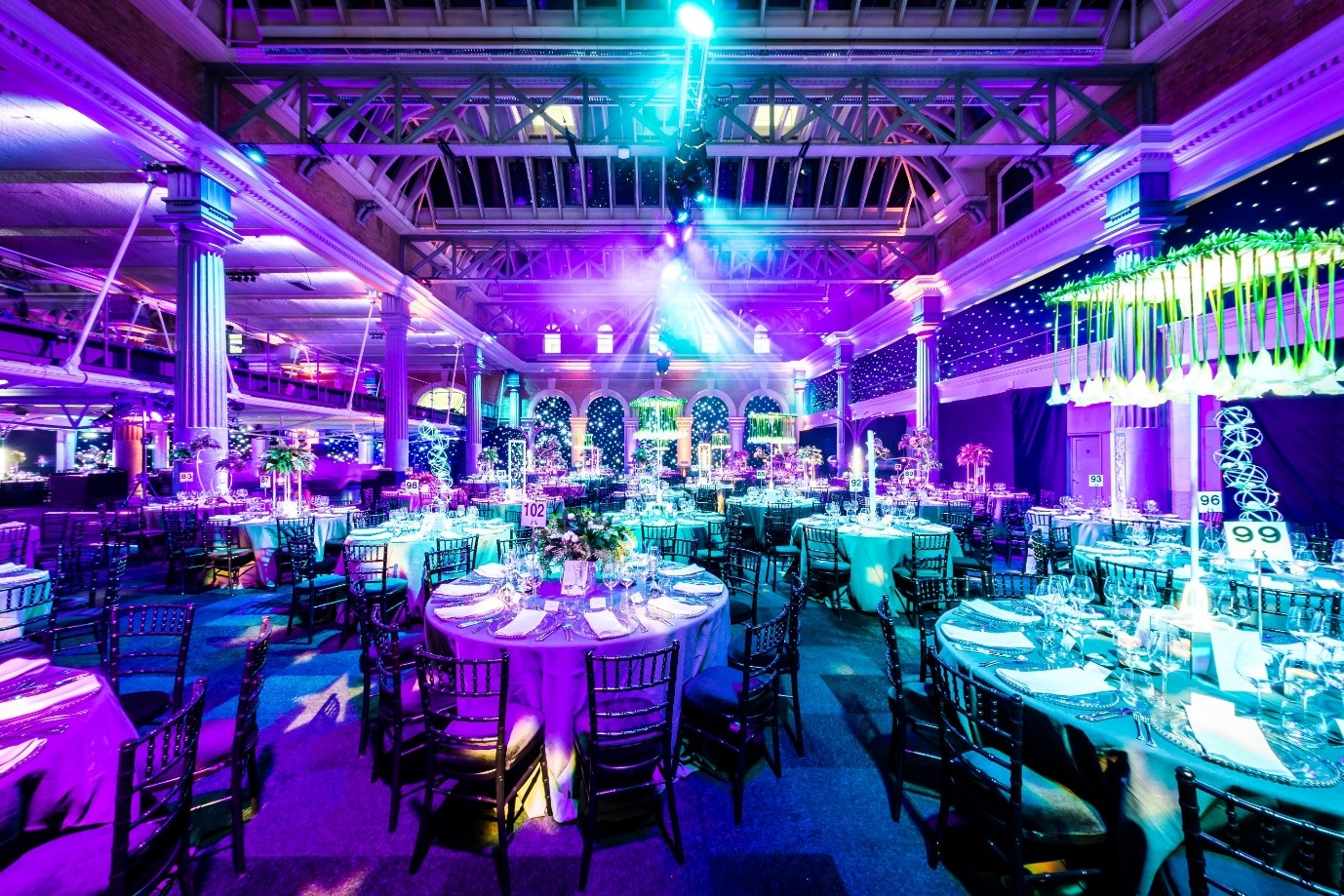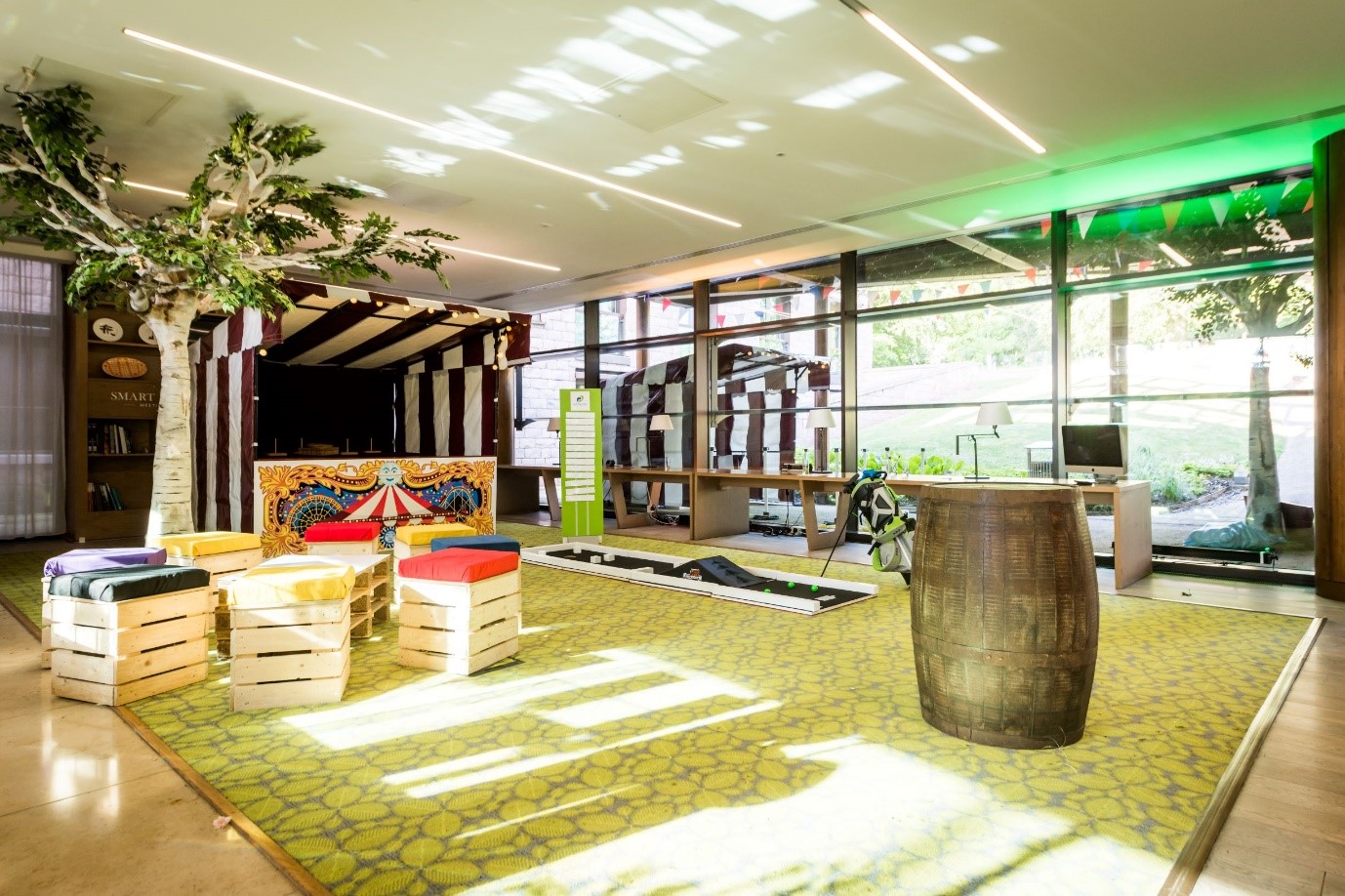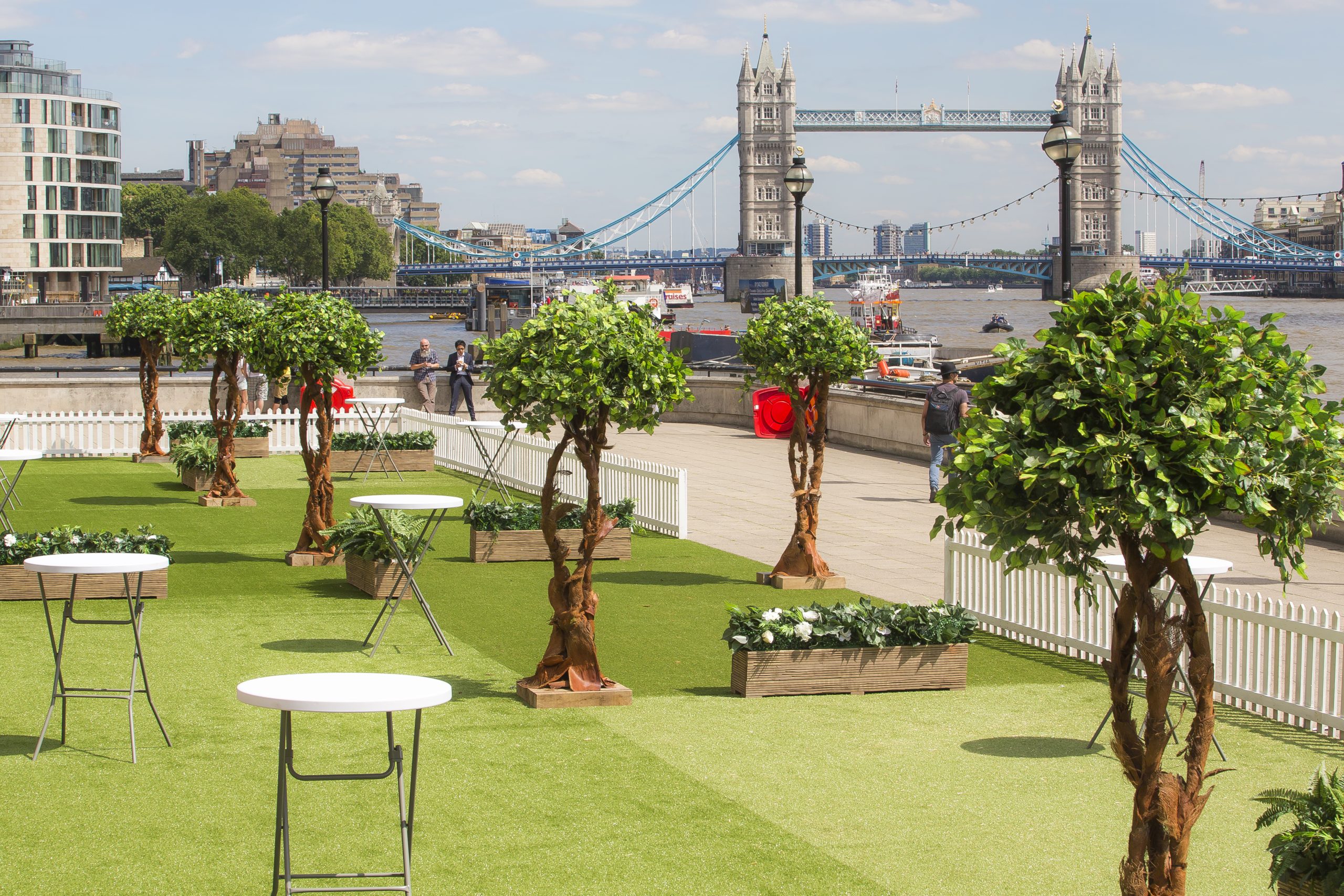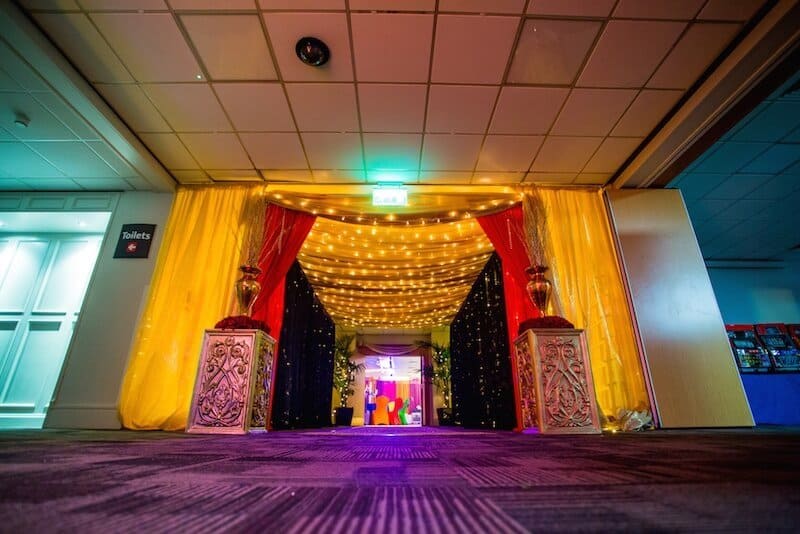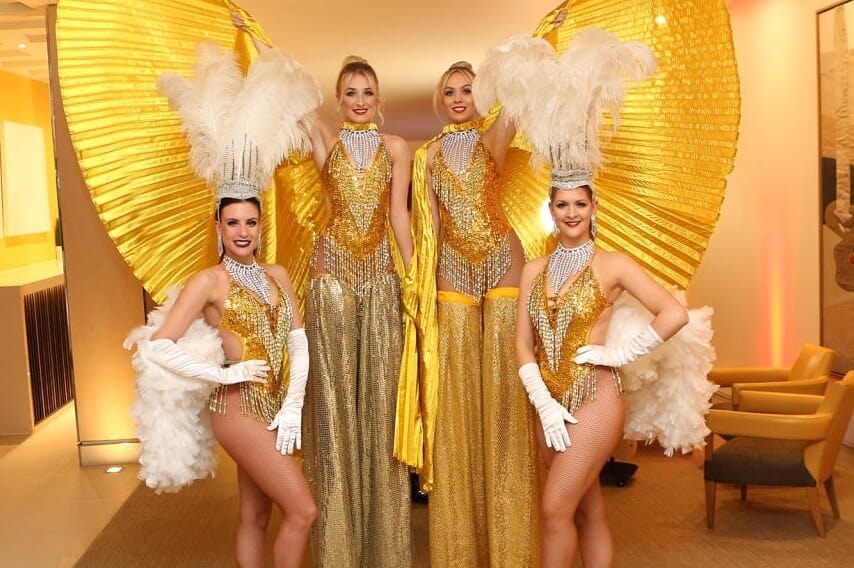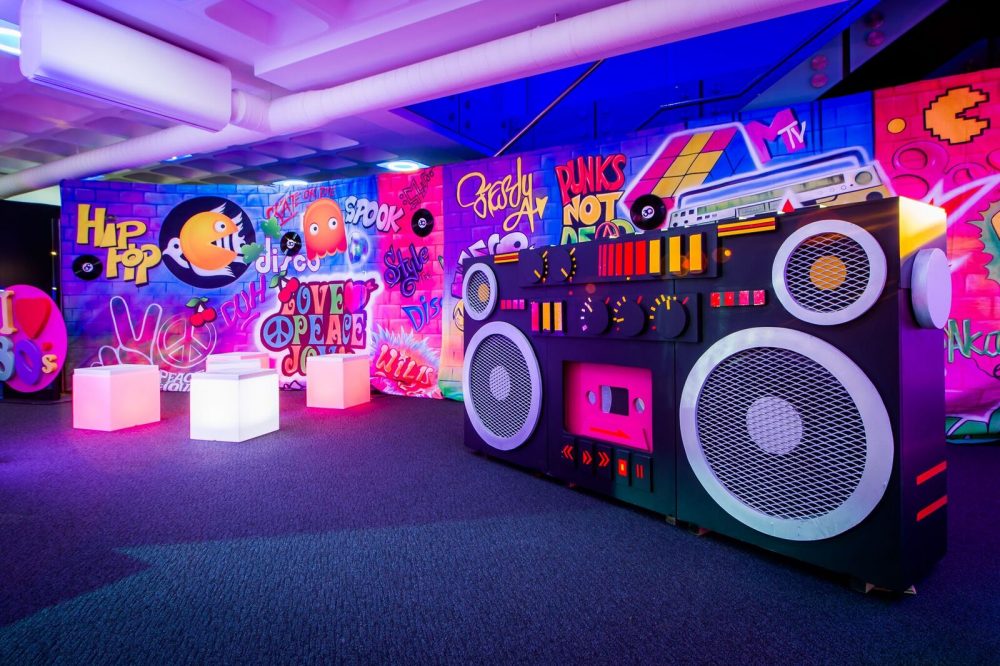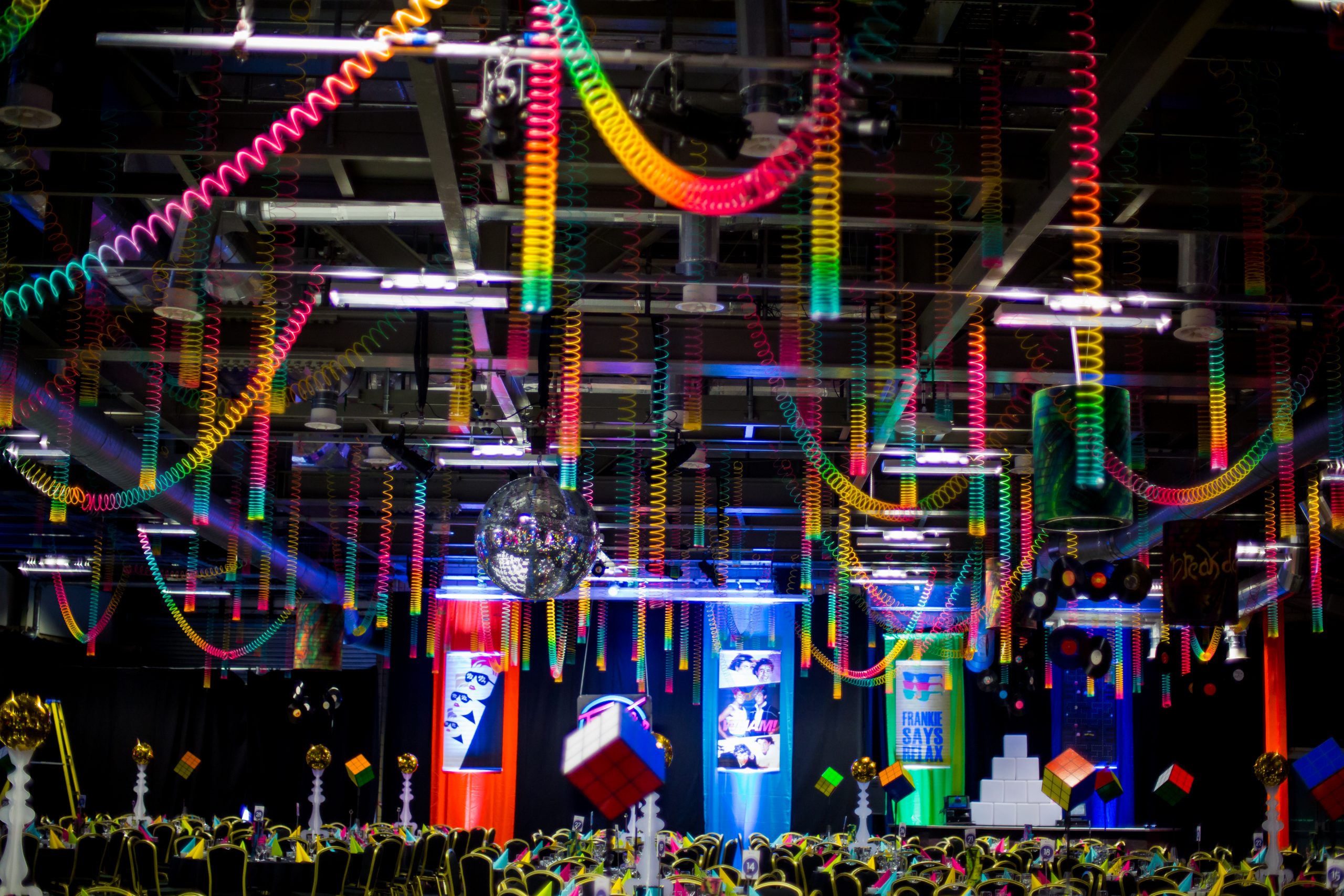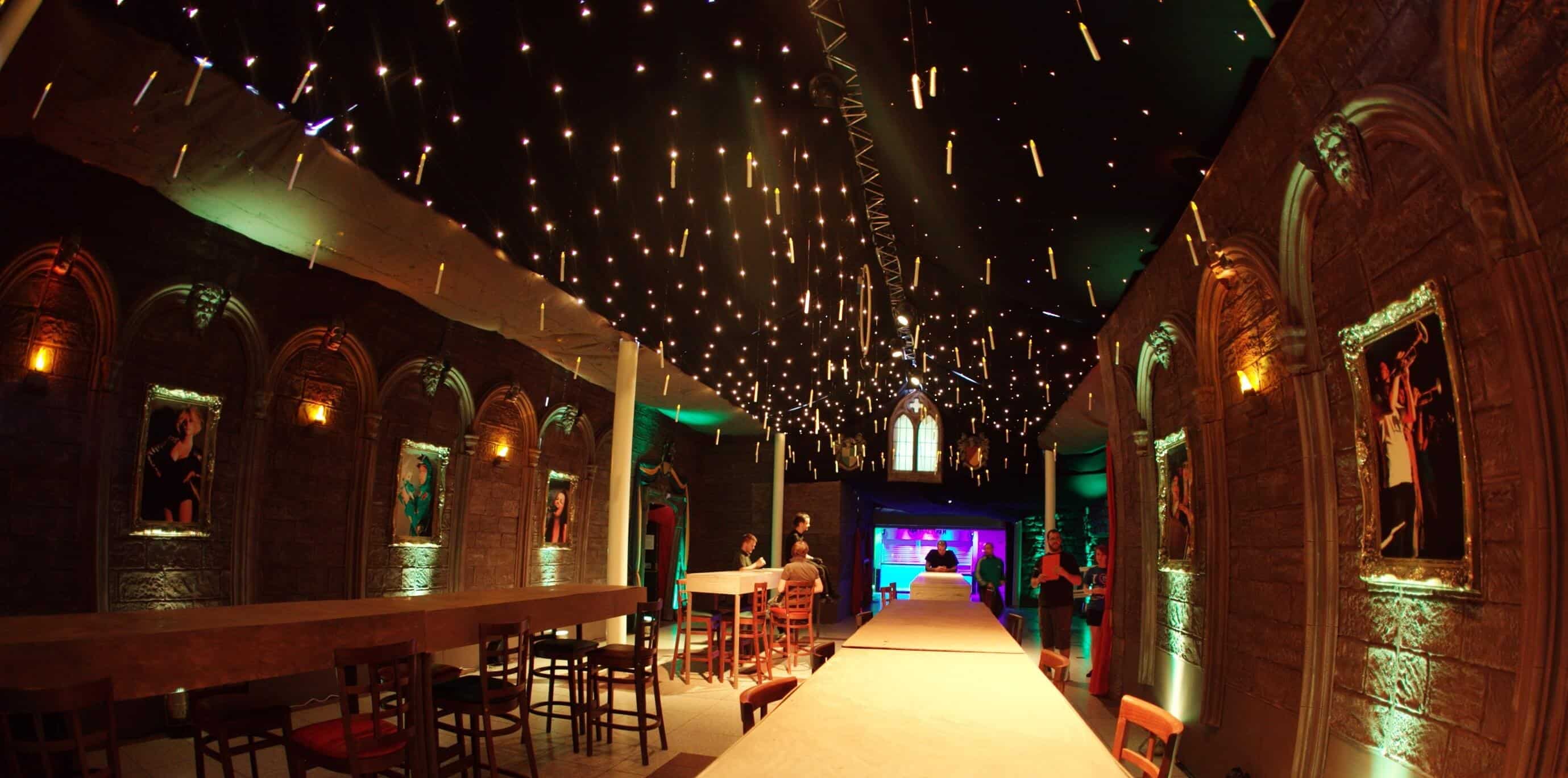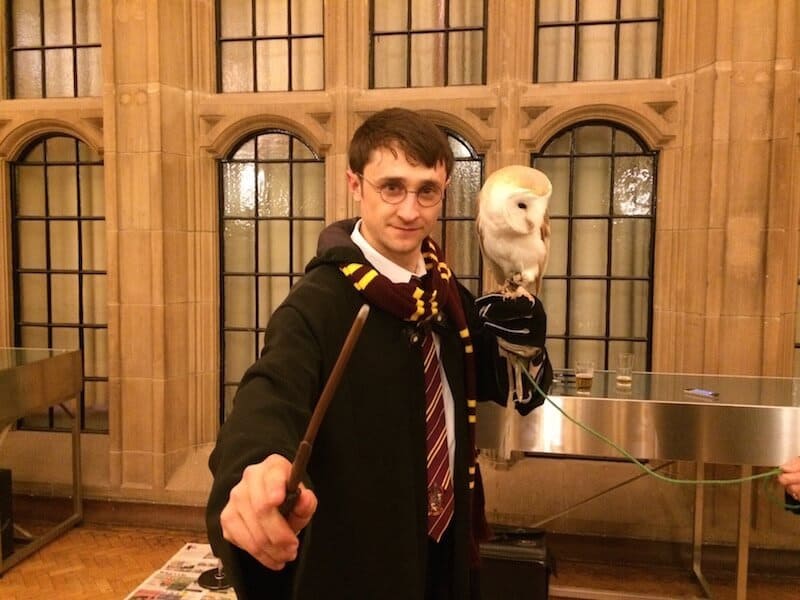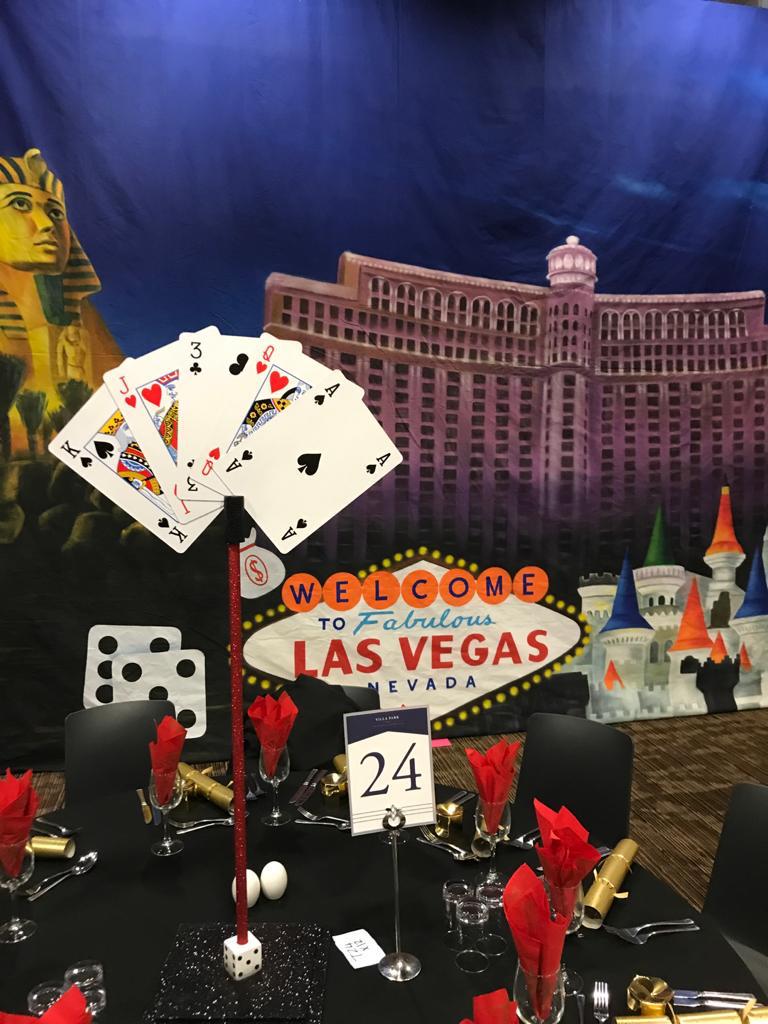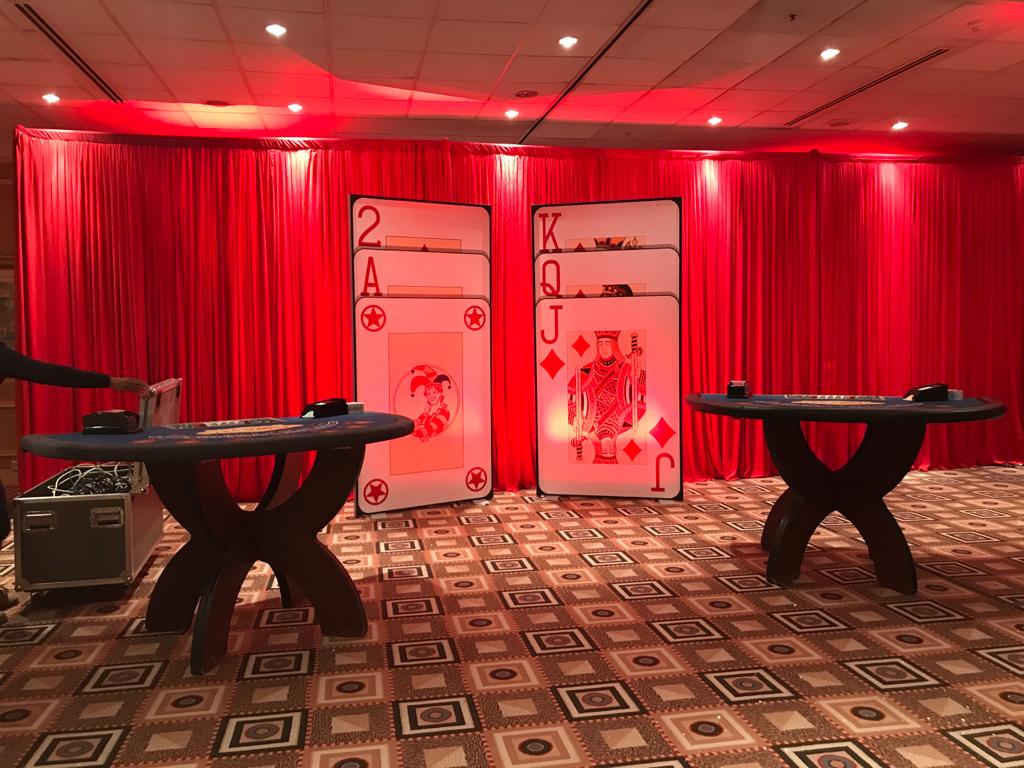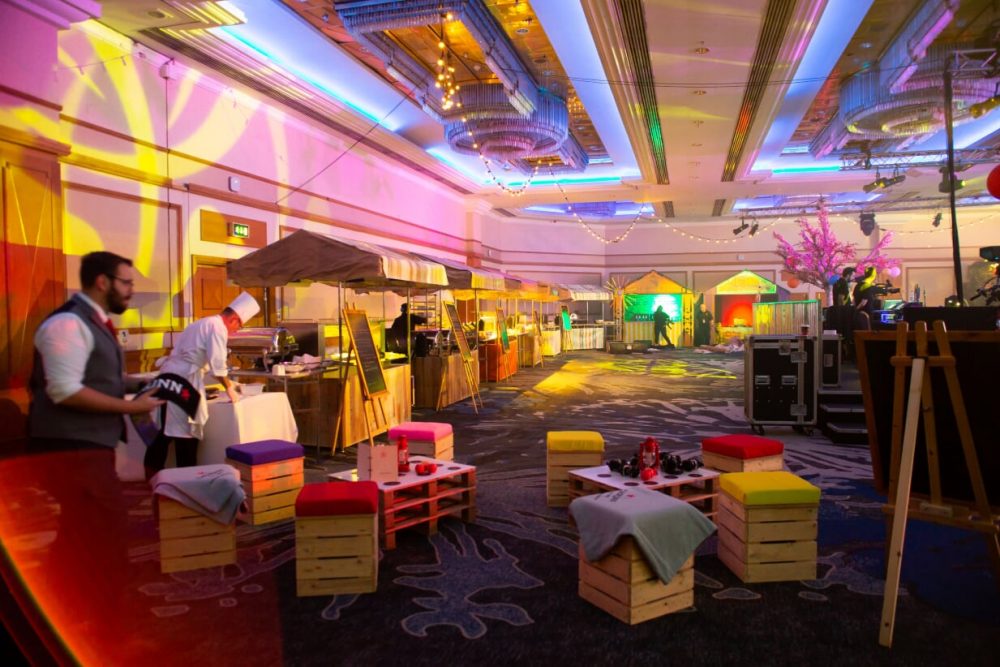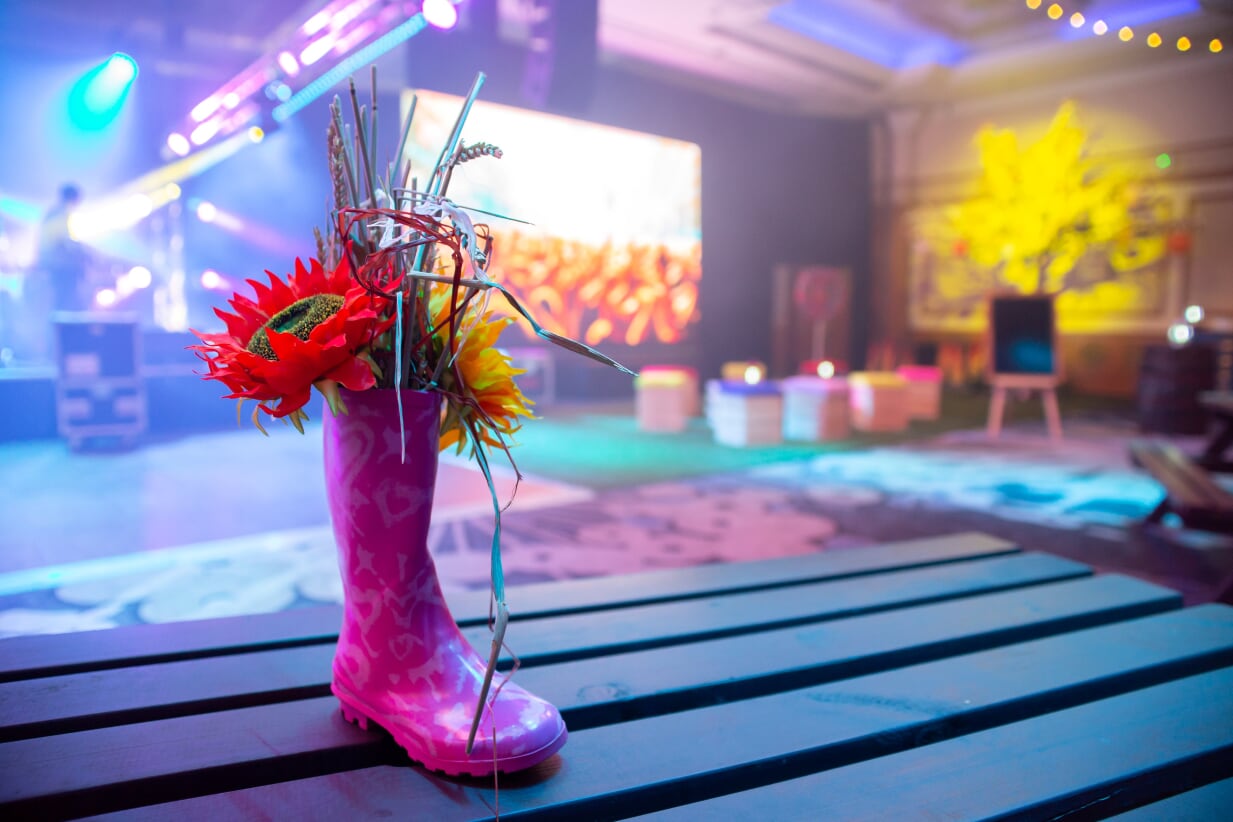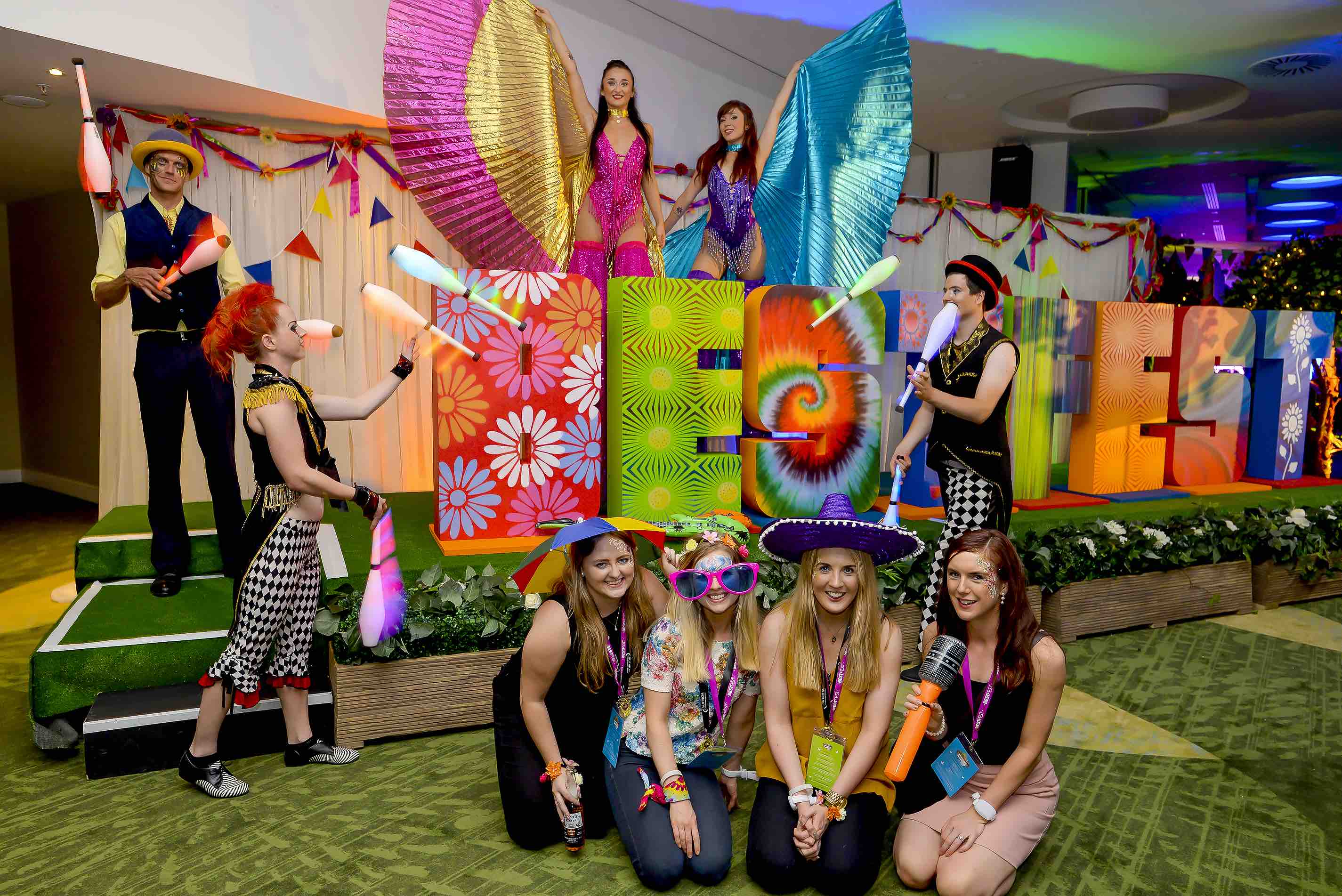 Top 20 Classic Event Themes
At Eventologists we strive for the best, most outstanding and outrageous events and designs we can create therefore, we have created a list of our top 20 classic event themes! This, of course, comes with a lot of different themes that can make an event spectacular and interesting. To make it easy for you to decide on the theme for your next event, we put together a list of 20 classic event themes that will never disappoint your customers.
You can never go wrong with a Whimsical Winter Wonderland Theme between December and February! Surround the room with snowy Christmas trees, sparkly white table centres, winter themed centrepieces, ice themed props and dazzling fairy lights for the most magical experience you could wish for. We all love Christmas classic event themes!
Festival themed Events are exciting throughout the year but a Beer Festivals is one that will definitely excite beer drinkers for sure. Whether you are looking to run Fam Trips or Beer Tasting Sessions or just want to do something different with a Bavarian Themed Event. Beer inspired events work really well as an Autumn Theme along with Street food stalls and German Food Huts!
3. Glam & Glitz
A Glam & Glitz themed party is all about sparkles and glamour, from black tie events, charity balls to Christmas parties, it fits to all. Dazzle up the room with crystal chandelier table centres, shimmery wall draping, glittery floors, theatrical ceiling draping and sparkly or light up table centrepieces to wow your guests with all things that glitter and shine! We can even transport you and your guests back to the roaring 20's and dazzle them with classic event themes.
4. Las Vegas
Create a Saturday night on any night of the week with a Las Vegas themed event. Welcome your guests through our Casino entrance where show girls, magicians and fire eaters will entertain them.  Dress the room with red wall draping, theatrical feather centrepieces and Casino themed props with Frank Sinatra playing in the background and the ching ching of the Slot Machines and Roulette Tables.
5. Masquerade
Create a mysterious vibe with a Masquerade themed event or Venetian themed event. Take your guests back to the Italian Renaissance with a beautifully themed room with lavish wall draping, striking face and eye masks and Romanesque props, gold table centres and luxurious masquerade backdrops. Our masquerade themed entertainers will then transport you to a land of magic and mystery to enjoy a night to remember!
6. Great Gatsby
Venture back to the 1920s with a Great Gatsby themed event, the era of economic boom and industrial growth, celebration and merriment. From Flapper and Dapper entertainers, to giant chandeliers, sparkly draping and jazz, swing music, there are lots of ideas to get your Great Gatsby party to one your guest will never forget.
7. Hollywood
The elegant and dazzling world of Hollywood is a perfect theme throughout the year! The glamour and glitz arrive is Hollywood style with giant Oscar statues, paparazzi entertainers, celebrity look-a-likes, stunning Hollywood themed table centres and Hollywood themed props such as Giant Clapper Boards, Hollywood Camera Props and even a Giant Directors Chair!
8. 80s Theme
Take your guests back in time to the 80's for a classic event theme – the era of bright neon colours, slinkies and Rubik's cubes. Create a retro themed room with multi-coloured curtains, funky 80's themed chandeliers, giant 80s posters, giant 80's themed props and Rubik's cube table centres. Dress up as your favourite 80's icons and groove to the music around your handbag till late in the night!
Transform your event to the magical world of Alice in Wonderland. Want into a truly extraordinary adventure with Giant Cupcakes, giant cards & tea cups, mystical forests and even a giant cat Cheshire. Alice in Wonderland themed events work wonderfully throughout the year for a totally immersive and exciting adventure.
10. The Lion, The Witch and the Wardrobe
A classical book and a firm favourite at Christmas. Walk through the wardrobe to an adventure that you'll never forget in the make-believe world of Narnia. Sparkly fairy lights and snow-covered pathways will lead your guests down through to an imaginative fairy tale world. A Narnia Themed Event is a great Christmas party theme and a great alternative to a Winter Wonderland theme. We bring you sleighs, Aslan, polar bears, snow drenched trees, icicle ceiling and chandeliers and ice bars to create Narnia at your venue.
11. Harry Potter
Be wowed with wizardry and magic at a Hogwarts themed event where everything including a Harry Potter and Dumbledore look-alike will amaze you! A Harry Potter themed event is a great alternative to a Halloween Themed event which sparks everyone's imagination. From the moment guests go through the magical wall at Platform 9 3/4, all your guests will be amazed by this spooky and majestic event.  Let's transform your venue with ceilings with floating candles, magical backdrops of Diagon Alley and The Great Hall as well as spooky table centres that light up!
12. Willy Wonka
Buy a Golden ticket and transport you and your guests to a world or pure imagination. A Willy Wonka Themed event is full of colour, scenery, lighting and table decorations, to get the feel of the most amazing Chocolate Factory in the world. From chocolate fountains and Oompa Loompa entertainers to swirly tree tables centres and multi coloured-draping around the room, your guest will be blown away.
13. Star Wars
Create a space-like scenery for your guests with a Star Wars themed event, where guests can step into a spaceship and get to experience different planets. With star ships hanging from the ceiling and life-size 3D or human Stormtroopers and a 3D Yoda model you can have your guest feel as if they are experiencing the movie itself.
14. Wild West
Put the Yee Haw into your event with a Wild West themed party! An ultimate adventure where guests can truly have an immersive experience with the deep wild west where guests can dress up as Cowboys and girls. Let us transform your room into a scene from Blazing Saddles with wagon prop hire, hay bale seating, wagon wheel props, wild west themed props, totem poles, bucking bronco hire and lots more to create the wildest night of merriment with line dancing, drinking and singing!
15. Circus
Roll up roll up – get ready for the best show in town with a Circus themed event– full of colour, nostalgia and imagination. Circus themed props in bright colours and circus themed table centres create impact and drama of the big top. Circus entertainers astound and amaze with their juggling skills, acrobatics and circus tricks whilst guests tuck in to endless amounts of popcorn and candy floss!
16. Hanami Festival
A blossom theme is the ultimate spring theme when it comes to creating the outdoors indoors! Japanese Blossom Trees, Blossom Ceiling decor, blossom Living wall backdrops, foliage and blossom table centres, blossom themed entrance arches and other blossom décor to create a forest for the most beautiful season!
A Future Thinking themed event is all about being creative, limitless and thinking outside of the box. With futuristic table centres, mirror bars and cloud and contemporary furniture, this is a really unusual theme that combines all stunning ideas to represent a futuristic themed event that is not a space theme.
18. Festival Theme
Our festival themed event is full of colour, excitement and vibrancy of a music festival. We bring you the best of a Glastonbury Themed Event with colourful pallet seating, bunting trees, music, and food stalls. It's an innovative, experiential and truly immersive theme where there is no need for muddy feet, long waiting lines and personal hygiene, you get only the good!
Whether you are looking to create the ultimate British event or celebrating an industry milestone, our British themed party is a brilliant theme and popular throughout the year especially during British sporting moments and British Royal Events. A great option for summer parties, gala dinners, or awards dinners, company fun days, we'll take your guests on a journey from the iconic buildings of London to the hills and sheep of wales!
20. Summer Parties
The corporate summer party is an annual event in the social calendar allowing companies to bring their teams together for internal events, annual gala dinners, family fun days or company summer fetes.
Our annual social gatherings, can be themed with summer décor ideas or be an outdoor themed event with outdoor furniture, summer themed props, artificial trees, inflatables, summer fete games or outdoor food vendors.
We have worked with Eventologists for the a couple of years now and can't fault them from start to finish the whole process is very seamless and the stuff they do is incredible! We have themed evenings and they always come up with some fab ideas that help to emphasise the theme and bring it to life. Our events have conference sessions in the venue during the day and we transform them for our awards in the evening and Eventologists always completely transform the space for the evening so that it feels like you're in a completely different space which makes it all feel so much more special and a real celebration and by the time morning arrives its all completely cleared as if by magic!

PPMA Admin


May 19, 2022

Great props, prompt delivery, awesome team. Would use again.

Richard Buxton


May 19, 2022

A wonderful team who made our event space look incredible. Jacob took our ideas and brought them to life. We've had amazing feedback about the event design, so we couldn't be happier. Everyone really loved the living wall and trees!

Olivia Rocky


April 19, 2022

Rita has been an absolute pleasure to work with; she listened to our ideas and vision and then totally ran with it and created something better than we could have ever imagined! On the event day, Rita and her team swooped in and decorated our venue in record time. Rita and the team were professional and efficient. We look forward to working with Eventologists again next year!

Neighbourly Brands


March 19, 2022

Eventologists are a pleasure to work with. The whole experience from start to finish isn't nothing short of perfection. The team are super professional and Jen makes working with them a breeze. Nothing is too much and she is always so responsive. Can't wait to work with them again :)

Andrew Chalk


March 19, 2022

Eventologists have been a dream to work with. No fuss, straightforward communications and pricing. Delivery and collection on the day was simple and efficient. Professional and friendly at every turn - thanks for your part in making our event a great success!

Emma Bird


February 19, 2022

We've used the services of Eventologists on numerous occasions and their expertise is priceless. Great service as always from Rita and her team who are always full of ideas and ways to make your event stand out. We've hired sets for Moulin Rouge, Great Gatsby, Hollywood and Glitz and Glam plus they created a wonderful set for a festival including tress with festoon and flags. Highly recommended and great to work with.

MrandMrsGrey


July 19, 2021

Wonderful team, from the event manager to the decorators! The choices of set ups and themes are really original as well as well made. Each event is done with lots of passion , always keeping the client best interest at heart. Great value for money, and they always go the extra mile!

Astrid Guillabeau


July 19, 2020