Venue Focus – Edgbaston Stadium is Covid Secure and Ready to Open its Doors!
Venue Focus – Edgbaston Stadium is Covid Secure and Ready to Open its Doors!
Another Birmingham venue and a firm favourite for corporate events, Edgbaston Stadium, have announced their Covid Secure Venue Plan, so we thought we would share their plans with you!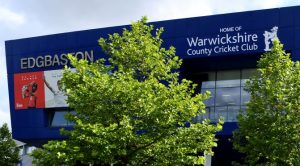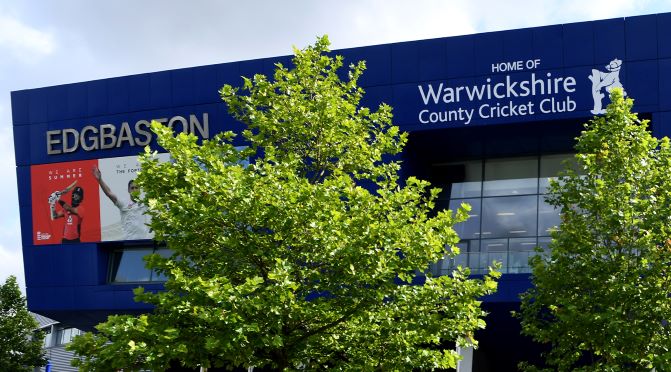 Edgbaston Stadium's events team have revealed its Safe Meetings & Events Promise to existing and prospective clients who plan to stage meetings, conferences and events at the iconic cricket ground from next month.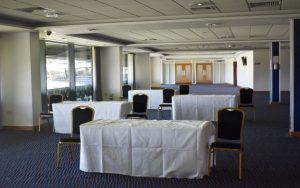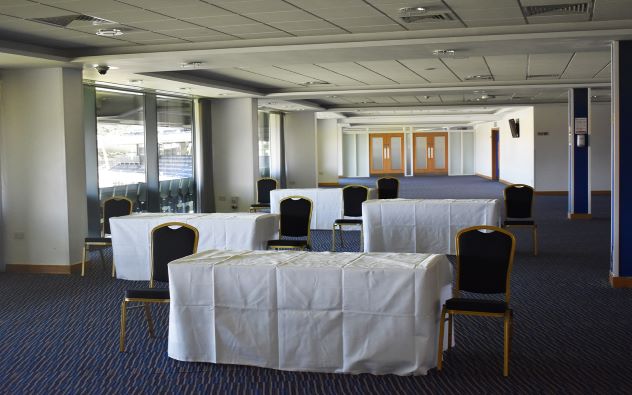 Reopening from Monday, 6th of July, Edgbaston Events has created a six-point plan that has been designed to provide greater reassurance to all delegates in response to the COVID-19 outbreak.
Space and Social Distancing – all rooms having outdoor spaces, the introduction of strict social distancing measures and clear signage and guidance around the venue
Hygiene and Cleanliness – new and improved cleaning procedures and providing a high level of hand sanitiser dispensers
Contact Free Catering – pre-packaged food and drink prepared on-site with increased safety and maintaining Edgbaston's outstanding range of fresh produce
Enhanced Technology – increased options for clients, including video conferencing, live streaming and virtual tours
Staff Fully Trained – all staff working to new operational procedures and have PPE tailored to their role
Communication – regular updates from our events team throughout the planning process
Maria Jones, Head of Conference & Events Sales at Edgbaston Events, said: "Our 6th July reopening date is something that we've been working towards throughout this lockdown period, and these new working plans have been developed following close consultation with our established clients, our partners within Compass Group, Lime Venues Portfolio and Levy Restaurants, and our technology partner PTI.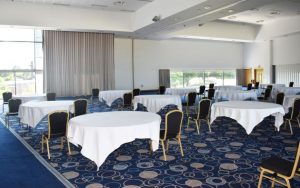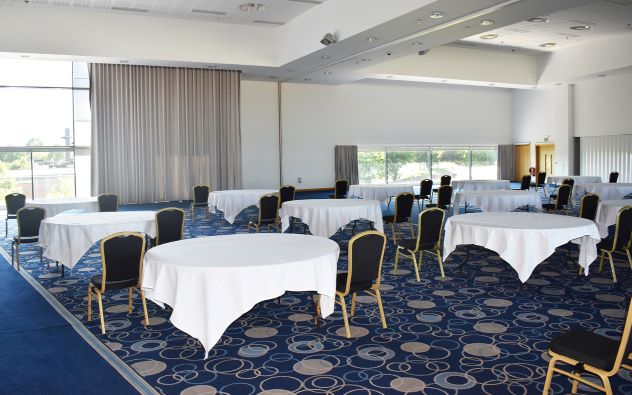 "We pride ourselves as being a business that regularly innovates and constantly assesses new market opportunities. As a result of this process, our suppliers are providing new technology to meet the changing needs of our clients who wish to stage hybrid or virtual events."
For enquiries relating to an existing or prospective event at Edgbaston Stadium, please contact the team on 0121 369 1994 (option 3) or email events@edgbaston.com.
Venue Focus – Park Regis Birmingham Steps Up its Drive to Become Covid Secure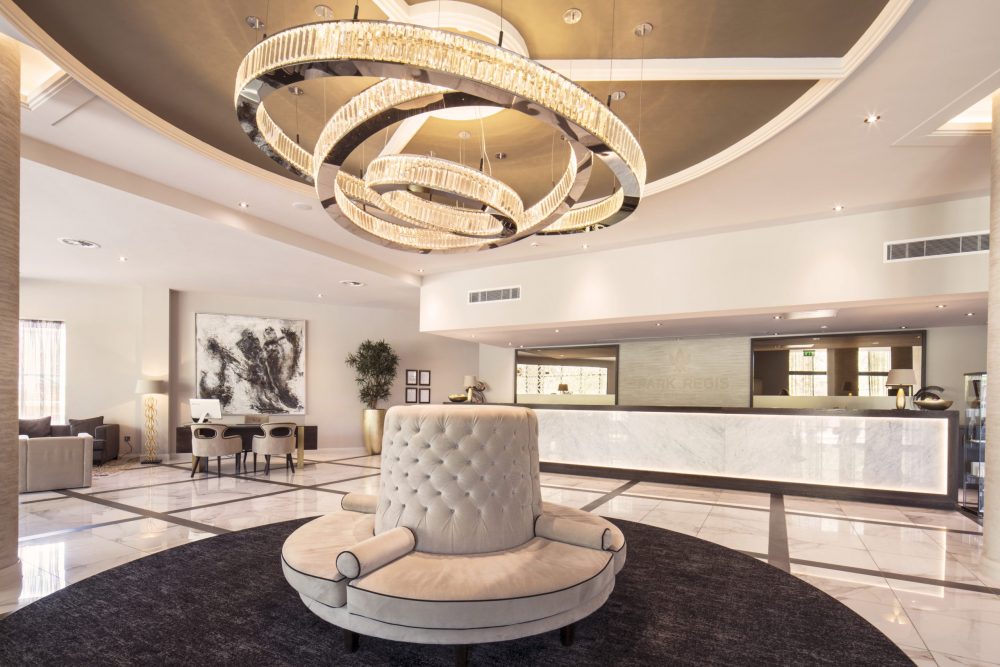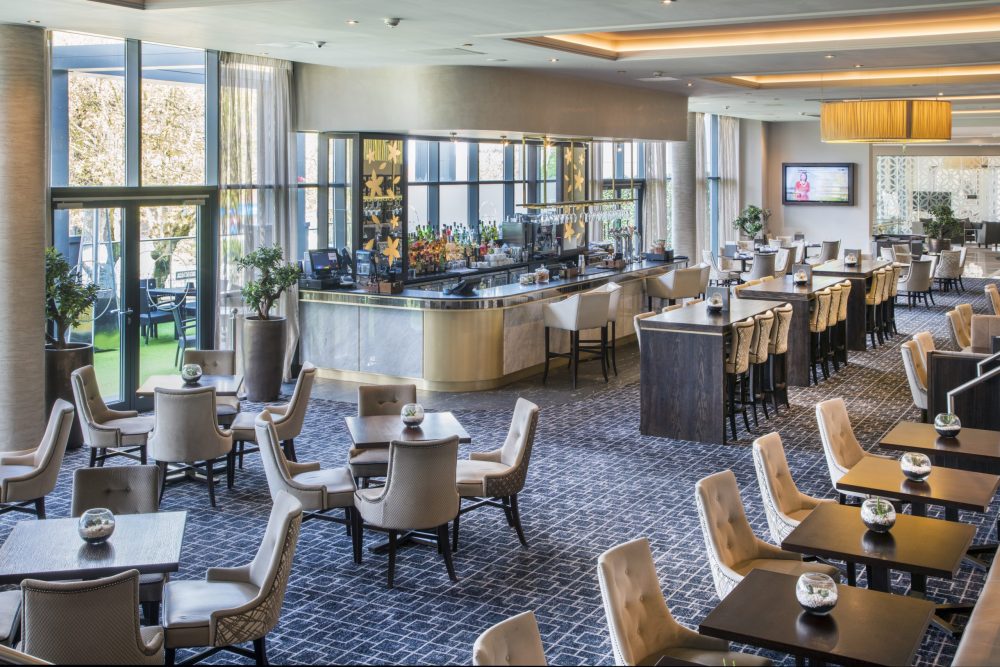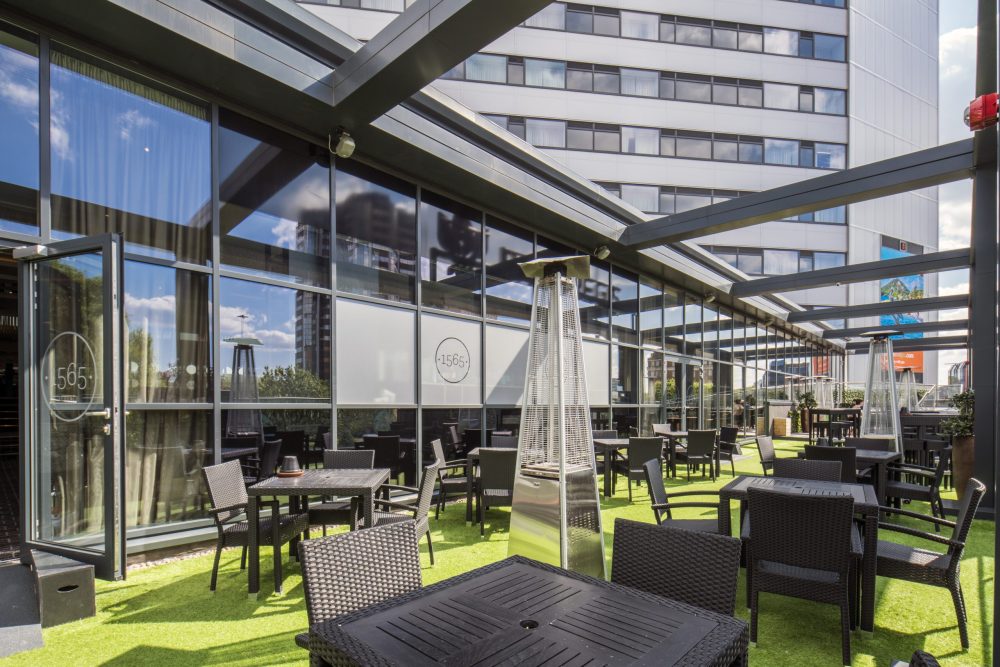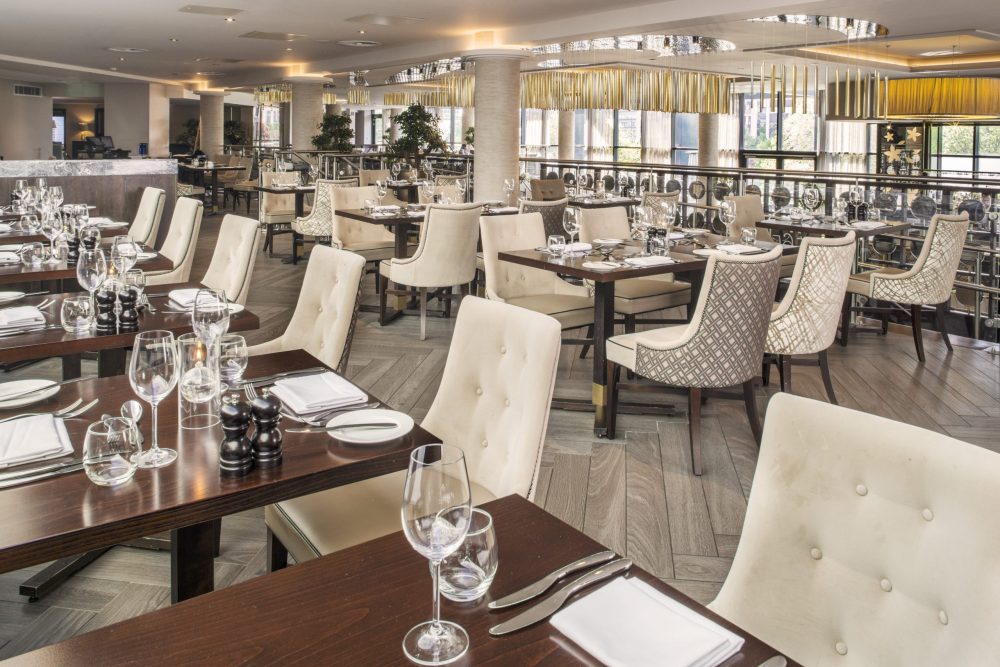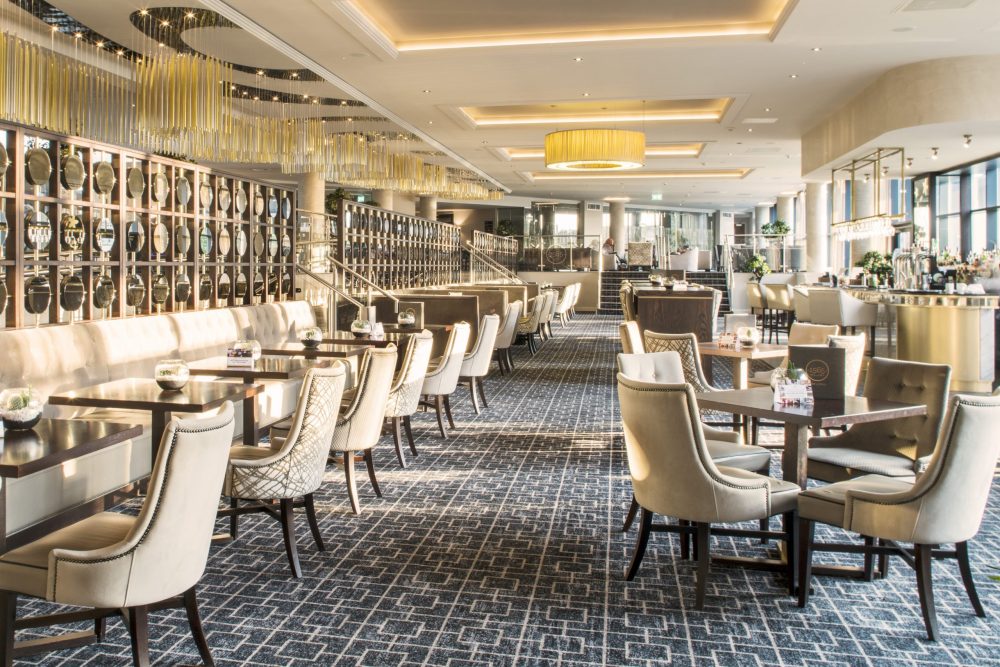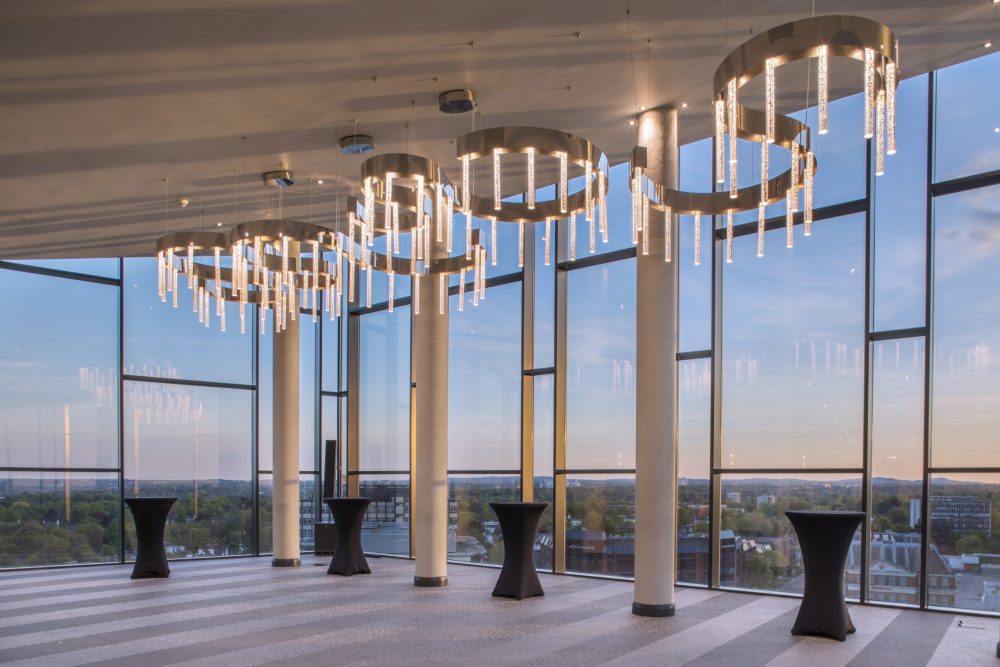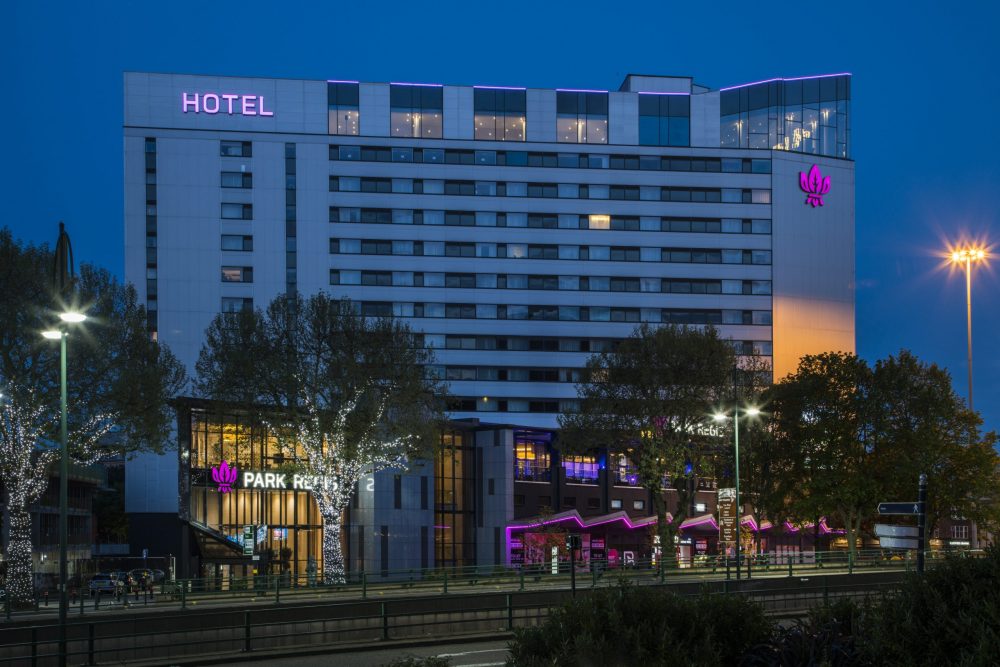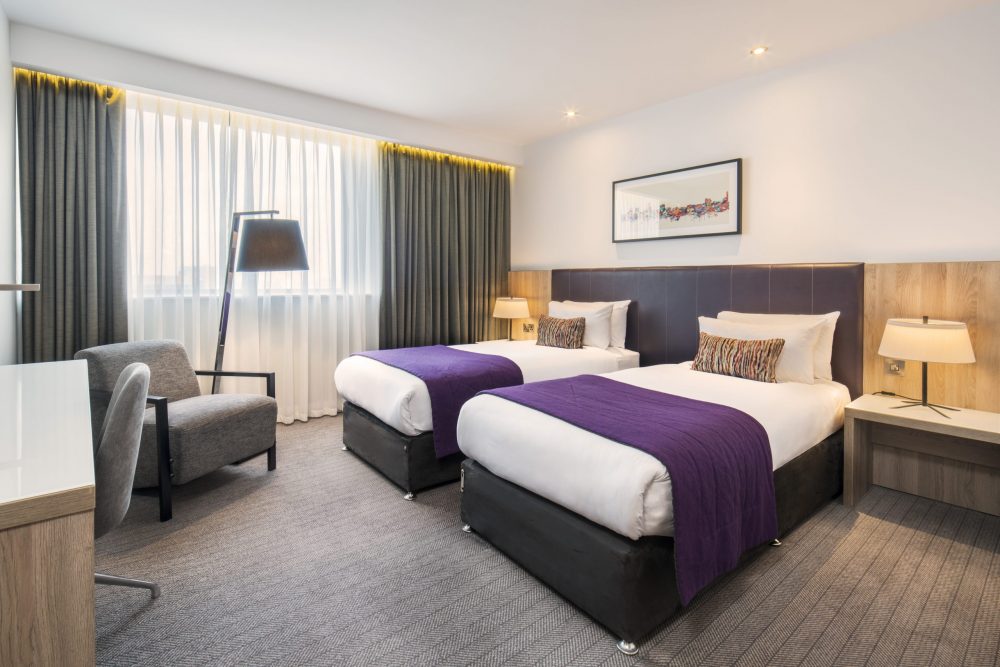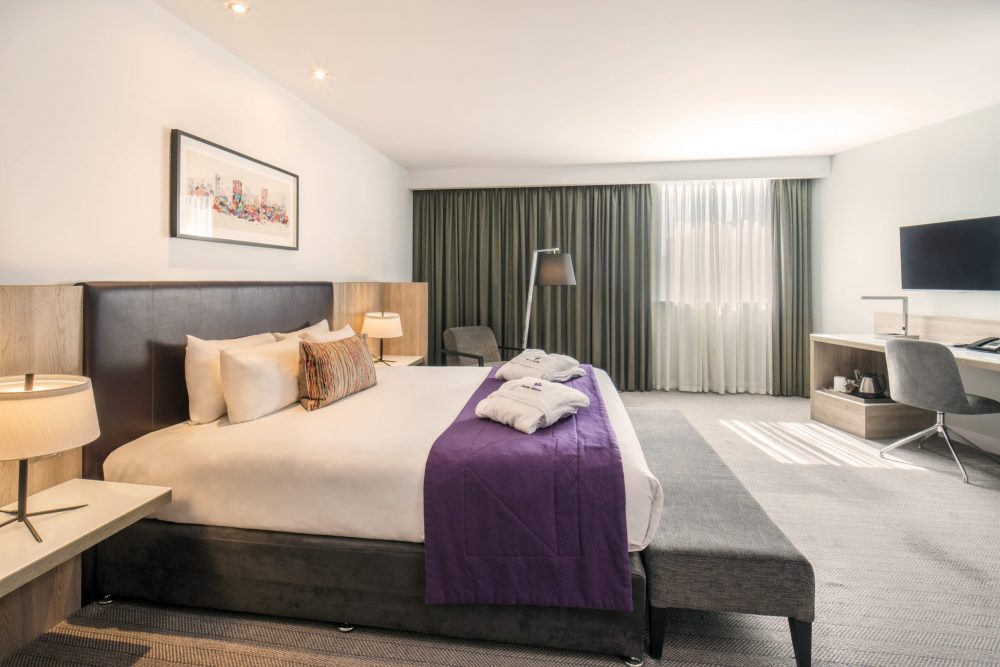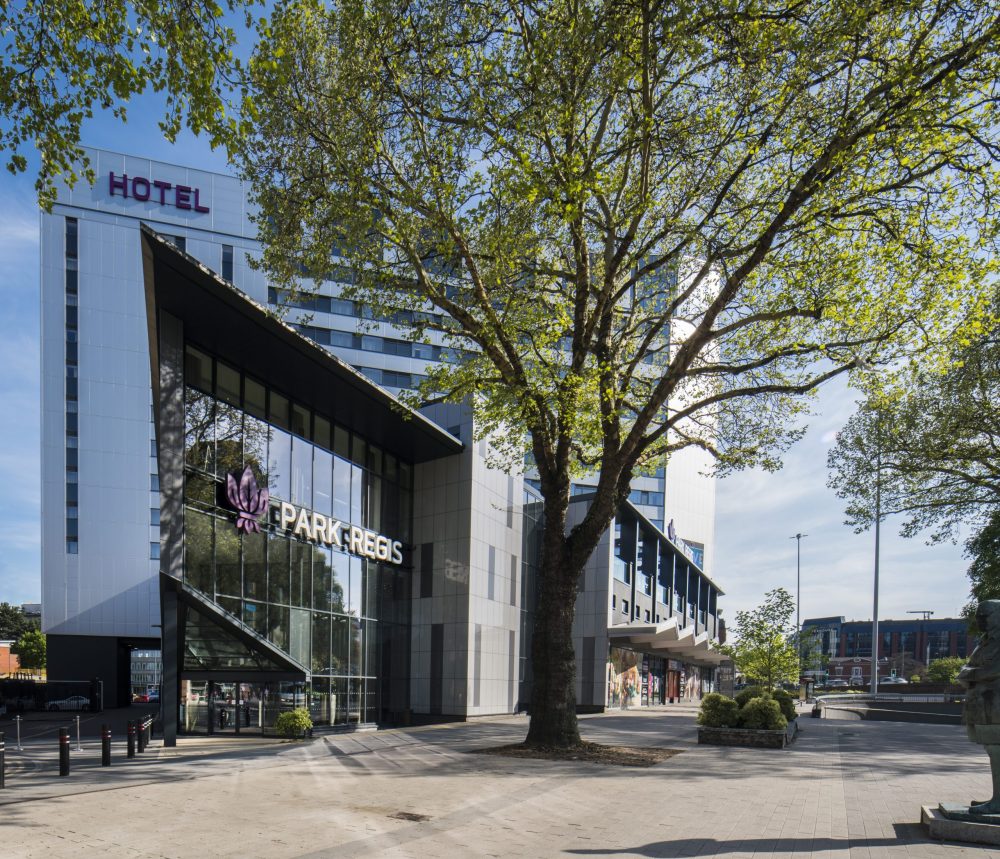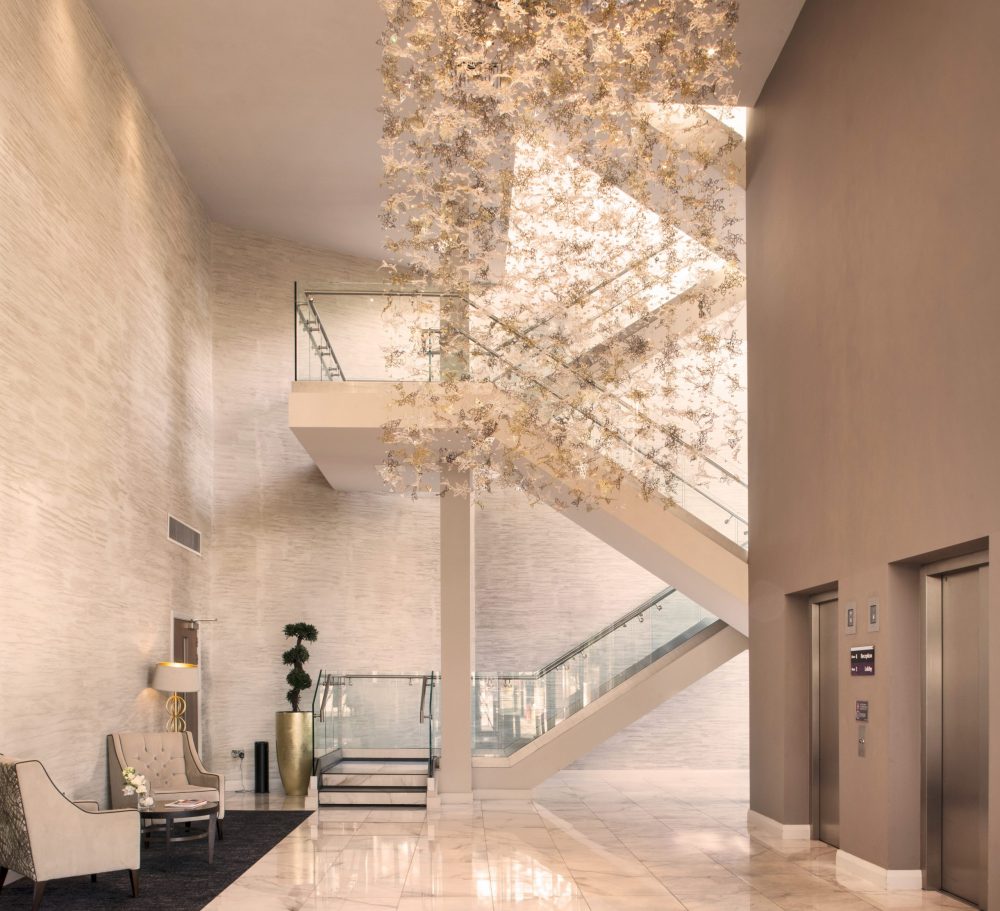 Park Regis Venue Reception Area
Park Regis Venue 1565 Bar
Park Regis Venue 1565 Terrace
Park Regis Venue 1565 Restaurant
Park Regis Venue 1565 Bar & Lounge
Park Regis Venue Sky Loft
Park Regis Venue External Night View
Park Regis Venue Hotel Room Deluxe Twin
Park Regis Venue Hotel Deluxe Bedroom
Park Regis Venue External View
Park Regis Venue Level 1 View
Venue Focus – Park Regis Birmingham Steps Up its Drive to Become Covid Secure
Eventologists is really proud to share Covid Secure plans for various venues we work with as we get closer and closer to the opening of Venues Nationwide in our efforts to support the Hospitality Industry recover. The first venue we focus on is Park Regis Birmingham who have begun to welcome back their guests, they want to ensure that they are providing their guests & employees with a safe, welcoming and clean environment.
They have been delighted to remain open to the NHS & key workers and are looking forward to reopening their doors to the public very soon.
The hotel has been fortunate to retain their Senior M
anagement team which has given them the ability to be fast to react to change thus having been able to create a Covid-19 Secure 8 step summary along with a complete Standard Operating Procedure document.
Park Regis Birmingham have been building their plans to develop the hotel over the last couple of months and have created a series of short videos to chart their progress in becoming Covid-19 Secure, take a look at the first video highlighting their meeting and events journey 
John Angus, Managing Director said "It became clear in early April that Park Regis Birmingham would have to significantly change to become Covid Secure.  Our programme commenced in April and will take 3 months to complete, to include a full Standard Operating Procedure plan that changes all of our service standards.  We have installed protective screens and signage throughout the hotel, as well as installing sanitizer stations and new Air Purifiers in the reception and lounge areas.
Cleanliness is now the No1 requirement from our guests and we have implemented PRB Clean, which is focused on bedroom cleanliness with the final sign off being our PRB door seal that gives our customers confidence that the room has been sealed for them.  New Floor Plans have been implemented in our Events Centre and our in-house  Audio Visual company have implemented live streaming between rooms.  Finally, to provide confidence for our guests our certification process will include a Safe, Clean & Legal Accreditation from Quality in Tourism and Shield Health & Safety, both will confirm that Park Regis is Covid Secure."
For further information on Park Regis Birmingham Covid-19 Secure plans or for booking events in 2020 and 2021 please email aimee@parkregis-birmingham.com.
Venue Focus – Here's Why Park Regis Hotel Birmingham is an Awesome Events Venue Post Covid!
Venue Focus – Here's Why Park Regis Hotel Birmingham is an Awesome Events Venue Post Covid!
Here at Eventologists, we know that finding the perfect location to host your event is of great importance especially now as we need to be assured that your chosen venue has your safety covered. Therefore, we embrace the challenge of sourcing the right venue to match your event and ensure that not only is it suited to you and all your guests, but that the space accommodates your visions and theme perfectly!
One of our top venues is The Park Regis Hotel in Birmingham due to its prime location in the heart of the city, and the multiple options it provides for space. Below we provide some insights as to why this is one of our star locations.
Luxury Gala Dinner Venue in Birmingham
This four-star luxury hotel offers a wide range of different spaces for you to choose from, with various function rooms that are suited to cater to any event you have planned.  In addition to this, the hotel also offers meeting rooms, refreshment areas, outside terraces, and dedicated receptions – all of which can be transformed into mesmerising themed event spaces by us at Eventologists. What's more, with this multitude of rooms, the Park Regis Hotel has a capacity of up to 400 people, so you can be sure that all your guests will fit right in at your event!
Central Birmingham Conference Venue
The Park Regis Hotel is conveniently located on Birmingham's famous 'Broad Street', known for being the most dynamic entertainment destination.  It is easily accessible, being only a five minute walk from the nearest train station and ten minutes from the city centre. Add to that plenty of parking and accommodation facilities, and you can rest assured that this venue fits everyone's travel requirements for smooth sailing on the day of your event.
Eventologists has had the pleasure of working with Park Regis on many events over the last few years. Below is showcase of some of our favourites!
Great Gatsby Themed Launch Event
Eventologists delivered a Great Gatsby themed event for Park Regis Hotel with Gatsby Props take guests to the roaring 20s with the sounds and atmosphere of the Prohibition Era!
As the moment guests walked into drinks reception, they greeted by an elegant Flapper in a skirt she served champagne from. Once walked into the beautiful ballroom they were welcome with endless champagne and food by the hotel,  roaring 20's theming and props such as Gramophones props, an art deco screens, Vintage props and some stunning Gatsby Themed Table Decor which included Gold Gatsby Lamps and feather table centres. The evening was a roaring success as guests partied through the night!
50 shades of Gold – Corporate Christmas Decorations
Eventologists had the honour of designing and decorating the hotel ready for Christmas and what an enormous task it was since the tree stool 22 foot in the air and many smaller ones! This was no ordinary Christmas Tree Installation – this was a Commercial Christmas Tree of a magnitude that we only dress at the tallest spaces and venues. Over 10,000 baubles, 100's of metres of fairy lights, enormous present boxes and an enormous ladder to attach all the Christmas decorations with.  Every year, after dressing the tree we stand in awe of this one. This Christmas Tree soaks up the glamour of gold and drips in opulence. Its just the most unique Christmas Tree and we are proud to call it one of our creations!
As they open their doors soon, we will be sharing their plans of social distancing and how they will be supporting to ensure the venue is safe and a great for meetings again!
Does Creating Experiences and Event Hire in Hospitality Hold the Key to Visitors and Faster Recovery?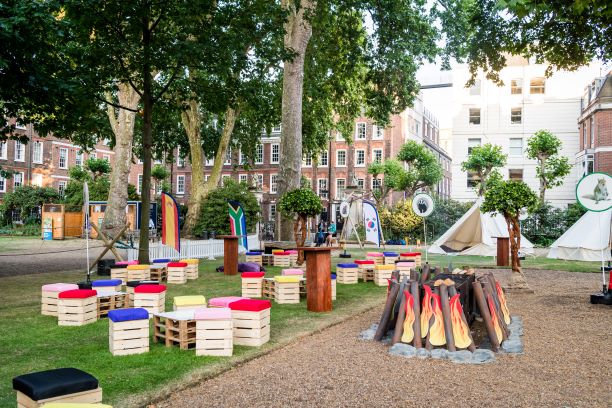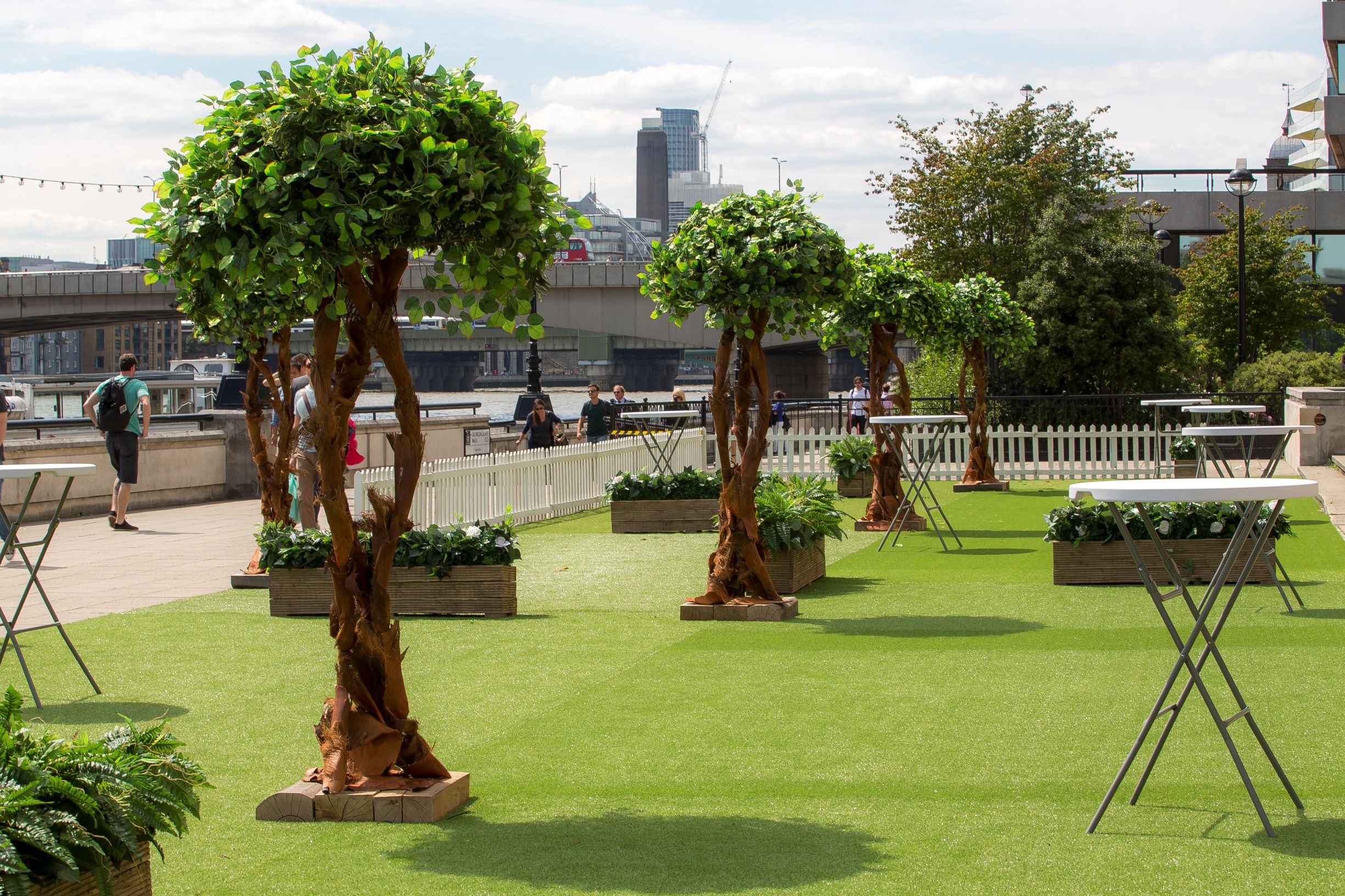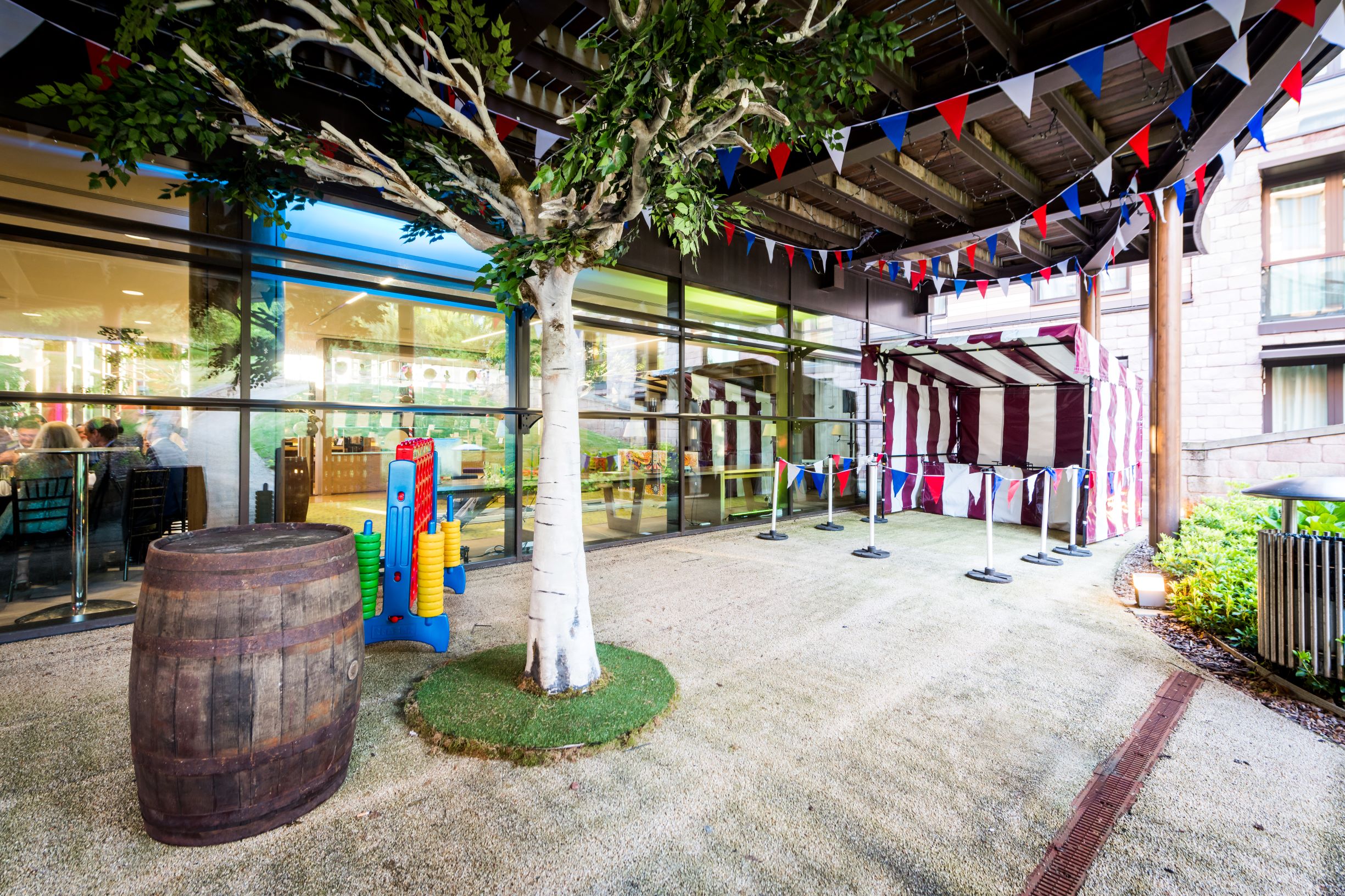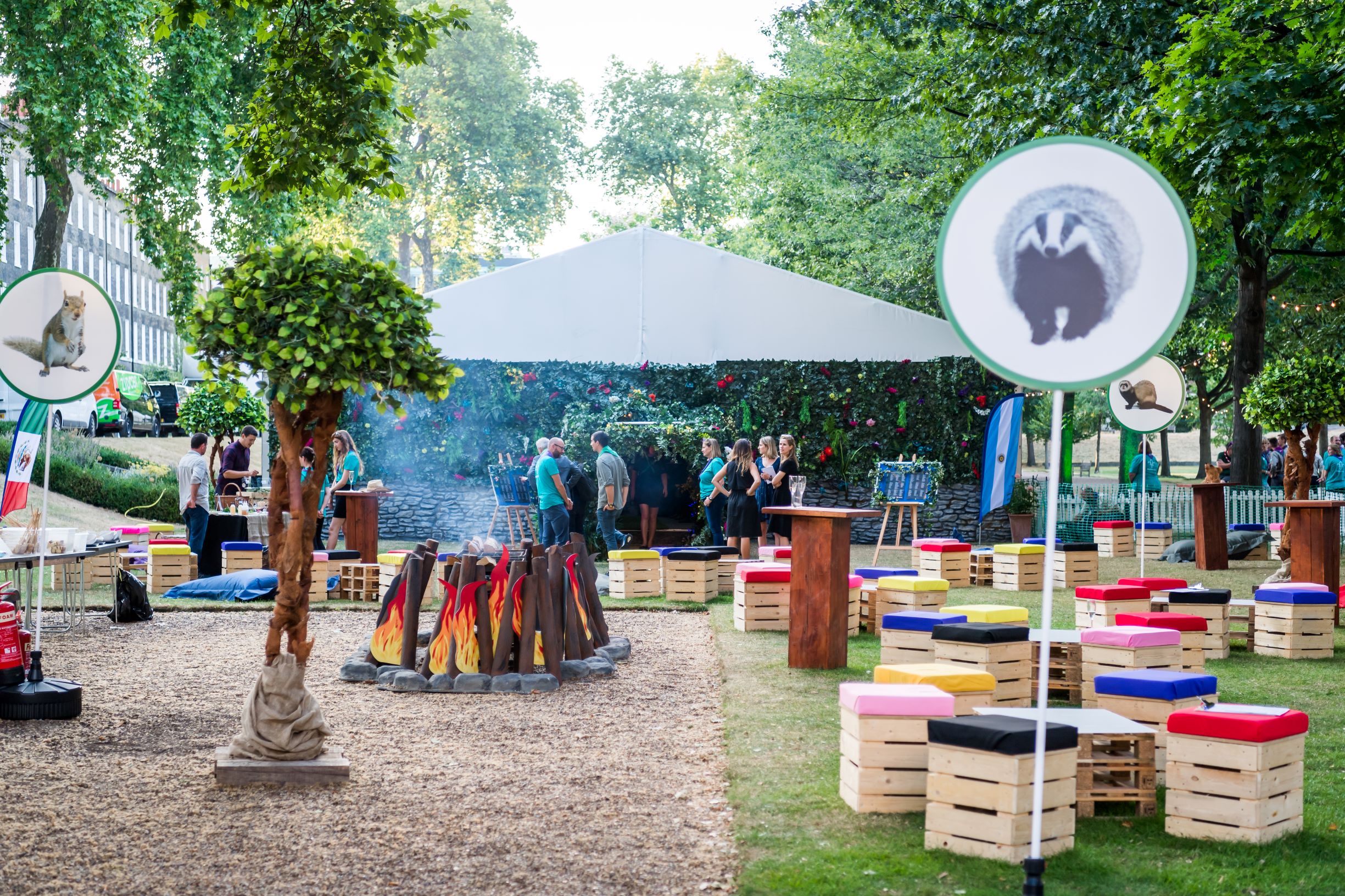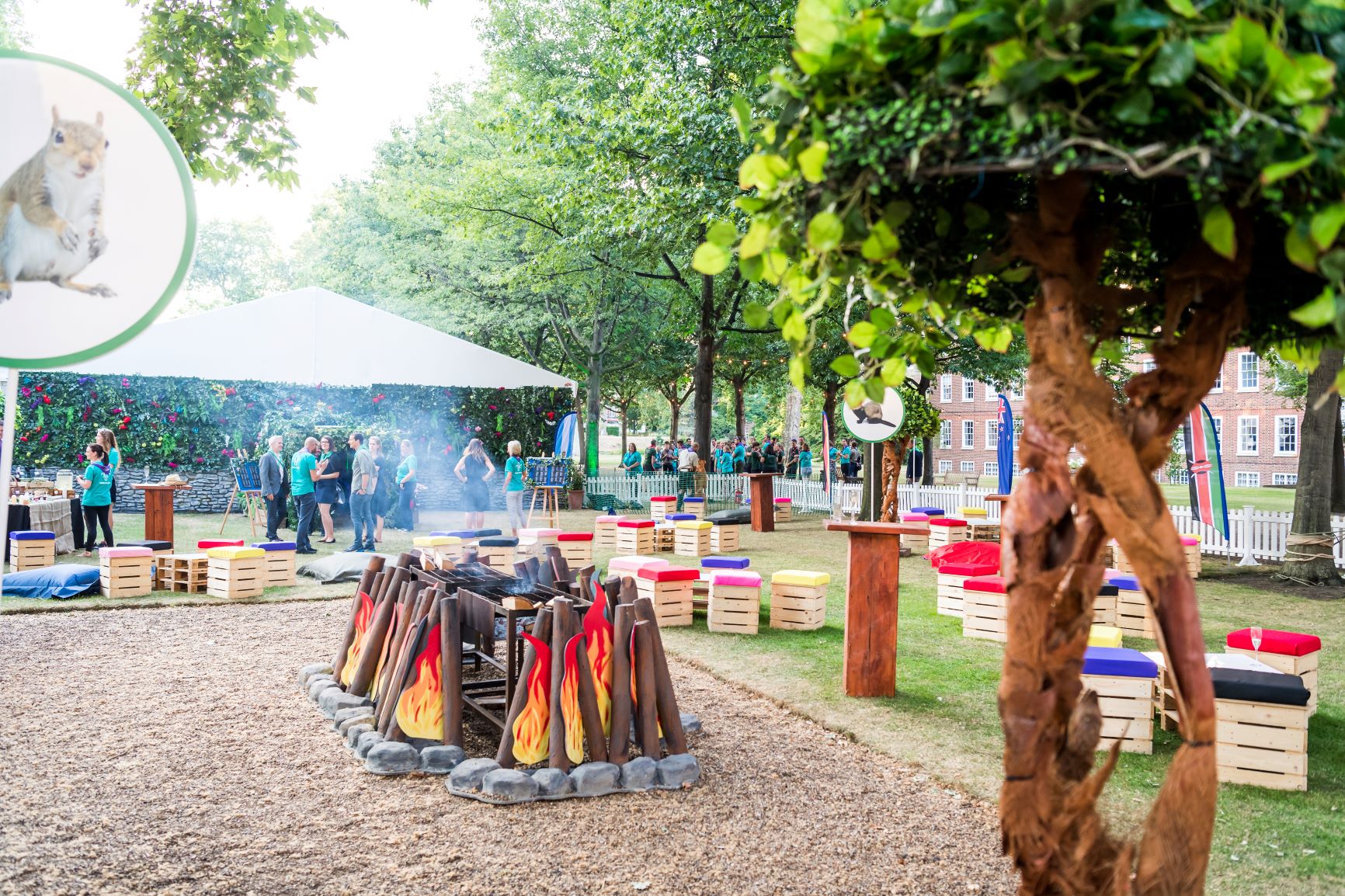 Low Colourful Pallet Seating at Outdoor Event
Small Artificial Dome Tree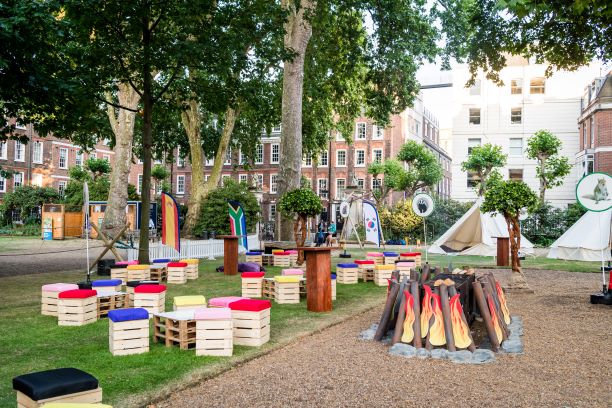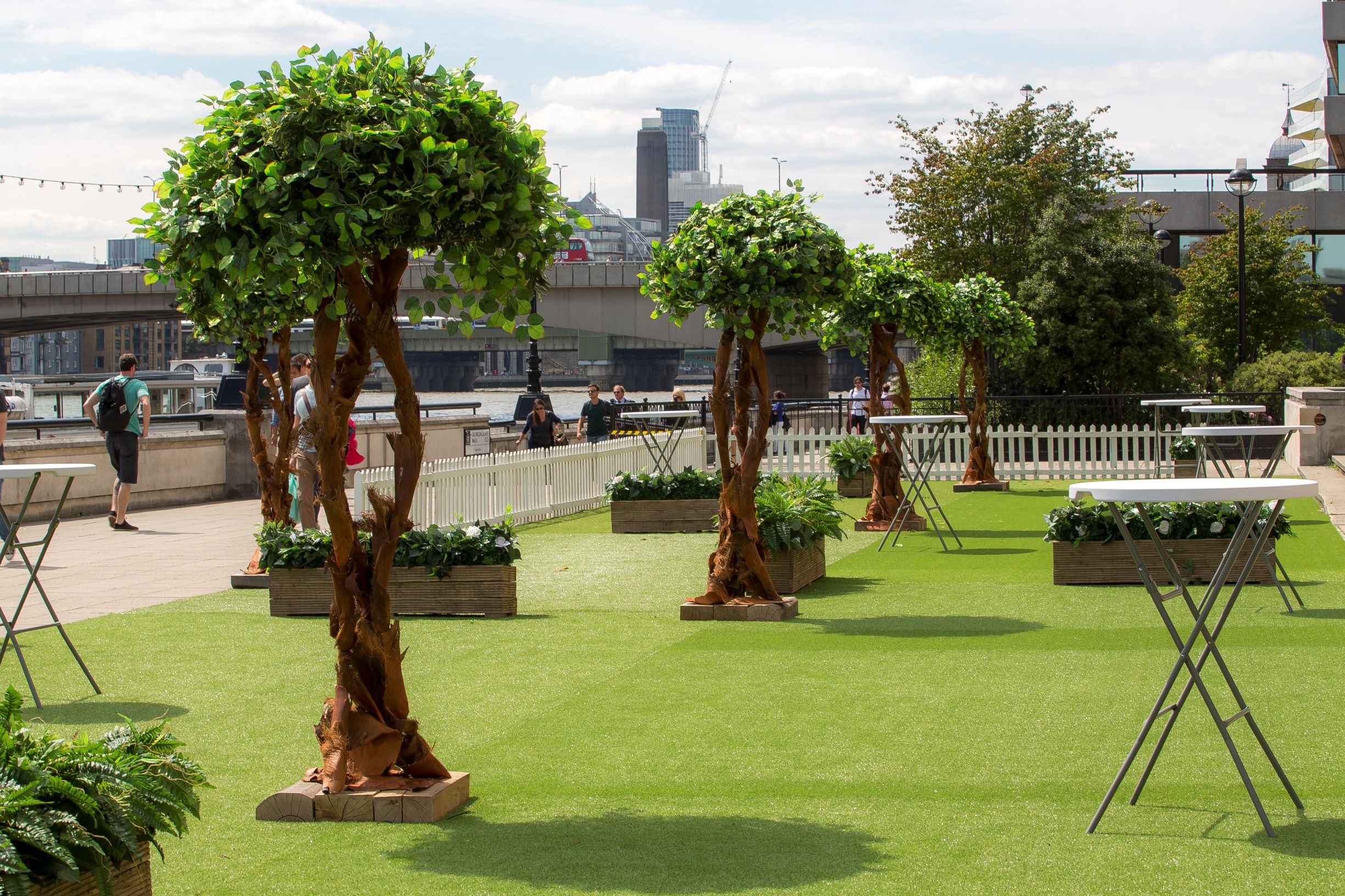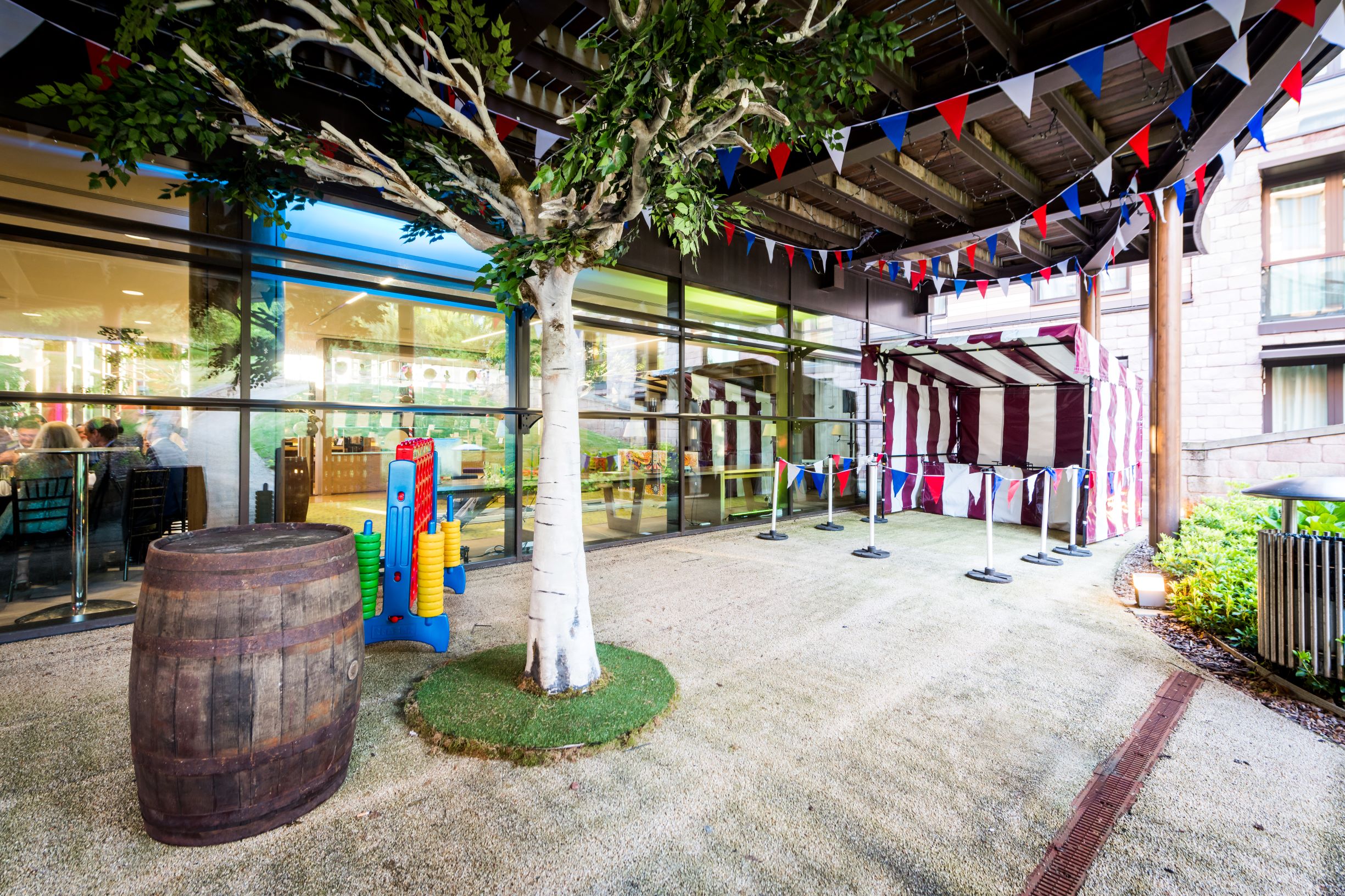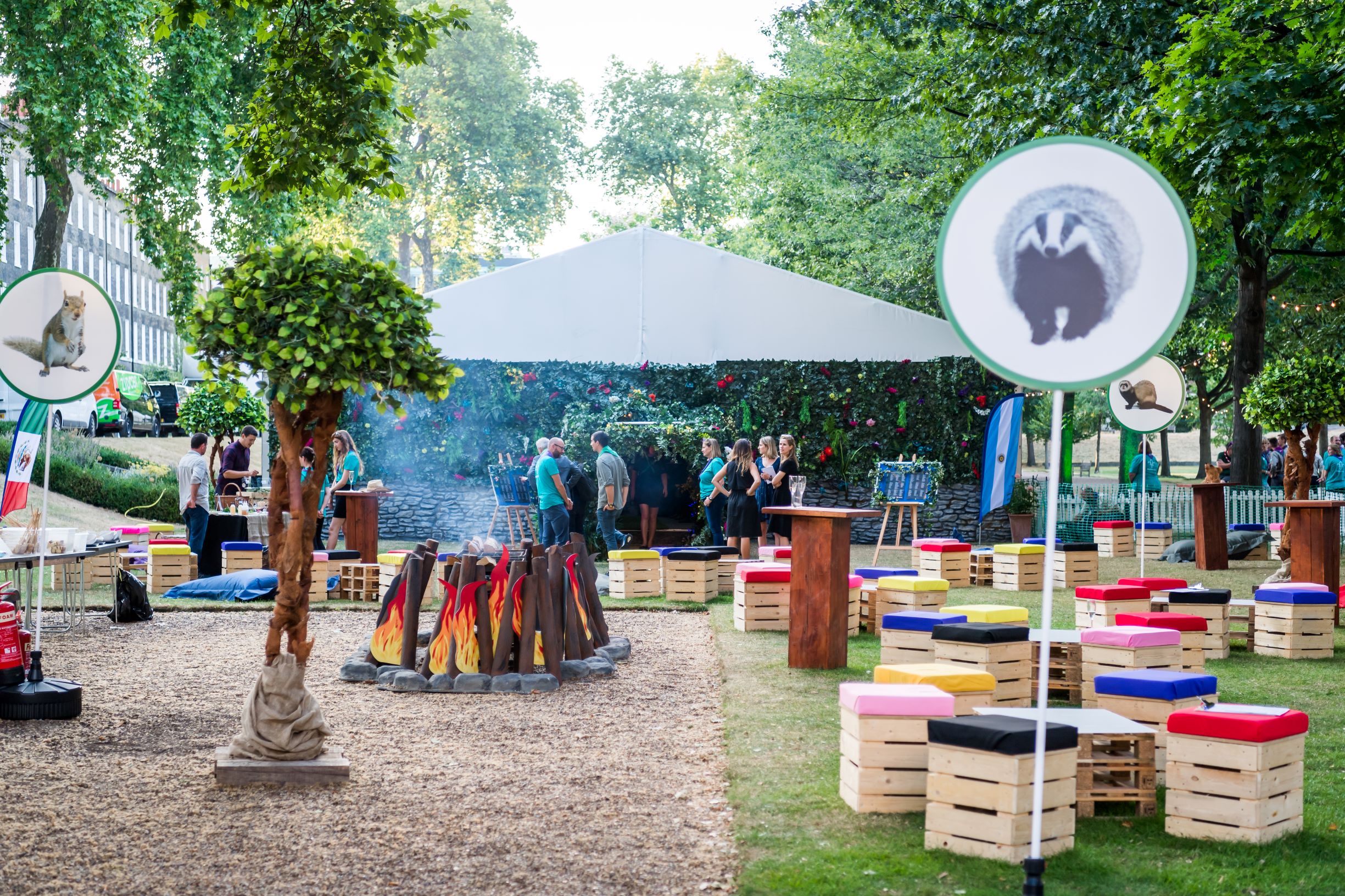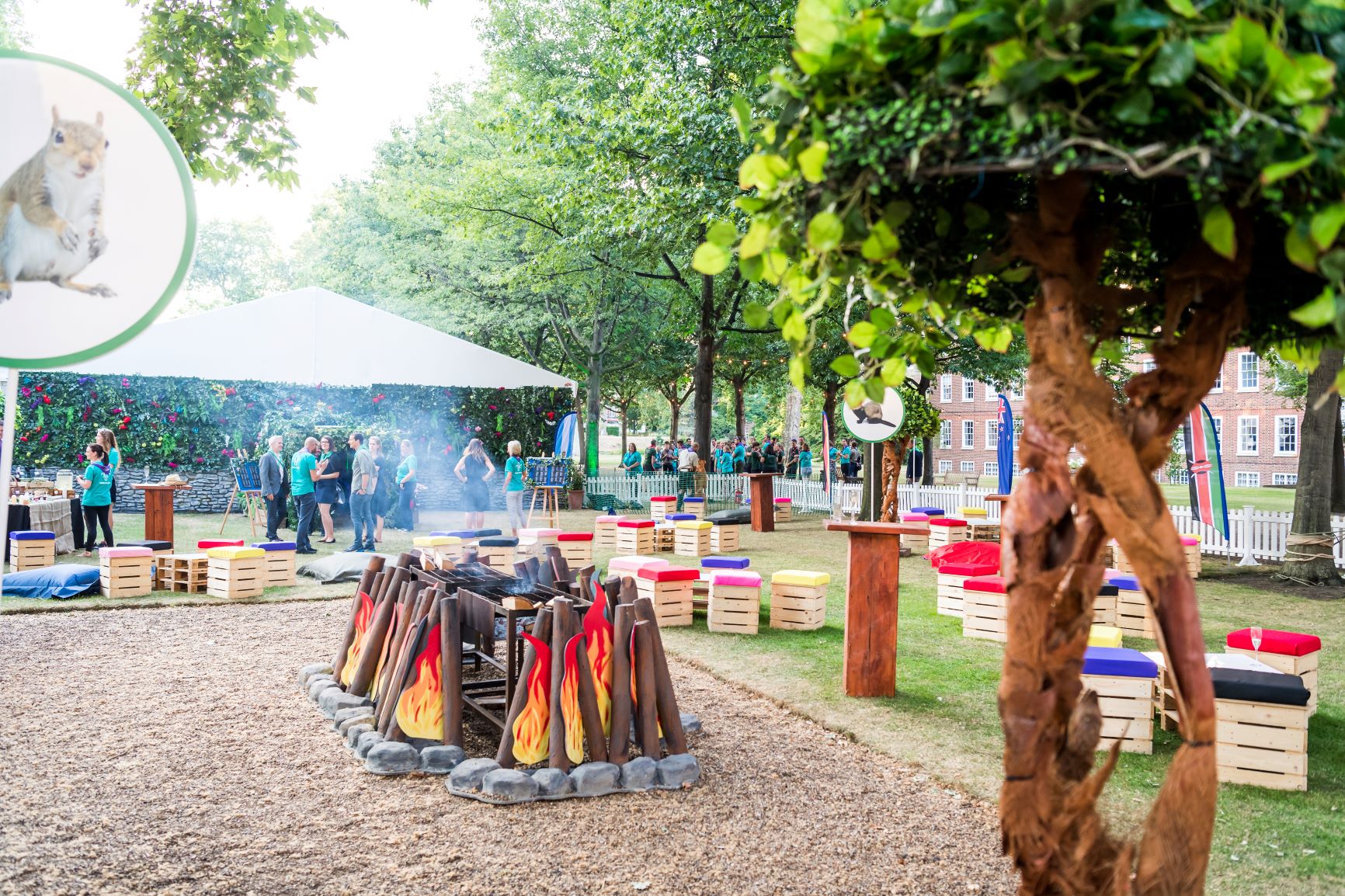 Does Creating Experiences in Hospitality Hold the Key to Visitors and Faster Recovery?
The reopening of pubs, bars and restaurants should be celebrated, not only because it allows the public to create a sense of normality, but as it allows the landlords and their staff to return to what they love doing and starts to create economic prosperity again in the hospitality industry. We look at critical success factors of what the punter-after lockdown will be looking for?
We've all missed our favourite pub landlords and our locals, but things are different now. We've found ways to entertain ourselves indoors and now creating a compelling argument to go out a visit pubs, bars and restaurants means looking at creating an experience that they can't get sitting at home. We review how making making visiting bars, restaurants and pubs could be different.
What can people get outdoors that they couldn't get indoors?
Everyone is looking to party after lockdown at your pub, bar or restaurant, there are so many ways you can use Event Hire such as props hire, furniture hire and party hire to maintain social distance, comply within regulations, and create a welcoming atmosphere.
Creating the right ambience is so important to your customers having been indoors for such a long time.  For them, they will be excited to see some friendly faces that have been missed for so many weeks, the interaction with friends, neighbours, and local villagers alike.
They've probably been talking about what drink to order first and who they would like to meet up with for weeks. Creating awesome experiential spaces that allow them to relax and remember what they missed, will be essential for post lockdown solutions for hospitality spaces to encourage repeat visits and increase dwell time and spend.
We think that interesting furniture, themed décor, outdoor furniture, social distancing beer gardens, creating a zones for small family celebrations will all be essential to kickstart hospitality.
Ideas for increasing visits to pubs
So once people have had their first fix of visiting their favourite local pub, beer garden, restaurant, or bar – how can we keep them coming back. For many staying at home has become like a cosy pair of slippers. Let's face it, many of us have loved to hang out in our pyjamas till 5pm each day.
An option could be to create a themed night with an offer on themed drinks, food, or cocktails? Integrating this themed event with appropriate themed props, furniture and entertainment could encourage repeat custom as they experience something new for each visit. All these theming ideas and outdoor décor could be used to transform spaces whilst social distancing and ensuring that you work within regulations.
Maintaining a sense of community
Covid has brought communities together in a way that no other single event has and tapping into this sentimentality will be a winning strategy. As well as theming and décor to create an experience, how can you get them involved and engaged in activities that adds to their experience of being out again? Maybe it's an old-fashioned knees up and sing song.
What about the a chance to take part in a real-life pub quiz, as much as we've all loved our virtual quizzes with family and friends, nothing beats the atmosphere and good old banter between teams and the friendly heckling at the quiz master if they should dare make a mistake or read out an incorrect fact during the weekly pub quiz. What about other social distancing games that makes going out fashionable again?
We think experience and atmosphere will be essential strategy for the hospitality industry to ensure people enjoy the return back to social. The entrance may no longer be the well-known front door of the pub, but instead a wooden gate that leads to the pub's beer garden.
We may not be able to sit too close to friends and acquaintances or even enjoy the jovial chit chat as we queue and wait to be served at the bar but bringing experience into hospitality will be one way of bringing a sense of normality and bringing customers in to enjoy the delights of the local ale, favourite meal or our favourite tipple once more.
In fact, we are so sure that creating atmosphere is an important strategy, that we are offering 50% off to those want to re-ignite and restart their pub, bar, or restaurant. E-mail us today at info@eventologistsold.local for a free consultation.
Check out our Themed Events or Event Furniture for some inspiration. To enquire about a package or to book an event, Contact one of our team members.
Let's raise a glass and toast to the return of our beloved Local Pubs!
Great Ideas for Post Covid Events – Branded Charging Trees for Chat And Charge Stations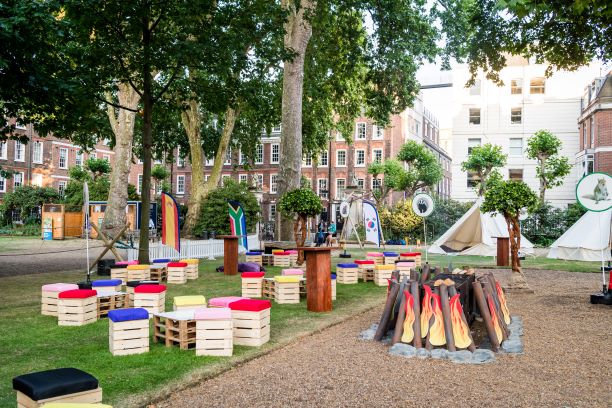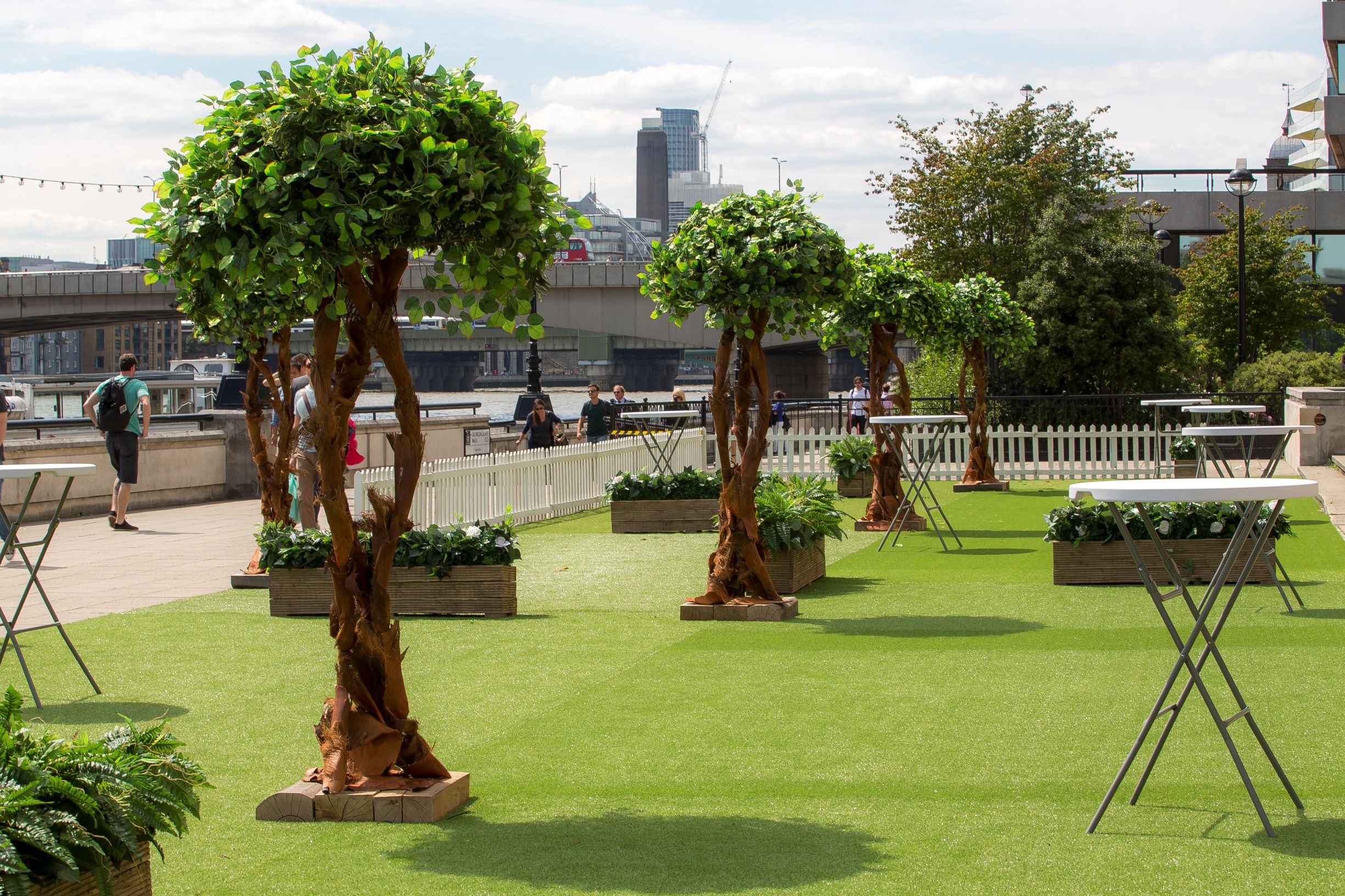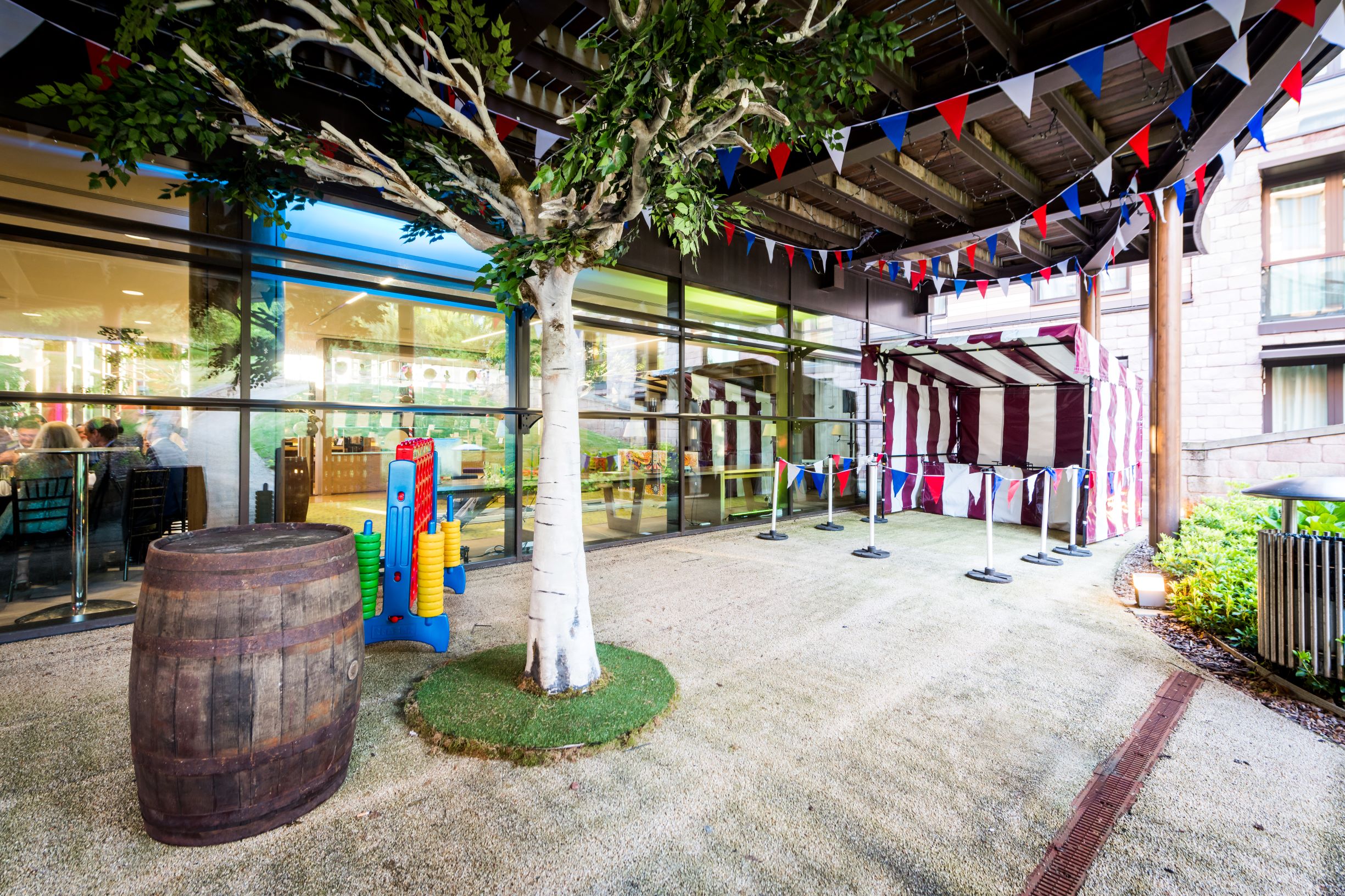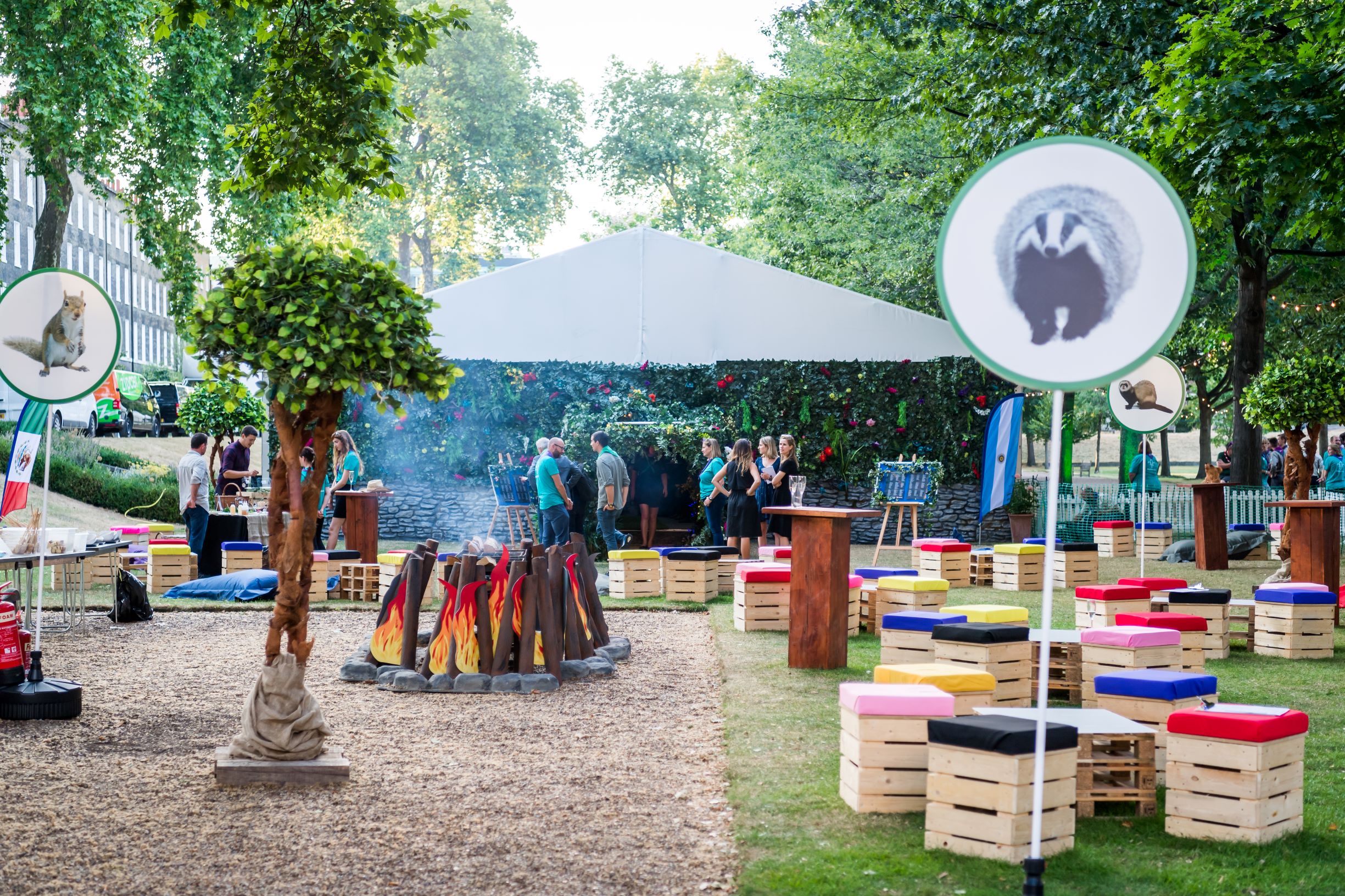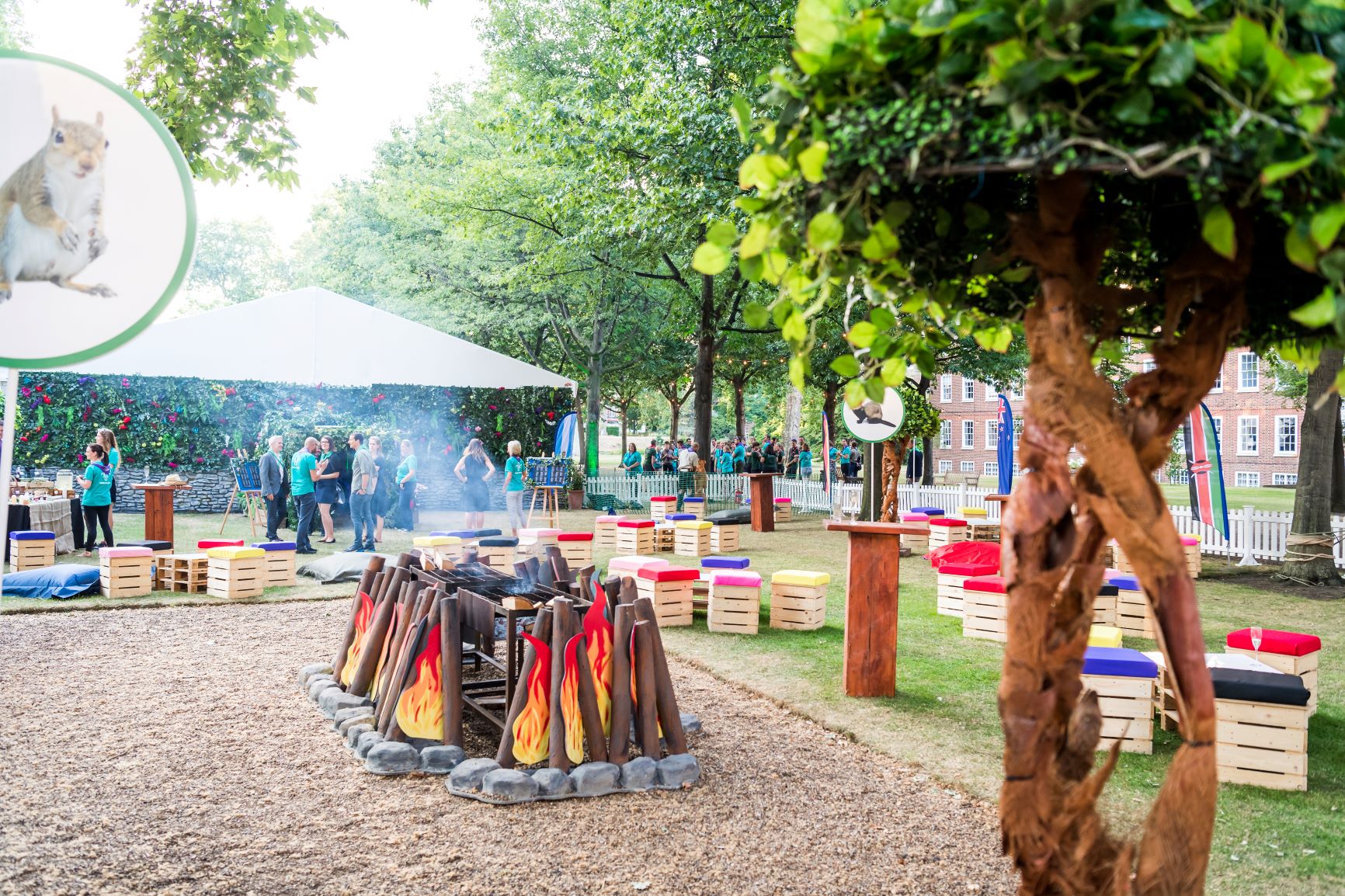 Low Colourful Pallet Seating at Outdoor Event
Small Artificial Dome Tree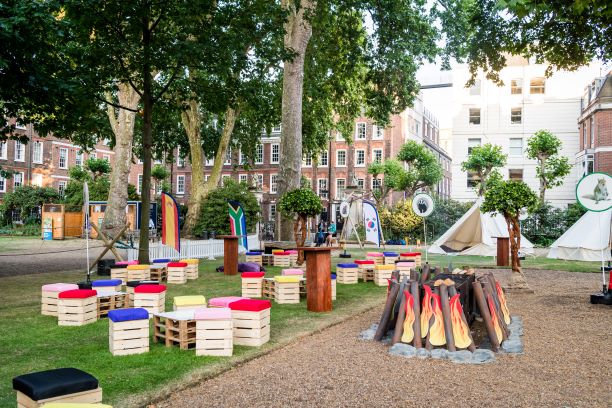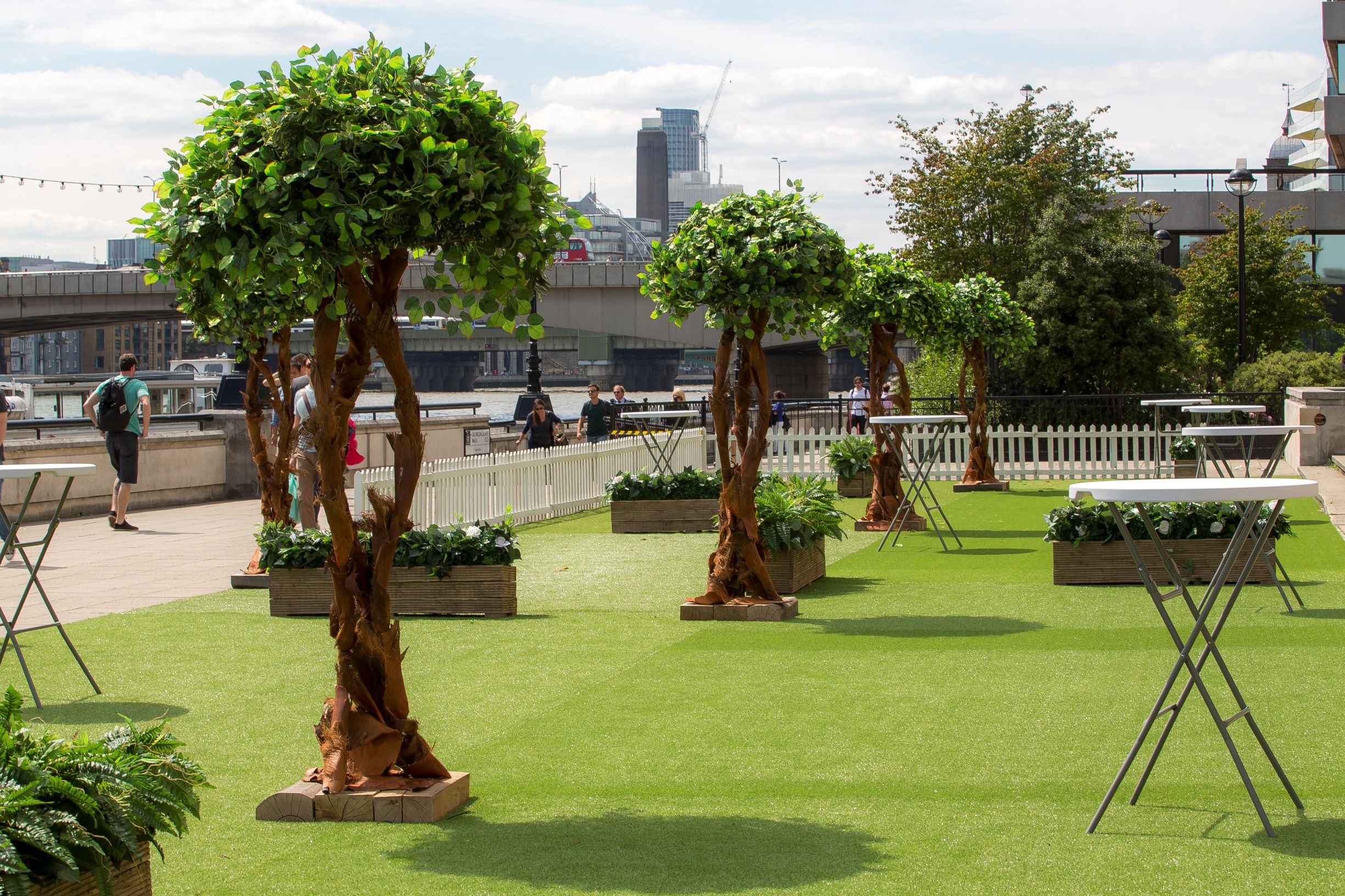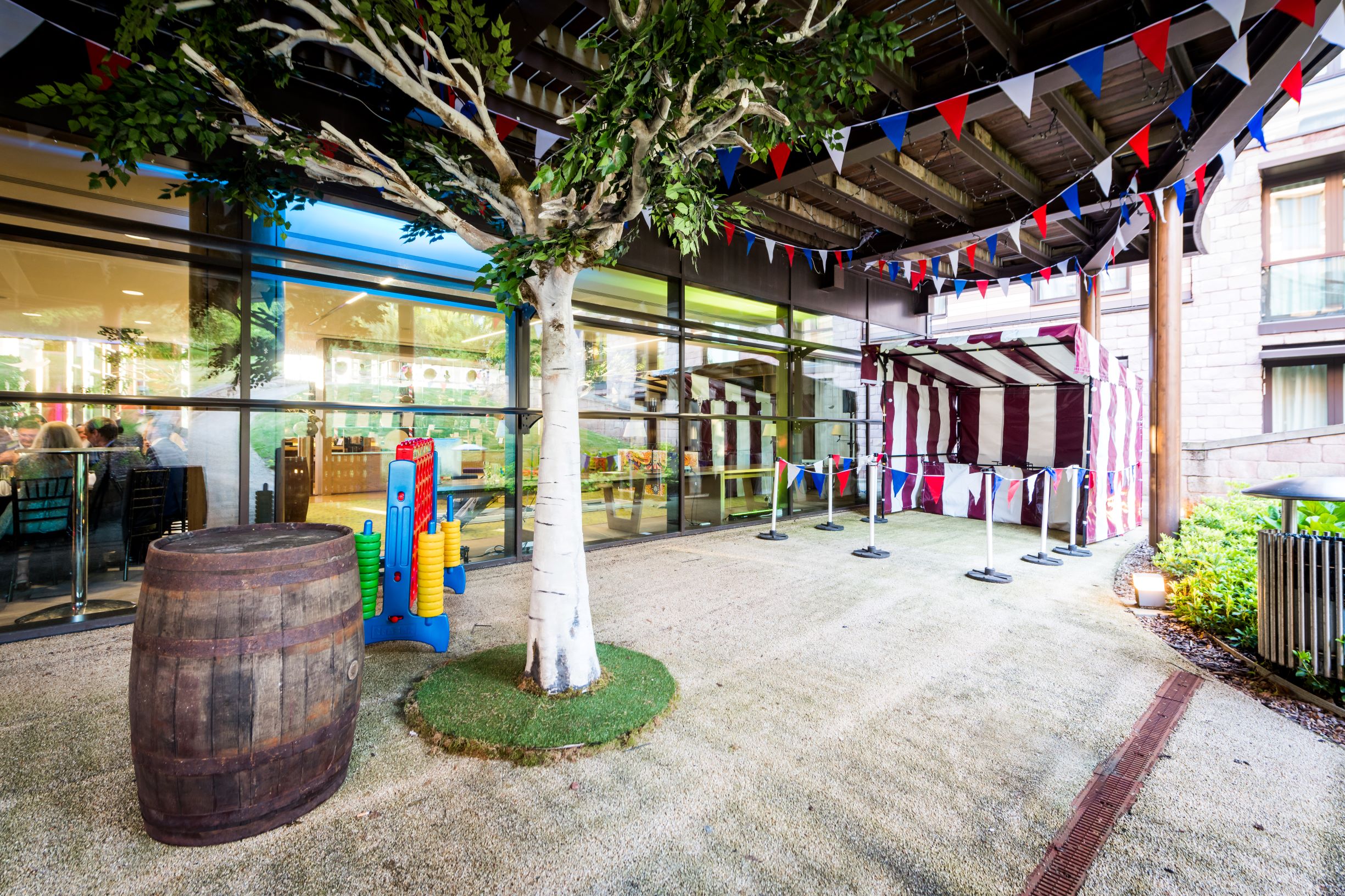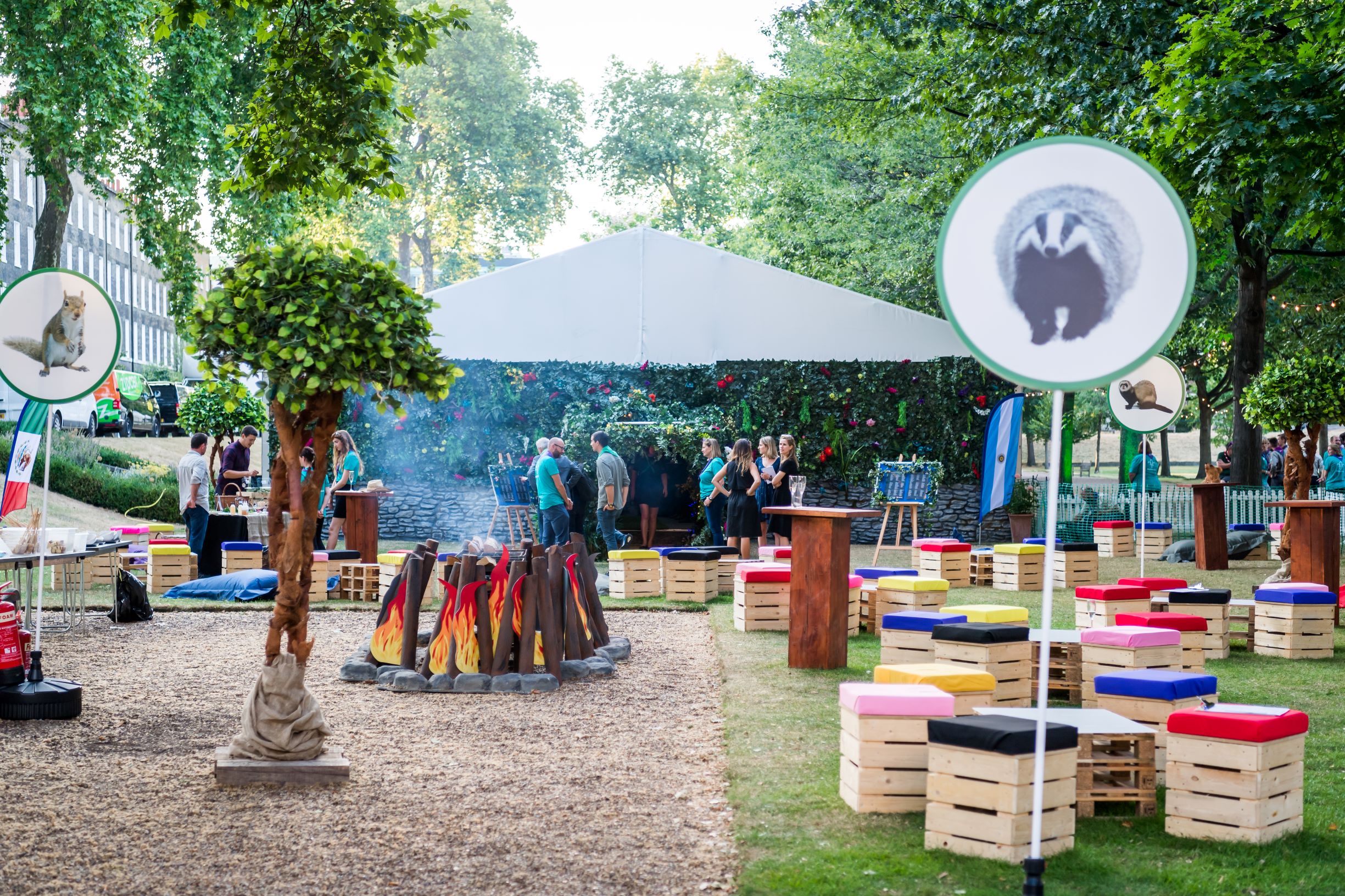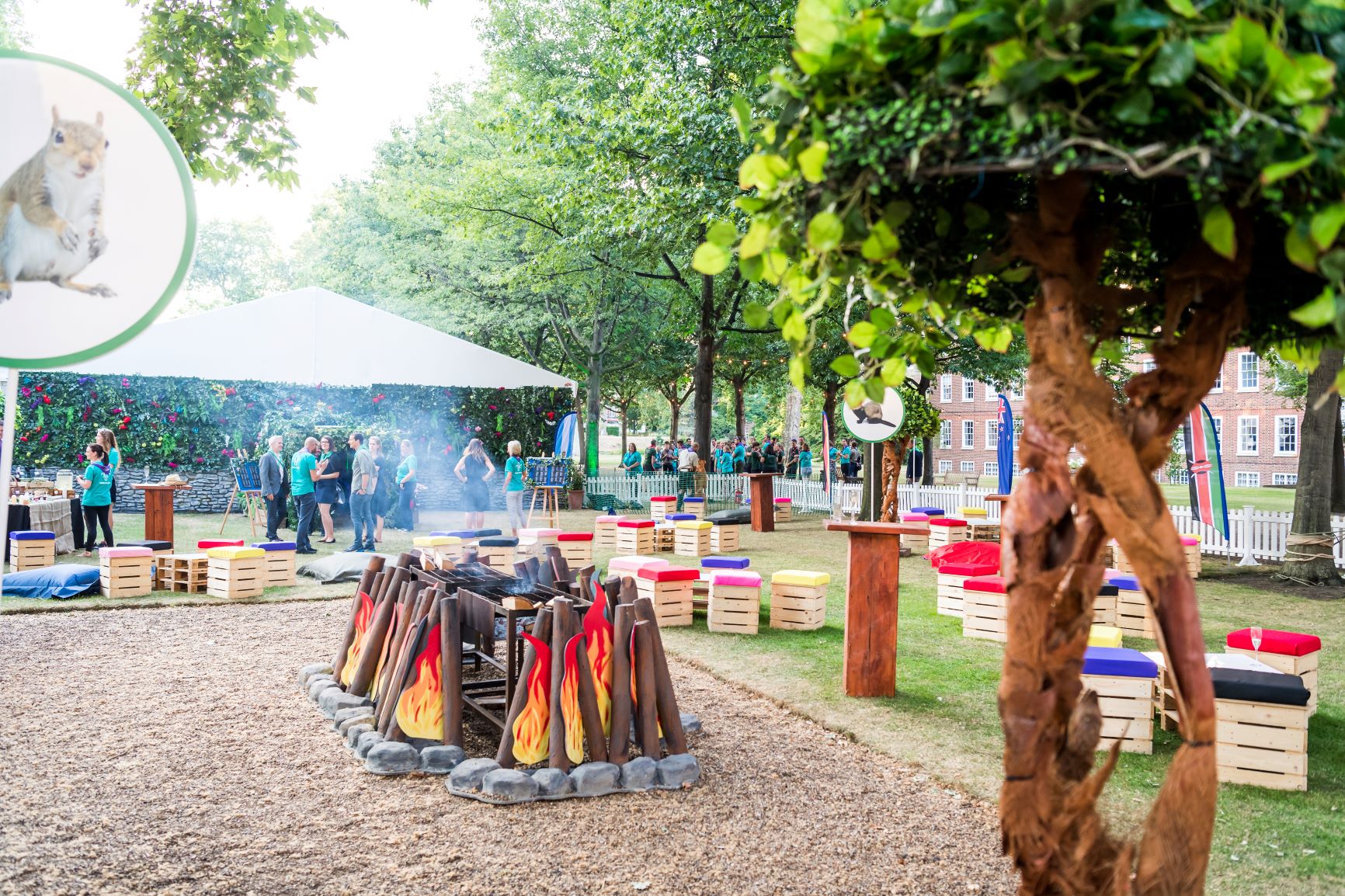 Great Ideas for Post Covid Events – Branded Charging Trees for Chat And Charge Stations
As venues amend floorplans to reflect the new norm that we are about to enter, there is considerable discussion around whether the social distancing measures and spaces may leave venues look sterile and empty. We think that this might just be where Event Production will take a new role and importance in helping to infill spaces and make them feel more natural rather than empty and alarming.
Eventologists have created products that could help to fill spaces, create zones and barriers as well as being useable to attendees. The first such product is our Charging Trees to create Chat and Charge Zones at future events and post Covid conferences.
Phone Charging Tree
Eventologists created a chat and charge tree for an exhibition in 2019 that allowed users to charge their phone whilst having a mindful moment or catch up with work whilst charging their phone. We have now created wider stations that allow individuals to work, charge their phone as well as socially distance at Post-Covid Conferences, Post Covid Exhibitions and around venues and open spaces where the objective is to make venues look more decorative, increase dwell time and fill empty spaces.
Charging Trees stand proud at over 4m tall and have a large footprint so they take up lots of space. Research shows that creating natural spaces promote well-being and who doesn't love a beautiful tree to transform a space
Available in 3 options; white blossom tree, pink blossom tree and green oak tree, the trees are uber natural looking. We suggest dotting these around the space as useable features. The base can also be branded with logos or event details and hashtags.
The base is completely wipeable so venues can wipe the surface after each use, or it can house wipes so users can wipe their surface.
The best thing about our Phone Charging Tree collection is;
British Made – you are supporting UK manufacturing when you book with us as artisans in the UK craft all our products!
Fire Retardant – All our trees use inherently FR materials and foliage. An essential for many UK venues!
Bespoke Build – Our trees can be designed to suit your requirements for Activation and Bespoke projects.
Almost real – Our trees are so meticulously designed, they are often mistaken for real trees.
Choice and range – We have a full range of foliage-based products to transform venues and spaces to create the outdoors indoor.
Check them out yourself in our Trees Hire gallery. To enquire about our Charging Tree Collection or to book one, contact one of our event stylists.
We have worked with Eventologists for the a couple of years now and can't fault them from start to finish the whole process is very seamless and the stuff they do is incredible! We have themed evenings and they always come up with some fab ideas that help to emphasise the theme and bring it to life. Our events have conference sessions in the venue during the day and we transform them for our awards in the evening and Eventologists always completely transform the space for the evening so that it feels like you're in a completely different space which makes it all feel so much more special and a real celebration and by the time morning arrives its all completely cleared as if by magic!

PPMA Admin


May 19, 2022

Great props, prompt delivery, awesome team. Would use again.

Richard Buxton


May 19, 2022

A wonderful team who made our event space look incredible. Jacob took our ideas and brought them to life. We've had amazing feedback about the event design, so we couldn't be happier. Everyone really loved the living wall and trees!

Olivia Rocky


April 19, 2022

Rita has been an absolute pleasure to work with; she listened to our ideas and vision and then totally ran with it and created something better than we could have ever imagined! On the event day, Rita and her team swooped in and decorated our venue in record time. Rita and the team were professional and efficient. We look forward to working with Eventologists again next year!

Neighbourly Brands


March 19, 2022

Eventologists are a pleasure to work with. The whole experience from start to finish isn't nothing short of perfection. The team are super professional and Jen makes working with them a breeze. Nothing is too much and she is always so responsive. Can't wait to work with them again :)

Andrew Chalk


March 19, 2022

Eventologists have been a dream to work with. No fuss, straightforward communications and pricing. Delivery and collection on the day was simple and efficient. Professional and friendly at every turn - thanks for your part in making our event a great success!

Emma Bird


February 19, 2022

We've used the services of Eventologists on numerous occasions and their expertise is priceless. Great service as always from Rita and her team who are always full of ideas and ways to make your event stand out. We've hired sets for Moulin Rouge, Great Gatsby, Hollywood and Glitz and Glam plus they created a wonderful set for a festival including tress with festoon and flags. Highly recommended and great to work with.

MrandMrsGrey


July 19, 2021

Wonderful team, from the event manager to the decorators! The choices of set ups and themes are really original as well as well made. Each event is done with lots of passion , always keeping the client best interest at heart. Great value for money, and they always go the extra mile!

Astrid Guillabeau


July 19, 2020