Transforming spaces from blank canvases to mind-blowing venue transformations.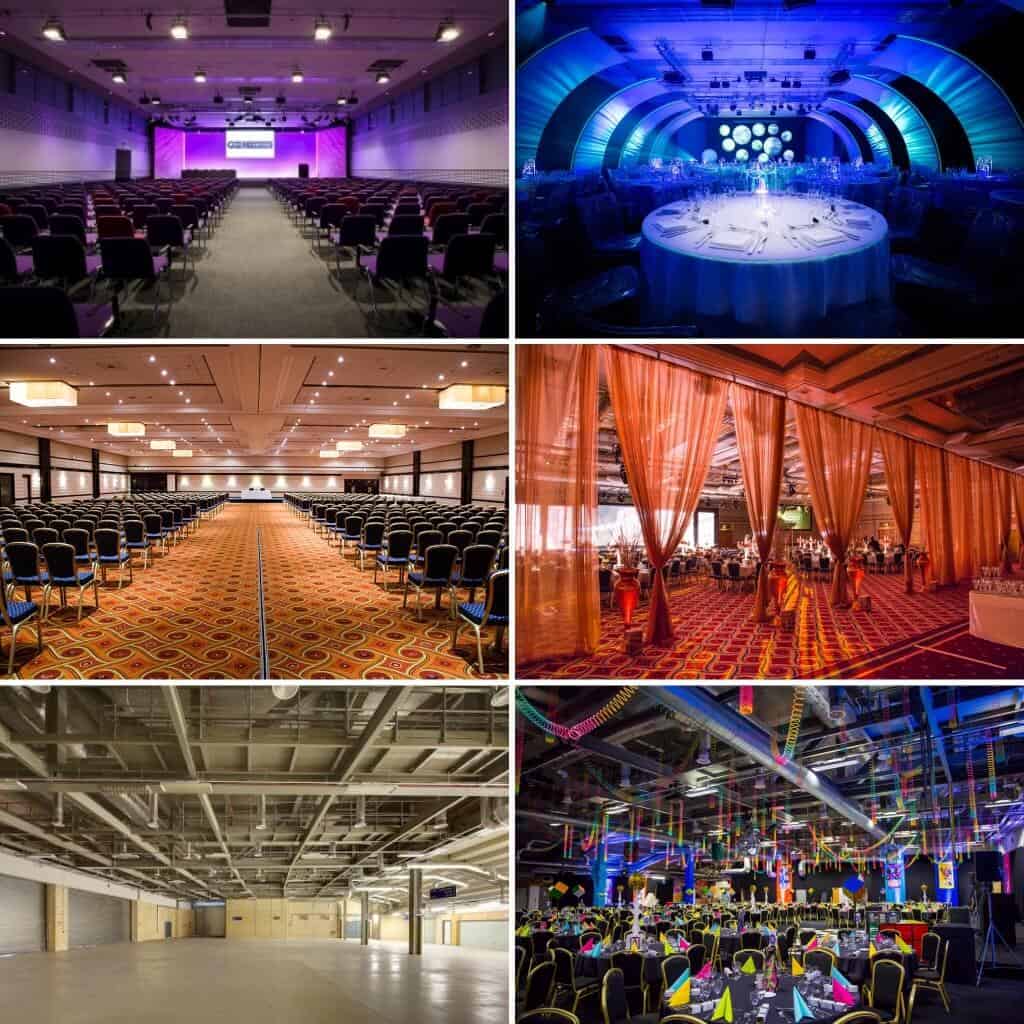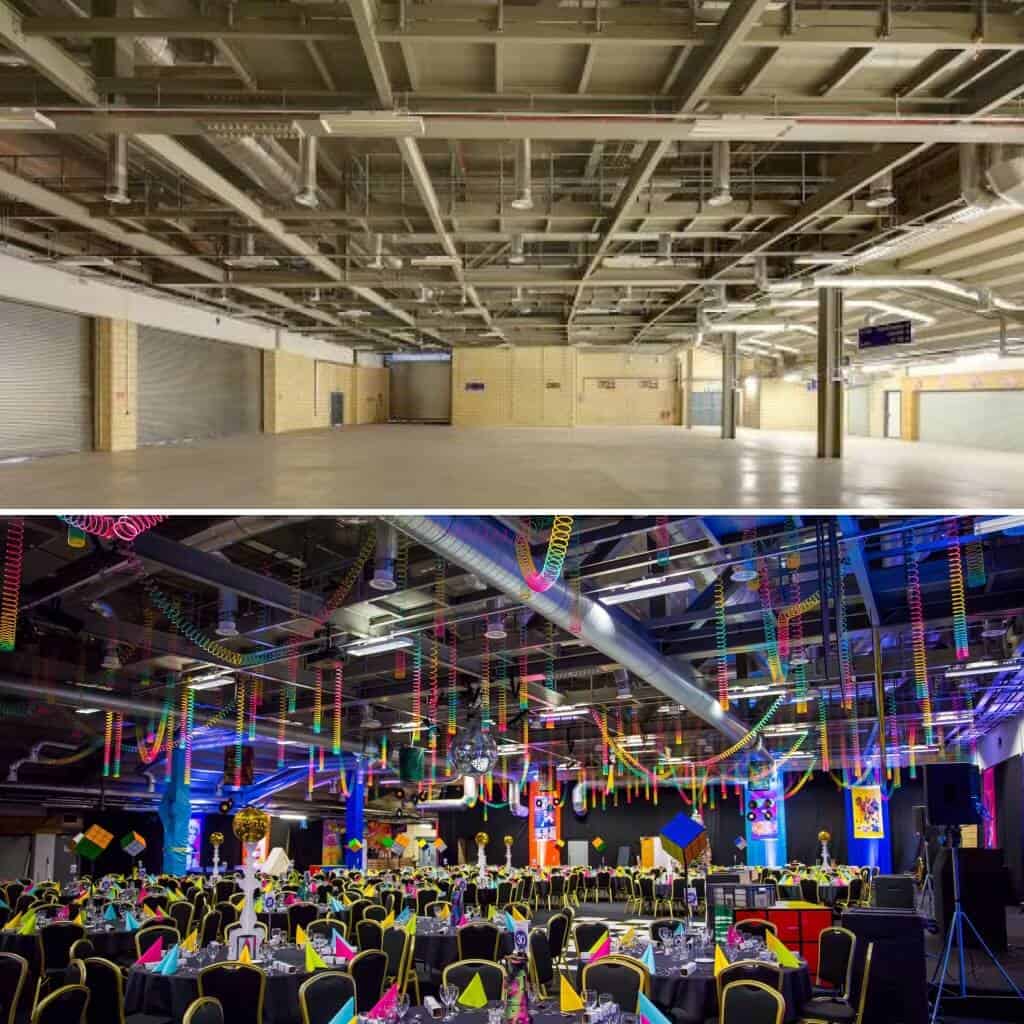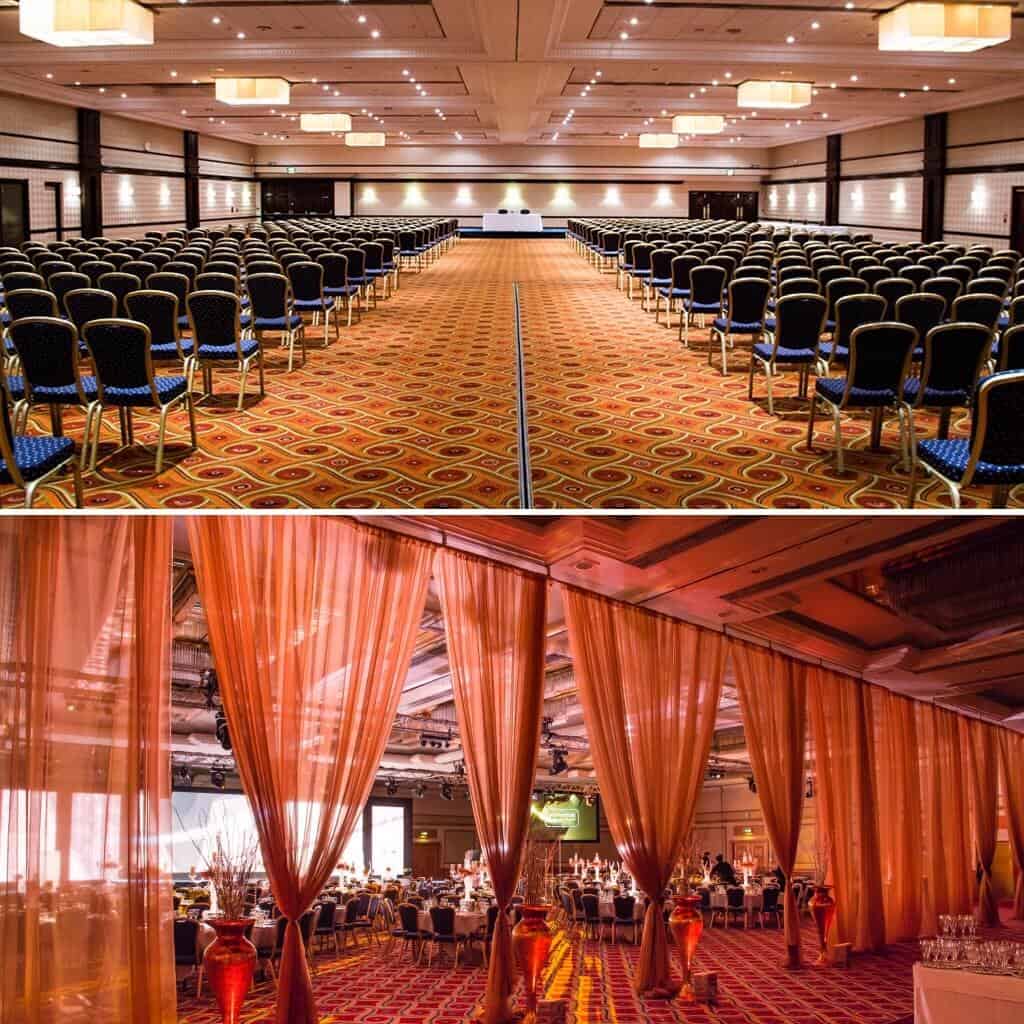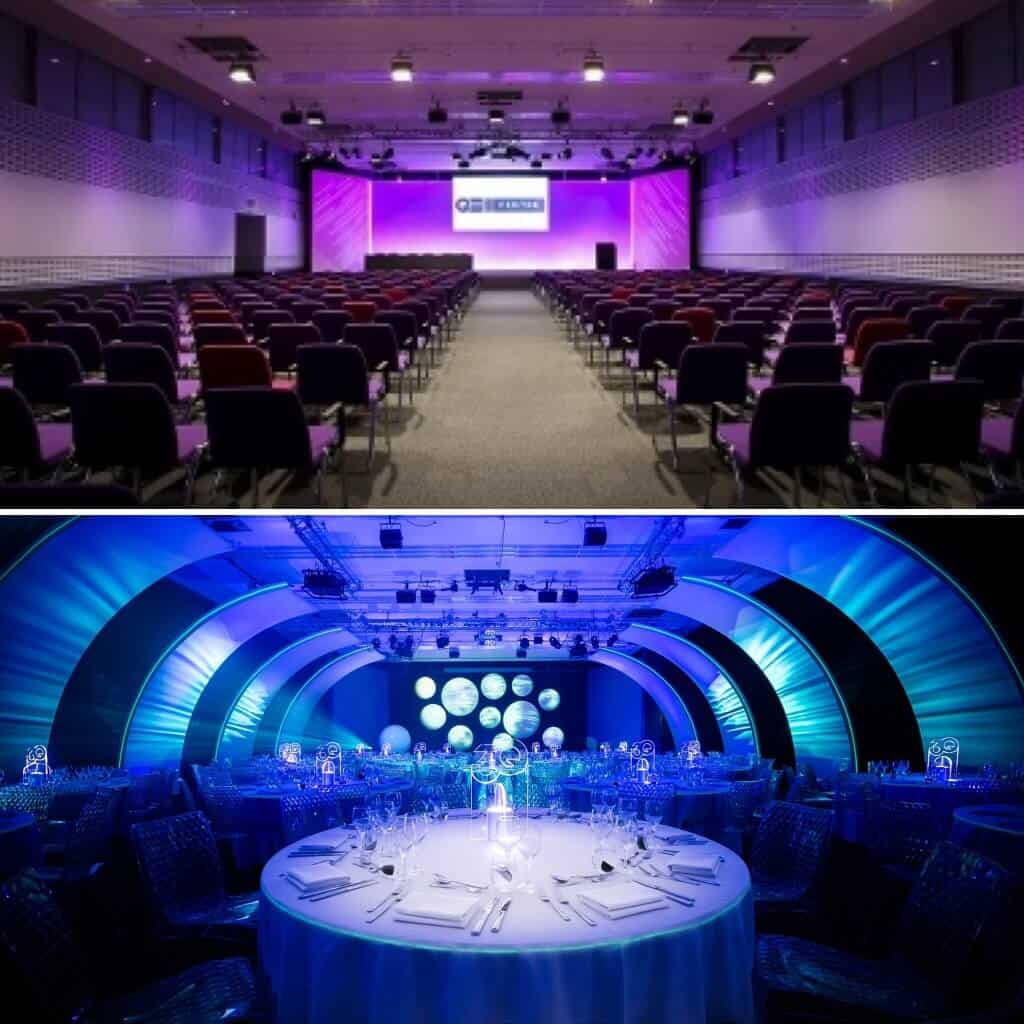 Before-and-After-Eventologists-Transformation-1024x1024
Before-and-After-Eventologists-Transformation-Edgbaston-Cricket-Ground-1024x1024
Before-and-After-Eventologists-Transformation-Hilton-Metropole-Birmingham-1024x1024
Before-and-After-Eventologists-Transformation-QE11-Centre-1024x1024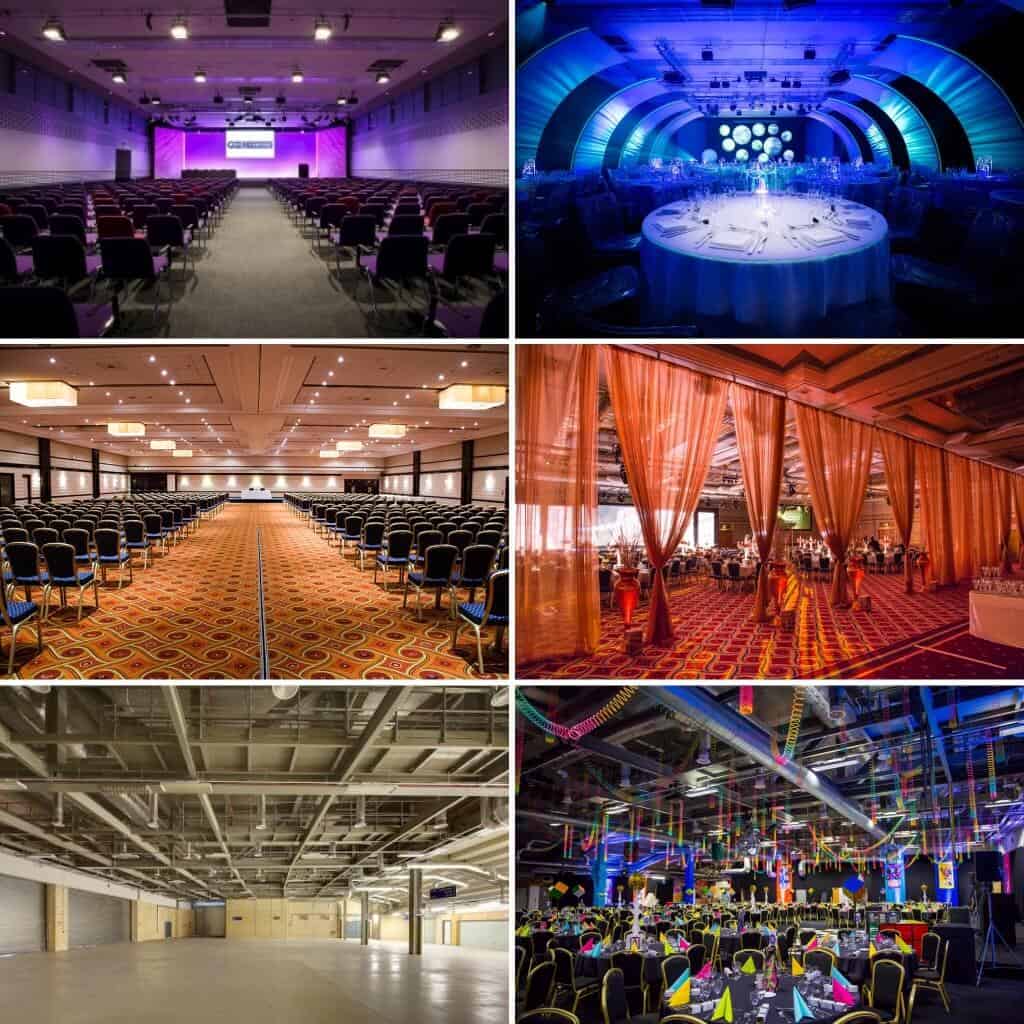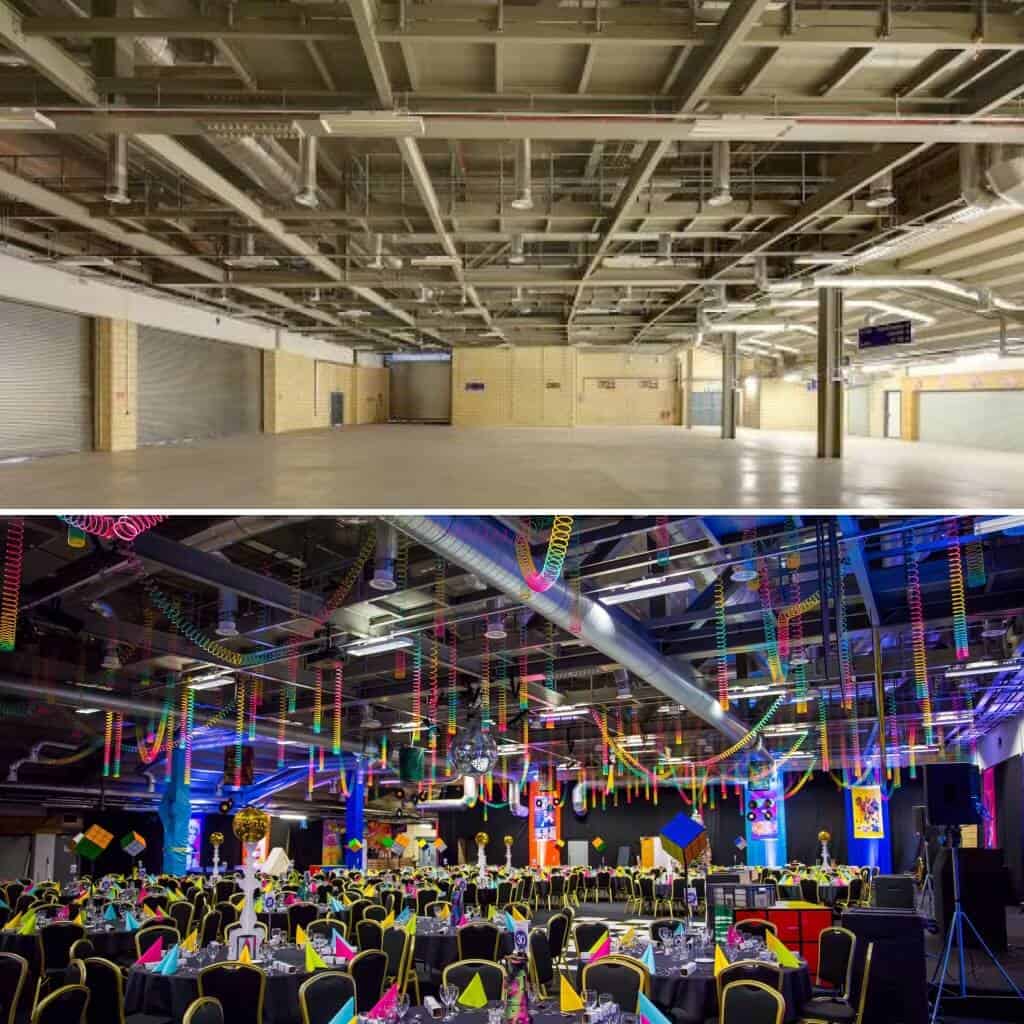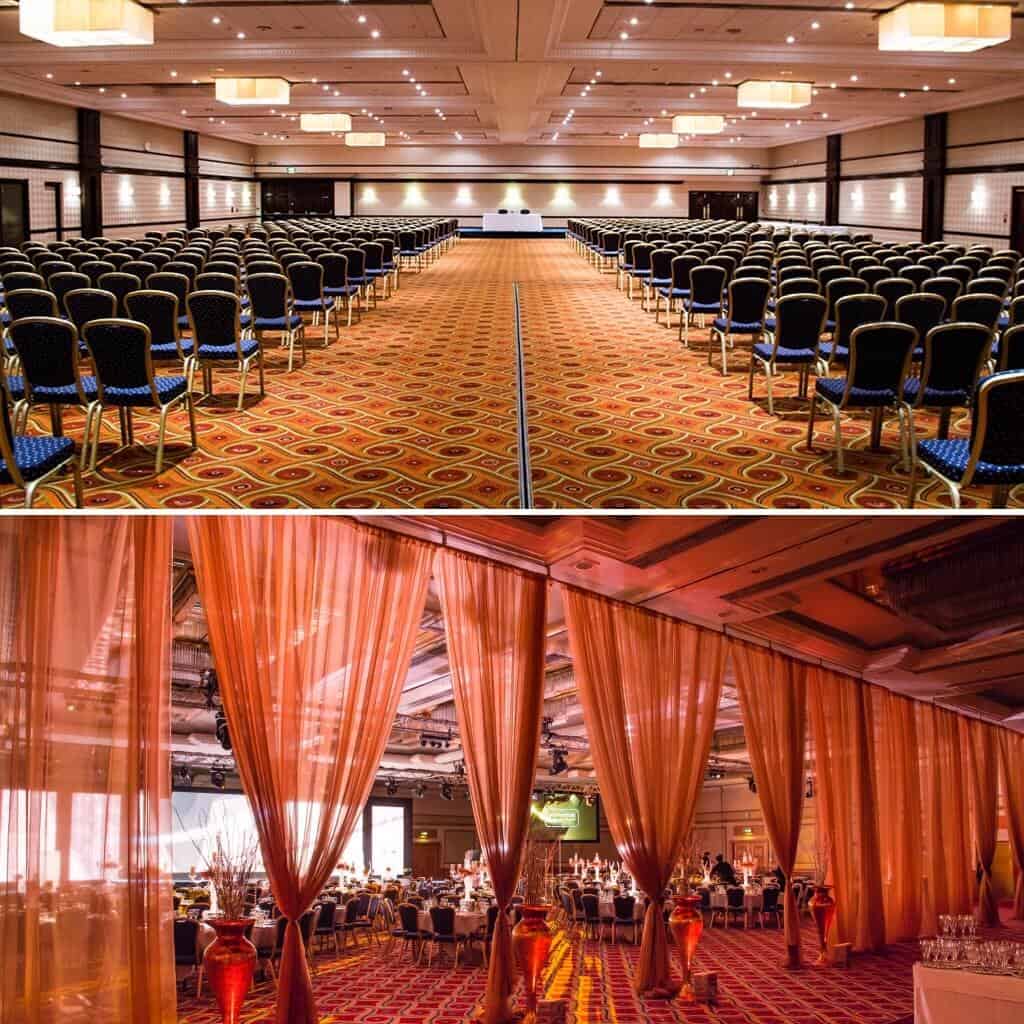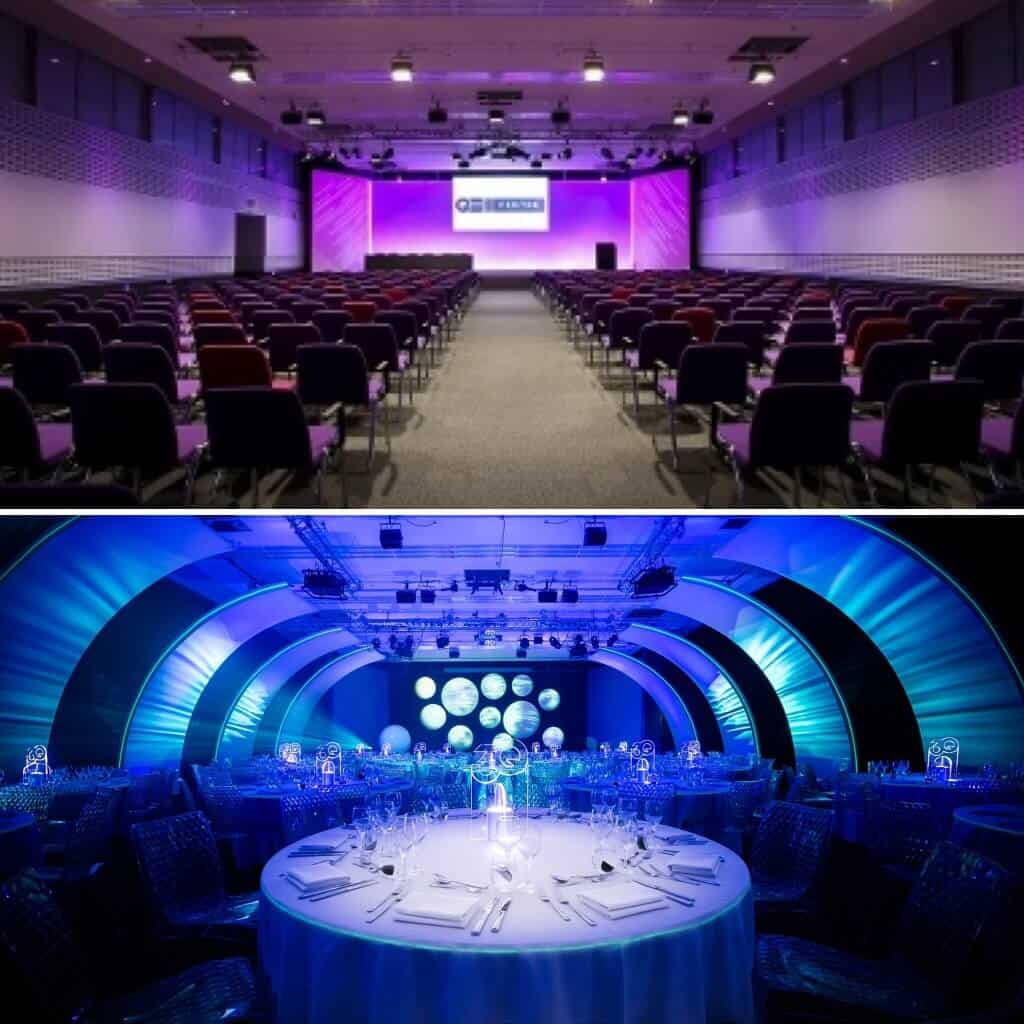 Transforming spaces from blank canvases to mind-blowing venue transformations.
Have you ever felt the frustration of searching for that perfect venue? You get the right location, but not quite the ideal space or you need to create spaces within spaces? Do you ever wonder or worry about how to transform the room you have booked for your annual conference and how you will meet high expectations when people walk into a room?
Fear no more, be brave, be bold, and stand out from the crowd, get ready to think out the box where confidence is discovered. Our creative minds explode when designing bespoke events ensuring any area to be transformed from a blank canvas to a mind-blowing creation. At Eventologists we consider and design all aspects of the space with only our agreed vision in mind. We specialise in delivering atmospheric experiences and immersive creations inside, and outside using all the space provided. By incorporating the whole area into our creations, we are able to deliver inclusive experiences which will certainly leave a positive, and long lasting impression in your guests minds. Eventologists are experts when it comes to transforming spaces. There are many venues and spaces we have transformed from The QEII Centre, to The Hilton Metropole Birmingham, and Edgbaston Cricket Club. Have a look at the photos provided and see how we have transformed these venues into mind-blowing and explosive creations. By introducing theatre and drama into the space, and of course creative vision, these venues are unrecognisable from start to finish.
An excellent way to create an immersive event is to amaze and include your guests as they arrive. Before your event even starts, within the first few moments of people arriving, create theatre and incorporate a dramatic entrance piece or interactive features. We have multiple theatrical theme ideas and themed props which can be used to set the ambience and atmosphere. A fantastic way to make a statement and drama is the use of lighting alongside props to illuminate features creating depth – we work with a range of AV companies to light the venue to transform your space.
Once your guests have ventured through the atmospheric entrance they are sure to arrive at your drinks reception. This is the second captivating experience at your event following the exploration of an enticing pathway of creation. Once again this is an excellent opportunity for your guests to further their feeling of immersion and inclusion. This can be created by introducing and incorporating the theme into the room or creating dramatic shapes with ceiling chandeliers and theatrical draping. Perhaps the use and placement of specialist lighting, themed entertainment, and theatrical decoration and props can transform smaller spaces. Our event stylists will carefully select components required for your event and take time to think about and plan the positioning of these to the tiniest of details. To truly bring the theme to life, it is imperative that everything is strategically placed with care. An illusion of depth and theatre is formed, ensuring drama at every point, creating that wow factor and fantastic experience everyone talks about and remembers.
After guests have had time to take in their surroundings and calm down from all the excitement of the entrance and drinks reception, it is then time for them to be bowled over even more. The main room is the most impressionable and interactive part of the whole event. Your theme can really come to life with music, entertainment, table centrepieces, wall draping and shaping and ceiling drapes and bespoke chandeliers, lighting, and props.  All of these elements put together in the right way and the correct use of colour will create that mind-blowing creation which stands out from any other event your guests have attended. Just imagine walking into the main room to be greeted by a stunning showgirl, entertained by an exquisite magician and watch an unforgettable performance by an outstanding aerial performer.  That's just the start, then your guests are even more flabbergasted by the focus point in the room of large decorations hanging from the ceiling lit up in colour and table centres which scream indulgence and glamour. Every prop around the room tells a story and becomes part of the experience as they ooze with boldness, colour and life.  An atmosphere can be formed using a theme, theatrical performances and creating drama. There are many experiences and atmospheres we can create, even at one event, depending on how you would like your guests to feel and type of event you are holding. We listen to your thoughts and ideas providing many theme suggestions to help you achieve this.  By remembering those outside areas connected to the main room, which are normally forgotten, your theme consistently flows throughout. What an excellent way to keep your guests immersed and astounded by how the venue is unrecognisable and has been transformed.
For us event stylists our props create gastronomy to the eye and the eye candy for your guests to drool over! Want them to salivate over your sheer creativity and geniusness? Then get in touch with an Eventologists Team member and we will get started on your mind-boggling brainstorming and awe-inspiring transformations!
#eventprofs #eventologists #QEIICentre #AHintOfLimeVP #compassgroupuk #EdgbastonCricketGround #hiltonmetropole #hiltonmetropolebirmingham #event #theme #spaces #gala #conferences #corporateevents #charityevent #awardsdinner #celebration #venue #masqueradetheme #glitz&glamtheme #themesuggestions #experience #creation #props #theatre #oscartheme #festivaltheme #summertheme #springtheme #entertainment #masqueradeball #greatgatsbytheme #greatbritishtheme #hollywoodtheme #redandblacktheme #glamoroustheme #colourtheme #80stheme #007theme #bondtheme #blackandwhitetheme #circustheme #narniatheme #enchantedforesttheme #conferencedinners #roomdecor #specialoccasions #special #occasions #backdrops #lighting #decor #eventdesign #themedparty #Hollywoodtheme #Lasvegastheme #Glamandglitztheme #Anightatthemovies #VintageHollywood #Oscars #theme #Goldtheme #Hollywood #feathers #lights #lightscameraaction #sparkle #shine #shineon #glitter#allthatglittersisgold #light #bright #classy #elegant #crystals #champagne #magic #magical #paparazzi #glamorous #razzledazzle #photobooth #movies #Oscar #vintage #glitterati #Spring #Easter #SpringGarden #GardenParty #JapaneseGarden #Blossom #CherryTrees #FourSeasons #AliceInWonderland #Wonderland #MadHatter #EnidBlyton #SecretGarden #SpringTime #SpringHasSprung #summer #hot #summertime #colour #colours #wild #carnival #SummerCorporateEvent #Festival #Bestival #Download #Download #ReadingFestival #Glastonbury #Glasto #mud #music #tents #fun #funtimes #SpecialistTheming #SpecialistThemeingEvent
We have worked with Eventologists for the a couple of years now and can't fault them from start to finish the whole process is very seamless and the stuff they do is incredible! We have themed evenings and they always come up with some fab ideas that help to emphasise the theme and bring it to life. Our events have conference sessions in the venue during the day and we transform them for our awards in the evening and Eventologists always completely transform the space for the evening so that it feels like you're in a completely different space which makes it all feel so much more special and a real celebration and by the time morning arrives its all completely cleared as if by magic!

PPMA Admin


May 19, 2022

Great props, prompt delivery, awesome team. Would use again.

Richard Buxton


May 19, 2022

A wonderful team who made our event space look incredible. Jacob took our ideas and brought them to life. We've had amazing feedback about the event design, so we couldn't be happier. Everyone really loved the living wall and trees!

Olivia Rocky


April 19, 2022

Rita has been an absolute pleasure to work with; she listened to our ideas and vision and then totally ran with it and created something better than we could have ever imagined! On the event day, Rita and her team swooped in and decorated our venue in record time. Rita and the team were professional and efficient. We look forward to working with Eventologists again next year!

Neighbourly Brands


March 19, 2022

Eventologists are a pleasure to work with. The whole experience from start to finish isn't nothing short of perfection. The team are super professional and Jen makes working with them a breeze. Nothing is too much and she is always so responsive. Can't wait to work with them again :)

Andrew Chalk


March 19, 2022

Eventologists have been a dream to work with. No fuss, straightforward communications and pricing. Delivery and collection on the day was simple and efficient. Professional and friendly at every turn - thanks for your part in making our event a great success!

Emma Bird


February 19, 2022

We've used the services of Eventologists on numerous occasions and their expertise is priceless. Great service as always from Rita and her team who are always full of ideas and ways to make your event stand out. We've hired sets for Moulin Rouge, Great Gatsby, Hollywood and Glitz and Glam plus they created a wonderful set for a festival including tress with festoon and flags. Highly recommended and great to work with.

MrandMrsGrey


July 19, 2021

Wonderful team, from the event manager to the decorators! The choices of set ups and themes are really original as well as well made. Each event is done with lots of passion , always keeping the client best interest at heart. Great value for money, and they always go the extra mile!

Astrid Guillabeau


July 19, 2020