Top 3 Event Themes making their comeback in 2023
Our expert team have rounded up the top 3 event themes making their comeback in 2023. We predict 80's retro, Masquerade and Alice in Wonderland to be the hottest trending themes for your gala dinner, awards ceremony, or party! Without further ado, take a look at the answers you've been looking for! 



80's Retro
This retro themed party has become one of our most popular theming choices, and a firm favourite in our top theme predictions for 2023! An immersive, fun, and interactive theme catered for all ages and all types of people, it is guaranteed that everybody will have the time of their lives with an 80's style party!
As guests arrive, our meet and greet team will blast out tracks from the 80's and get the party started! Prepare your best outfit and take out those leg warmers, neon colours, shimmer and sparkle, and oh, of course, those gadgets from the past. It's all about the 80's in this party.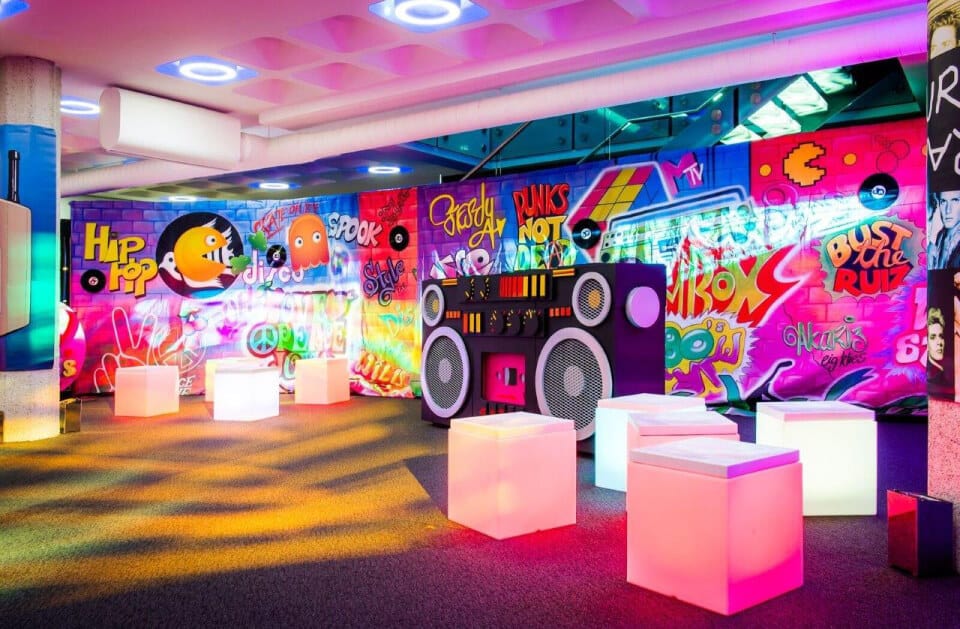 We suggest the following décor for your perfect party …
• Multi-coloured and shimmer curtains.
• Giant 80's posters, murals and décor which make for a marvellous photo op.
• Rubik inspired decorations, such as ginormous Rubik's Cubes and Rubik cube style table centres.
• Table decorations that include cassettes.
• Massive ghetto blaster props, over-sized sweetheart candy tubes, vinyl records, and a vast range of other 80's props and decorations to make sure everything is covered with brightness and fun.
Just leave it all to the Eventologists team to give you the best themed entertainment you will ever see. It's time for you to belt out and dance around those handbags to the cheesiest of 80's hits! 
Masquerade
When looking for something out of the usual, the magic and glamour of a Masquerade Ball makes it an extremely popular option all year round for themed events. Whether you call them Masquerade themed parties or Venetian themed events, there's one thing in common – Theatre!
A Masquerade Themed Event will take you back to the days of the Italian Renaissance, an era that was steeped in rich materials, lavish wall draping, themed backdrops, striking face and eye masks and Romanesque props and ambient lighting.
Guests will love to attend a Masquerade themed event, for its elegance and sophistication allow everybody to dress up in their finest gowns and attires. Besides, who doesn't love the mystery of finding who's behind the mask?
Here at Eventologists we have a team of talented event stylists that will listen to your Masquerade Ball party ideas to incorporate them with those of our own and tailor a perfect event that is set to meet all your requirements and expectations. We also offer a wide array of in-house props and decorations that will assure you value for money and will save you from any of the worries that might come with organizing a prestigious event, such as:
• Lavish draping, tablecloths, and chair covers in luxurious fabrics such as velvet, in a colour scheme that captures the mystique of a Masquerade Ball.
• Striking and ravishing table centres to make every table stand out, such as mesmerising flowers, feathers, theatre masks, crystal vases full of colour, golden candelabra, among many more.
• Masquerade and theatre themed props and decorations, including giant theatre masks, feathers, trees for hire, frames and mirrors, and renaissance pillars, which work as an excellent photo op for the guests to take a memory of the event with them.
• Chandeliers and mood lighting to enhance the theatrical feeling of the room.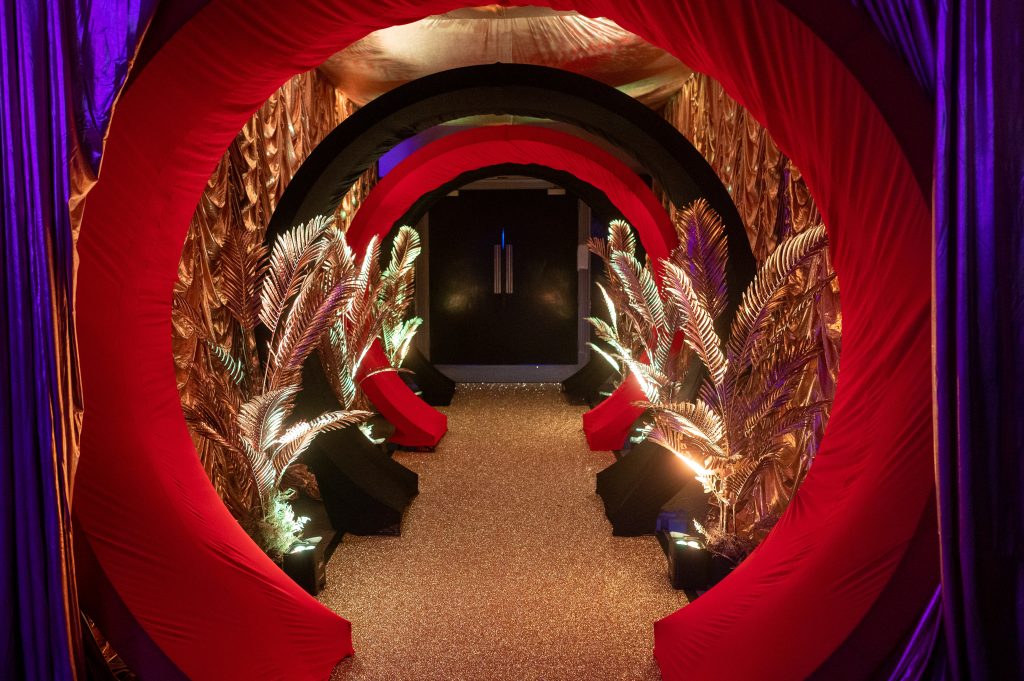 To keep guests entertained during the whole evening, we offer superb Masquerade themed entertainment that includes performances from dancers, contortionists, illusionists, and stilt walkers that are certain to create a memorable spectacle, thanks to their unparalleled talents and top-notch Masquerade inspired costumes.
Get ready to sway the night away in your best clothes while being transported to an era of mystery and glamour with Eventologists' Masquerade Themed Event, that will instantly become a night your guests will always remember.
Alice in Wonderland

 
You're late, you're late, you're very late! Last but certainly not least our Alice in Wonderland theme takes the final spot for our Combe six event theme predictions of 2023! 
Our Alice in Wonderland decorations & themed props will provide the finishing touches to any Alice in Wonderland themed party.
Even with Alice being over 150 years old, Alice in Wonderland themed parties and events are still so nostalgic and popular. This theme is a quirky alternative for any corporate event, and here at Eventologists our creative stylists will engineer a world steeped in the magical and nonsensical elements of Alice's world with topsy turvy themed props and party supplies.
Your guests will enter through topiary trees and foliage tunnels decorated with gigantic flowers to a space illuminated by twinkling lights with mood-lit lighting for a crazy fun packed night where literally anything could happen!
The photo ops available for this whimsical themed party are endless, counting with themed decorations that include, among others:
• Oversized toadstools.
• Enchanted trees.
• Playing cards.
• Tea party props.
• A giant Cheshire Cat.
Bring the story to life by entering your Alice themed event down a wintery life-size Rabbit Hole entrance and stepping through the iced Looking Glass. Unlock your very own glorious adventure of curiosity. Follow our magical pathway into a world of ice and imagination and into your own white winter wonderland, as you are careful not to bump into the terrible Jabberwock or mysterious Bandersnatch.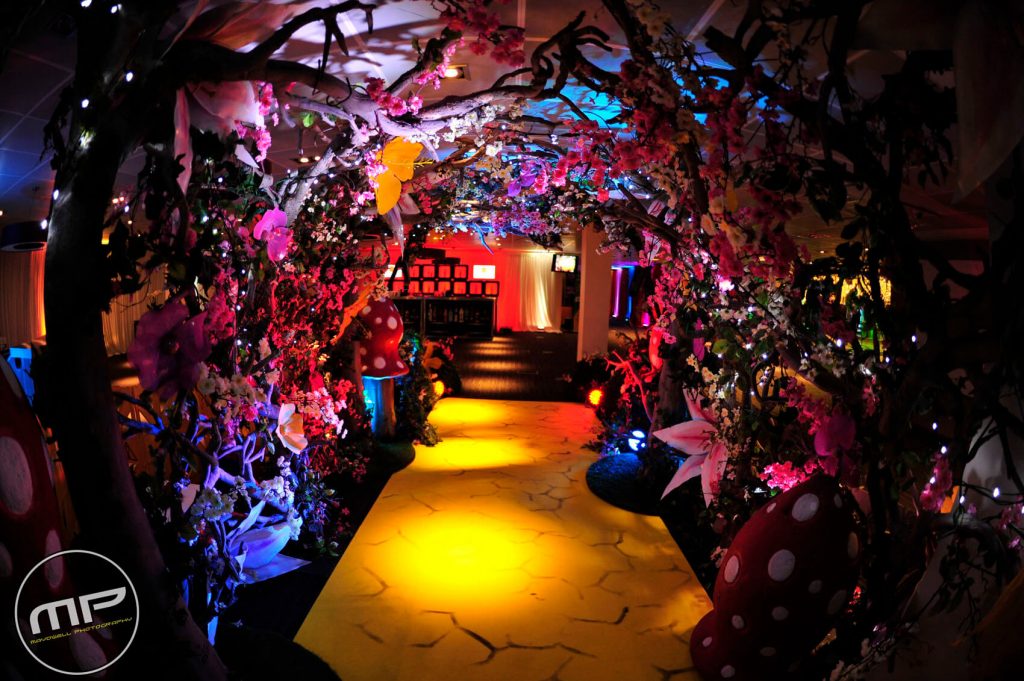 We have worked with Eventologists for the a couple of years now and can't fault them from start to finish the whole process is very seamless and the stuff they do is incredible! We have themed evenings and they always come up with some fab ideas that help to emphasise the theme and bring it to life. Our events have conference sessions in the venue during the day and we transform them for our awards in the evening and Eventologists always completely transform the space for the evening so that it feels like you're in a completely different space which makes it all feel so much more special and a real celebration and by the time morning arrives its all completely cleared as if by magic!

PPMA Admin


May 19, 2022

Great props, prompt delivery, awesome team. Would use again.

Richard Buxton


May 19, 2022

A wonderful team who made our event space look incredible. Jacob took our ideas and brought them to life. We've had amazing feedback about the event design, so we couldn't be happier. Everyone really loved the living wall and trees!

Olivia Rocky


April 19, 2022

Rita has been an absolute pleasure to work with; she listened to our ideas and vision and then totally ran with it and created something better than we could have ever imagined! On the event day, Rita and her team swooped in and decorated our venue in record time. Rita and the team were professional and efficient. We look forward to working with Eventologists again next year!

Neighbourly Brands


March 19, 2022

Eventologists are a pleasure to work with. The whole experience from start to finish isn't nothing short of perfection. The team are super professional and Jen makes working with them a breeze. Nothing is too much and she is always so responsive. Can't wait to work with them again :)

Andrew Chalk


March 19, 2022

Eventologists have been a dream to work with. No fuss, straightforward communications and pricing. Delivery and collection on the day was simple and efficient. Professional and friendly at every turn - thanks for your part in making our event a great success!

Emma Bird


February 19, 2022

We've used the services of Eventologists on numerous occasions and their expertise is priceless. Great service as always from Rita and her team who are always full of ideas and ways to make your event stand out. We've hired sets for Moulin Rouge, Great Gatsby, Hollywood and Glitz and Glam plus they created a wonderful set for a festival including tress with festoon and flags. Highly recommended and great to work with.

MrandMrsGrey


July 19, 2021

Wonderful team, from the event manager to the decorators! The choices of set ups and themes are really original as well as well made. Each event is done with lots of passion , always keeping the client best interest at heart. Great value for money, and they always go the extra mile!

Astrid Guillabeau


July 19, 2020