8 Top Ideas for Spring themed table centres
Spring themed table centres are popular centrepieces in the months of February, March and April as a seasonal table décor ideas. Blossom table centres, foliage table centres, floral Easter themed centrepieces all make stunning table art and once these are integrated within spring themed event décor and props, the full event production can be stunning for corporate events and a fresh change from classic gala dinner themes.
Spring themed event ideas can range from oriental themed events to mark the start of the hanami festival, growth themed events around words like bloom, energise and grow. Or blossom themed spring events. Whatever your Spring Event Idea, we have a great table centre to suit.

Top 8 Spring Table centre ideas:
1.Blossom Goldfish Table Centres
Our Blossom Goldfish Table Centres are a beautiful, understated spring themed table centrepiece that will bring charm to the table in a way that allows for great interaction between guests, for they perfectly low height. We have lots of Blossom Table Centres for hire that can be beautifully lit to make them even more special while enhancing the decoration that surrounds them.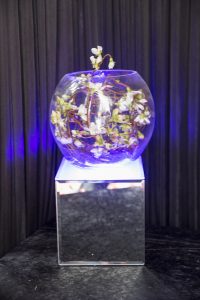 Easily incorporated into any kind of decoration, our Blossom Goldfish Centrepieces are perfect for a myriad of events. They can be easily combined with diverse colour schemes and fabrics. They always shine the most in Spring themed events, for their lovely floral arrangement encapsulates the spirit of the season; they look particularly dashing when accompanying our Blossom trees for hire!
2.Cherry Pink Ball Table Centres
Cherry Pink Ball Table Centres are a lovely option when you want to add a touch of colour to your decoration in a charming, understated way, for their monochromatic design makes them stand out when combined with the appropriate colour palette. There is a reason why flowers never go out of style, and these Cherry Pink Ball Table Centres are always ready to bring a contemporary and vibrant splash of colour to any event.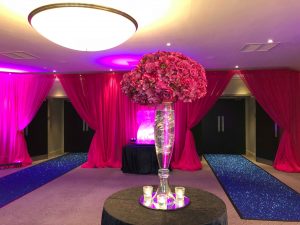 Cherry Pink Ball Table Centres for hire are perfect for a myriad of events, for they can easily be combined with different styles and themes, whether it be an Enchanted Forest, a Garden themed party, or simply a refined gala with a subtle colour scheme. They can easily stand out or blend with the atmosphere, depending on what every host wants, and that is what makes them a must.
3.Enchanted Woodland Table Centres
Enchanted Woodland Table Centres are as diverse as they are magical and charming. Our talented designers have tailored many different variations of centrepieces inspired by the mystique of an Enchanted Woodland, incorporating nature elements such as pieces of wood, logs, flowers and foliage, and combining them with crystals, pearls and candles to make each design an inimitable work of art.
Enchanted Woodland Table Centrepieces are perfect for many types of events, for they are easily adaptable into themes such as Enchanted Forest, Alice in Wonderland or Spring! They can suit into simple, colourful themes too, showing their true versatility. They are sure to leave guests wonderstruck with their loveliness and magical vibe!
4. Foliage Table Centres
Our Foliage Table Centres are some of our favourites, for they offer the best qualities from nature in an elegant way that can be moulded for any occasion. Their natural charm creates an interesting twist on table centres at all types of understated corporate award parties, while also being the perfect complement for many sustainable themed events.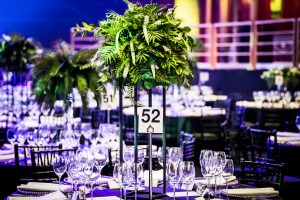 Our team of event stylists will set the exquisite Foliage Table Centrepieces for hire at the venue of your choice, styling them in the best way to make the room look dashing and splendid, saving you from any worries regarding the organisation of the party on such an eventful day.
5.Fresh Floral Table Centres
If you are looking for Spring Floral Table Centres, our resident florists will design and make the most stunning fresh flower centrepieces to suit the theme of your event or the brand that you are showcasing. If you wish for us to source spring foliage, plants or other fresh flowers, then say no more. We will make sure to make all your flowery dreams come true!
We have at disposition a wide range of elements to create the best Fresh Floral Table Centres for hire in different sizes and designs.

6.Spring Blossom Hanging Birdcage Table Centre
This Spring Hanging Birdcage Table Centre is beautiful for Spring Events but also popular for a variety of themes from Secret Garden Theme, Alice in Wonderland Theme, Enchanted Woodland Theme. These hanging table centres tower above tables, so you never need to worry about sight lines! Combine with Blossom Tunnels, Blossom Arches, Artificial Japanese Blossom Trees, Wooden Furniture and Floral Living Walls to finish the look!
7.Spring Cluster Vase Table Centre
Cluster Vase table Centres look great for a classic awards dinner or gala dinner table centre where elegance is the theme. Cluster Vase Centrepieces make stunning centrepieces all year round either as themselves with candles or with flowers and foliage added to them. Combine with colourful or black table linen for the finishing touches for an understated look
8.Rustic Vintage Table Centres
Our Rustic Vintage Table Centres suit a variety of themes from Victorian Themes, Harry Potter Themes, Coachella Theme, Madhatters Theme or a private party. These table centres can include fresh or silk flowers and are often used with an eclectic mix of table centres. Combine with hessian tablecloths, unusual fabrics and wooden furniture.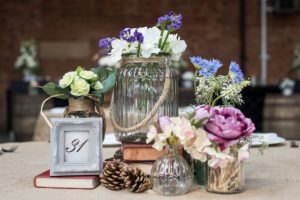 For more details or a quotation for your next event, contact one of our Eventologists Event Managers today.
We have worked with Eventologists for the a couple of years now and can't fault them from start to finish the whole process is very seamless and the stuff they do is incredible! We have themed evenings and they always come up with some fab ideas that help to emphasise the theme and bring it to life. Our events have conference sessions in the venue during the day and we transform them for our awards in the evening and Eventologists always completely transform the space for the evening so that it feels like you're in a completely different space which makes it all feel so much more special and a real celebration and by the time morning arrives its all completely cleared as if by magic!

PPMA Admin


May 19, 2022

Great props, prompt delivery, awesome team. Would use again.

Richard Buxton


May 19, 2022

A wonderful team who made our event space look incredible. Jacob took our ideas and brought them to life. We've had amazing feedback about the event design, so we couldn't be happier. Everyone really loved the living wall and trees!

Olivia Rocky


April 19, 2022

Rita has been an absolute pleasure to work with; she listened to our ideas and vision and then totally ran with it and created something better than we could have ever imagined! On the event day, Rita and her team swooped in and decorated our venue in record time. Rita and the team were professional and efficient. We look forward to working with Eventologists again next year!

Neighbourly Brands


March 19, 2022

Eventologists are a pleasure to work with. The whole experience from start to finish isn't nothing short of perfection. The team are super professional and Jen makes working with them a breeze. Nothing is too much and she is always so responsive. Can't wait to work with them again :)

Andrew Chalk


March 19, 2022

Eventologists have been a dream to work with. No fuss, straightforward communications and pricing. Delivery and collection on the day was simple and efficient. Professional and friendly at every turn - thanks for your part in making our event a great success!

Emma Bird


February 19, 2022

We've used the services of Eventologists on numerous occasions and their expertise is priceless. Great service as always from Rita and her team who are always full of ideas and ways to make your event stand out. We've hired sets for Moulin Rouge, Great Gatsby, Hollywood and Glitz and Glam plus they created a wonderful set for a festival including tress with festoon and flags. Highly recommended and great to work with.

MrandMrsGrey


July 19, 2021

Wonderful team, from the event manager to the decorators! The choices of set ups and themes are really original as well as well made. Each event is done with lots of passion , always keeping the client best interest at heart. Great value for money, and they always go the extra mile!

Astrid Guillabeau


July 19, 2020