Oktoberfest Party ideas? Viel Glück!
There is no doubt that Oktoberfest is one of the most popular festivities in the world, with millions of people going to Germany each year to take part in a festival full of food, beer, and fun. However, you don't need to go to Munich to enjoy this event, for we bring you the best Oktoberfest Party Ideas to help you throw the best Bavaria-inspired bash ever!

Wilkommen!
Oktoberfest is a 16-to-18-day festival held annually in Munich, Germany from mid-September through the first Sunday in October. This folk festival is an important part of Bavarian culture, having been held since the year 1810, and it includes elements as characteristic as funfair games, amusement rides and, of course, a wide variety of traditional foods and beer! So, if you're ready, let's dive in and start planning your own Oktoberfest at home!

Sie sind herzlich eingeladen!
The best way to get everyone in the mood for an Oktoberfest party is by starting with the right invitations, and this festivity allows for pretty creative elements to be used. How about an invitation shaped as a classic Oktoberfest beer mug? And what about mini flags? Or maybe you could get some vintage German postcards and colour copy them, or even design and create your own! Make sure to add some simple phrases in German to make it even more authentic, such as "Sie sind herzlich eingeladen!", meaning "You're cordially invited!", "Wilkommen!", as in "Welcome", or even "Ein Prosit!", which means "Toast!".
When it comes to start thinking about the design and decorations for the party, it is always a good thing to rely on the colours that are classically associated with Oktoberfest. White and light blue are the colours of the Bavarian flag, the state where Munich is and where the original festival is held, so this combination is the most obvious choice for a colour scheme for good reason. However, if you want another colour combo, you could also draw your inspiration from the German flag, for going with red, black and yellow gold is also a guaranteed success. Get banners, centrepieces, and decorations that go with the colours you choose, in order to truly transform your venue space into a true Oktoberfest party.
At the moment of organising your party venues can vary depending on factors as availability or the weather, but it's important to keep in mind that tents are a very characteristic element of Oktoberfest, so it would be nice to have them incorporated into your party in some way.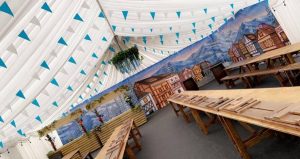 It's easy to add them to an outdoor party, but if your event happens to be indoors, you should also incorporate them to the venue. You don't need actual tents for an indoor event, but tent-like structures and draping can do wonders and transform your space into the heart of Bavaria!
Another way to add a true Oktoberfest feel to your party is with funny props and photo ops that make the atmosphere immersive. You could get some travel to Germany posters from a local travel agency, as well as some German and Bavarian flags to decorate the space. Get creative with the way you deliver your menu and put up some stands with signs in German, like "Biergarten" for a beer garden, or "Brezelständer" for a pretzel stand. In this way, you can include German details while presenting your food and drinks in a fun way.
Photobooths are another great idea, as they can double as decoration and entertainment. Having fun standees for guests to take photos is always fantastic, and an Oktoberfest theme allows for lots of different options, such as a beer stein, or a life size print out of German attires for guests to pose and take photos. You can also give accessories as classic green alpine hats or bear beads, which also work as a marvellous memento for guests to take home.
An Oktoberfest party also requires Oktoberfest entertainment, and there's not a better way to create an atmosphere than with the music you would hear at the real festival. Hiring a traditional live German band would be the perfect touch for your party, for they are guaranteed to lit up the crowd of guests with their performance, inviting them to join the singing and getting everybody in a marvellous mood. If you are not able to hire a live band, there's no need for you to worry either, for creating a playlist with traditional German songs – including the classic and unavoidable "Ein Prosit" – and popular tunes will work fantastically as well. One of the most important things in this party is having the right attitude. Do some karaoke and get ready to sing at the top of your lungs next to your friends!
Which takes us to another aspect of the entertainment subject. Make sure to complement the ambiance you have created with the decorations and the music with some fun games and activities. Always have your crowd in mind, for knowing their interests and preferences can dictate which games will bring the most fun to them. We recommend options such as a yodelling contest, a beer barrel roll race, stein races, a beer tasting and, of course, a beer drinking contest!

Guten Appetit!
Now, once you have settled the details in terms of decoration, music and entertainment, it's time to focus on what is undoubtedly one of the most important things in Oktoberfest: the food and drinks!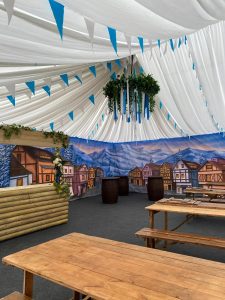 Obviously, the drink of choice in any Oktoberfest party is beer. Thankfully, nowadays is easy to find many options in the market in terms of beer. There are popular brands that produce German type beer, as well as local breweries with lots of options; they are mostly accessible and available for everybody. However, if your budget allows for it, you can always make the experience all the most authentic by importing true German beer from the Munich breweries that provide the official Oktoberfestbier that is served at the festival: Augustiner, Hacker-Pschorr, Hofbräu, Löwenbräu, Paulaner and Spaten. It is certainly an extra expense, but if you have the possibility, this would be an absolute win for you and your guests.
It's also important to note that, even when beer is the main attraction in an Oktoberfest party, it is a good idea to keep non-alcoholic options available for any guests that might not drink alcohol.
Finally, when it comes to food, there are lots of options that can make the menu for your Oktoberfest party. Pretzels and Sauerkraut are probably the most famous Oktoberfest delicacies, but there are many more things you can have at your party, such as sausages, like Bratwurst, Knackwurst and, Thüringer, German potato salad, red cabbage, roasted chicken and pork roast. You can also add sweet treats such as apple strudel, German chocolate cake and traditional local cookies!
Once you have everything checked on your list, it's just time to sent out those invitations and get ready to throw the best Oktoberfest party your guests have ever been to!
We have worked with Eventologists for the a couple of years now and can't fault them from start to finish the whole process is very seamless and the stuff they do is incredible! We have themed evenings and they always come up with some fab ideas that help to emphasise the theme and bring it to life. Our events have conference sessions in the venue during the day and we transform them for our awards in the evening and Eventologists always completely transform the space for the evening so that it feels like you're in a completely different space which makes it all feel so much more special and a real celebration and by the time morning arrives its all completely cleared as if by magic!

PPMA Admin


May 19, 2022

Great props, prompt delivery, awesome team. Would use again.

Richard Buxton


May 19, 2022

A wonderful team who made our event space look incredible. Jacob took our ideas and brought them to life. We've had amazing feedback about the event design, so we couldn't be happier. Everyone really loved the living wall and trees!

Olivia Rocky


April 19, 2022

Rita has been an absolute pleasure to work with; she listened to our ideas and vision and then totally ran with it and created something better than we could have ever imagined! On the event day, Rita and her team swooped in and decorated our venue in record time. Rita and the team were professional and efficient. We look forward to working with Eventologists again next year!

Neighbourly Brands


March 19, 2022

Eventologists are a pleasure to work with. The whole experience from start to finish isn't nothing short of perfection. The team are super professional and Jen makes working with them a breeze. Nothing is too much and she is always so responsive. Can't wait to work with them again :)

Andrew Chalk


March 19, 2022

Eventologists have been a dream to work with. No fuss, straightforward communications and pricing. Delivery and collection on the day was simple and efficient. Professional and friendly at every turn - thanks for your part in making our event a great success!

Emma Bird


February 19, 2022

We've used the services of Eventologists on numerous occasions and their expertise is priceless. Great service as always from Rita and her team who are always full of ideas and ways to make your event stand out. We've hired sets for Moulin Rouge, Great Gatsby, Hollywood and Glitz and Glam plus they created a wonderful set for a festival including tress with festoon and flags. Highly recommended and great to work with.

MrandMrsGrey


July 19, 2021

Wonderful team, from the event manager to the decorators! The choices of set ups and themes are really original as well as well made. Each event is done with lots of passion , always keeping the client best interest at heart. Great value for money, and they always go the extra mile!

Astrid Guillabeau


July 19, 2020