25 Marvellously Spooky Halloween Party Ideas
There is no denying it, one of the best things that autumn brings along is Halloween. This festivity is always full of fun and entertainment, at it lets a lot of room open for creativity, especially when organising a themed party! From classic ideas, to crazy, unique ones, we present you with no further ado our top 25 of Halloween party ideas!
Hand out fun, spooky invitations
Let's start setting the tone even from before the party actually starts! Whether you stick with ready-to-go invitations or choose to handcraft them yourself, having the perfect invitations will help you establish what will be the mood for your party and let your guests know it. Will it be spooky, or are you aiming for Halloween chic? Is it a family party, or is the soirée for adults only? Whatever you need to let your guests know beforehand, do it in style with cool themed invitations.
Lead with a dramatic entrance
Make a dramatic entrance for your guests to get in the mood as soon as they set foot in in the room! Get theatrical draping and curtains, dim lighting, cobwebs! Add a welcoming sign with a witty and spooky phrase inviting your guests to come in, and they will surely be delighted from the start.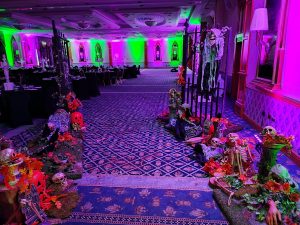 Pick an inspiring colour scheme
Choosing a colour palette is absolutely important when organising a party, for it can help you make smart decisions regarding basically everything in terms of decoration. Depending on the colour scheme you choose, your party will have a specific mood and feel. Classic bright colours, like orange, green and purple, make for a whimsical and fancy-free mood; darker tones, like burnt orange, burgundy and black can create a grim atmosphere, while light or pastel colours can make for a chic and contemporary version of Halloween. It's all up to you!
Make the outdoors as spooky as the indoors
If you have outdoor space, don't forget to make it part of the party too! Whether it is a front porch or a backyard, care for the decorations out the door as much as you care for the indoors one. If you have front space, it will help set the mood before entering the room; if you happen to have a backyard, you can take advantage of the space and bring the fun there!
Design a scarily good menu
Food is always a pivotal part of a party and, in Halloween, how it looks matters as much as how delicious it is! This is the perfect time for getting creative, for this holiday allows for imaginative creations and reinventions of classic party food and any other dishes. How about trying some cheese stick fingers and hot sauce blood? Or maybe a few marshmallow ghosts? How about some cookie spiders coming out of a cookie graveyard? Let your imagination run wild with options!
And a hauntingly cool list of drinks
When it comes to creating a menu, drinks are as important as food, and they can be equally fun, if not even more! It doesn't matter if your menu includes alcoholic beverages or not, creating drinks catalogue for a Halloween party is a fun task. Want a bloody lemonade, or perhaps a brewing apple cider potion? Pick your favourites and give them a spooky twist!
A memory to keep forever
If you want your guests to take a memory of the party home with them, handing out some thoughtful gifts would be a great idea. There are many ways to do it; you could give a handcrafted souvenir, a baked good, or following the spirit of the holiday, a personalized bag filled with candy! Your invitees will love the detail!
Get dressed up for the fun
Halloween is synonyms with costumes, right? So, it's a given that dressing up will be a fun and successful idea when it comes to a Halloween party. You can leave the door open for any kind of costume, or you could set a sort of dressing code for your guests: it could be only spooky costumes, or maybe you could all dress up as characters from a classic horror film! If you have fun, the possibilities are endless!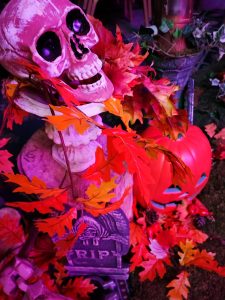 Trick or Treating
If there will be kids at your party, then you might want to host them to a Trick or Treat evening. If your neighbours are up for it, you can get in contact with them to help the kids have fun. However, if they're not in the mood for trick or treating, there's no need to worry. You can have your own version of trick of treating, creating different stations at your own house with help from the adult guests. Kids will love it and everybody will get involved in the fun!
Scare-tastic fun and games
It doesn't matter the age target of your party, everybody loves playing fun games! Give a spooky twist to classic party games, like apple picking, a game of tic tac toe with pumpkins and spiders instead of X's and O's, pumpkin bowling, Halloween charades, a horror movie trivia, and whatever fun option comes into mind!
Solving mysteries
If you are looking for something unique, why not make your Halloween event a truly immersive and fun experience for you and your guests by making it a mystery solving party? This is the perfect occasion for everybody to get involved in a delightful mystery solving evening. Was it a murder? A heist? Who is the responsible? Where did it happen? There are endless possibilities as to how the mystery will be solved! Bonus points to the party if guests are assigned a character and dress up like them!
Halloween Scavenger Hunt
Or, if you want a simpler variant of a mystery solving party, you can organise a scavenger hunt! These are always a lot of fun and making yours Halloween themed only makes it even better! This idea is equally suitable for adult only parties and for kid, family friendly ones, so it should be high on your list of ideas this Halloween.
Horror Movie Night
If you and your friends love a good scare, a horror movie night could be the perfect thing for you to do in Halloween. Make a selection of your favourite classic horror flicks and then set the vibe with spooky decorations inspired by the movies you chose. Pair the evening with Halloween-inspired snacks and drinks and you are set for a classic yet super entertaining gathering.
A frighteningly elegant gala
Are you planning a formal event that happens to be around Halloween time? If that is your case, then that is just the perfect excuse for organising a spooky gala! Take all the best elements from a classic gala dinner but make them spooky! From a dark colour scheme to typical Halloween details, you can combine it all to create a gloomy yet glitzy and glamourous atmosphere. This will give a fantastic edge to your party, creating an incomparable atmosphere that will sure be admired and remembered by guests.
Halloween Brunch
On the other side, if you want to host a daytime party, what about turning a brunch into a Halloween occasion? You can set the scene to be spooky yet soft, with a lighter colour scheme than you would use in an evening event and give a scary twist to your traditional brunch menu. Your guests will undoubtedly love some bloody mimosas!
Spooky Craft Party
If you enjoy handcrafting and DIY projects, hosting a Halloween craft party might be the perfect fit for you. There are many activities to be done in a craft party; carving pumpkins, painting bowls, making Halloween party garlands and trick or treat bags, and just about everything that you and your guests can imagine. There is a lot to be enjoyed when working on fun projects with friends!
Only DIY décor in the house
Once you have all your projects from the craft party done, how about taking them and setting on a full DIY decoration? It will give a nice and definitely distinctive and unique look to your house, for all the décor will be personalised and handcrafted according to your personal tastes. This is a cool alternative to common store decorations, and one that comes from having fun making all the embellishments you are about to use!
Boho Halloween
If you want to drift away from the traditional gloomy Halloween mood, you could shake things off a bit and opt for a boho style Halloween setting. A fun alternative, this could be a great fit for those who look to keep an arty and bohemian aesthetic throughout the holiday. Perfect for showcasing uniqueness and creativity, a Boho Halloween would be without a doubt a party to remember!
A prize for the spookiest cocktail
Only here for the drinks? No problem at all! Hosting a cocktail contest is always a cool idea but making it Halloween themed only doubles up the fun! Every guest ought to present an original cocktail inspired by Halloween, and then everybody can vote for their favourites. Encourage your guests to be creative both in looks and taste, and maybe even in creating a backstory for their drink; if there's a time to have fun, this is it!
Fortune telling
Do you want to know what the future has in store for you? Well, having a fortune teller at your party would be a fun way to do it. Find a local fortune teller and get them to read yours and your guests future! Crystal balls, tarot cards, tea leaves… all of them have an eerie a mysterious aura that fits perfectly in the mood of a Halloween party!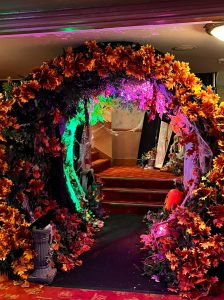 A pumpkin patch everywhere
There is nothing as representative of Halloween as pumpkins, so having your party designed around them is nothing short of a fantastic idea. Classic orange, black, pumpkins with a message written in them, Jack-o'-lanterns, chandeliers, garlands… add them wherever you like them and your party will scream Halloween!
Snack boards full of delicacies
Snack boards are a fun way of displaying food in an appealing and aesthetic fashion, and Halloween snack boards are a delight to do! From the seasonal snacks and candies that can fill it, to the countless ways in which you can set them, snack boards are a winning option at any party!
A gothic manor
If you like a dramatic aesthetic, you can go all out and turn your space into a mysterious gothic manor! Go for a dark colour scheme, dramatic laces, and chandeliers. Let candles provide the lighting for the room and it will both work as decoration as it makes the theme look authentic. As a plus, it could work as a perfect setting for a mystery solving evening!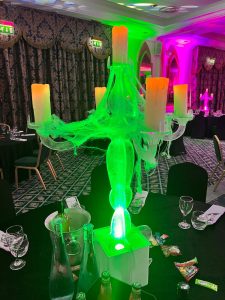 Piñatas full of candy
What would you say if there was a way to keep your Halloween traditionally revolving around candy while also adding a fun twist to it? If your answer is that you would go for it, then good news! Piñatas are just what you've been waiting for! Instead of handing candy in the traditional way, you can fill some themed piñatas with your favourite candy and have fun while smashing them!
25.Themed party
Between the decorations and the costumes, Halloween is the perfect time for themed fun, so why not take it to the next level and go with a completely themed party? There are countless options for this, for there are plenty of iconic movies, books and tropes that revolve around Halloween; just pick your favourite one and transform your space into a spooky place, where guests can gather dressed up as the characters that inspire the theme of the party!
We have worked with Eventologists for the a couple of years now and can't fault them from start to finish the whole process is very seamless and the stuff they do is incredible! We have themed evenings and they always come up with some fab ideas that help to emphasise the theme and bring it to life. Our events have conference sessions in the venue during the day and we transform them for our awards in the evening and Eventologists always completely transform the space for the evening so that it feels like you're in a completely different space which makes it all feel so much more special and a real celebration and by the time morning arrives its all completely cleared as if by magic!

PPMA Admin


May 19, 2022

Great props, prompt delivery, awesome team. Would use again.

Richard Buxton


May 19, 2022

A wonderful team who made our event space look incredible. Jacob took our ideas and brought them to life. We've had amazing feedback about the event design, so we couldn't be happier. Everyone really loved the living wall and trees!

Olivia Rocky


April 19, 2022

Rita has been an absolute pleasure to work with; she listened to our ideas and vision and then totally ran with it and created something better than we could have ever imagined! On the event day, Rita and her team swooped in and decorated our venue in record time. Rita and the team were professional and efficient. We look forward to working with Eventologists again next year!

Neighbourly Brands


March 19, 2022

Eventologists are a pleasure to work with. The whole experience from start to finish isn't nothing short of perfection. The team are super professional and Jen makes working with them a breeze. Nothing is too much and she is always so responsive. Can't wait to work with them again :)

Andrew Chalk


March 19, 2022

Eventologists have been a dream to work with. No fuss, straightforward communications and pricing. Delivery and collection on the day was simple and efficient. Professional and friendly at every turn - thanks for your part in making our event a great success!

Emma Bird


February 19, 2022

We've used the services of Eventologists on numerous occasions and their expertise is priceless. Great service as always from Rita and her team who are always full of ideas and ways to make your event stand out. We've hired sets for Moulin Rouge, Great Gatsby, Hollywood and Glitz and Glam plus they created a wonderful set for a festival including tress with festoon and flags. Highly recommended and great to work with.

MrandMrsGrey


July 19, 2021

Wonderful team, from the event manager to the decorators! The choices of set ups and themes are really original as well as well made. Each event is done with lots of passion , always keeping the client best interest at heart. Great value for money, and they always go the extra mile!

Astrid Guillabeau


July 19, 2020