Christmas Decor for UK Venues
Eventologist's expert team of event planners specialises in bringing the festive spirit to life, creating a warm and inviting atmosphere that leaves a lasting impression. With a palette of classic festive colours like red, green and gold, we transform spaces into enchanting winter wonderlands. From beautifully adorned Christmas trees to stunning wreaths, twinkling lights and charming holiday ornaments, our Christmas decor adds that special touch to shopping centres, hotel lobbies and grand entrance halls.
Let us help you capture the magic of the season and create a memorable experience for your visitors. Discover our tailored Christmas decor solutions today and make this holiday season truly unforgettable.
Christmas Ceiling Decor
Imagine the magical ambiance as you look up to see a canopy of twinkling LED lights draping gracefully from the ceiling. The soft, warm glow creates an inviting and festive atmosphere, perfect for any holiday event or Christmas corporate party.
But that's not all – we take your ceiling decor to the next level by hanging exquisite Christmas ornaments, adding a touch of elegance and charm. You'll be mesmerised as you walk under shimmering icicles hanging from the ceiling, giving the illusion of a glistening winter frost. The perfect addition to any winter wonderland themed event.
Of course, no Christmas ceiling decor is complete without the crowning touch – hanging stars that twinkle and shine, adding that touch of magic to your space.
Whether it's a cosy holiday gathering in entrance halls or a grand Christmas Gala, our ceiling decor is designed to create an unforgettable experience.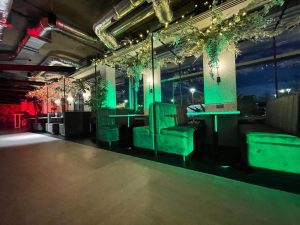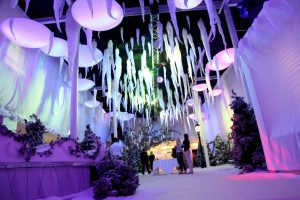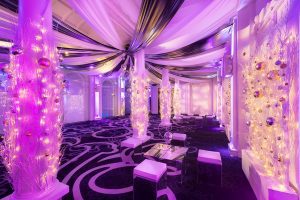 Christmas Themed Backdrops
Step into the World of Instagram-Worthy Christmas Backdrops!
Picture yourself against a backdrop of twinkling LED lights, an 'Après Ski' winter wonderland, a classic Santa's Grotto, delicate snowflakes falling all around you, a shimmering gold LED background, and the dreamy elegance of a White Christmas.
Our Christmas-themed Instagram backdrops are designed to make your holiday photos unforgettable. Whether you're capturing magical moments with loved ones, enjoying the Après Ski vibes, or visiting Santa's Grotto, our backdrops set the scene for pure holiday magic.
Make your Instagram feed sparkle with enchanting Christmas vibes and a touch of gold. Transform your venue space this season with our Instagram backdrops, perfect for winter corporate events.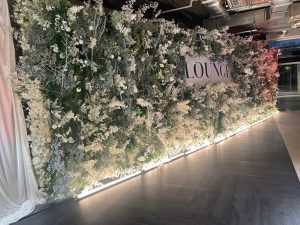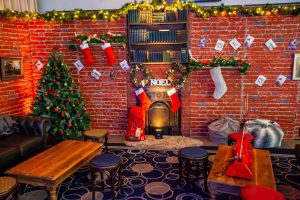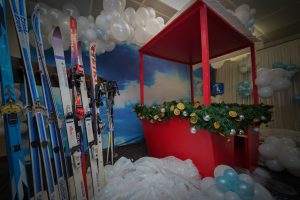 Festive Theme Room Decor
Our venue decor is designed to cater to every brand's unique needs, creating the perfect atmosphere for your event. We offer a diverse range of options, from lush green garlands that exude elegance to the warm and inviting glow of LED lights that can be customised to match your brand's colours.
Dress up your space with ornaments that reflect your brand's identity and style, and let our wreaths add a touch of classic charm. For a touch of whimsy, we even offer tinkling spider trees that bring a playful, unexpected element to your decor.
No matter the vision or theme, we have the expertise and creativity to make it a reality. Our goal is to provide tailored decor solutions that align with your brand's identity and elevate the atmosphere of your venue. Get in touch with us today, and let's transform your space together.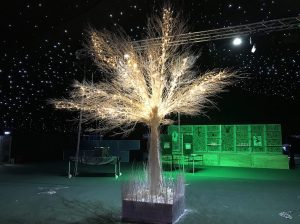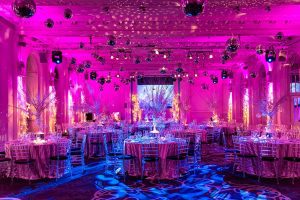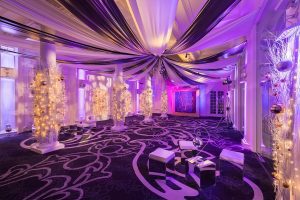 Christmas Themed Tunnels & Party Entrances
Transform Your Venue's Entrance with Our Festive Theme Entrance Tunnels.
Step into a world of enchantment as you walk through our stunning entrance tunnels. We bring your festive vision to life with the warm glow of gold LED lights that add a touch of luxury. Envision your guests walking through a dazzling tunnel complemented by the cool, silvery blue ornaments that evoke the magic of the season.
Our twinkling spider trees create a whimsical and inviting atmosphere that captures the hearts of your guests. These tunnels are designed to be a mesmerising gateway to your event, setting the tone for what's to come.
We understand that every brand is unique and our decor solutions are tailored to meet your specific needs. With our entrance tunnels, we aim to make a grand statement that aligns seamlessly with your brand's identity.
Don't miss out on the opportunity to transform your space into a mesmerising wonderland.
Contact us today to discuss your vision and let us make your dream event a reality.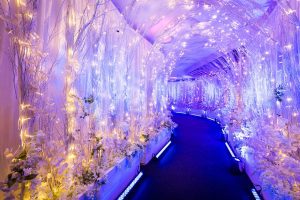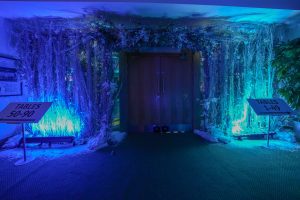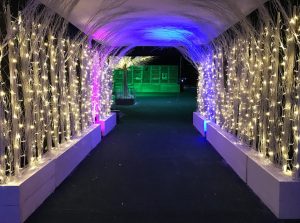 Don't miss out on the opportunity to transform your space into a mesmerising wonderland.
Contact us today to discuss your vision and let us make your dream event a reality.
Eventologists Unique Christmas Tree Installations
Welcome to Eventologists, your one-stop destination for exceptional Christmas tree installations that will make your venue stand out this holiday season. Our UK-wide service is dedicated to bringing unique, creative and unforgettable Christmas tree designs to venues across the country.
Unique Retro Trees
Step back in time with our retro-inspired Christmas tree installations. From vintage baubles to classic colour schemes, these trees offer a nostalgic twist that will transport your guests to the Christmases of previous times.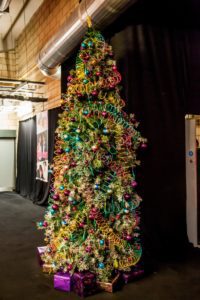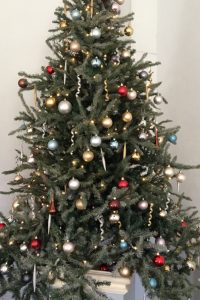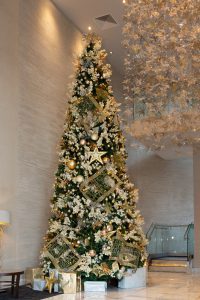 Peacock-Inspired Trees
For a touch of opulence and glamour, our peacock-inspired Christmas trees are the perfect choice. Featuring vibrant, jewel-toned ornaments and regal feathers, these trees add a sense of elegance and luxury to your venue.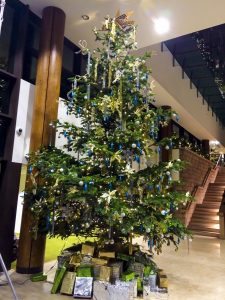 Traditional Christmas Tree
Celebrate the season with our classic red, green and gold Christmas tree installations. Embrace the timeless charm of traditional holiday décor, featuring classic ornaments, twinkling lights and the warmth of evergreen. Capture the heart-warming essence of Christmas with our custom festive trees, perfect for large UK spaces like shopping centres, hotel lobbies, and grand entrance halls.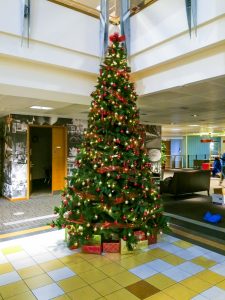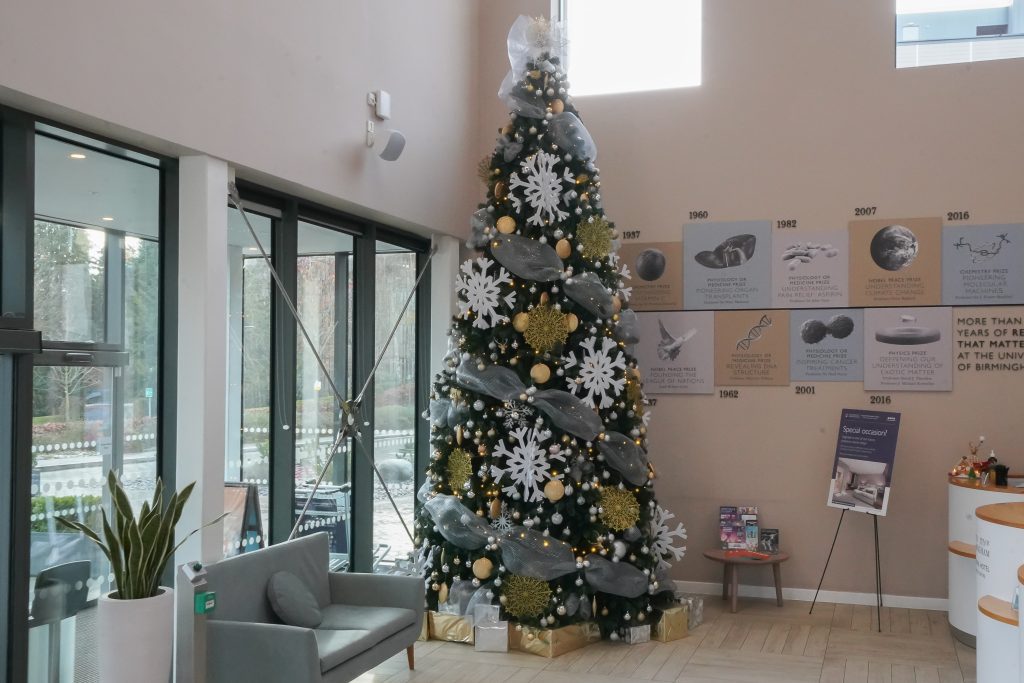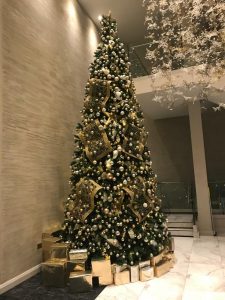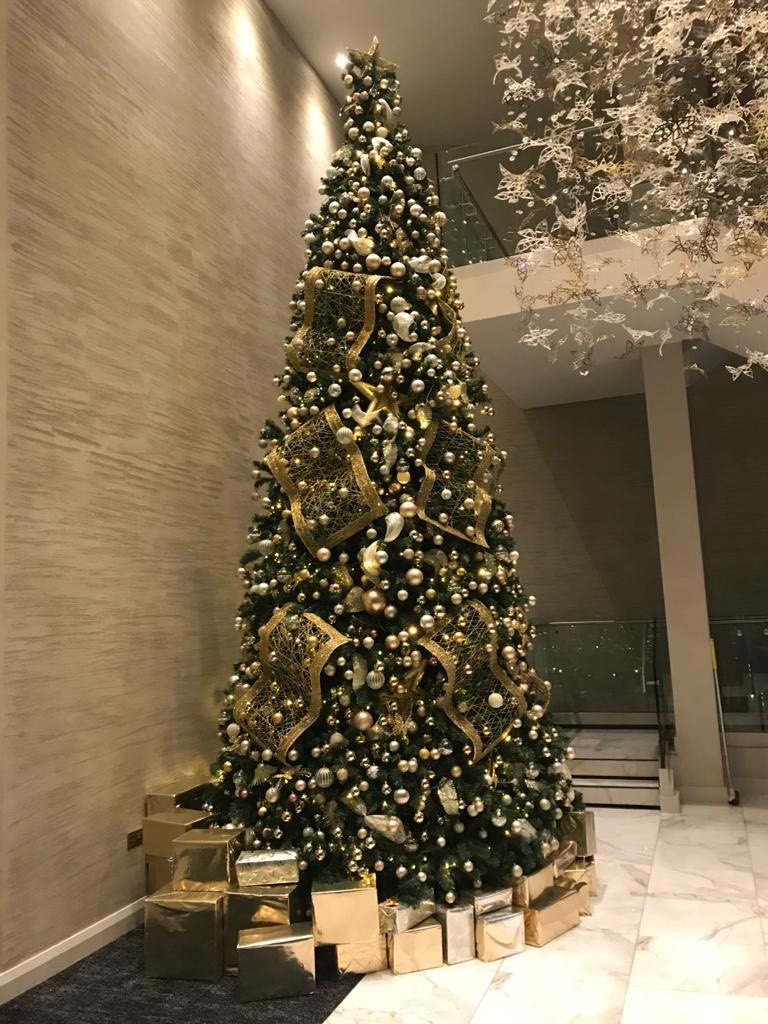 Pink and Purple-Themed Trees
For a unique twist on tradition, our pink and purple-themed Christmas trees are a delightful choice. These trees showcase a whimsical blend of pink and purple ornaments, creating a festive, fun, and eye-catching display that's sure to captivate your guests.
At Eventologists, we take pride in delivering Christmas tree installations that go beyond the ordinary. Our designs are tailored to your preferences, whether you seek a retro vibe, peacock-inspired extravagance, traditional elegance, or a playful pink and purple theme.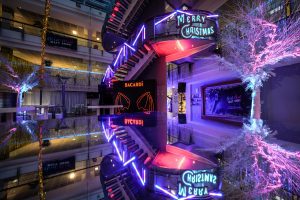 Bespoke Branded Christmas Tree Installations
Elevate your brand's holiday presence with our Bespoke Branded Christmas Tree Installations. Tailored to your unique vision, these stunning trees infuse grand spaces with festive charm. Ideal for shopping centres, hotel lobbies, or grand entrance halls for venues across the UK. Create an enchanting atmosphere that captivates your audience. Explore our custom holiday solutions today!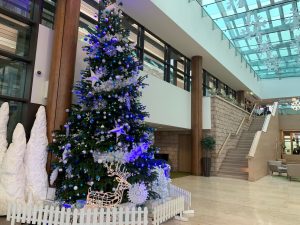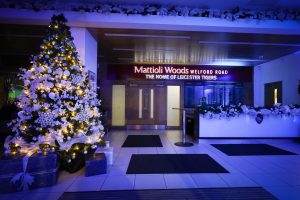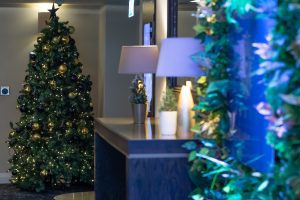 Make your venue the talk of the town with our unique Christmas tree installations.
Contact us today to bring a touch of magic to your UK venue this holiday season.
Eventologists Support Kindled Spirit Charity from October 2023
Empowering Young Women
At Eventologists, we believe in the power of giving back and making a meaningful impact. We are delighted to announce that from October 2023 we are Directors and Trustees of Kindled Spirit Charity, an organisation that's doing incredible work in India to support and empower vulnerable young women.
From October 2023, the sales generated through our events, will be making a heartfelt donation to Kindled Spirit Charity. This is not just about giving money; it's about changing lives and creating brighter futures.
Kindled Spirit is on a mission to rescue and empower young women like Preeti, who, at a tender age of 8, found herself trapped in modern slavery. After 9 years of unimaginable hardship, she was rescued and found hope through Kshamata, Kindled Spirit's long-term partner. With the charity's support, Preeti successfully completed an 18-month rehabilitation program, acquired vital vocational skills, and restored her mental well-being. Her inspiring journey is just one example of the incredible impact of this great charity.
Your support, as our valued clients and partners, means that you too are part of this transformation. By choosing Eventologists, you're not only getting exceptional event services but also becoming a beacon of hope for young lives in need.
A portion of every event sale will go towards Kindled Spirit Charity, contributing to their noble cause of saving and transforming lives. Together, we are making a real difference and spreading love and kindness across borders.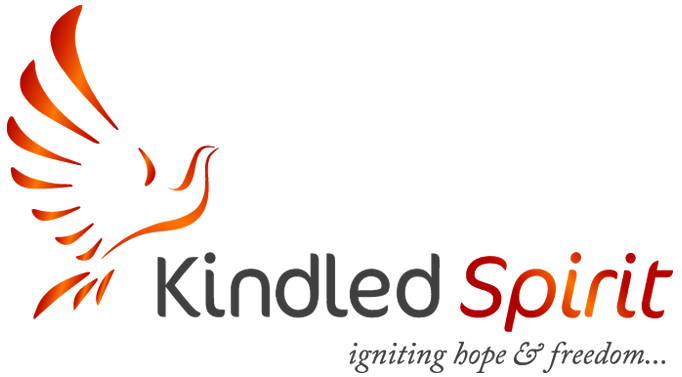 We have worked with Eventologists for the a couple of years now and can't fault them from start to finish the whole process is very seamless and the stuff they do is incredible! We have themed evenings and they always come up with some fab ideas that help to emphasise the theme and bring it to life. Our events have conference sessions in the venue during the day and we transform them for our awards in the evening and Eventologists always completely transform the space for the evening so that it feels like you're in a completely different space which makes it all feel so much more special and a real celebration and by the time morning arrives its all completely cleared as if by magic!

PPMA Admin


May 19, 2022

Great props, prompt delivery, awesome team. Would use again.

Richard Buxton


May 19, 2022

A wonderful team who made our event space look incredible. Jacob took our ideas and brought them to life. We've had amazing feedback about the event design, so we couldn't be happier. Everyone really loved the living wall and trees!

Olivia Rocky


April 19, 2022

Rita has been an absolute pleasure to work with; she listened to our ideas and vision and then totally ran with it and created something better than we could have ever imagined! On the event day, Rita and her team swooped in and decorated our venue in record time. Rita and the team were professional and efficient. We look forward to working with Eventologists again next year!

Neighbourly Brands


March 19, 2022

Eventologists are a pleasure to work with. The whole experience from start to finish isn't nothing short of perfection. The team are super professional and Jen makes working with them a breeze. Nothing is too much and she is always so responsive. Can't wait to work with them again :)

Andrew Chalk


March 19, 2022

Eventologists have been a dream to work with. No fuss, straightforward communications and pricing. Delivery and collection on the day was simple and efficient. Professional and friendly at every turn - thanks for your part in making our event a great success!

Emma Bird


February 19, 2022

We've used the services of Eventologists on numerous occasions and their expertise is priceless. Great service as always from Rita and her team who are always full of ideas and ways to make your event stand out. We've hired sets for Moulin Rouge, Great Gatsby, Hollywood and Glitz and Glam plus they created a wonderful set for a festival including tress with festoon and flags. Highly recommended and great to work with.

MrandMrsGrey


July 19, 2021

Wonderful team, from the event manager to the decorators! The choices of set ups and themes are really original as well as well made. Each event is done with lots of passion , always keeping the client best interest at heart. Great value for money, and they always go the extra mile!

Astrid Guillabeau


July 19, 2020