Make every table stand out with Eventologists' Table Centre Hire options!
We know that hosting an event can be a demanding task, and a themed one even more so, for you want every element in the venue to be cohesively in line with the theming and to enhance the ambiance and the mood you are looking for. This applies to anything, from the biggest prop, to the lighting, and of course to the Table Centres. Worry not – Eventologists is here to take care of it!
Here at Eventologists we know the importance of making every detail in an event special, and this is why our Table Centre Hire service is always at your disposition to make everything flow seamlessly when it comes to organizing your event, guaranteeing you get value for money at every instance.
We count with our own in-house array of Table Centres for hire, with a wide catalogue for you to choose from when you start the creative design of your event alongside our talented team of event stylists.
Going from classical options to avant-garde ones, we provide unique table centrepieces and table decorations for hosting any type of event, whether it be a corporate dinner, a charity gala or a personal private party. Our wide range of Table Centres for hire includes classical table centres for corporate dinners, glamorous centrepieces for galas, themed table centres that go from the most exquisite 1920's candelabra, to pieces inspired by movies and books, to Christmas arrangements for seasonal parties, and more! Anything you want, it's all in here.
If you are looking for something extra detailed or branded, we can create bespoke designs to incorporate your brand identity or the theme of your event, so it gets to be showcased as it deserves. In terms of table centres, the possibilities are limitless!
Check out a selection of our most popular Table Centres for hire a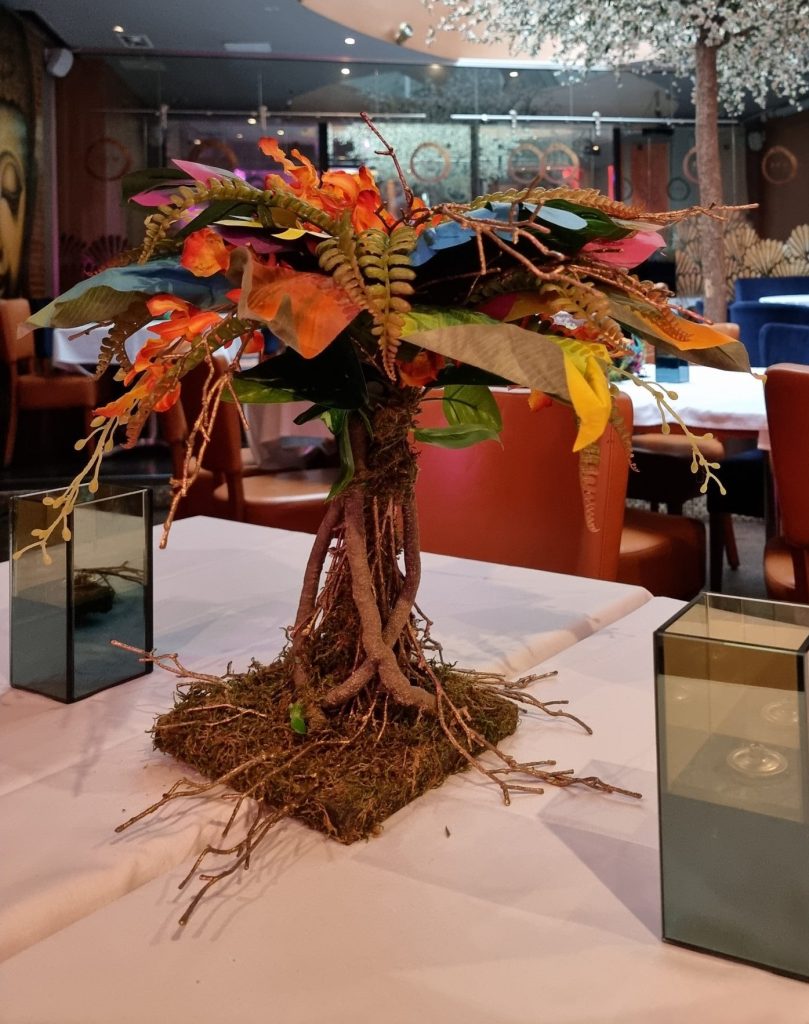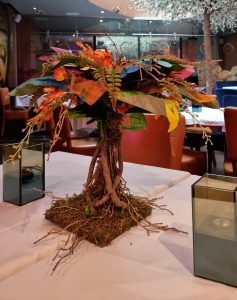 nd contact us to start creating something unique for you!
Dreaming of Summer? Here's Our Inspiring Ideas to Create the Dreamiest 'Midsummer Night's Dream' Event
Petal-Arch-for-Midsummer-Nights-theme-Party
Midsummer-Night-Summer-Ball
Midsummer-Nights-Dream-Themed
Midsummer-nights-dream-table-centre
Private-Midsummer-Nights-Dream-Party
A Midsummer Night's Dream Stiltwalkers
Midsummer Night's Dream Drinks Reception
Petal Arch Entrance for Midsummer Nights Ball
Midsummer Nights Dream Table Decorations
A Midsummer Nights Dream themed entertainers
A Midsummer Nights Dream Entrance
Midsummer Night's Dream Tree Prop For Hire
midsummer nights dream theme
Dreaming of Summer? Here's Our Inspiring Ideas to Create the Dreamiest 'Midsummer Night's Dream' Event
Who doesn't love a night filled with a mystical mixture of fantasy fairies and wonderful woodlands, all topped off with some love, betrayal and classic comedy? What better way to celebrate the arrival of summer than with an event based on one of Shakespeare's most popular plays – A Midsummer Night's Dream.
Let Eventologists bring you a sample of our inspiring ideas to re-create this classic Shakespearean comedy, filled with twinkly lights, luscious foliage, life-sized trees and all things magic at your next big event. Your guests will be away with the fairies as they delve through the mystic flowers and are immersed in the Athens woodland, where as a Midsummer Night's Dream shows, anything can happen…
As the name suggests, this theme works best at night, the perfect time to set the ambience for a truly mystical and magical event. Since the play is set outdoors you have the ultimate freedom to either hold it in an outdoor venue or to let Eventologists bring the outdoor forest to wherever you please.
Picture an enchanted woodland full of life-sized trees, luscious foliage, gorgeous flower arrangements, sparkling ambient fairy lights and twinkling twig walkways creating the perfect mood for a night of mystery, magic and fun! What more could your guests want than to be whisked away to a land of love, passion, comedy and betrayal…It wouldn't be a Shakespearean play without it!
Your Midsummer Night's Dream event theme décor could include:
Life-sized Tree Hire
Large Foliage Hire
Flower Table Centre Hire
Sparkly Draping Hire
Twinkle Twig Walkway Hire
Fairy Light Ceiling Hire
Your Midsummer Night's Dream themed entertainment may include:
Fairies on Stilts
Fairy Dancers
Life-sized Tree Entertainment
Get in touch with one of our Event Stylists to find out how to bring this epic Shakespearean classic to your next event.
Illuminate your Next Event with our Neon Theme
Illuminate your Next Event with our Neon Theme
When you hear the word neon, you probably think throwback to the 80's! Sure, neon was all the rage back then, but the fun didn't die with that decade. Neon themed events are exciting and work in lots of spaces where you want the ambience to be casual, urban, street. Some refer to it as a retro themed event or a disco themed event however the key characteristic of this theme is the neon coloured props and light up props.
A Neon Themed Party is making a comeback and not just on the club scene, it's now starting to light up the event circuit, so make sure you don't miss the bling boat of adding a super cool edge to your party. If you are looking for an unusual party theme or an urban event feel – this could just fit the bill.
A Neon Theme works throughout the year and especially for events where you want to keep the atmosphere funky, urban, casual and versatile. It can dress up all types of occasions, from gala awards dinners to Christmas parties to other corporate events.
It's an electrifying way to blitz up your next do, whatever that may be, showcasing many cool things, including:
LED Furniture Hire
Retro Décor Hire
Neon Sign Hire
Slinky Ceilings
Festival Furniture Hire
LED Centerpieces
Neon Dancefloors
LED prop Hire
Light Up Table Centres
Photo and other LED Props
To book this theme for your next event or to find out more, contact one of our Event Stylists.
Eventologists Brings Spring to life at Wagamama's Hanami Festival
Wagamama Hamami Festival 1
Wagamama Hamami Festival 2
Wagamama Hamami Festival 3
Wagamama Hamami Festival 4
Wagamama Hamami Festival 5
Wagamama Hamami Festival 6
Wagamama Hamami Festival 7
Wagamama Hamami Festival 8
Wagamama Hamami Festival 9
Wagamama Hamami Festival 10
Wagamama Hamami Festival 11
Wagamama Hamami Festival 12
Wagamama Hamami Festival 13
Wagamama Hamami Festival 14
Wagamama Hamami Festival 15
Eventologists Brings Spring to life at Wagamama's Hanami Festival
This March, several Wagamama UK restaurants sprung to life with pink cherry blossom clad installations to transform their spaces and create the perfect spring scene for their Hanami Festival.
Hanami, which literally means "viewing flowers" is a time when various festivals are held in Japan to celebrate the blossoming of their springtime sakura cherry blossoms. It's a time when people come together to eat, drink, sing and celebrate renewal, vitality and the beauty of nature.
This year, Wagamama's UK has brought this festival to life at several of their locations, including Birmingham (Bull Ring), London (Wigmore St.), Cardiff Library, Manchester and Edinburgh (St. Andrews). The installations started in March and will run for 8 weeks in each location until May 15th.
To bring the beauty of the Japanese cherry blossoms inside, Eventologists' and Event Trees created bespoke cherry blossom trees and blossom canopy ceilings to fit these particular locations and create a Japanese Hanami festival feel for Wagamama's.
The logistics were tight as the installs could only happen whilst the restaurants were closed. Overnight, our crew transformed bare ceilings and light fixtures with stunning textures and colours to emulate how incredible the Hanami Festival is in Japan.
What a homage to something so beautiful? And what a great immersive space to devour the flavours of one of the most renowned Asian Restaurant chains in the UK! If only all restaurants could transport us to their roots!
If you visit one of these venues during the festival, we'd love to hear your feedback and make sure to take a selfie and tag us @eventologists.
If you're a business wanting to know more about how Eventologists can help you create a bespoke theme in your stores, restaurants, cafes or any other venue, please get in touch with one of our specialists today.
It's been an Indian summer! Bring Bollywood to a venue near you!
Bollywood-Themed-Chair-Dressing
Bollywood-Themed-Table-Centre
Bollywood-Themed-Table-Centres
Bollywood-Themed-Table-Decor
Indian-Themed-Table-Dressing
Low-Seating-Chill-Out-Area
When we think of summer, we think of bright vibrant colours and that is exactly what the Eventologists styling team have been delivering at corporate events around the country! Bright colours can be used in a variety of themes such as Rio Carnival theme, Festival themed events, Moroccan Themed Events and one of the most popular this summer is a Bollywood themed event. We focus on ideas to deliver a big fat Bollywood Themed Indian full of colours, smells and sounds from Asia. A super interactive, inclusive theme where guests can dress up, dance to Bollywood grooves and be mesmerised by the latest Bollywood entertainment!
Bollywood themed parties can be as colourful as vibrant as you like! Table centres can be big and bold! Indian themed table centres or even Bollywood centrepieces look great on brightly coloured tables, giant Bollywood film posters and backdrops work great to bring the films into the theme. Rich loyal colourful Bollywood draping can completely transform a room and unusual food stations and serving huts can make food service exciting and authentic.
With an Indian inspired event there are so many entertainment options to keep guests amused and entertained from the moment they walk in. We can Mr Ben style dressing rooms for guests to change into saris and Indian menswear, henna artists can apply temporary tattoos on guests in bright colours, dhol drummers can welcome guests into the room and Bollywood dance troops can teach guests how to dance during interactive sessions.
Stunning covers
Black-Chair-covers-and-Hessian-Hoods-Large-Small
cerise-pink-chair-covers-Small
colour-chair-covers-Small
Copy-of-orange-c.covers-Small
Fire-and-Ice-theme-Large-Small
navy-blue-chair-covers-Small
N-Masquerade-Themed-Event-Large-Small
purple-chair-covers-1-Small
Red-Black-HMS-President-a001-Small
White-chair-covers-Large-Small
Stunning Covers
Every corporate event demands attention to detail and impact. A simple but effective way to transform a venue is through chair cover hire, unique linen hire and wall and ceiling draping.
Chair covers are available in damask, lycra and cotton and are available in different sizes to give a perfect fit. Depending on the theme of the event, add a finishing touch with a chair cover sash or chair cover hood; available in both organza, lame and satin fabric in a wide range of colours.
Interesting colours, materials and patterns in table linen can completely change how a room looks. Coloured tablecloths can enhance a theme by adding a vibrant zing on tables. Tablecloths are available in so many different materials from lycra tablecloths, damask table linen, crushed velvet table cloths through to classic crisp cotton tablecloths; whatever your preference we always suggest full length table cloths for gala dinner table dressing or awards dinners. It's the black tie for tables!
Finally wall draping and ceiling draping can completely change the size and shape of a room and is an effective way of enhancing conference style spaces that are used for presentations during the day and awards dinners for evenings.
If you're looking for simple but effective ways of transforming a space, call one of our specialists to inspire you!
I wished to get in touch to say thank you for providing the centrepieces for the Gloucestershire Live Business Awards and working with us within our budget at such short notice. I also wanted to let you know that your staff was a pleasure to work with. Very friendly, professional and had the room setup with plenty of time to spare before guests arrived. Please pass on my thanks.

Louise Symonds, Regional Events Manager
I just wanted to drop a note to formally thank you for pulling out all of the stops for our Christmas Social – the Peaky Blinders theme went down a storm and it looked UNREAL! The decor, props, bespoke items and attention to detail really made the event last night. As ever, you and the team were complete professionals and a dream to work with. Huge thanks and appreciation, I look forward to the next event already!

Clair Stevens, Communications Manager
The room looked fab and we received some great comments. It was great to work with you again and it makes things run smoothly when we can rely on you and your team to get the job done. Gives peace of mind.

Sharon Bone, Events Manager
WOW, went to an event done by these guys and I was blown away. They transformed a banquet hall into something out of a fairytale. The staff are very friendly and professional. Would definitely recommend them to anyone.

Amish Thakrar, Marketing Manager
Thank you to you and your team for all your help and support with the table theming for our UK 60-Year Anniversary celebration last night. Right from the very beginning, everything was so very professional and easy. The tables, gifts and award were absolutely fabulous and really added to the whole ambience of the evening, and I have had many wonderful comments about them from our visitors.

Lesley Young, Marketing Communications Manager