Classic and Fun Ideas for an Autumn Party
When weather starts to cool down, leaves start to fall and colours start to change, that's the moment you know autumn is here, and what could be better than exploring our top Autumn Theme Event Ideas! This season brings lots of inspiration, so here we have made a recollection of our favourite classic ideas for an autumn party!
Autumn Theme Event Ideas
Bid Farewell to Summer
Before welcoming the new season, what about saying goodbye to the old one? A late summer/early autumn party is a fantastic idea during those early days of autumn where the weather is just the right amount of cool and breezy. You can incorporate into the design of the event the best elements from both seasons, doing something as creative as summer flowers in autumnal colours! If you are able, take advantage of the weather and make it an outdoor cookout, or, even if your party will take place indoors, bring some summer favourite delicacies such as lemonade, potato salad, and grilled food. This is undoubtedly fun way to blast off the autumn season in an original manner.
A Wreathmaking Day
Bring the craft tools and materials and get ready to host a charming wreathmaking party! Whether your gathering is aimed towards kids or grown-ups, DIY crafts are always a great way to bring people together, for they let people show their creativity and uniqueness in a delightful, simple way. Making autumn wreaths is a fun and easy activity; you could simply provide the base and ask guests to bring their favourite seasonal decorations, like berries, greenery, warm-coloured leaves, and basically anything they might find pretty! Complement the reunion with tasty autumnal snacks and you are up for an enchanting soirée!
Brunch, but make it Autumn
Brunch is beloved any time of the year, so making a seasonal version of it is undoubtedly a winning idea! Hosting an Autumn Brunch Party leaves open a wide space for creativity, for you can take your favourite elements from a traditional brunch and give them a fun, autumnal twist. Make a menu that includes the favourite flavours of the season, like pumpkin spiced cake, apple cider mimosas, baked fruit casseroles, and more! In terms of decoration, adding beautiful wreaths, pumpkins and warm coloured details would be fantastic, for it creates a wonderful atmosphere while also working as a highly instagrammable setting!
Wine Tasting Party
How about taking advantage from that gorgeous setting from brunch and letting the party last a little longer? Take the bottles out and turn brunch into a Wine Tasting Party! It doesn't matter if you are not a wine connoisseur, it's all about the fun! You can get all your favourites wines, and even ask your guests for recommendations in advance so there is something fun and new for everybody involved. Pair the degustation with lovely snack and cheese boards and the gathering is set to be epic!
Bake-Off at Home
Everybody loves a little competition almost as much as they freshly baked goods, so why not get the two of them together and have your own version of a Bake-Off at home? Celebrate the season gathering your friends for a fun competition that also happens to have the best flavours there are. If you have the space, the baking could happen in place, but if you don't have it, there's no need to worry: just ask your guests to bring their signature dessert over straight from the oven! Decorate in autumnal style, get a panel of (maybe) unbiased judges to rate the goods, and let the delicious fun begin!
Fancy Autumn Gala
If what you have in mind is a formal affair, you can go all out with a fancy barn party! Barns are magnificent backdrops for a formal event taking place during the season, for they can capture the essence of autumn while being elegant and classically sophisticated. Seasonal foliage and greenery and an autumnal colour scheme can add coats of charm to your barn venue, setting a perfect scene for a delightful soirée for you and your invitees.
Bring Oktoberfest and Bavaria home
Instead of going all the way to Germany, you can bring all the fun of the Oktoberfest to your place! Organize your own festival at home with all the best elements from the traditional Bavarian party. From the classic white and blue colour scheme, to the delicious snacks like pretzels, sausages, potatoes and more, and of course, the unavoidable and highly expected booze! Get a fun selection of different kinds of beer and set your own flights, surprising guests with uncommon options, and, if people are on board, you can all get dressed up in traditional costumes for an extra layer of fun!
Spooky Halloween Fun
Each year, celebrating Halloween becomes more and more popular in the UK, and with good reason! This festivity brings along lots of fun, so it's a given that hosting a Halloween Party is a fantastic idea. Classic orange and black need to be present in the setting of the venue, along with ghosts, witches, vampires and more! If the party is aimed towards kids, keeping the vibe spooky but not scary is a must, but if it is aimed towards adults, you can get creative and add some scary touches to the décor, and the menu can also be more refined and thoroughly designed; keep the classic candies and chocolates, but spice it all up with fun cocktails and interesting dishes! Create a playlist with Halloween-ish tune and get everybody on board with costumes and there you have it all set for a great party!
Campfire Party
Breezy weather gives cosy vibes, and what could be better to warm things up than gathering up around a backyard bonfire? Once the evening comes, get together around the fire with friends to share stories and delicious food. Whether you are going for a savoury food cookout or looking for an excuse to indulge in roast sweet delicacies like marshmallows and chocolate, a campfire party is a fantastic idea for an autumn event. Decorate with lovely seasonal greenery and props, and complete the menu with classic drinks, like pumpkin spiced everything, apple cider, or hot chocolate for the little ones. Guaranteed, everybody will have a great time!
Enchanted Woodland
An Enchanted Woodland themed party is a magnific option when it comes to an Autumn event, for it can capture the most whimsical side of this season in a magical fashion, with a dark and rustic feeling that encapsulates a trip into the fantasy world of a fantasy forest full of fairies, pixies, many surprises and delights. A truly immersive theme, this option would be a magnificent choice for those who want to leave their guests in awe!
Neon Jungle
If you want to bring something truly unexpected to the Autumn party scene, a Neon Jungle theme might be perfect for you, as it will bring a bright and very welcome pop of colour and brightness to the table! Neon lights, vibrant decorations and embracing foliage, all enhanced by colourful accents and details. This theme will transform your venue into an incomparable place, allowing your invitees to have the time of their lives!
12. Classic Autumn Gala
Or, if you want something traditional with a seasonal twist, you simply can't go wrong with a classic Autumn Gala party! Bring all the glamour and the glitz from a black-tie party to the season with an autumnal colour scheme, accompanied by seasonal flowers and foliage that can enhance the scene in a way that is both themed and delightfully traditional. Design a menu that showcases the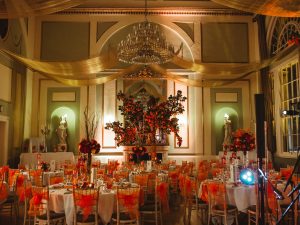 flavours of the season in a fancy way, and you are set for an unforgettable gala that your invitees will undoubtedly love to attend!
We have worked with Eventologists for the a couple of years now and can't fault them from start to finish the whole process is very seamless and the stuff they do is incredible! We have themed evenings and they always come up with some fab ideas that help to emphasise the theme and bring it to life. Our events have conference sessions in the venue during the day and we transform them for our awards in the evening and Eventologists always completely transform the space for the evening so that it feels like you're in a completely different space which makes it all feel so much more special and a real celebration and by the time morning arrives its all completely cleared as if by magic!

PPMA Admin


May 19, 2022

Great props, prompt delivery, awesome team. Would use again.

Richard Buxton


May 19, 2022

A wonderful team who made our event space look incredible. Jacob took our ideas and brought them to life. We've had amazing feedback about the event design, so we couldn't be happier. Everyone really loved the living wall and trees!

Olivia Rocky


April 19, 2022

Rita has been an absolute pleasure to work with; she listened to our ideas and vision and then totally ran with it and created something better than we could have ever imagined! On the event day, Rita and her team swooped in and decorated our venue in record time. Rita and the team were professional and efficient. We look forward to working with Eventologists again next year!

Neighbourly Brands


March 19, 2022

Eventologists are a pleasure to work with. The whole experience from start to finish isn't nothing short of perfection. The team are super professional and Jen makes working with them a breeze. Nothing is too much and she is always so responsive. Can't wait to work with them again :)

Andrew Chalk


March 19, 2022

Eventologists have been a dream to work with. No fuss, straightforward communications and pricing. Delivery and collection on the day was simple and efficient. Professional and friendly at every turn - thanks for your part in making our event a great success!

Emma Bird


February 19, 2022

We've used the services of Eventologists on numerous occasions and their expertise is priceless. Great service as always from Rita and her team who are always full of ideas and ways to make your event stand out. We've hired sets for Moulin Rouge, Great Gatsby, Hollywood and Glitz and Glam plus they created a wonderful set for a festival including tress with festoon and flags. Highly recommended and great to work with.

MrandMrsGrey


July 19, 2021

Wonderful team, from the event manager to the decorators! The choices of set ups and themes are really original as well as well made. Each event is done with lots of passion , always keeping the client best interest at heart. Great value for money, and they always go the extra mile!

Astrid Guillabeau


July 19, 2020