Christmas Decor for UK Venues
Eventologist's expert team of event planners specialises in bringing the festive spirit to life, creating a warm and inviting atmosphere that leaves a lasting impression. With a palette of classic festive colours like red, green and gold, we transform spaces into enchanting winter wonderlands. From beautifully adorned Christmas trees to stunning wreaths, twinkling lights and charming holiday ornaments, our Christmas decor adds that special touch to shopping centres, hotel lobbies and grand entrance halls.
Let us help you capture the magic of the season and create a memorable experience for your visitors. Discover our tailored Christmas decor solutions today and make this holiday season truly unforgettable.
Christmas Ceiling Decor
Imagine the magical ambiance as you look up to see a canopy of twinkling LED lights draping gracefully from the ceiling. The soft, warm glow creates an inviting and festive atmosphere, perfect for any holiday event or Christmas corporate party.
But that's not all – we take your ceiling decor to the next level by hanging exquisite Christmas ornaments, adding a touch of elegance and charm. You'll be mesmerised as you walk under shimmering icicles hanging from the ceiling, giving the illusion of a glistening winter frost. The perfect addition to any winter wonderland themed event.
Of course, no Christmas ceiling decor is complete without the crowning touch – hanging stars that twinkle and shine, adding that touch of magic to your space.
Whether it's a cosy holiday gathering in entrance halls or a grand Christmas Gala, our ceiling decor is designed to create an unforgettable experience.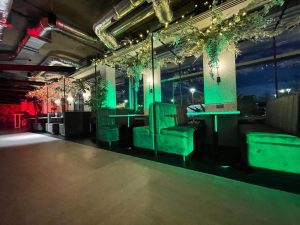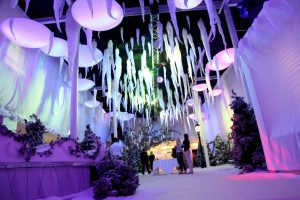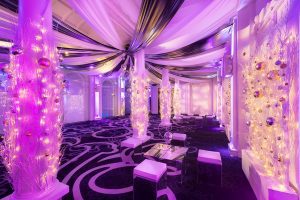 Christmas Themed Backdrops
Step into the World of Instagram-Worthy Christmas Backdrops!
Picture yourself against a backdrop of twinkling LED lights, an 'Après Ski' winter wonderland, a classic Santa's Grotto, delicate snowflakes falling all around you, a shimmering gold LED background, and the dreamy elegance of a White Christmas.
Our Christmas-themed Instagram backdrops are designed to make your holiday photos unforgettable. Whether you're capturing magical moments with loved ones, enjoying the Après Ski vibes, or visiting Santa's Grotto, our backdrops set the scene for pure holiday magic.
Make your Instagram feed sparkle with enchanting Christmas vibes and a touch of gold. Transform your venue space this season with our Instagram backdrops, perfect for winter corporate events.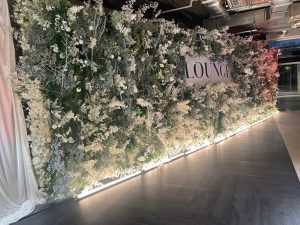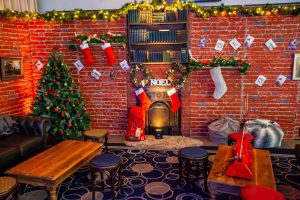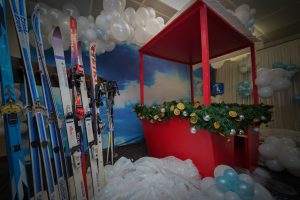 Festive Theme Room Decor
Our venue decor is designed to cater to every brand's unique needs, creating the perfect atmosphere for your event. We offer a diverse range of options, from lush green garlands that exude elegance to the warm and inviting glow of LED lights that can be customised to match your brand's colours.
Dress up your space with ornaments that reflect your brand's identity and style, and let our wreaths add a touch of classic charm. For a touch of whimsy, we even offer tinkling spider trees that bring a playful, unexpected element to your decor.
No matter the vision or theme, we have the expertise and creativity to make it a reality. Our goal is to provide tailored decor solutions that align with your brand's identity and elevate the atmosphere of your venue. Get in touch with us today, and let's transform your space together.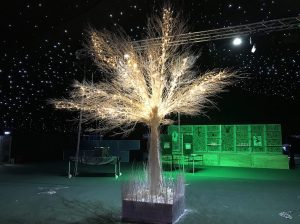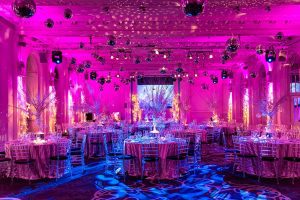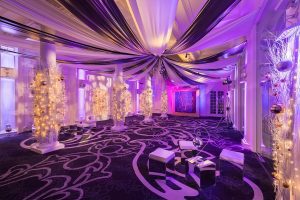 Christmas Themed Tunnels & Party Entrances
Transform Your Venue's Entrance with Our Festive Theme Entrance Tunnels.
Step into a world of enchantment as you walk through our stunning entrance tunnels. We bring your festive vision to life with the warm glow of gold LED lights that add a touch of luxury. Envision your guests walking through a dazzling tunnel complemented by the cool, silvery blue ornaments that evoke the magic of the season.
Our twinkling spider trees create a whimsical and inviting atmosphere that captures the hearts of your guests. These tunnels are designed to be a mesmerising gateway to your event, setting the tone for what's to come.
We understand that every brand is unique and our decor solutions are tailored to meet your specific needs. With our entrance tunnels, we aim to make a grand statement that aligns seamlessly with your brand's identity.
Don't miss out on the opportunity to transform your space into a mesmerising wonderland.
Contact us today to discuss your vision and let us make your dream event a reality.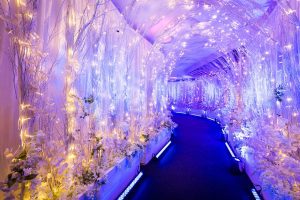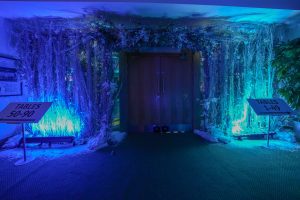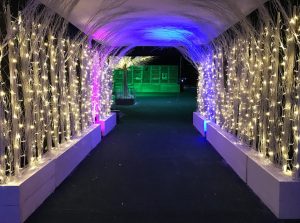 Don't miss out on the opportunity to transform your space into a mesmerising wonderland.
Contact us today to discuss your vision and let us make your dream event a reality.
Eventologists Unique Christmas Tree Installations
Welcome to Eventologists, your one-stop destination for exceptional Christmas tree installations that will make your venue stand out this holiday season. Our UK-wide service is dedicated to bringing unique, creative and unforgettable Christmas tree designs to venues across the country.
Unique Retro Trees
Step back in time with our retro-inspired Christmas tree installations. From vintage baubles to classic colour schemes, these trees offer a nostalgic twist that will transport your guests to the Christmases of previous times.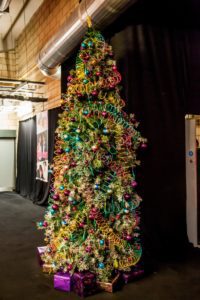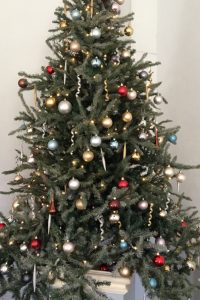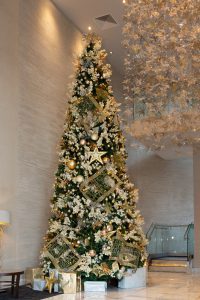 Peacock-Inspired Trees
For a touch of opulence and glamour, our peacock-inspired Christmas trees are the perfect choice. Featuring vibrant, jewel-toned ornaments and regal feathers, these trees add a sense of elegance and luxury to your venue.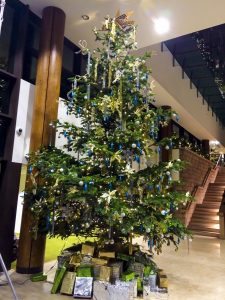 Traditional Christmas Tree
Celebrate the season with our classic red, green and gold Christmas tree installations. Embrace the timeless charm of traditional holiday décor, featuring classic ornaments, twinkling lights and the warmth of evergreen. Capture the heart-warming essence of Christmas with our custom festive trees, perfect for large UK spaces like shopping centres, hotel lobbies, and grand entrance halls.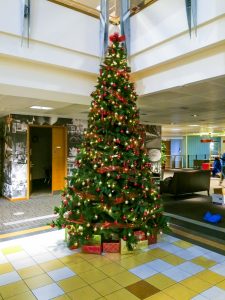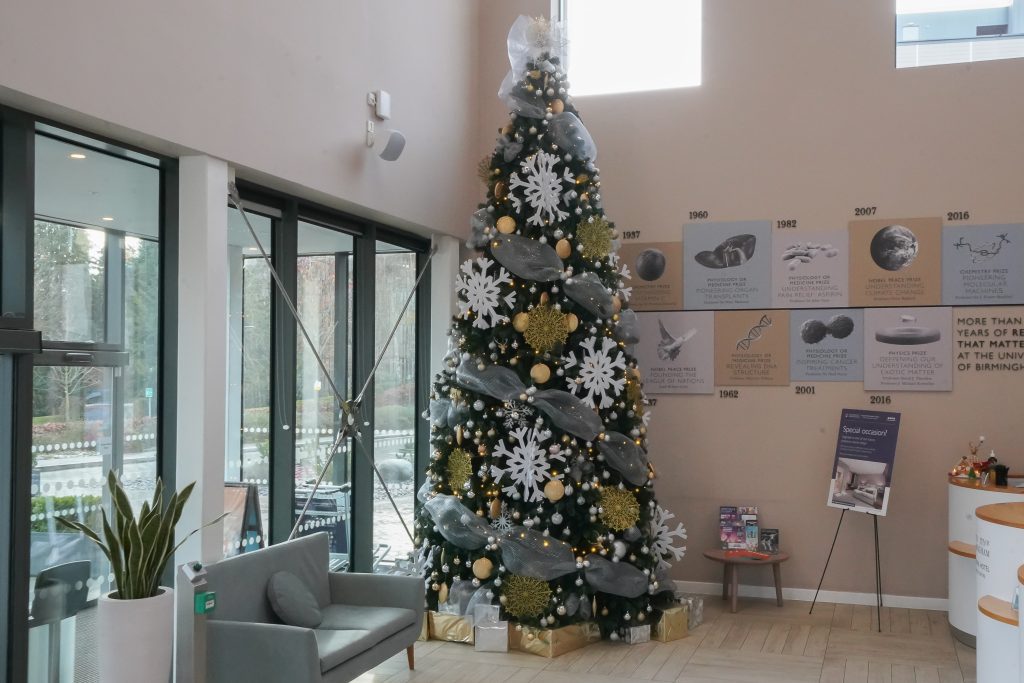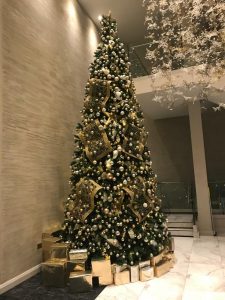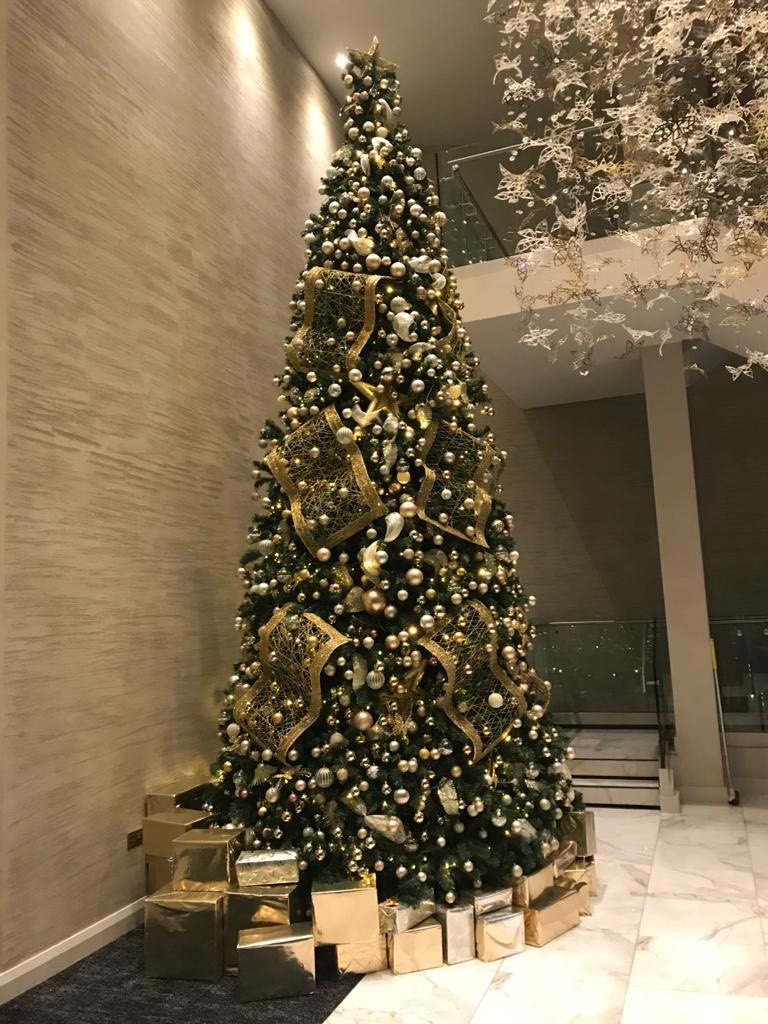 Pink and Purple-Themed Trees
For a unique twist on tradition, our pink and purple-themed Christmas trees are a delightful choice. These trees showcase a whimsical blend of pink and purple ornaments, creating a festive, fun, and eye-catching display that's sure to captivate your guests.
At Eventologists, we take pride in delivering Christmas tree installations that go beyond the ordinary. Our designs are tailored to your preferences, whether you seek a retro vibe, peacock-inspired extravagance, traditional elegance, or a playful pink and purple theme.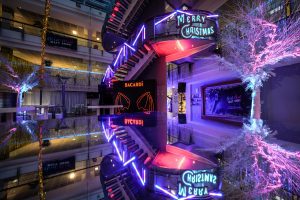 Bespoke Branded Christmas Tree Installations
Elevate your brand's holiday presence with our Bespoke Branded Christmas Tree Installations. Tailored to your unique vision, these stunning trees infuse grand spaces with festive charm. Ideal for shopping centres, hotel lobbies, or grand entrance halls for venues across the UK. Create an enchanting atmosphere that captivates your audience. Explore our custom holiday solutions today!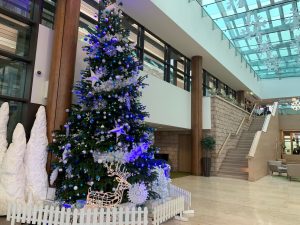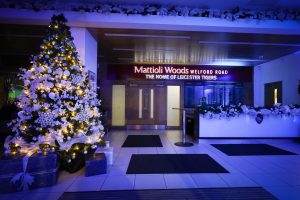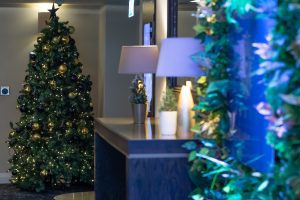 Make your venue the talk of the town with our unique Christmas tree installations.
Contact us today to bring a touch of magic to your UK venue this holiday season.
Eventologists Support Kindled Spirit Charity from October 2023
Empowering Young Women
At Eventologists, we believe in the power of giving back and making a meaningful impact. We are delighted to announce that from October 2023 we are Directors and Trustees of Kindled Spirit Charity, an organisation that's doing incredible work in India to support and empower vulnerable young women.
From October 2023, the sales generated through our events, will be making a heartfelt donation to Kindled Spirit Charity. This is not just about giving money; it's about changing lives and creating brighter futures.
Kindled Spirit is on a mission to rescue and empower young women like Preeti, who, at a tender age of 8, found herself trapped in modern slavery. After 9 years of unimaginable hardship, she was rescued and found hope through Kshamata, Kindled Spirit's long-term partner. With the charity's support, Preeti successfully completed an 18-month rehabilitation program, acquired vital vocational skills, and restored her mental well-being. Her inspiring journey is just one example of the incredible impact of this great charity.
Your support, as our valued clients and partners, means that you too are part of this transformation. By choosing Eventologists, you're not only getting exceptional event services but also becoming a beacon of hope for young lives in need.
A portion of every event sale will go towards Kindled Spirit Charity, contributing to their noble cause of saving and transforming lives. Together, we are making a real difference and spreading love and kindness across borders.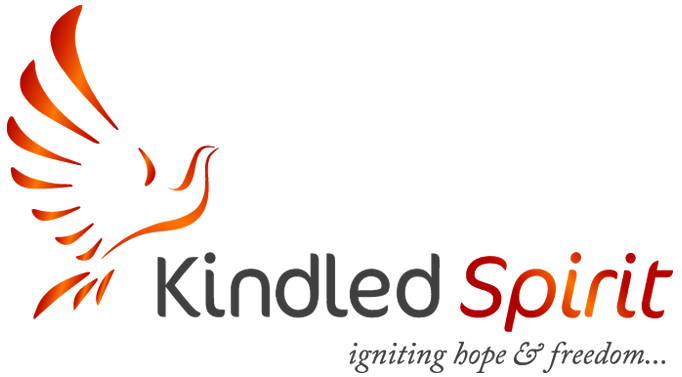 Top 20 Unique Christmas Party Ideas
Unique Christmas Party Ideas
Hello, Christmas party planners of the UK! With the holiday season fast approaching, it's time to wave goodbye to the usual and say hello to the extraordinary! We've rounded up 20 exceptional and one-of-a-kind Christmas party ideas that are sure to make your celebration shine. Let's dive in and make your festivities unforgettable! Introducing our top 20 most unusual Christmas party themes:
1. North Pole Casino Night: Bringing Vegas to the UK with a Christmas Twist!
Ready for a unique Christmas party? Try our North Pole Casino Night, blending the glamour of Vegas with festive cheer. Transform your venue with candy cane decor, enjoy gingerbread martinis, and roll the dice with poker and roulette!
How We're Adding Vegas to the UK:
Chic Frosty Decor: Combine North Pole charm with Vegas glamour using icy blue decor and faux fur throws. Capture picture-perfect moments against snowflake backdrops.

Frosty Attire: Dress up in winter glam meets casino chic for a sophisticated yet fun look.

Festive Games: Play frosty blackjack for a Christmas twist on classic casino games.

Win Big with Holiday Prizes: Win jingle bell jackpots and snow globe trophies, adding a merry touch to the excitement.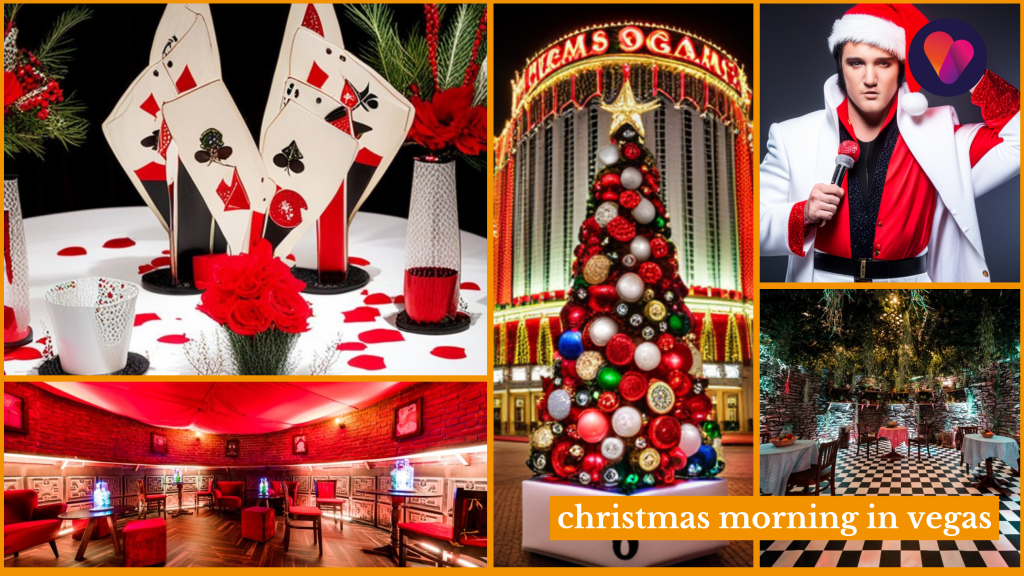 2. Villain's at Christmas: A Mischevious Party
Prepare for a holiday celebration that defies tradition with our "Villains' Christmas Soiree". Step into a world where the mischievous and the merry combine, paying homage to the most iconic Christmas villains. Think, Grinch, Scrooge and of course 'The Wet Bandits'!
Wickedly Festive Decor: Immerse yourself in an atmosphere where the dark side of the holiday season takes centre stage. Our event designers will skilfully blend the sinister charm of Scrooge, the Grinch, and other infamous villains with traditional holiday elements.
3. Tropical Paradise Christmas Party: Ibiza-Inspired Winter Wonderland
Get ready to escape the chilly UK weather and step into a tropical paradise with the ultimate fusion of Ibiza summer festival vibes and Christmas party cheer! Transport your guests to a world of sun-soaked beaches and swaying palm trees, all while celebrating the festive season with a refreshing twist.
Picture this:
Palm Trees and Tiki Torches: Transform your venue into a tropical haven with life-sized palm trees and flickering tiki torches that cast a warm, beachy glow.

Festive Flower Crowns: Welcome your guests with vibrant flower arches and encourage them to create flower crowns for that authentic island feel.

Beachside Chill Zones: Set up cosy lounging areas with beach chairs and colourful cushions, reminiscent of Ibiza's laid-back beachside ambiance.

Live DJ and Summer Beats: Elevate the energy with an Ibiza-worthy playlist or a live DJ spinning summer beats that encourage dancing and festive revelry.
4. All Aboard for Polar Express Brunch'mas
All aboard for a magical Christmas celebration with our "Brunch'mas" Polar Express Theme Party! We're taking the cosy brunch concept and giving it a wintry twist inspired by the beloved Polar Express story. Get ready to embark on a journey of delightful flavours and heart-warming festivities.
Polar Express Decor: Transforming venues into a whimsical train station from the story. Use vintage suitcases, train signs, and snow-covered scenery to capture the essence of the Polar Express adventure.

Cosy Lounge Area: Set up a cozy lounge area with comfy seating and blankets, inviting guests to relax and enjoy the warmth of the holiday season.

 Hot Cocoa and Coffee Bar: Create a hot cocoa and coffee bar with a variety of flavors and toppings, allowing guests to customize their perfect holiday beverage.
5. Tim Burton's Christmas Nightmare
Step into the whimsical and slightly eerie world of Tim Burton with a Christmas Nightmare theme. Combine his iconic films like "The Nightmare Before Christmas" and "Edward Scissorhands" for a delightfully weird and wonderfully dark holiday gathering.
Eerie Dark Decor: Transform your venue with Tim Burton's signature style – think quirky, gothic, and enchantingly odd decorations that bring his world to life.

Character Mash-Up: Encourage guests to dress as a fusion of characters from different Tim Burton films, adding an element of surprise and creativity to the party.

Darkly Delicious Delights: Serve up treats inspired by Burton's films, from "Corpse Bride" cupcakes to "Beetlejuice" cocktails.
6. A Pink Christmas Delight
Embrace the magic of a Pink Christmas Delight! This year, it's all about celebrating in a dreamy pink wonderland. Picture pink Christmas trees, lights, and décor that will transport you to a fairytale realm.
Highlights:
Dreamy Pink Decor: Transform your venue with pink trees, lights, and enchanting decorations that create an Instagram-worthy backdrop.

Symbolic Love: Pink symbolizes love, making it the perfect theme for a heartwarming Christmas celebration.

Festive Fun with a Twist: Enjoy pink-themed activities, treats, and mocktails that add a playful touch to the holiday spirit

.
7. Alien Christmas Invasion
Are you ready to take your holiday celebrations to a whole new level? Imagine an intergalactic twist on Christmas that's sure to leave your guests amazed and talking about your event for years to come. At Eventologists, we specialise in creating unique and unforgettable experiences, and our Alien Christmas Invasion Extravaganza is no exception.
Decor Delight: Elevate your event space with stunning metallic silver and iridescent blue decorations, setting the stage for an immersive alien encounter. Our event designers will transform your venue into an otherworldly wonderland, complete with twinkling lights and captivating holographic accents.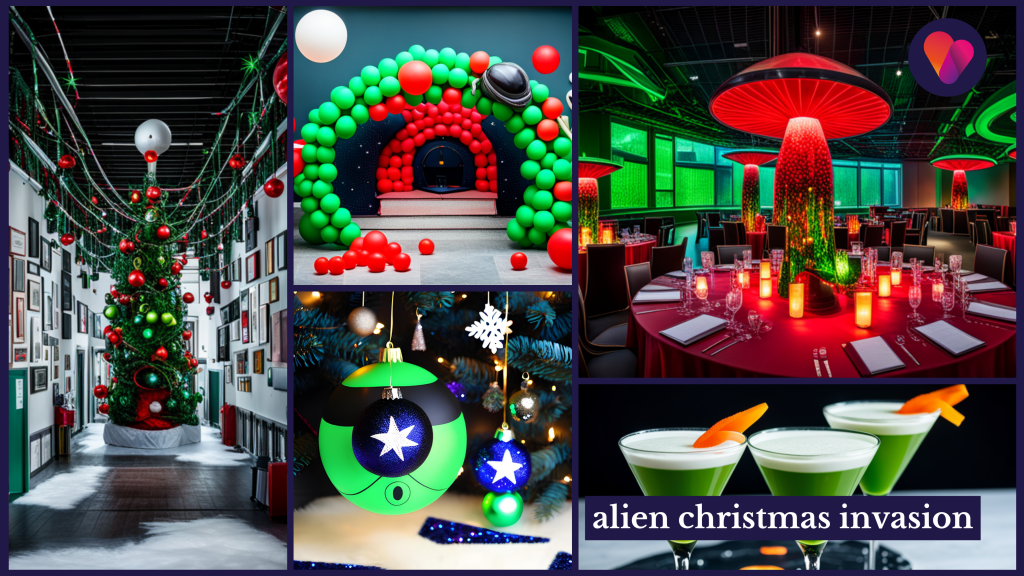 8. Santa's Workshop Disco
Combine the magic of Christmas with the funky vibes of a disco party. Have your guests dress up as elves, reindeer, or disco divas, and dance the night away under colourful lights.
Funky Festive Decor: Immerse yourself in a realm where Santa's workshop meets the disco era. Radiant lights and vibrant colours create an electrifying atmosphere that sparks the festive spirit.

Costumed Revelry: Show off your best elf, reindeer, or disco diva attire and join the merrymaking. The fusion of Christmas and disco creates an eclectic dress code that guarantees a night of style and flair.
9. The Gingerbread Takeover
Get ready to be swept away by the sugary wonder of a Gingerbread Takeover. Immerse yourself in a world where gingerbread reigns supreme, blending creativity and celebration into an unforgettable event.
A sweet taste:
Gingerbread Decor: Step into a realm where gingerbread houses come to life. Our expert decorators will craft a captivating setting filled with gingerbread-inspired elements that transport you to a magical world.

Ginger-Infused Delights: Indulge in an array of treats inspired by the beloved gingerbread flavor. From gingerbread cookies to innovative gingerbread-infused cocktails, your taste buds are in for a delightful journey.
10. Christmas Carnival: Fun Games for a Memorable Christmas Party in the UK
Get ready for a one-of-a-kind Christmas Carnival with an additional Ugly Christmas Jumper Festival! This unique event combines hilarious ugly sweater fashion with lively festival games, guaranteeing an unforgettable evening filled with laughter and excitement.
Highlights:
Ugly Jumper Contest: Show off your quirkiest, most creative ugly sweater and compete for the title of the ultimate fashion maverick.

Carnival-Style Games: Enjoy classic festival games with a holiday twist.

Delicious Treats: Indulge in cotton candy, popcorn, and candy apples, along with hot chocolate and mulled wine to keep the festive spirits high.

Live Music and Dance: Groove to upbeat Christmas tunes, dance, and celebrate with fellow partygoers.

Capture the Moment: Snap memorable photos at our festive photo booth, complete with holiday-themed props.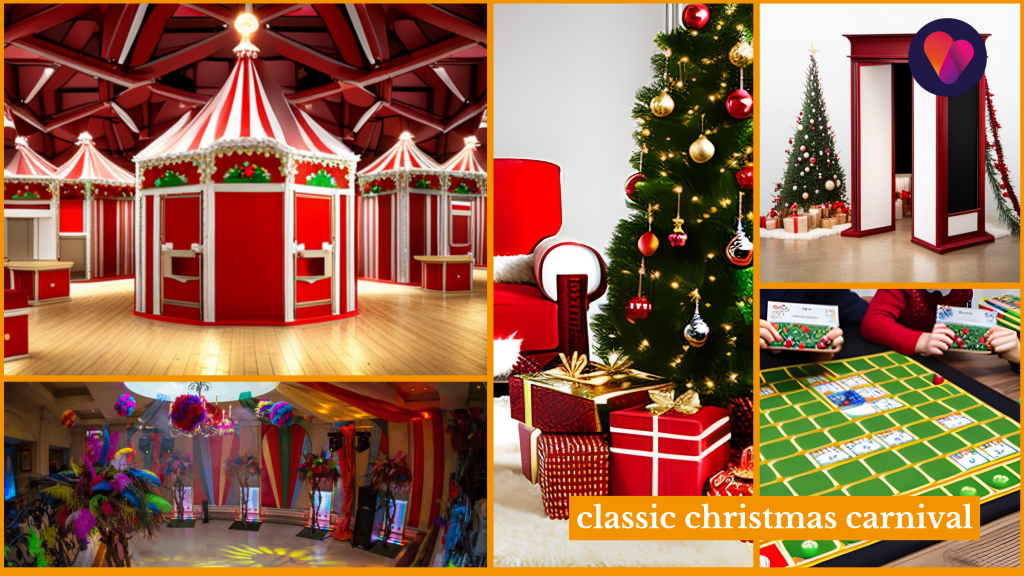 11. A Christmas Candy Wonderland
Indulge your senses in a holiday celebration like no other at our "Christmas Candy Wonderland Party". Immerse yourself in a sugary fantasy world where candies reign supreme, promising an enchanting and unforgettable experience.
Sweet Inspiration:
Candy Decorations: Embark on a journey into a candy-coated dreamland, where vibrant hues and larger-than-life candy props create a visual spectacle. Our expert designers will craft an atmosphere that captures the imagination and delights the eyes.

Candy Craft Stations: Unleash your creativity at candy-themed craft stations, where you can make your own edible masterpieces.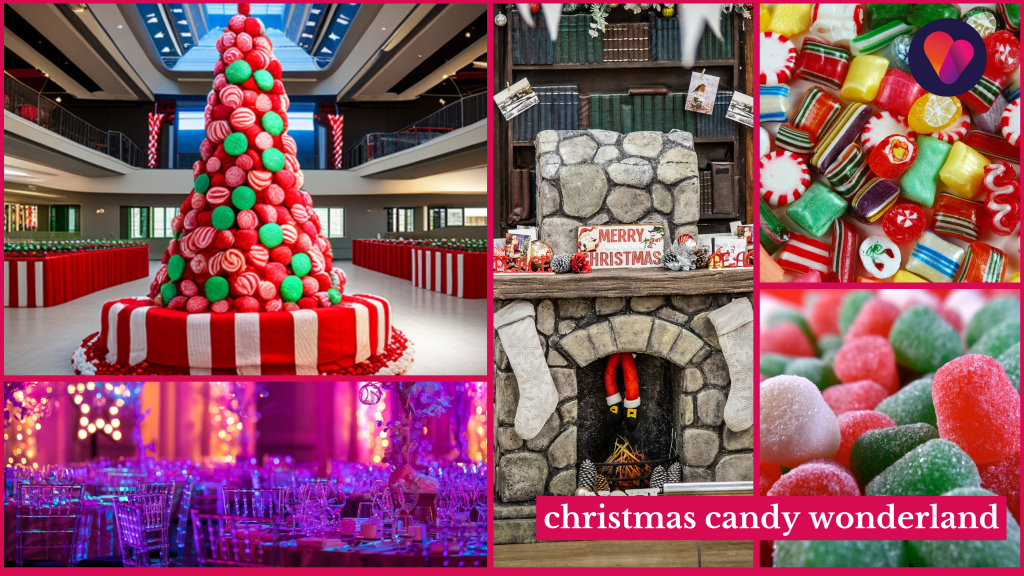 12. Under the Mistletoe Masquerade
Combine masquerade elegance with the playful tradition of mistletoe. Encourage guests to wear masks and enjoy dancing and festivities under mistletoe decorations.
Masquerade Splendour: Step into sophistication with our masquerade-inspired event. From ornate masks to elegant attire, our event is designed to capture the allure and mystique of classic masquerade balls.

Masked Revelry: Encourage guests to mirror their personal style with a festive mask, adding an air of mystery to the festivities. The blend of masquerade elegance and festive flair guarantees a night of charm and delight.

Dance and Festivities: Enjoy a night of enchanting dance and merry-making under the soft glow of mistletoe decorations.
13. A Glowing Arctic Party
Host a blacklight party with an Arctic twist. Use neon colours to create a glowing winter wonderland, and encourage guests to wear white and fluorescent attire.
Arctic Neon Vibes: Imagine being in the Arctic under mesmerizing neon lights. We can create an enchanting atmosphere that sparks the imagination.

Blacklight Dance Magic: Get ready for a dance floor like no other! Neon lights bring the night to life, and your moves become a mesmerizing spectacle under the blacklight magic.
14. Santa's Secret Garden
Imagine Santa's hidden garden filled with magical creatures and plants. Create an enchanted forest atmosphere with lush greenery, fairy light and fairytale decorations.
Enchanted Garden Ambiance: Immerse yourself in an atmosphere that transports you to an enchanted forest. Lush greenery forms a backdrop while delicate fairy lights twinkle like stars. The air is filled with a sense of mystery and enchantment.

Magical Creatures: Imagine encountering fairies, talking animals, and other fantastical beings that call Santa's Secret Garden home. These charming creatures add an extra layer of magic to the event, inviting guests into a world of fantasy.

Fairy Tale Decor: Decorations inspired by classic fairy tales adorn the space. From storybook pathways to whimsical ornaments, every corner is a reminder of the enchanting tales that come to life in Santa's Secret Garden.
15. Christmas Around the World
Celebrate the diversity of holiday traditions by featuring decorations, food and activities from different cultures around the world.
Global Festive Ambiance: Immerse yourself in a multicultural wonderland as decorations inspired by different countries fill the space. From vibrant lanterns to intricate ornaments, each corner reflects the beauty of diverse holiday customs.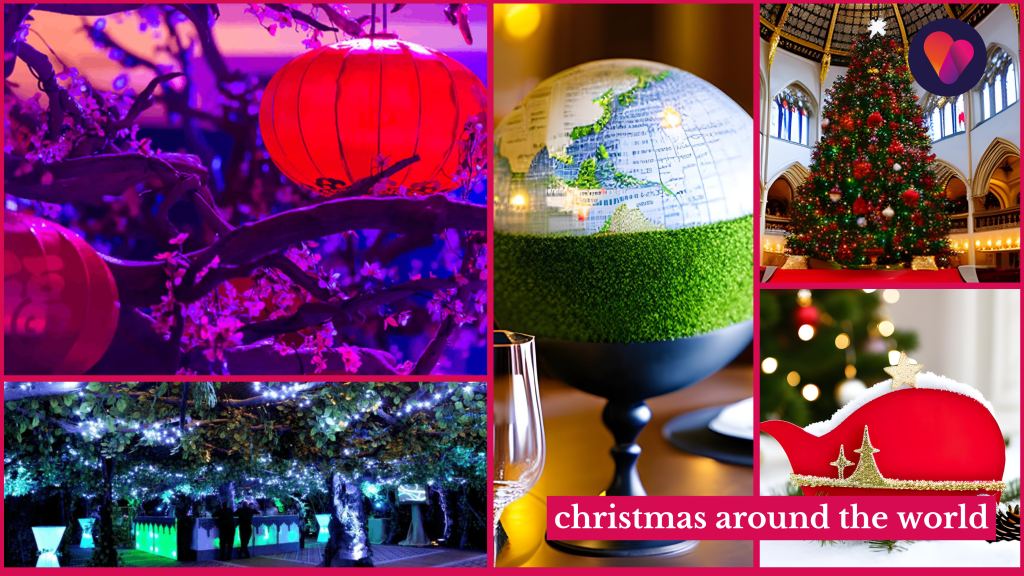 16. Santa's Beach Bash
Break the tradition of a white snowy Christmas by celebrating on a tropical beach. Decorate with palm trees, serve summery treats, and have a blast in your Santa hats (and maybe your swimsuit!).
Sunny Decor Delights: Picture a beachside paradise adorned with palm trees, tiki torches, and vibrant beach-inspired decor. Sandcastles, seashells and starfish motifs transform your space into a coastal wonderland.

Summery Treats Galore: Delight in a feast of tropical delights that cater to your beachy cravings. Sip on refreshing fruity cocktails served in coconut shells and indulge in seasonal fruits!

Capture the Joy: Step into a world of pure joy against a backdrop of lively beach balls that infuse an air of playfulness into the celebration.
17. Pantomime Extravaganza: Unveiling the Magic of Christmas
Prepare to be enchanted as you step into a realm of magic and laughter with our "Pantomime Theme Christmas Party." Immerse yourself in the captivating world of pantomime, where classic tales come to life with a touch of comedy, music, and magic.
Highlights:
Theatrical Wonderland: Transform your venue into a theatrical wonderland, with vibrant backdrops that transport you to the heart of classic pantomime tales. From enchanted forests to royal palaces, each corner of the space captures the essence of timeless stories.

Larger-Than-Life Characters: Be greeted by larger-than-life characters straight out of your favourite pantomime stories. From the brave hero to the mischievous villain, every encounter is a step into a storybook world.
18. Radiant Christmas Light Theme
Step into a shimmering wonderland of light with our "Radiant Christmas Lights Theme'. This dazzling theme celebrates the magic of Christmas lights, turning your party into a mesmerising spectacle that captures the spirit of the season.
Luminous Delights: Transform your space into a breath-taking realm of twinkling lights. Adorn walls, ceilings, and even the floors with an array of colourful and sparkling lights that create an ethereal ambiance.

Glowing Attire: Encourage guests to wear attire that shines as brilliantly as the Christmas lights. From sequins to metallics, everyone will add their own luminous touch to the festivities.

Dance under the Stars: Step onto a dance floor illuminated by thousands of LED lights, creating a starry night experience indoors. Dance to your favourite tunes and witness the lights synchronize with the music.
19. Narnia, Enchanted Wardrobe Christmas Party
Step foot beyond the wardrobe with our Narnia themed Christmas party, where snow-covered forests, mythical creatures, and a sense of wonder await at every turn.
Narnia-Inspired Decor: Transform your venue into a portal to Narnia, complete with snowy landscapes, flickering lanterns and enchanting forest backdrops!

Mythical Creatures and Characters: Encounter mythical creatures like fauns, talking animals, and even the majestic lion Aslan himself. Meet characters that embody the magic of Narnia, adding an extra layer of enchantment to the event.
20. Die Hard Holiday Havoc
Step into the heart-pounding world of "Die Hard" with our "Die Hard Holiday Havoc" party, a thrilling and action-packed celebration that pays tribute to the iconic Christmas movie. Get ready for an adrenaline-fueled holiday bash that will keep you on the edge of your seat!
New York Ambience: Transport yourself to New York City, twinkling lights and New York inspired table centres, the ambiance Eventologists' creates captures the essence of the urban jungle.
Blockbuster Event Decor: We will transform your venue into a cinematic wonderland. Walk the red carpet, pose with life-sized movie cut-outs and enjoy a blockbuster event!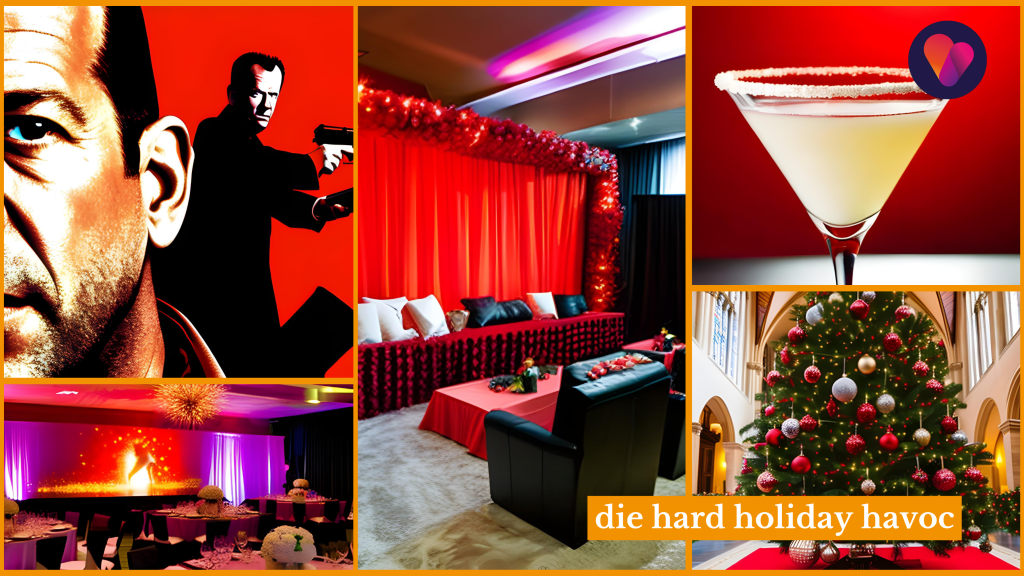 As you can see, there are countless ways to make your Christmas party truly special and unforgettable. Whether you're planning a corporate event or a festive celebration with friends and family, the options are endless. From cosy and traditional to extravagant and unique, there's something for everyone.
To bring your dream Christmas party to life, contact our event management team today. They're here to help you plan, coordinate and execute the perfect holiday gathering that will leave a lasting impression on your guests.
So, reach out now, and let's make this holiday season one to remember!
Please note that some graphics have been created using ai features.
Be the most shining starlet in this Glam & Glitz themed event!
Roaring 20s Party Ideas
Feeling like a classic superstar? Bring on all the fabulousness with a super Glam & Glitz themed event full of sparkle and glamour that is guaranteed to dazzle your guests! Eventologists introduce our Roaring 20s Party Ideas guaranteed to dazzle your guests.
Due to their elegant tone, Glam & Glitz themed events are always extremely popular for many types of occasions – Charity Balls, Christmas Parties, Corporate Events, Themed Weddings, Gala Awards Dinners. Glam and Glitz themed parties are timeless and classical, giving an opportunity for guests to glam up to the max and dress up in sparkle and shine. Everybody enjoys choosing a new sparkly gown or dashing tuxedo, and this opportunity will sure make every guest feel like a star.
A Glam & Glitz evening is also a perfect theme for an Awards Gala Dinner, ensuring your guests feel even more special and valued, and giving the winners the chance to shine as much as the recognition they are receiving.
Here at Eventologists, our team of party stylists with great expertise will be happy to show you many possible visions for this classic event. They will also be more than glad to guide and walk with you through the way of whole creative process if you bring your own Glam & Glitz party ideas to make the event you envision no more a dream but a truly shiny and shimmering reality.
Thanks to our in-house staff and wide array of Glam & Glitz themed props and decorations for hire, we will be able to add all the theming needed to match the mood of such a splendid event, having to your disposition, among others, elements such as:
Crystal chandeliers hanging from the ceiling to reflect the glitz from the mood lighting and the guests.
Crystal curtains to add a sparkle in every corner of the room.
Glitter floors.
Theatrical draping and tablecloths in elegant, metallic colours to enjoy dinner in the classiest manner.
Elegant cups, details in pearls, feathers and garlands, crystal balls, elegant cloches and feather lamps.
The most glamorous of table centrepieces, such as glass pieces, shiny trees, reflecting spheres, candelabra, are ready to shimmer on all occasions.
Enhance the evening with a live jazz band or a super dance troop with the most authentic Glitz & Glam costumes and party the night way in your sparkly stilettos until your feet can't move any more!
Check out our Glam & Glitz Themed Event Packages here! Contact our event management team today and they will dazzle you with their expertise in corporate event planning.
Autumn Decor Party Themes
Autumn Decor Across The UK, Leaving Your Guests In Awe.
When the weather starts to cool down, the leaves change colour and start slowly dropping all over the ground. The crisp sound of stepping on leaves is a sure sign that autumn is here! What could be better than celebrating its arrival in true autumnal fashion? This season brings lots of inspiration, so here we have made a recollection of our favourite classic ideas for an autumn party! The perfect Autumn Decor for venues across London, Manchester, Birmingham, Leicester and more!
1. Summer Festival
Before welcoming the autumn, what about saying goodbye to summer? A late summer/early autumn festival is a fantastic event theme during those early days of autumn where the weather is just the right amount of cool and breezy. You can incorporate into the design of the event the best elements from both seasons, doing something as creative as summer flowers and bunting in autumnal colours with faux trees with autumn leaves and festival arches with maple leaves! Take advantage of the weather and make it an outdoor corporate event with street food huts and outdoor furniture with a Glastonbury style festival stage!




2. Brunch, But Make It Autumn Decor
Brunch is beloved any time of the year, so making a seasonal version of it is undoubtedly a winning idea! Hosting an Autumn Brunch Party leaves open a wide space for creativity, for you can take your favourite elements from a traditional brunch and give them a fun, autumnal twist. Design a menu that includes the favourite flavours of the season, like pumpkin spiced cake, apple cider mimosas, baked fruit casseroles, and more! In terms of decoration, adding beautiful wreaths, pumpkins and warm coloured details would be fantastic, for it creates a wonderful atmosphere while also working as a highly instagrammable setting! If brunch flows into the evening (as they normally do!), why not bring out the mulled wine to gently take you into the cooler night.
3. Secret Garden
As the new season approaches what better way to celebrate the gorgeous colours of autumn by having your very own secret garden set up by us. Open the wooden door to a magical secret garden dressed in autumnal foliage and fairly lights all around to create a warm ambience. Why stop there? Bring an element of fun by adding a beautifully dressed swing for those unforgettable instagrammable moments! Even add LED signs in your chosen colour to highlight the best backdrop opportunities for the evening! Add props to make the area really immersive with wishing wells and foliage swing photo opportunities.




4. Supper Club, Indoor & Outdoor
A traditional dining experience with an outdoors indoor vibe brings you a Mediterranean style outdoor dining experience to your venue. It's a great way to step into a new season with a magical. A sophisticated evening with friends or colleagues surrounded by the warmth of the autumn décor, artificial trees, festoon lights and long rustic tables and benches will create the look. The Long bench style tables can be dressed in logs, candles, autumnal leaves and artificial grass to bring the outside, inside. Seasonal foliage and greenery and an autumnal chandelier can add coats of charm to your venue, setting a perfect scene for a delightful soirée for you and your invitees.




5. Oktoberfest and Bavarian
Instead of going all the way to Germany, you can bring all the fun of the Oktoberfest to your venue! Organize your own beer festival at work with all the best elements from the traditional Bavarian party. From the classic white and blue colour scheme to the delicious snacks like pretzels, sausages, potatoes and more, and of course, the unavoidable and highly expected booze! Get a fun selection of different kinds of beer and along with rustic Bavarian décor and props as well as barrels and rustic wooden furniture to create the look. Surprise guests with an Oompah band, and, if people are on board, you can all get dressed up in traditional costumes for an extra layer of fun!
6. Spooky Halloween Fun
Each year, celebrating Halloween becomes more and more popular in the UK, and with good reason! This festivity brings along lots of fun, so it's a given that hosting a Halloween Party is a fantastic idea. Classic orange and black need to be present in the setting of the venue, along with ghosts, witches, vampires and more! Keep it classy for a Halloween Corporate event with autumnal floral décor and pumpkins along with some touches of orange lighting and touches of wood. The menu can also be more refined and thoroughly designed; keep the classic candies and chocolates, but spice it all up with fun cocktails and interesting dishes! Create a playlist with Halloween-ish tunes and get everybody on board with costumes and there you have it all set for a great party!




7. Gold Party
As the leaves turn orange and the weather gets gloomier why not bring some glitz and glam by hosting a gold themed party! Set the mood with soft glow lights all around the venue that'll leave a sparkle in your guests' eyes. Add touches of gold throughout whether it be: chairs, table centres, foliage, candle holders or even more gold gilted props… such as gold photo opportunities, gold arches or even gold chandeliers in the ceiling. End the night with a BANG and set off fireworks to amaze your guests or even add a spectacular touch of sparklers to add that extra glitter and sparkle.




8. Enchanted Woodland
An Enchanted Woodland themed party is a perfect option when it comes to an Autumn event, Faux trees, stunning foliage tunnels, foliage walls and foliage ceiling chandeliers will create a magical enchanted forest themed event in your venue. For it can capture the most whimsical season in the year, nothing beats creating a woodland theme. With a dark and rustic feeling that encapsulates a trip into the fantasy, adding in forest of fairies, pixies and many special forest themed entertainment will be truly magical. A truly immersive theme, this option would be a magnificent choice for those who want to leave their guests in awe!




9. Neon Jungle
If you want to bring something truly unexpected to the Autumn party scene, a Neon Jungle theme might be perfect for you. Bright colours, different textures, LED light furniture, neon light props and vibrant decorations will bring the autumnal feeling to your party. You can go wild with this theme with lots of foliage, animal props and jungle themed décor to create the look. This theme will transform your venue into something roar some for your guests to have the time of their lives in the neon jungle!




10. Classic Autumn Gala
Or, if you want something traditional with a seasonal twist, you simply can't go wrong with a classic Autumn Gala party! Bring all the glamour and the glitz from a black-tie party to the season with an autumnal colour scheme. Accompanied by seasonal flowers and foliage that can enhance the scene in a way that is both themed and delightfully traditional. Design a menu that showcases the flavours of the season in a fancy way. With all these elements combined, you are set for an unforgettable gala that your invitees will undoubtedly love to attend!




Ready to Transform Your Space? Get in Touch!
If you're excited to bring the magic of autumn into your home, we're here to help. Our team of experienced designers is passionate about crafting spaces that reflect your unique style and the beauty of the season. Contact us today to discuss how we can create a warm and inviting ambiance that you'll cherish throughout autumn and beyond.
Embrace the season's charm. Contact us at info@eventologists.co.uk to get started. Or fill out our contact form here.
13 Classic Yet Unique Ideas for a Winter Party
Create a magical Christmas with Eventologists' unique ideas for a winter party! When you are planning to host a party in the middle of the winter, there is a plethora of ideas for you to take inspiration and create a stunning atmosphere in any venue where you happen to be. After all, 'tis the season to give and celebrate and be bold, so why not do it in the best fashion? Let's not lose any time and slide headfirst into our list of lovely Classic Ideas and Props for a Winter Event so you can find all your favourite ones!
A Magnificent Winter Wonderland Entrance
If you want to make a great impression, you might as well make it big ever since the moment your guests are about to set foot in the venue. Having a grand entrance is a fantastic way to let guests get in the wintery mood and also a great way to give a sneak peek of what's in store for the evening. There are lots of different ways to set your magnificent entrance: a snow cave tunnel, a white wintery foliage entryway, the gates of an ice palace, an arrangement of fairy white and blue lights… all the possibilities are out there for you!
Winter Greenery and Foliage
While floral arrangements and greenery are usually more associated with the spring and summer seasons, there is a special kind of charm when it comes to winter season foliage. Snowy branches, pinecones, Christmas trees and frozen flowers bring a particular, dashing enchantment with them that is impossible to replicate at any other time of the year. The crisp white and silvery tones make for a look that can be equally elegant and luxurious as it can be magical, being the perfect touch of decoration to add to a both a classy or a whimsical winter event. These elements are truly versatile, as they can work as a grand entrance, as venue decoration and props, as well as they can be the pivotal piece in a ton of marvellous centrepieces. Even if you are not totally sold on the winter foliage, you can always take inspiration from the colour scheme and get traditional floral arrangements in winter tones, making a smart fusion of both winter tropes and classic decorations!
A Blanket of Snow
Grab your sleigh, take the classic route and go fully snowy at your party! Winter and snow go hand in hand, so why not take advantage of it and make your event a snowy paradise? You can make your venue look like it got caught in the middle of a gorgeous snow day, adding different elements such as snowed trees, fake snow covering the décor, the tables, the floor, and draping the room in a sheet of frost white. You can also add beautiful snowflakes everywhere, to big ones hanging from the ceiling to create a magical atmosphere, to little ones to show table numbers or any other pieces on information you want to showcase, just let it snow all over the place!
An Icy Kingdom
Freeze your venue and turn it into an ice palace, giving it a sharp, whimsical look. Even though snow and ice could go hand in hand, the former tends to be associated with a cosy mood, while the latter has a more mysterious edge to it, allowing for regal, superbly elegant looks. Bringing this element to your venue would be a magnificent way of giving winter a royal, stunning look, whether it be with actual ice, in the shape of sculptures and centrepieces, or with decorations made from materials that guard a close resemblance to it, like hanging stalactites, fountains, or chandeliers! The right lighting can be your best ally when it comes to transforming your venue into a fantasy of ice, for it can make it all shine in the right way. Also, if you want to be truly daring and innovative, you can add a unique touch to your party and make it an Ice and Fire theme! This style goes into fantasy territory instead of classic winter, but it sure will be a hit with those that love to step out of the ordinary!
Fairy Lights Everywhere
Fairy lights are synonyms with Christmas, and they can definitely help set the scene for a wintertime event, as they can make a room look as cosy as they can make it look magical, which are two undeniable characteristics of the season. They are truly versatile and easy to incorporate into any setting in many different ways, such as in a traditional way of decorating trees, dangling from the ceiling, or even as full curtains helping create different ambiances in the room.
A Christmas Story
Or you could go full Christmas and transform the place into a holiday fantasy, with Christmas lights and Christmas decorations filling up the room! Corporate and formal events don't usually follow this route, so this would be a great way to surprise your attendees by making Christmas day arrive early. You can start by picking a classic red, green and white colour palette, and from there you can get creative with how much of the festive spirit you want to incorporate into your party. Christmas trees, fairy lights, candy canes, snowmen, garlands and bows, bells, candles, snow globes, holly and mistletoe, they are all there for you to choose your favourite ones! Be extra fun and make your menu a collection of holiday classics, and you are guaranteed to give a party for the ages!
Black Tie Party
Parties in the winter season are known to be perfect for glamour and elegance, for everybody loves to don their best gala outfits on the occasion of a holiday event, so, this might be the right time to design that glitzy event you've been dreaming about. Make it a classic, glamourous, black tie occasion in the middle of the winter. Add dazzling seasonal details that make the party stand out from a regular one, like subtle touches of fake snow, ice sculptures, and hints of silver everywhere to make the atmosphere chilling in the best, most elegant way!
Hollywood Holiday
Or, instead of a classic black-tie party, you could give the concept a twist and turn it into a Hollywood wintertime fantasy! Turn the glamour up and add classic, old-time Hollywood details to your event. Bring out inspiration from classic movies that take place during the wintertime and holiday season, like Love Actually, Home Alone or Die Hard, and add hints from them to your décor and concept. Mixed up with classic Hollywood and holiday elements, it is guaranteed that you will have an unforgettable event for the ages!
Themed Winter Fantasy
If you feel that small nods to pop culture are not enough, you can always go full themed on your event! There are countless winter and Christmas movies and books to base your event in, and this is a perfect way to completely immerse your guests in a fantasy world! You can go the whimsical way and transform your venue into Whoville to have a Grinch party, or follow the fantasy, magnificent route that leads to Narnia, creating a stunning and magical atmosphere! The possibilities are endless, you just need to choose your favourite world and any venue can be transformed into a magnificent new world!
Journey to Narnia
The classic tale of C.S. Lewis is a timeless favourite when it comes to themed winter and holiday parties, and for good reason! You can transform your venue into the enchanted world of Narnia and take your guests there for a whimsical and splendid time, surrounded by forests, knights, magical creatures and friends, and the spirit of the holidays. A truly immersive theme, a Narnia theme is sure to be loved by everybody.
Party in a Snow Globe
To keep things cosy and picture-perfect, you can throw a party inside a snow globe! Well, not really, but you can make your venue space look exactly like one, with the help of draping, lighting and props! What could be more immersive and awe-inspiring than gathering in an atmosphere that feels as lovely as snow globes look? This truly unique setting will give you tons of fantastic photo ops for your attendees to enjoy, and maybe you could even have fake snow fall at random, to make the experience all the most magical and unforgettable!
Cosy Little Christmas
If you want a theme that diverts from the usual glamourous and glitzy atmosphere that reigns in holiday corporate party scene, you might want to take things in a completely opposite direction and go for a Cosy Christmas feeling! Instead of adding layers of glitter and shiny things, go for a cosy and warm mood. Yule logs, bonfires, windows covered in snow, classic colours and garlands in knitted fashion and flannels, hot drinks and roasted chestnuts, all of those things can make a perfectly cosy ambiance, making guests feel at home. Undoubtedly, a creative and original twist for a holiday party.
Après Ski Celebration
On the other hand, if you are looking for an option that does not rely on the conventional holiday style, an Après Ski themed party could be the ideal choice for you, for it blends fantastically with the winter season, without being Christmas related. Transform your venue into a glamourous yet cosy ski lodge, set a dressing code for your invitees, and everybody will be transported to a truly fun and immersive atmosphere!
Alice in Wonderland – A Unique Christmas Party Theme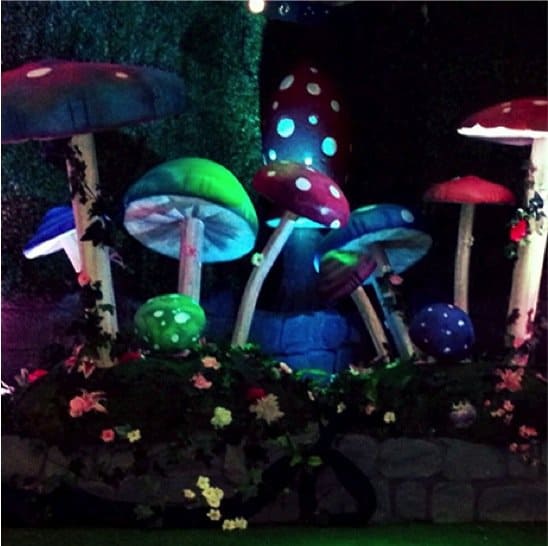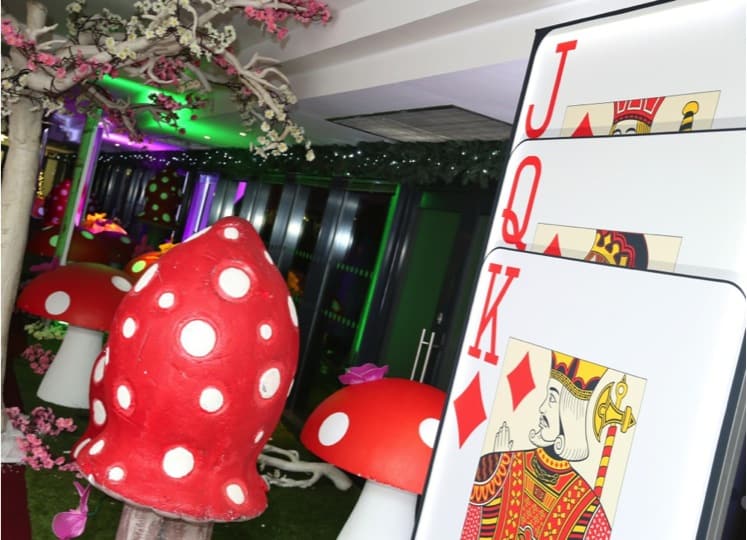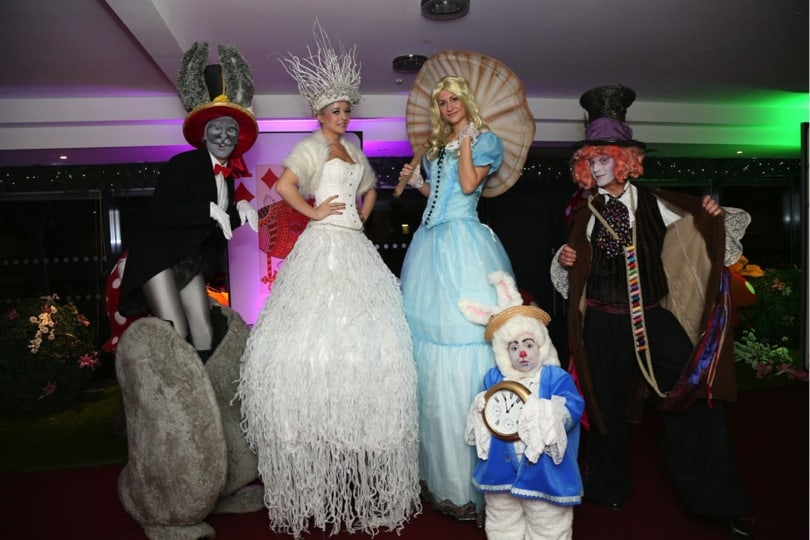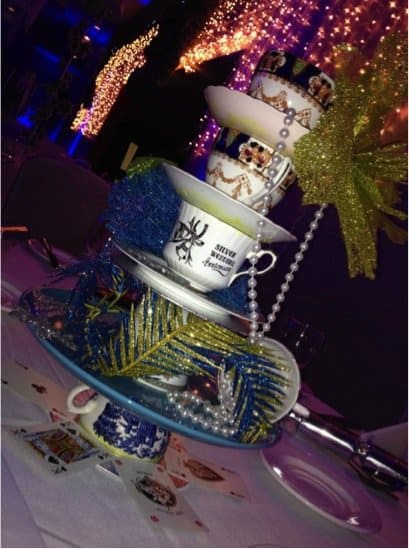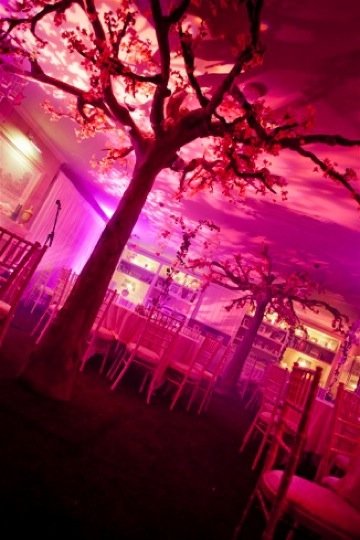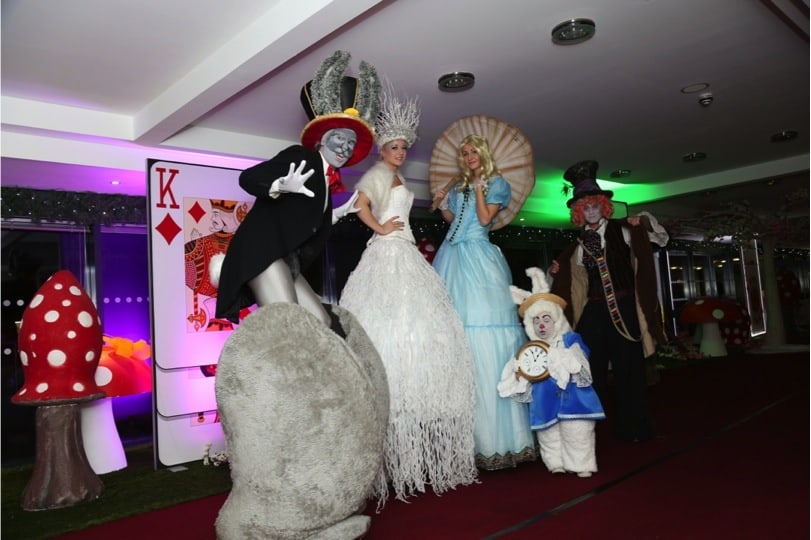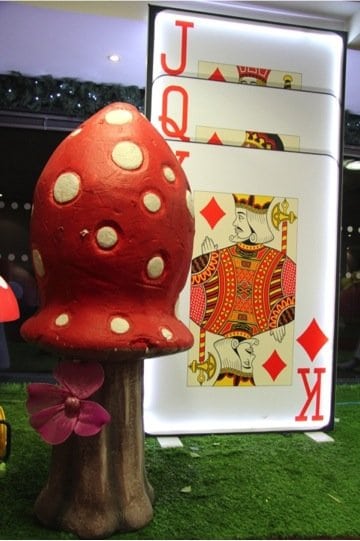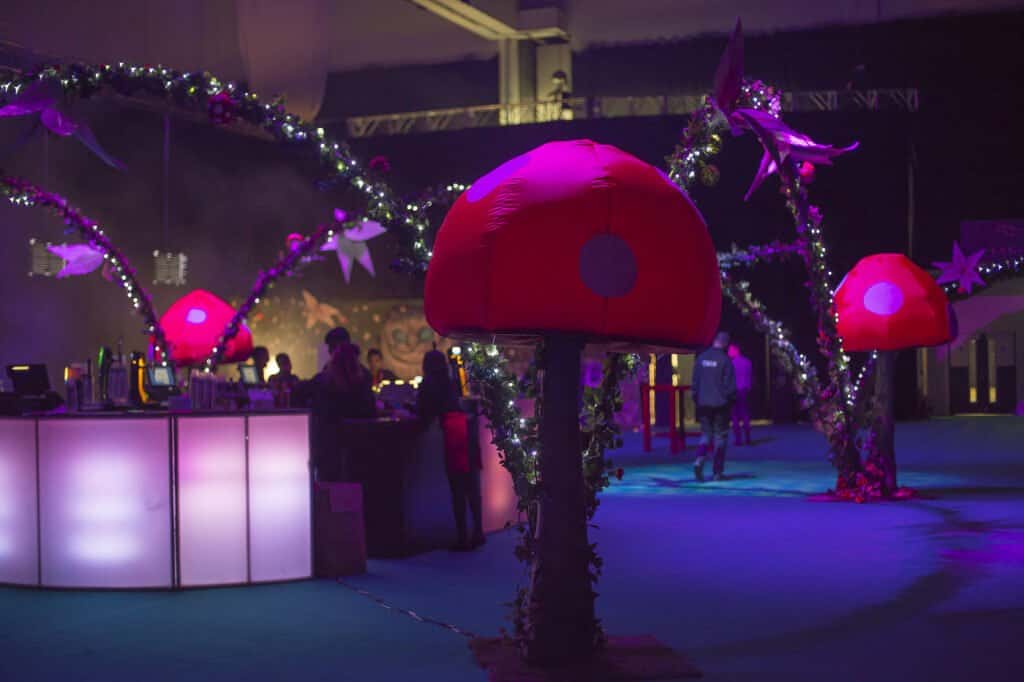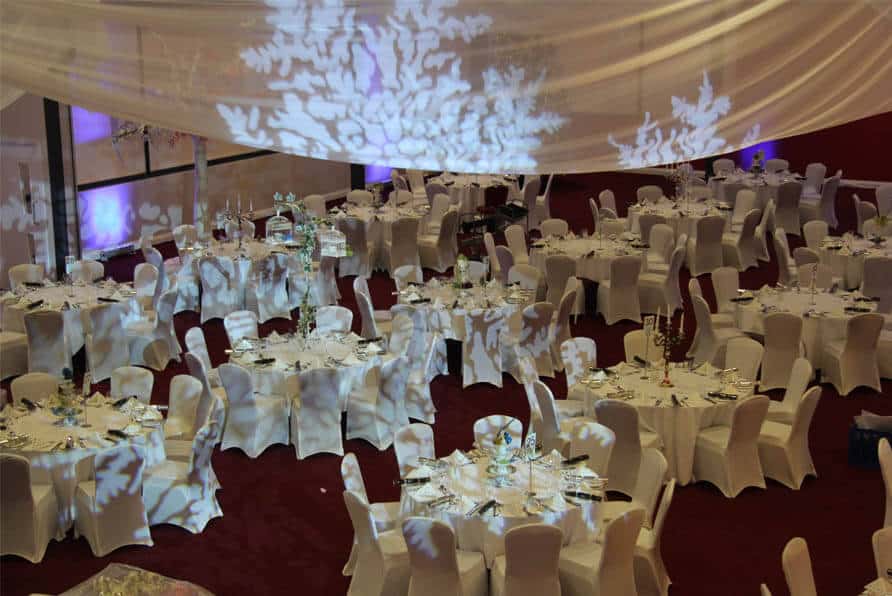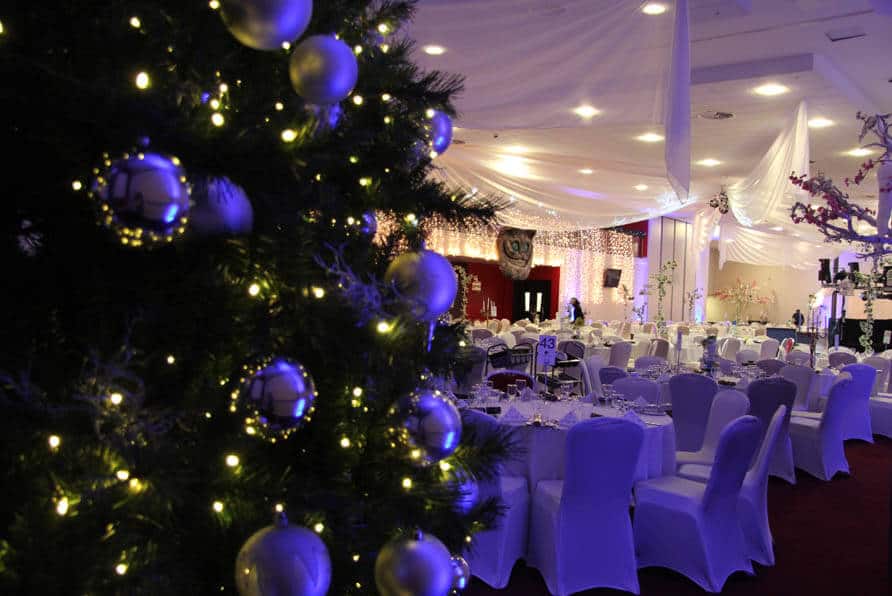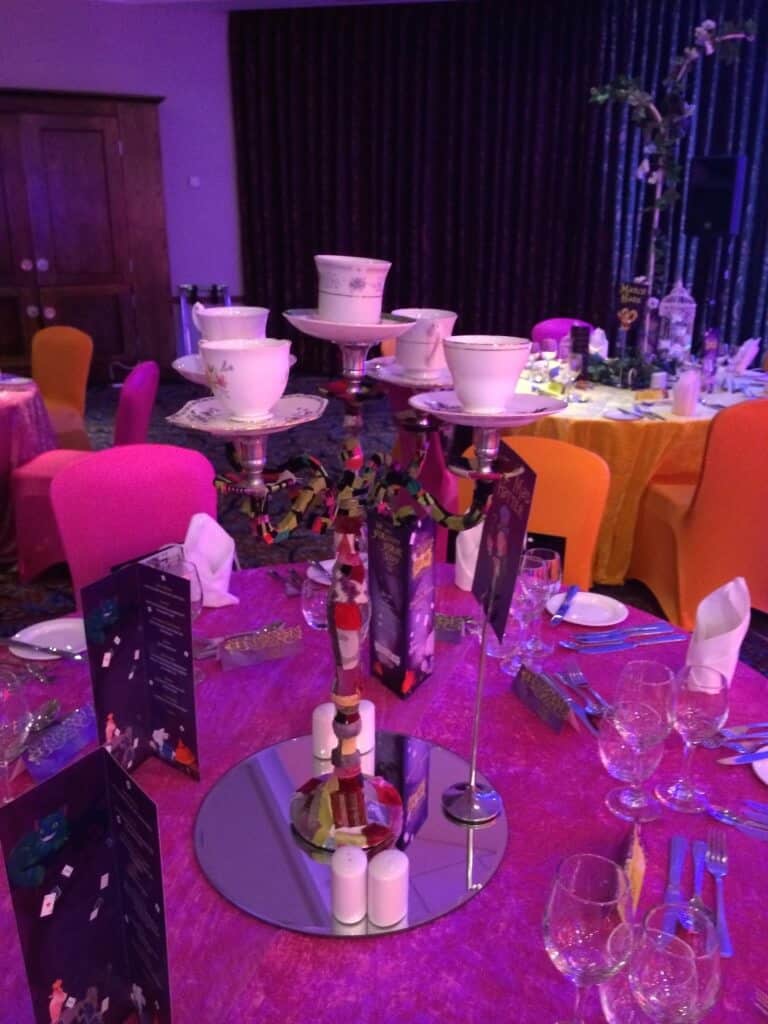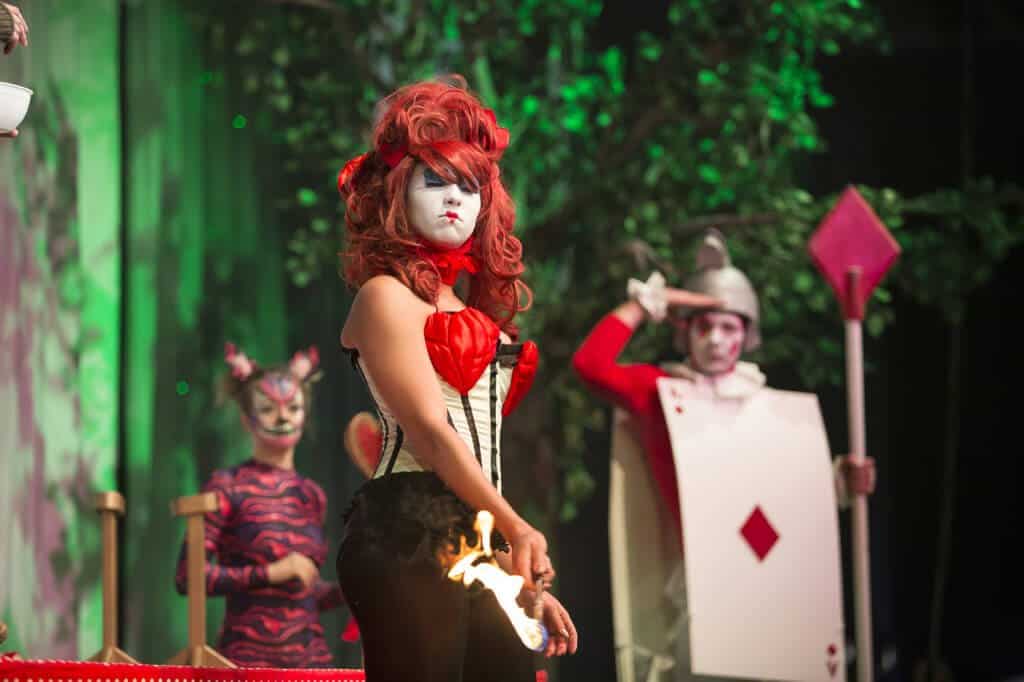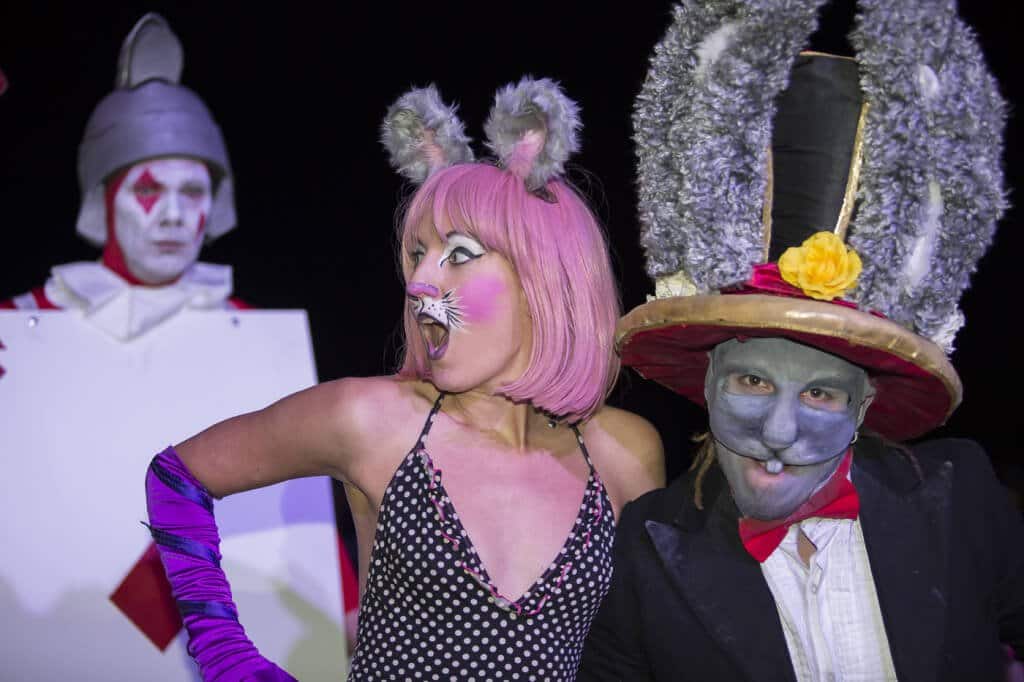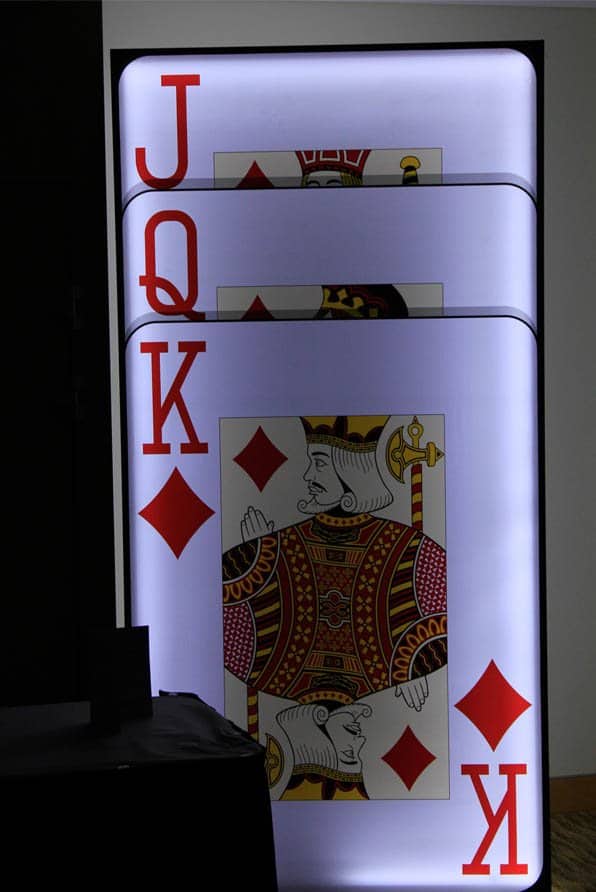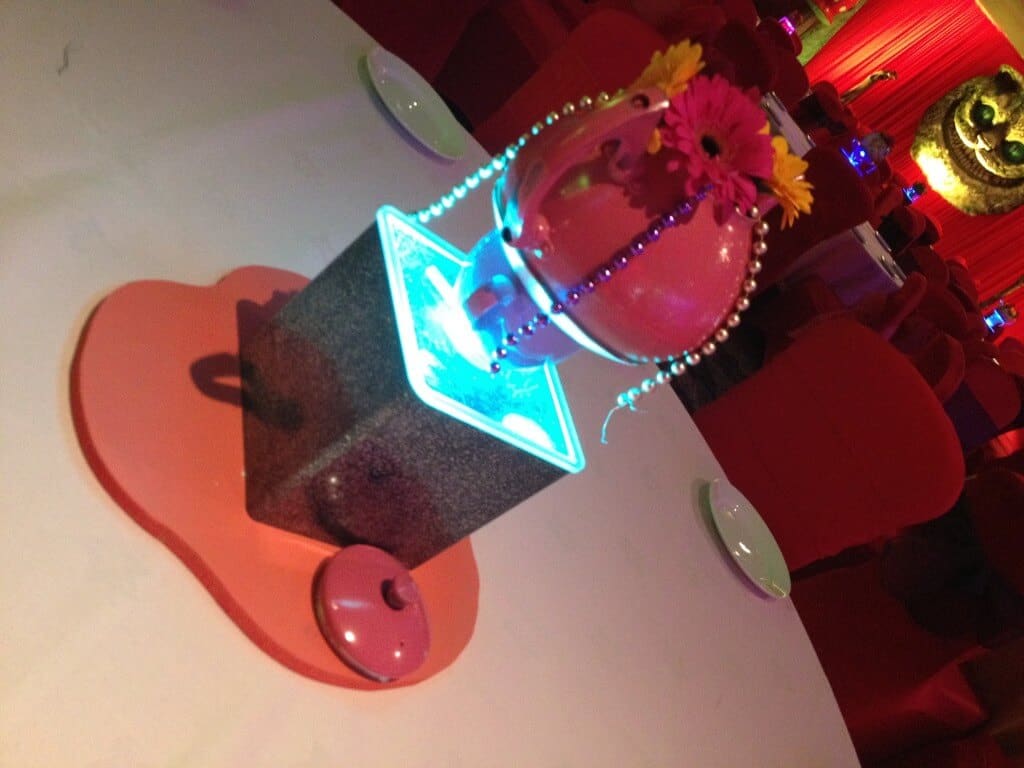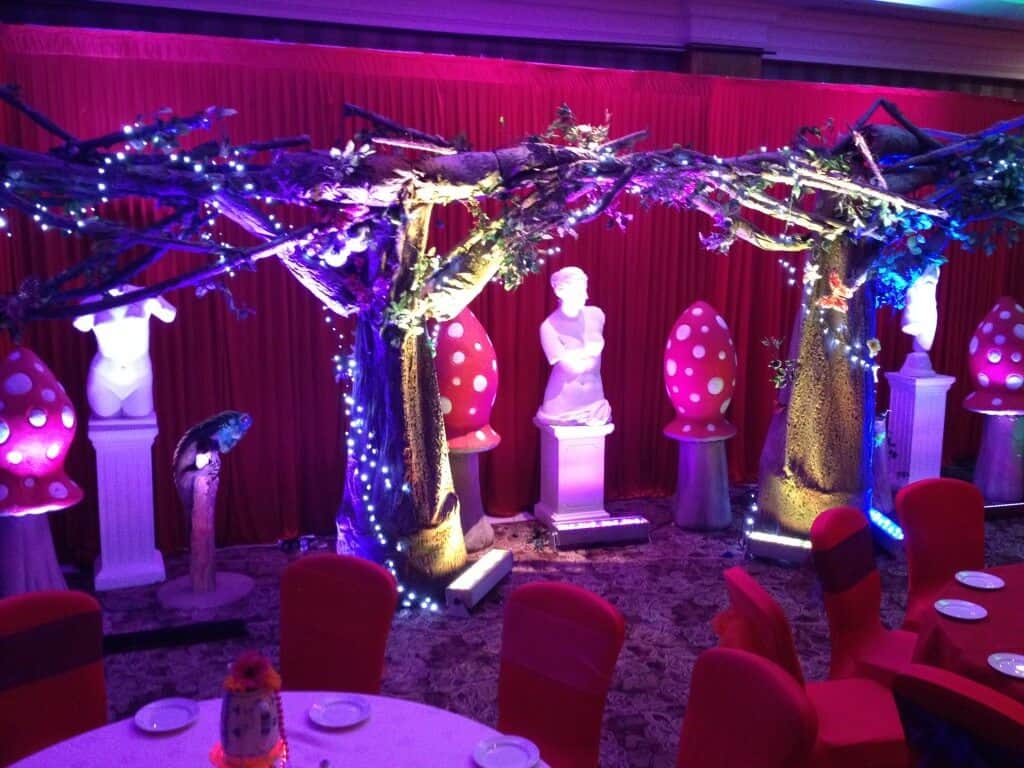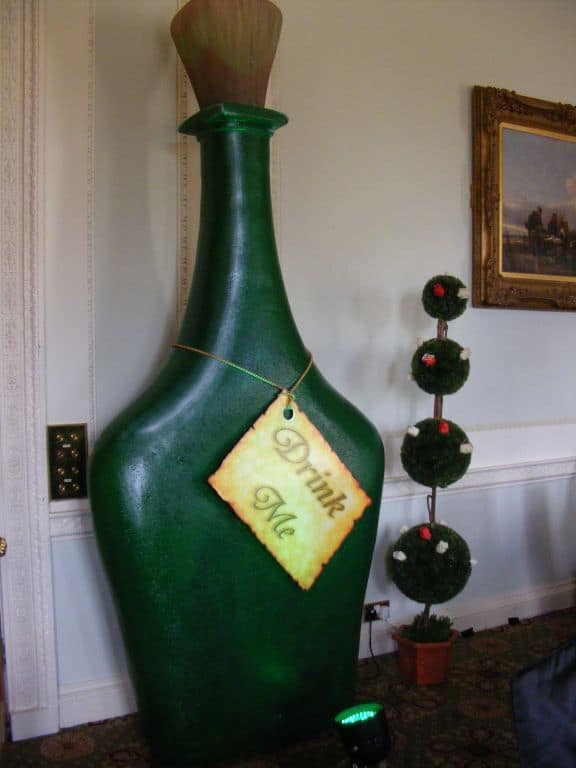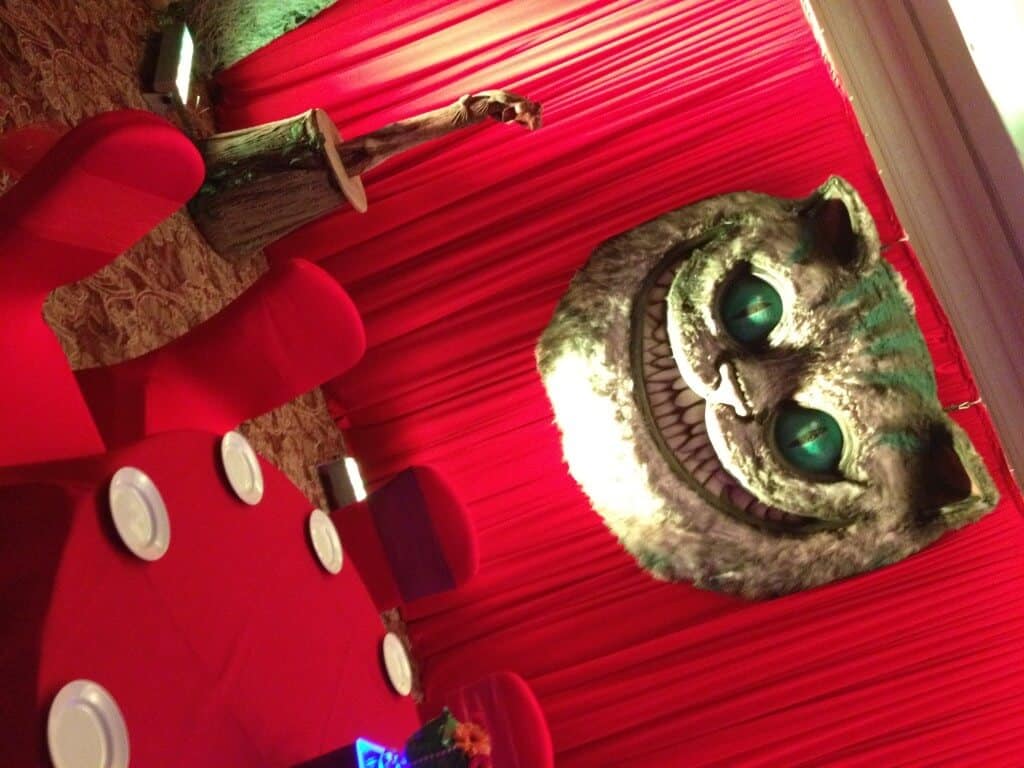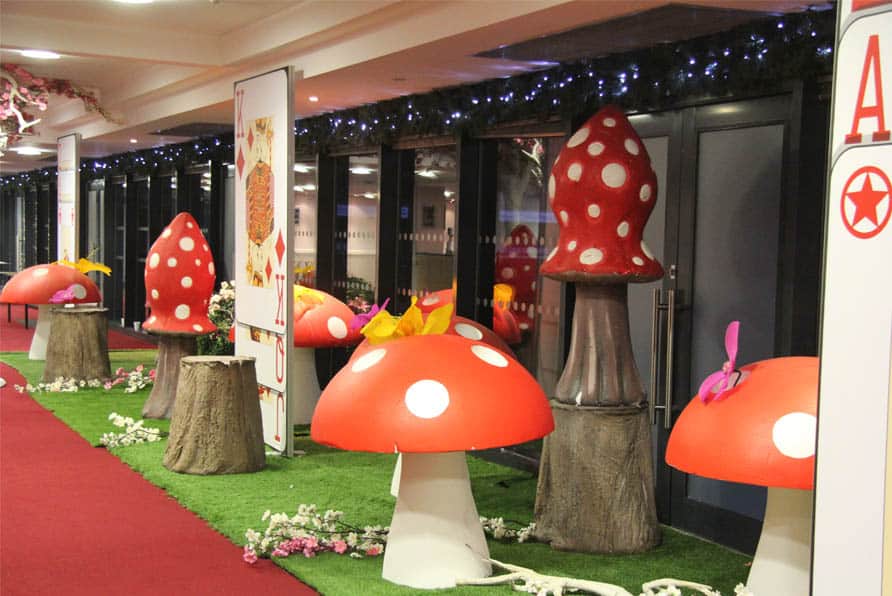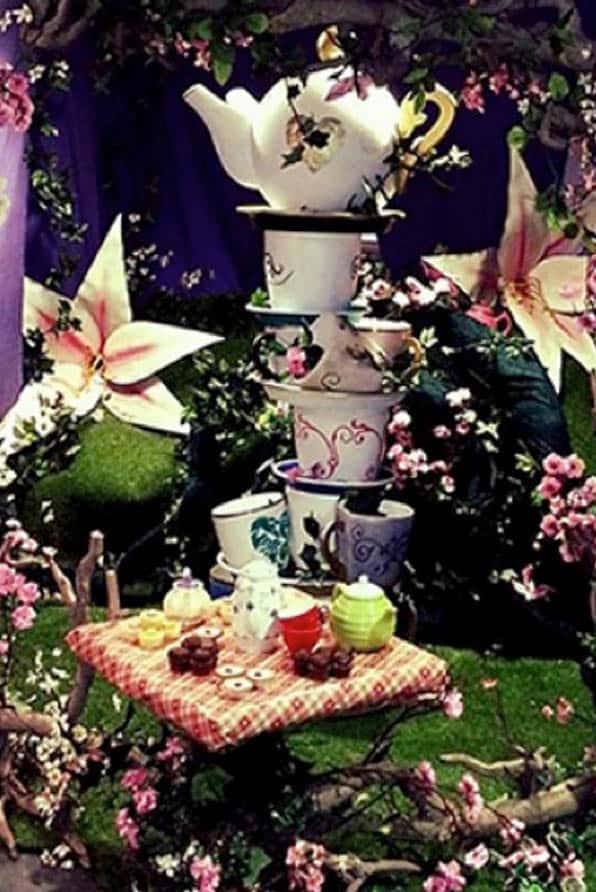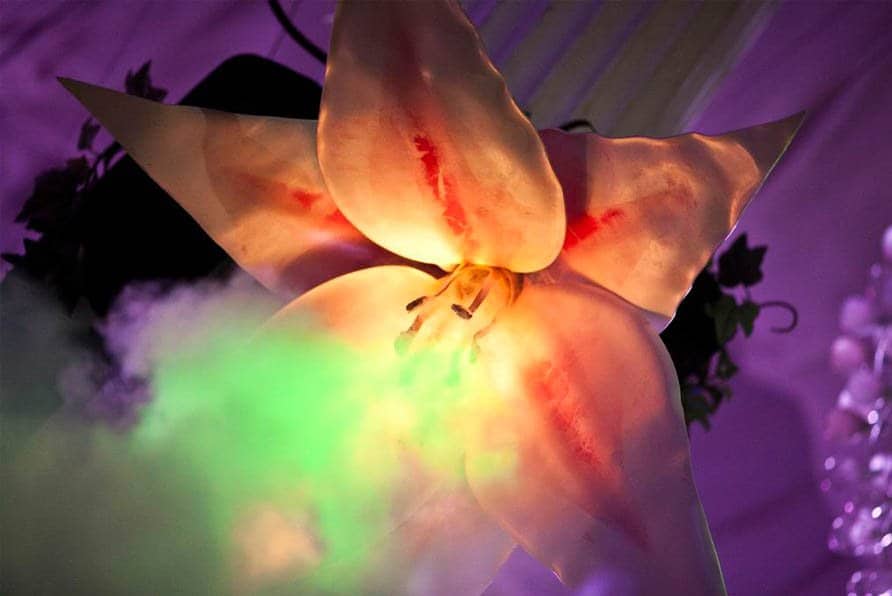 Alice-Giant-Mushrooms-1024x682
Alice-in-Winterland-Themed-Event
Alice-in-Wonderland-Centre-Pieces-768x1024
Alice-in-Wonderland-Characters-1024x682
Alice-in-Wonderland-Entertainment-1024x682
Alice-in-wonderland-playing-cards
Alice-in-Wonderland-Table-centre-and-Cheshire-Cat-1024x768
Alice-Tea-pot-table-centre-1024x768
Alice-woods-uplit-1024x768
Giant-Cheshire-Cat-1024x768
Giant-Playing-Cards-Lightbox-2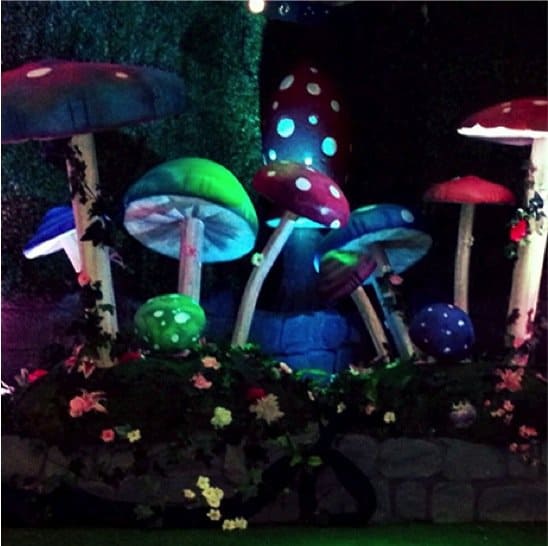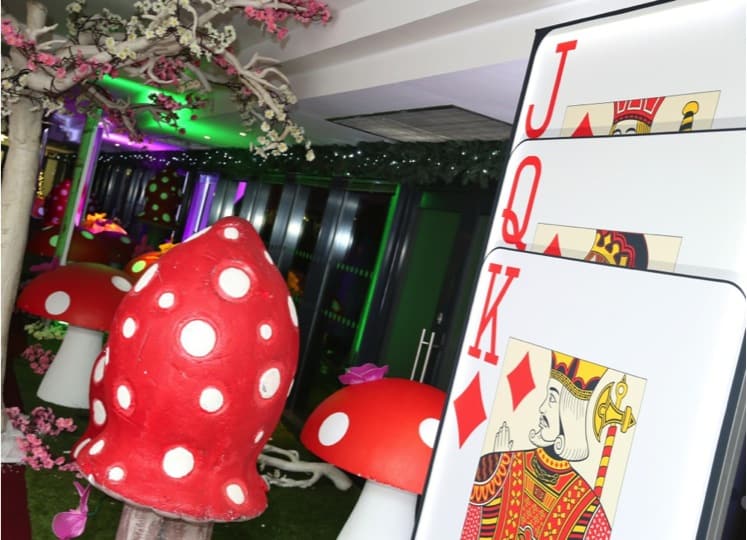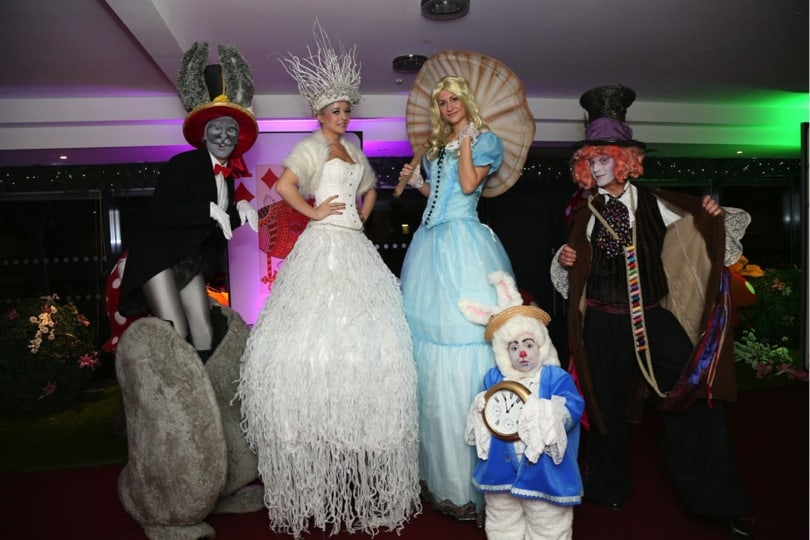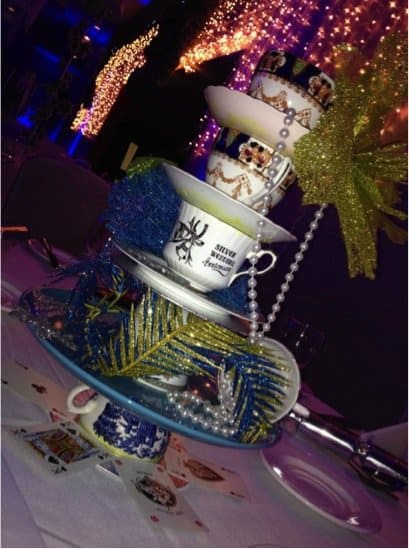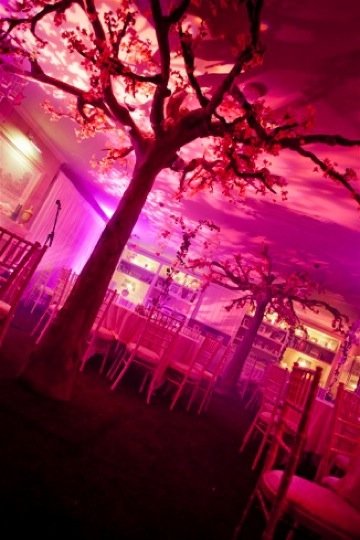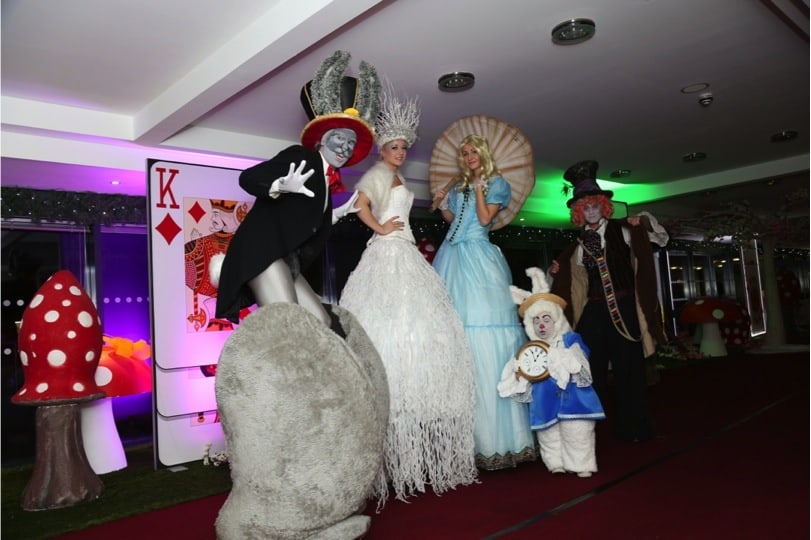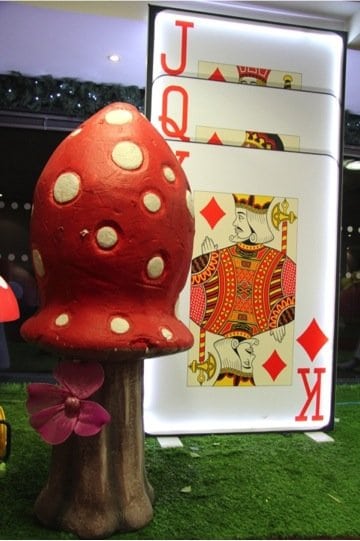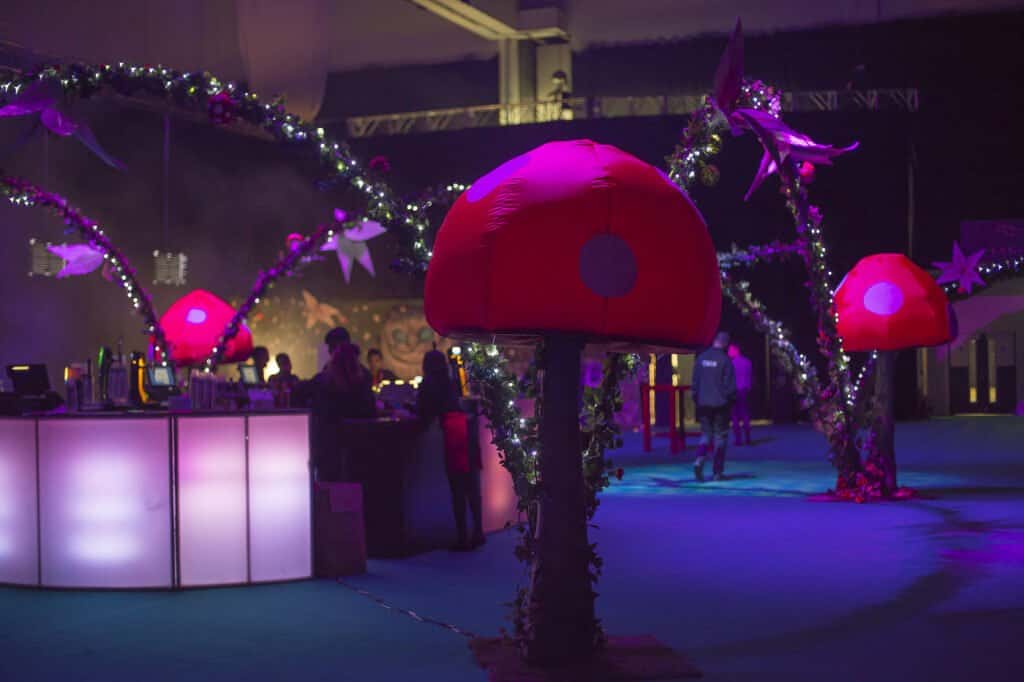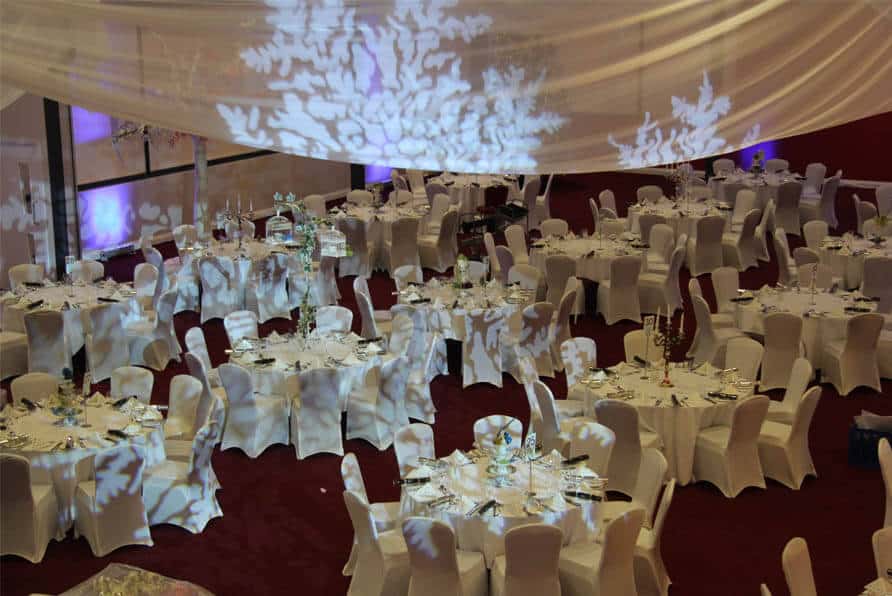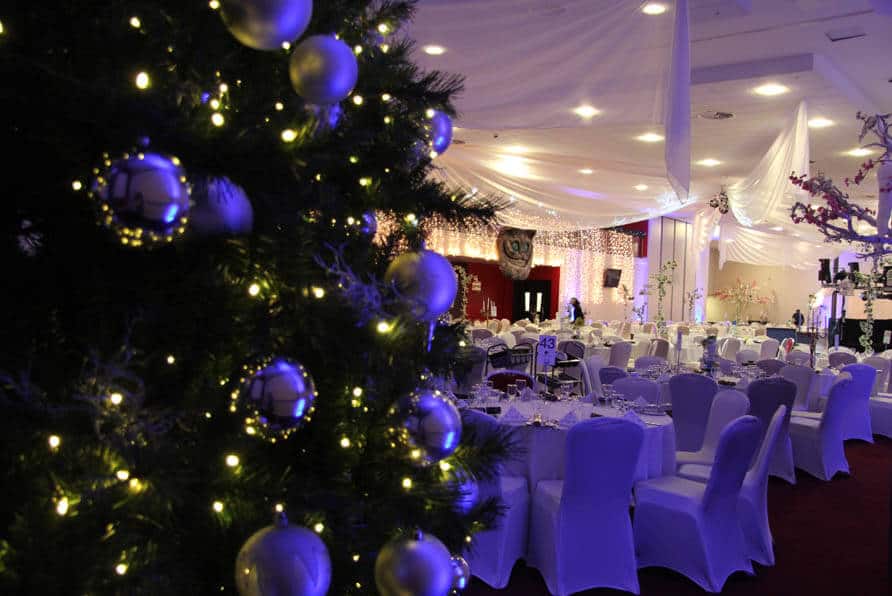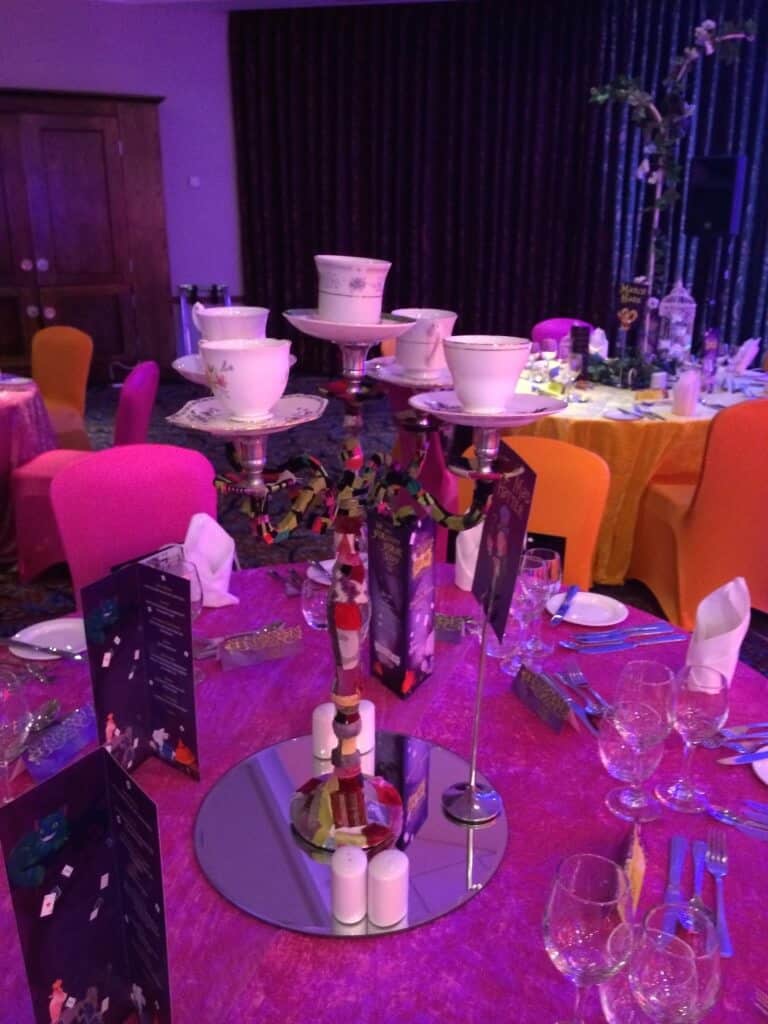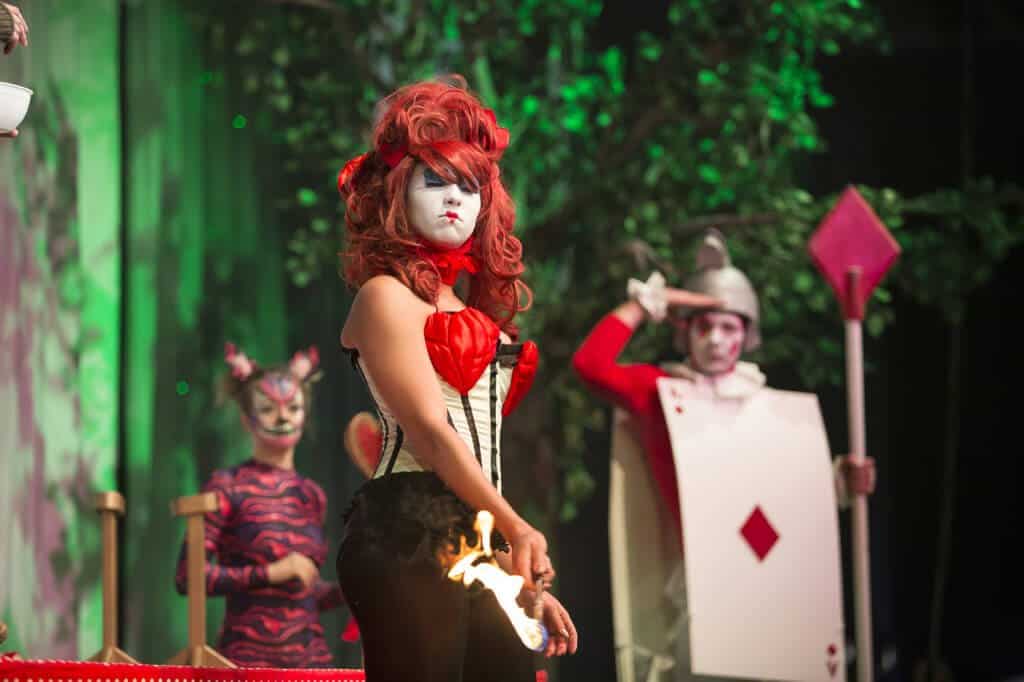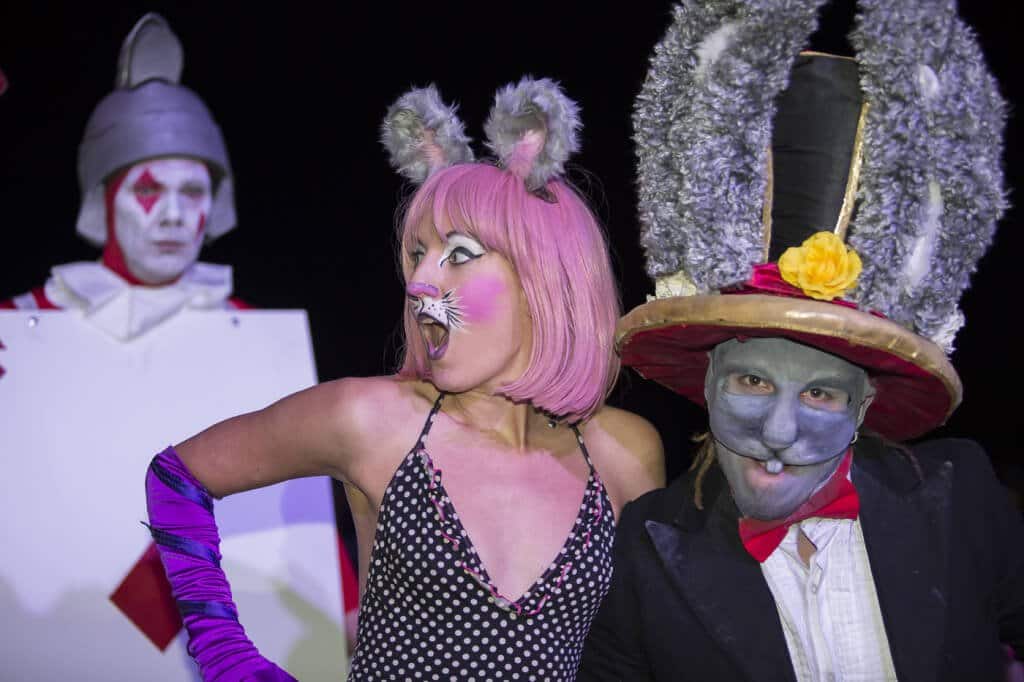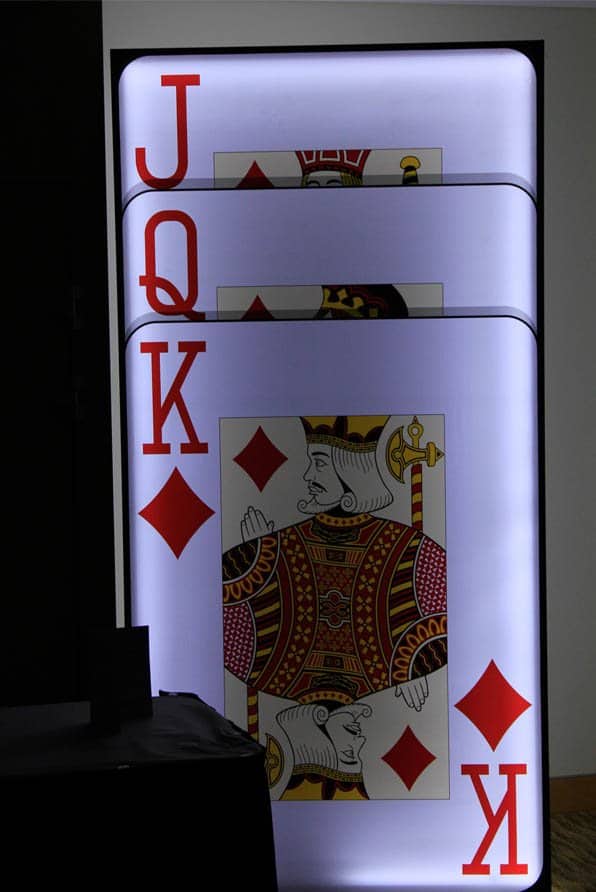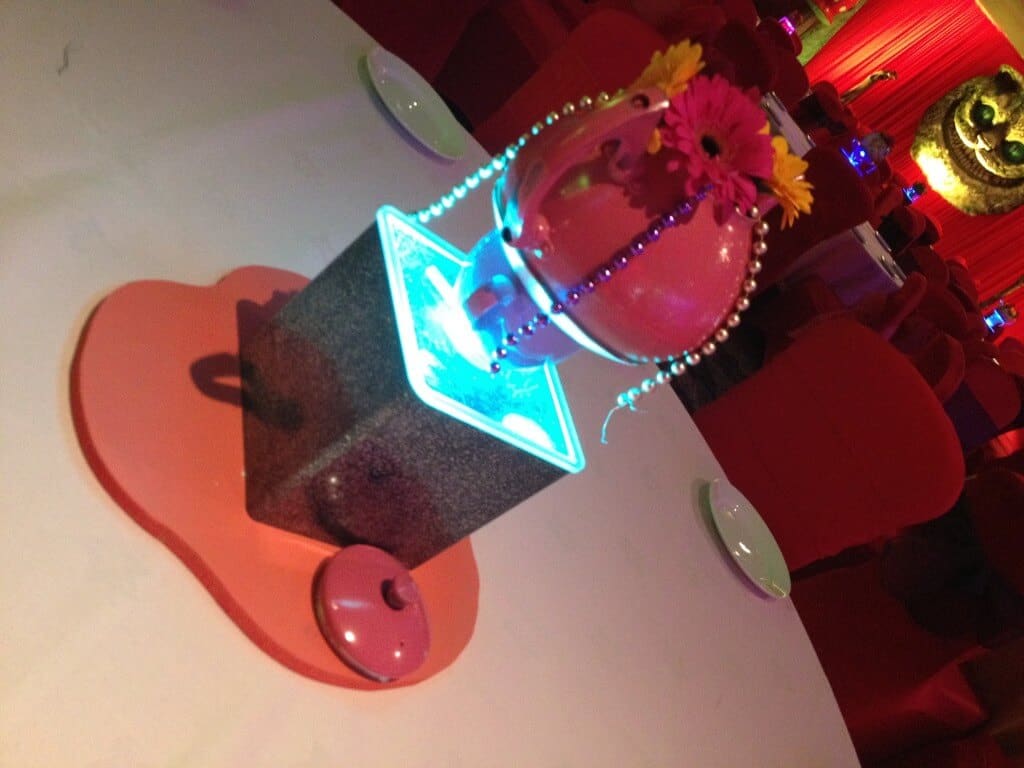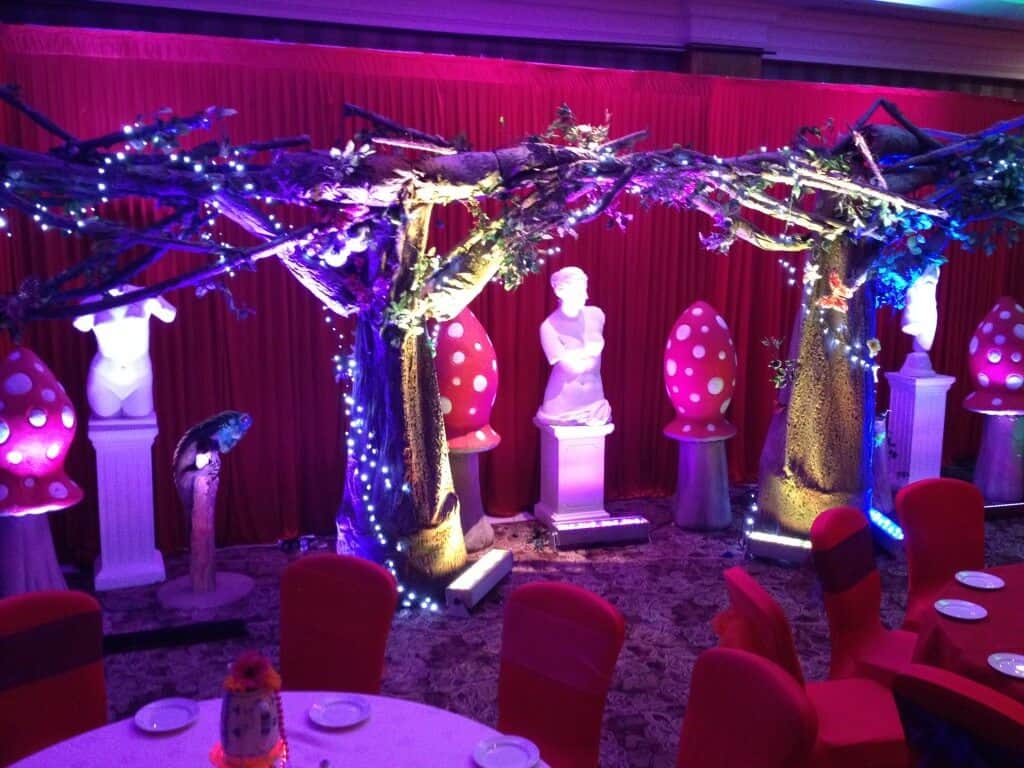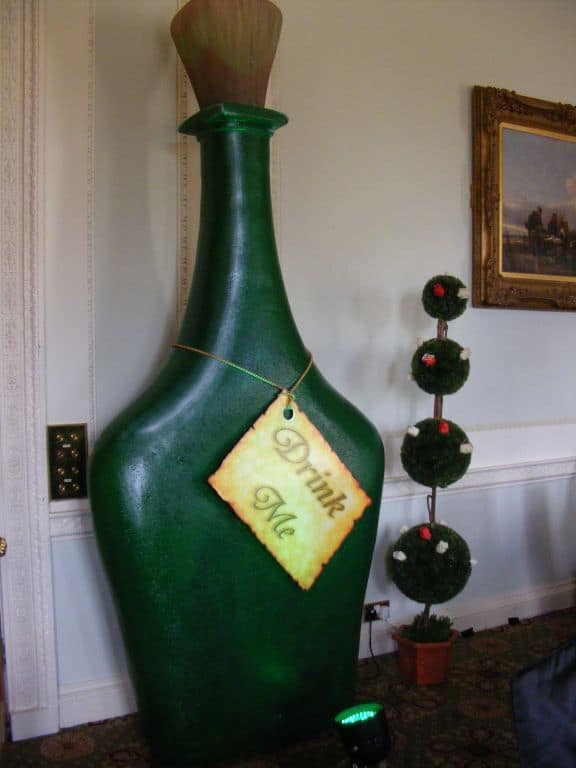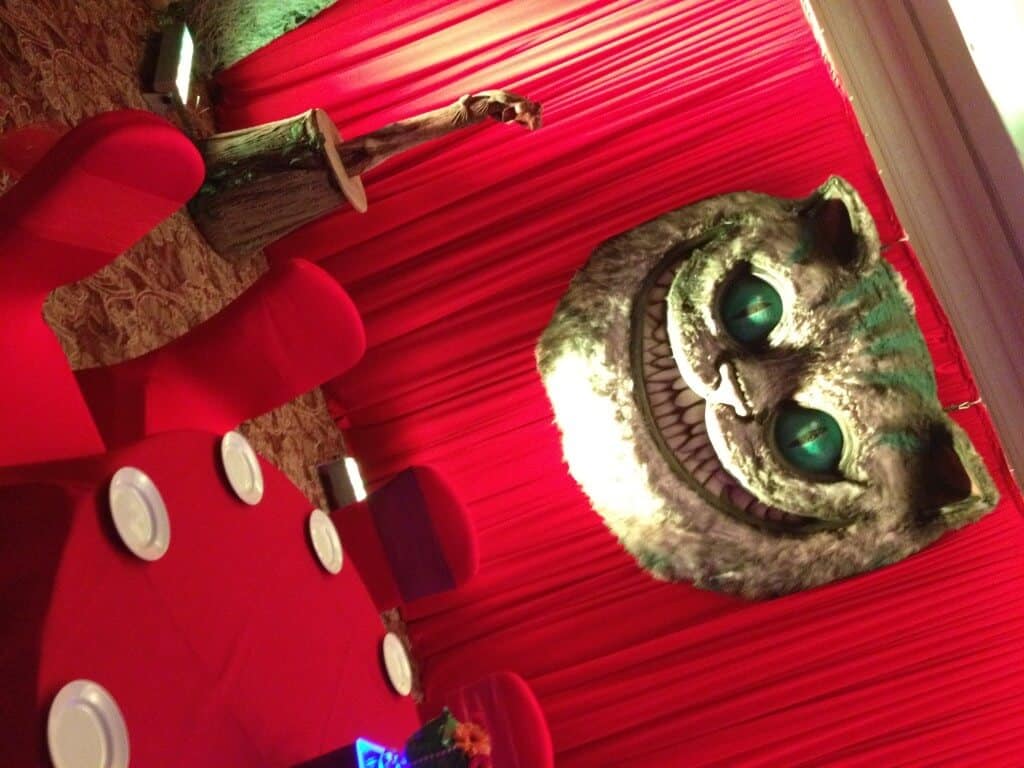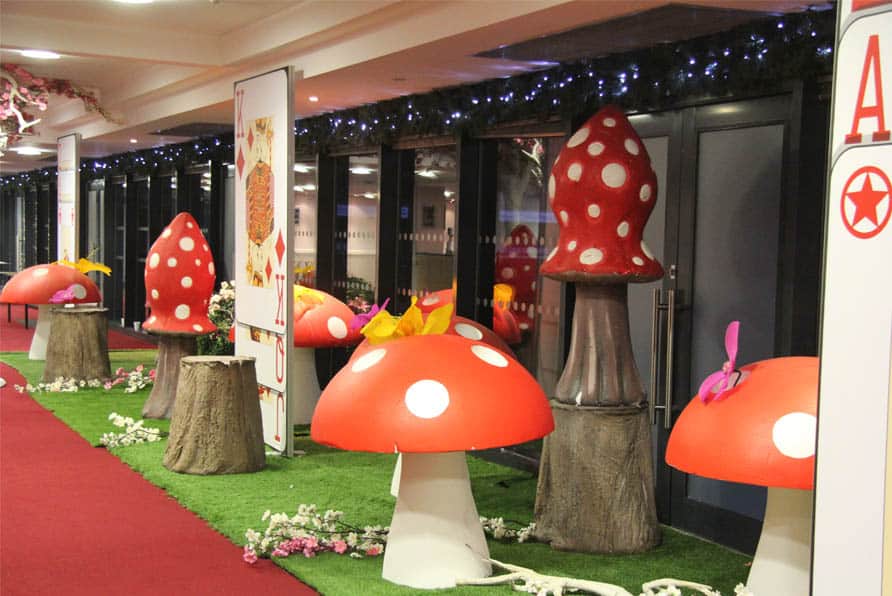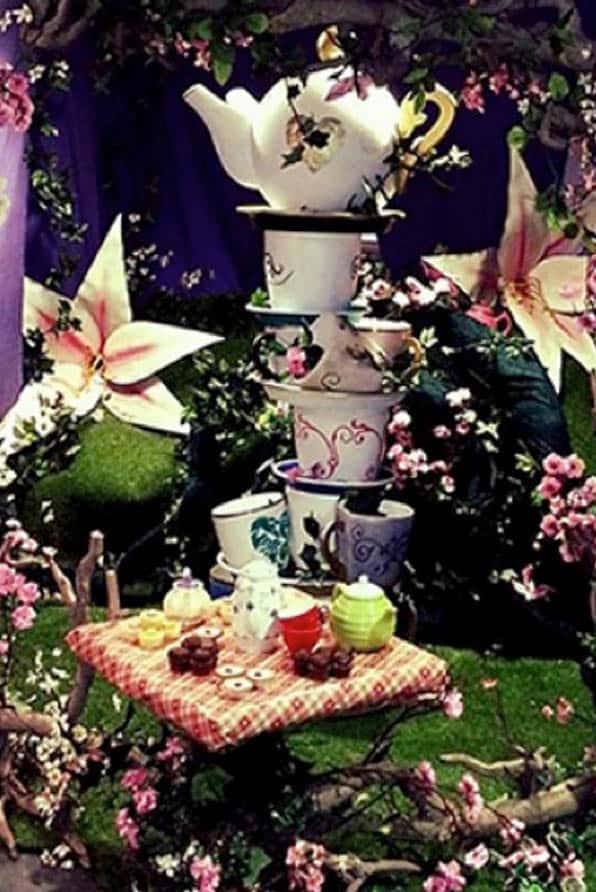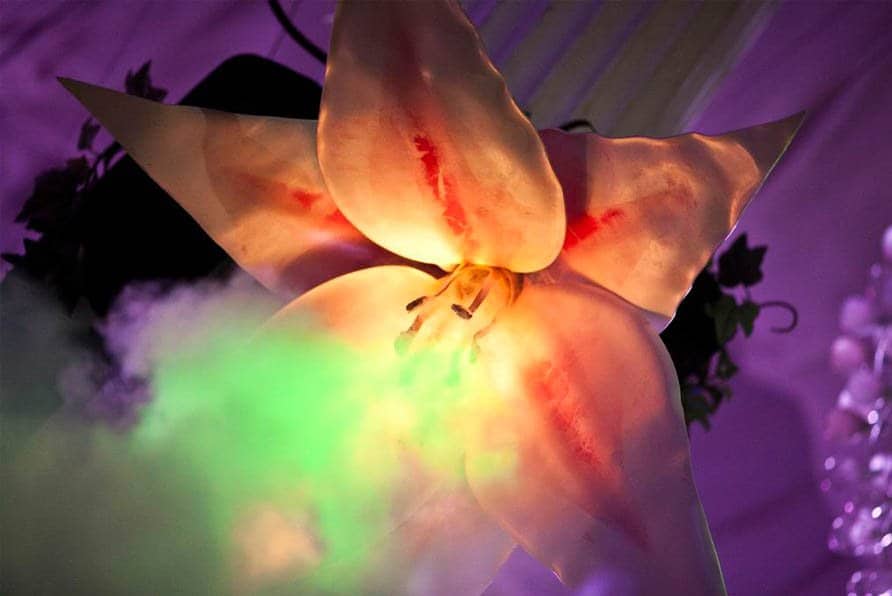 If you are looking for a unique Wonderland Christmas Party Theme for your office party, why not look outside the box and instead of googling commercial Christmas tree decorators or corporate events specialists why not google unique themed décor and discover Eventologists! Eventologists brings the topsy turvy and magical world of Alice in wonderland to venues around the country with an exciting wonderland Christmas party theme, with stunning venue dressing and entertainment that brought Alice to Life. From the moment guests walked in guests were surrounded by iconic props and characters – they were met by the Mad Hatter who ushered guests to one of his legendary tea parties and then 'pop'  they walked through a rabbit hole into a stunning forest of flora and fauna and slightly crazy quirky things!
As the guests entered the main banqueting suite they descended further into Wonderland with a mad hatters picnic as they get entertained by the queen of hearts and tweedle dum and tweedle dee. Along with an enchanted forest, guests were mesmerized by room theming and Alice themed props such as the Rabbits Giant Pocket watch, A Giant Drink Me Bottle, Giant Flower props, Enchanted table centres and Mushrooms. If you are looking for an Alice themed party or a mad hatters themed party, look no further than Eventologists who can help you with everything from a bespoke party themed décor to themed entertainment and dispel those thoughts of prop hire being the route to take!
To book your Christmas party, contact our event experts.
How To Dress The Perfect Christmas Tree
It's that time of year again when the elves at Eventologists start work on creating spectacular Christmas displays and plan awesome Christmas Party theming and decorations for clients. We focus on Christmas Trees at this time of the year planning on how we will make statements with trees of all sorts of shapes and sizes – Banish the Bland we say and make sure that this year your festive décor in your office or venue says everything about you, your brand and the people that work there. It's a feature that sits proud in company reception areas for almost a month, so why do some people over look this important. We believe its because people just aren't sure how to dress the perfect tree and always end up sticking to conventional ideas and colours.
We share some great ideas of how people are pushing the boat out to make their Christmas Décor stand out;
A classic – traditional colours
This year the colours and styles have been wide and varied; traditional colours in red, white and green are always popular. There's nothing that beats the classic nut cracker themed look, it's always a favourite but adding a twist of modern can be quite quirky!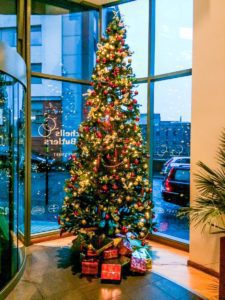 A funky festive theme 
Our Top of the Pops or 80's style festive tree is dressed in bold bright colours and slinkies – We have so much fun dressing this tree with bright tropical colours delivering a really electric look! The jewel coloured baubles make any tree vibrant, royal and rich.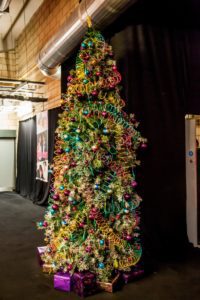 Peacock themed special
Moving on is a Peacock themed festive tree – which is one of the largest we dress each year. The Norwegian Spruce towers over 20ft in the air which makes dressing the oversized Christmas tree a particular challenge! We used vibrant turquoises and teals with gold and silver and then intertwined with peacock feathers and acorns.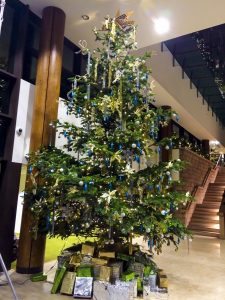 Christmas with a twist
You don't need to have conventional Christmas Decor, we can dress or provide a tree that is a little out of the ordinary and give it a snow drenched look! Whether it's a Narnia inspired or just classical winter wonderland!
We suggest Festive Decorations starts early in the year but don't panic if you've left it too late – A dresser or event organiser can come to your rescue even now!
Check out our Winter Wonderland Theme Event Package and contact one of our event experts today!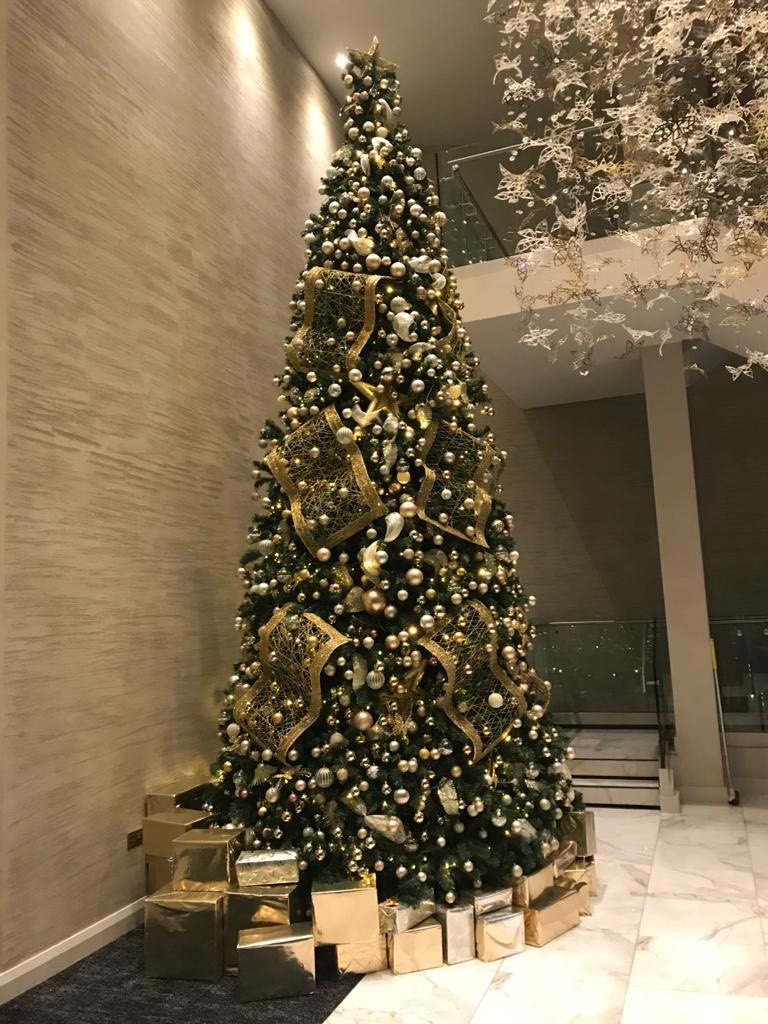 Christmas Party Planning Top Tips
Christmas Party Planning – Why it's best to plan early!
Christmas Parties are all about magic, imagination and memorable moments. Therefore, you will not be surprised that Christmas Party Planning at Eventologists; having such a busy client portfolio, starts early with planning and imagination. This sometimes takes months even years in advance…for those large projects!
Christmas trees and décor are often secured 11 months in advance to ensure the right quality, the right height and the right décor is delivered bang on schedule. It's a fabulous and also frenetically exciting time for us when it comes to Christmas Party planning. People are still amazed to discover the schedules we work to but if you look deeper into what it takes to create a magical experience for Christmas events it really is not that surprising.
For commercial Christmas decorations we usually start to plan very early in the year and this is for 2 simple reasons.
1 – The clients know that to create something spectacular they need the time to cover all areas in detail. This may be anything from physical logistics all the way down to the final design and installation. For many of our venue and hotel clients we find that as they are open to the public, working around this can be difficult. Therefore, we need to build this crucial consideration into everyone's schedule.
2 – You want the best in the market and sometimes leaving Christmas till the last- minute means you get only what is left. Failing to prepare is simply preparing to fail! Be sure not to leave yourself in a position where you are only able to have what is left by confirming late. Christmas is a crucial trading time and leaving anything to chance could mean a lack lustre approach and therefore often a lukewarm reaction from customers.
When supplying our services to clients who are looking to plan and create a extraordinary experience for guests who attend Corporate Christmas parties, we always start to confirm all details early! This includes, acts and entertainment, the baubles on the trees and the centrepiece for the tables. This could be as early as March to ensure we secure absolutely the right product and service at the right price!
So Planning has only started now – is it too late?
Eventologists are very fortunate to plan events for some of the worlds most well known, reputable brands and even though they are also some of the most organised, many times a Christmas party is the last thing on their minds. This is where we come in!
As an event management company who knows how to create events with little notice it is beneficial to our clients to outsource their needs to make sure all is planned to a professional and high standard. You would not believe how many times a company may leave the all important Christmas celebrations to people and committees who already have a hectic day- job! We have been able to successfully minimise a lot of stress because of our experience, knowledge in events.
It is never too late!
A perfect example was when a client of ours believed they simply needed some table centres for their Christmas party. Following an exploratory meeting to make sure there was nothing else they needed from our expertise the floodgates opened, resulting in a full ten page proposal being submitted. This included entertainment, venue finding and venue décor all within their budget. It just goes to show that being creative and building a relationship with our clients has been the driving force to our success.
Just think how many people there are out there looking to create a spectacular event just like you are – but thinking they might have left it too late? So keep this in mind when planning your event this Christmas as it is like the old saying goes.
The early bird catches the worm!….if you want the best and still within your budget, you simply have to partner with experts who really know how – and that means now!
Contact our event expert team today and we will manage your next Christmas event!
We have worked with Eventologists for the a couple of years now and can't fault them from start to finish the whole process is very seamless and the stuff they do is incredible! We have themed evenings and they always come up with some fab ideas that help to emphasise the theme and bring it to life. Our events have conference sessions in the venue during the day and we transform them for our awards in the evening and Eventologists always completely transform the space for the evening so that it feels like you're in a completely different space which makes it all feel so much more special and a real celebration and by the time morning arrives its all completely cleared as if by magic!

PPMA Admin


May 19, 2022

Great props, prompt delivery, awesome team. Would use again.

Richard Buxton


May 19, 2022

A wonderful team who made our event space look incredible. Jacob took our ideas and brought them to life. We've had amazing feedback about the event design, so we couldn't be happier. Everyone really loved the living wall and trees!

Olivia Rocky


April 19, 2022

Rita has been an absolute pleasure to work with; she listened to our ideas and vision and then totally ran with it and created something better than we could have ever imagined! On the event day, Rita and her team swooped in and decorated our venue in record time. Rita and the team were professional and efficient. We look forward to working with Eventologists again next year!

Neighbourly Brands


March 19, 2022

Eventologists are a pleasure to work with. The whole experience from start to finish isn't nothing short of perfection. The team are super professional and Jen makes working with them a breeze. Nothing is too much and she is always so responsive. Can't wait to work with them again :)

Andrew Chalk


March 19, 2022

Eventologists have been a dream to work with. No fuss, straightforward communications and pricing. Delivery and collection on the day was simple and efficient. Professional and friendly at every turn - thanks for your part in making our event a great success!

Emma Bird


February 19, 2022

We've used the services of Eventologists on numerous occasions and their expertise is priceless. Great service as always from Rita and her team who are always full of ideas and ways to make your event stand out. We've hired sets for Moulin Rouge, Great Gatsby, Hollywood and Glitz and Glam plus they created a wonderful set for a festival including tress with festoon and flags. Highly recommended and great to work with.

MrandMrsGrey


July 19, 2021

Wonderful team, from the event manager to the decorators! The choices of set ups and themes are really original as well as well made. Each event is done with lots of passion , always keeping the client best interest at heart. Great value for money, and they always go the extra mile!

Astrid Guillabeau


July 19, 2020