Top 20 Unique Christmas Party Ideas
Unique Christmas Party Ideas
Hello, Christmas party planners of the UK! With the holiday season fast approaching, it's time to wave goodbye to the usual and say hello to the extraordinary! We've rounded up 20 exceptional and one-of-a-kind Christmas party ideas that are sure to make your celebration shine. Let's dive in and make your festivities unforgettable! Introducing our top 20 most unusual Christmas party themes:
1. North Pole Casino Night: Bringing Vegas to the UK with a Christmas Twist!
Ready for a unique Christmas party? Try our North Pole Casino Night, blending the glamour of Vegas with festive cheer. Transform your venue with candy cane decor, enjoy gingerbread martinis, and roll the dice with poker and roulette!
How We're Adding Vegas to the UK:
Chic Frosty Decor: Combine North Pole charm with Vegas glamour using icy blue decor and faux fur throws. Capture picture-perfect moments against snowflake backdrops.

Frosty Attire: Dress up in winter glam meets casino chic for a sophisticated yet fun look.

Festive Games: Play frosty blackjack for a Christmas twist on classic casino games.

Win Big with Holiday Prizes: Win jingle bell jackpots and snow globe trophies, adding a merry touch to the excitement.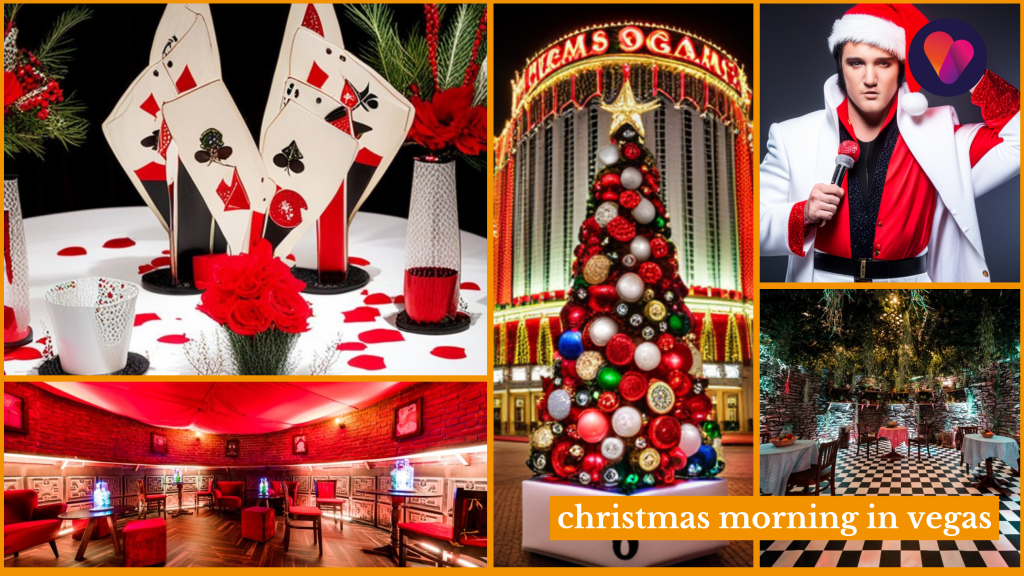 2. Villain's at Christmas: A Mischevious Party
Prepare for a holiday celebration that defies tradition with our "Villains' Christmas Soiree". Step into a world where the mischievous and the merry combine, paying homage to the most iconic Christmas villains. Think, Grinch, Scrooge and of course 'The Wet Bandits'!
Wickedly Festive Decor: Immerse yourself in an atmosphere where the dark side of the holiday season takes centre stage. Our event designers will skilfully blend the sinister charm of Scrooge, the Grinch, and other infamous villains with traditional holiday elements.
3. Tropical Paradise Christmas Party: Ibiza-Inspired Winter Wonderland
Get ready to escape the chilly UK weather and step into a tropical paradise with the ultimate fusion of Ibiza summer festival vibes and Christmas party cheer! Transport your guests to a world of sun-soaked beaches and swaying palm trees, all while celebrating the festive season with a refreshing twist.
Picture this:
Palm Trees and Tiki Torches: Transform your venue into a tropical haven with life-sized palm trees and flickering tiki torches that cast a warm, beachy glow.

Festive Flower Crowns: Welcome your guests with vibrant flower arches and encourage them to create flower crowns for that authentic island feel.

Beachside Chill Zones: Set up cosy lounging areas with beach chairs and colourful cushions, reminiscent of Ibiza's laid-back beachside ambiance.

Live DJ and Summer Beats: Elevate the energy with an Ibiza-worthy playlist or a live DJ spinning summer beats that encourage dancing and festive revelry.
4. All Aboard for Polar Express Brunch'mas
All aboard for a magical Christmas celebration with our "Brunch'mas" Polar Express Theme Party! We're taking the cosy brunch concept and giving it a wintry twist inspired by the beloved Polar Express story. Get ready to embark on a journey of delightful flavours and heart-warming festivities.
Polar Express Decor: Transforming venues into a whimsical train station from the story. Use vintage suitcases, train signs, and snow-covered scenery to capture the essence of the Polar Express adventure.

Cosy Lounge Area: Set up a cozy lounge area with comfy seating and blankets, inviting guests to relax and enjoy the warmth of the holiday season.

 Hot Cocoa and Coffee Bar: Create a hot cocoa and coffee bar with a variety of flavors and toppings, allowing guests to customize their perfect holiday beverage.
5. Tim Burton's Christmas Nightmare
Step into the whimsical and slightly eerie world of Tim Burton with a Christmas Nightmare theme. Combine his iconic films like "The Nightmare Before Christmas" and "Edward Scissorhands" for a delightfully weird and wonderfully dark holiday gathering.
Eerie Dark Decor: Transform your venue with Tim Burton's signature style – think quirky, gothic, and enchantingly odd decorations that bring his world to life.

Character Mash-Up: Encourage guests to dress as a fusion of characters from different Tim Burton films, adding an element of surprise and creativity to the party.

Darkly Delicious Delights: Serve up treats inspired by Burton's films, from "Corpse Bride" cupcakes to "Beetlejuice" cocktails.
6. A Pink Christmas Delight
Embrace the magic of a Pink Christmas Delight! This year, it's all about celebrating in a dreamy pink wonderland. Picture pink Christmas trees, lights, and décor that will transport you to a fairytale realm.
Highlights:
Dreamy Pink Decor: Transform your venue with pink trees, lights, and enchanting decorations that create an Instagram-worthy backdrop.

Symbolic Love: Pink symbolizes love, making it the perfect theme for a heartwarming Christmas celebration.

Festive Fun with a Twist: Enjoy pink-themed activities, treats, and mocktails that add a playful touch to the holiday spirit

.
7. Alien Christmas Invasion
Are you ready to take your holiday celebrations to a whole new level? Imagine an intergalactic twist on Christmas that's sure to leave your guests amazed and talking about your event for years to come. At Eventologists, we specialise in creating unique and unforgettable experiences, and our Alien Christmas Invasion Extravaganza is no exception.
Decor Delight: Elevate your event space with stunning metallic silver and iridescent blue decorations, setting the stage for an immersive alien encounter. Our event designers will transform your venue into an otherworldly wonderland, complete with twinkling lights and captivating holographic accents.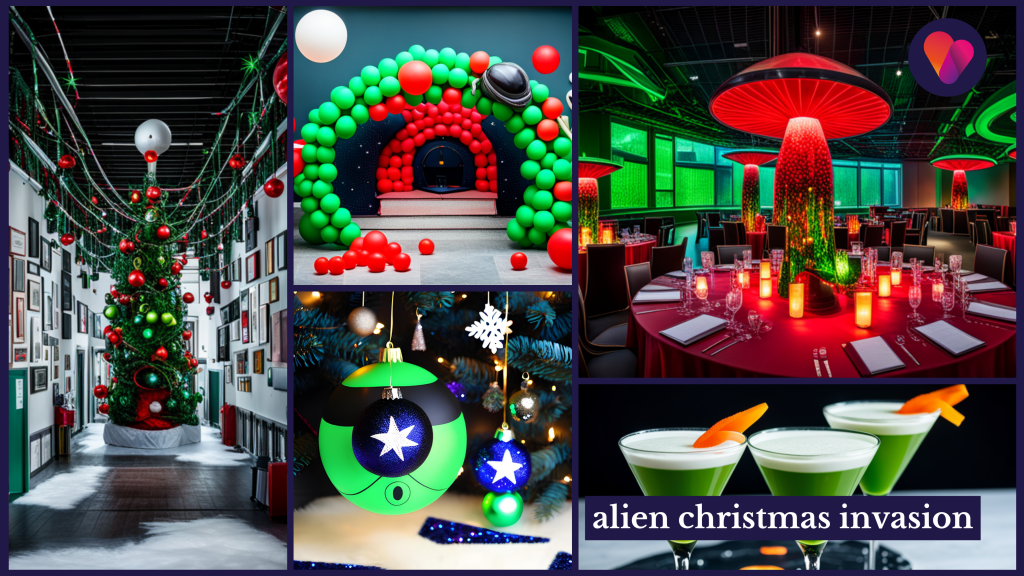 8. Santa's Workshop Disco
Combine the magic of Christmas with the funky vibes of a disco party. Have your guests dress up as elves, reindeer, or disco divas, and dance the night away under colourful lights.
Funky Festive Decor: Immerse yourself in a realm where Santa's workshop meets the disco era. Radiant lights and vibrant colours create an electrifying atmosphere that sparks the festive spirit.

Costumed Revelry: Show off your best elf, reindeer, or disco diva attire and join the merrymaking. The fusion of Christmas and disco creates an eclectic dress code that guarantees a night of style and flair.
9. The Gingerbread Takeover
Get ready to be swept away by the sugary wonder of a Gingerbread Takeover. Immerse yourself in a world where gingerbread reigns supreme, blending creativity and celebration into an unforgettable event.
A sweet taste:
Gingerbread Decor: Step into a realm where gingerbread houses come to life. Our expert decorators will craft a captivating setting filled with gingerbread-inspired elements that transport you to a magical world.

Ginger-Infused Delights: Indulge in an array of treats inspired by the beloved gingerbread flavor. From gingerbread cookies to innovative gingerbread-infused cocktails, your taste buds are in for a delightful journey.
10. Christmas Carnival: Fun Games for a Memorable Christmas Party in the UK
Get ready for a one-of-a-kind Christmas Carnival with an additional Ugly Christmas Jumper Festival! This unique event combines hilarious ugly sweater fashion with lively festival games, guaranteeing an unforgettable evening filled with laughter and excitement.
Highlights:
Ugly Jumper Contest: Show off your quirkiest, most creative ugly sweater and compete for the title of the ultimate fashion maverick.

Carnival-Style Games: Enjoy classic festival games with a holiday twist.

Delicious Treats: Indulge in cotton candy, popcorn, and candy apples, along with hot chocolate and mulled wine to keep the festive spirits high.

Live Music and Dance: Groove to upbeat Christmas tunes, dance, and celebrate with fellow partygoers.

Capture the Moment: Snap memorable photos at our festive photo booth, complete with holiday-themed props.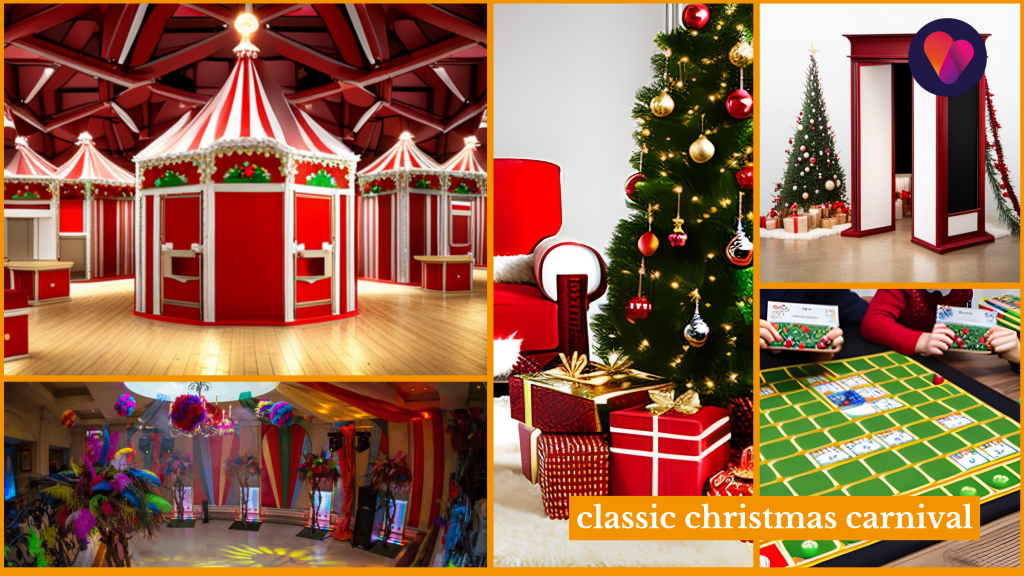 11. A Christmas Candy Wonderland
Indulge your senses in a holiday celebration like no other at our "Christmas Candy Wonderland Party". Immerse yourself in a sugary fantasy world where candies reign supreme, promising an enchanting and unforgettable experience.
Sweet Inspiration:
Candy Decorations: Embark on a journey into a candy-coated dreamland, where vibrant hues and larger-than-life candy props create a visual spectacle. Our expert designers will craft an atmosphere that captures the imagination and delights the eyes.

Candy Craft Stations: Unleash your creativity at candy-themed craft stations, where you can make your own edible masterpieces.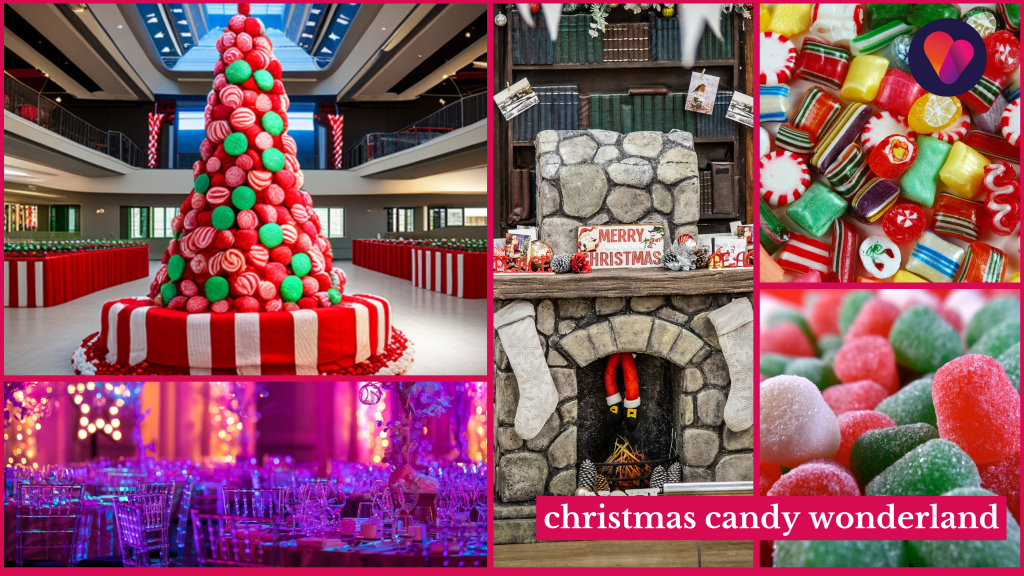 12. Under the Mistletoe Masquerade
Combine masquerade elegance with the playful tradition of mistletoe. Encourage guests to wear masks and enjoy dancing and festivities under mistletoe decorations.
Masquerade Splendour: Step into sophistication with our masquerade-inspired event. From ornate masks to elegant attire, our event is designed to capture the allure and mystique of classic masquerade balls.

Masked Revelry: Encourage guests to mirror their personal style with a festive mask, adding an air of mystery to the festivities. The blend of masquerade elegance and festive flair guarantees a night of charm and delight.

Dance and Festivities: Enjoy a night of enchanting dance and merry-making under the soft glow of mistletoe decorations.
13. A Glowing Arctic Party
Host a blacklight party with an Arctic twist. Use neon colours to create a glowing winter wonderland, and encourage guests to wear white and fluorescent attire.
Arctic Neon Vibes: Imagine being in the Arctic under mesmerizing neon lights. We can create an enchanting atmosphere that sparks the imagination.

Blacklight Dance Magic: Get ready for a dance floor like no other! Neon lights bring the night to life, and your moves become a mesmerizing spectacle under the blacklight magic.
14. Santa's Secret Garden
Imagine Santa's hidden garden filled with magical creatures and plants. Create an enchanted forest atmosphere with lush greenery, fairy light and fairytale decorations.
Enchanted Garden Ambiance: Immerse yourself in an atmosphere that transports you to an enchanted forest. Lush greenery forms a backdrop while delicate fairy lights twinkle like stars. The air is filled with a sense of mystery and enchantment.

Magical Creatures: Imagine encountering fairies, talking animals, and other fantastical beings that call Santa's Secret Garden home. These charming creatures add an extra layer of magic to the event, inviting guests into a world of fantasy.

Fairy Tale Decor: Decorations inspired by classic fairy tales adorn the space. From storybook pathways to whimsical ornaments, every corner is a reminder of the enchanting tales that come to life in Santa's Secret Garden.
15. Christmas Around the World
Celebrate the diversity of holiday traditions by featuring decorations, food and activities from different cultures around the world.
Global Festive Ambiance: Immerse yourself in a multicultural wonderland as decorations inspired by different countries fill the space. From vibrant lanterns to intricate ornaments, each corner reflects the beauty of diverse holiday customs.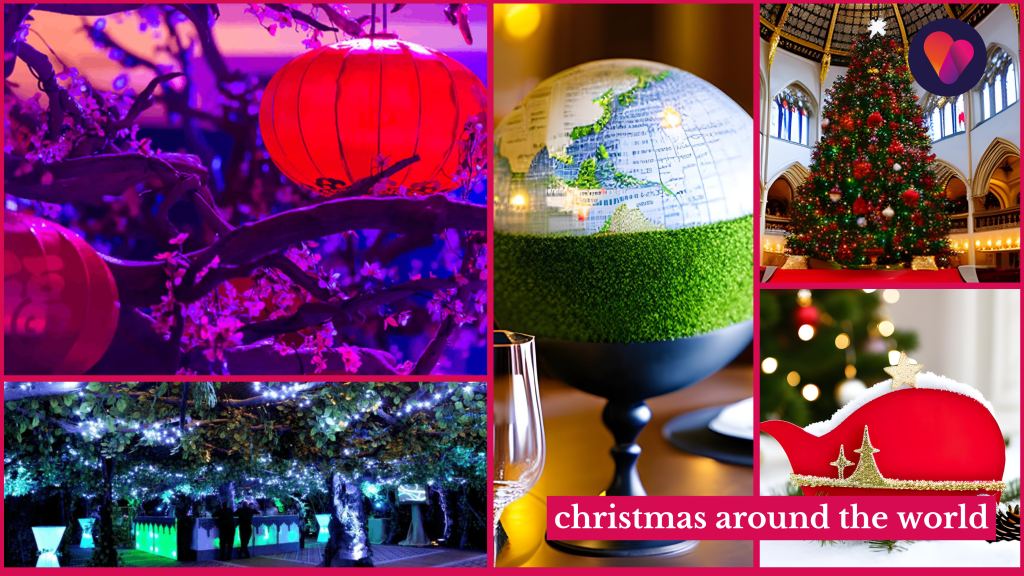 16. Santa's Beach Bash
Break the tradition of a white snowy Christmas by celebrating on a tropical beach. Decorate with palm trees, serve summery treats, and have a blast in your Santa hats (and maybe your swimsuit!).
Sunny Decor Delights: Picture a beachside paradise adorned with palm trees, tiki torches, and vibrant beach-inspired decor. Sandcastles, seashells and starfish motifs transform your space into a coastal wonderland.

Summery Treats Galore: Delight in a feast of tropical delights that cater to your beachy cravings. Sip on refreshing fruity cocktails served in coconut shells and indulge in seasonal fruits!

Capture the Joy: Step into a world of pure joy against a backdrop of lively beach balls that infuse an air of playfulness into the celebration.
17. Pantomime Extravaganza: Unveiling the Magic of Christmas
Prepare to be enchanted as you step into a realm of magic and laughter with our "Pantomime Theme Christmas Party." Immerse yourself in the captivating world of pantomime, where classic tales come to life with a touch of comedy, music, and magic.
Highlights:
Theatrical Wonderland: Transform your venue into a theatrical wonderland, with vibrant backdrops that transport you to the heart of classic pantomime tales. From enchanted forests to royal palaces, each corner of the space captures the essence of timeless stories.

Larger-Than-Life Characters: Be greeted by larger-than-life characters straight out of your favourite pantomime stories. From the brave hero to the mischievous villain, every encounter is a step into a storybook world.
18. Radiant Christmas Light Theme
Step into a shimmering wonderland of light with our "Radiant Christmas Lights Theme'. This dazzling theme celebrates the magic of Christmas lights, turning your party into a mesmerising spectacle that captures the spirit of the season.
Luminous Delights: Transform your space into a breath-taking realm of twinkling lights. Adorn walls, ceilings, and even the floors with an array of colourful and sparkling lights that create an ethereal ambiance.

Glowing Attire: Encourage guests to wear attire that shines as brilliantly as the Christmas lights. From sequins to metallics, everyone will add their own luminous touch to the festivities.

Dance under the Stars: Step onto a dance floor illuminated by thousands of LED lights, creating a starry night experience indoors. Dance to your favourite tunes and witness the lights synchronize with the music.
19. Narnia, Enchanted Wardrobe Christmas Party
Step foot beyond the wardrobe with our Narnia themed Christmas party, where snow-covered forests, mythical creatures, and a sense of wonder await at every turn.
Narnia-Inspired Decor: Transform your venue into a portal to Narnia, complete with snowy landscapes, flickering lanterns and enchanting forest backdrops!

Mythical Creatures and Characters: Encounter mythical creatures like fauns, talking animals, and even the majestic lion Aslan himself. Meet characters that embody the magic of Narnia, adding an extra layer of enchantment to the event.
20. Die Hard Holiday Havoc
Step into the heart-pounding world of "Die Hard" with our "Die Hard Holiday Havoc" party, a thrilling and action-packed celebration that pays tribute to the iconic Christmas movie. Get ready for an adrenaline-fueled holiday bash that will keep you on the edge of your seat!
New York Ambience: Transport yourself to New York City, twinkling lights and New York inspired table centres, the ambiance Eventologists' creates captures the essence of the urban jungle.
Blockbuster Event Decor: We will transform your venue into a cinematic wonderland. Walk the red carpet, pose with life-sized movie cut-outs and enjoy a blockbuster event!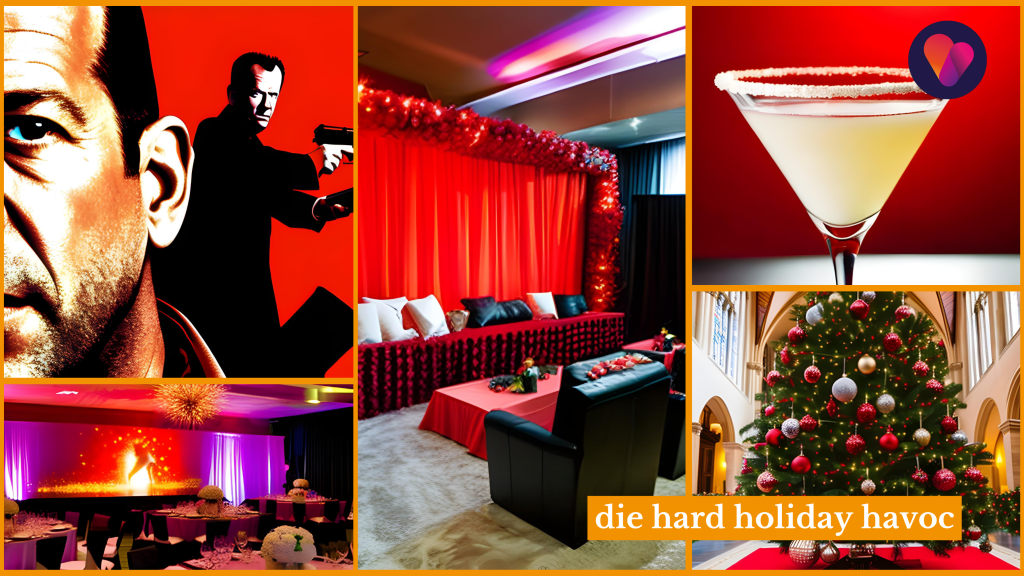 As you can see, there are countless ways to make your Christmas party truly special and unforgettable. Whether you're planning a corporate event or a festive celebration with friends and family, the options are endless. From cosy and traditional to extravagant and unique, there's something for everyone.
To bring your dream Christmas party to life, contact our event management team today. They're here to help you plan, coordinate and execute the perfect holiday gathering that will leave a lasting impression on your guests.
So, reach out now, and let's make this holiday season one to remember!
Please note that some graphics have been created using ai features.
We have worked with Eventologists for the a couple of years now and can't fault them from start to finish the whole process is very seamless and the stuff they do is incredible! We have themed evenings and they always come up with some fab ideas that help to emphasise the theme and bring it to life. Our events have conference sessions in the venue during the day and we transform them for our awards in the evening and Eventologists always completely transform the space for the evening so that it feels like you're in a completely different space which makes it all feel so much more special and a real celebration and by the time morning arrives its all completely cleared as if by magic!

PPMA Admin


May 19, 2022

Great props, prompt delivery, awesome team. Would use again.

Richard Buxton


May 19, 2022

A wonderful team who made our event space look incredible. Jacob took our ideas and brought them to life. We've had amazing feedback about the event design, so we couldn't be happier. Everyone really loved the living wall and trees!

Olivia Rocky


April 19, 2022

Rita has been an absolute pleasure to work with; she listened to our ideas and vision and then totally ran with it and created something better than we could have ever imagined! On the event day, Rita and her team swooped in and decorated our venue in record time. Rita and the team were professional and efficient. We look forward to working with Eventologists again next year!

Neighbourly Brands


March 19, 2022

Eventologists are a pleasure to work with. The whole experience from start to finish isn't nothing short of perfection. The team are super professional and Jen makes working with them a breeze. Nothing is too much and she is always so responsive. Can't wait to work with them again :)

Andrew Chalk


March 19, 2022

Eventologists have been a dream to work with. No fuss, straightforward communications and pricing. Delivery and collection on the day was simple and efficient. Professional and friendly at every turn - thanks for your part in making our event a great success!

Emma Bird


February 19, 2022

We've used the services of Eventologists on numerous occasions and their expertise is priceless. Great service as always from Rita and her team who are always full of ideas and ways to make your event stand out. We've hired sets for Moulin Rouge, Great Gatsby, Hollywood and Glitz and Glam plus they created a wonderful set for a festival including tress with festoon and flags. Highly recommended and great to work with.

MrandMrsGrey


July 19, 2021

Wonderful team, from the event manager to the decorators! The choices of set ups and themes are really original as well as well made. Each event is done with lots of passion , always keeping the client best interest at heart. Great value for money, and they always go the extra mile!

Astrid Guillabeau


July 19, 2020