Top Trending Event Ideas of 2023
We've collated the top trending event ideas of 2023 to inspire your creativity and get the ideas flowing for your next corporate event!
Are you looking to shake up your next gala dinner, celebration or awards ceremony? Whether you're looking for super Instagrammable features or interactive elements, the Eventologists team have the ideas and skillset to deliver you the trendiest event of 2023. Without further ado, take a read of our top 6 trending event ideas for this year!
Infinity Room
Our first of 6 top trending event ideas of 2023 are Infinity rooms, a feature with plenty of wow factor! This unique and innovative feature makes for the perfect photo taking opportunity. These rooms can be created to the size of your choosing, making them the ideal spaces for group photos! Whether you're looking to deliver vibrant neon jungle, or a glamorous and sparkly event, the Eventologists team have the expertise and skillset to turn your dream into a reality! We have a hunch that infinity rooms will be on the rise in 2023, interactive features such as these add excitement and an element of suprise. Guests will be pleasantly surprised when they immerse themselves in the world that is an infinity room.
Stand out from the crowd! If you're looking to add a feature that guests haven't seen done before, an Infinity Room does just that. Shake up your regular conference with this interactive feature sure to have a memorable impact on your attendees.
Games 
Games are contender number 2 in our top trending event ideas of 2023. Games are always a nice addition to a party as they bring unexpected fun, competitiveness, and camaraderie to the room while also being a fantastic aesthetical addition. If you want to transform your venue into a high-class Casino, then you absolutely want to take a look at our fantastic Casino Games for hire. Casino games are a firm favourite amongst guests and work perfectly for event themes such as Las Vegas and Masquerade!
Our collection of games also includes Funfair Attractions for hire that will help you bring all the fun of the fair to your event, including classic games such as Hook a Duck, Tin-Can Alley, Coconut Shy, Hoopla, and many more of everyone's favourite Fair Games! These timeless Vintage Funfair games for rent are always a lot of fun! They are perfectly suitable for all ages, and they bring out the competitor that lives in everyone, in a friendly way that can help create a great atmosphere filled with laughter and camaraderie.
Entertainment – DJ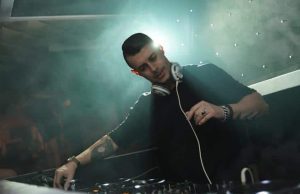 Every detail is important when you want your event to be a total blast, from the decoration to the entertainment that will certainly create the perfect atmosphere that you want for your party. When it comes to creating a partying atmosphere, there is nothing better than our awesome DJs for hire!
When you are looking forward to creating an engaging and entertaining atmosphere where guests can truly feel like they are having the time of their lives, you'll absolutely need to add some amazing live entertainment and artists, and we cannot stress enough how much of a great idea it is to book one of our marvellous DJs. A DJ is a favourite in our top trending event ideas of 2023 for so many reasons, they're sure to bring an electrifying and energetic element to your party that will make everybody want to go right to the dancefloor!
VIP/Secret Entrance
VIP and Secret Entrances take the next spot in our top trending event ideas of 2023. Every guest loves to feel special, and we truly believe there's no better way to achieve this than by incorporating a VIP/Secret Entrance. The wonderful thing about this concept is that it's not restricted by particular decor, and looks fabulous across a whole host of themes! Whether you're looking to create a secret speakeasy entrance for your Prohibition Theme, or hobbit hole entrance for your Secret Garden, the Eventologists team have the expertise in event design and production to bring your idea to life!
VIP Entrances make a clear and bold statement about how important each and every one of your guests are. These entrance arches are fabulous across a whole host of themes and can be tailored specifically to your event with bespoke colour schemes and branding. Delivering, Masquerade, Great Gatsby, Prohibition or 20's? The team can incorporate art deco patterns, black and gold colour schemes and feather podiums to create the perfect atmosphere to your celebration. For us, it's a no-brainer that VIP and Secret Entrances are strong contenders in our top trending event ideas of 2023.
Photo + Karaoke Booths
When organising an event, you want to find that perfect element that can make your party a unique and unforgettable experience for everybody, and nothing is more exciting and fun than our Photobooths and Karaoke Booths for hire!
When you are looking forward to creating an engaging and entertaining atmosphere where guests can truly feel like they are having the time of their lives, you need to add some amazing live entertainment, and think there's no better choice than to incorporate our Photobooths and Karaoke Booths which  are sure to bring a lot of joy and spontaneous fun to everybody in the room!
Photobooths have the unique quality of enabling guests to take away an everlasting memory in the form of a high-quality photo that reminds them of the amazing evening they had.
To make Photo Booths even better, here at Eventologists we have at disposition boxes full of props and accessories that allow guests to dress up and be a bit crazy while taking their pics!
Champagne Tower
If there's one way to add wow factor to your drinks reception it's with a dazzling Champagne Tower! This unique and eye-catching feature is the perfect way to serve guests their drinks on arrival to your showstopping event! Standing around 2.5m tall and over 1.5m in diametre this feature is certain to amaze and surprise attendees.
There's no doubt that incorporating a Champagne Tower into your event is going to have everybody talking! In 2023 we predict trends to show that more is more, and that's why our Champagne Tower is a firm favourite in our top trending events ideas of 2023. The amazing thing about this feature is that it works so well across a huge range of event themes, whether you're looking to deliver Prohibition, 20's, Boujee, Glitz Glam, Gold, or Masquerade – a Champagne Tower fits in perfectly every time.
Top Three World Book Day Event Themes
This week we celebrate the wonderful world of books with our top three World Book Day event themes based off of our favourite books throughout the ages. Our selections are Great Gatsby, Harry Potter and The Wonderful Wizard of Oz! Continue reading to find out why these three themes make for fabulous events …
Great Gatsby
Are you looking for something glamourous, fabulous and all out dazzling? No need to look any further, our first selection in our top three World Book Day event themes is Great Gatsby! Our Great Gatsby themed events bring back all the shimmer from one of the most memorable decades! A firm favourite of ours, Great Gatsby is a spectacular choice of theme based around the classic book by F. Scott Fitzgerald.
Get your best flappers and suits and be ready to jazz the night away because this Great Gatsby themed event from Eventologists will bring back the Roaring 20's to the venue building of your choosing from the moment you and your guests set foot in it. Being a time popular for its bold design and architecture, our Art Deco themed decorations will incorporate modernist, cubist designs with dim mood colours and lighting to welcome and transport you to this long-gone era of partying in the jazzy underworld of a 'speakeasy'.
To enhance your Great Gatsby themed event we offer a range of themed props such as:
• Glamorous pillars to adorn the establishment along with an amazing array of colours on the jazzy dance floor.
• Props such as Art Deco Palm Trees, black feather lampshades, crystal balls, candelabra and lit up chandeliers.
• Sophisticated black leather furniture and tables distributed in an elegant manner across the venue.
• To decorate and add a glam and classy touch to the evening, we offer metallic, fern and pearl table centres, as well as feather trees.
• Elegant drapes and curtains that go fantastically with the theming.
Enhance the evening with a live jazz band or a super dance troop with wonderful performers dresses in the most authentic, shiny dapper costumes and get ready to dance the night way. As a recreation of one of the most beloved eras, this spectacular Great Gatsby theme works with any type of corporate event or party.
It goes without saying that this wonderful book makes for a spectactular event and a strong contender in our top three World Book Day event themes!
The Wonderful Wizard of Oz
Another fabulous book (and firm favourite of ours) we have selected to include in our top three World Book Day event themes is The Wonderful Wizard of Oz!
Somewhere over the rainbow is a magical event theme that will take everybody through a nostalgic trip to their childhoods. The land that you have dreamed of can be easily reached with Eventologists' beautifully crafted Wizard of Oz Themed Event!
Everyone loves a Wizard of Oz themed event. Whether you remember the nostalgia of the old version with Judy Garland or are more familiar with one of the newest box office hits, a Wizard of Oz themed event is always a lot of fun, for it opens the door to a myriad of spectacular options in décor, dining and entertainment, which can be tailored to fit any venue and any given occasion. This fabulously magical theme is a strong contender to be our favourite
We are passionate about creating worlds within spaces, and our Wizard of Oz themed events are a perfect example of it. From Munchkin Land, to The Emerald Palace, and the yellow brick road that will take guests through a forest tunnel – with monkeys flying in the ceiling! – all your favourite places from Oz can be recreated in the venue to give you a truly immersive experience. The incredible atmosphere we can create with a Wonderful Wizard of Oz themed event is one of the reasons why it's in our top three World Book Day event themes!
Bring all your best ideas to our talented team of event stylists so we can make sure to include them in the organisation of your Wizard of Oz themed party, in order to make an event that meets all your requirements and fulfils your expectations. We have a wide array of Wizard of Oz themed props and decorations to make sure you don't have to face any worries, guaranteeing you get value for money. We count with elements such as:
• Beautiful backdrops and props resembling different scenes and locations from The Wizard of Oz, which work as great photo ops for guests to get a beautiful memory home.
• Draping and tablecloths that fit the tone of the décor.
• A collection of unique table centres inspired by the depiction of different elements from the story.
• Theatrical lighting in whimsical tones and fairy lights that bring everything together and enhance the ambiance and the magical feel of the room.
In terms of Wizard of Oz themed entertainment, we count with the best performers attired in the best costumes, who work greatly as a fun addition to the evening, with the characters themselves being an extremely popular option. Party amongst Dorothy, Toto, The Scarecrow, Tin Woodman, the Cowardly Lion and the Wicked Witches, who dance around and give a spectacular performance as guests enter and bring the magic of Oz to life on the dancefloor.
Don't wait any longer and start your journey to Oz hosting a magical Wizard of Oz themed party!
Harry Potter
Our last, but by no means least favourite selection for our top three World Book Day event themes is the iconic Harry Potter! Can't find your ticket to the Hogwarts Express? Don't worry, we've got your back, for our Harry Potter themed event will magically transport you to the Wizarding World just like a spell!
Book and film themed events are a buzz, and what can be more immersive and astounding that a Harry Potter themed party? A great option for any type of event, whether it be for a Christmas, corporate or charity event, or even a conference, this theme is sure to transform any venue into a theatrical and magical atmosphere which will leave all your guests wonder-struck.
With the most iconic sets from the books and movies at your disposal, here at Eventologists' we want to take all of your magical preferences into account in order to tailor the perfect evening for you. Our team of experts will make sure to transform the ideas you envision into a reality, relying on our own array of Harry Potter themed props and decorations, to save you from any worries and make the whole process of organising the event seamless.
You and your guests will step right into places such as the iconic Diagon Alley, where you'll be able to browse the shops to lookfor the perfect wand, the newest book of spells you need or the latest magical confectionary! Or you can take that mystical step through a wall at Platform 9 ¾ at King's Cross Station and enter a world of magic, mystique and wonderment, and make the journey all the way to the Great Hall of Hogwarts School of Witchcraft and Wizardry and witness floating candles and magical paintings coming to life right before your eyes. Hogwarts awaits you in all its majestic splendour!
Guests will enjoy a banquet in the Great Hall surrounded by hundreds of floating candles, for we can arrange the venue of your choosing to look just like it does in the films! Or you can simply explore the halls of the castle itself… if you dare! The fully immersive experience that a Harry Potter theme offers is just one of the reasons why it has made our top three World Book Day event themes!
To transform the space into this place of wonder, we count with Harry Potter themed entertainment. Who wouldn't want to dine alongside Professor Dumbledore and the one and only Harry Potter himself while a talented group of witches and wizards play live music? We also offer a wide assortment of Harry Potter themed decorations and props such as:
• Long elegant tables arranged to make room for the people in each one of the four houses at Hogwarts, as well as banners and pennants to celebrate and show your pride.
• Magical portraits and floating candles to light up the room in a most dazzling way, and life size props to transform the venue into the Hogwarts castle.
• The best Harry Potter costumes for our entertainers to make your evening memorable.
An extravaganza of wizardry certainly awaits you in the most famous school in the world with our Harry Potter themed event!
We have worked with Eventologists for the a couple of years now and can't fault them from start to finish the whole process is very seamless and the stuff they do is incredible! We have themed evenings and they always come up with some fab ideas that help to emphasise the theme and bring it to life. Our events have conference sessions in the venue during the day and we transform them for our awards in the evening and Eventologists always completely transform the space for the evening so that it feels like you're in a completely different space which makes it all feel so much more special and a real celebration and by the time morning arrives its all completely cleared as if by magic!

PPMA Admin


May 19, 2022

Great props, prompt delivery, awesome team. Would use again.

Richard Buxton


May 19, 2022

A wonderful team who made our event space look incredible. Jacob took our ideas and brought them to life. We've had amazing feedback about the event design, so we couldn't be happier. Everyone really loved the living wall and trees!

Olivia Rocky


April 19, 2022

Rita has been an absolute pleasure to work with; she listened to our ideas and vision and then totally ran with it and created something better than we could have ever imagined! On the event day, Rita and her team swooped in and decorated our venue in record time. Rita and the team were professional and efficient. We look forward to working with Eventologists again next year!

Neighbourly Brands


March 19, 2022

Eventologists are a pleasure to work with. The whole experience from start to finish isn't nothing short of perfection. The team are super professional and Jen makes working with them a breeze. Nothing is too much and she is always so responsive. Can't wait to work with them again :)

Andrew Chalk


March 19, 2022

Eventologists have been a dream to work with. No fuss, straightforward communications and pricing. Delivery and collection on the day was simple and efficient. Professional and friendly at every turn - thanks for your part in making our event a great success!

Emma Bird


February 19, 2022

We've used the services of Eventologists on numerous occasions and their expertise is priceless. Great service as always from Rita and her team who are always full of ideas and ways to make your event stand out. We've hired sets for Moulin Rouge, Great Gatsby, Hollywood and Glitz and Glam plus they created a wonderful set for a festival including tress with festoon and flags. Highly recommended and great to work with.

MrandMrsGrey


July 19, 2021

Wonderful team, from the event manager to the decorators! The choices of set ups and themes are really original as well as well made. Each event is done with lots of passion , always keeping the client best interest at heart. Great value for money, and they always go the extra mile!

Astrid Guillabeau


July 19, 2020