Bring the drama to your party with Masquerade Table Centres
Masquerade parties have something to them that makes them allure at any given moment. Timeless and classic, Masquerades have always been full of drama and theatrical moods, which calls for decorations that can live up to that level of glamour, and our Masquerade Table Centres for hire are just the perfect element when it comes to catching the eye of partygoers!
Here at Eventologists we pride ourselves in our unique and stylish event props for hire, with our Table Centres being one of our favourite elements. Available in different sizes and styles', our Table Centrepieces hire are easily incorporated into any event. Perfect for both showcase and enhance the theming of the party, Table Centres are always a pivotal element in the decoration of the venue.
When it comes to themed events, Table Centres have a great role to play. Their arrangement can elevate the theme and help create an immersive atmosphere for guests to really feel transported to another place.
Our Masquerade Table Centres are a magical addition to your event decoration, for our fantastic team of designers have tailored them to capture the mystique, mystery and romance of a true Masquerade party. We have created a massive and eclectic collection of Masquerade and Venetian centrepieces including elements such as feathers, masks, glitter and bold colours, all put together in a tall vase to bring height and drama to the room.
We have at disposition a wide array of Masquerade Centrepieces for hire in different shapes, colours and designs, all available in our own vaults, so you are guaranteed to always get value for money.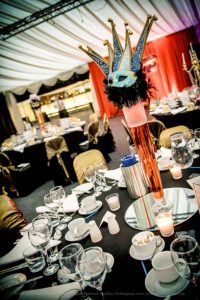 Our Venetian Masquerade Table Centres are created with Masquerade and Venetian themed events in mind, but they can be incorporated with easy into other themes such as Moulin Rouge, Theatre and Carnival, for their bold design is perfect to enhance the mood of a whimsical party. They work astonishingly when paired with bold colour schemes and luxurious fabrics such as velvet!
Our team of event stylists will set the ravishing Masquerade Table Centres for hire at the venue of your choice, styling them in the best way to make the room look dashing and splendid, saving you from any worries regarding the organisation of the party on such an eventful day.
Take a look at our magnificent Masquerade Table Centrepieces for hire and contact us so we can start together the tailoring of an event that's perfect for you and let us know about any special inquiries or bespoke designs you might want. We guarantee that with Eventologists you will find the best Table Centres near you!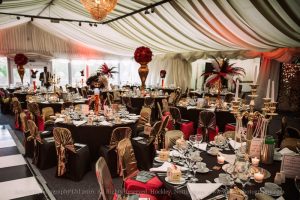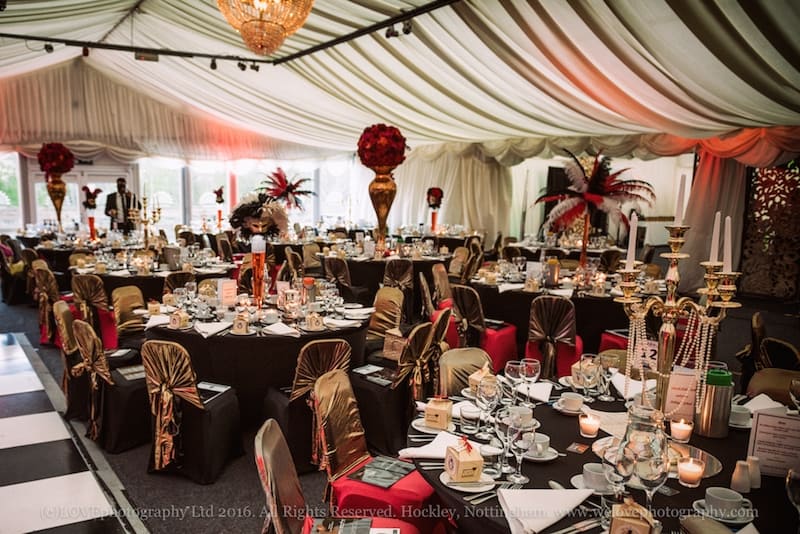 Celebrate Chinese New Year in a mystical land with a Chinese Themed Event
Chinese Themed Event, a ball that is sure to leave every guest charmed. It's time to travel and go to an ancient land, where mystic and mystery abound.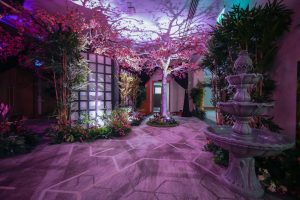 Mystical gardens, ancient traditions, majestic and elegant settings, with a Chinese Themed Event we can bring a beautiful touch of the far orient to any provided venue of your choosing.
Guests will start their journey to the land of the rising sun at a drinks' reception where they will be greeted by elegant Geisha Girls dressed up in beautiful traditional attires. Then, they will be welcomed by our life size Buddha installation, an eye-catching setting. When the time for dinner comes, they will hear a gong that serves as a cue for the next step. As you and your guests walk into the main room, you will be wowed by luxurious oriental drapes, oriental fans and lanterns, lucky Buddhas and mighty decorative dragons.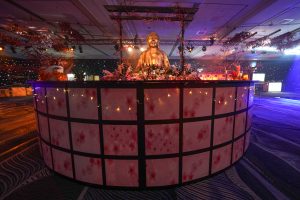 In terms of Chinese themed entertainment, the event won't be short of it, fo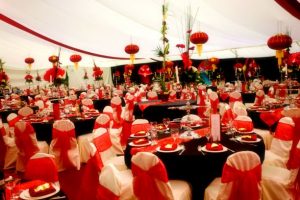 r a group of fire performers will put on a breath-taking performance.
Here at Eventologists we have a team of talented event stylists that will listen to your Oriental ball party ideas to incorporate them with those of our own and tailor a perfect event that is set to meet all your requirements and expectations. We also offer a wide array of in-house Chinese themed props and decorations that will assure you value for money and will save you from any of the worries that might come with organizing a prestigious event, such as:
Stunning room dressing with luxury draping, tablecloths and chair covers in classic Oriental colours, especially red and golden hues.
Oriental themed table centres.
Life size props and decorations, like statues of Buddhas, oriental dragons, geishas, paper lanterns, fans, candles, as well as backdrops of temples and shrines.
Beautiful blossom trees for hire, coupled with a beautiful assortment of exotic, colourful flowers.
Professional mood lighting to set the mood and enhance the Oriental feeling of the evening.
We can also cater the event with oriental delicacies and provide the perfect entertainment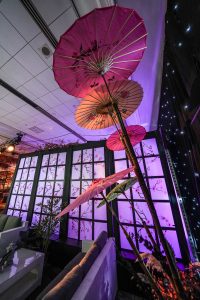 to compliment the night, whether it be a friendly party to step out of the routine or a top-notch corporate event.
Don your best outfit and prepare to be amazed by the stunning sights, tastes and sounds of your very own Chinese themed event, brought to you by the hand of Eventologists.
We have worked with Eventologists for the a couple of years now and can't fault them from start to finish the whole process is very seamless and the stuff they do is incredible! We have themed evenings and they always come up with some fab ideas that help to emphasise the theme and bring it to life. Our events have conference sessions in the venue during the day and we transform them for our awards in the evening and Eventologists always completely transform the space for the evening so that it feels like you're in a completely different space which makes it all feel so much more special and a real celebration and by the time morning arrives its all completely cleared as if by magic!

PPMA Admin


May 19, 2022

Great props, prompt delivery, awesome team. Would use again.

Richard Buxton


May 19, 2022

A wonderful team who made our event space look incredible. Jacob took our ideas and brought them to life. We've had amazing feedback about the event design, so we couldn't be happier. Everyone really loved the living wall and trees!

Olivia Rocky


April 19, 2022

Rita has been an absolute pleasure to work with; she listened to our ideas and vision and then totally ran with it and created something better than we could have ever imagined! On the event day, Rita and her team swooped in and decorated our venue in record time. Rita and the team were professional and efficient. We look forward to working with Eventologists again next year!

Neighbourly Brands


March 19, 2022

Eventologists are a pleasure to work with. The whole experience from start to finish isn't nothing short of perfection. The team are super professional and Jen makes working with them a breeze. Nothing is too much and she is always so responsive. Can't wait to work with them again :)

Andrew Chalk


March 19, 2022

Eventologists have been a dream to work with. No fuss, straightforward communications and pricing. Delivery and collection on the day was simple and efficient. Professional and friendly at every turn - thanks for your part in making our event a great success!

Emma Bird


February 19, 2022

We've used the services of Eventologists on numerous occasions and their expertise is priceless. Great service as always from Rita and her team who are always full of ideas and ways to make your event stand out. We've hired sets for Moulin Rouge, Great Gatsby, Hollywood and Glitz and Glam plus they created a wonderful set for a festival including tress with festoon and flags. Highly recommended and great to work with.

MrandMrsGrey


July 19, 2021

Wonderful team, from the event manager to the decorators! The choices of set ups and themes are really original as well as well made. Each event is done with lots of passion , always keeping the client best interest at heart. Great value for money, and they always go the extra mile!

Astrid Guillabeau


July 19, 2020