The best event furniture, décor and props for hire – we have them all at Eventologists!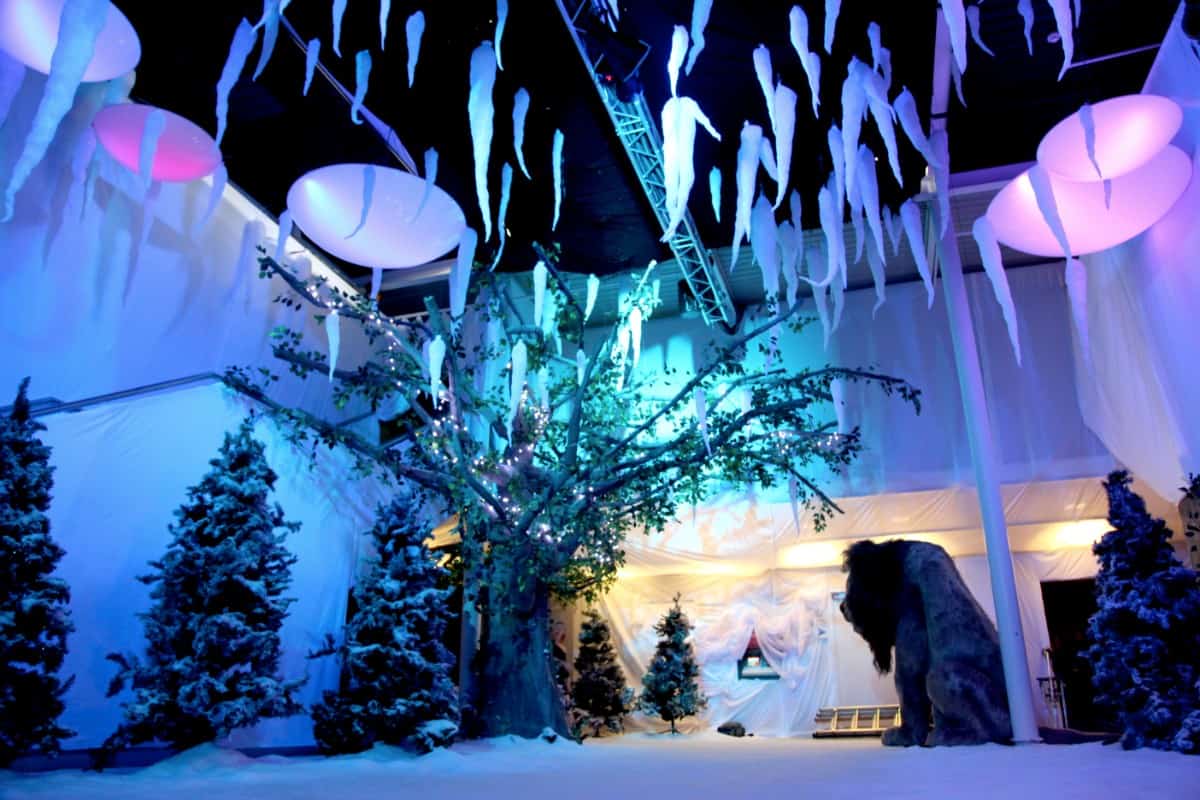 We know that organising an event can be a lot. Between the picking of the venue, the list of guests, choosing the mood you want for it and then finding all the decorations that can make what you envision become true. However, it's never been easier to find all the perfect elements to create your dream party, thanks to Eventologists Event Hire, you will have it all in just one place!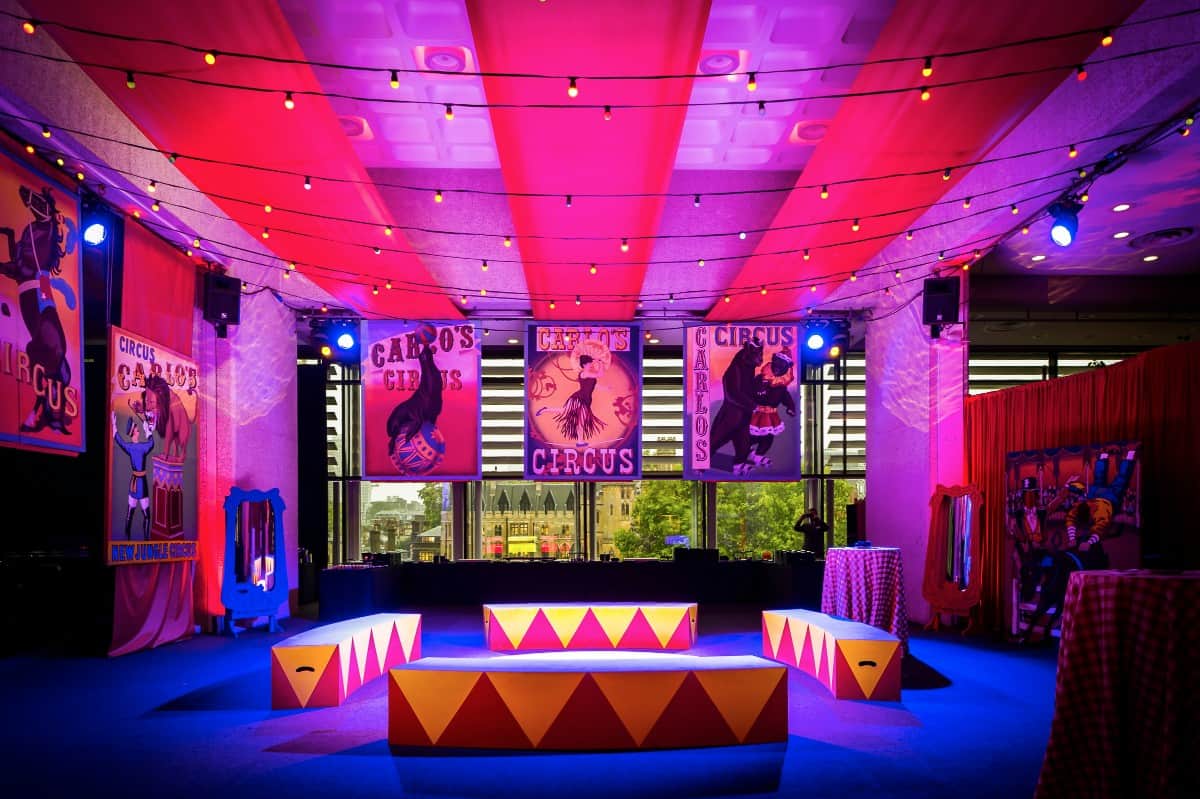 From the moment you contact our talented team of event stylists, you will be in the best hands. We want to transform your creative vision into a reality, and for that we need the best there is to be in terms of party furniture, decorations and themed props.
We are proud to offer you our own massive in-house catalogue of décor, furniture and event prop hire, to make sure that you always get value for money and to make the whole process of transforming your venue into the stage of a top tier event a seamless one.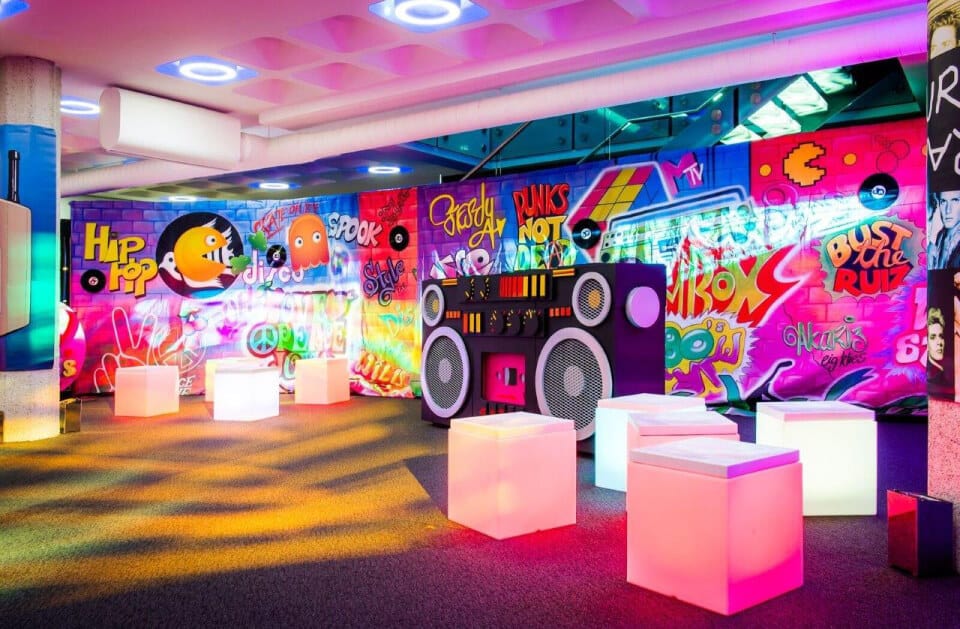 We count with a wide and varied range of products and props for hire for any type of events, including corporate, themed and private parties. We have at disposition table centres, chair covers, wall and ceiling draping, bars hire, furniture hire, trees hire and every themed prop you can imagine – all the products and services you could need to enhance the venue and take the event from good to great!
We also offer a wide array of Professional Entertainers and Corporate Entertainment ideas to create a truly immersive atmosphere at your next event. Our unique, contemporary, stylish event accessories are perfect to dress up your exhibition, corporate party, gala dinner, awards ceremony or anything that you have in mind.
Check out some of our most popular Event Prop Hire items below or contact us, for our Event Specialists will help you source just what you need!
Top Tips to Organising a Gala Dinner or Awards Night that people will Remember
Our Event specialists will assist transforming your room for corporate events and Gala Dinners
If you are a planning a Gala Dinner, Awards Night or Post conference dinner for the first time, we feel your pressure. In fact, it doesn't matter how many times you've organized your Company Gala Awards Night, there's a lot to manage and so much that can go wrong without good planning! Whether a Virtual Awards night or a Live Gala Dinner, there is a lot to consider.
That's why many people choose Event Management Specialists such as Eventologists to provide the expertise to help create a memorable event that people will have fun at. We have vast experience in planning events from family fun days and corporate launches to Gala Dinners and charity balls. From the smallest intimate meeting to the largest corporate launch event, our team of events experts can plan and deliver flawless logistics, prepare unique event concepts including themed events, and deliver striking and high impact production including the audio-visual content for your event.
Having delivered thousands of events over the past 15 years, what would be our top 3 tips to focus on?
Visual Impact at Events – from the moment that guests walk through the door, they should feel transported. Stunning entrances, dramatic venue styling and then entertainers that are highly visible. If it's a night out, then it should feel like a night out of the normal! This issue is even more challenging with a virtual event and its not just about a platform.
Exciting Gala Dinner Entertainment – if they're attending, they want to be entertained, so look at the best entertainment options from the moment they walk in. Think about in-between courses and a star performance or a key act that they will all talk about!
Inclusivity adds to the interaction – making guests feel part of the event rather than just a spectator is hard, but if you crack it, you're set to create an event that everyone will remember. That's why many people choose Themed Events that encourage people to participate in the Theme.
The alternative is booking an expert Events Agency to offer you a fully integrated service can start and finish where you need it to. Our strengths lie within the depth of experience of our outstanding events management team, taking care of everything from finding the venue and site planning through to creative solutions and seamless event delivery. Our Events Planners will present a range of options across all disciplines, so you save on time, cost and conversation.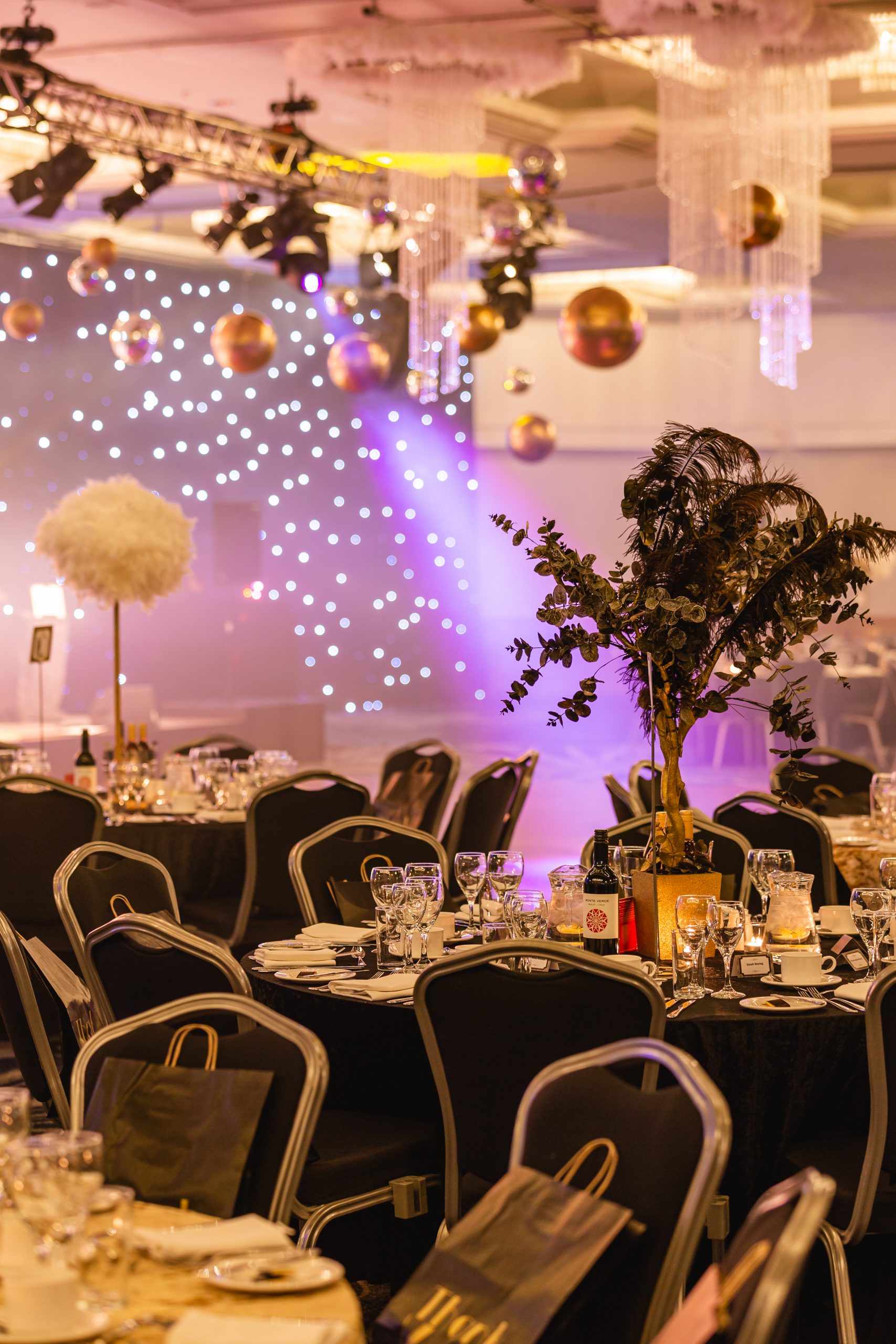 When it comes to Gala Dinners and Awards Ceremonies, Eventologists offer a superb range of event décor ideas and gala dinner centrepieces. We are experts in bringing your corporate dinner functions to life, offering unique event concepts for your corporate event which include Event Furniture Hire, Lit Table centres, Corporate Centrepieces, Table Décor, Prop Hire, Event Styling Concepts, Bar Hire and Entertainment specialists.
If you are thinking of a themed gala dinner, we have over 100 stunning and unique centrepieces and themed props to create a truly memorable themed event from Great Gatsby Theme, Hollywood Themes, Christmas and Winter Themed to Contemporary and Futuristic Themes. Check out our Themed Events Gallery for inspiration and Ideas!
Our fully integrated service can start and finish where you need it to. Our strengths lie within our experience of over 40 years of delivering outstanding gala dinner management who can take care of various aspects of your awards dinner theming from initial design to seamless event delivery to budget.
We believe that detailed and thorough overall project planning is vital to the success of any event, as it ensures that no details are missed and the time spent on the event is 100% productive and therefore value for money. Your budget is our budget and we will strive to deliver the most impactful Corporate Company Dinner at great value for money!
Hop into the sun with a Festival Themed Party!
Festival Themed Party!
Are you an organisation planning for the conference season? Or would you simply like to plan a fun spring and summer event? In any case, the Eventologists' Festival Themed Event is an exciting fit for any type of event or party, for our creative team can transform your indoor space into a festival full of vibrant colours, fun entertainment and an all-round celebration, or have an outdoor event – all the brighter and bolder!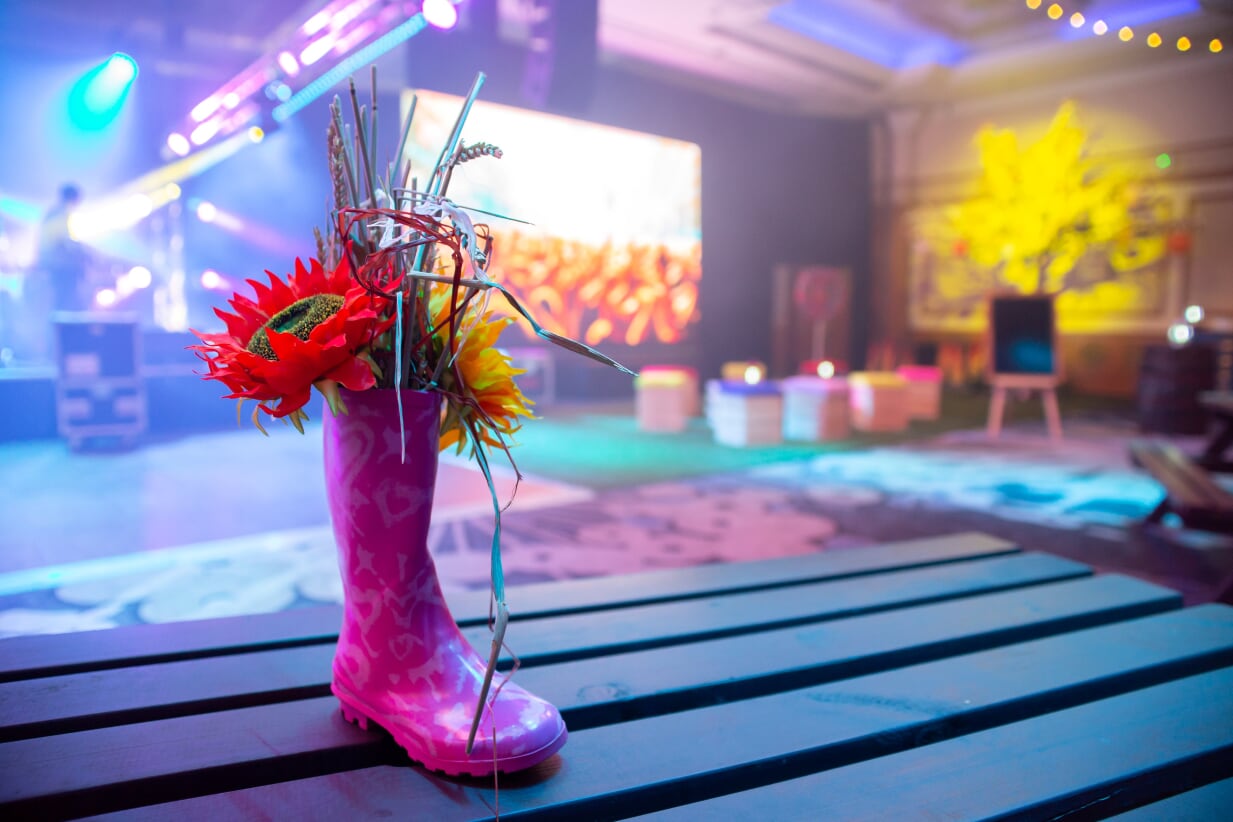 As people grab their wellies and put up their tents across the country for weekends full of fun in the sun, the Eventologists creative teams invent festival themed events and parties indoors. We bring colour, vibrancy, and fun from the best festivals in the country, and there is no need to traipse through the mud or battle the crowds, for you can simply enjoy the vibe of our festival themed entertainment in the comfort of your venue with no worries or stress involved.
It is an excellent option for a corporate event to celebrate with a mini-fest where your guests can experience all the good and none of the bad. At the same time, you will have no worries at all, because our team of experts will put up an amazing work into making your Festival party ideas into a reality, offering you a wide array of Festival themed props and decorations to transform the site of your choosing, such as:
Colourful and comfortable palette-style seating accompanied by tables with colourful centrepieces.
Floral décor, trees for hire, lanterns and colourful pennants to bring the feel of your favourite festivals.
Big signs and festival props that work as an excellent photo op for everybody.
Food huts with a wide variety of festival themed options for the guests to enjoy.
To start the event, welcome your guests through an amazing festival entrance, greeted by entertainers who can wristband your attendees and lead them through to the drinks' reception.
Gather around the palette-style seating and get your faces painted by festival artists to get you in the partying
mood. From there, you can enjoy lots of different food huts and watch a variety of live acts and festival themed entertainment.
And when then the sun finally comes out in the spring and summer, you can't go wrong with an outdoor Festival themed event, for it triggers some extravagant conference theming ideas and conference concepts that go above and beyond the usual light up table centre pieces and glamorous gala dinners and heralds the start of fun filled times and exhilarating themes influenced by the festival season, creating a casual, immersive and inclusive atmosphere.
Get ready to experience one of the brighter and bolder themed events you've seen!
We have worked with Eventologists for the a couple of years now and can't fault them from start to finish the whole process is very seamless and the stuff they do is incredible! We have themed evenings and they always come up with some fab ideas that help to emphasise the theme and bring it to life. Our events have conference sessions in the venue during the day and we transform them for our awards in the evening and Eventologists always completely transform the space for the evening so that it feels like you're in a completely different space which makes it all feel so much more special and a real celebration and by the time morning arrives its all completely cleared as if by magic!

PPMA Admin


May 19, 2022

Great props, prompt delivery, awesome team. Would use again.

Richard Buxton


May 19, 2022

A wonderful team who made our event space look incredible. Jacob took our ideas and brought them to life. We've had amazing feedback about the event design, so we couldn't be happier. Everyone really loved the living wall and trees!

Olivia Rocky


April 19, 2022

Rita has been an absolute pleasure to work with; she listened to our ideas and vision and then totally ran with it and created something better than we could have ever imagined! On the event day, Rita and her team swooped in and decorated our venue in record time. Rita and the team were professional and efficient. We look forward to working with Eventologists again next year!

Neighbourly Brands


March 19, 2022

Eventologists are a pleasure to work with. The whole experience from start to finish isn't nothing short of perfection. The team are super professional and Jen makes working with them a breeze. Nothing is too much and she is always so responsive. Can't wait to work with them again :)

Andrew Chalk


March 19, 2022

Eventologists have been a dream to work with. No fuss, straightforward communications and pricing. Delivery and collection on the day was simple and efficient. Professional and friendly at every turn - thanks for your part in making our event a great success!

Emma Bird


February 19, 2022

We've used the services of Eventologists on numerous occasions and their expertise is priceless. Great service as always from Rita and her team who are always full of ideas and ways to make your event stand out. We've hired sets for Moulin Rouge, Great Gatsby, Hollywood and Glitz and Glam plus they created a wonderful set for a festival including tress with festoon and flags. Highly recommended and great to work with.

MrandMrsGrey


July 19, 2021

Wonderful team, from the event manager to the decorators! The choices of set ups and themes are really original as well as well made. Each event is done with lots of passion , always keeping the client best interest at heart. Great value for money, and they always go the extra mile!

Astrid Guillabeau


July 19, 2020