Be the most shining starlet in this Glam & Glitz themed event!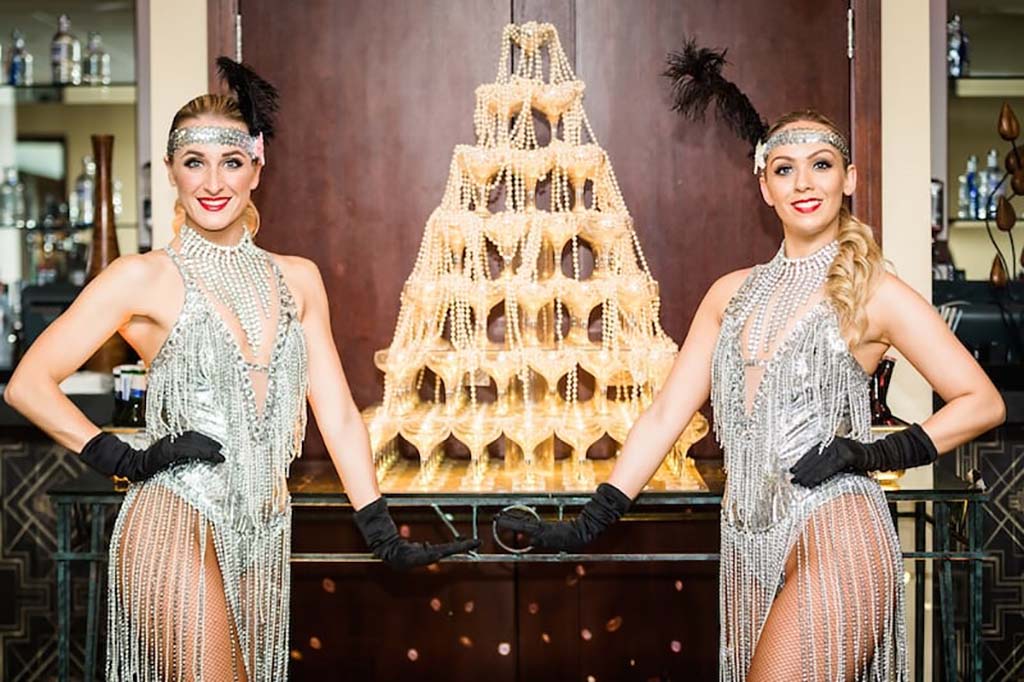 Keywords: Themed Events | Themed Parties | Themed Decorations and Props | Glam & Glitz Themed Events and Parties | Glam & Glitz Themed Decorations and Props
Feeling like a classic superstar? Bring on all the fabulousness with a super Glam & Glitz themed event full of sparkle and glamour that is guaranteed to dazzle your guests!
Due to their elegant tone, Glam & Glitz themed events are always extremely popular for many types of occasions – Charity Balls, Christmas Parties, Corporate Events, Themed Weddings, Gala Awards Dinners. Glam and Glitz themed parties are timeless and classical, giving an opportunity for guests to glam up to the max and dress up in sparkle and shine. Everybody enjoys choosing a new sparkly gown or dashing tuxedo, and this opportunity will sure make every guest feel like a star.
A Glam & Glitz evening is also a perfect theme for an Awards Gala Dinner, ensuring your guests feel even more special and valued, and giving the winners the chance to shine as much as the recognition they are receiving.
Here at Eventologists, our team of party stylists with great expertise will be happy to show you many possible visions for this classic event. They will also be more than glad to guide and walk with you through the way of whole creative process if you bring your own Glam & Glitz party ideas to make the event you envision no more a dream but a truly shiny and shimmering reality.
Thanks to our in-house staff and wide array of Glam & Glitz themed props and decorations for hire, we will be able to add all the theming needed to match the mood of such a splendid event, having to your disposition, among others, elements such as:
Crystal chandeliers hanging from the ceiling to reflect the glitz from the mood lighting and the guests.
Crystal curtains to add a sparkle in every corner of the room.
Glitter floors.
Theatrical draping and tablecloths in elegant, metallic colours to enjoy dinner in the classiest manner.
Elegant cups, details in pearls, feathers and garlands, crystal balls, elegant cloches and feather lamps.
The most glamorous of table centrepieces, such as glass pieces, shiny trees, reflecting spheres, candelabra, are ready to shimmer on all occasions.
Enhance the evening with a live jazz band or a super dance troop with the most authentic Glitz & Glam costumes and party the night way in your sparkly stilettos until your feet can't move any more!
Sway back to the 1920's with a dazzling Great Gatsby Themed Party!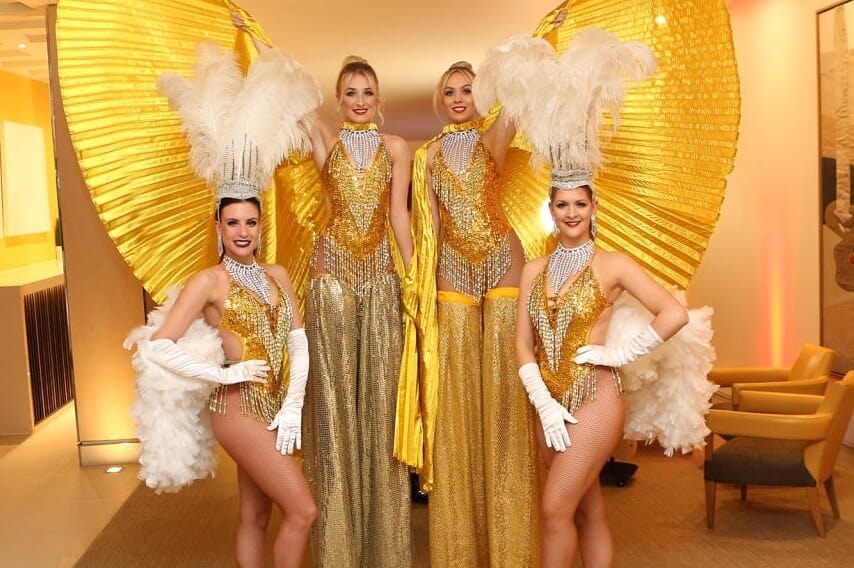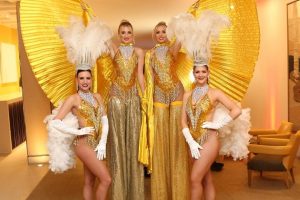 Are you seeking the glamour, glitz and magnificence that will put your event in everybody's mouths? There's nothing better than revisiting the 1920's with a Great Gatsby themed party!
With an Eventologists' Great Gatsby themed party, inspired by the classic novel, we can help you venture back to the Roaring 20's – an era famous for an economic boom and industrial growth, celebration and merriment. It was a time where aspirations were high, inhibitions were low, and everything was about style and panache, where the music halls were filled with party people, celebrated musicians playing jazz and swing music and rooms oozing with glamour – and now you will be able to live these times too!
Draping, tablecloths and chair covers in classic, dapper colours like gold, black and white.
Table centres that include feathery pieces, arrangements adorned with pearls, gold trio swirls
Lifesize props which include Art Deco pillars and Palm Trees, feather lampshades, crystal balls, crystal candelabra and lit up crystal chandeliers.
Mood lighting to enhance the decoration of the venue of your choosing.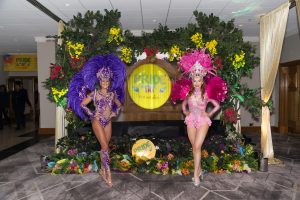 Since Great Gatsby themed entertainment is a must, you can make the experience even more magical with a group of beautiful Flapper girls who will welcome guests on arrival and then perform a cabaret show during dinner.
Don't wait until your guests enter the room to create an impression and introduce your Great Gatsby theme at the drinks' reception. We will style the front of the bar with a Great Gatsby pattern and create the most extravagant champagne saucer tower. Then, sit back and sip on a Martini to enjoy a 1920's style jazz musician, a swing band or our very own Cara Emerald! Want to join in? Just lick those heels on the black and white dancefloor and sway the night away to the rhythm of the music.
Finally, you can integrate a photo booth to give guests an interactive and immersive experience whilst letting them take away memorabilia from your 'Roaring 20s' themed event! This evening is all about the glitz and glamour of the elegant 1920s and we really know how to do it in style!
I wished to get in touch to say thank you for providing the centrepieces for the Gloucestershire Live Business Awards and working with us within our budget at such short notice. I also wanted to let you know that your staff was a pleasure to work with. Very friendly, professional and had the room setup with plenty of time to spare before guests arrived. Please pass on my thanks.

Louise Symonds, Regional Events Manager
I just wanted to drop a note to formally thank you for pulling out all of the stops for our Christmas Social – the Peaky Blinders theme went down a storm and it looked UNREAL! The decor, props, bespoke items and attention to detail really made the event last night. As ever, you and the team were complete professionals and a dream to work with. Huge thanks and appreciation, I look forward to the next event already!

Clair Stevens, Communications Manager
The room looked fab and we received some great comments. It was great to work with you again and it makes things run smoothly when we can rely on you and your team to get the job done. Gives peace of mind.

Sharon Bone, Events Manager
WOW, went to an event done by these guys and I was blown away. They transformed a banquet hall into something out of a fairytale. The staff are very friendly and professional. Would definitely recommend them to anyone.

Amish Thakrar, Marketing Manager
Thank you to you and your team for all your help and support with the table theming for our UK 60-Year Anniversary celebration last night. Right from the very beginning, everything was so very professional and easy. The tables, gifts and award were absolutely fabulous and really added to the whole ambience of the evening, and I have had many wonderful comments about them from our visitors.

Lesley Young, Marketing Communications Manager