Top Tips for your Winter Wonderland Event!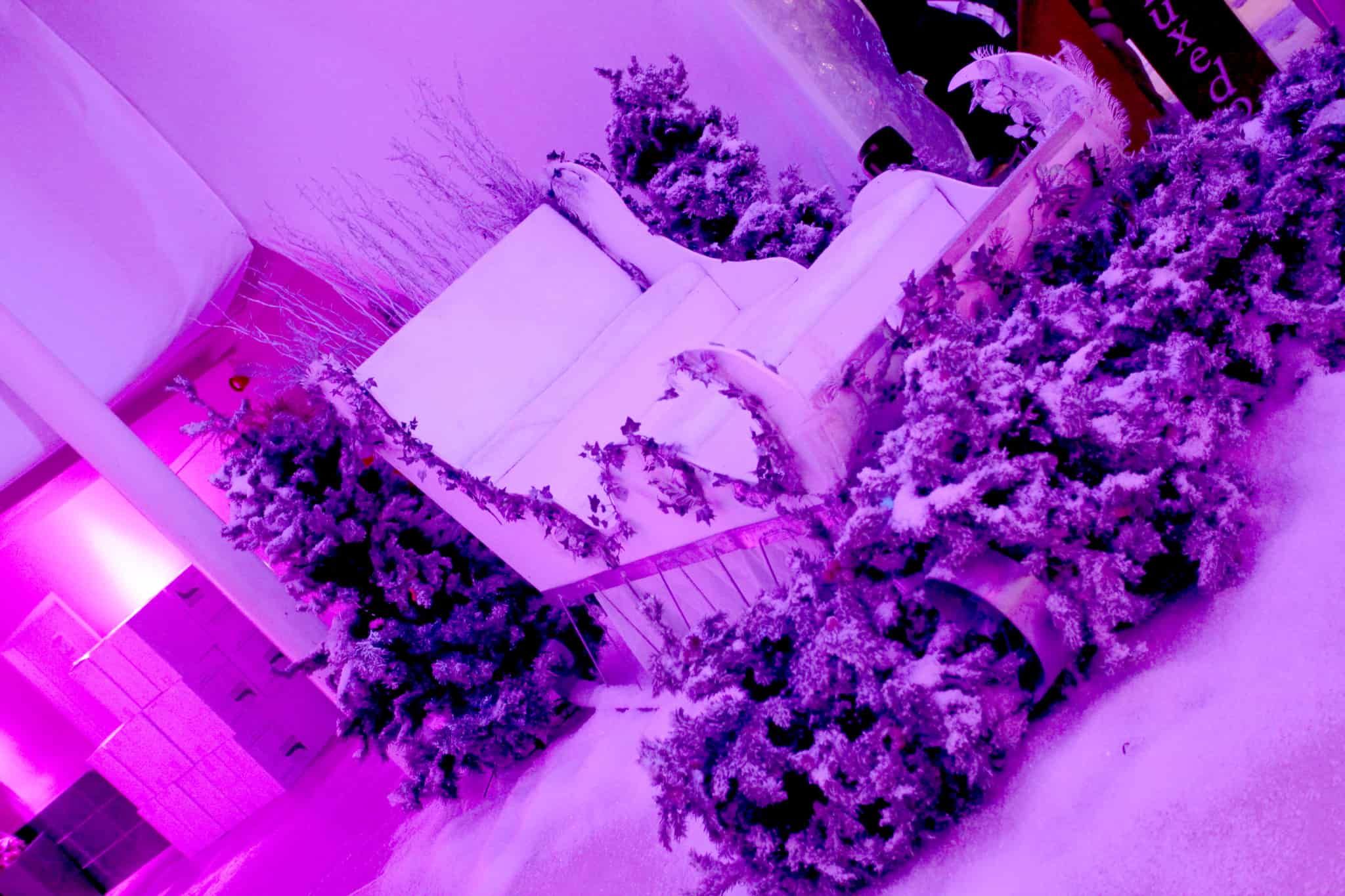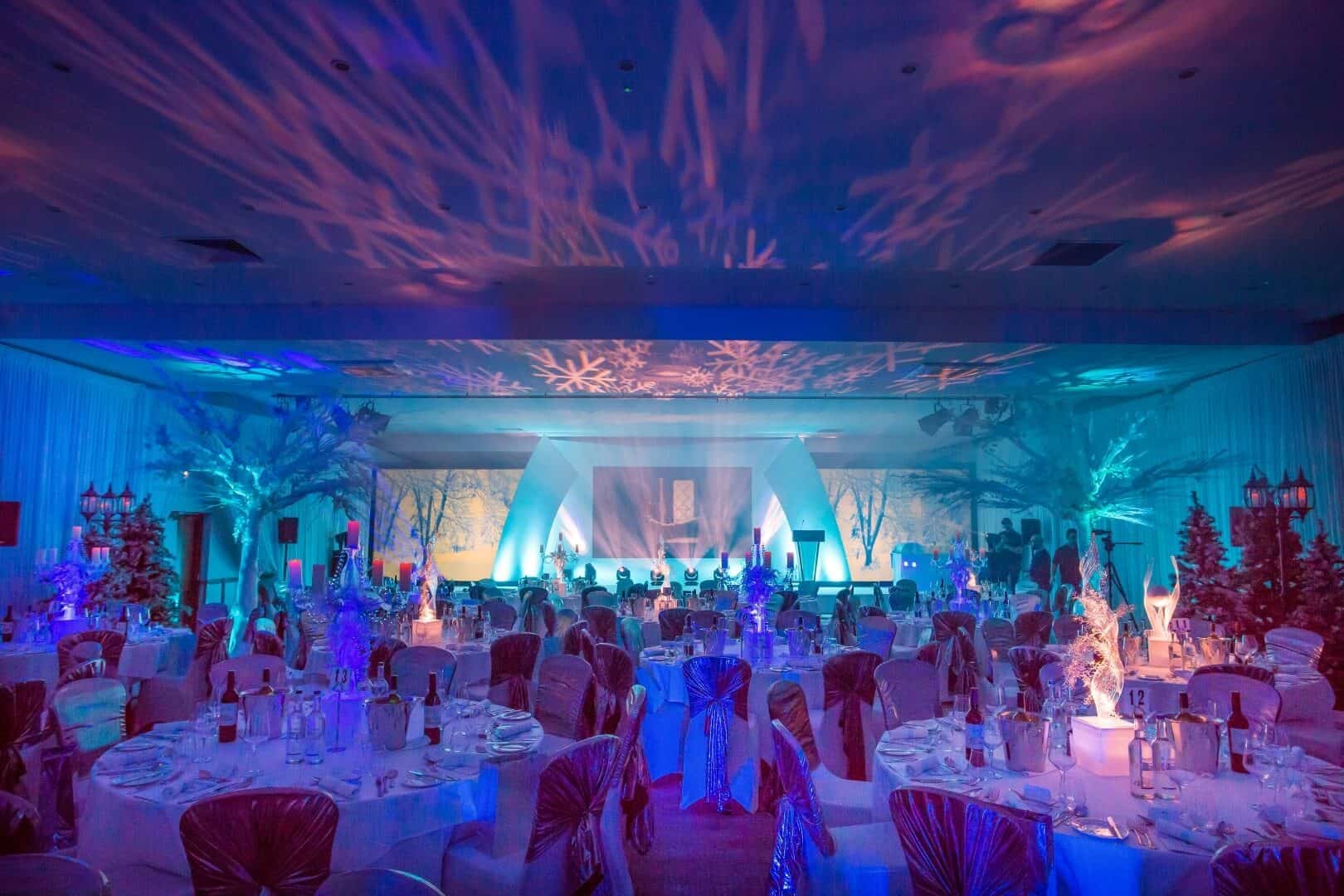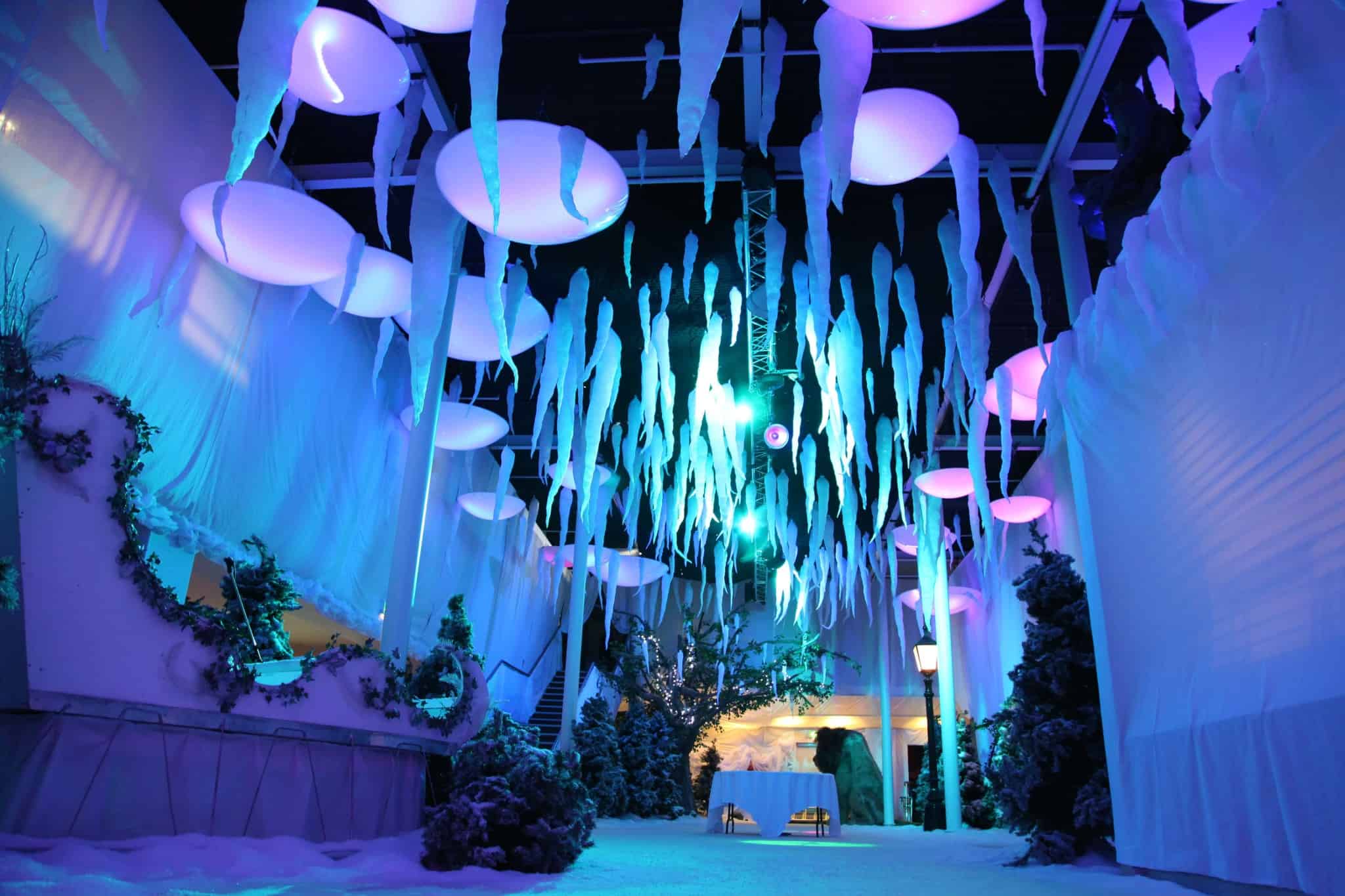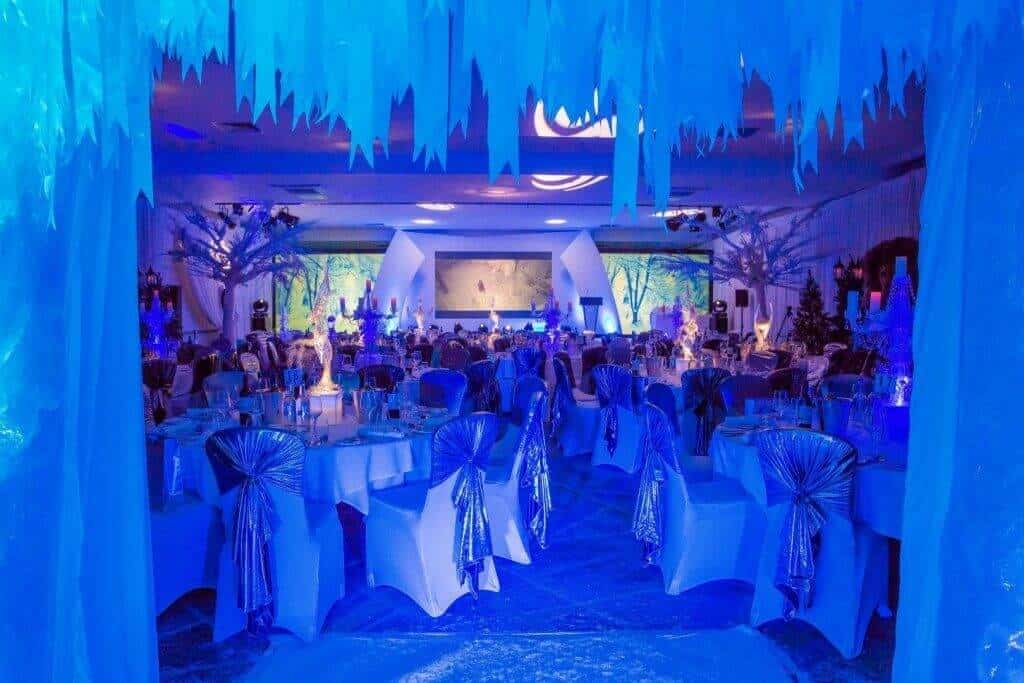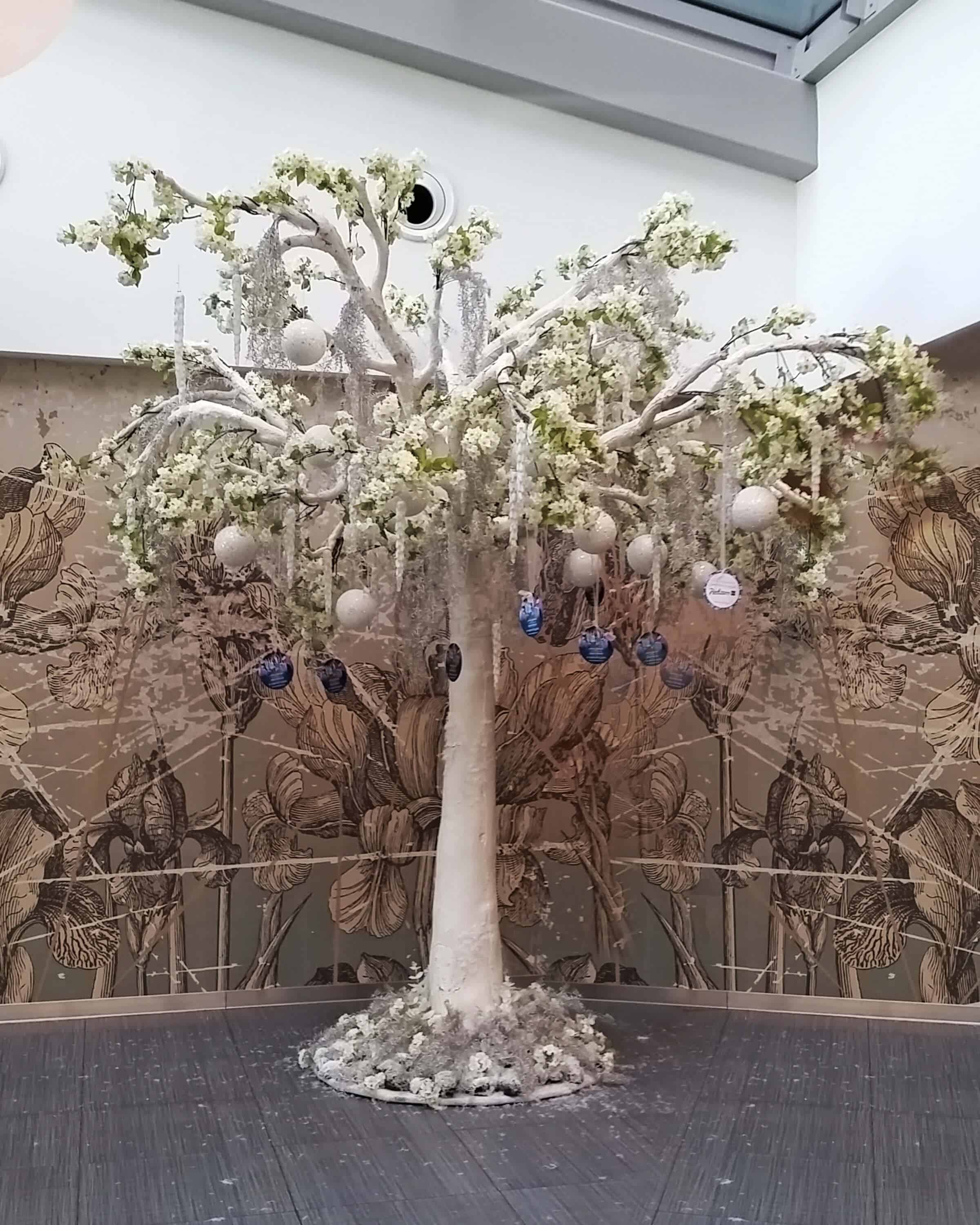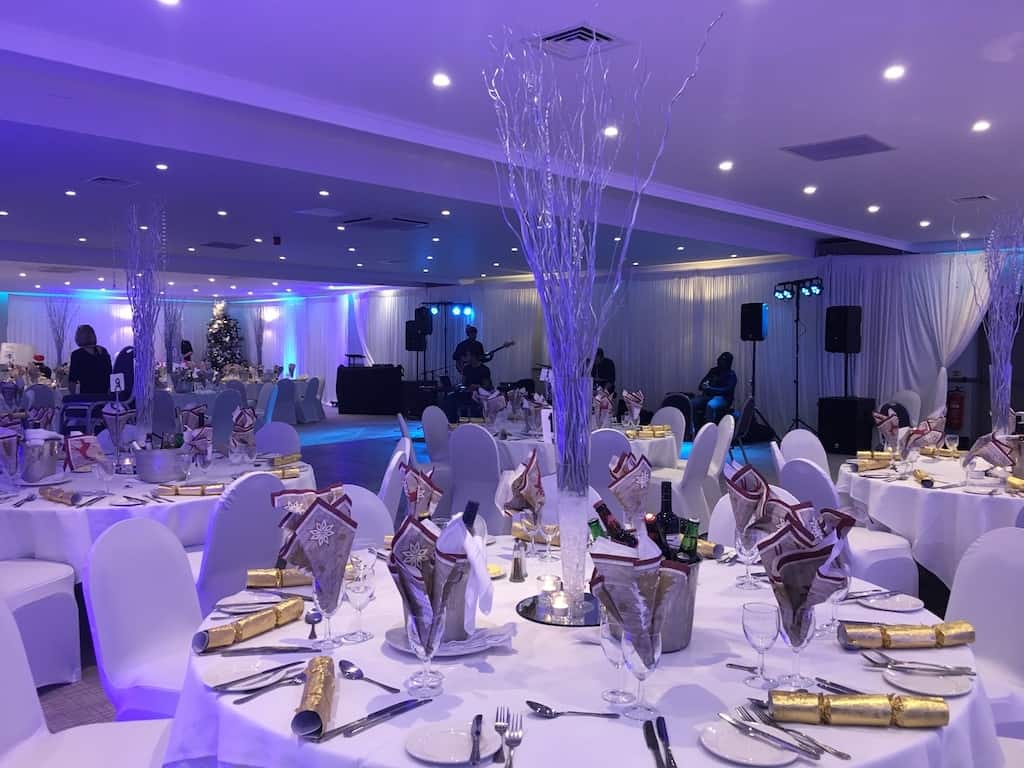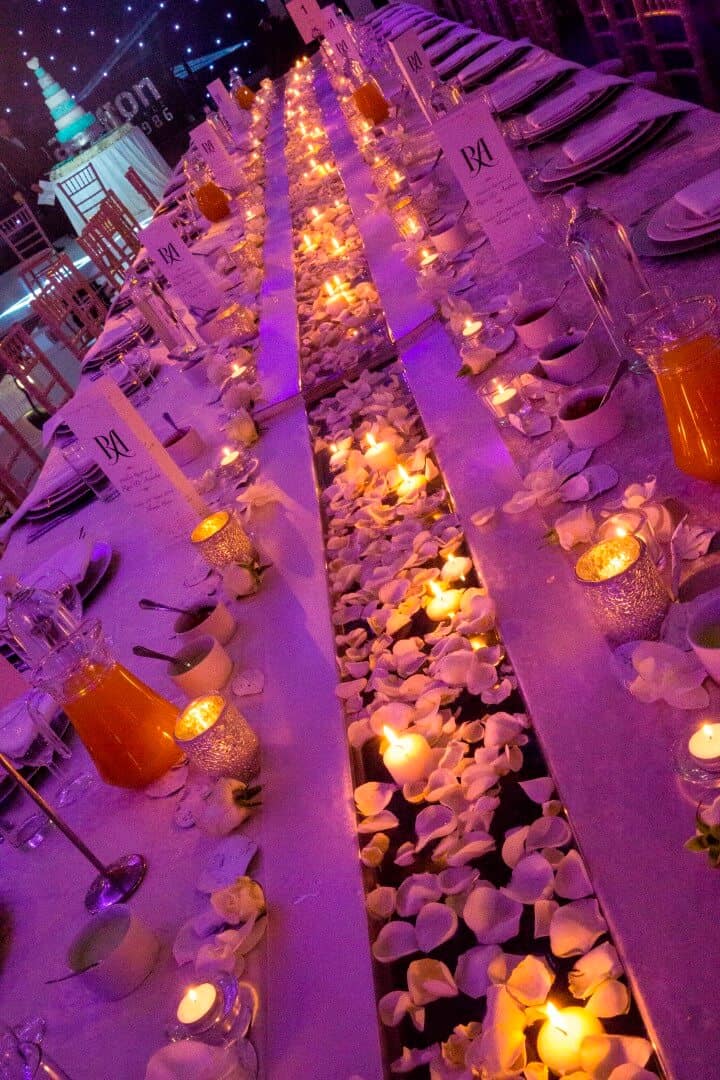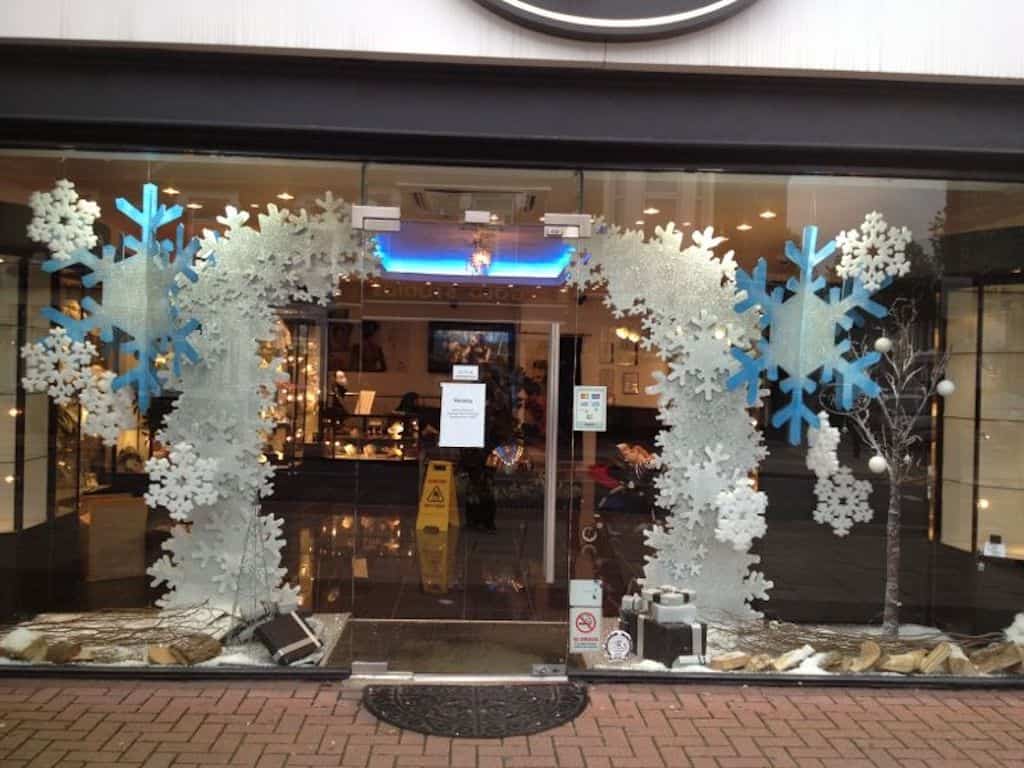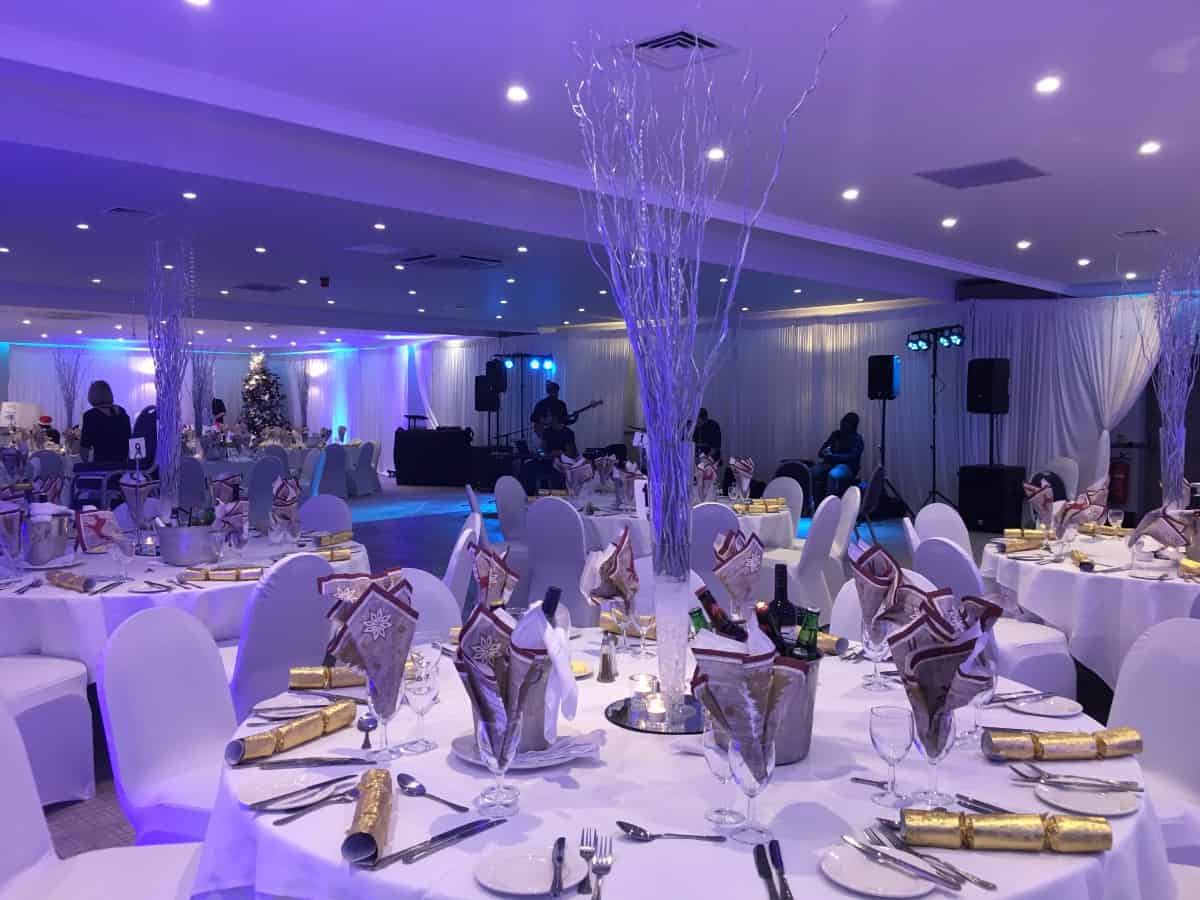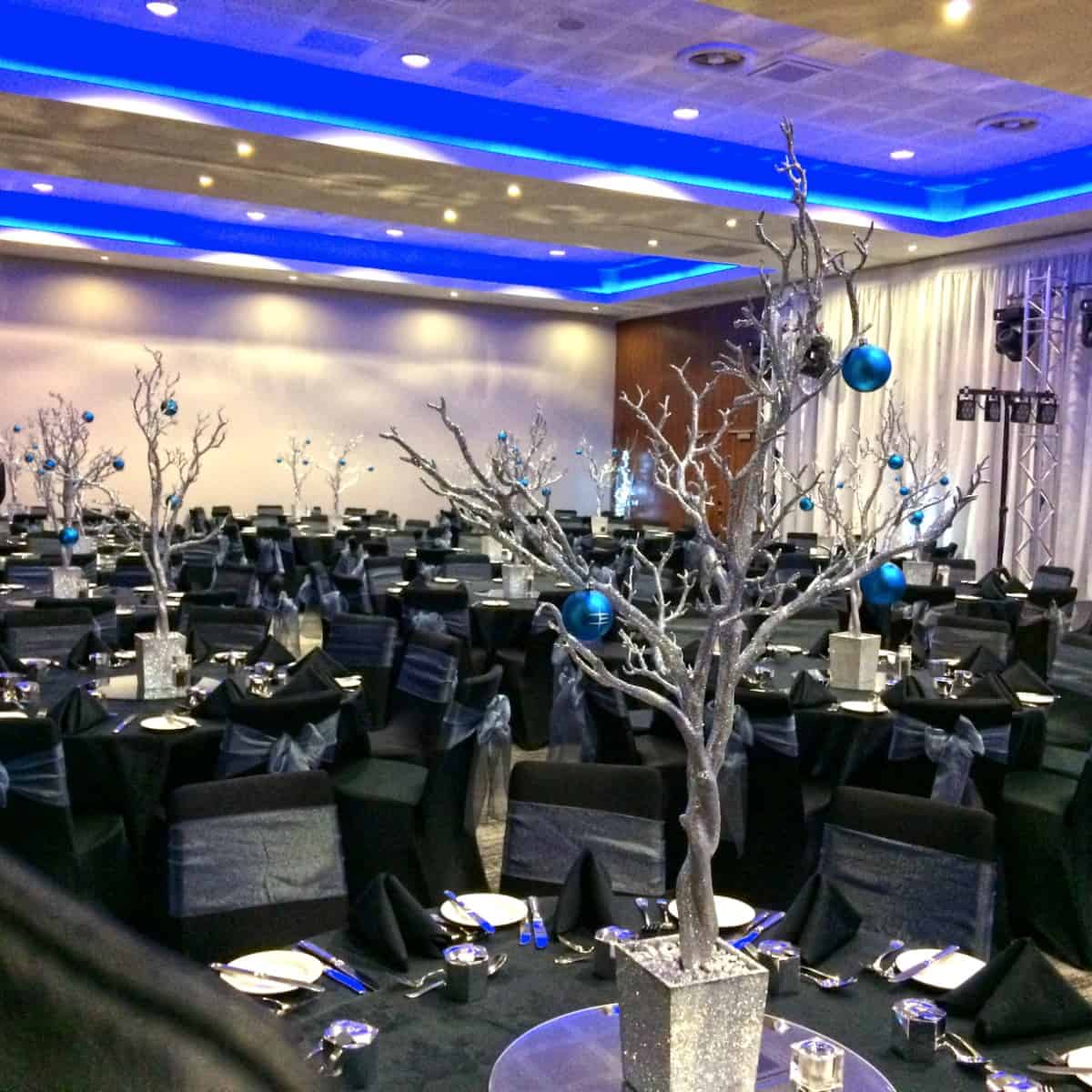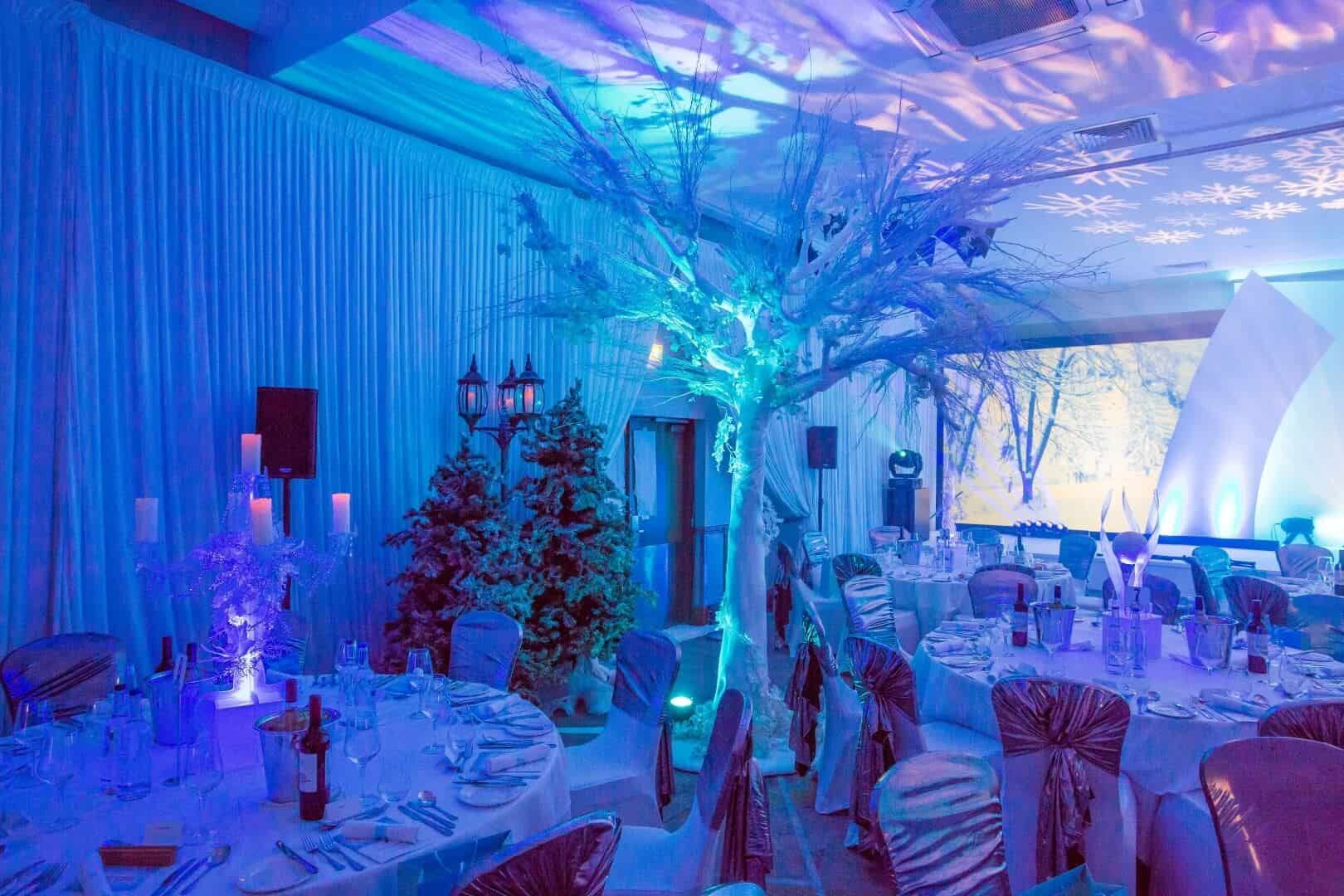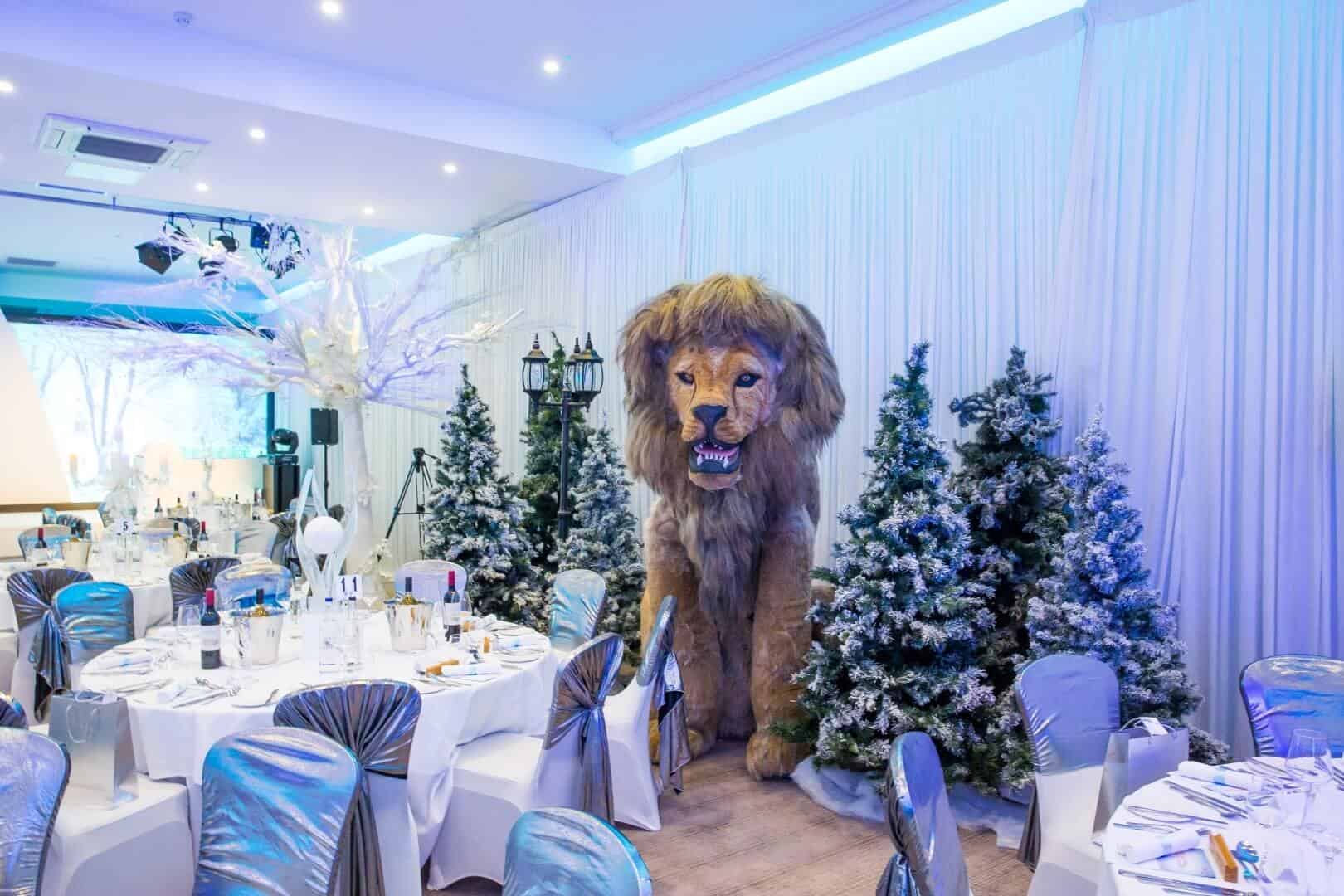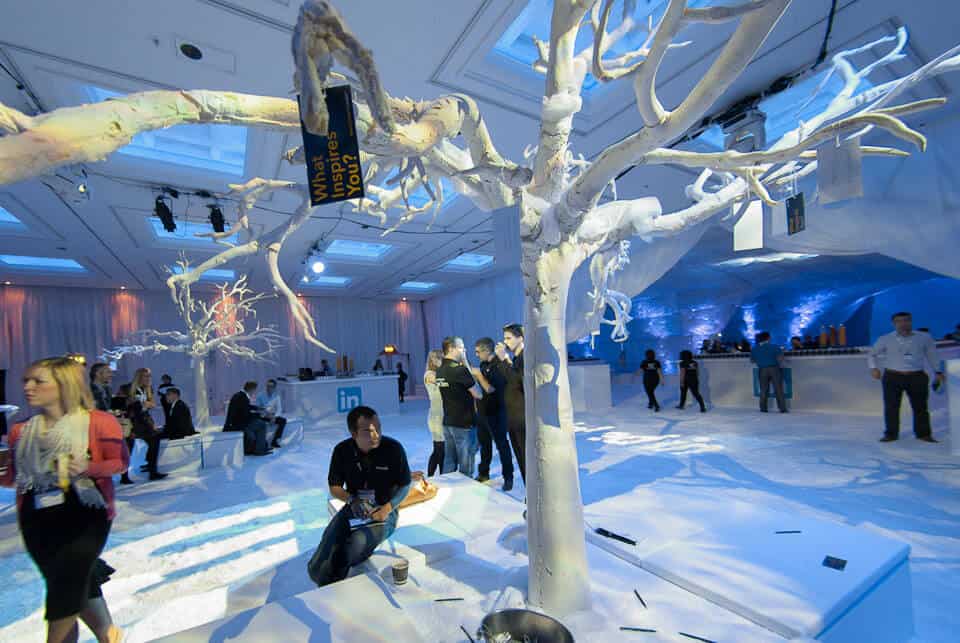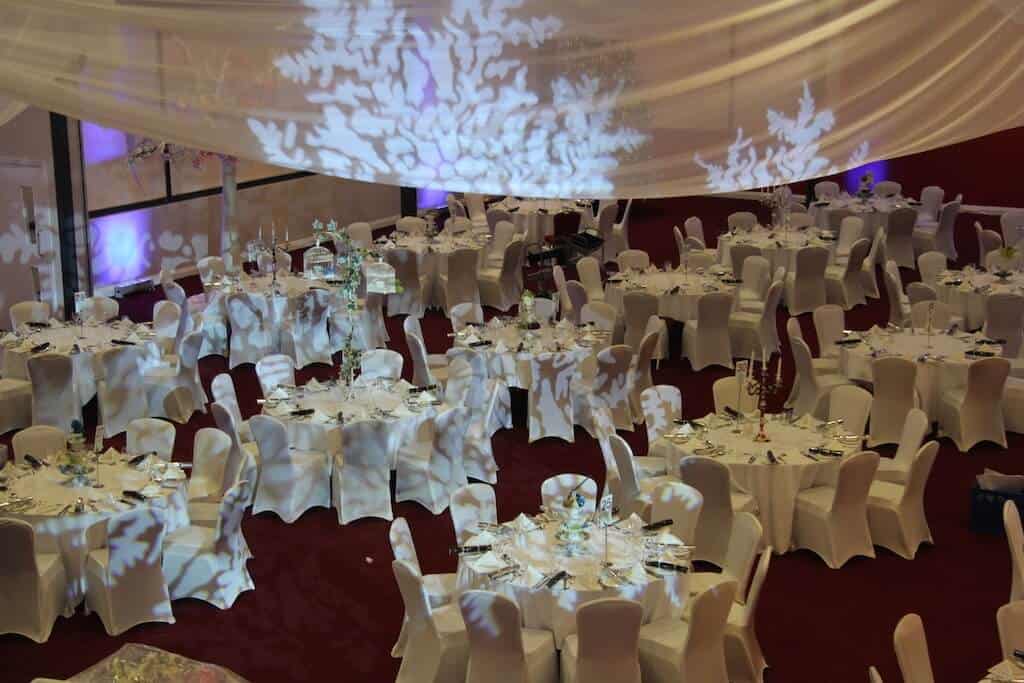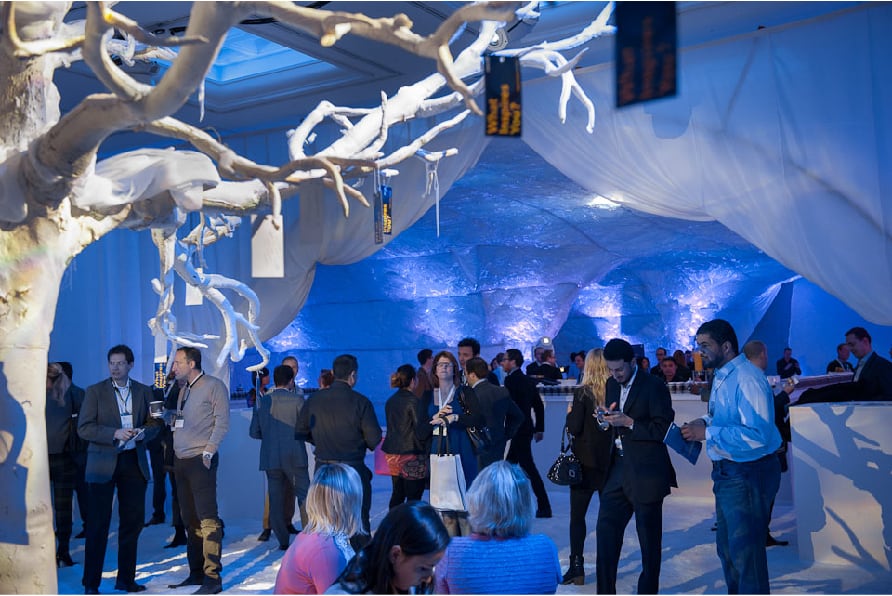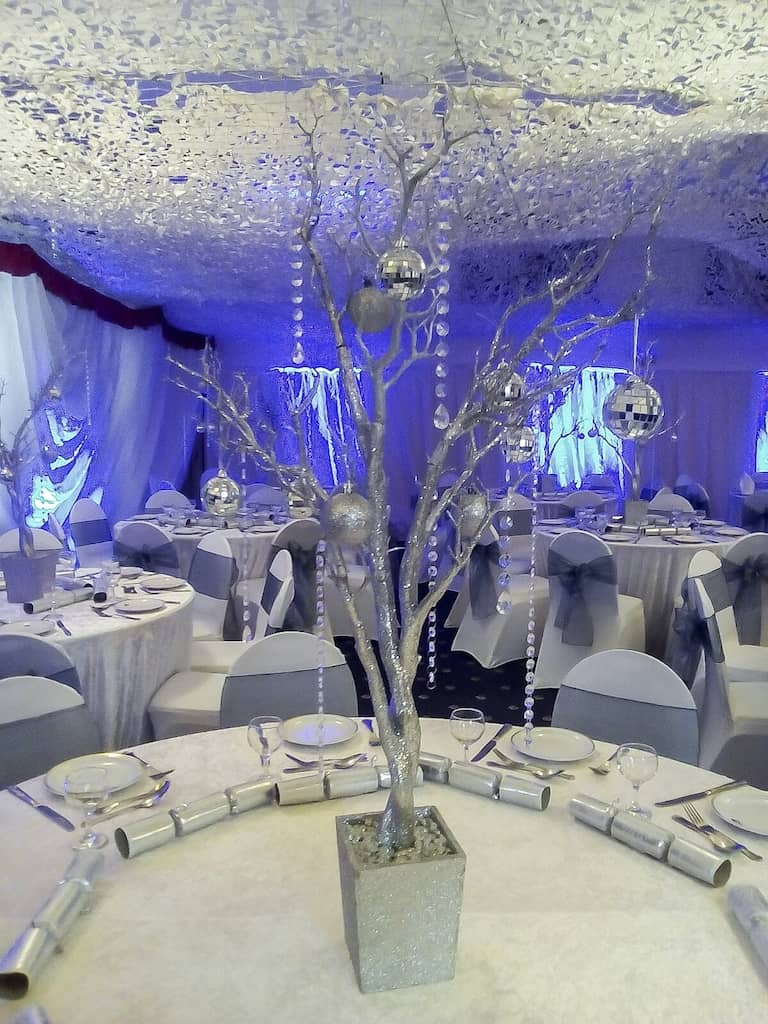 Narnia-Christmas-Decorations
Narnia-Christmas-Decor-1024x683
Radisson-Blu-Christmas-Tree
Christmas-Table-Decorations
Radisson-Blu-Christmas-Tree-819x1024
Narnia-Christmas-Tree-683x1024
christmas themed table centre
Narnia-White-Tree-Prop-for-Hire
Narnia-Snow-Drenched-Trees
Winter-Wonderland-Theming-Ideas
Winter-Wonderland-Table-Centres0
Winter-wonderland-ice-tunnel
Ice-theme-Networking-Area-01
Alice-in-Winterland-Table-Centre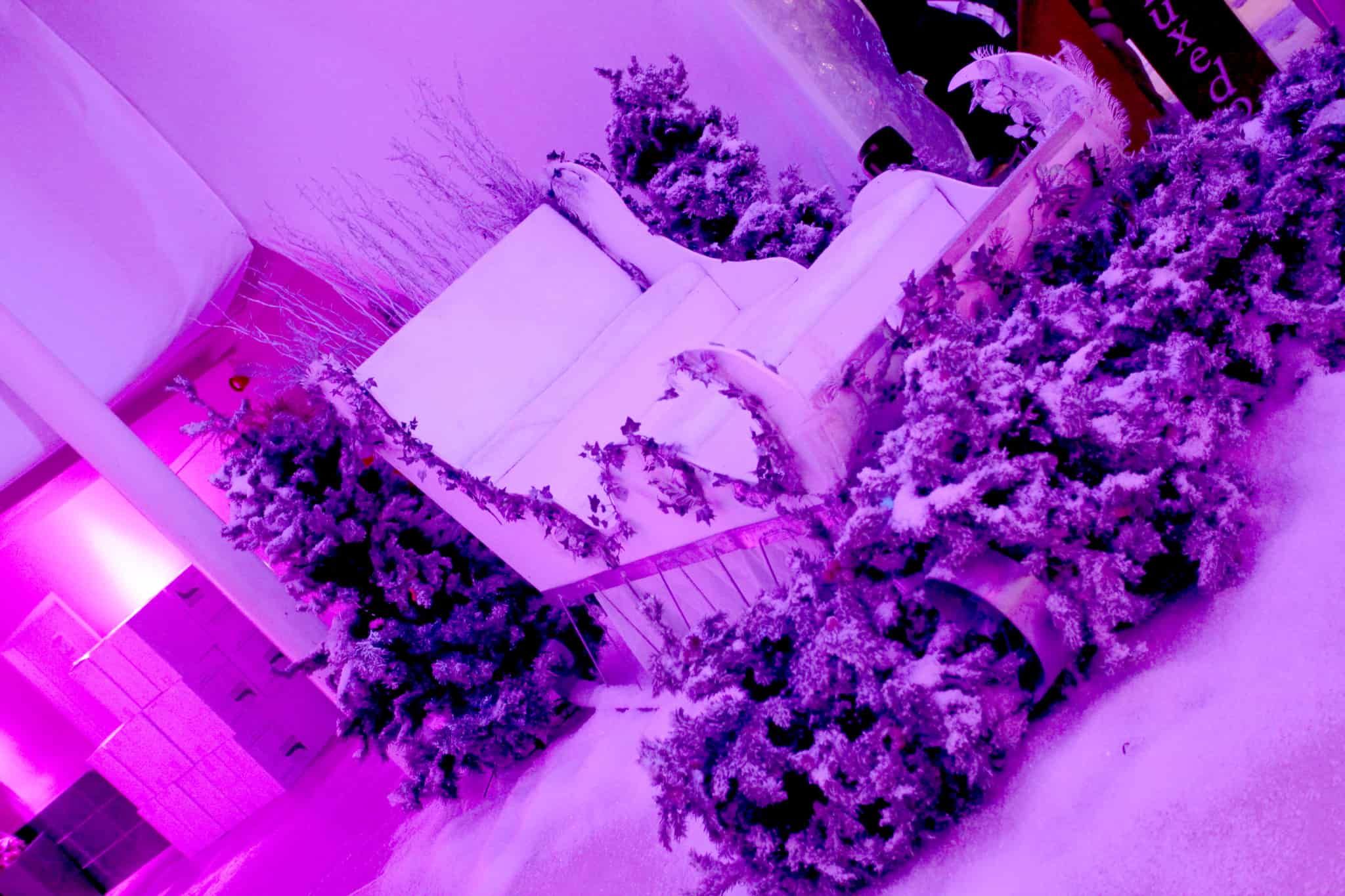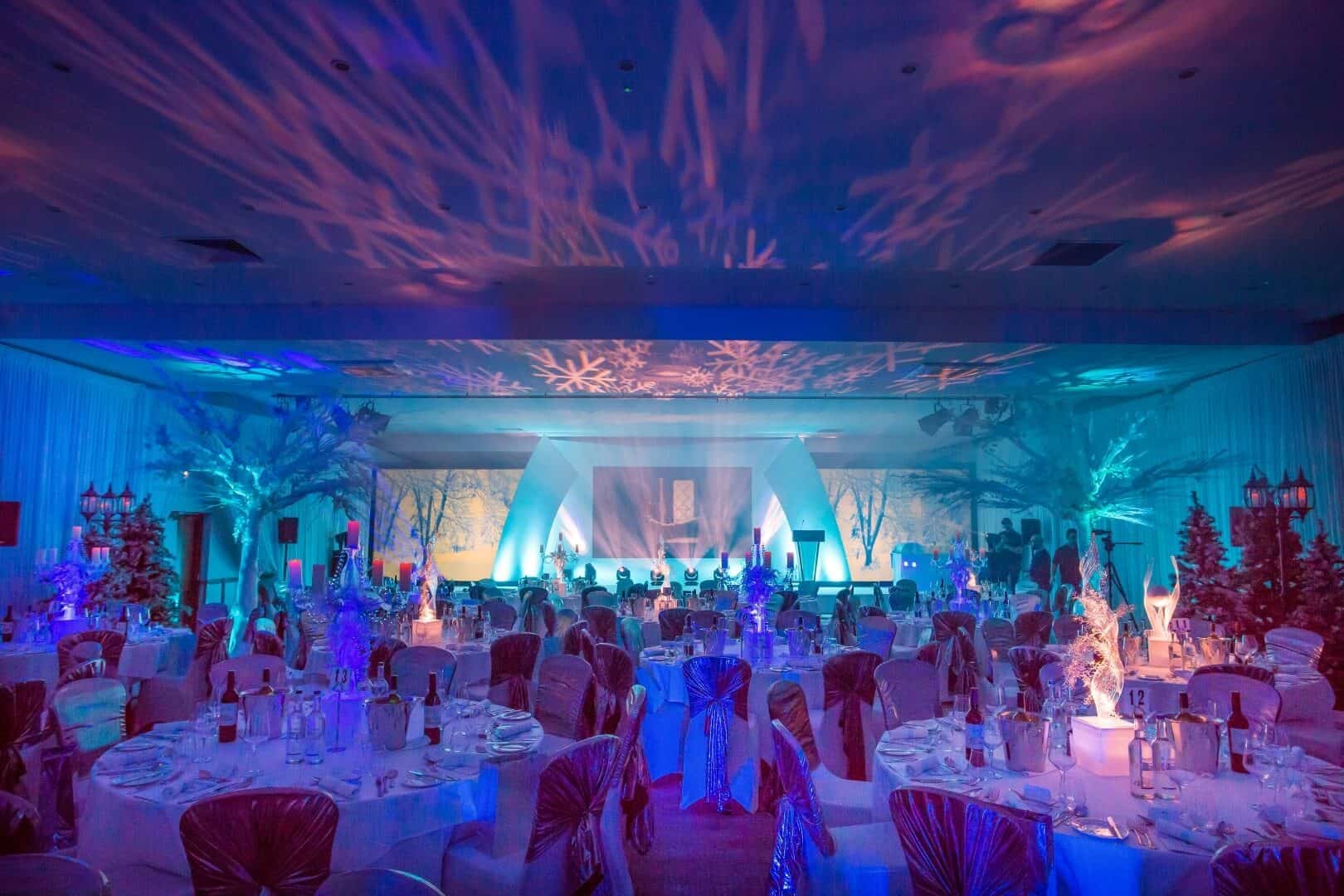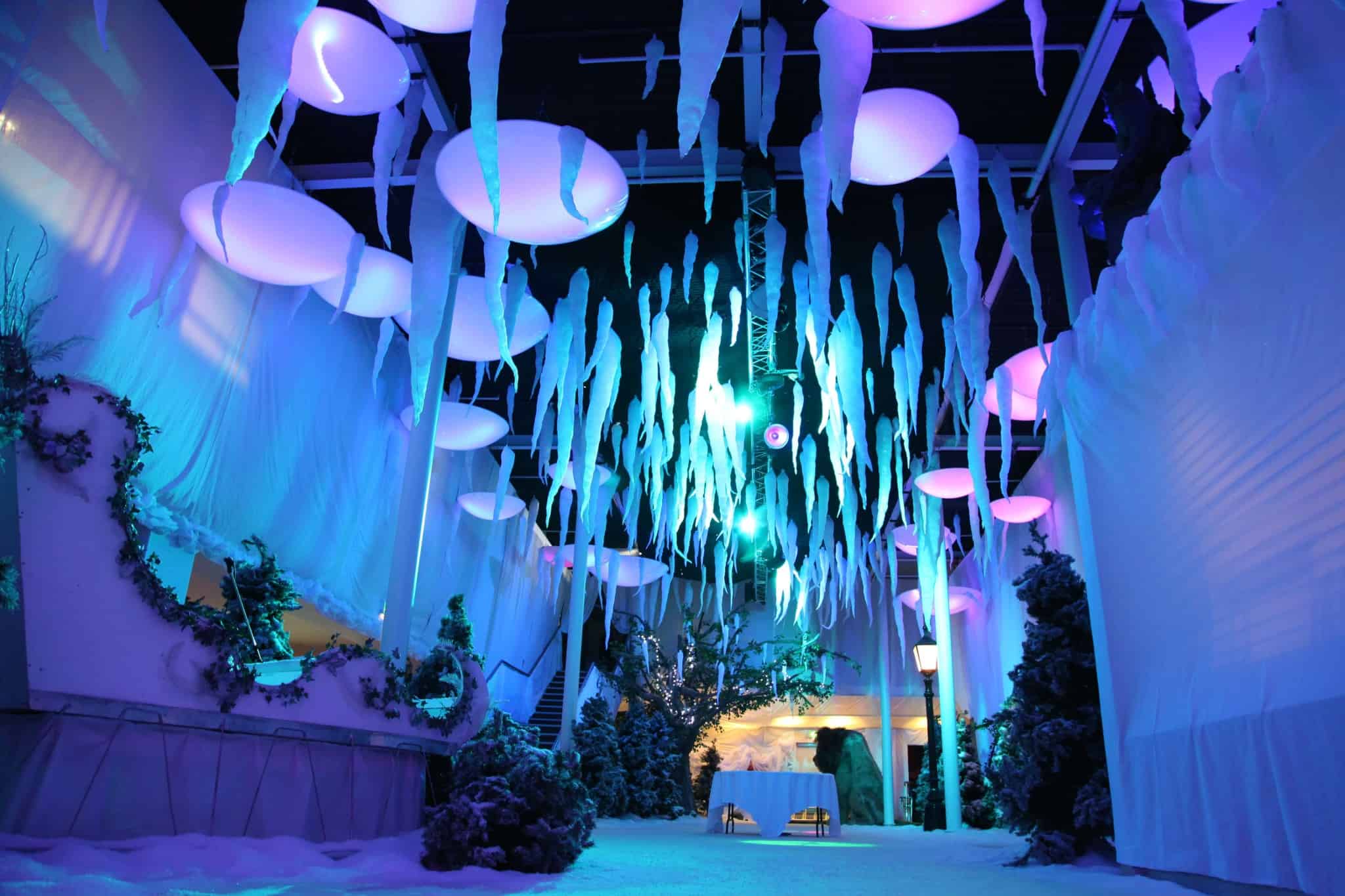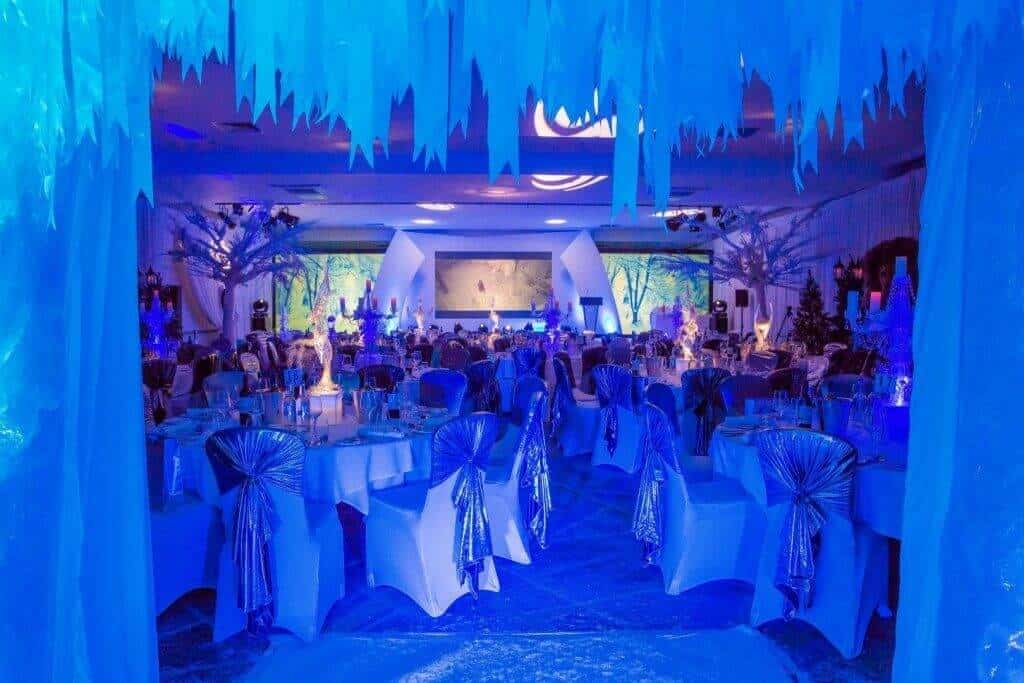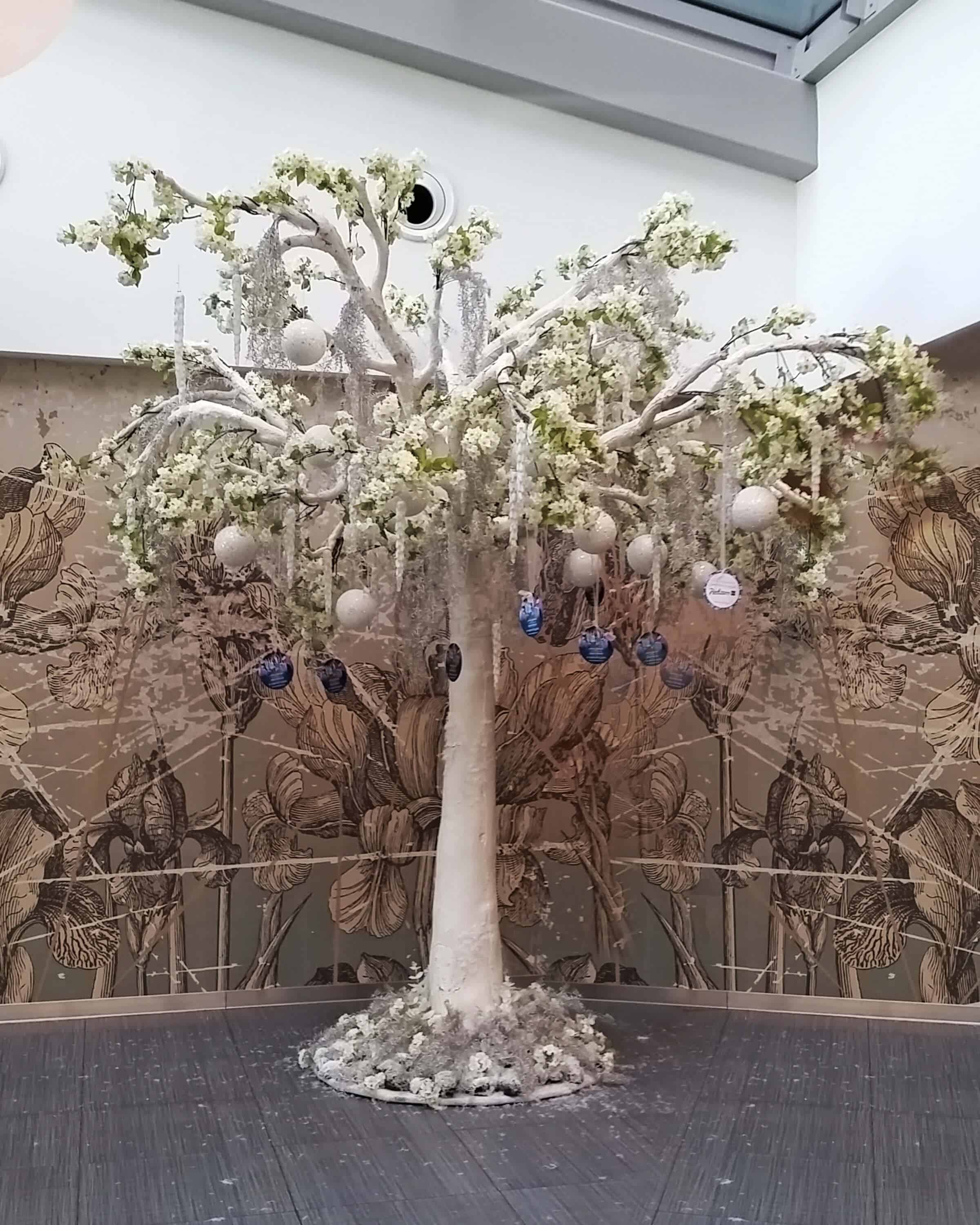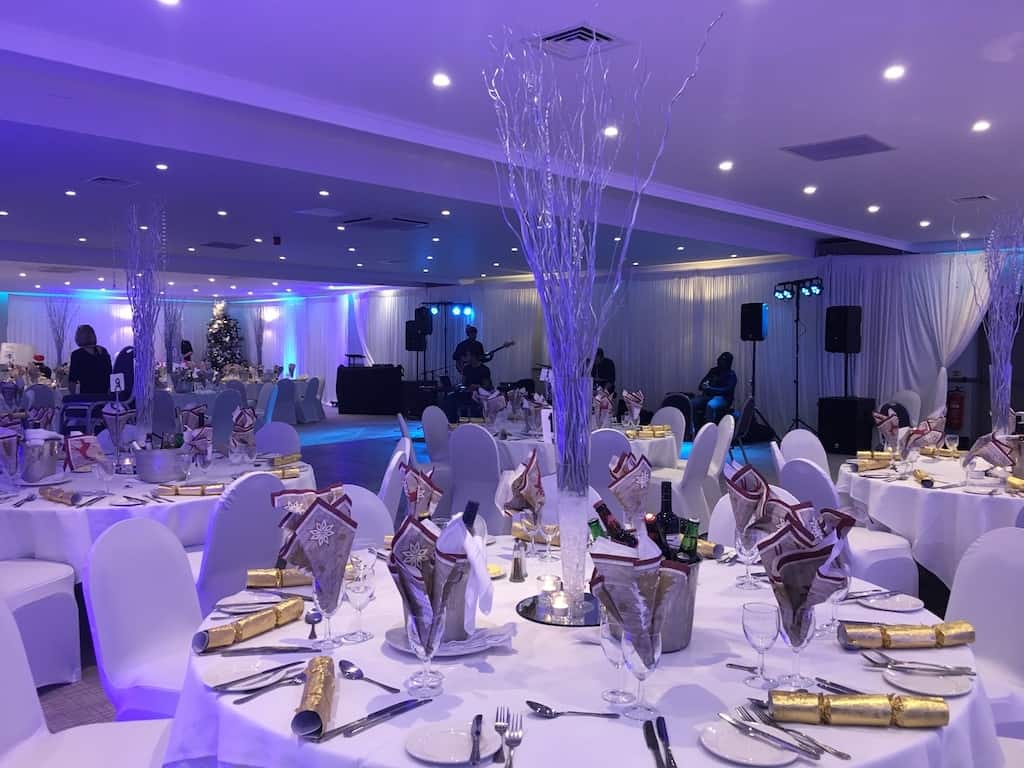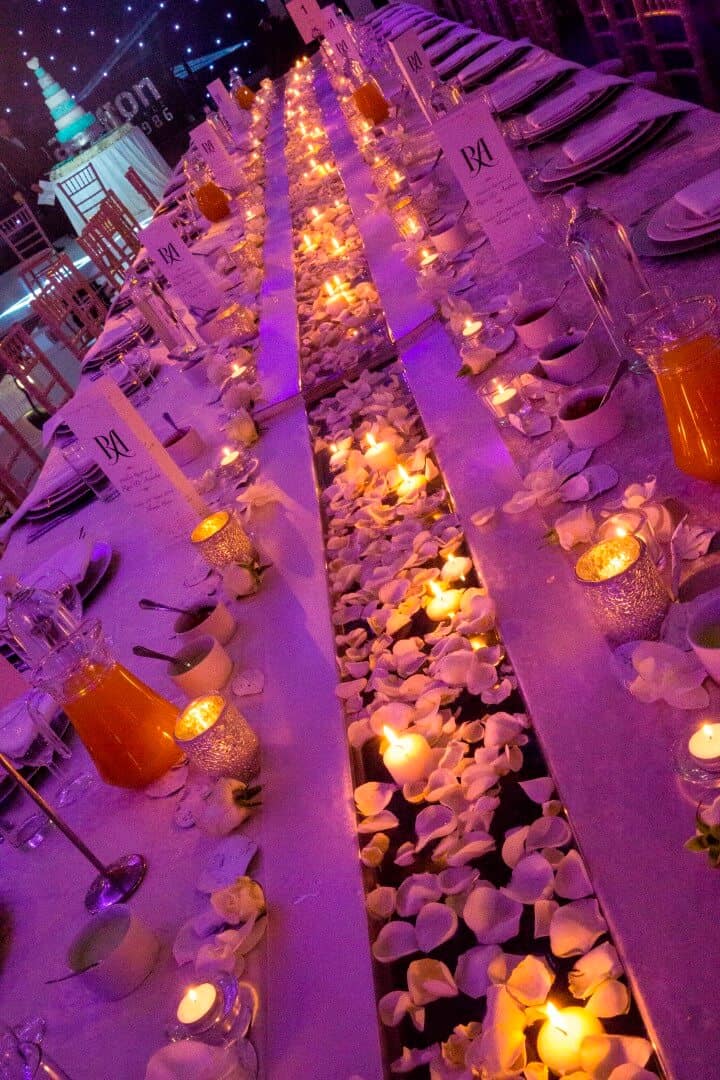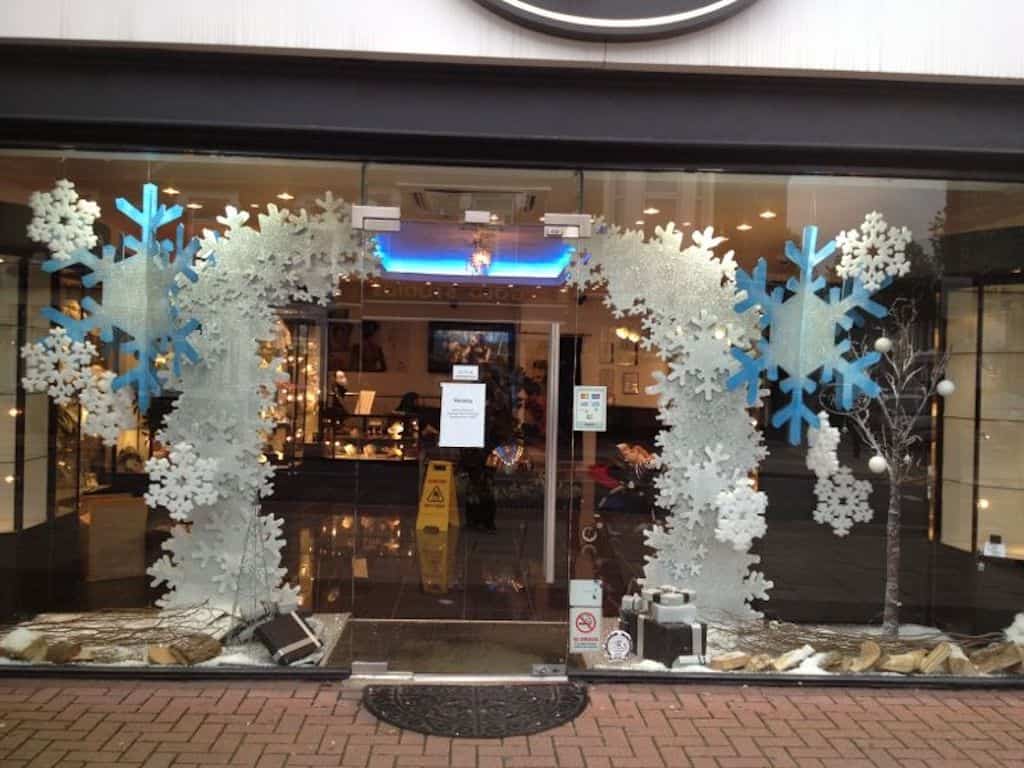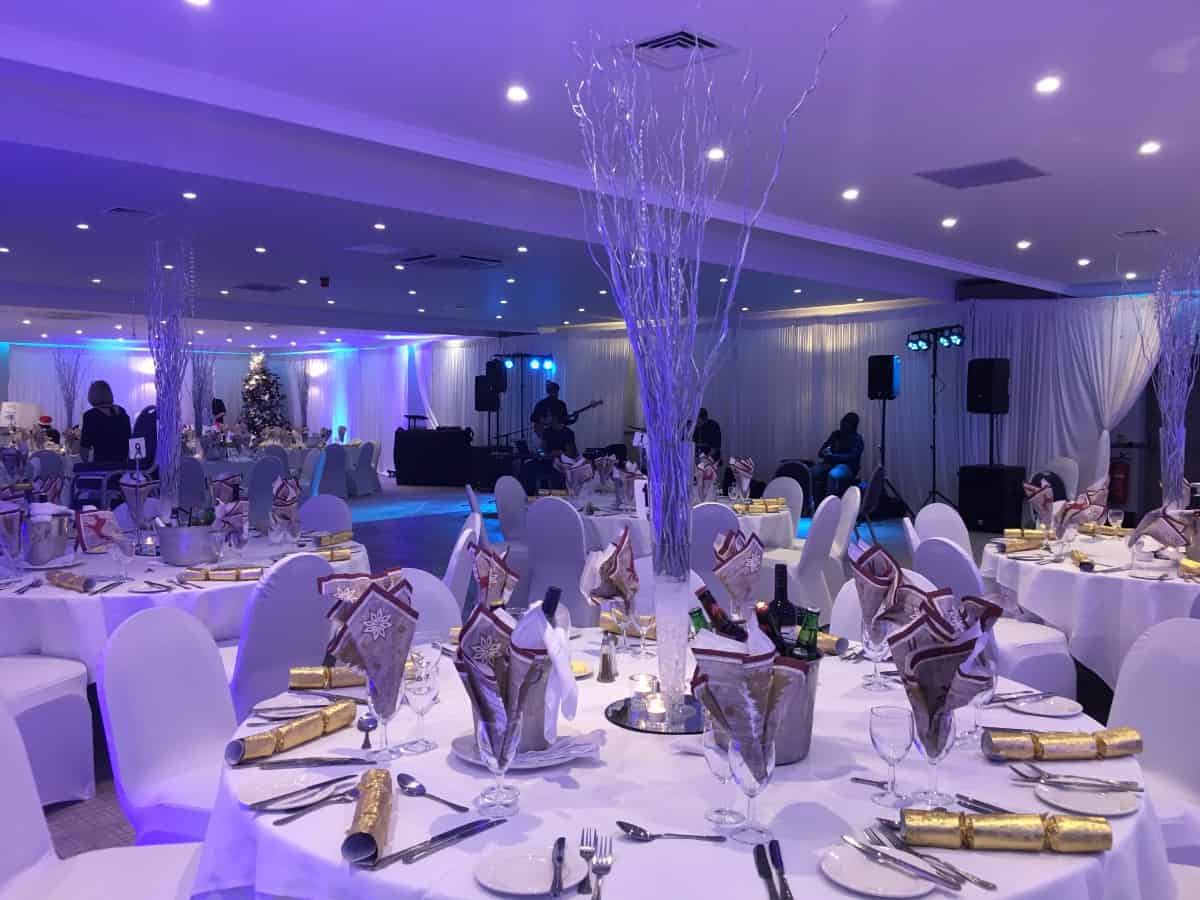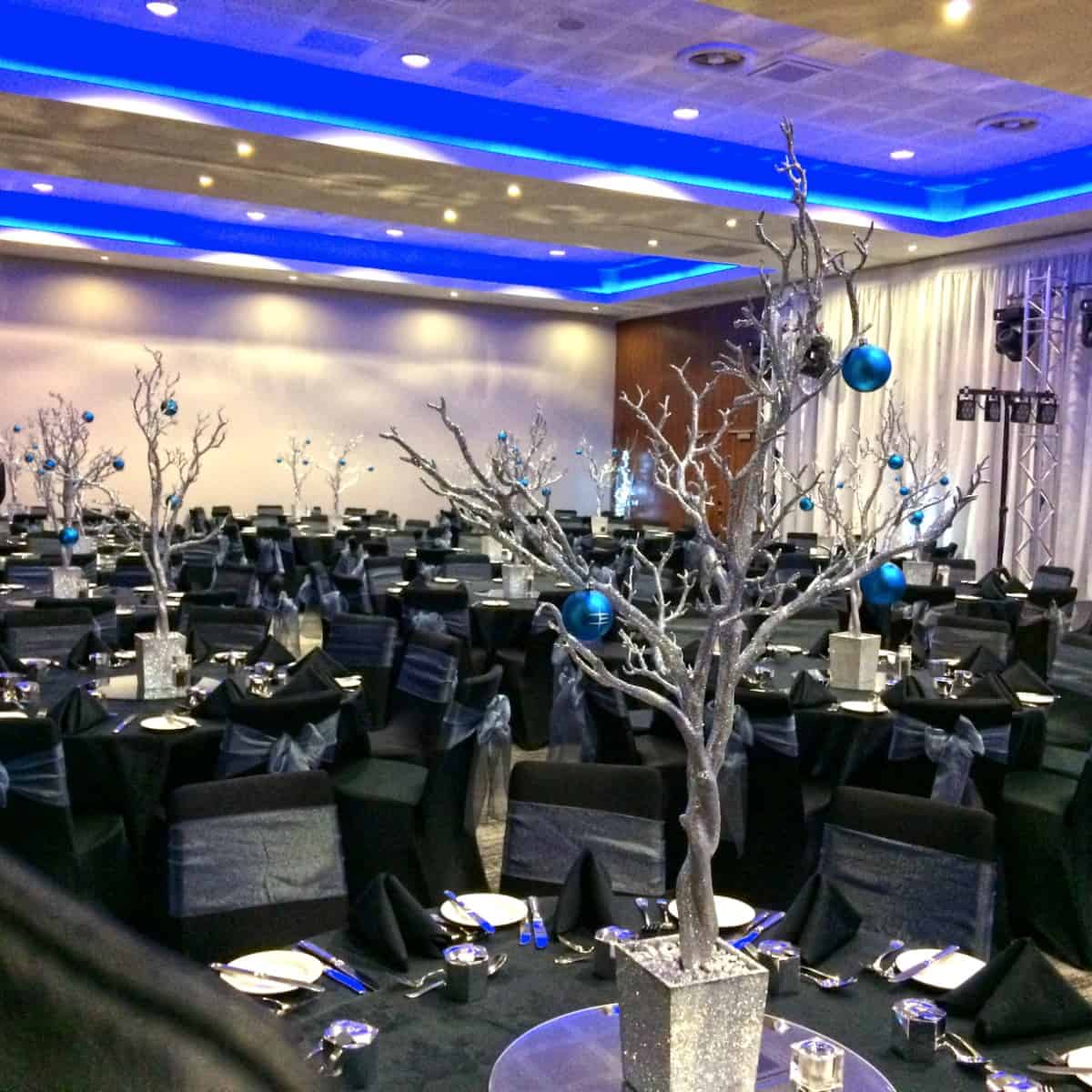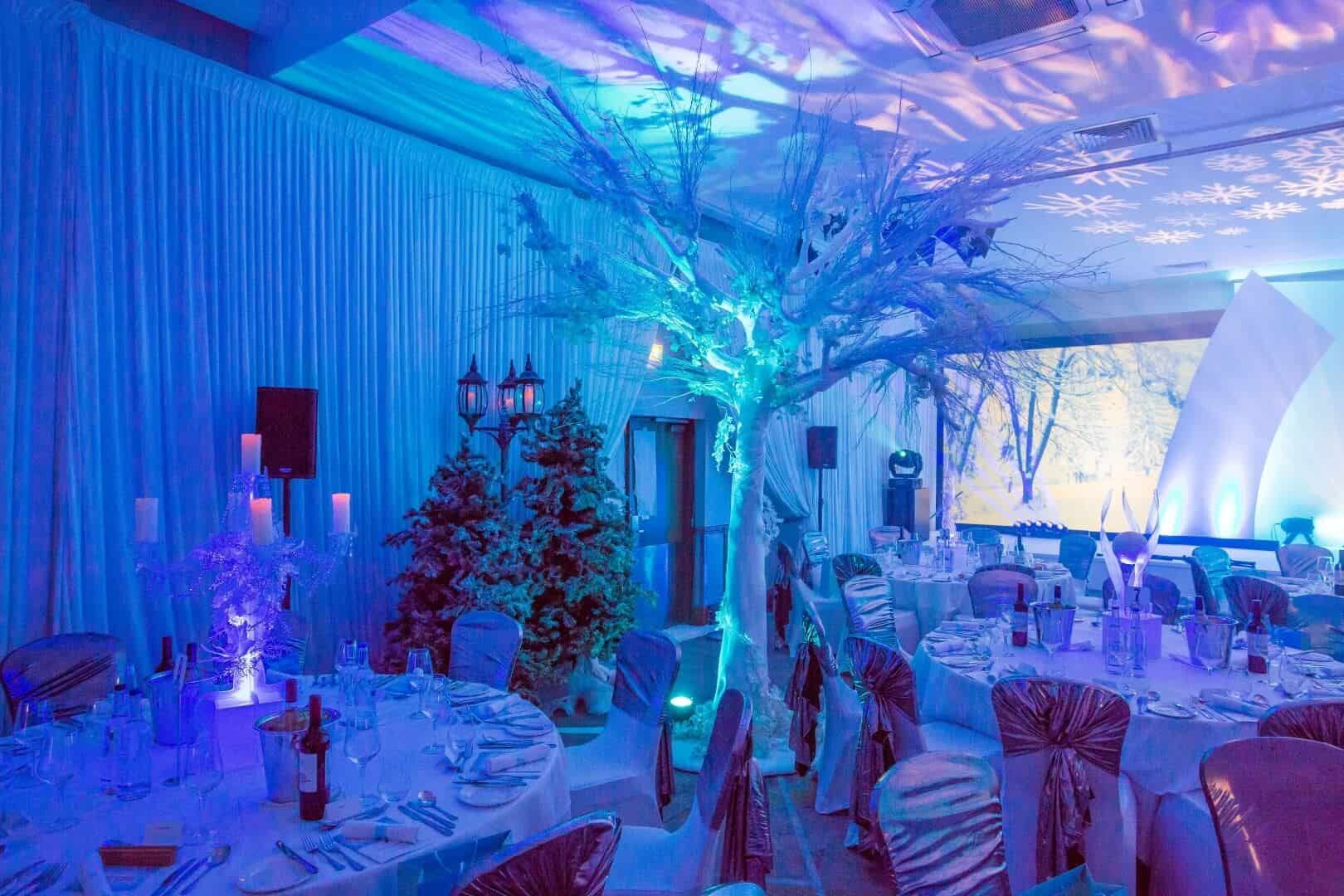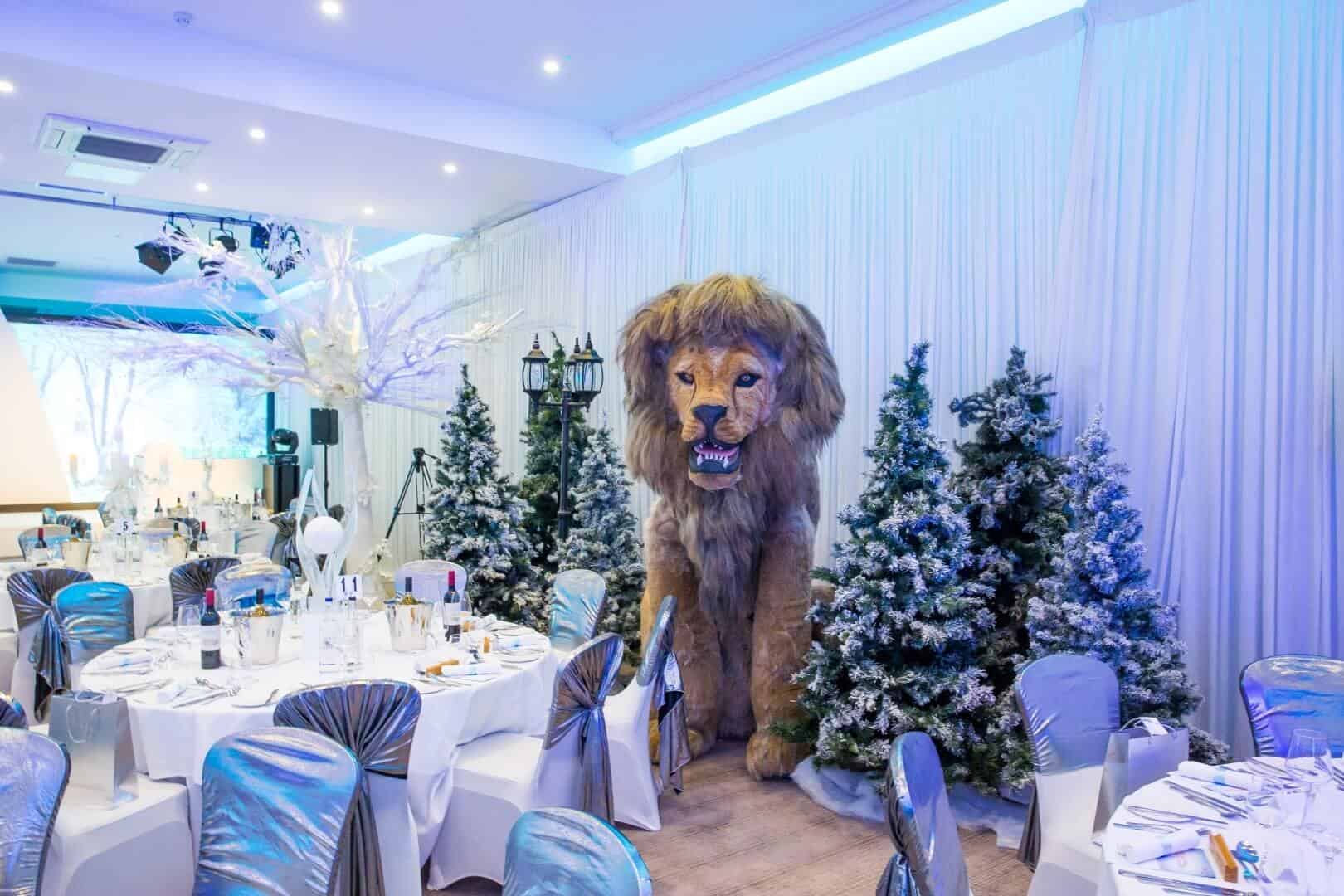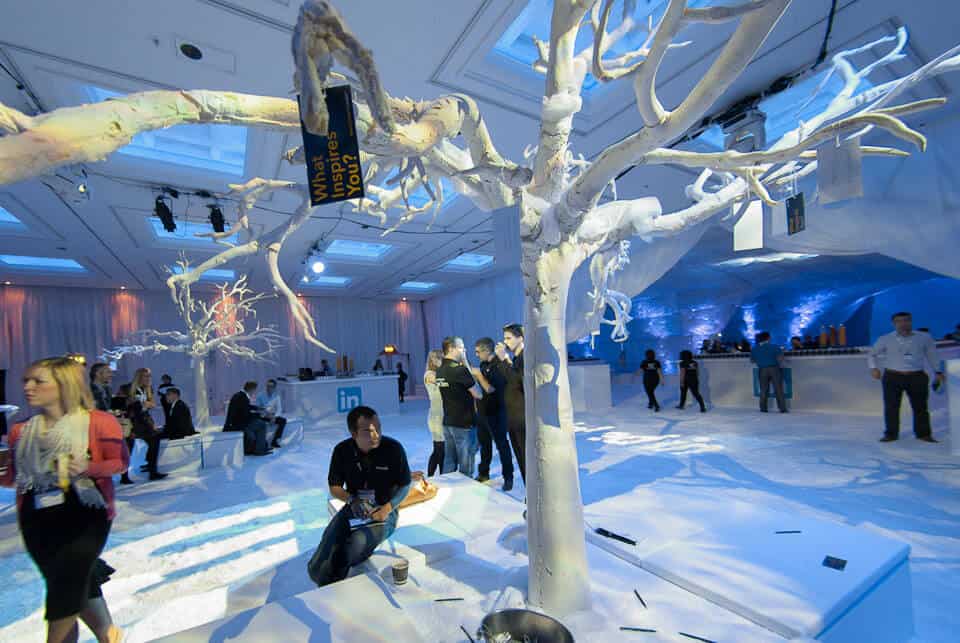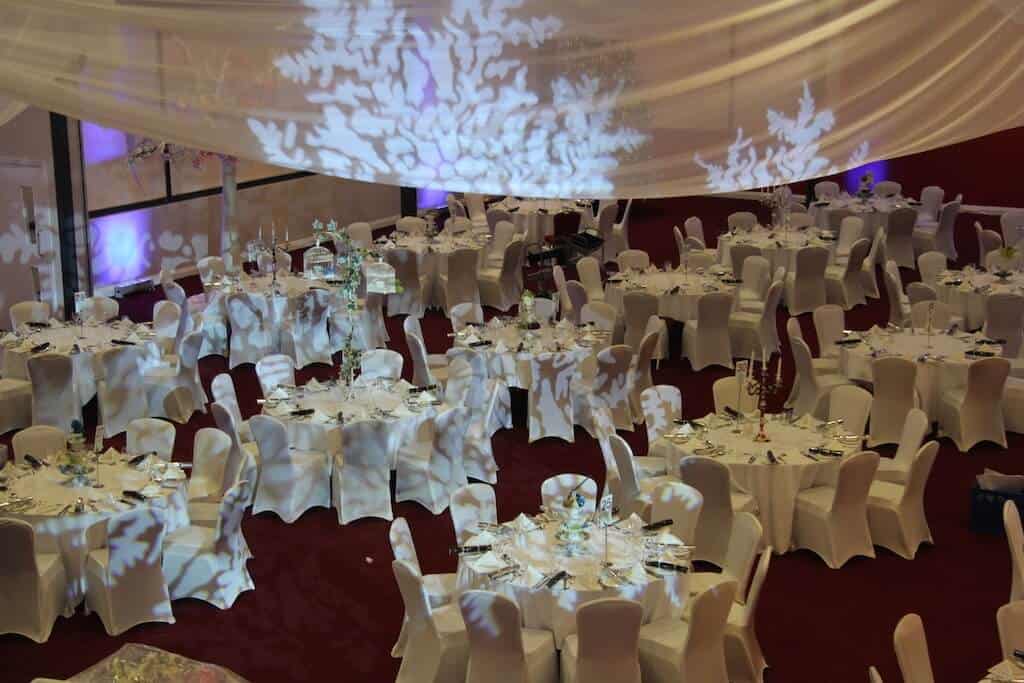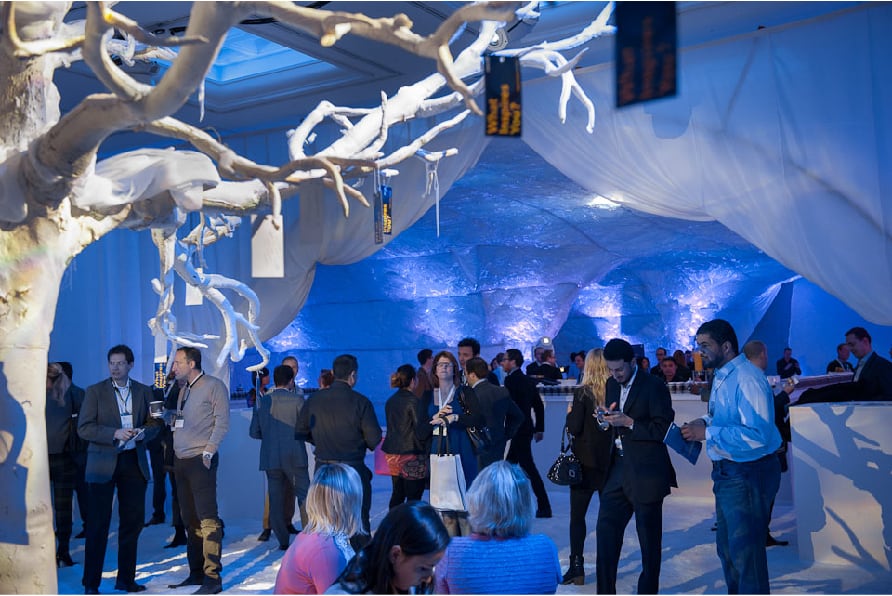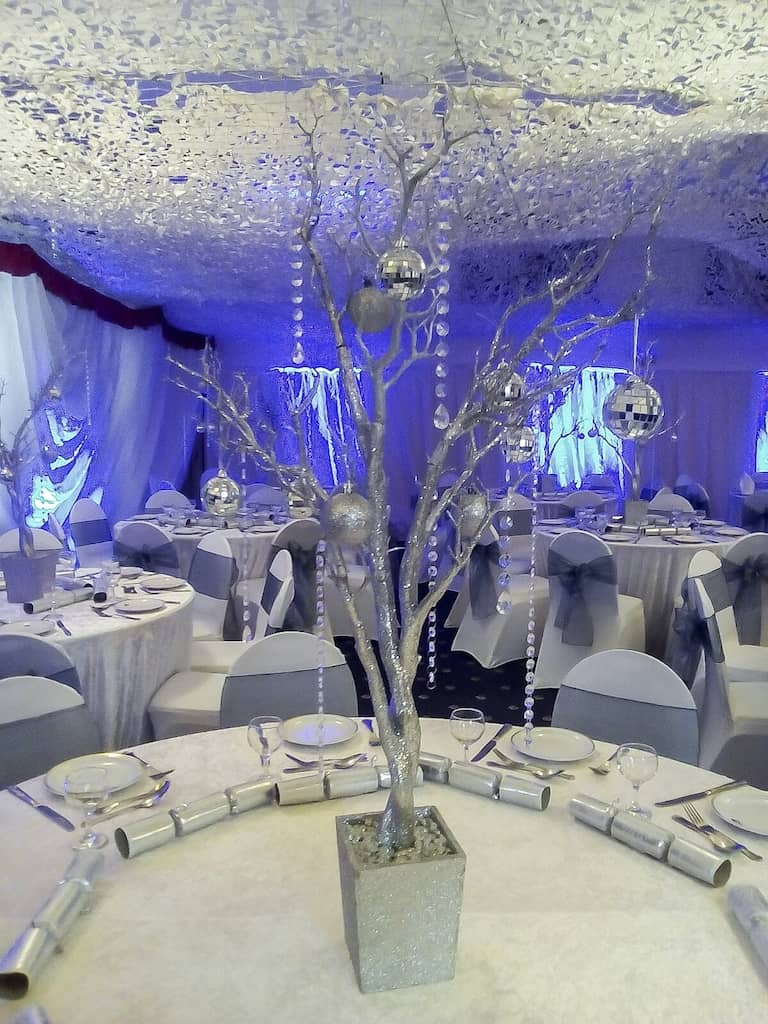 Top Tips for your Winter Wonderland Event!
Trying to find the ultimate theme for your perfect party this winter? Look no further, because a Winter Wonderland Theme by Eventologists will bring the winter and the wonder to your chosen venue!
Wow your guests as they enter with a beautifully sculpted Snow and Ice Tunnel. Your guests will walk through the tunnel and feel the breeze of the cool winter air with icicles, ambient lighting and artificial snow all around to set the scene. They will then walk into a dinner area lit up with white and blue lighting to encase the surroundings in a wintery feel. Snow drenched trees will be dotted around the room and Statement Table Centres will finish off the ambience to get your guests into the Christmas Spirit.
Throughout the night, you will be entertained by Snow Fairies, Ice Maidens and Living Statues. When dinner is finished and tunes are playing, your guests can make their way to the White Starlit Dancefloor to dance the night away. A Winter Wonderland party to never forget!
Winter Wonderland Décor and Props may include:
Giant Icicles
Snow and Ice Tunnel
Ice Bar
White LED Dance Floor
Giant Snowflakes
Winter Themed Table Centres
Ice Cave
Large Sleigh Prop
Snow Drenched Trees
Winter Wonderland Entertainment may include:
Snow Fairies
Snow Maiden
Ice Contortionist
Winter Wonderland Photobooth
Ice Sculptures
Ice Dancers
Turn up the Heat this Christmas with our Dramatic Fire & Ice Themed Event!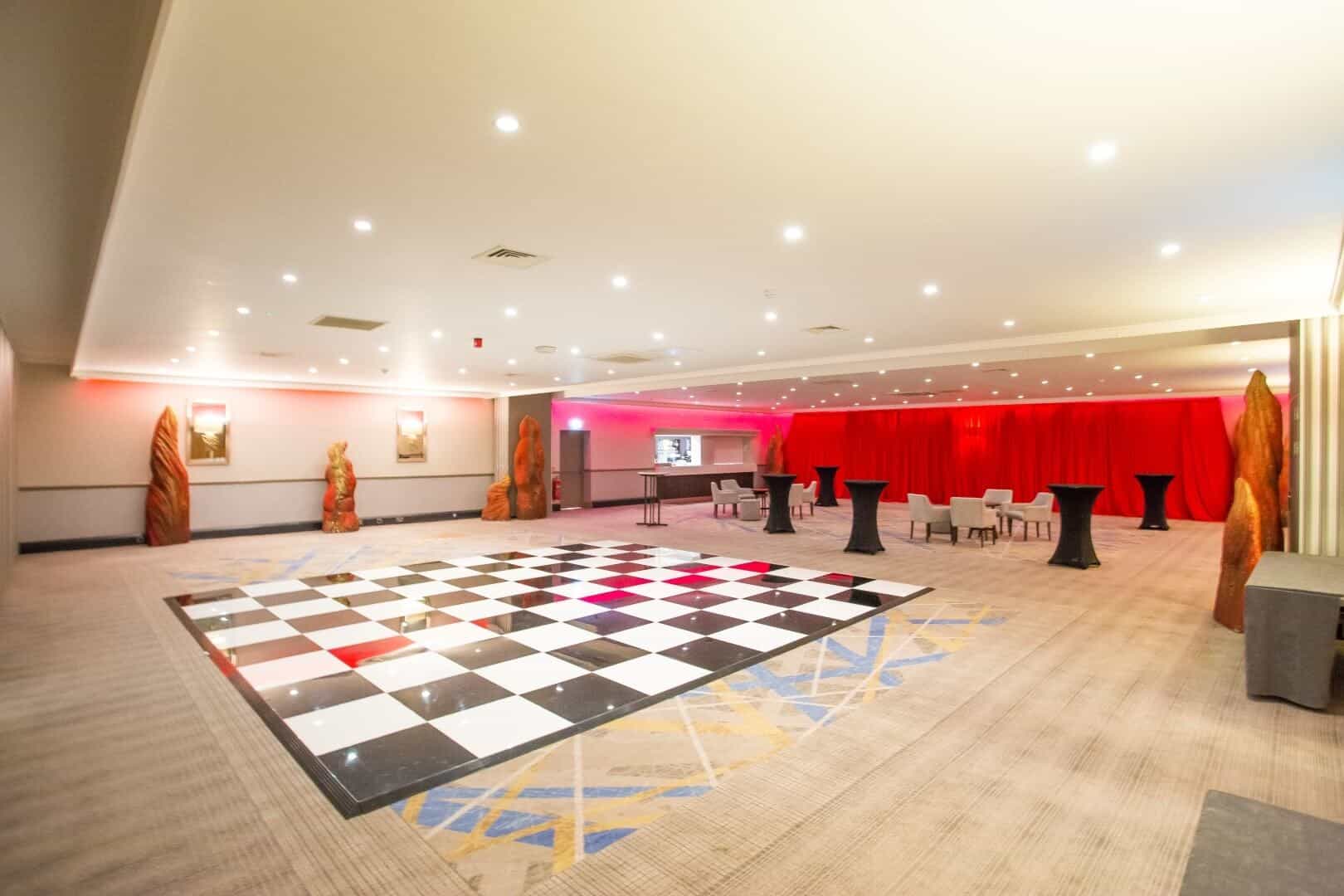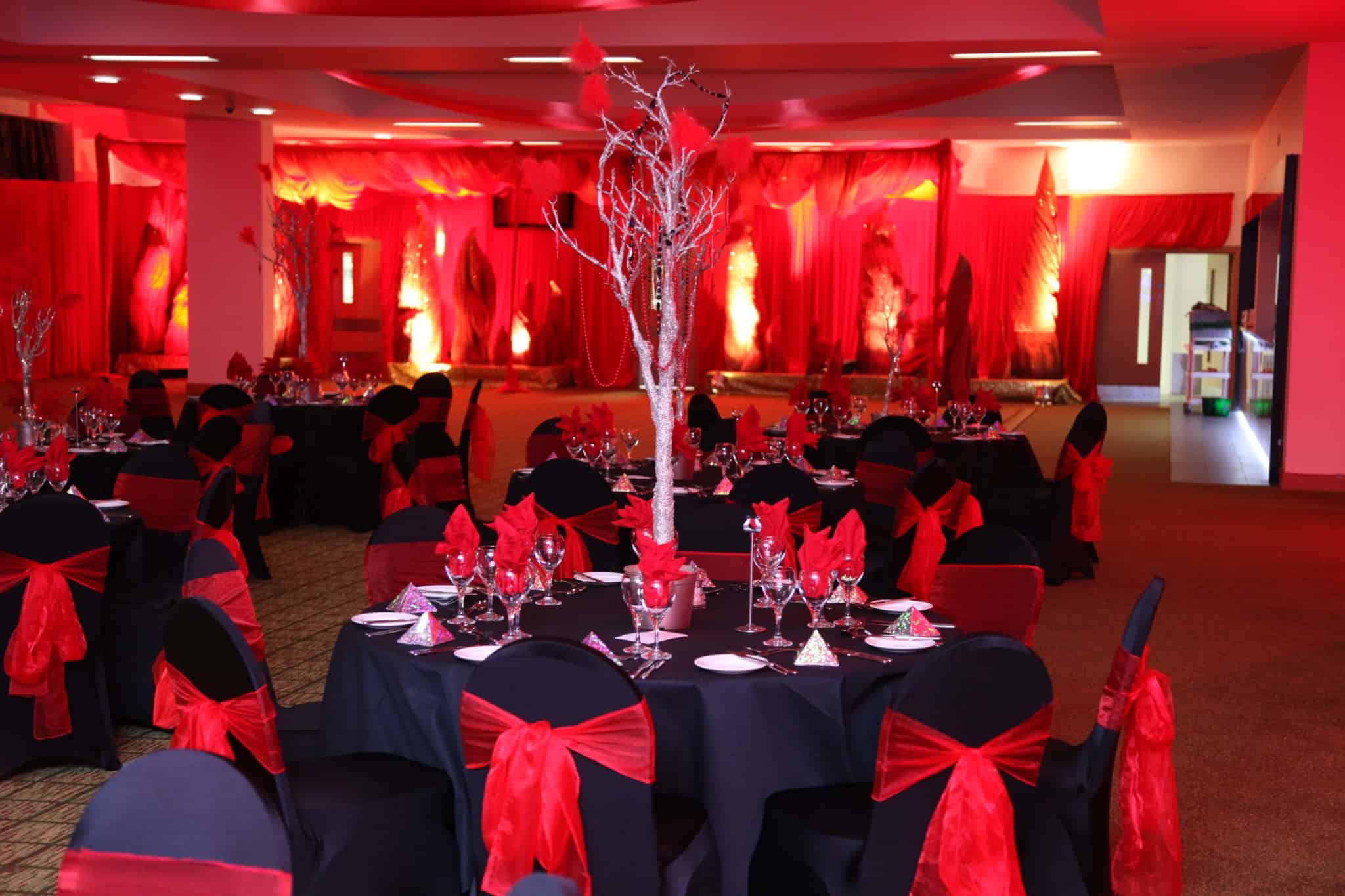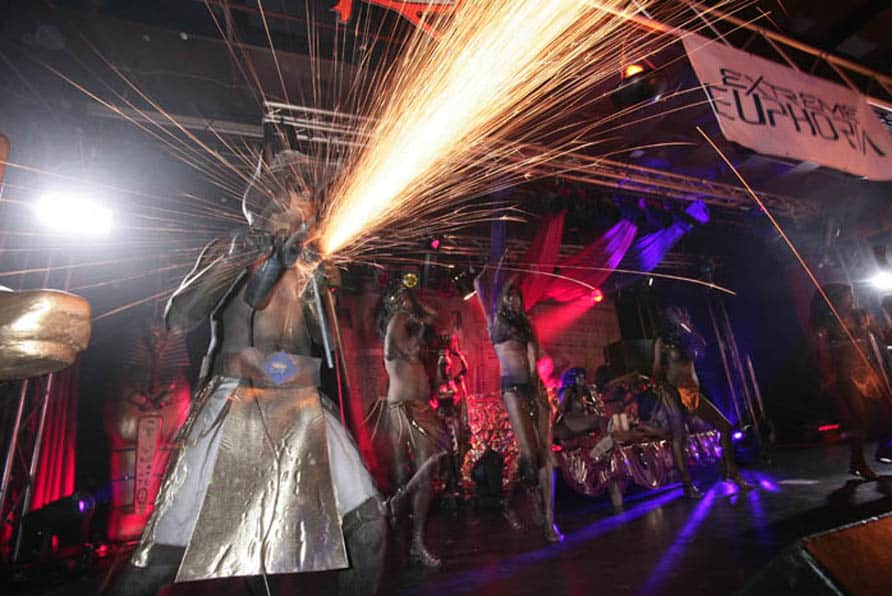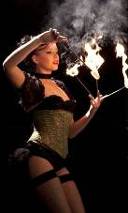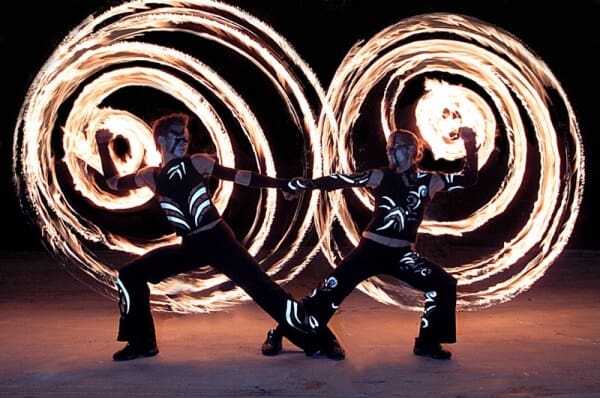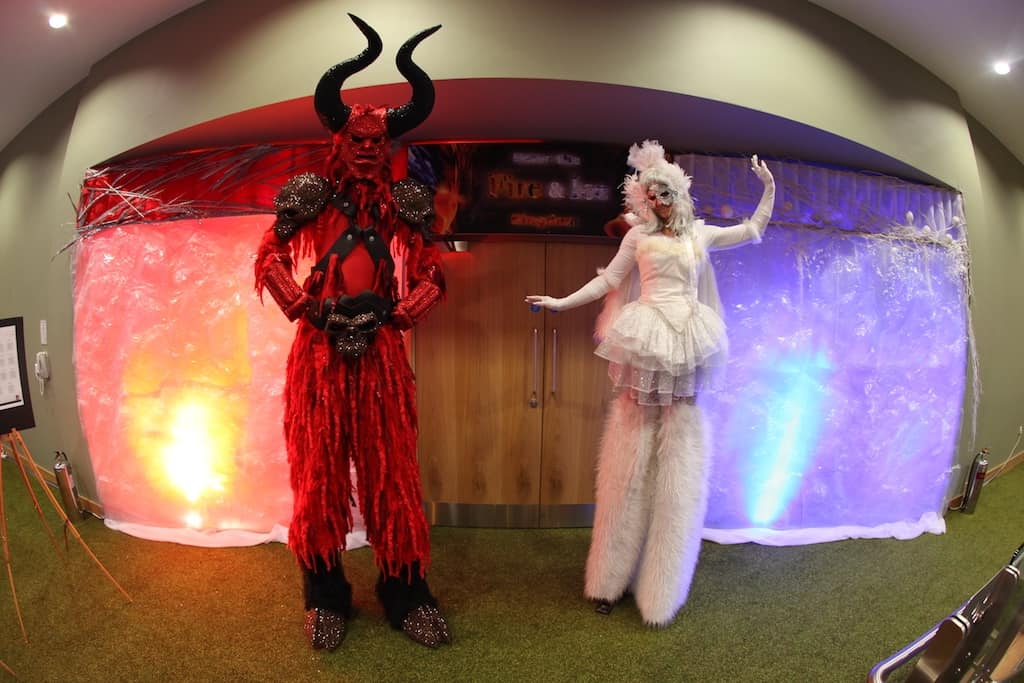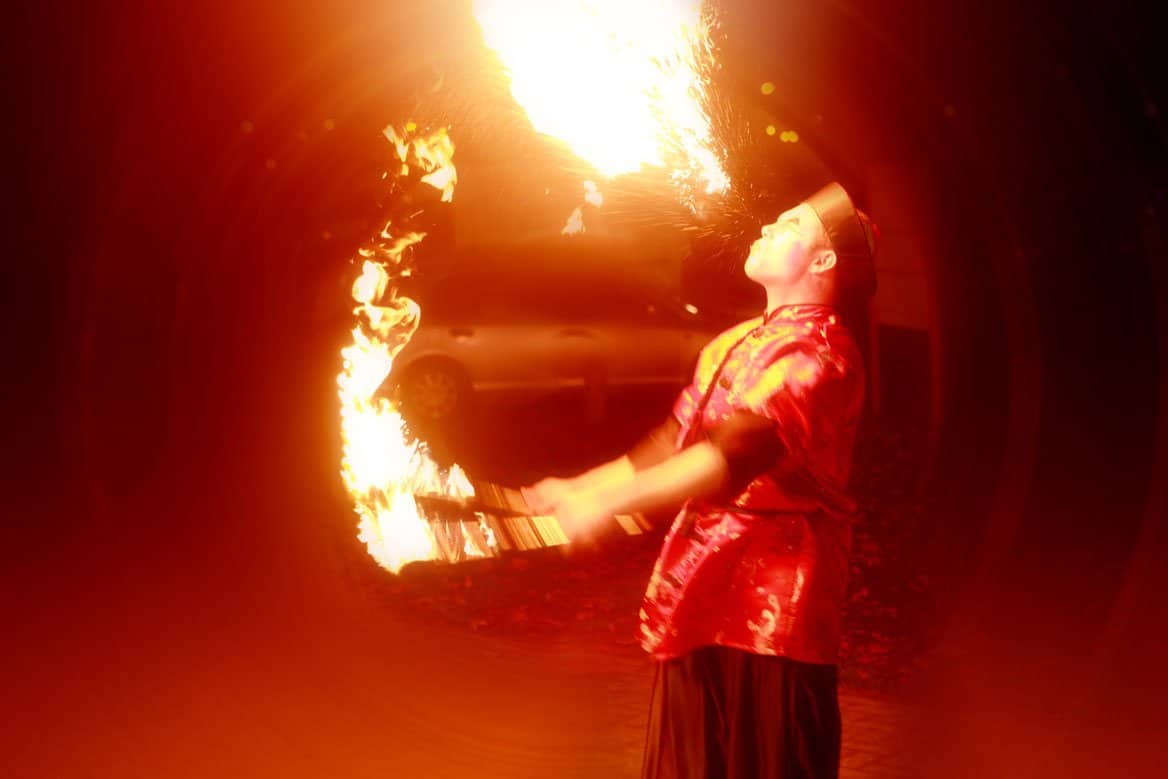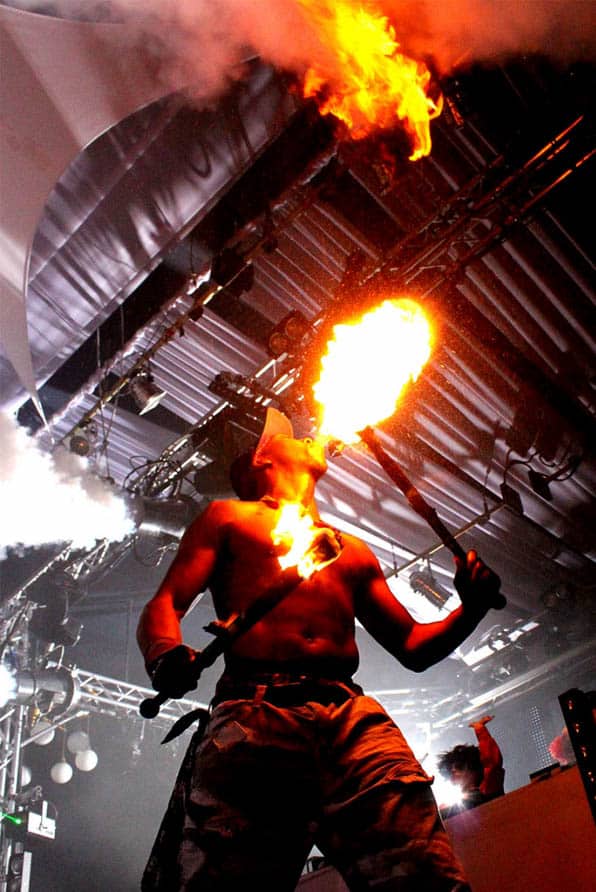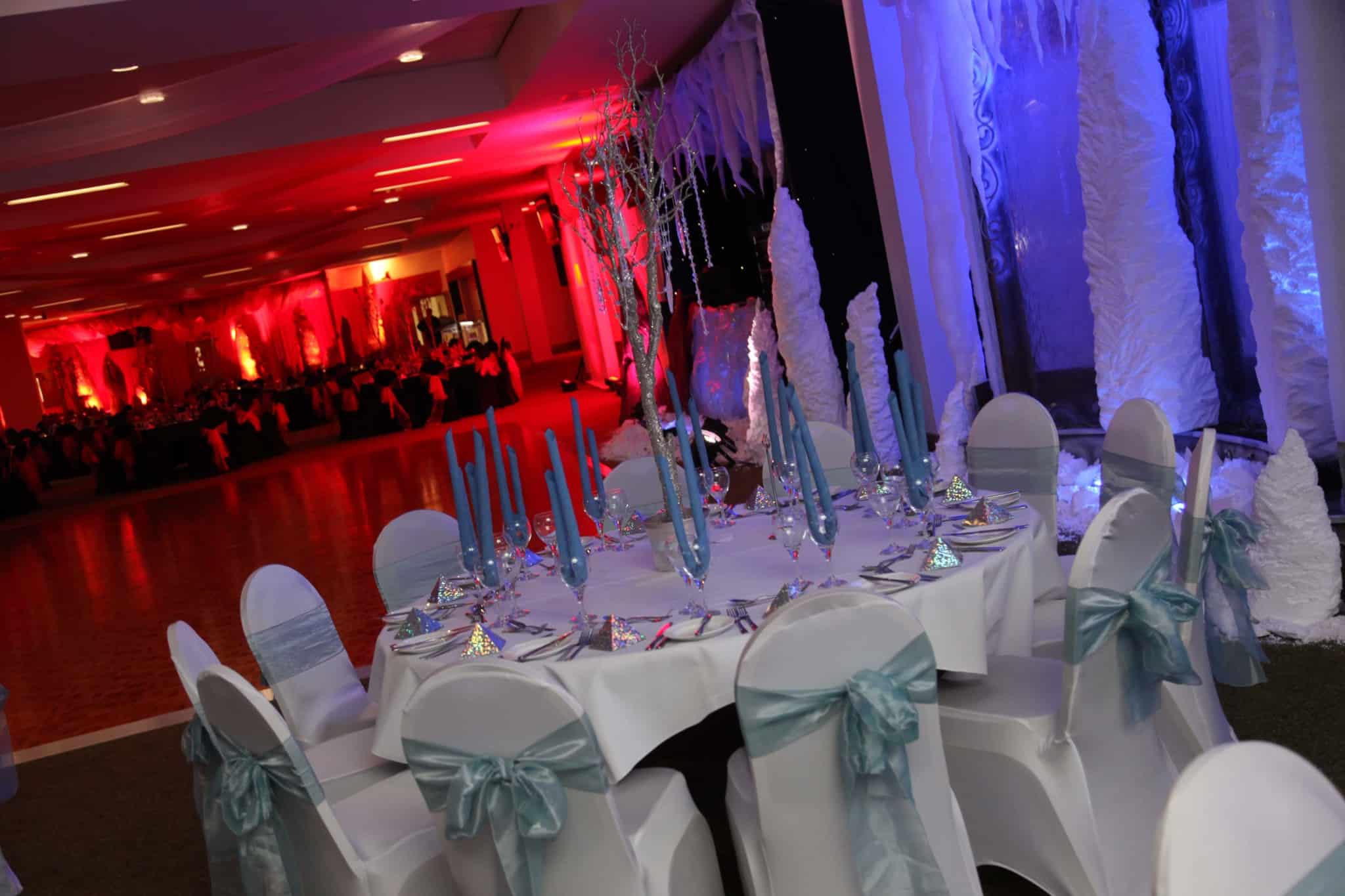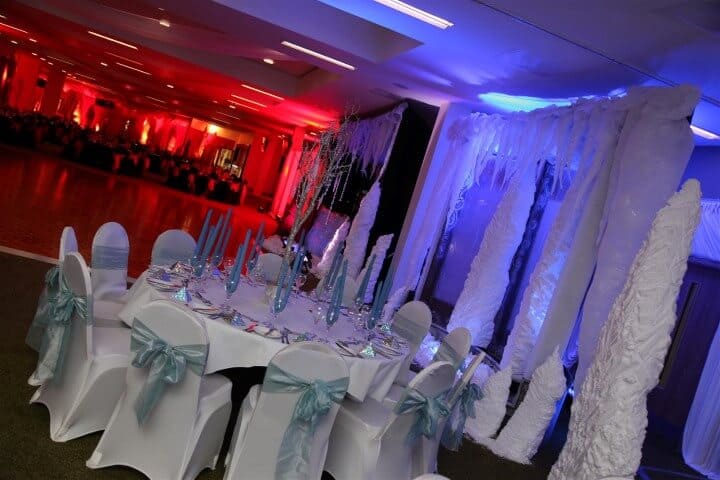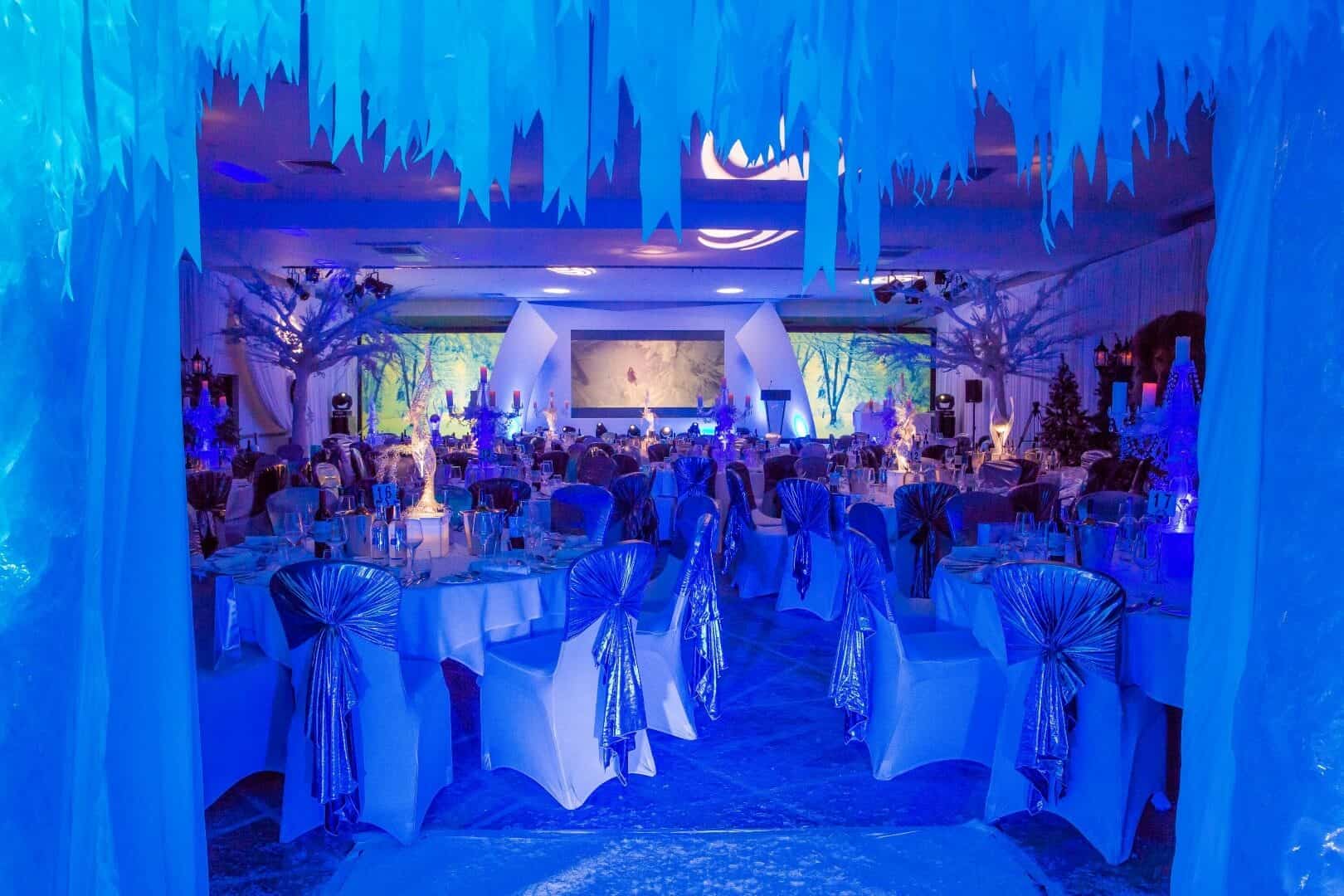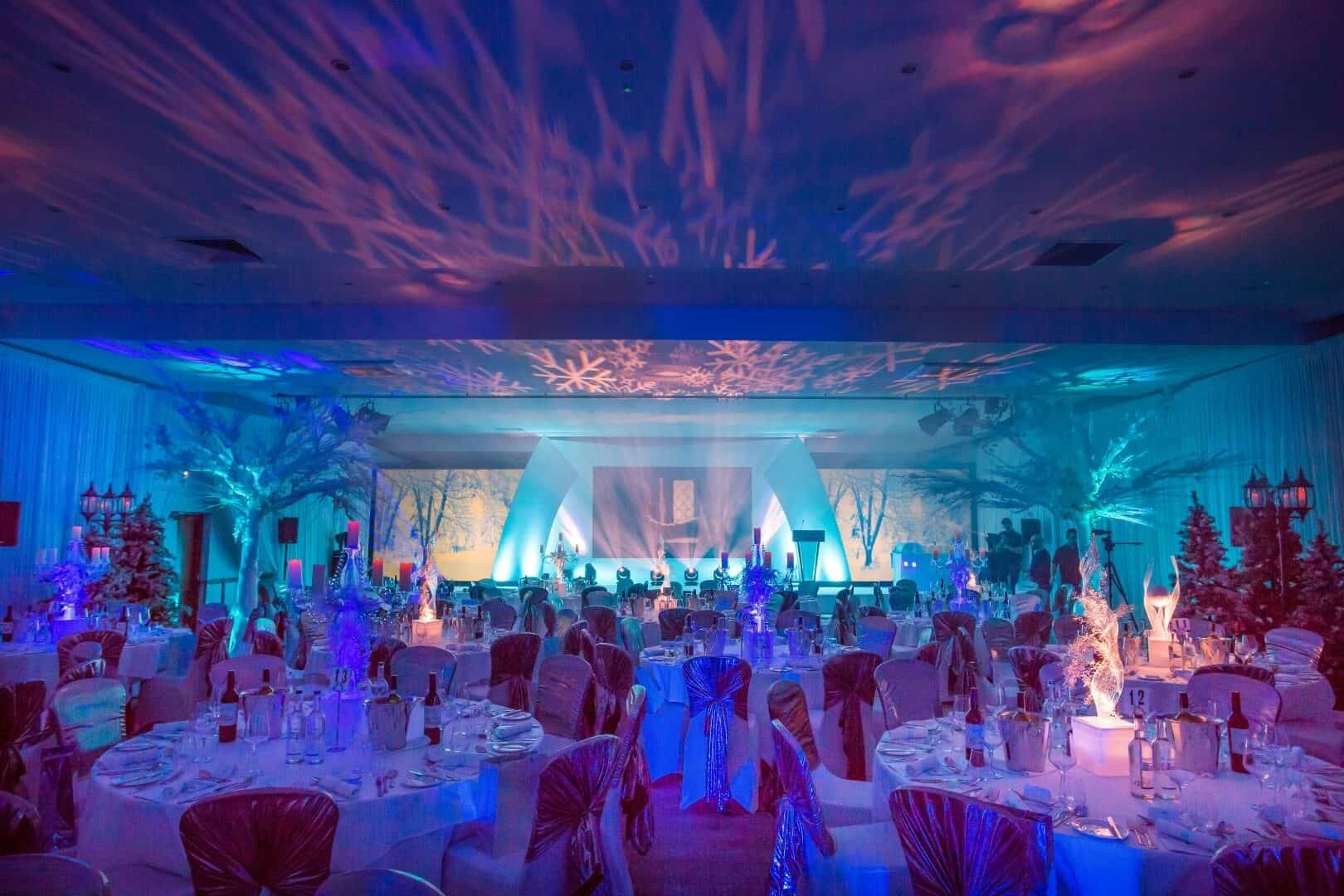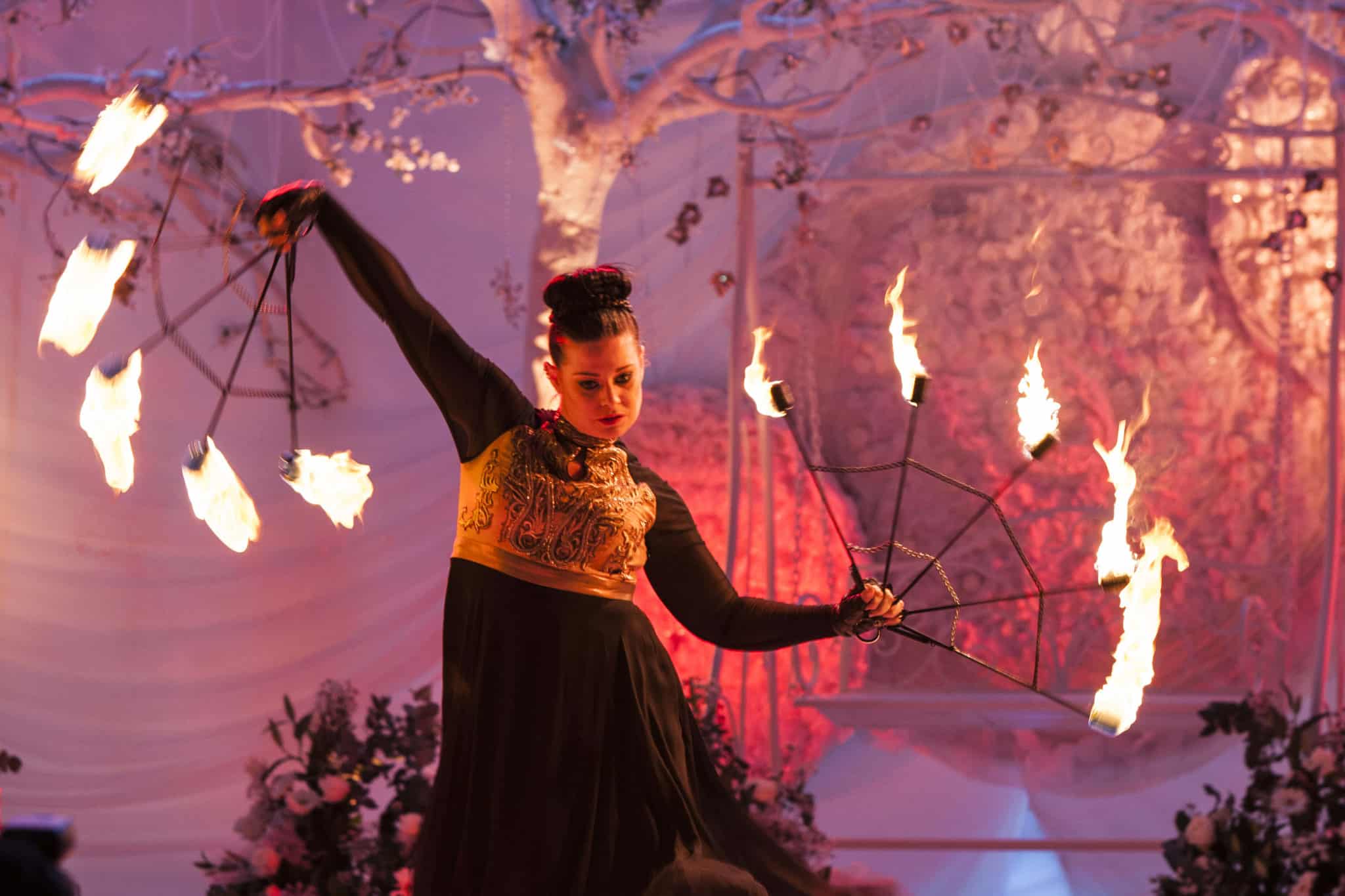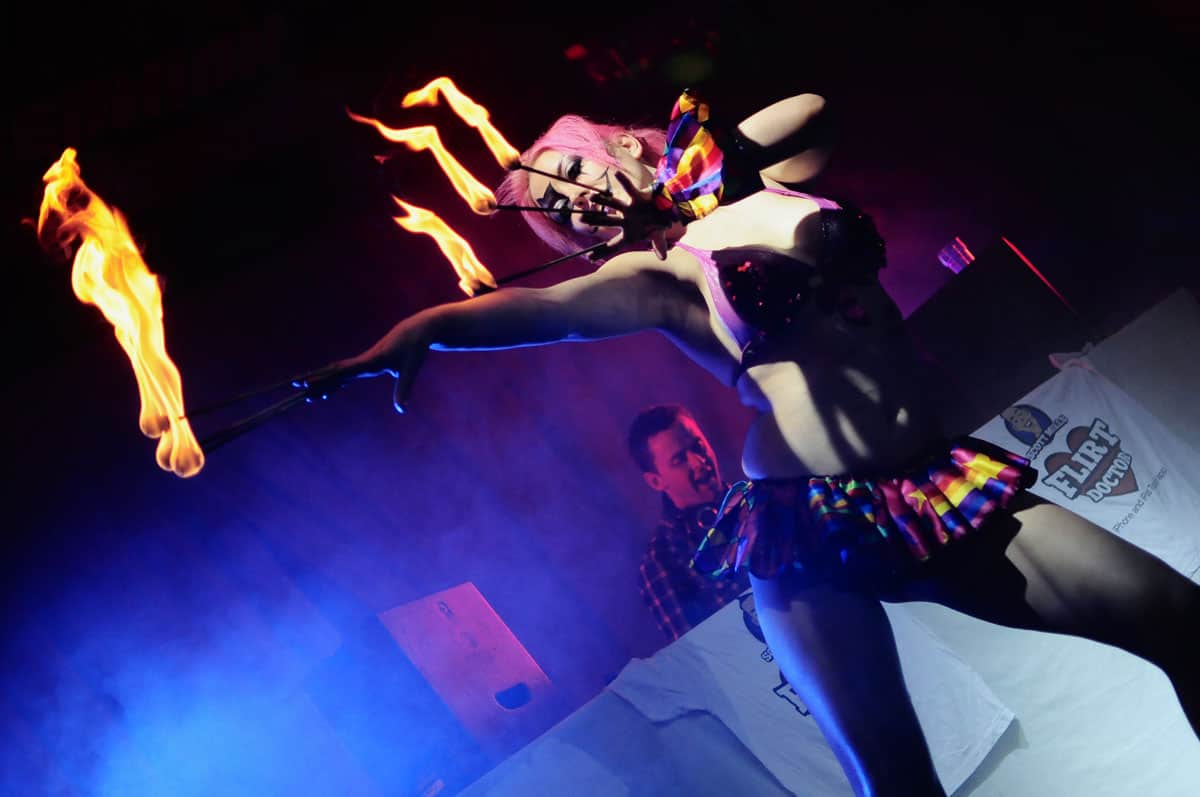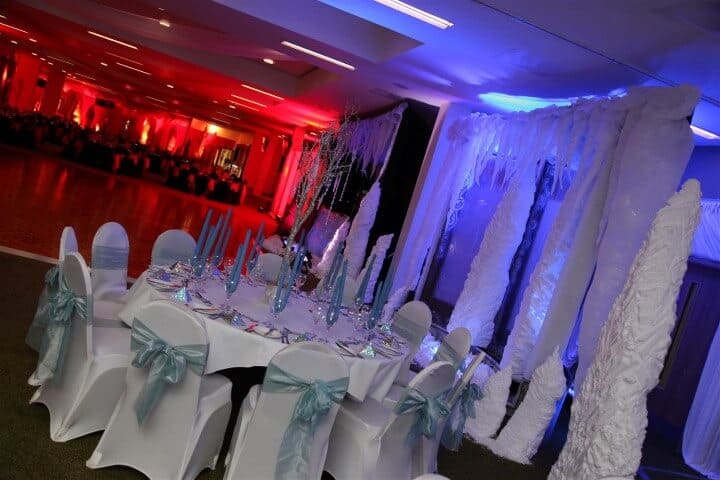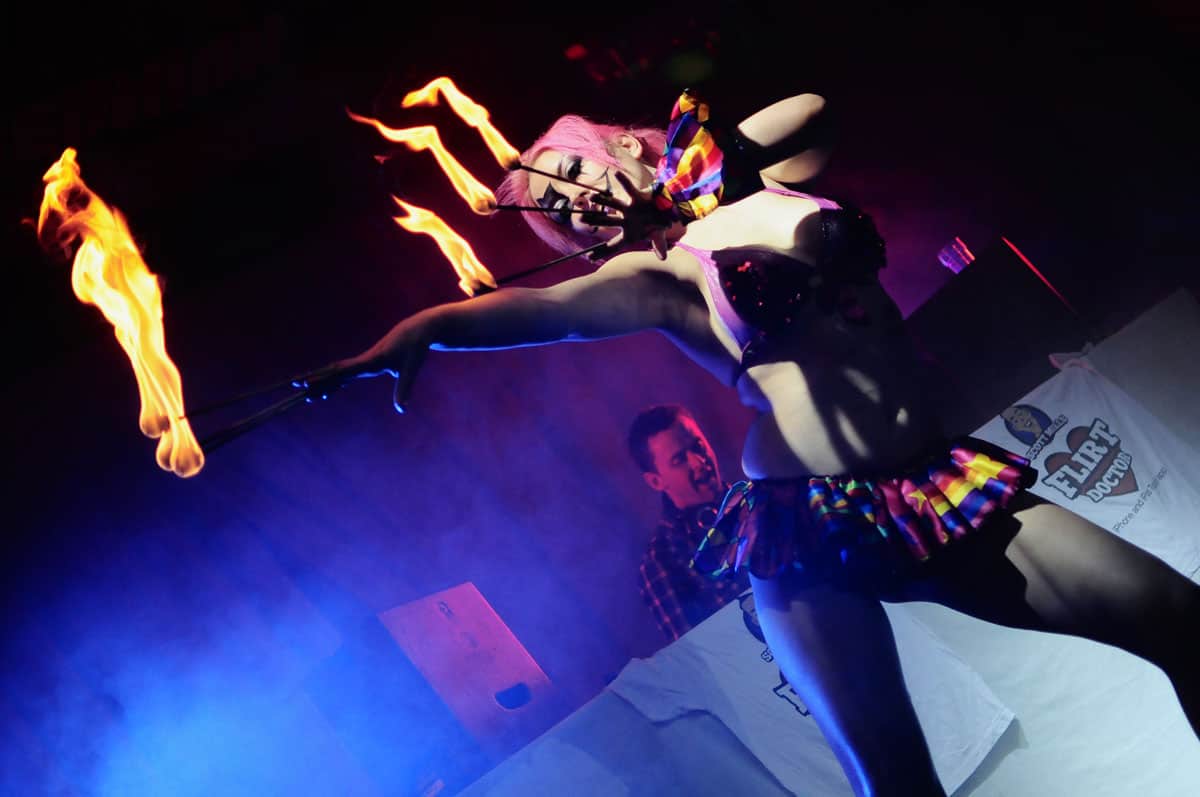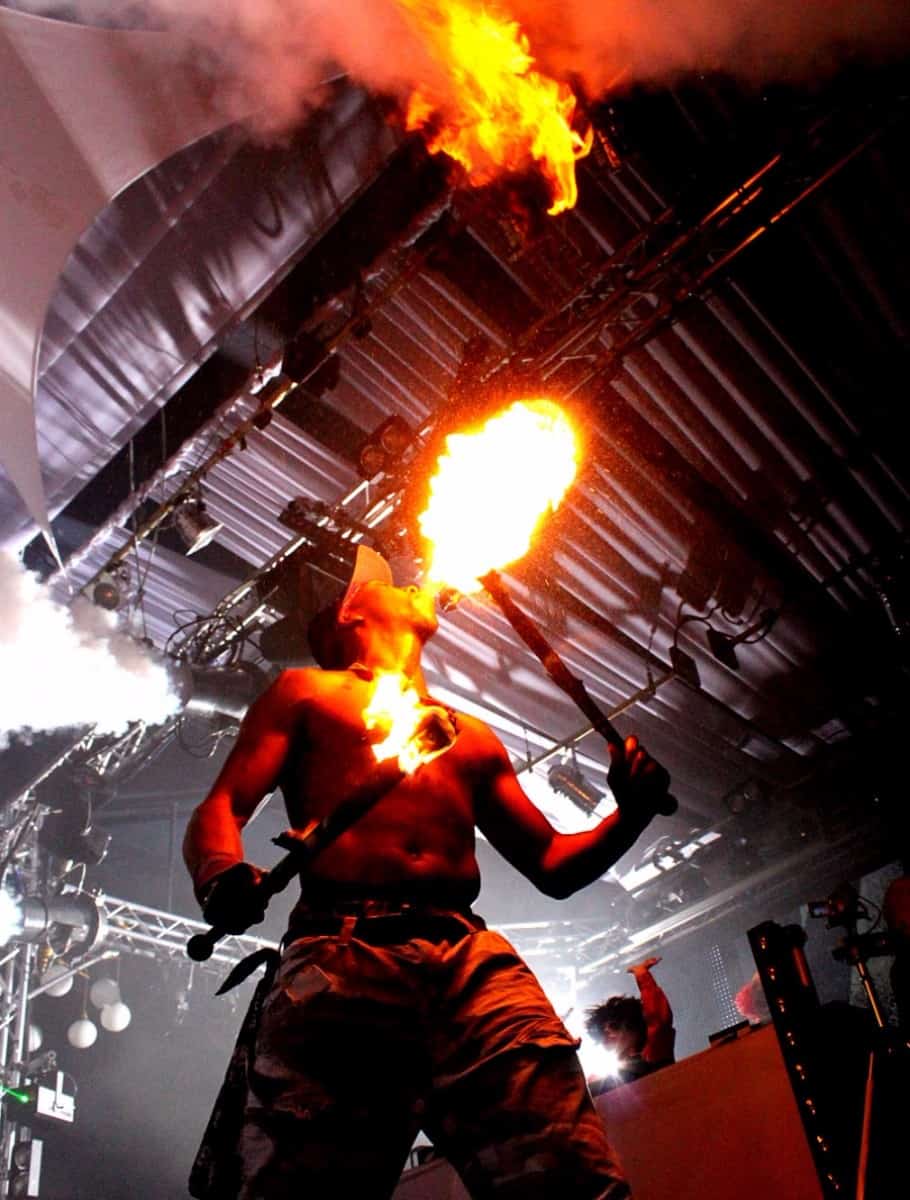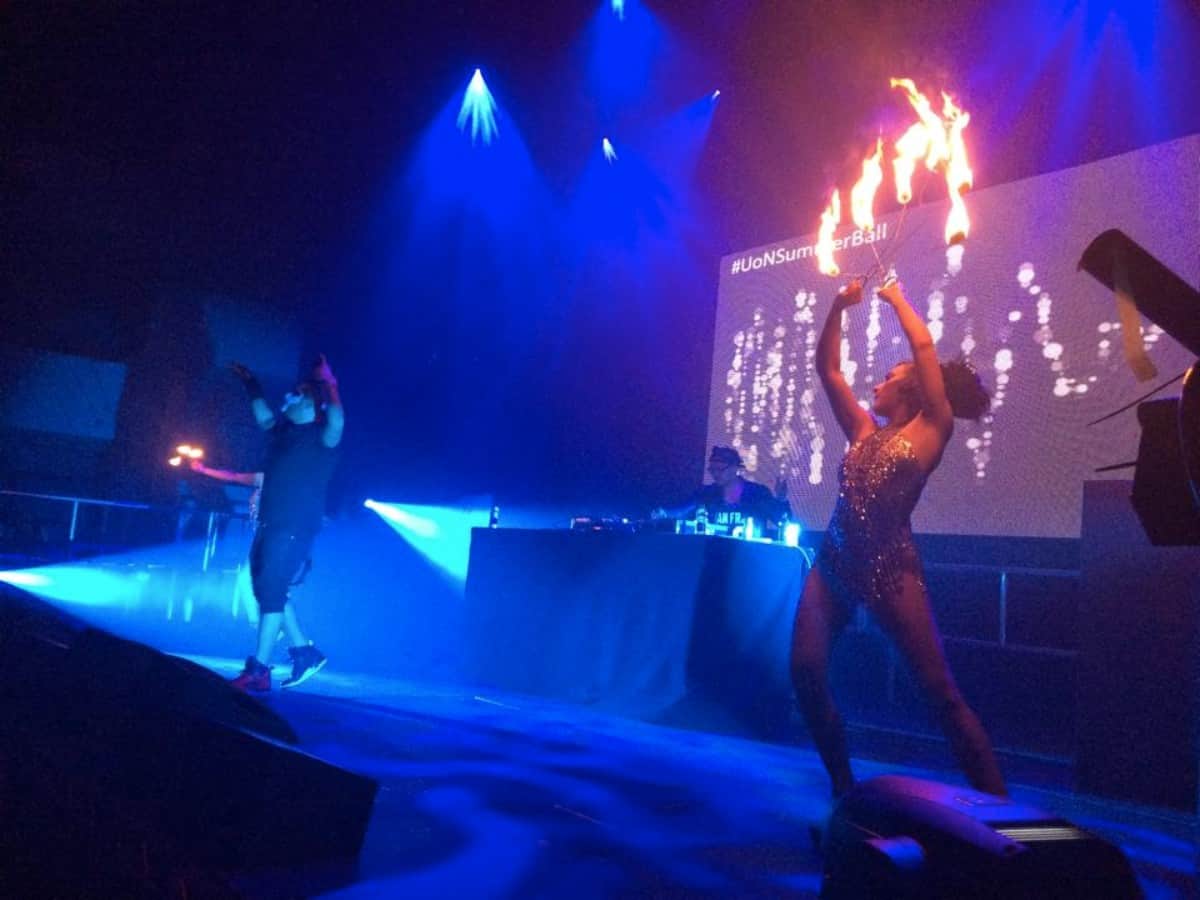 Leicester-Tigers-Fire-and-Ice
Fire-themed-Entertainment
fire-demon-and-ice-fairy-1
Fire-and-Ice-theme-Large-Small
Fire-and-Ice-Themed-Event
Fire-and-Ice-theme-Large-Small
led fire twist table centres
Leicester Tigers Fire and Ice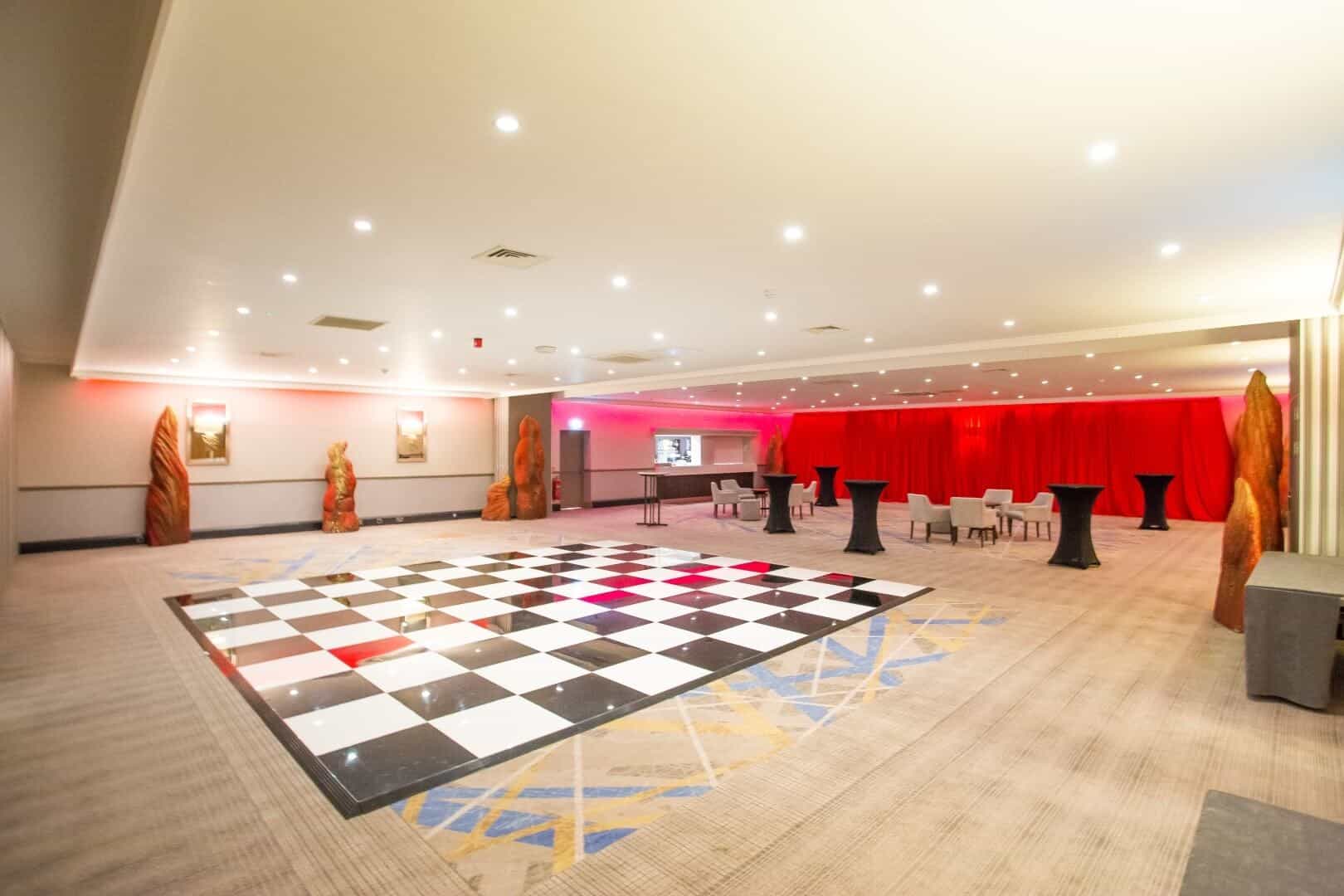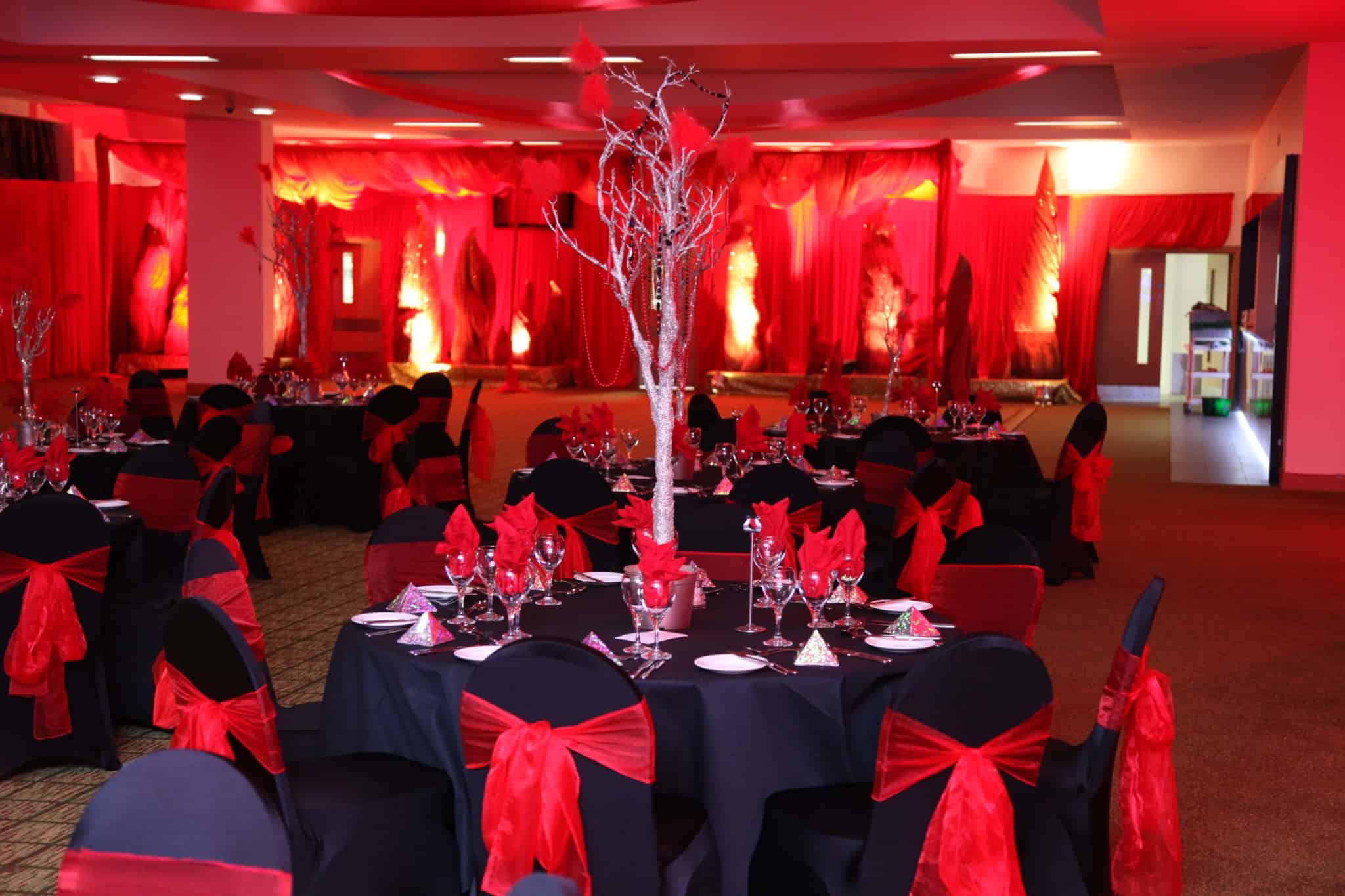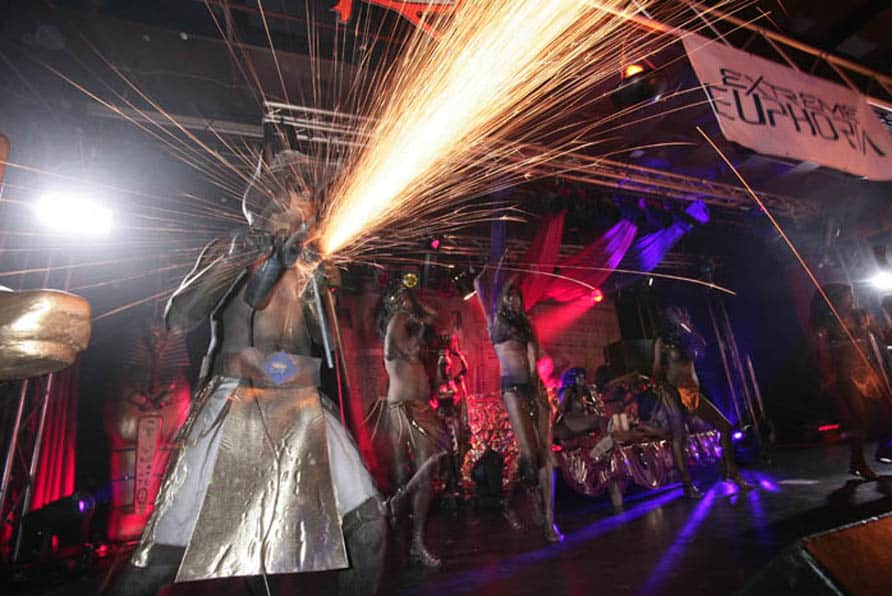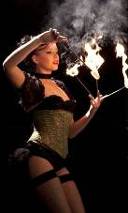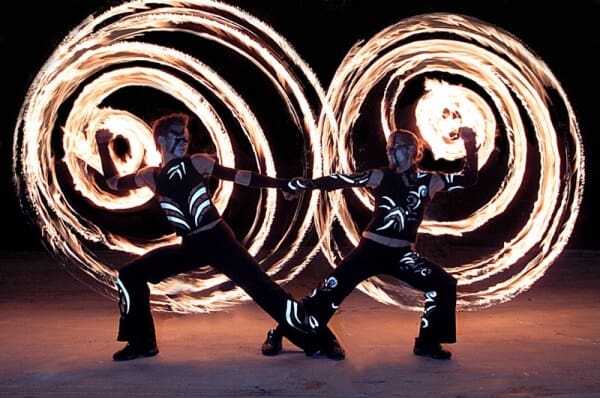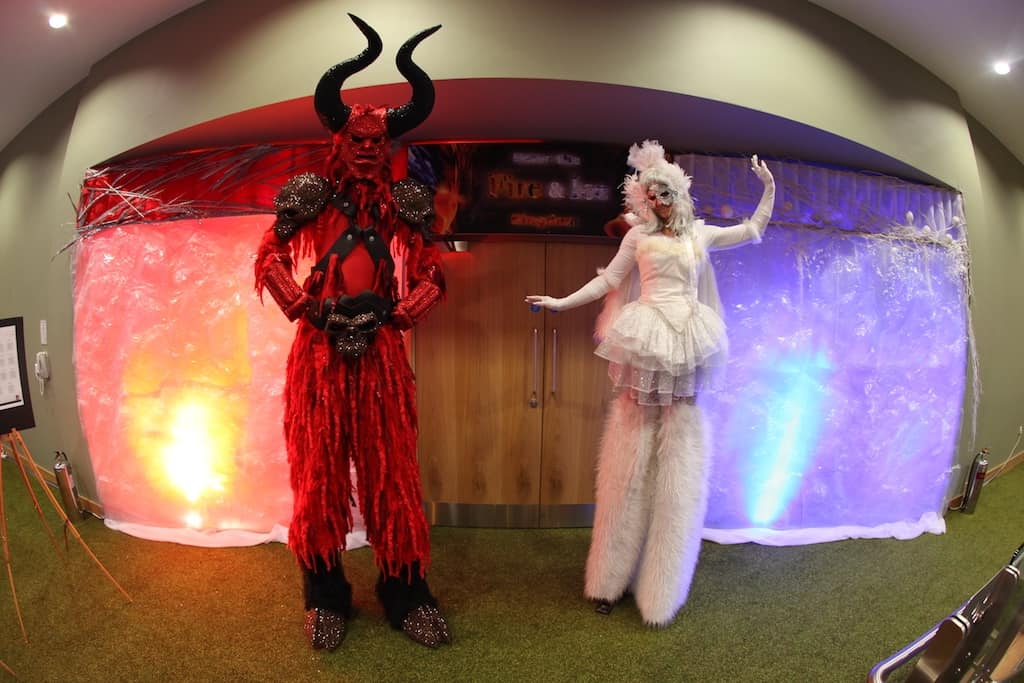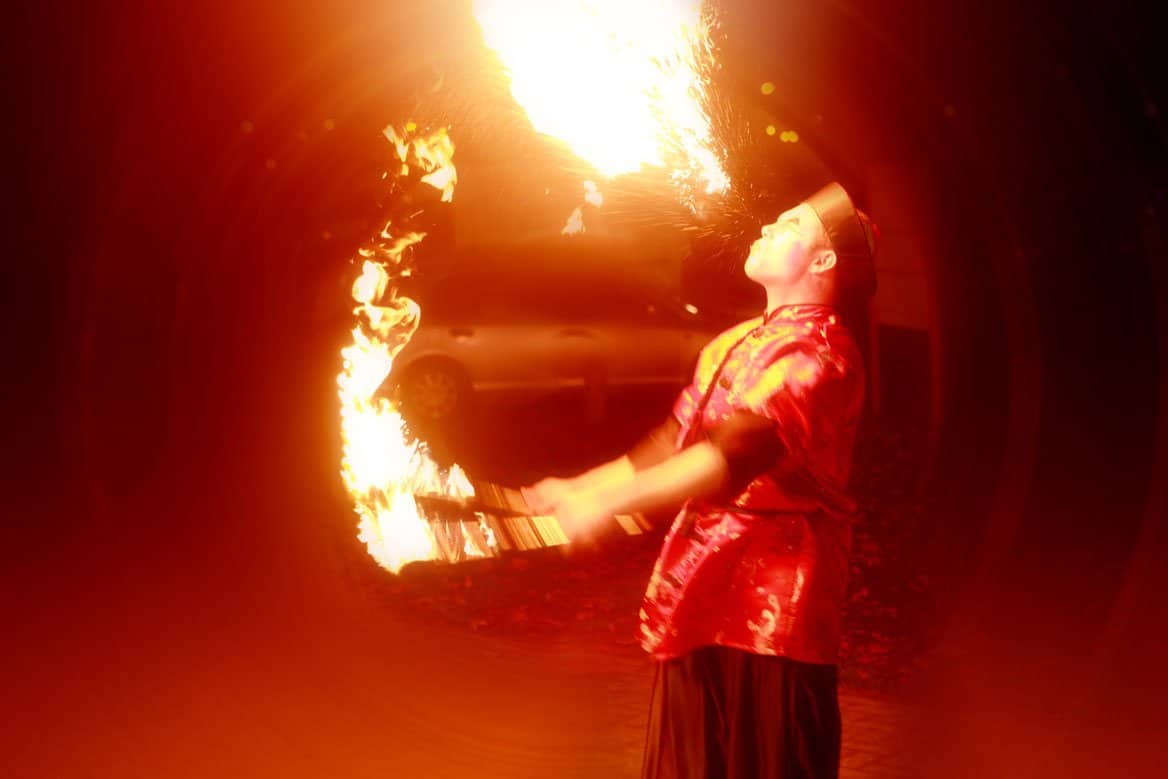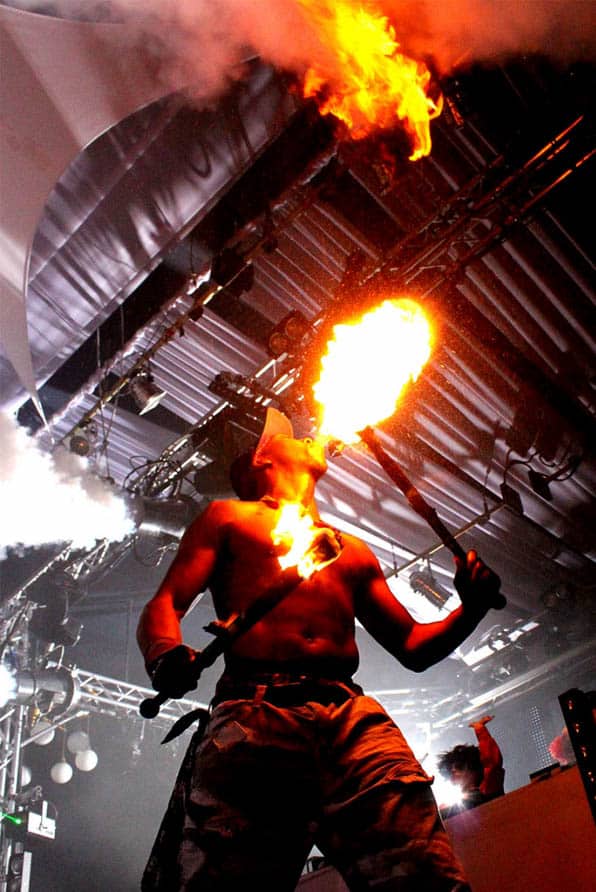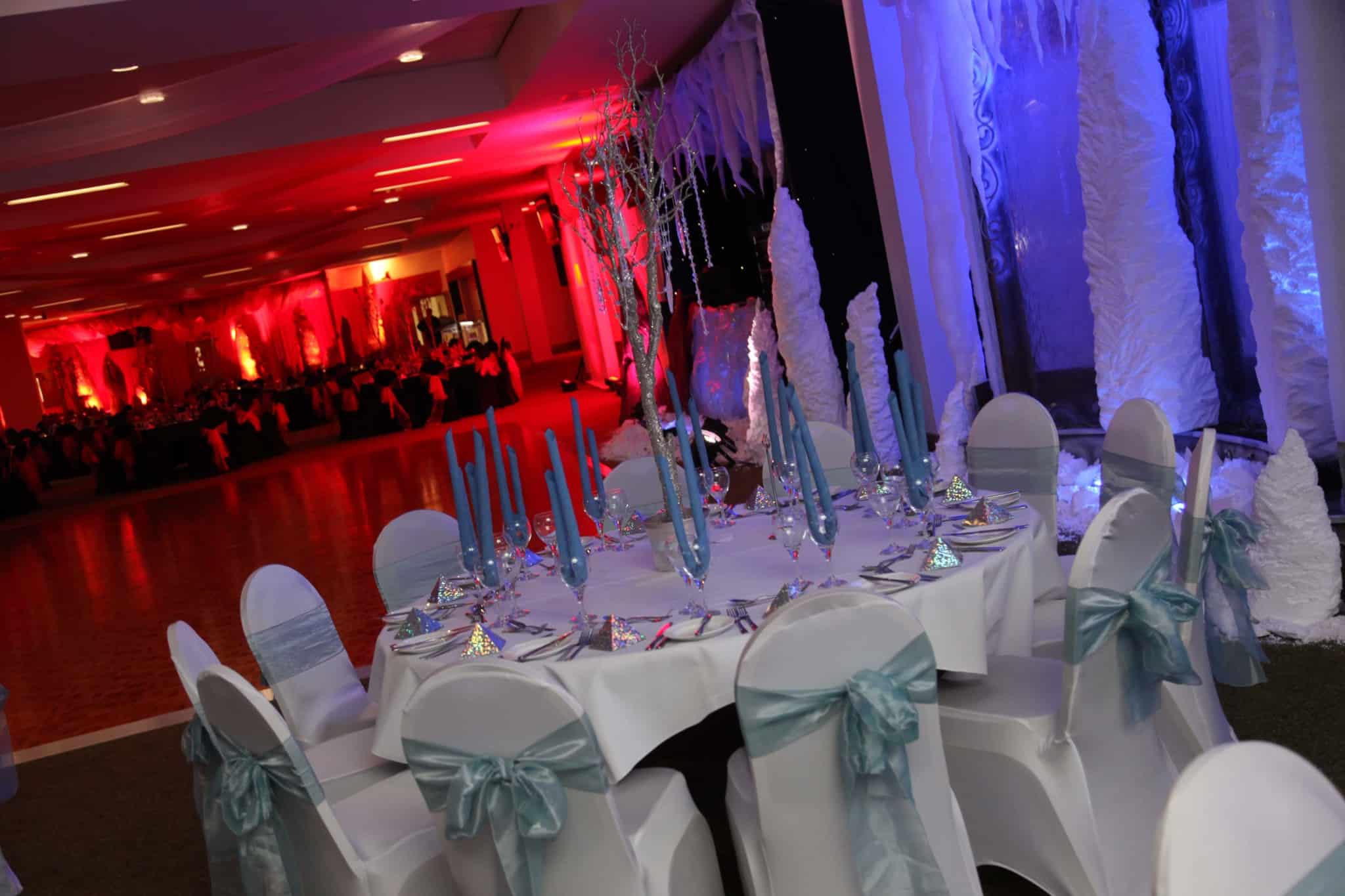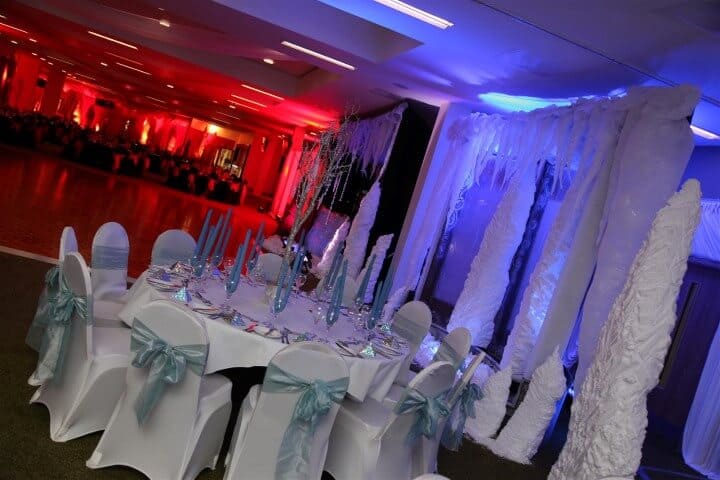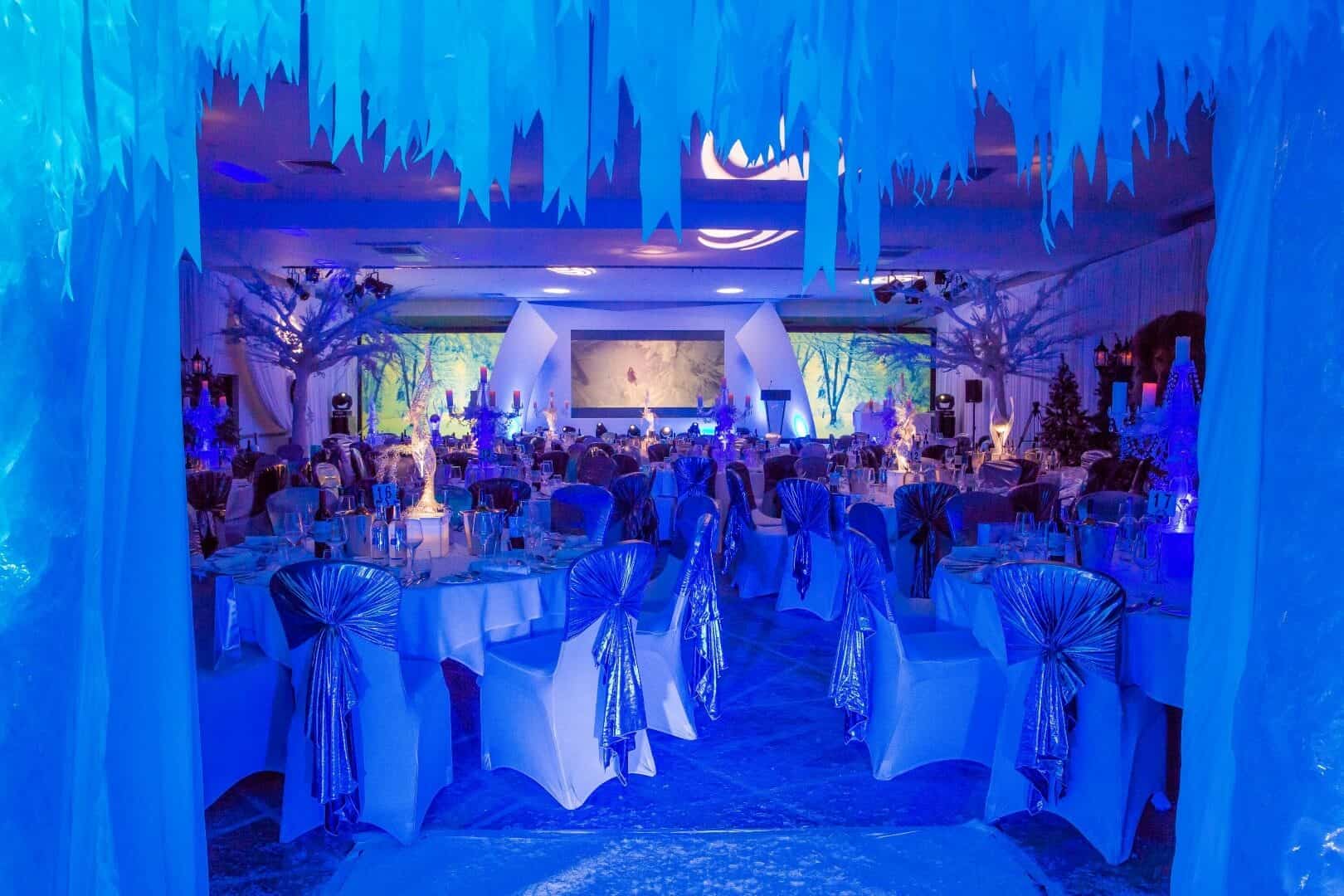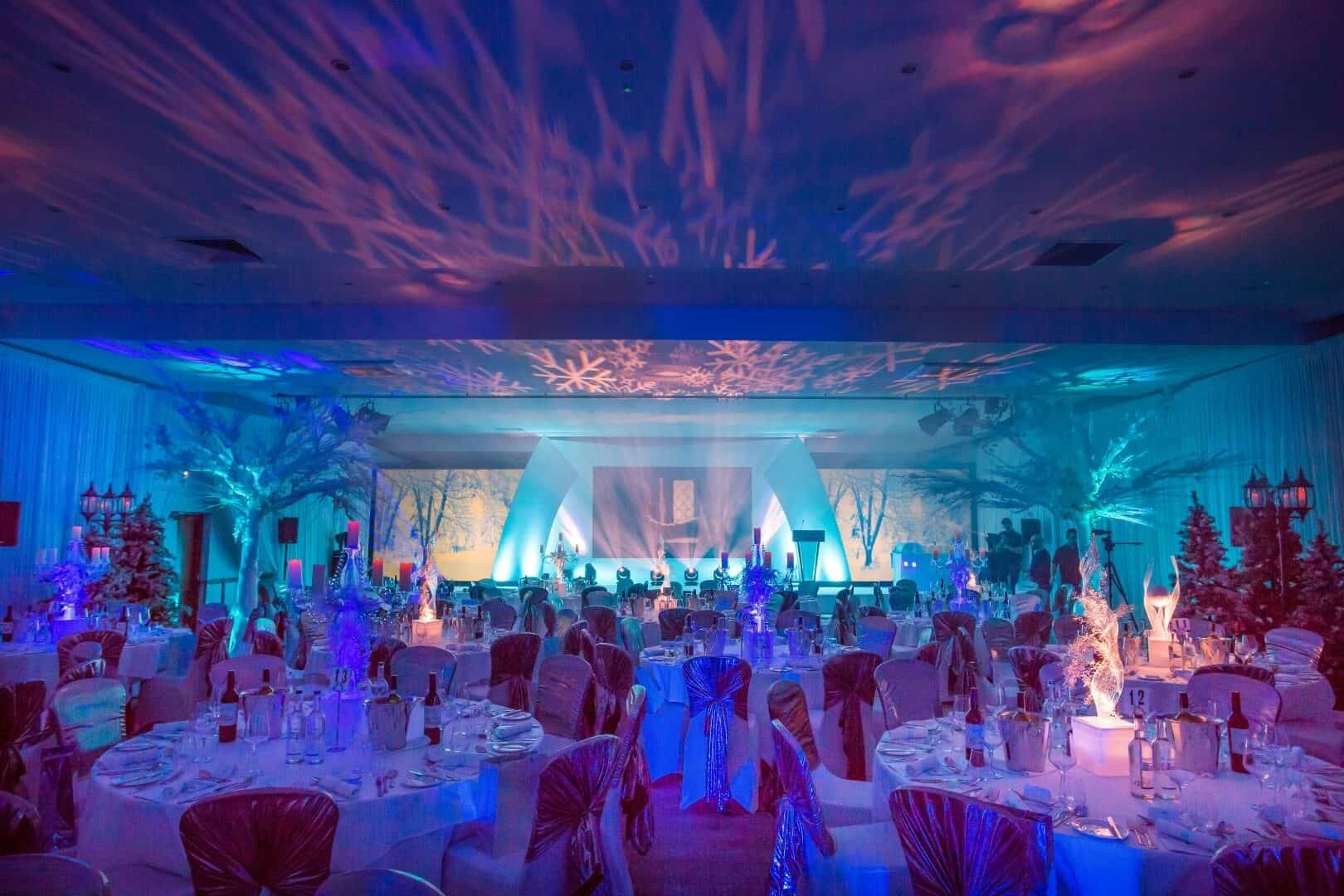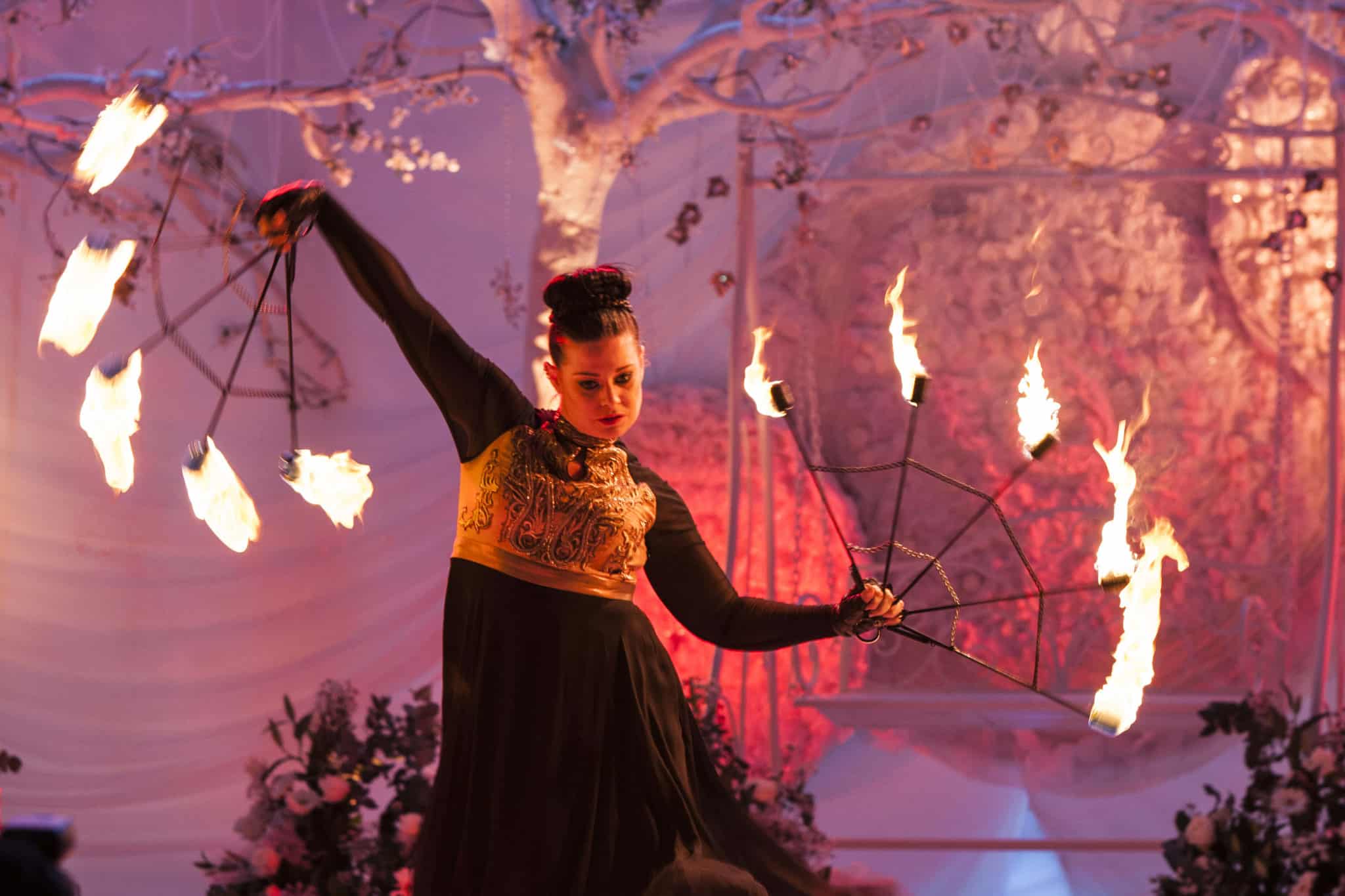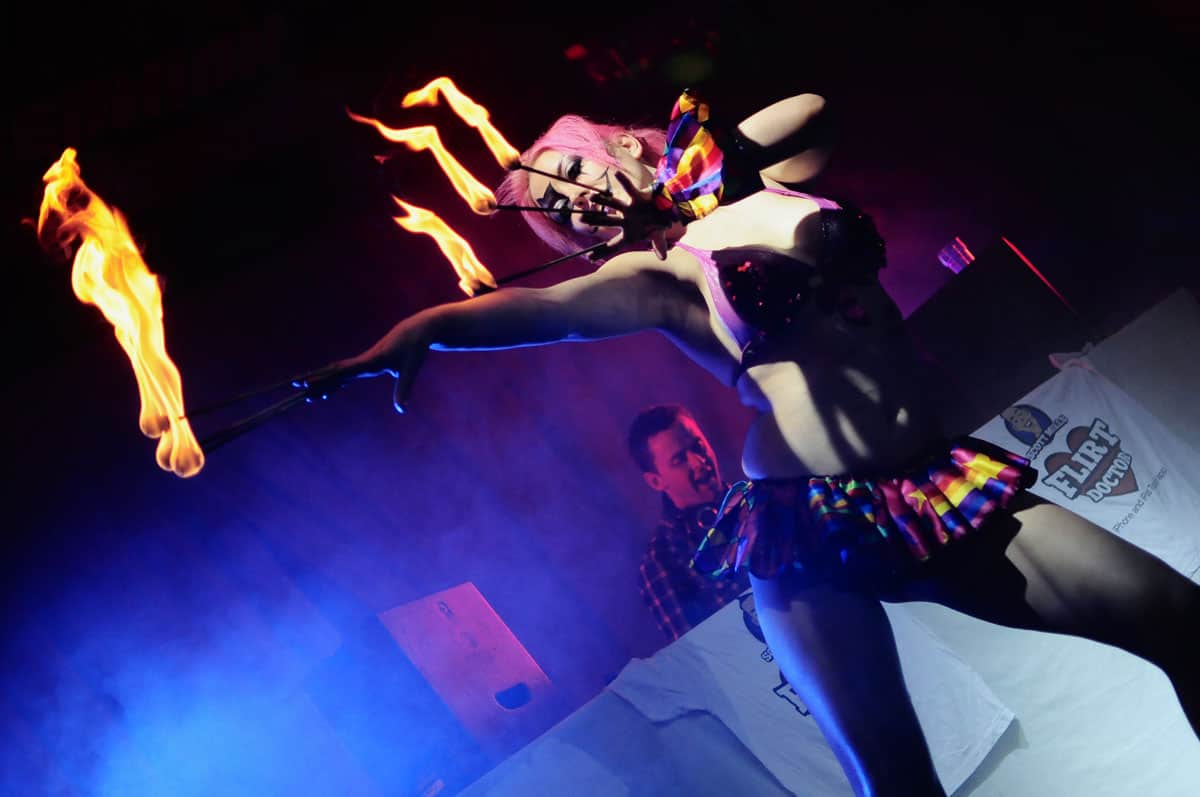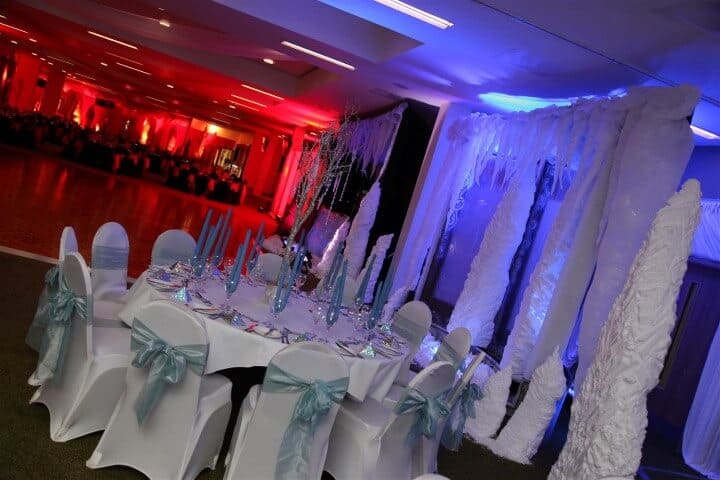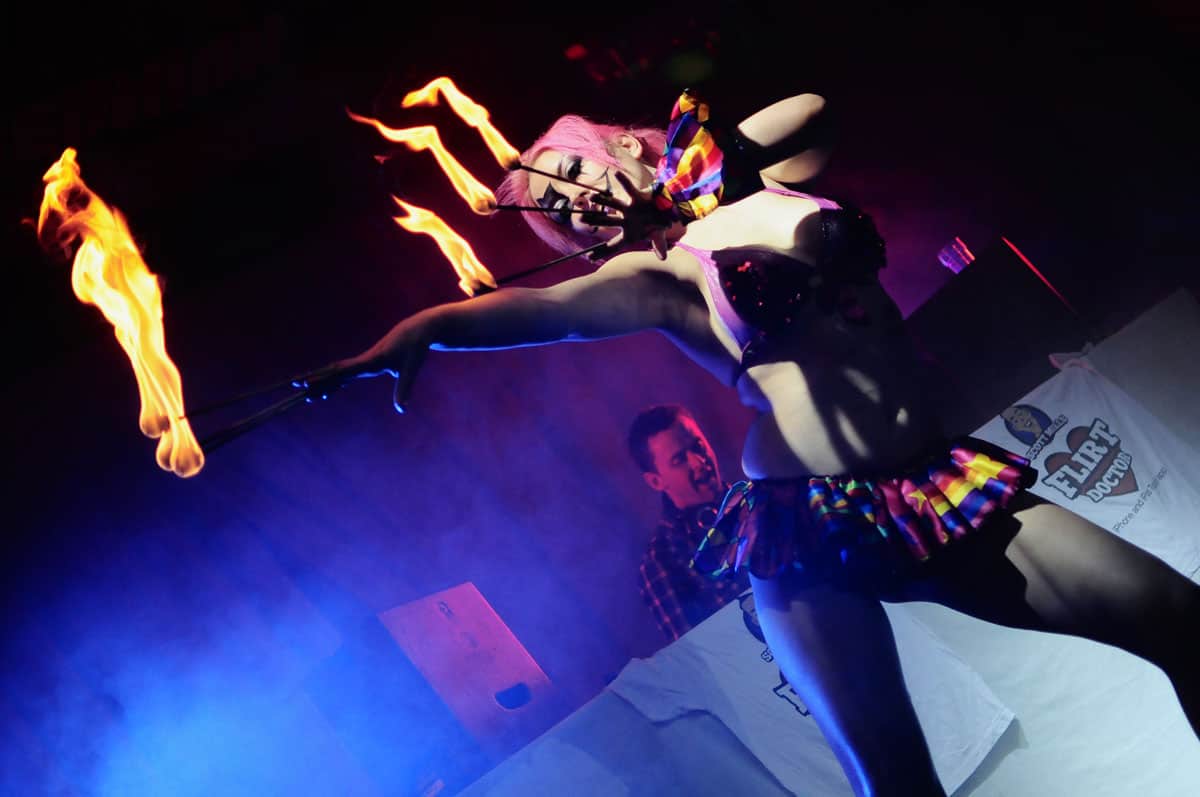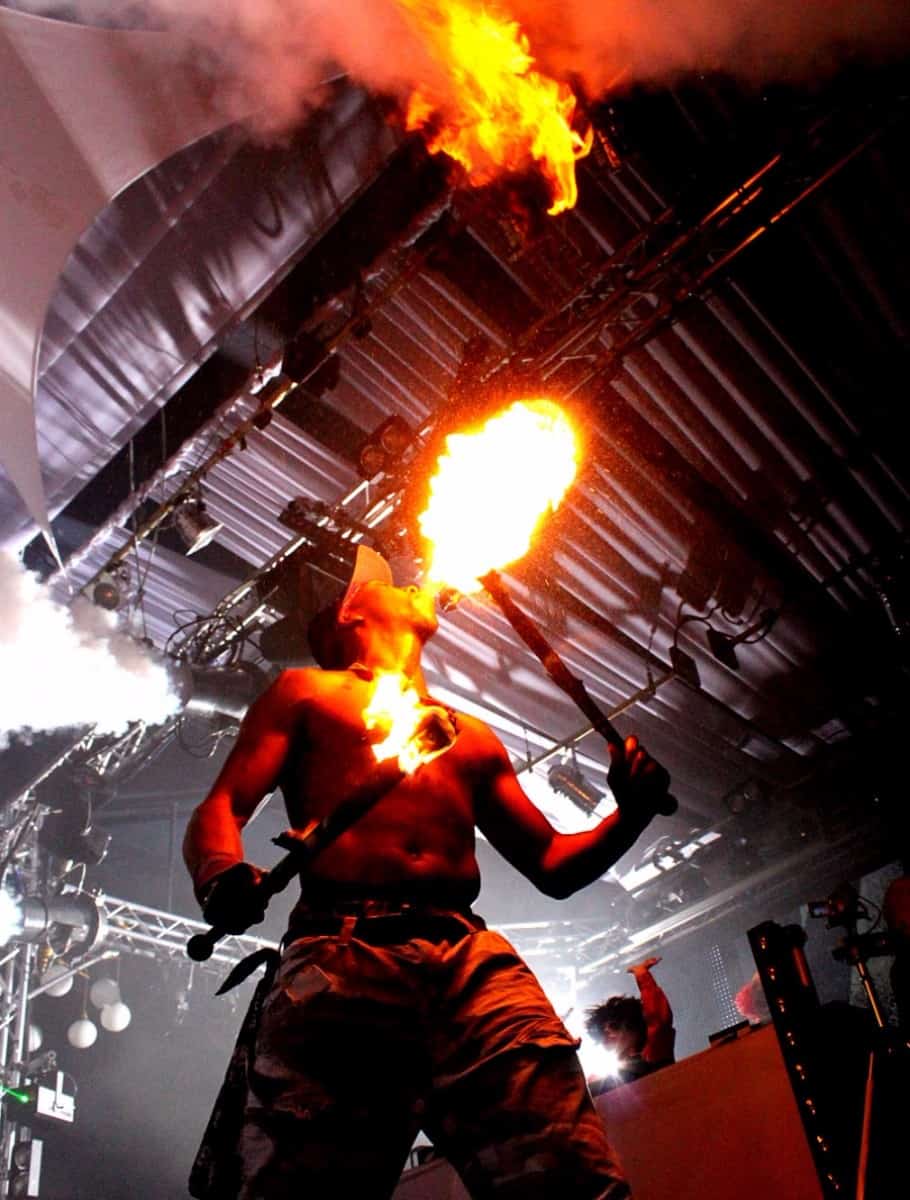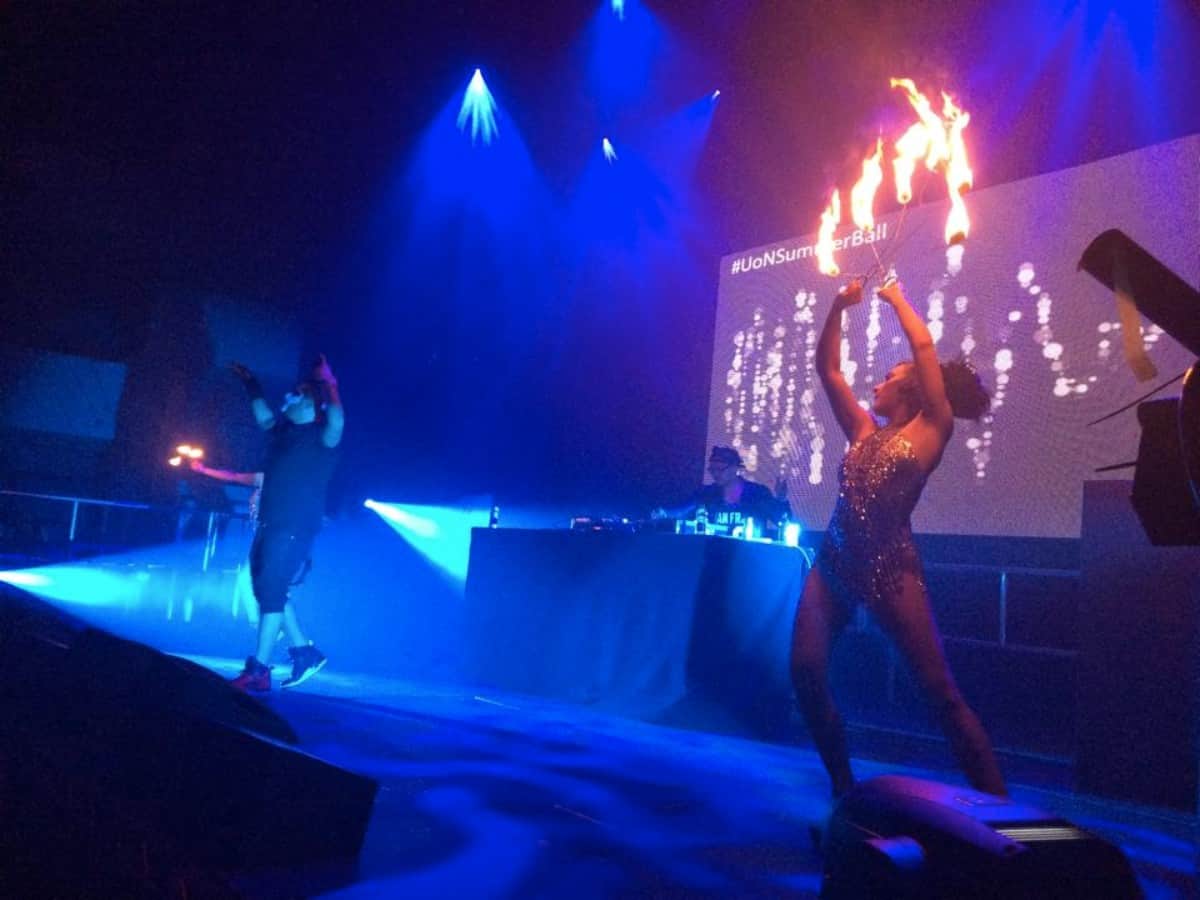 Turn up the Heat this Christmas with our Cool Fire & Ice Themed Event!
Ever heard the saying opposites attract, well it couldn't be more true, especially when it comes to the theatrical Fire & Ice event theme by Eventologists, a perfect way to turn up the heat at your next Christmas party. This innovative theme combines two of the most dynamic and opposing elements to create a dramatic play on duality and an ambience your guests will never forget.
The creation of this event has two exciting options with regards to the layout. You can either split your venue into two separate Fire and Ice areas, keeping the contrasting elements apart, or you can fuse the two together for an explosion of heat and frost. Either way this explosion of elements is sure to fuel an event your guests will never forget!
To transform the room into separate Fire and Ice spaces, Eventologists will use red, yellow and orange coloured décor schemes and props across one side to represent the flames and heat of the fire, alongside blue, white and purple décor on the other side to make your guests feel icy cold. Dress it up with a showcase of Flame table centrepieces or Candelabras on one side and Icy Willow or Ice Sculpture table centres on the other. Finally, we will tie this incredible atmosphere together with our amazing Fire Performers and Ice Fairies to provide your guests with mesmerising entertainment, aligning the two themes for a night filled with drama!
If you choose to have these elements separate, an exciting way to split the themes between different rooms ensuring your guests are immersed from start to finish, is to have guests enter via a fiery drink's reception, with flames, hot beverages and Fire Performers. From there on, your guests will walk through a cool ice tunnel into a room adorned with icy décor and frosty details. This will ensure that your guests are surrounded in the perfect atmosphere for them to 'chill' out in as the evening goes on!
If you chose to fuse the two elements together in a mesmerising event exploring the heat of fire and the cold of ice, we can offer a mixture of red and orange draping, icy table centres and frosty décor. You will have both our incredible Fire performers and our elegant Ice Fairies entertaining your guests throughout your event, each showcasing their spectacular element, allowing your guests to chose which is superior.
Whatever way you chose to present this event, the captivating combination of opposing elements is sure to grab your guest's attention and immerse them in a dramatic event that they will never forget!
Our Fire and Ice Décor and Props include:
Large Fire Prop Hire
Fire and Ice Stage Backdrop Hire
Twinkle Twig Entrance Hire
Star Cloth Draping Hire
Candle Table Centres Hire
Fire and Ice Entertainment includes:
Ice Fairies
Fire Performers
Contortionists
Aerialists
To find out more about our dramatic Fire & Ice event theme, speak to one our Event Stylists today.
I wished to get in touch to say thank you for providing the centrepieces for the Gloucestershire Live Business Awards and working with us within our budget at such short notice. I also wanted to let you know that your staff was a pleasure to work with. Very friendly, professional and had the room setup with plenty of time to spare before guests arrived. Please pass on my thanks.

Louise Symonds, Regional Events Manager
I just wanted to drop a note to formally thank you for pulling out all of the stops for our Christmas Social – the Peaky Blinders theme went down a storm and it looked UNREAL! The decor, props, bespoke items and attention to detail really made the event last night. As ever, you and the team were complete professionals and a dream to work with. Huge thanks and appreciation, I look forward to the next event already!

Clair Stevens, Communications Manager
The room looked fab and we received some great comments. It was great to work with you again and it makes things run smoothly when we can rely on you and your team to get the job done. Gives peace of mind.

Sharon Bone, Events Manager
WOW, went to an event done by these guys and I was blown away. They transformed a banquet hall into something out of a fairytale. The staff are very friendly and professional. Would definitely recommend them to anyone.

Amish Thakrar, Marketing Manager
Thank you to you and your team for all your help and support with the table theming for our UK 60-Year Anniversary celebration last night. Right from the very beginning, everything was so very professional and easy. The tables, gifts and award were absolutely fabulous and really added to the whole ambience of the evening, and I have had many wonderful comments about them from our visitors.

Lesley Young, Marketing Communications Manager