Let the Midas touch come your way with a Gold Themed Party!
Turn your event up a notch with a sparkling Gold Themed Event, which is sure to charm and wow all your guests.
Here at Eventologists' we want to make sure that every person has their chance to shine, and what can be a better opportunity to do so than a grandiose themed party inspired by the richest colour there is? Our expert stylists might not be Midas, but they certainly have a magical touch than can make a reality your dreams of a marvellous, golden extravaganza.
Timeless and full of charm, a Gold themed event is an immensely popular option for those who seek a glamourous alternative for events such as Awards Gala Dinners, Corporate Events, Christmas Parties, Weddings that step out of the conventional colour scheme, and really for any kind of top-notch event for those who value classic luxury.
We will help you transform any venue type and size into a dazzling palace which is sure to keep the eye of all your attendees. Gold is the colour of the evening, and thanks to our in-house staff and our wide array of Gold themed props and decorations for hire, we will be able to add all the theming needed to match the mood of such a splendid event, having to your disposition, among others, elements such as:
Gold draping, tablecloths, chairs and chair covers to make everybody feel like they are dining in a throne made of solid gold.
Golden table centrepieces, which include vases full of flowers, modern and elegant horns, feathers, golden trees with shiny lights.
Golden chandeliers and candelabra to reflect the shine of the lights that lit the room.
Giant vases full of gold foliage to make every corner of the venue as splendid as the rest.
To enhance the décor of the venue and make the evening a memorable one, add some live entertainment, such as alluring dancers dressed in gold costumes with feather hats, stilt entertainers or even contortionist artists with performances that will leave your guests feeling like they just rendezvoused at the most glamourous, full of riches and eccentricities palace!
Be the most shining starlet in this Glam & Glitz themed event!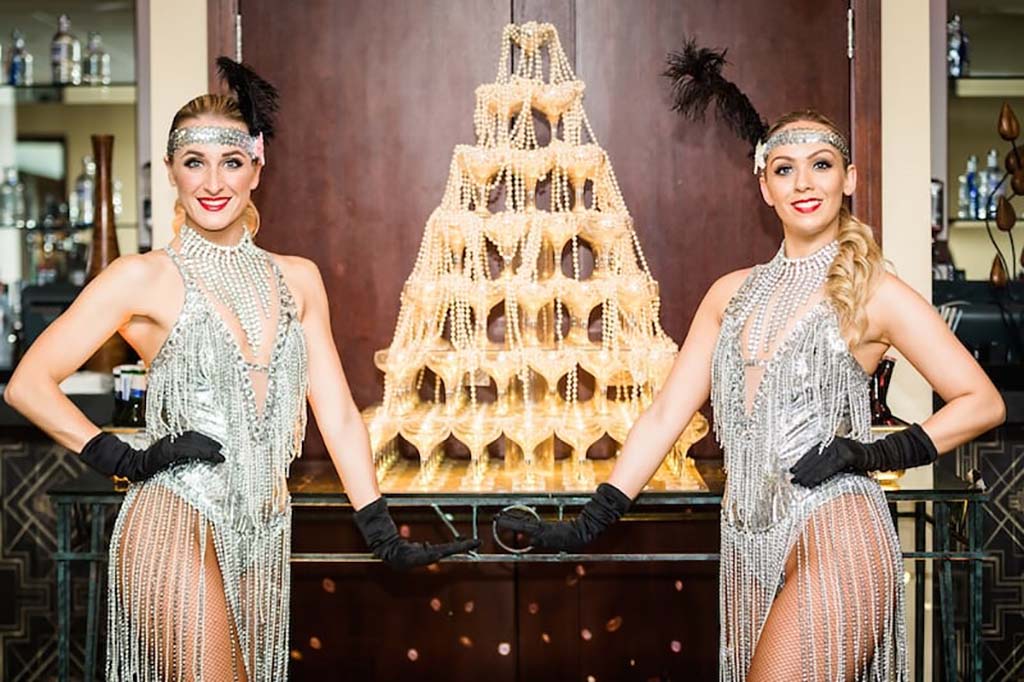 Keywords: Themed Events | Themed Parties | Themed Decorations and Props | Glam & Glitz Themed Events and Parties | Glam & Glitz Themed Decorations and Props
Feeling like a classic superstar? Bring on all the fabulousness with a super Glam & Glitz themed event full of sparkle and glamour that is guaranteed to dazzle your guests!
Due to their elegant tone, Glam & Glitz themed events are always extremely popular for many types of occasions – Charity Balls, Christmas Parties, Corporate Events, Themed Weddings, Gala Awards Dinners. Glam and Glitz themed parties are timeless and classical, giving an opportunity for guests to glam up to the max and dress up in sparkle and shine. Everybody enjoys choosing a new sparkly gown or dashing tuxedo, and this opportunity will sure make every guest feel like a star.
A Glam & Glitz evening is also a perfect theme for an Awards Gala Dinner, ensuring your guests feel even more special and valued, and giving the winners the chance to shine as much as the recognition they are receiving.
Here at Eventologists, our team of party stylists with great expertise will be happy to show you many possible visions for this classic event. They will also be more than glad to guide and walk with you through the way of whole creative process if you bring your own Glam & Glitz party ideas to make the event you envision no more a dream but a truly shiny and shimmering reality.
Thanks to our in-house staff and wide array of Glam & Glitz themed props and decorations for hire, we will be able to add all the theming needed to match the mood of such a splendid event, having to your disposition, among others, elements such as:
Crystal chandeliers hanging from the ceiling to reflect the glitz from the mood lighting and the guests.
Crystal curtains to add a sparkle in every corner of the room.
Glitter floors.
Theatrical draping and tablecloths in elegant, metallic colours to enjoy dinner in the classiest manner.
Elegant cups, details in pearls, feathers and garlands, crystal balls, elegant cloches and feather lamps.
The most glamorous of table centrepieces, such as glass pieces, shiny trees, reflecting spheres, candelabra, are ready to shimmer on all occasions.
Enhance the evening with a live jazz band or a super dance troop with the most authentic Glitz & Glam costumes and party the night way in your sparkly stilettos until your feet can't move any more!
I wished to get in touch to say thank you for providing the centrepieces for the Gloucestershire Live Business Awards and working with us within our budget at such short notice. I also wanted to let you know that your staff was a pleasure to work with. Very friendly, professional and had the room setup with plenty of time to spare before guests arrived. Please pass on my thanks.

Louise Symonds, Regional Events Manager
I just wanted to drop a note to formally thank you for pulling out all of the stops for our Christmas Social – the Peaky Blinders theme went down a storm and it looked UNREAL! The decor, props, bespoke items and attention to detail really made the event last night. As ever, you and the team were complete professionals and a dream to work with. Huge thanks and appreciation, I look forward to the next event already!

Clair Stevens, Communications Manager
The room looked fab and we received some great comments. It was great to work with you again and it makes things run smoothly when we can rely on you and your team to get the job done. Gives peace of mind.

Sharon Bone, Events Manager
WOW, went to an event done by these guys and I was blown away. They transformed a banquet hall into something out of a fairytale. The staff are very friendly and professional. Would definitely recommend them to anyone.

Amish Thakrar, Marketing Manager
Thank you to you and your team for all your help and support with the table theming for our UK 60-Year Anniversary celebration last night. Right from the very beginning, everything was so very professional and easy. The tables, gifts and award were absolutely fabulous and really added to the whole ambience of the evening, and I have had many wonderful comments about them from our visitors.

Lesley Young, Marketing Communications Manager